WELCOME TO ROCK STAR GARY REFLECTIONS!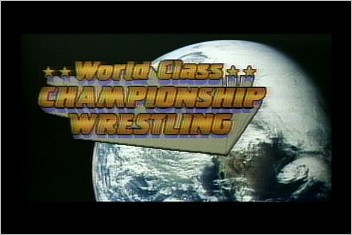 WCCW 10-02-82
Taped from Dallas, TX
Airdate: October 02, 1982 (taped 9/28)
Attendance: unknown
Hosted by Bill Mercer & Jay Saldi
Can the Von Erich trio capture victory? How will Dusek react to McGraw's shenanigans? And what does chess have to do with pro wrestling anyway?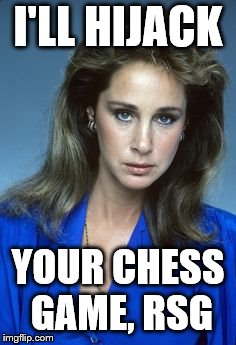 Let's not go crazy, Claudia. It's just a teaser.
Opening montage.
Prior to the opening match, Saldi interviews Kevin, David, and Kerry. Apparently, they've NEVER lost a six-man tag team match.
Match 1 (six-man): David, Kevin, & Kerry Von Erich versus King Kong Bundy, "Wild" Bill Irwin, & Arman Hussein
Highlights:
Kevin tagged in, mounted the top turnbuckle, and lowered the boom on Irwin.
During a criss-cross, Kerry tagged in and delivered a back elbow to Irwin.
He then hit an elbow drop for 2.
When he leap-frogged Irwin, Kerry missed a dropkick.
Shortly after, tags were exchanged on both sides while David gave Irwin a cross corner whip followed by a back drop.
He then delivered a high knee for 2.
As Bundy tagged in, he powerslammed David.
Hussein tagged in while the Dallas faithful chanted "go David, go."
After Bundy tagged in, David somehow tagged in Kerry which would not have transpired had not both referees Bronko Lubich and John Renesto worked the match.
Kerry then landed a discus punch but got triple-teamed in the heel corner. How dastardly!
When Irwin tagged in, he supplied a backbreaker to Kerry for 2.
He then slammed Kerry and hit a diving head butt for another 2.
As Irwin missed a second head butt, Kevin tagged in and dropkicked him for 2.
He then gave Irwin a cross corner whip and followed with a knee to the midsection.
With all three Von Erichs in, they delivered a triple dropkick to Irwin.
Kevin then applied an abdominal Iron claw, but Irwin escaped.
After Bundy tagged in, he provided Kevin with a back elbow.
With two minutes remaining, Kerry tagged in and nailed Bundy.
All six wrestlers were in the ring while David tossed Irwin to the floor.
When Hussein guillotined Kerry with the top rope, Irwin delivered a double axe handle to David.
Bundy then hit a knee drop on Kerry for 2.
As Hussein tagged in, one minute remained in the match.
Kerry then applied an abdominal claw, but Bundy made the save.
After David tagged in, he hooked a sleeper on Bundy.
With all six wrestlers in the ring again, the bell rang.
Unfortunately, the match was ruled a time-limit draw.
BOOOOOOOOOOOOOOOOOOOOO!
Rating: *
Summary: Since they didn't truly follow the tag formula, the match was somewhat disjointed albeit exciting.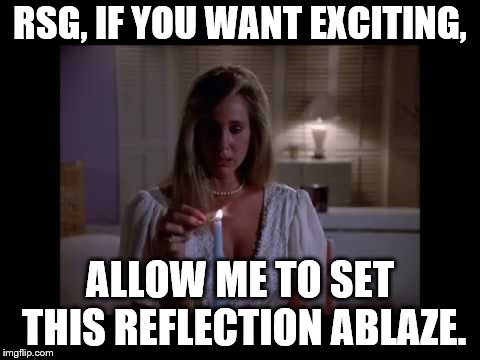 Be careful with that match, Claudia!
Match 2: "Captain" Frank Dusek versus Bugsy McGraw
Highlights:
While Saldi mentioned Hulk Hogan making "$10,000 a week" in Japan, he and Mercer discussed Dizzy Hogan (a.k.a. Brutus Beefcake).
During a criss-cross, the Dallas faithful chanted "Bug-sy."
Their hero then grabbed a pair of drinks from them, but Dusek knocked one from Bugsy's mitts when offered one.
Upon revealing the second drink from behind his back, Bugsy doused Dusek with it much to the delight of the Dallas faithful.
He then backdropped Dusek over the top rope, and referee John Renesto called for the bell.
As a result, Dusek won by DQ.
Rating: *
Summary: Nothing but a comedy match.
We then revisit the NWA World title match from 8/15 from Reunion Arena between Kerry and "Nature Boy" Ric Flair. Read my 8/28 reflection to get the entire story.
Mercer then interviews Gary Hart with the Great Kabuki.
Match 3: Magic Dragon & the Great Kabuki (w/ Gary Hart) versus Al Madril & the Samoan
Highlights:
For those unaware, the Samoan was portrayed by Samu of the Samoan Swat Team/Headshrinkers.
Inadvertently, Kabuki sprayed his mist and got some into Hart's eyes.
The Samoan leap-frogged Kabuki and followed with a double axe handle.
When Kabuki rebounded with a thrust kick, Dragon tagged in.
Madril also tagged in and delivered a double cross body block to the heels.
As he supplied a flying shoulder block to Kabuki, Madril got 2.
Tags were exchanged on both sides while the Samoan missed a dropkick.
After Dragon unleashed a lariat, he applied a rolling sleeper.
Since the Samoan couldn't continue, Dragon and Kabuki won.
Rating: ½*
Summary: Showcase match for Kabuki and Dragon.
Prior to the next match, Mercer interviews Checkmate, but Hart interrupts them.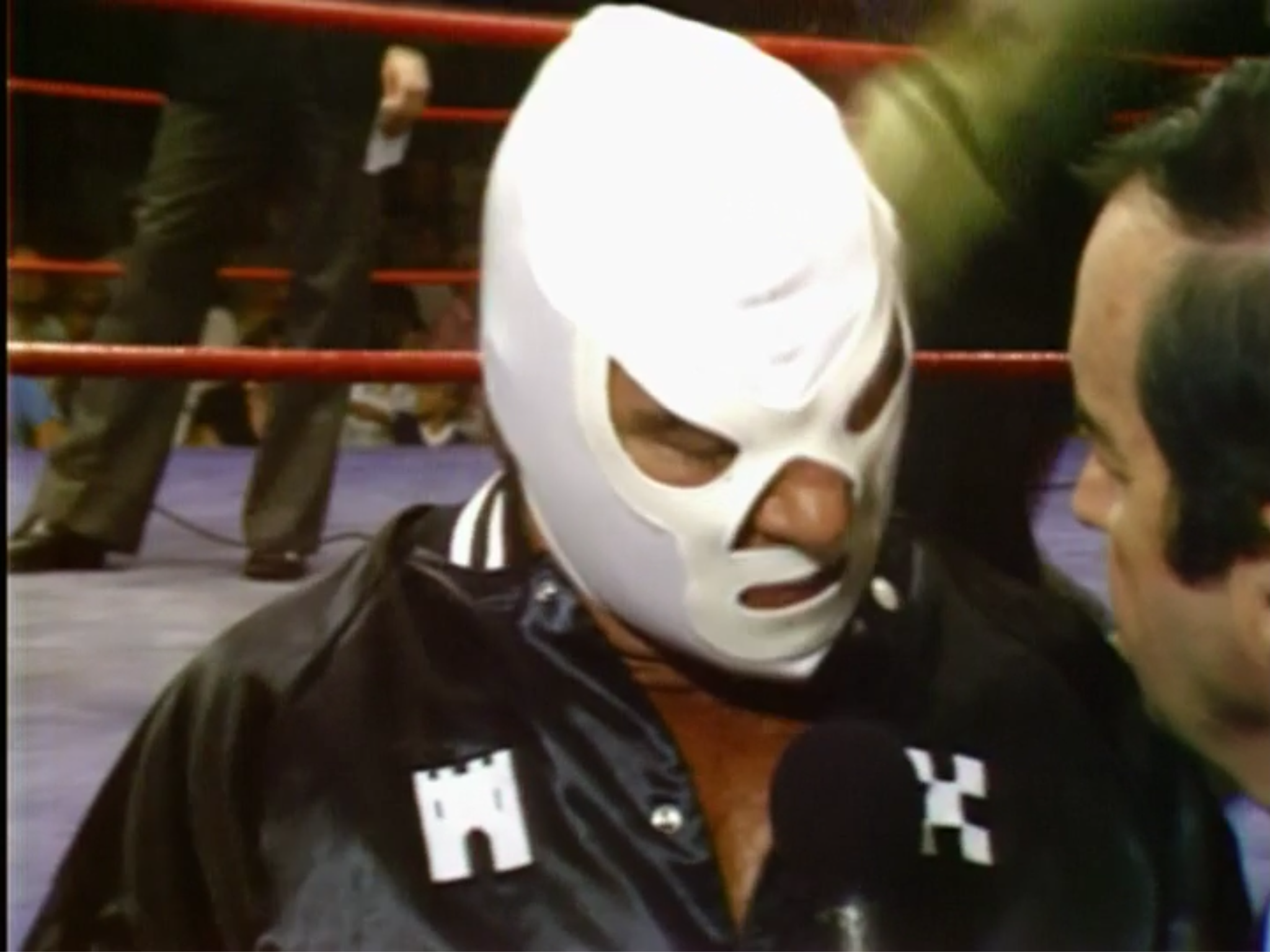 Match 4: Checkmate (w/ Gary Hart) versus Brian Adias
Highlights:
For those unaware, Checkmate was portrayed by Les Thornton.
Checkmate hooked a sunset flip but only earned a 1-count.
As Adias leap-frogged him, he secured a victory roll for 2.
Checkmate rebounded with a knee lift and rammed Adias face-first into the mat.
When Checkmate played possum, he fooled Adias by nailing him.
While the Dallas faithful chanted "go Brian, go," their hero hip-tossed Checkmate for 2.
Checkmate then hooked a backslide for 2.
After Adias gave Checkmate a cross corner whip, he followed with a flying headscissors.
Checkmate then gave Adias a cross corner whip but came up empty on his follow-through.
As Adias delivered an elbow drop, he got 2.
While Saldi mentioned that "Freebird" Michael Hayes was coming to WCCW, Checkmate played possum again.
Again, Checkmate fooled Adias and hit a gutbuster.
He then supplied a flying head butt to Adias' midsection before rolling him up.
1-2-3.
Checkmate won.
Rating: *
Summary: Showcase match for Checkmate.
To close out the show, Mercer interviews Irwin who cuts a promo on David to promote their match for the Texas title next week.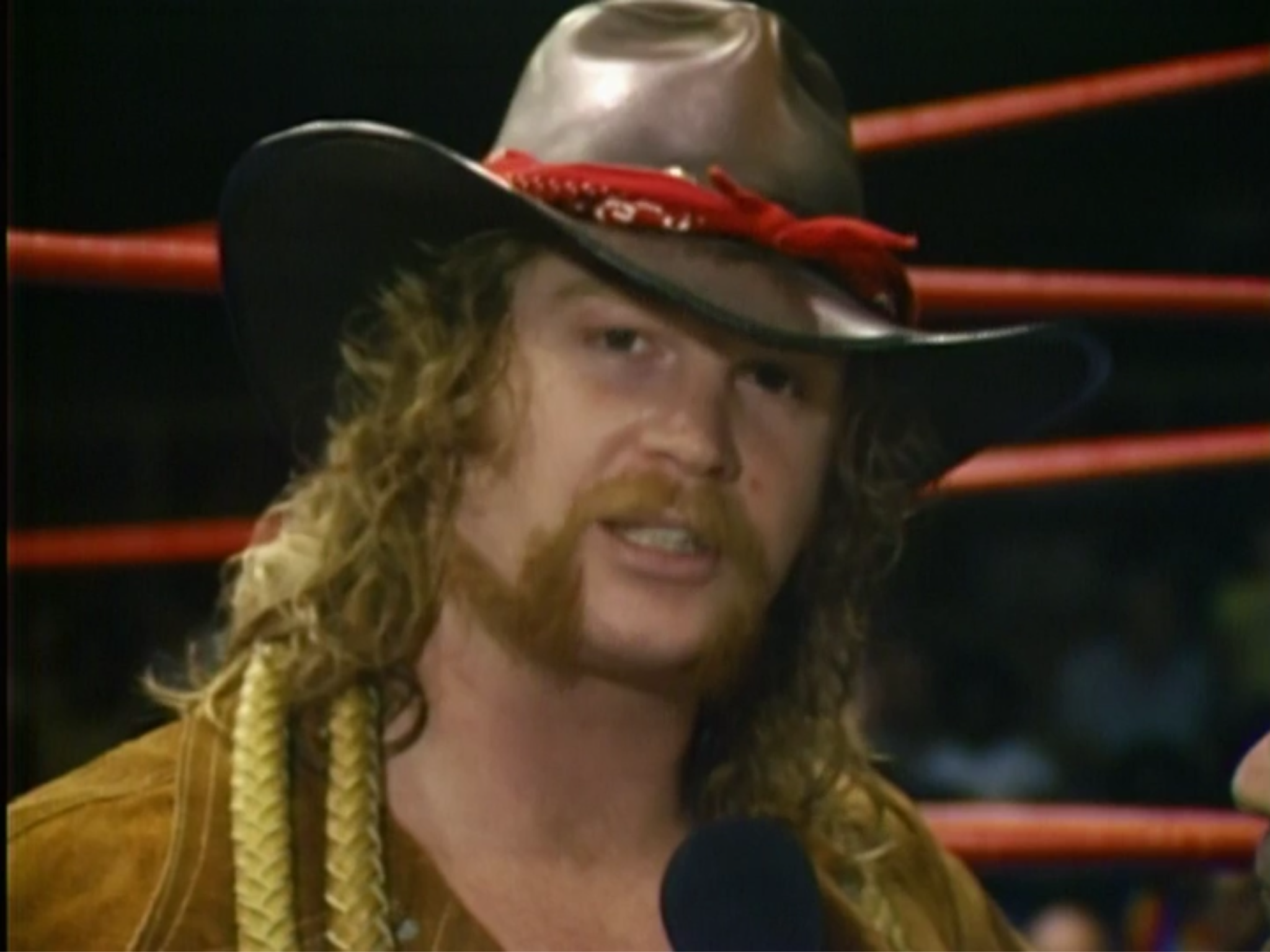 Conclusion: The triple drop kick alone is worthy of your time to watch this show. Besides that, if you'd rather catch highlights of the Flair-Kerry match than watch it in its entirety, this show provides it for you. Claudia, how did you like the show?
Quite like this show, Claudia's on fire!
TV Rating: NONE
Stay tuned for WCCW 10-09-82!
Comments? Suggestions? Send them to me at rsg@rockstargary.com and follow me on Twitter (@rockstargary202).
Custom Search