WELCOME TO ROCK STAR GARY REFLECTIONS!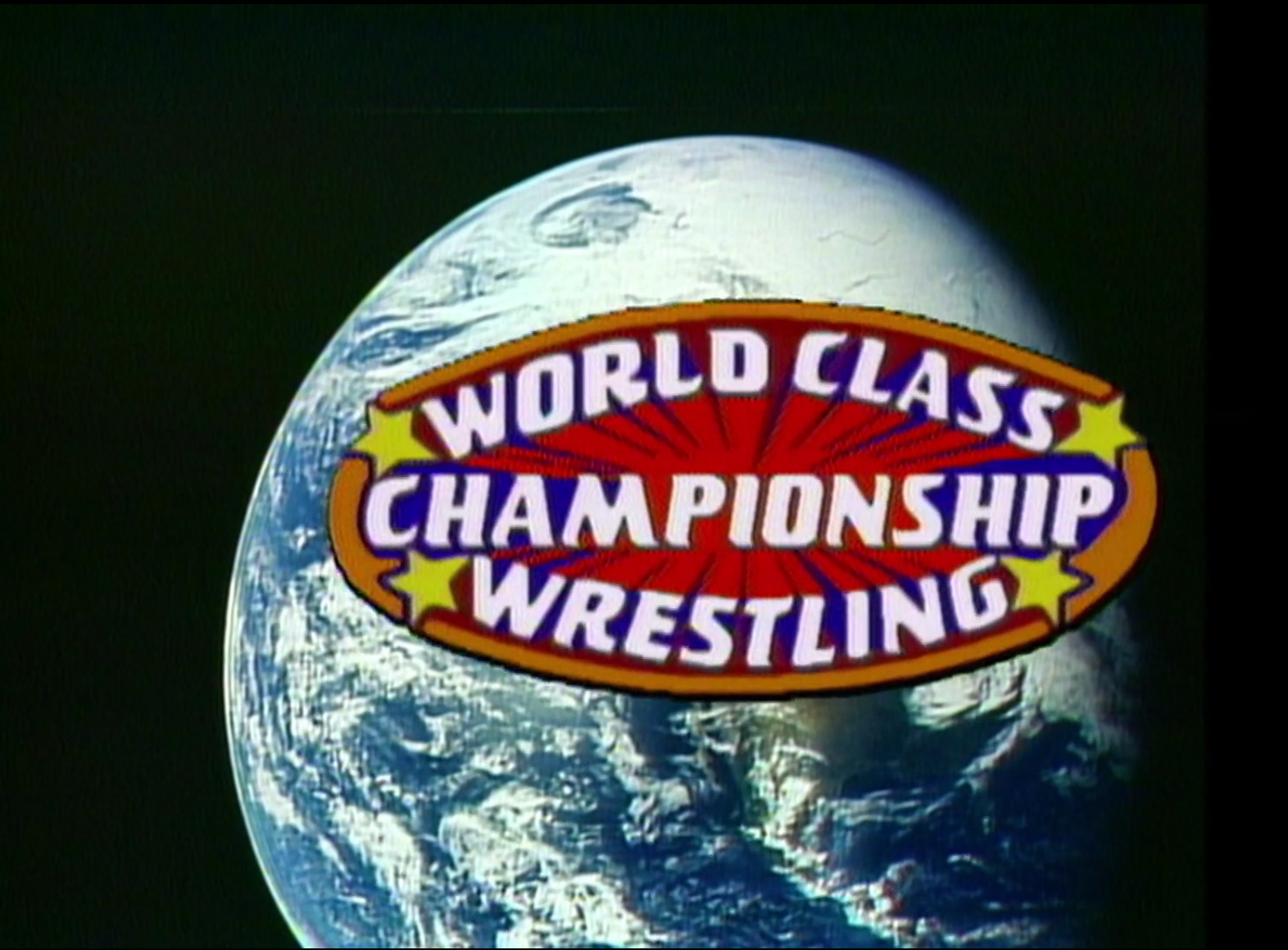 WCCW 09-22-84
Taped from Dallas, TX
Airdate: September 22, 1984 (taped 09/07)
Attendance: unknown
Hosted by Bill Mercer
Can Kerry get revenge against Hernandez for stealing the American title from his brother Mike? How will Adams fare against a Pretty Young Thing? And who will join me for this icy episode?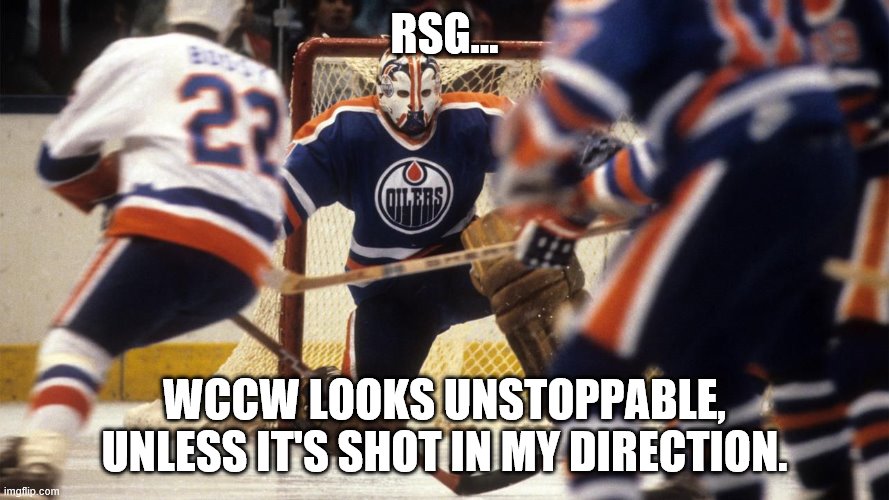 Grant Fuhr! What an honor to have such a fantastic goalie! By the way, do you know Jason Voorhees?
Never mind. You probably don't frequent drive-in theaters.
Opening montage.
Prior to the first match, we revisit the 07/07 episode when Killer Khan destroyed Chic Donovan's left knee.
Match 1: "Gentleman" Chris Adams (w/ Gary Hart) versus Koko B. Ware (w/o Norvell Austin)
Highlights:
Wow! To say the Sportatorium wasn't sold out would be a gross understatement. Methinks there was a big high school football game that night.
Ware slammed Adams twice while the female portion of the sparse Dallas faithful clamored for vegetable shortening.
When Adams backdropped him, he followed with a hip toss.
Koko slammed Adams again but missed an elbow drop.
As Adams hooked a sunset flip, he got 2.
He then dropkicked Ware, but Ware rebounded with a back elbow.
After Adams responded with a knee lift, Ware countered a cross body block with a pinpoint right hand.
He then tied up Adams in the ropes, but Hart rescued his charge.
When Ware delivered a brainbuster, he mounted the top turnbuckle.
Before Ware could fathom a flying maneuver, Hart jumped on the apron causing Ware to jump down to face him. Of course, Hart's ploy worked because he simply jumped back down to the floor. Crafty!
Adams then landed a superkick.
1-2-3.
Adams won.
Rating: **
Summary: Ware's preoccupation with Hart costs him dearly, as the Adams-Hart partnership begins to flourish.
Following a commercial break, Lowrance interviews "Iceman" King Parsons and "Sweet Brown Sugar" Skip Young from the locker room. They'll tag up to face the Pretty Young Things. Afterward, Kerry joins Lowrance to discuss Hernandez's heist of the American title and has a never-say-die attitude regarding the six-man tag titles.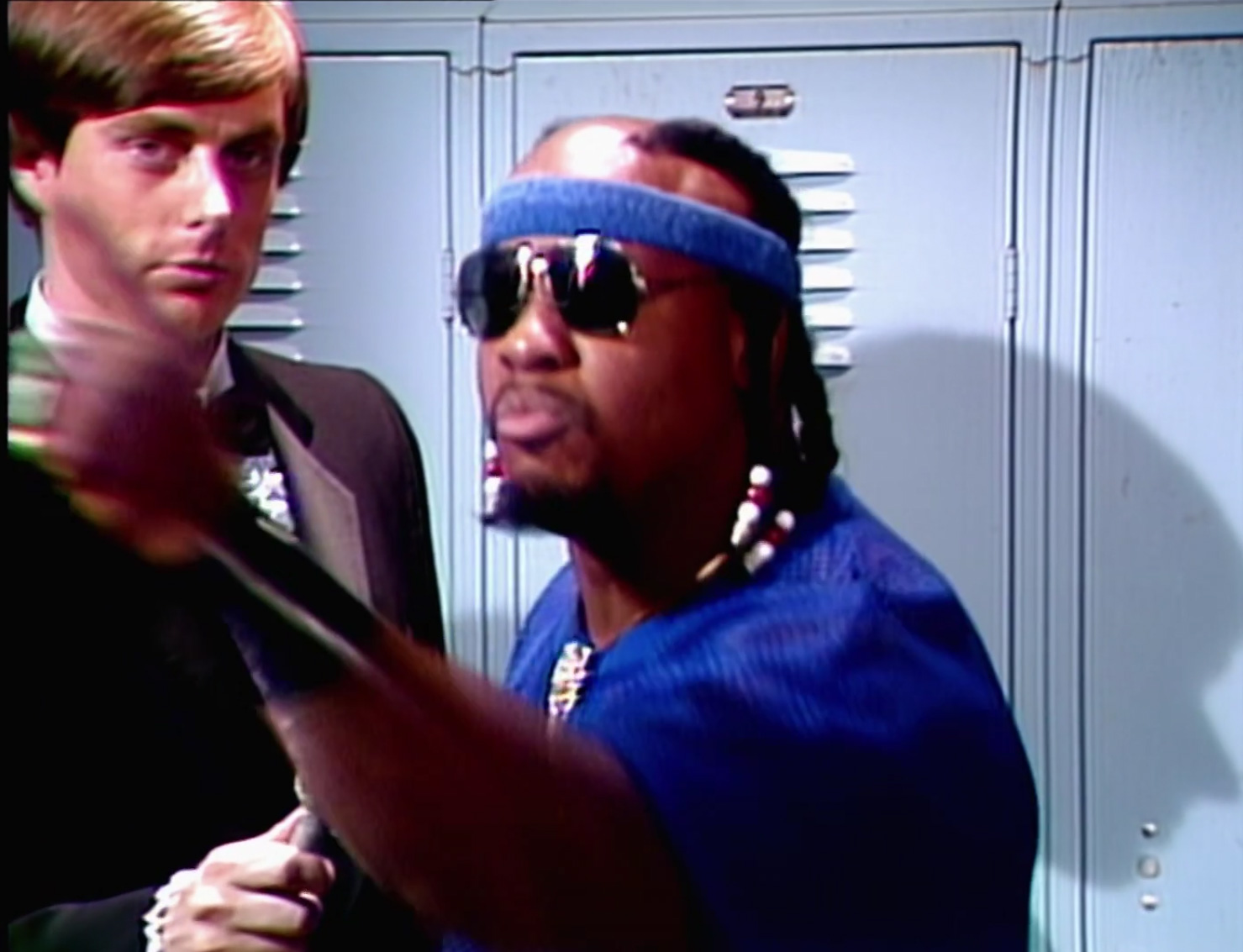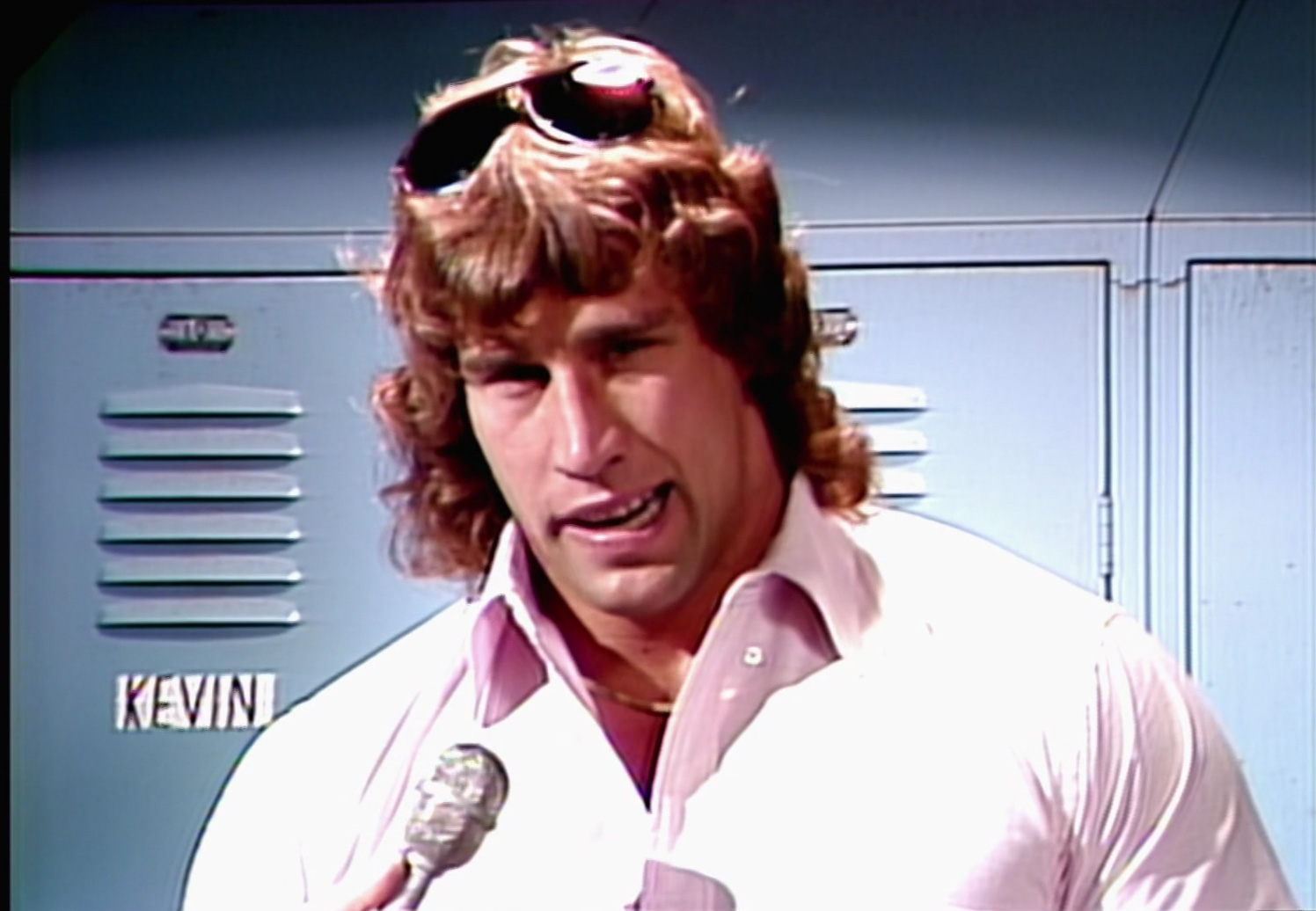 Match 2: Missing Link (w/ Gen. Skandor Akbar) versus Mike Gallagher
Highlights:
Link slammed Gallagher and rammed him face-first into the mat twice.
As he mounted the second turnbuckle, Link hit a flying head butt.
He then supplied Gallagher with an atomic drop and applied a bear hug.
When he released the hold, Link delivered an inverted atomic drop.
He then mounted the top turnbuckle and annihilated Gallagher with a flying head butt.
1-2-3.
Link won.
Rating: *
Summary: Showcase match for Link. What's that, Mark?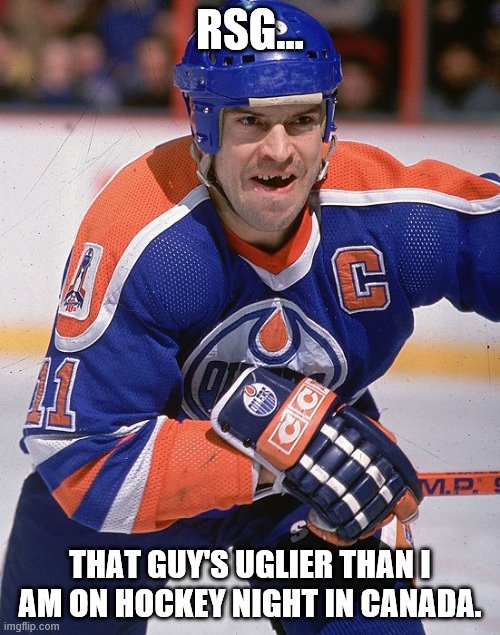 C'mon, Mark, let's be nice and not petty toward the mentally bereft.
From the parking lot, Lowrance interviews Hernandez who arrives in a white Chevrolet Corvette with Andrea (a.k.a. Nickla Roberts). Hernadez is exuberant and extremely confident now that he's champion again and Andrea's in his corner to protect him. They then cut a promo on Stella Mae French.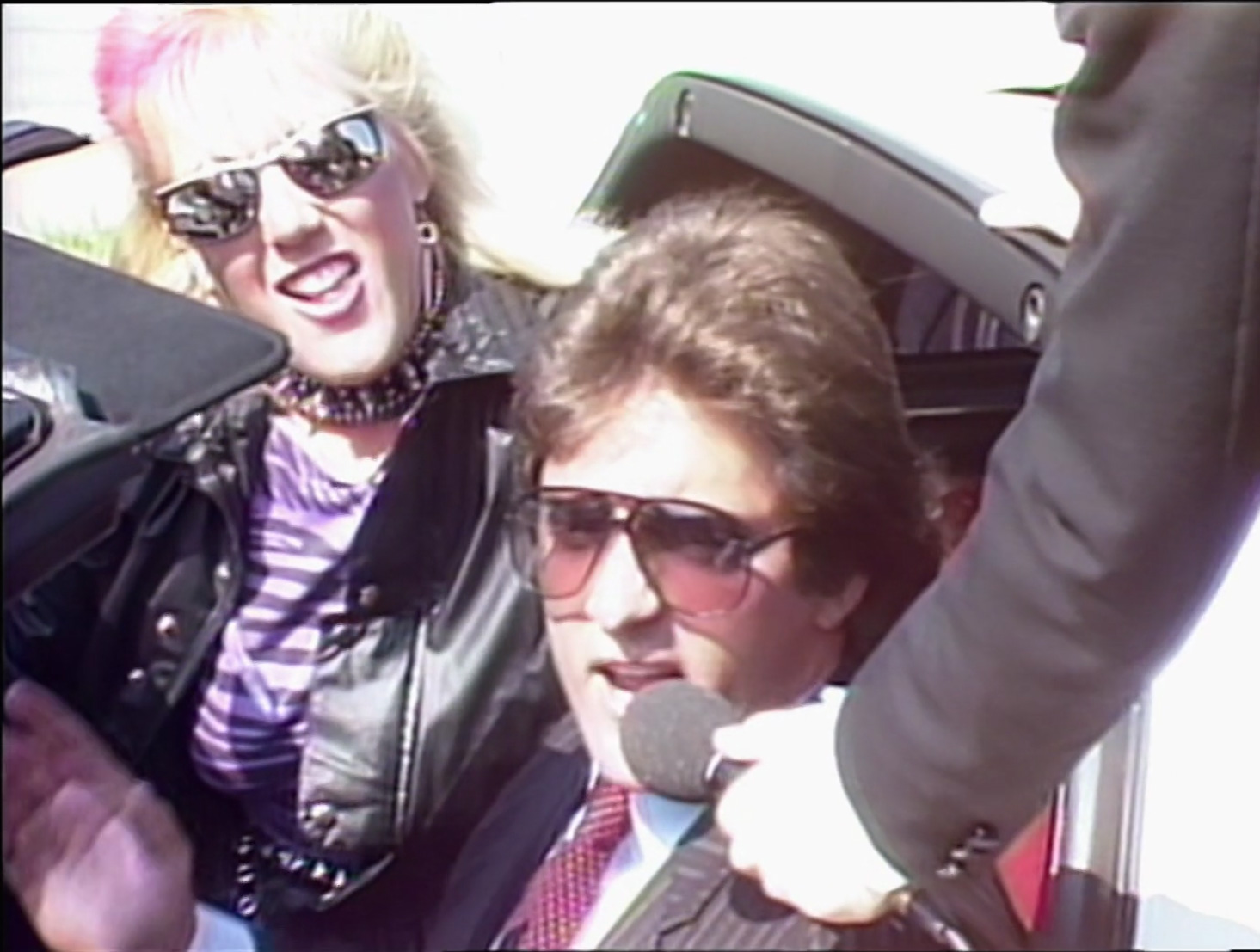 Match 3 (non-title): NWA American & Texas champion the "Handsome Half-Breed" Gino Hernandez (w/ Andrea) versus the "Modern Day Warrior" Kerry Von Erich
Highlights:
While the Dallas faithful chanted "we want Stella," Hernandez blocked a hip toss and provided Kerry with one of his own.
When Hernandez attempted another hip toss, Kerry countered with a backslide for 2.
He then countered an arm bar with a dropkick, but Hernandez rebounded with a spin kick.
As Kerry gave Hernandez a cross corner whip, he came up empty on his follow-through.
Hernandez then scored with a pair of back elbows while the Dallas faithful chanted "go, Kerry, go."
After Kerry rebounded with a second dropkick, Hernandez got tied up in the ropes.
Kerry pounded on him, but Hernandez sent him flying down to the floor.
When Kerry re-entered the ring via a sunset flip, he got 2.
Next, a mid-ring collision occurred, and Kerry applied an Iron claw.
Hernandez escaped with an eye rake, but Kerry reapplied it.
As Hernandez escaped again with another eye rake, he lost a battle of right hands.
That allowed Kerry to earn another 2.
After Kerry applied a bear hug, French approached ringside looking to settle the score with Andrea.
With all these shenanigans happening around ringside, a frustrated Hernandez tossed Kerry over the top rope to the floor.
Referee Bronko Lubich called for the bell to disqualify Hernandez.
As a result, Kerry won.
Rating: **
Summary: The dynamic between French and Andrea sends the Dallas faithful into a frenzy, so that may alleviate the temporary attendance blip. Also, Hernandez makes Kerry look good with chain wrestling in this match. I wouldn't mind a rematch soon.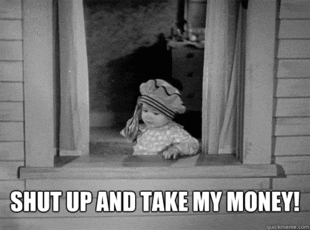 After the match, both French and Andrea are in the ring, and Hernandez hooks a full nelson on French. How dastardly! Kerry saves French by hammering Hernandez yet restrains French from chasing after Andrea.
Conclusion: Well, Kerry can't get the better of Hernandez, but French versus Andrea should sell a serious amount of tickets. Parsons and Young will join forces in their quest to take down the Pretty Young Things. Lastly, Adams and Hart are building solid momentum. But where does it lead? Any idea, Wayne?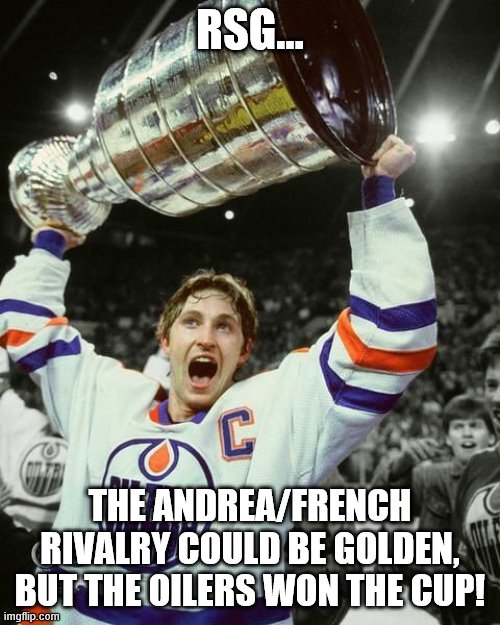 Can't fault your enthusiasm there, Wayne. Your championship could grow legs and become a dynasty.
TV Rating: NONE
Stay tuned for WCCW 09-29-84!
Comments? Suggestions? Send them to me at rsg@rockstargary.com and follow me on Twitter (@rockstargary202).
Custom Search