WELCOME TO ROCK STAR GARY REFLECTIONS!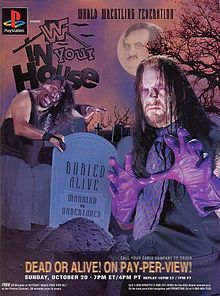 Live from Indianapolis, IN
Airdate: October 20, 1996
Attendance: 9,649 (8,238 paid)
Hosted by Vince McMahon, Jim Ross, and Jerry "The King" Lawler
As Vince and Lawler open the show, Ross gets cut off by Helmsley's music.
Prior to the first match, Kevin Kelly interviews Austin who reiterates the quest he began at King of the Ring. He then mentions Bret whom he thinks should retire tomorrow night.
Match 1: Stone Cold Steve Austin versus Hunter Hearst Helmsley
Highlights:
What happened to Vega? In any case, it doesn't matter since Austin will steamroll this jobber.
For those interested, the running gag throughout this match was Ross' microphone being quirky and the subsequent anger displayed by Ross.
While Helmsley had the same boring entrance music, Austin's music changed to the famous tune we all know and love.
As Ross explained that neither wrestler was a fan favorite, the Indy faithful cheered Austin. Could he possibly be getting OVER?
After an arm drag, Helmsley delivered his notorious bow.
Austin then left the ring to jaw with the front row.
After an arm drag from Austin, he gave Helmsley the finger.
Next, to annoy Helmsley, the Indy faithful chanted "Perfect."
After a forearm smash, Austin delivered a knee drop for 2.
Helmsley came back with a cross-corner whip but ate boot on his follow-through.
Austin followed with a clothesline for 2.
After Helmsley delivered a knee to the midsection, he reversed a cross-corner whip and delivered a back drop.
He then gave Austin a vertical suplex followed by a knee drop for 2.
Upon giving Austin a belly-to-back suplex, Helmsley got another 2.
They then keep reversing one another's sleepers until Austin gave Helmsley a jawbreaker for 2.
He followed that with a stungun.
Upon mounting the second turnbuckle, he nailed Helmsley with a diving forearm smash for a pair of 2 counts.
Helmsley came back with a high knee, mounted the second turnbuckle, and delivered a fist drop for 2.
Afterward, a double clothesline put both men down on the mat.
Not surprisingly, Mr. Perfect then took the opportunity to come out and steal Helmsley's escort and received the biggest ovation of the match.
When Helmsley went after Perfect, Austin nailed him then rammed him face-first into the apron.
As Austin attempted to return to the ring, Perfect grabbed the back of his tights to notify him of his self-importance.
However, when Perfect tried to leave with Helmsley's escort, Austin grabbed a cup of soda and splashed it in his face.
As Helmsley took control of Austin in the ring, Perfect left with Helmsley's escort.
Just when Helmsley was prepared to deliver the Pedigree, he left the ring to confront Perfect.
Austin then attempted to suplex Helmsley on the floor, but Helmsley blocked and returned the favor.
Austin came back with a catapult into the ring post. OUCH!
Upon tossing Helmsley back into the ring, Austin missed a running guillotine.
Nevertheless, he flipped off Helmsley, delivered the Stone Cold Stunner, and got the pin.
Rating: ***
Summary: This was a much better match than I was expecting. Meanwhile, Helmsley lost again. I'm sure I've not seen the last match between these two.
We then revisit the Free for All from IYH VIII when the Gunns beat the Godwinns for the tag titles, and Billy got to kiss Sunny. Next, we revisit Mind Games when Billy was locked in arms with Sunny much to Bart's chagrin. In fact, Billy's infatuation with Sunny cost the Gunns the titles that night. Due to their title loss, Sunny fired them.
Backstage, Dok Hendrix interviews the Smoking Gunns. While the dissension between the Gunns was teased briefly in the earlier videos, it was much more tense here.
Match 2 for the WWF tag team titles: The "British Bulldog" Davey Boy Smith & Owen Hart (champions w/ Clarence Mason) versus the Smoking Gunns
Highlights:
After Owen blocked a hip toss by Billy, he received a clothesline.
Billy then mounted the top turnbuckle but ate a shot to the midsection on the way down.
Smith tagged in and the champs gave Billy a double clothesline then followed with a drop toehold/leg drop tandem maneuver.
After Smith reversed a cross-corner whip, he came up empty on his follow-through.
While Billy occupied referee Jack Doan's attention, Bart clotheslined Smith from the apron.
Meanwhile, a scantily-dressed Sunny watched the match from a monitor backstage.
Bart tagged in, and the Gunns gave Smith a back elbow for 2.
The running gag for this match was Vince and Jerry mocking Ross' Oklahoman euphemisms. Nyuck, nyuck, nyuck.
Nonetheless, Bart gave Smith a powerslam, mounted the top turnbuckle, but missed a flying body press.
Smith then gave Bart a cross body block for 2.
Owen tagged in, mounted the top turnbuckle, and gave Bart a missile dropkick.
After a somersault rollup, Owen only got 2 thanks to a save by Billy.
Smith tagged in, and the champs delivered another double clothesline.
A subsequent pair of cross-corner whips by Smith hurt Bart's back and got 2.
While Billy was jaw-jacking with Smith from the apron, Bart came off the ropes and nailed him accidentally. That sent Billy flying to the floor.
As Bart argued with Billy, Owen rolled him up for 2.
While Bart occupied Doan's attention again, Billy guillotined Owen using the top rope.
Billy tagged in, and the Gunns gave Owen a double side Russian leg sweep for 2.
After an elbow drop, Billy gave Owen a hangman's neckbreaker.
Bart tagged in and gave Owen a swinging neckbreaker for 2.
Billy then gave Owen a Bart-assisted flying fist in the corner.
On the other hand, when the Gunns attempted the Sidewinder, Smith pulled Bart from behind causing Billy to miss.
Owen then hit the spinning heel kick on Billy and got the pin.
The champs retained.
Rating: *1/2
Summary: Telegraphed or not, the Gunns' split couldn't come soon enough.
On the WWF Superstar Line, Helmsley, with help from Raymond Rougeau, discusses how much he sucks and his impending loss to Mr. Perfect. Draw your own conclusions.
In the ring, Ross gets on the microphone, complains about the "accidental" audio issues, and then shills Bret's appearance on RAW tomorrow night. According to Ross, Bret's promo will be "uncensored." Ross then left the ringside area.
Earlier tonight, Kelly interviewed Faarooq. Notwithstanding, Ahmed Johnson had a few choice words for Faarooq then allegedly used a 2x4 to take out Faarooq's knee. Payback's a bitch!
For a second time, Mr. Perfect comes out as Ross joins him briefly to offer advice. Perfect then joins the broadcast team for this match.
After Goldust makes his entrance, Mero cuts a promo backstage as Lawler antagonizes him. Perfect, in defense of Mero, takes Lawler to task for it.
Match 3 for the WWF Intercontinental title: Marc Mero (champion w/ Sable) versus Goldust (w/ Marlena)
Highlights:
Mero reversed an Irish whip, delivered a hip toss, and followed up with a dragon screw leg whip. Impressive!
After a flying headscissors, Mero gave Goldust a back drop followed by a clothesline.
As Goldust exited the ring to regroup, Mero gave him a somersault plancha.
Upon tossing Goldust back in the ring, he hit a springboard leg drop for 2.
Goldust then reversed a cross-corner whip but ate a back elbow.
Next, Mero attempted to mount the top turnbuckle, got caught, and received a slam down to the mat.
Goldust then tossed Mero outside the ring, joined him, and rammed him face-first into the steps.
Back in the ring, Goldust delivered a clothesline for 2.
After giving Mero a knee to the midsection, Goldust delivered a fist drop for a pair of 2 counts.
Following that, a mid-ring collision resulted in a 2 count for Mero.
Conversely, Goldust came back with another clothesline then took the microphone to draw some heat.
Mero responded with a belly-to-back suplex.
He then mounted the top turnbuckle, hit the Merosault, but only got 2.
Goldust came back by whipping Mero sternum-first into the corner then attempted the Curtain Call.
As Mero escaped, he hooked a backwards rollup and got 2.
Goldust then dumped Mero over the top rope to the floor.
In the meantime, Perfect left the broadcast table as Helmsley came to the ring. That woke up the Indy faithful.
When Goldust tried to sneak up behind Perfect, he got nailed.
Perfect then sauntered after Helmsley.
Back in the ring, Mero gave Goldust a Samoan drop.
He then mounted the top turnbuckle, hit the Wild Thing, and got the pin.
Mero retained.
Rating: **
Summary: As the heel, Goldust did a poor job in this match. Other than trying to rile up the crowd using the microphone, he couldn't draw much heat as his downward spiral continued. Regardless, Mero's high-flying style was the highlight of this match.
Afterward, Perfect gets into the ring and raises both Mero's and Sable's arms.
Backstage on AOL, Ross, Diesel, and Ramon regurgitate their insight on the WWF.
We then get a video retrospective on Vader's and Sid's powerbombs.
Match 4: Vader (w/ Jim Cornette) versus Sycho Sid
Highlights:
The winner of this match will face the WWF champion at Survivor Series.
WWF Champion Shawn Michaels joined the broadcast table for this match.
Before he got there, Cornette got in his face. Consequently, Michaels stole his pocket square, blew his nose, and kicked him.
After a clothesline, Sid delivered a leg drop for 2.
He then gave Vader the ten-punch count-along.
After a short-arm clothesline, Vader gave Sid an avalanche.
While Vader occupied referee Tim White's attention, Cornette nailed Sid with the tennis racquet.
As Sid re-entered the ring via sunset flip, Vader countered by SQUISHING him.
Three subsequent short-arm clotheslines by Vader took Sid down.
Sid came back with a belly-to-back suplex as the Indy faithful chanted his name.
He then reversed a cross-corner whip and gave Vader a boot to the midsection.
Afterward, Vader reversed a cross-corner whip but ate boot on his follow-through.
Sid then mounted the top turnbuckle, attempted a flying body press, but got caught.
Next, Vader slammed him, splashed him, and got 2.
Vader then mounted the second turnbuckle, splashed him again, but only got 2.
Upon Cornette's request, Vader mounted the second turnbuckle, but hit knees.
Sid came back with a clothesline then slammed Vader.
He then attempted the powerbomb, but Cornette got up on the apron.
Upon crotching Cornette, Sid made another attempt to powerbomb Vader.
While Cornette occupied White's attention, Vader took Sid on a trip down I-69 SOUTH.
As Vader tried a powerbomb, Sid escaped, hit the chokeslam, and got the pin.
Rating: **
Summary: Methinks WCW was thankful this wasn't the main event to Starrcade '93.
After the match, as Michaels enters the ring, Sid informs him that he's next. Like good babyfaces, they then shake hands.
Ad for Survivor Series LIVE from NYC on PPV 11/17 preceded by the Hall of Fame banquet at the Marriott Marquis on 11/16.
Backstage, Dok Hendrix interviews Sid, but Ross takes over.
We then revisit the highlights of the Undertaker-Mankind feud throughout 1996.
Match 5 (buried alive): Undertaker versus Mankind (w/ Paul Bearer)
Highlights:
Mankind gave Undertaker a cross-corner whip, but Undertaker burst out of the corner, tossed Mankind into the corner, and nailed him.
As Mankind was on the floor, he tried to pull Undertaker out with him; however, Undertaker kicked him head-first into the steel railing. OUCH!
Undertaker then mounted the top turnbuckle and delivered a clothesline to Mankind on the floor. Wow!
Subsequently, he made Mankind taste the steel railing. It must have tasted like Uncle Dino's steak at Mama Carolla's.
As they approached the gravesite, Undertaker grabbed a shovel, but Mankind used it first.
Mankind then tried a suplex, but Undertaker hooked an inside cradle causing both men to roll down the hill together. HA!
After they made their way back toward the ring, Undertaker rammed Mankind face-first into the steps.
Undertaker then took a microphone cord and choked Mankind with it.
Upon tossing Mankind over the steel railing into the crowd, Undertaker whipped him back toward the ring. He then gave Mankind a flying clothesline over the steel railing. Amazing!
Back in the ring, Undertaker mounted the top rope, but Bearer made him lose his balance. How dastardly!
Bearer gave Mankind a foreign object for which Mankind leveled Undertaker.
He then gave Undertaker a cross-corner whip, but Undertaker exploded out of the corner with a back elbow.
Undertaker then grabbed the foreign object and nailed Mankind with it.
Following that, he gave Mankind another flying clothesline.
After a leg drop, Undertaker exited the ring to saunter after Bearer.
Meanwhile, Mankind grabbed a chair from under the ring. Yet as he got close, Undertaker caught him.
Bearer nailed Undertaker in the back with the urn, but it didn't faze him.
That permitted Mankind to WALLOP Undertaker in the face with the chair. That'll knock him for a loop.
Anyway, with Undertaker propped up against the steel steps, Mankind buried a knee into him.
As they returned to the gravesite, Mankind nailed Undertaker causing him to fall into the grave.
Before Mankind could shovel dirt upon him, Undertaker returned fire.
After Mankind responded with dirt to the face, he tried to hip toss Undertaker back into the grave.
Undertaker blocked it and hiptossed him down the hill.
They then returned to the ring as Mankind gave Undertaker a piledriver.
Mistakenly, Mankind made the cover, but referee Earl Hebner told him to bury the Undertaker to win the match. Remember, kids, chair shots are BAD.
Undertaker came back but missed an elbow drop.
Mankind then delivered a DDT on a chair. As you would expect, Undertaker sat up.
He then WALLOPED Mankind with the chair then delivered a leg drop with the chair on Mankind's face. E-C-W! E-C-W!
As Mankind crawled to the apron, he guillotined Undertaker using the top rope.
Mankind then removed the mat in front of the ring, tried to piledrive Undertaker, but Undertaker countered by ramming Mankind back-first into the steel steps. CLEVER!
Next, Undertaker tossed the steps into the ring and annihilated Mankind by tossing them at him. He then rammed them into Mankind's back.
Afterward, Undertaker delivered the tombstone and pointed toward the gravesite much to the Indy faithful's delight.
Upon carrying Mankind to the gravesite, Undertaker fell victim to the Mandible Claw.
When Mankind tried to nail Undertaker with the urn, Undertaker blocked it and chokeslammed him into the grave.
Undertaker then covered him in dirt and won the match.
Rating: ***1/2
Summary: The brawls between these two are never boring. Hopefully, this match puts an end to their feud.
After the match, Undertaker continues to bury Mankind in dirt despite Hebner's best efforts. Suddenly, a masked man (i.e. Terry "Bam Bam" Gordy) nails Undertaker in the back of the head with a shovel. He uncovers Mankind, rolls Undertaker into the grave, and buries him.
Thunder and lightning erupt as the burial continues. While the Indy faithful chants "Rest in Peace," Goldust, Crush, Bradshaw, and Helmsley arrive to assist with the burial. As Bearer proclaims that Undertaker "is gone forever," a loud thunder clap erupts. Before the show goes off the air, a lightning bolt hits the grave, and Undertaker's right hand emerges from the grave. Vince proclaims "Undertaker is alive… (he) will not rest in peace." Oh, brother.
Conclusion: The opener and the main event are matches to remember going forward. Otherwise, take a pass on the rest of it.
See you for the Monday Night War week 57!
Buyrate: 0.40
Comments? Suggestions? Send them to me at rsg@rockstargary.com and follow me on Twitter (@rockstargary202).
Custom Search