WELCOME TO ROCK STAR GARY REFLECTIONS!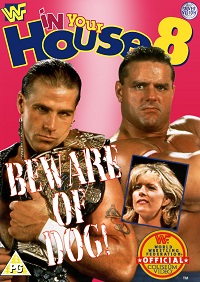 Live from Florence/North Charleston, SC
Airdate: May 26/28, 1996
Attendance: 6,000 (4,796 paid) in Florence, 4,500 in North Charleston
Hosted by Vince McMahon and Jerry "The King" Lawler/Jim Ross and Mr. Perfect
For those unaware, this PPV has a unique story. As you can see, it took place in two locations on two separate nights. How and why did this happen? Well, during the show in Florence on 5/26, lightning from a major electrical storm hit a transformer that killed the PPV feed early into the broadcast. While good-paying customers sat at home watching a blank screen, the PPV didn't return until there were twenty-five minutes of air time left.
So what happened while the lights were out? Believe it or not, with poor lighting supplied by a low-powered generator, the strap match, casket match, and Vader-Yokozuna all wrestled for the Florence crowd. The main event was cut short and became a source of controversy. More on this later.
How did McMahon fix this issue that wasn't his fault? As fate would have it, due to the Memorial Day holiday weekend, a replay of the PPV was scheduled for Tuesday to compensate those who missed it on Sunday. Since the matches in the poor lighting could not be rebroadcast, the WWF reproduced the missing matches in North Charleston live on PPV.
During the Free for All, the Smoking Gunns defeated the newly-crowned WWF tag team champions the Godwinns and reclaimed the gold.
But, before all that happened, on Superstars, Mr. Bob Backlund had Mero in the cross-faced chicken wing then Helmsley gave him the Pedigree. A distressed Sable could only watch in horror as these shenanigans took place.
Prior to the first match, Dok Hendrix interviews Mero. The latter tells Helmsley: "Welcome to the Jungle." I wonder if he received permission from Guns'n'Roses to use that line.
Match 1: "Wildman" Marc Mero (w/ Sable) versus Hunter Hearst Helmsley
Highlights:
Hmmm…I wonder if the Curtain Call affected the outcome of this match.
Slugfest '96 took place at the onset with a right hand by Mero sending Helmsley over the top rope to the floor.
Mero met him out there via a plancha.
Slingshot leg drop by Mero got 2.
After being reversed on a cross-corner whip, Helmsley flipped in the corner.
After giving Helmsley another cross-corner whip, Mero hit the ring post shoulder-first on his follow-through.
Smartly, Helmsley rammed Mero's injured shoulder into the opposite ring post.
Single-arm DDT by Helmsley kept him in control.
High knee by Helmsley got 2.
Mero countered another knee with a rollup for 2.
He then tried a backslide, but his shoulder failed him.
Helmsley then rammed Mero's arm into the ring post twice.
After ramming Mero's shoulder into the top turnbuckle, Helmsley applied a fujiwara arm bar.
Knee drop by Helmsley to Mero's shoulder.
Spinning arm hold by Helmsley was similar to what the Andersons used to do.
Mero got a quick rollup for 2, but Helmsley came back with a clothesline for 2.
Helmsley mounted the top turnbuckle and nailed Mero's shoulder again.
Rope-assisted arm bar by Helmsley was followed by an Anderson slam.
Again Helmsley mounted the top turnbuckle, but Mero bumped the top rope crotching the Connecticut blue blood.
Super huracanrana by Mero, but he couldn't follow up.
Flying headscissors by Mero preceded a knee lift.
He then mounted the top turnbuckle, got a sunset flip, but only got 2.
Dropkick by Mero sent Helmsley over the top rope to the floor.
He then tried a somersault plancha but hit nothing but the pad over the concrete floor.
In the process, Mero hurt his left knee.
Pedigree attempt by Helmsley, and Sable couldn't watch out of anguish.
Helmsley went after her, grabbed her, and instructed her to watch the impending massacre.
He again attempted the Pedigree, but Mero countered into a catapult sending Helmsley head-first into the top turnbuckle.
1-2-3.
Mero won.
Rating: ****
Summary: Intriguing finish to a solid match between these guys. I wonder, though, was this enough punishment for Helmsley for the Curtain Call? I guess we'll find out tomorrow night on RAW.
So before the Caribbean strap match could take place, the power was lost. When it resumed, it was time for the length-shortened main event.
Back in the locker room, Mr. Perfect interviews Jim Cornette who has the Smiths (the couple not the band), Owen (sporting a cast), and Clarence Mason with him. According to Cornette, Owen will be in Smith's corner tonight.
Outside Michaels' dressing room, Hendrix interviews the not-so-happy Michaels.
Prior to the next match, Mason, wearing a neck brace, serves Michaels with a summons for "attempted alienation of affection." Oh, brother. Michaels rips it up much to the delight of the Florence faithful.
Match 2 for the WWF title: The "Heartbreak Kid" Shawn Michaels (champion w/ Jose Lothario) versus the "British Bulldog" Davey Boy Smith (w/ Owen Hart & Diana Smith)
Highlights:
Right before going through the curtain, Michaels bumped into Mr. Perfect. Will another rivalry be renewed? Stay tuned!
Michaels used his quickness to take early control of the match. Smith exited the ring to regroup.
Michaels responded with a plancha.
Bear hug by Smith easily escaped by Michaels who gave Smith a rolling cradle for 2.
Enziguri by Michaels only got 2.
Hip toss by Michaels followed by a short-arm scissors.
Smith used power to place Michaels on his shoulder and give him the electric chair. Amazing!
Over-the-shoulder backbreaker (formerly used by both Jesse Ventura and Superstar Billy Graham) by Smith, but Michaels escaped.
Michaels tried a crucifix, but Smith countered with a Samoan drop.
Leg drop by Smith got 2.
During the match, a rather loud woman was SHRIEKING at Michaels. Out of character, Michaels told her to shut up and called her a not-so-nice name.
In the meantime, while Smith had Michaels in a side headlock, the latter was rather upset with what referee Earl Hebner told him. Stay tuned.
Michaels broke the hold, ducked a clothesline, and…avoided a knee to the midsection but fell outside the ring nonetheless. Hmmm…
Smith followed Michaels and made him taste the steel railing. It must have tasted like the Sweet tea marinated grilled pork chop from Red Bone Alley. It also tasted like payback for being unprofessional.
He then rammed Michaels head-first into the apron.
After giving Smith a guillotine on the top rope, Michaels delivered a springboard clothesline.
Double shoulder block put both competitors down.
Flying forearm by Michaels followed by a slam.
He then mounted the top turnbuckle and hit a double axe handle for 2.
As Michaels shot Smith off the ropes, the latter mowed Hebner down and out of the ring.
Another slam by Michaels as he again mounted the top turnbuckle and hit the big elbow.
As Michaels set up for his finisher, Owen entered the ring and ate a superkick.
As Mike Chioda replaced Hebner, Michaels escaped the running powerslam.
He then hit a German suplex and got the pin.
Wait a minute! Smith's music is playing. Chioda raised Smith's hand, and ring announcer Howard Finkel made the announcement.
Hebner, who had counted Smith's shoulders down, re-entered the ring and raised Michaels' hand. Finkel began to announce his victory.
As Chioda raised Smith's arm to gauge reaction, Hebner raised Michaels' arm. Shades of the 1994 Royal Rumble perhaps?
WWF President Gorilla Monsoon took the championship belt from Diana and entered the ring.
Finkel announced that, according to Monsoon, the match was declared a draw due to the double pin.
Michaels retained.
Rating: ***
Summary: According to Titan Sinking, Michaels was not too pleased with his match being shortened and acted out unprofessionally. Furthermore, Michaels took his frustration out by berating a sound technician who was in charge of entrance music. Michaels referred to this match as "the worst match of my career." It had its moments, but felt very flat. Hopefully, at King of the Ring, these two can provide a better performance storyline notwithstanding.
Now let's watch the matches they reproduced. This portion is also known as Beware of Dog 2.
Match 3 (Caribbean strap): Savio Vega versus Stone Cold Steve Austin (w/ the "Million Dollar Man" Ted DiBiase)
Highlights:
Guess whose contract is up? Nope, it's neither Vega nor Austin. It's DiBiase. As a special stipulation (and to even the odds), if Vega loses he becomes DiBiase's chauffer, but if Austin loses, DiBiase no longer is in the WWF. Hmmm…
Back drop by Vega, but Austin bailed out of the ring.
Vega then pulled Austin toward him hitting the apron across Austin's ribs twice.
Vega joined him on the floor, pulled him toward himself, and chopped Austin.
Before tossing Austin back in, he made Austin taste the apron.
Relentlessly, Vega whipped Austin.
Austin bailed to the apron but still got whipped.
Vega suplexed Austin back in and continued the whipping.
Spinning kick by Vega who touched two corners before Austin pulled him away.
Austin then got his turn to whip Vega.
They go outside the ring, and Austin rammed Vega back-first into the apron.
He then guillotined Vega on the steel railing.
Next, Austin hung Vega over the top rope with the strap.
He then suplexed Vega back into the ring.
Next, he hogtied Vega and touched two corners until Vega spun him around and clotheslined him with the top rope. OUCH!
Clothesline by Vega, but Austin backdropped him over the top rope to the floor.
Momentum took Austin over the top rope with Vega.
Austin tried to suplex him on the floor, but Vega reversed it.
Austin tried to deliver a double axe handle from the steps, but Vega nailed him in the midsection.
Vega tied Austin up and touched three corners, but Austin took him off his feet.
Vega set Austin on the top turnbuckle, chopped him, whipped him, but then received a head butt landing down on the mat.
Vega returned to the top turnbuckle, hooked Austin, and gave him a top rope superplex. Wow!
He then got up and touched three turnbuckles, but Austin gave him a spinebuster to stop his momentum.
Running guillotine by Austin who then choked Vega with the strap.
Austin then touched two turnbuckles until Vega poked him in the eye.
Tombstone piledriver by Austin, reversed by Vega, reversed by Austin, and then Vega went over the top rope to the floor.
Austin mounted the top turnbuckle, but Vega pulled the strap and made Austin taste the steel railing. It must have tasted like the Chopped Old Skool steak at Nigel's.
Austin came back by ramming Vega hamstring-first into the steel steps.
With Vega on the left side of the ring and Austin in the front portion, Vega pulled Austin ramming him into the ring post. OUCH!
Fireman's carry by Vega enabled him to touch two turnbuckles, but Austin grabbed him by the belt.
He touched the third turnbuckle, but Austin pulled him back.
Piledriver by Austin who then was summoned to give him another by DiBiase.
Unfortunately for Austin, Vega reversed it into a back drop.
Million Dollar Dream by Austin, but Vega touched 1, 2, 3 corners until landing atop Austin.
Snake Eyes by Austin, and he touched three turnbuckles. As did Vega.
The next combatant to touch the fourth turnbuckle wins.
Austin tried to pull Vega so he could touch it but ended up pulling Vega directly into it.
Vega won. DiBiase is no longer in the WWF.
Rating: ****
Summary: That rating may seem high; however, the true outcome of this match has yet to be revealed.
After the match, Vega requested the music to be stopped and requested "Na Na Hey Hey Goodbye" by Steam for DiBiase.
Back in the AOL room, WWF champion Shawn Michaels is griping about the length of his title match chatting with the Kliq.
Prior to the next match, we see Vader's destruction of Yokozuna from seven weeks ago.
Match 4: Yokozuna versus Vader (w/ Jim Cornette)
Highlights:
With Yokozuna in a sumo stance and Vader in a three-point stance, Yokozuna ran Vader over like a Mack truck.
He then clotheslined Vader over the top rope to the floor.
After taking some punishment from Vader, Yokozuna got a single leg takedown then put all of his weight down on Vader's left leg. Vader scurried outside the ring in obvious pain.
Vader got back in the ring, and Yokozuna did it again.
Vader tried to slam Yokozuna, but his leg gave out.
Yokozuna then hit the uranage. Impressive!
He then gave Vader an avalanche followed by a Samoan drop.
Yokozuna then brought Vader to the corner.
Before he could climb, Cornette tried to whack him with the tennis racquet, but Yokozuna caught the racquet beforehand.
He then brought Cornette in the hard way.
As Cornette pleaded for his life, Yokozuna squeezed his hand then delivered a head butt.
Before Yokozuna could give Cornette the Banzai drop, Vader pulled Cornette to safety.
Vader then hit an elbow drop and a splash on the previously injured ankle.
Vader bomb got the pin.
Rating: **
Summary: With wins over Razor Ramon and Yokozuna, it would appear that Vader is in the middle of a big push. On another note, if you like big man matches, this match was for you.
Promo for the King of the Ring live on PPV on June 23. Ross notes that Michaels will once again defend the WWF title against Smith. Also, the Smoking Gunns (now managed by Sunny?) will face the Godwinns with their WWF tag team titles at stake. Lastly, the Ultimate Warrior will face Jerry "The King" Lawler.
The bracket for the King of the Ring is shown:
Neither Warrior nor Goldust advanced to the quarterfinals.
Vader beat Ahmed Johnson.
Henry Godwinn will face Justin "Hawk" Bradshaw.
Jake "The Snake" Roberts faces Hunter Hearst Helmsley.
Sparkplug Bob Holly squares off against Stone Cold Steve Austin.
Savio Vega tangles with Marty Jannetty.
Yokozuna wrestles against Owen Hart.
And, Bodydonna Skip faces "Wildman" Marc Mero.
We revisit RAW…wait a minute! I haven't seen this yet. You'll get my $.02 in my Monday Night War report.
Match 5 for the WWF Intercontinental title (casket): Goldust (champion w/ Marlena) versus the Undertaker (w/ Paul Bearer)
Highlights:
Instead of coming to the ring with Bearer, Undertaker snuck up from behind Goldust and nailed him.
Back elbow by Undertaker followed by a big right hand.
Undertaker then tossed Goldust over the top rope onto the casket and then to the floor.
He followed Goldust outside the ring and rammed him face-first into the steps.
After making Goldust taste the golden coffin, Undertaker tossed him back into the ring.
A slam and a leg drop by Undertaker kept him in control.
Ropewalk followed by a shoulder smash by Undertaker.
After giving Goldust a cross-corner whip, Undertaker received a back elbow on his follow-through.
Goldust slammed him, but Undertaker sat up.
Tombstone by Goldust, but Undertaker sat up again.
Flying clothesline by Goldust who then rolled Undertaker into the casket but couldn't shut the lid.
Big boot by Undertaker, but Goldust backdropped him over the top rope to the floor.
Upon ramming Undertaker face-first into the steps, Goldust choked him with camera cables.
If I may say so, Marlena was looking rather yummy this particular evening.
Anyways, sleeper by Goldust who was able to put Undertaker into the casket but couldn't shut it again.
In his attempt to close the casket, Goldust climbed on top of it, but Undertaker powered him off and down to the floor.
Back in the ring, Undertaker hit a flying clothesline.
Another clothesline by Undertaker took both competitors over the top rope to the floor.
Undertaker grabbed a chair but ate boot upon charging Goldust.
After Goldust hit a clothesline on the floor, he gave him a powerslam back in the ring.
He then mounted the top turnbuckle and hit another clothesline.
Mistakenly he made a cover and counted his own pin.
Goldust tried the ropewalk, but Undertaker gave him an arm drag down to the mat.
Tombstone by Undertaker who opened the casket only to find Mankind inside.
Mandible claw by Mankind put Undertaker in the casket and closed the lid.
Goldust retained.
Rating: **
Summary: Another table-setting match in a series of them on this show.
After the match, Mankind locks the casket and it begins to smoke. As both Goldust and Mankind return backstage, the casket is opened, and Undertaker is NOT INSIDE! Bearer is beside himself.
Conclusion: Mother Nature can be pretty nasty when she wants to be. She wreaked havoc on this PPV causing it to be split into two shows. Watching it all together was weird due to the main event being near the beginning of the show. On the one hand, a lot of table-setting took place, but on the other hand, the Mero-Helmsley match as well as the Caribbean strap match were both excellent. If you've never seen them, please give them a look. If you've seen this show before, a second viewing may not be worthwhile.
See you for the Monday Night War week 38!
Buyrate: 0.45
Comments? Suggestions? Send them to me at rsg@rockstargary.com and follow me on Twitter (@rockstargary202).
Custom Search