WELCOME TO ROCK STAR GARY REFLECTIONS!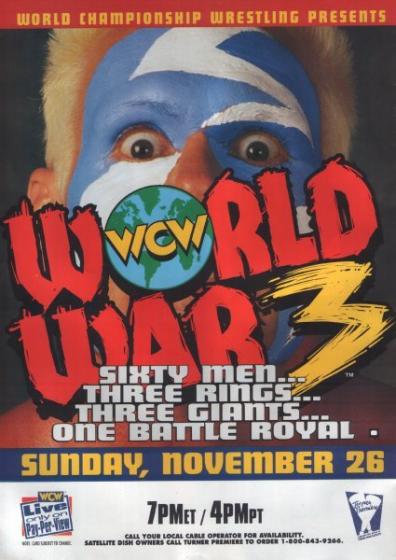 Live from Norfolk, VA
Airdate: November 26, 1995
Attendance: 12,000 (8,038 paid)
Hosted by Tony Schiavone and Bobby "The Brain" Heenan
Boot up your desktop PC running Windows 3.11, dial up your ISP on your 14.4k modem, and participate in live "electronic" chat on CompuServe: "go conventions." Gotta love 1995 technology!
On the side stage "Mean" Gene Okerlund interviews Hulk Hogan, Sting, and Randy Savage. Hogan sheds the Dark side by burning the black bandana and shirt in a can. There's ABSOLUTELY NO WAY Hulk Hogan is turning heel! He then tells us to "observe this" as he has a copy of the latest Wrestling Observer (he referred to it as "the rag sheet"). According to Hogan Meltzer picked the Giant to win the battle royal and that Savage's arm is fine. In the Observer Meltzer refutes these comments.
Highlights of the feud between DDP and Badd are shown including the Diamond Doll leaving DDP on WCW Saturday Night.
Match 1 for the World TV title: Johnny B. Badd (champion) versus Diamond Dallas Page (w/ the Diamond Doll and Maxx Muscle)
Highlights:
The Diamond Doll's services were on the line as well. Um, er, perhaps that should read MANAGERIAL services. Don't want to besmirch Kimberly Page.
Again DDP had the Badd blaster and shot it at the entrance rather than in the ring.
This match took place in ring #1.
They brawl out to the floor where Badd shoved DDP into the ring post.
Back in the ring Badd delivered a Samoan drop.
DDP charged at Badd, but after Badd ducked DDP sailed over the top rope to the floor.
Plancha by Badd.
Belly-to-back suplex by DDP.
Pancake by DDP.
Clothesline.
Running shoulder block in the corner.
Second try missed and DDP hit his shoulder on the ring post.
Inverted atomic drop by Badd.
Badd ducked a clothesline and delivered one of his own. The Doll gave him a 10+!
Sit-out powerbomb by Badd.
Pinfall attempt by DDP with feet on the ropes only got 2.
Tilt-a-whirl sidewalk slam by DDP.
Headscissors by Badd.
Badd attempted the Badd Mood (slingshot splash) but hit knees.
Gutbuster by DDP.
Unsuccessful tombstone attempt by DDP countered into a successful tombstone by Badd.
Somersault plancha by Badd.
Springboard leg drop by Badd got the pin.
Badd retained the TV title.
Rating: ***1/2
Summary: The chemistry between these two wrestlers is fantastic, and I'm sure this story hasn't finished yet.
After the match the Diamond Doll enters the ring and hugs Badd.
By the entrance Gene shills the hotline by hyping a story about further developments in the WWF steroid scandal and the alleged witness tampering by Marty Bergman. Well, not in so many words, but you get the gist. Anyways, he interviews Badd along with the Diamond Doll. Badd offers her a job as his manager, and the Doll will contemplate it.
Match 2 (taped fist): "Hacksaw" Jim Duggan versus Big Bubba Rogers
Highlights:
The winner will be determined either by pinfall or knockout.
Before Bubba could make it to the ring Duggan nailed him from behind.
A pair of clotheslines could not knock Bubba off his feet, but a third one sent him over the top rope to the floor.
While they started out in ring #1 they made their way to ring #2.
Duggan sandwiched Bubba's head between the ring posts. OUCH!
After Duggan leaped from the apron to the floor Bubba caught him with a right to the mid-section. Also Duggan landed on the steel railing.
Enziguri by Bubba.
Shoulder block by Duggan sent Bubba through the ropes to the floor.
In a clever move Bubba used his extra tape to secure Duggan to the top rope.
Are you fucking kidding me? Bubba came off the ropes and ran straight into a Duggan right hand. Not so clever there, Ray. Send him back to Cobb County Community College!
Duggan gave Bubba a backdrop over the top rope to the floor.
Three point stance connected.
With a chain VK Wallstreet came to the ring, but ate a shot to the midsection with Duggan's board. OUCH!
Bubba procured the chain and laid Duggan out with an uppercut.
Bubba won by knockout.
Rating: *1/2
Summary: Duggan's charisma held this one together…barely.
On the side stage Gene interviews Ric Flair. Norfolk loves the "Nature Boy."
Match 3: Akira Hokuto and Bull Nakano (w/ Sonny Onoo) versus Mayumi Ozaki and Cutie Suzuki
Highlights:
Mike Tenay joined Tony and Bobby at the broadcast position.
Double clothesline by Nakano and Hokuto to Ozaki.
While Nakano had Ozaki in a standing choke Hokuto came off the ropes for a double chokeslam.
Springboard double axe handle from Ozaki to Hokuto.
DDT by Ozaki.
Hot tag Suzuki.
Running dropkick by Suzuki to Hokuto.
Single leg crab by Suzuki
Nakano tried to interfere, but Ozaki intercepted her and put her in a Boston Crab.
Single leg crab #2 by Suzuki.
Miscommunication by Suzuki and Ozaki sent Ozaki sailing off the apron.
Powerbomb by Nakano to Suzuki.
Moonsault by Nakano missed.
Ozaki mounted the top turnbuckle and hit a double stomp on Nakano.
Suzuki then mounted the top turnbuckle and hit a double stomp of her own.
Make that double stomp #3 from the top turnbuckle as Ozaki delivered another one.
Suzuki made it #4. That's gonna hurt in the morning.
Ozaki entered the ring to assist Suzuki with a double suplex, but Nakano reversed it.
Hokuto mounted the top turnbuckle but missed the high cross body.
Double dropkick by Ozaki and Suzuki to Nakano. Who do they think they are? The Rock'n'Roll Express?
Ozaki and Suzuki set Hokuto up for the double superplex, but Nakano yanked both women down to the mat.
Since Hokuto was already on the top turnbuckle she hit both women with a flying cross body block.
Double huracanrana from Ozaki and Suzuki to Nakano and Hokuto.
They then mount opposite corners and deliver flying clotheslines.
Modified dragon suplex by Ozaki to Hokuto.
Hokuto gave Ozaki a German suplex that could have killed her. YIKES!
After Ozaki and Suzuki duck a Nakano clothesline Hokuto delivered a missile dropkick to both of them.
After Nakano took both women outside the ring Hokuto delivered a somersault plancha onto both of them.
Doomsday Device by both Nakano and Hokuto with a 360° sell by Ozaki. Awesome!
Nakano mounted the top turnbuckle, delivered the guillotine leg drop, and got the pin on Ozaki.
Rating: ****
Summary: Once Suzuki got involved the wrestling was less one-sided and became much more exciting. Check this out!
On the side stage Gene shills the hotline again then interviews Jimmy Hart with Lex Luger. "The Total Package" reads his lines from a cue card on the floor. It was THAT obvious.
Match 4 for the WCW US title: Kensuke Sasaki (champion w/ Sonny Onoo) versus "The Crippler" Chris Benoit
Highlights:
Sasaki countered a front face lock with a back drop.
Military press slam by Sasaki.
Benoit countered a Boston crab attempt using his legs to throw Sasaki.
Sasaki exited the ring to catch a breather, and Benoit delivered a tope suicida. Somehow he missed the steel railing. Whew!
Back in the ring Benoit executed a snap suplex.
Onoo joined Tony and Bobby on commentary.
Benoit countered a vertical suplex attempt with a pair of German suplexes.
Clothesline by Sasaki.
Tombstone attempt by Sasaki reversed into one by Benoit. If Benoit had been the Undertaker this one would be OVER.
Benoit mounted the top turnbuckle and hit the diving head butt.
Super huracanrana by Benoit.
Odd slam by Sasaki as he had grabbed Benoit's leg initially.
Clothesline by Benoit no-sold by Sasaki who immediately clotheslined Benoit.
Northern Lights bomb by Sasaki (his wife Akira Hokuto's finishing maneuver) got the pin.
Rating: ***
Summary: While the beginning was very slow the offense throughout the match was all high-impact. Good stuff.
Gene interviews the Taskmaster with the Giant and Jimmy Hart. Taskmaster refers to the Giant as the "uncrowned champion." Gene tries to create mutiny within the Dungeon of Doom. Just for the sake of being hokey the Giant recites a poem in Hogan's honor.
Tony shills WCW Starrcade '95 on December 27 (Wednesday) only on PPV! Good luck with the buyrate on the Wednesday after Christmas!
Video package on the Luger-Savage feud.
Gene interviews Randy Savage. Regarding the current condition of his arm Savage believes he's "a million percent." OK, then.
Match 5: "The Total Package" Lex Luger (w/ Jimmy Hart) versus "Macho Man" Randy Savage
Highlights:
Luger missed a clothesline but Savage didn't.
Catapult choke on the bottom rope by Savage.
Boston Crab.
Savage made Luger taste the steel railing. It must have tasted like the Dirty Dog at the Dirty Buffalo.
Make that twice. Waiter, Luger will also have the Poor man's wings.
As Savage mounted the top turnbuckle Hart jumped on the apron to distract referee Randy Anderson.
Savage hit the big elbow.
Since Anderson was still occupied with Hart Savage tossed Luger in Hart's direction but missed. Luger ended up on the floor.
Savage then made Luger taste the steel railing a third time. Waiter, he's really hungry. Give him a Muddy Mutt too please.
After delivering an Irish whip to Savage into another ring Luger put Savage in the torture rack.
Before they could be counted out Luger broke the count.
After rolling Savage back into the ring Luger applied an arm bar.
Anderson raised Savage's arm three times due to Savage's loss of consciousness.
Luger won.
Rating: *
Summary: Somehow I gather that this feud isn't over. Savage is so limited with his bad arm that they made an angle out of it.
After the match Luger won't release the hold. Sting runs in to discuss more Main Event Fitness business strategy in order for him to release the hold. So Luger's both a face and a heel? Tweener-mania, folks!
Video package on the feud between Sting and Flair.
Match 6: "Nature Boy" Ric Flair versus Sting
Highlights:
While the match began in ring #1 Flair took it to ring #2.
Gorilla press slam by Sting.
Clothesline.
Ten punch count-along.
Dropkick.
Flair escaped to ring #3.
Sister Sherri and Colonel Parker stood at the entrance to watch the match and were very chummy with one another.
Clothesline #2 by Sting sent Flair over the top rope to the floor.
Gorilla press slam #2.
Flair whipped Sting into the steel railing, but Sting applied the brakes before hitting it. However, just as you thought Sting had wised up he charged at Flair; Flair moved so Sting hit the steel railing. D'oh!
Referee Nick Patrick prevented Flair from using a chair.
Flair then made Sting taste the steel railing. It must have tasted like Ivan's steampot at AW Shuck's.
Sting countered a chop with a choke. In turn Flair countered with a shot down below.
Knee drop by Flair.
Flair asked Patrick to check the time. In the meantime he tossed Sting over the top rope to the floor. HA!
Chop block by Flair in ring #3. Personal foul #0 defense. Fifteen yard penalty. First down.
Belly-to-back suplex.
Figure-four leg lock.
Sting turned it over.
Backslide by Sting.
He no-sold ALL of Flair's chops.
Back in ring #1 gorilla press slam #3.
Pair of clotheslines.
Flair mounted the top turnbuckle but came down the hard way.
Flair flip followed by a Sting clothesline.
Ten punch count-along, but Flair carried Sting to attempt an inverted atomic drop.
Unfortunately for Flair Sting avoided it.
Top rope superplex by Sting.
Scorpion death lock.
Flair submitted.
Rating: ****
Summary: It's like watching the same great movie over and over again. It never gets old and is always as good as expected.
Promotional video package for the battle royal.
On the side stage Gene interviews Hogan again. Boos can be heard from the crowd especially from my desk.
Match 7 (60-man battle royal for the WCW World title):
Participants:
MAIN-EVENT PLAYERS
Sting
Hulk Hogan
Randy Savage
Lex Luger
Four Horsemen: "Nature Boy" Ric Flair, "The Enforcer" Arn Anderson, "The Crippler" Chris Benoit, and "Flyin'" Brian Pillman
Dungeon of Doom: The Taskmaster, Meng, Shark, Zodiac, Hugh Morrus, Yeti, Giant
TAG TEAMS
American Males Marcus Bagwell and Scotty Riggs
WCW World tag team champions Harlem Heat Booker T and Stevie Ray
Nasty Boys Brian Knobbs and Jerry Sags
Blue Bloods Lord Steven Regal and Earl Robert Eaton
The Super Assassins #1 and #2 (aka the Powers of Pain: Warlord and Barbarian under masks)
Stud Stable "Dirty" Dick Slater and Bunkhouse Buck
Barrio Brothers Ricky Santana and Fidel Sierra
MIDCARD FODDER
Kensuke Sasaki
Johnny B. Badd
DDP
Eddie Guerrero
"Hacksaw" Jim Duggan
Big Bubba Rogers
Road Warrior Hawk
Scott "Flash" Norton
VK Wallstreet
"Mr. Wonderful" Paul Orndorff
One Man Gang
"Das Wunderkind" Alex Wright
Mr. JL
Cobra
Disco Inferno
Kurasawa
UNDERCARD FODDER
Sgt. Craig "Pitbull" Pittman
Scott and Steve Armstrong
Big Train Bart
Chris Kanyon
"Jumpin'" Joey Maggs
Maxx Muscle
Buddy Lee Parker
James Earl Wright
Mark Starr
Evad Sullivan
"Squire" David Taylor
Bobby Walker
"Pistol" Pez Whatley
Mike Winner
Highlights:
After each ring gets paired down to 10 men members of rings #2 and #3 will migrate to ring #1.
Since there are 3 rings there will be 3 broadcast teams. Team #2 is comprised of Eric Bischoff and "the American Dream" Dusty Rhodes. Team #3 is comprised of Chris Cruise and "the Living Legend" Larry Zbyszko.
After Penzer introduced all of the participants Buffer rumbled.
Earlier Bischoff referred to this match as "nothing but chaos." I concur.
Flair and Arn worked over Sting on the floor.
According to Cruise the Yeti had already been eliminated.
According to Tony Mike Winner was eliminated.
Road Warrior Hawk got a ten punch count-along on Flair.
Mark Starr was eliminated by Knobbs.
Parker also was eliminated and argued with his State Patrol partner Wright.
Buck was gone.
Tony notified us that Cobra was also eliminated.
Sting and Knobbs took Disco Inferno to Pity City. Ew.
According to Cruise Bagwell and Kanyon were eliminated.
Tony told us that Bart bit it.
On the floor Arn tried to piledrive Luger but received a back drop instead.
As Hogan was on the verge of elimination Fidel was eliminated.
Steve Armstrong was eliminated.
Pittman eliminated Walker.
Santana, Stevie Ray, and Knobbs were eliminated.
Giant had Sting in a bear hug.
Whatley and Wright were eliminated.
Riggs was eliminated.
Ring #2 emptied to 10 men (which eliminated Eric and Dusty on commentary) so they moved to the other rings.
Slater was eliminated.
Shark put Hawk in a bear hug.
Wallstreet was eliminated.
Norton was eliminated.
EMTs roll a stretcher out for Scott Armstrong.
Ring #3 emptied to 10 men removing Cruise and Zbyszko from commentary.
Before Savage and DDP went to ring #1 Savage sent DDP into the ring post.
Hogan slammed the Giant.
Pittman put the Code Red on Kurasawa.
Maggs was gone.
Duggan taped up his fist and knocked Bubba out to the floor.
Luger rammed Savage into the ring post.
Duggan was eliminated.
Disco Inferno was eliminated.
Taylor was gone.
Guerrero mounted the top turnbuckle, leaped over Sting, and nailed Arn.
Sags and Booker T were eliminated by Hogan.
Hogan tossed the Taskmaster over the top to eliminate him.
Briefly Savage and Luger fought in ring #2.
Regal was eliminated.
Dropkick by Guerrero to Meng.
DDP and Badd eliminated one another.
Pittman charged someone and sailed over the top rope.
Benoit was eliminated.
Sting had Pillman in a sleeper.
Kurasawa was eliminated.
Giant had a standing choke on Savage.
Gang tossed Meng.
Rope-assisted abdominal stretch by Arn to Guerrero.
Meanwhile Luger continued to lurk outside the ring.
Pillman and Morrus aid in the elimination of Zodiac.
Sasaki eliminated Morrus.
Guerrero countered the abdominal stretch with one of his own.
Hawk eliminated Pillman and almost eliminated Sasaki.
Pillman and Hawk played tug-o-war with Sasaki.
Hogan eliminated Hawk which caused the elimination of Sasaki.
Stinger splash to the Giant.
Stinger splash #2 hit Guerrero on the top rope when Giant evaded him.
Orndorff attempted a piledriver on Hogan but received a back drop over the top rope instead.
Nine men left.
Guerrero mounted the top turnbuckle and delivered a missile dropkick to Arn.
Flair then put the figure-four on Guerrero.
Spinebuster to Guerrero.
Guerrero was eliminated.
Stinger Splash to Arn.
Atomic drop from Giant to Sting.
Chokeslam to Savage.
Flair mounted the top turnbuckle, but Sting catapulted Arn into him. Consequently Flair fell to the floor.
Immediately thereafter Sting eliminated Arn.
As Sting and Luger teamed up to eliminate the Giant Hogan eliminated all three of them.
Giant pulled Hogan under the bottom rope.
Referee Randy Anderson was occupied with Savage's elimination of the One Man Gang.
Anderson declared Savage the winner because he didn't see how Hogan was eliminated.
WE HAVE A NEW CHAMPION!
Rating: NONE
Summary: Once it was paired down to the last ten men the match became a lot more bearable. Before then it was a mess.
After the match Hogan slams the Giant on the floor, hears the bell ringing, and sprints back to the ring. He tries to appeal his case to no avail. Gene enters the ring as Buffer announces Savage as the new World champion. The crowd boos Hogan out of the building. Savage wants to see the film, but Gene says "Wait for Nitro tomorrow night!" Afterwards Hogan and Savage shake hands, share an "Oh yeah," and embrace.
Conclusion: Pure chaos became pure controversy, but, at least for the time being, the WCW title is no longer held up. The fallout from the battle royal should be pretty good on Nitro. So WCW brought a water cooler topic to the office the next day hoping to lure viewers to Nitro. I wonder if it works.
With that being said, the rest of the card was really good. In spite of the Duggan/Bubba and Savage/Luger matches the rest was very entertaining and worthwhile. If you've never seen this show you owe it to yourself to check it out. Just be forewarned the battle royal is long and tedious (much like my list of highlights from it.)
See you for the Monday Night War week 12!
Buyrate: 0.43 (better than IYH 4 but not as good as Survivor Series)
Comments? Suggestions? Send them to me at rsg@rockstargary.com and follow me on Twitter (@rockstargary202).
Custom Search