WELCOME TO ROCK STAR GARY REFLECTIONS!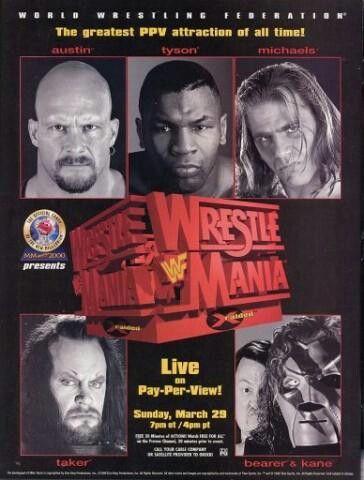 WWF WrestleMania XIV
Live from Boston, MA
Airdate: March 29, 1998
Attendance: 19,028 (15,681 paid, sold out)
Hosted by Jim Ross & Jerry "The King" Lawler
Can Austin win the big one and become THE MAN in the WWF? Will Shamrock gain revenge against the Rock? How will Undertaker fare against his brother Kane? What will the NAO have to do to maintain their titles? Let's find out!
Match 1 (tag team battle royal):
Participants:
Disciples of Apocalypse, Godwinns, Headbangers, Los Boricuas, Midnight Express, Nation of Domination, Quebecers, Rock'n'Roll Express, Too Cool, Truth Commission, & ????
Highlights:
Faarooq and Kama filled out fourteen of the fifteen teams. But who's the fifteenth?
Holy space-age mutants, Batman! It's LOD2000 with Sunny!
According to JR, when a wrestler gets eliminated, the team is eliminated. Also, the winner will face the World tag team champions at the April PPV.
When the match began, all chaos broke loose.
Off-camera, Savio Vega was eliminated, so he and Miguel Perez's nights were over.
Kurrgan made an appearance, and JR noted that the Truth Commission was eliminated.
As Barry Windham came to ringside, he entered the ring and tossed Chainz out of the ring.
Incidentally, Chainz was Bradshaw's partner; thus, Bradshaw was eliminated as well. Strategy!
Rougeau got eliminated followed by D'Lo Brown.
After Morton bit the dust, the Rock'n'Roll Express were eliminated.
According to JR, Faarooq and Kama were eliminated as well as Jesus and Jose of Los Boricuas.
Holly eliminated Thrasher, so the Headbangers were gone.
While Holly backdropped Taylor over the top rope, Taylor and Christopher were eliminated.
FINAL FOUR: LOD2000, DoA, Godwinns, and the Midnight Express.
When Hawk delivered a flying shoulder block to Henry Godwinn, 8-Ball got tossed, so DoA was finished.
DoA didn't want to be finished, so 8-Ball eliminated Phineas Godwinn.
As the Godwinns snuck back into the ring, they CROWNED LOD2000 with their buckets. Heinous!
The Midnight Express provided Hawk with a double back elbow but couldn't eliminate him.
After Animal clotheslined both Bart and Bob, he powerslammed Bart.
Animal then reversed an Irish whip sending Bob into a boot from Hawk.
While Hawk clotheslined Bart over the top rope to the floor, LOD2000 won at 8:20.
Rating: NONE
Summary: Since LOD2000 was the only team that the Boston faithful gave a shit about, they won.
We then head to the DX Public Workout last Thursday when DX humiliated Austin. On Friday, Austin appeared on Live with Regis & Kathy Lee. Flash Funk was on New England Cable Access on Saturday, and Sable signed autographs at Champions on Saturday night. Hopefully, the WWF Superstars ate plenty of chowda.
Match 2 for the WWF Light Heavyweight title: Taka Michinoku (champion) versus Aguila
Highlights:
Popcorn, anyone?
Aguila provided Michinoku with a flying headscissors and followed with a spinning heel kick.
As the Boston faithful sought concessions, Aguila scored with a baseball slide.
He then mounted the top turnbuckle and launched an Asai moonsault to Michinoku on the floor. Woohoo!
When Aguila suplexed him back into the ring, Michinoku dropkicked him out of it.
Michinoku then leaped to the top turnbuckle and dealt Aguila a tope.
After they returned to the ring, Michinoku gave Aguila a cross corner whip followed by a forearm smash.
He then supplied Aguila with a pair of seated dropkicks for 2.
While Aguila backdropped him over the top rope to the floor, he scored with a corkscrew plancha.
Michinoku mounted the top turnbuckle but missed a moonsault.
As Aguila mounted the same top turnbuckle, he succeeded with a moonsault for 2.
Michinoku mounted the second turnbuckle, but Aguila joined him.
When Michinoku shoved Aguila down to the mat, he ate knees on a splash attempt.
Aguila then hoisted Michinoku atop the top turnbuckle and unleashed another flying headscissors.
After Michinoku reversed a cross corner whip, he followed with a thrust kick.
He then mounted the top turnbuckle and uncorked a missile dropkick.
While Aguila attempted a huracanrana, Michinoku countered with a powerbomb.
He then mounted the top turnbuckle but missed another moonsault.
As Aguila hooked la magistral cradle, he got 2.
Aguila then mounted the top turnbuckle, leaped, but ate a dropkick.
When Michinoku delivered a Michinoku driver, he pinned Aguila at 6:00.
Rating: *½
Summary: Nobody in the Fleet Center gave a shit how many high-flying spots these guys performed. Nonetheless, if the WWF needs its light heavyweight division, then they need to insert Brian Christopher to bring heat to it.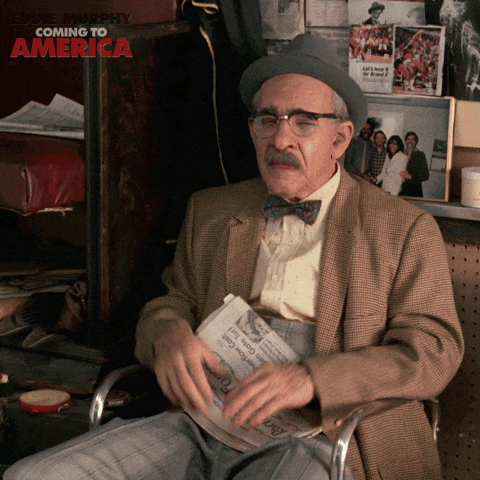 Earlier today, Gennifer Flowers interviewed the Rock. While the Rock spoke in the third person, his charisma and confidence are in full swing.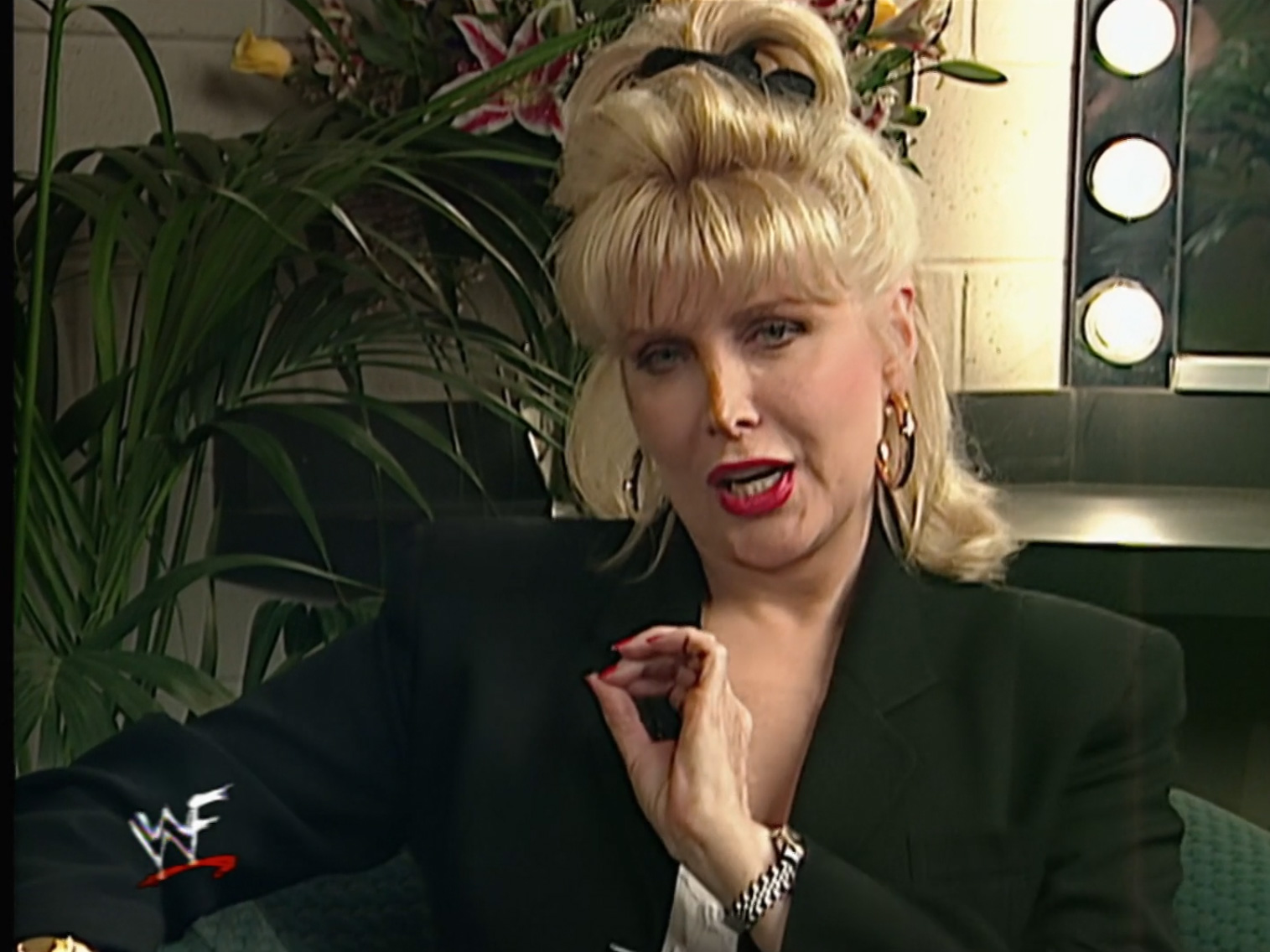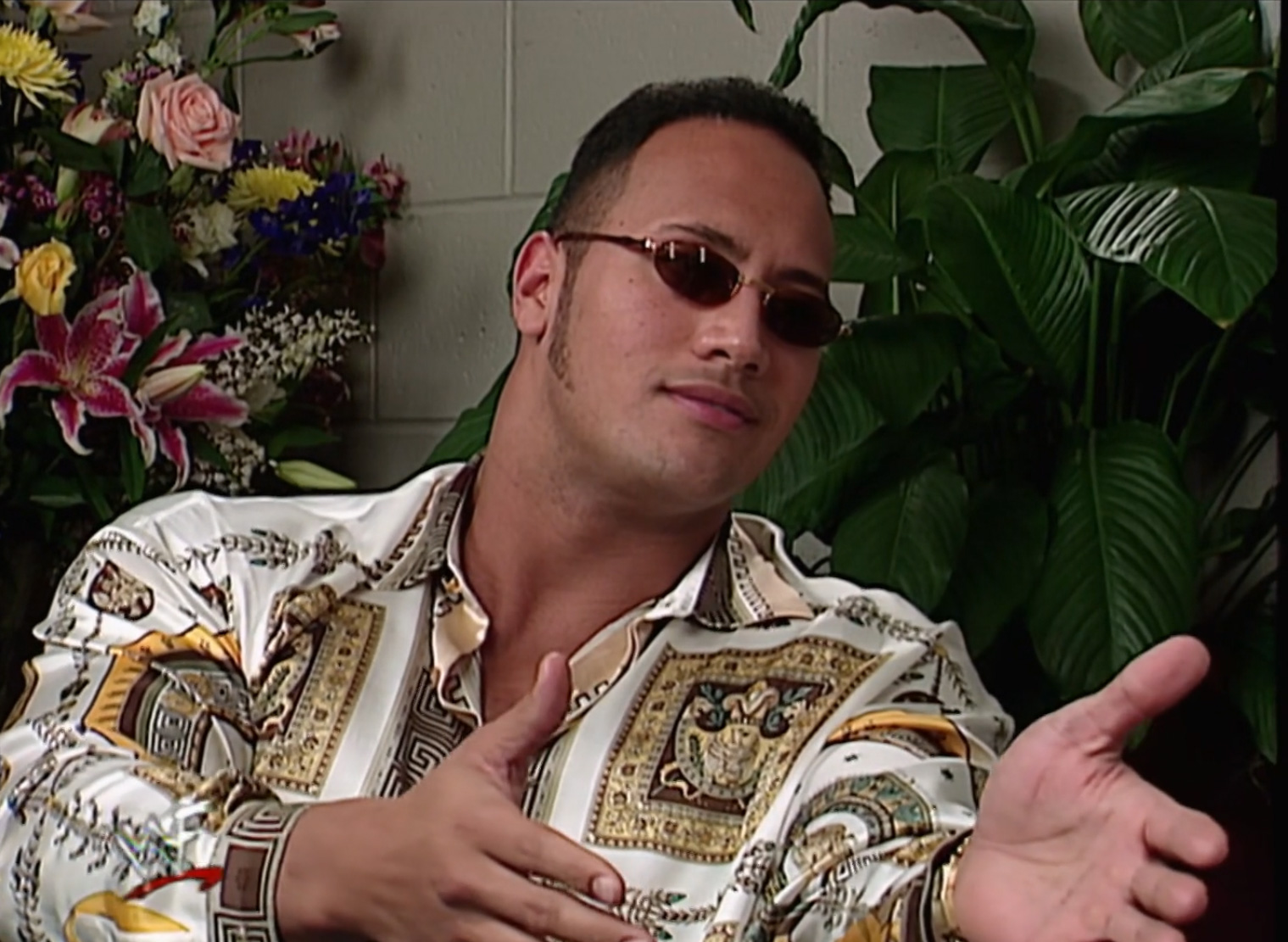 Prior to the next match, we revisit RAW from two weeks ago when Chyna WHACKED Owen on his injured ankle to cost him the European title.
Connecticut Yankee plays the DX theme song LIVE as HHH makes his entrance.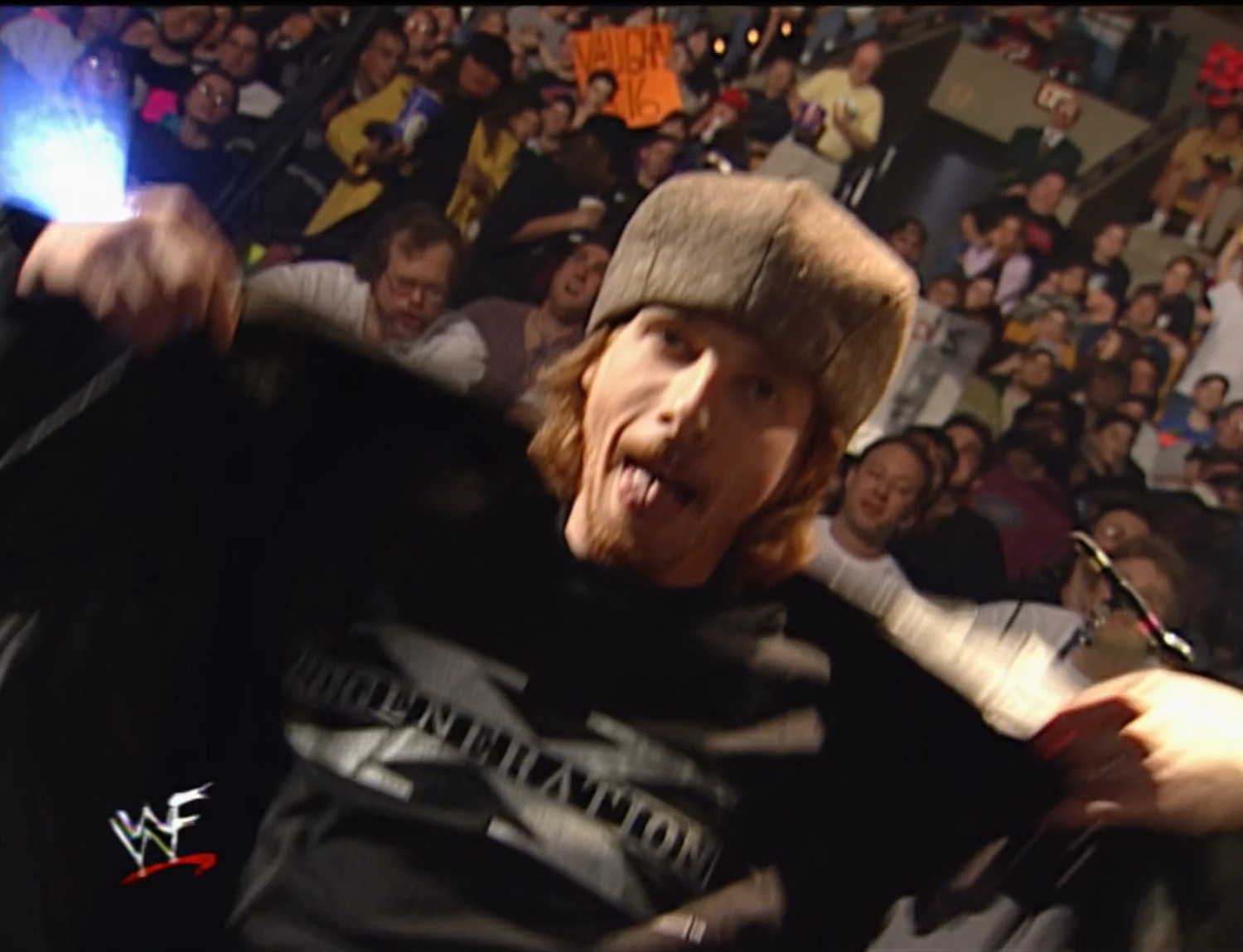 Match 3 for the WWF European title: HHH (w/ Chyna) versus Owen Hart (w/ Commissioner Slaughter)
Highlights:
Chyna was handcuffed to Slaughter for this match albeit reluctantly.
When Owen entered the ring, he took HHH down immediately.
He then gave HHH a cross corner whip followed by a back drop.
As he scored with a lariat, he dealt a ten-punch count-along to HHH.
He then delivered a huracanrana for 2.
After HHH reversed an Irish whip, he followed with a back elbow.
HHH distracted referee Tim White, but Chyna tried but failed to nail Owen.
While HHH leaped from the apron, Owen made him taste the steel railing. It must have tasted like the Biz at the Bleacher Bar.
HHH reversed another Irish whip, but Owen caught him mid-leapfrog and attempted a Sharpshooter.
When HHH escaped, he supplied Owen with a face crusher.
He then clotheslined Owen and followed with a high knee for 2.
As he suplexed Owen, HHH hit a knee drop.
Owen rebounded with a cross corner whip, ate boot on his follow-through, and was

BUSTED OPEN

hardway.
After HHH landed a DDT, he got 2.
Owen gave him a cross corner whip, ducked a boot on his follow-through, and altered HHH's vocal range temporarily with the ring post.
While he mounted the top turnbuckle, Owen launched a missile dropkick.
Do we have a new champion?
1-2-NO!
He then hooked a belly-to-belly suplex for another 2.
When he uncorked a spinning heel kick, Owen couldn't get 3.
He then gave HHH another cross corner whip which resulted in a Helmsley flip.
As he unleashed an enziguri, Owen earned yet another 2-count.
Owen attempted a huracanrana, but HHH countered with a powerbomb for 2.
After he hoisted Owen atop the top turnbuckle, HHH joined him.
Owen guillotined him with the top rope, mounted the top turnbuckle, and hit a cross body block for 2.
While HHH reversed a cross corner whip, he attempted a Pedigree.
Owen countered and attempted another Sharpshooter.
When HHH blocked it, he sent Owen reeling back-first into the corner.
A dazed Owen fell forward and landed right on Chyna's favorite musical instrument.
As Owen earned a 2-count, Slaughter continued to keep Chyna at bay.
HHH attempted another Pedigree, but Owen countered with a back drop.
After HHH secured a sunset flip, Owen escaped and trapped HHH in a Sharpshooter.
RING THE BELL! RING THE FUCKING BELL!
Oh, sorry. Montreal screwjob flashback. I'm OK now.
Regardless, Chyna assisted HHH to reach the bottom rope to break the hold. SNEAKY!
She then tossed powder in Slaughter's eyes and distracted Owen.
While HHH distracted White, Chyna unloaded her infamous uppercut to Owen. How dastardly!
HHH then supplied Owen with a Pedigree.
1-2-3.
HHH retained at 11:30.
Rating: ***
Summary: Despite Slaughter's involvement, Chyna was able to use shenanigans to help HHH retain the title. Poor Owen.
After the match, Chyna manhandles White to unlock the handcuffs and CLOCKS Slaughter. She then sends him reeling into the steel railing and the front row.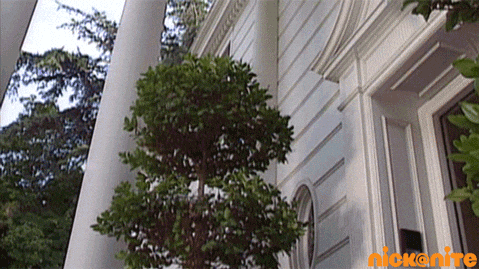 Prior to the next match, we revisit the troubled relationship between Mero and Sable. Mero aligned himself with Goldust, but Luna wanted to destroy Sable. As Sable fought back, Goldust, to separate her from Luna, restrained her. Mero took exception, and a battle ensued.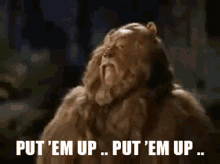 Match 4 (mixed tag): "Marvelous" Marc Mero & Sable versus TAFKA Goldust & Luna
Highlights:
For those unaware, this was Sable's wrestling debut and Mero's first WrestleMania.
Mero provided Goldust with a flying headscissors and clotheslined him.
As tags were exchanged on both sides, Luna scampered away, yet Sable sprinted after her.
When Luna returned to the ring, she tagged in Goldust much to the chagrin of the Boston faithful.
Mero then reversed an Irish whip and backdropped Goldust.
After Sable tagged in, she uncorked a thrust kick to Goldust. Impressive!
Luna refused to tag in, so Mero tagged in, gave Goldust a cross corner whip, but ate boot on his follow-through.
While Goldust clotheslined him, he guillotined Mero with the top rope.
He then distracted referee Jim Korderas, so Luna took liberties with the fallen Mero. Nefarious!
As Mero scored with a cross body block, he got 2.
The Boston faithful vocalized their need for "Sa-ble," and a mid-ring collision occurred.
When the men tagged out, a CATFIGHT broke out!
Sable unleashed a series of kicks to Luna in the corner and followed with a hair mare.
After she CREAMED Goldust, Sable clotheslined Luna over the top rope to the floor.
Goldust tagged in, and the temperature of the room dropped significantly.
While Sable nailed Goldust, Mero tagged in and sent Goldust somersaulting into the steps.
Mero attempted a springboard splash but ate knees.
As Sable distracted Korderas, Mero took a quick trip downstairs on Goldust.
He then attempted a TKO, but Goldust escaped and unloaded a DDT for 2.
When Mero reversed an Irish whip, Goldust sent him sternum-first into the corner.
Goldust then attempted a Curtain Call, but Mero escaped and supplied him with a knee lift.
After he mounted the top turnbuckle, Mero launched a Merosault for 2.
Mero then whipped Goldust into the corner but ate a back elbow on his follow-through.
While Goldust mounted the top turnbuckle, Mero crotched him.
He then joined Goldust and delivered a super huracanrana for another 2.
As Luna interfered, Mero considered turning her lights out.
Goldust charged yet bulldozed Luna instead of Mero.
When Mero rolled him up, he almost got 3.
He then delivered a TKO, but Luna made the save.
After Luna jumped on Mero's back, Sable blindly tagged in and covered Goldust.
Due to Korderas' occupation of returning Mero to his corner, Sable earned a false pin.
Luna then mounted the top turnbuckle to get to Sable but splashed Goldust inadvertently.
While Sable powerbombed her, she only got 2.
The "Sa-ble" chant intensified, but Luna missed a running guillotine.
As Sable scored with a TKO, she pinned Luna.
Sable and Mero won at 9:11.
Rating: **½
Summary: Entertaining match as Sable held her own magnificently.
After the match, Mero raises Sable's arm in victory.
In the ring, Tennessee Lee introduces "Double J" Jeff Jarrett and Gennifer Flowers. Jarrett wonders if Flowers thinks he's "great," and Flowers doesn't disappoint. Next, she performs the ring introductions for the upcoming match.
We then revisit one of the most devastating chair shots in wrestling history from two weeks ago.
Match 5 for the WWF Intercontinental title: The Rock (champion w/ the Nation of Domination) versus Ken Shamrock
Highlights:
For those unaware, the DQ stipulation was waived.
Shamrock hustled to the ring and kicked Rock in the face.
When he clotheslined Rock over the top rope to the floor, Shamrock joined him on the floor and made him taste the steel railing. It must have tasted like Green Monstah at Boston Burger.
He then blocked a shot to the steps and rammed Rock instead.
As Rock reversed a cross corner whip, Shamrock exploded from the corner with a pair of clotheslines.
Rock then used momentum to send Shamrock to the floor followed by the steps.
Back in the ring, Rock slammed Shamrock and followed with a People's Elbow for 2.
Shamrock then sent Rock flying over the top rope to the floor and grabbed a chair.
After Shamrock knocked down referee Jack Doan, Rock picked up the chair, SMACKED Shamrock right between the eyes with it, and got 2.
Shamrock rebounded with a back elbow and spinning heel kick.
While he powerslammed Rock, he got 2.
He then hooked a belly-to-belly suplex and applied an ankle lock.
When Rock submitted, Shamrock won at 4:49.
WE HAVE A NEW CHAMPION!
Rating: **
Summary: All high-impact and a great way to elevate Shamrock.
After the match, D'Lo Brown jumps into the ring but eats a belly-to-belly suplex. Kama follows yet receives one as well. Shamrock returns to punish Rock with another ankle lock, but Mark Henry interrupts. As Rock slithers out of the ring, Shamrock locks another belly-to-belly to Henry. He grabs Rock by the ankle, pulls him back to the center of the ring, and applies a third ankle lock.
While Faarooq storms the ring, he hesitates when he sees Rock in peril. HA! He then leaves knowing Rock is getting his just due. More officials arrive to calm the situation, but Shamrock belly-to-belly suplexes them too. While a crazed Shamrock tries to decide his next move, Rock lies in pain with a bloody mouth.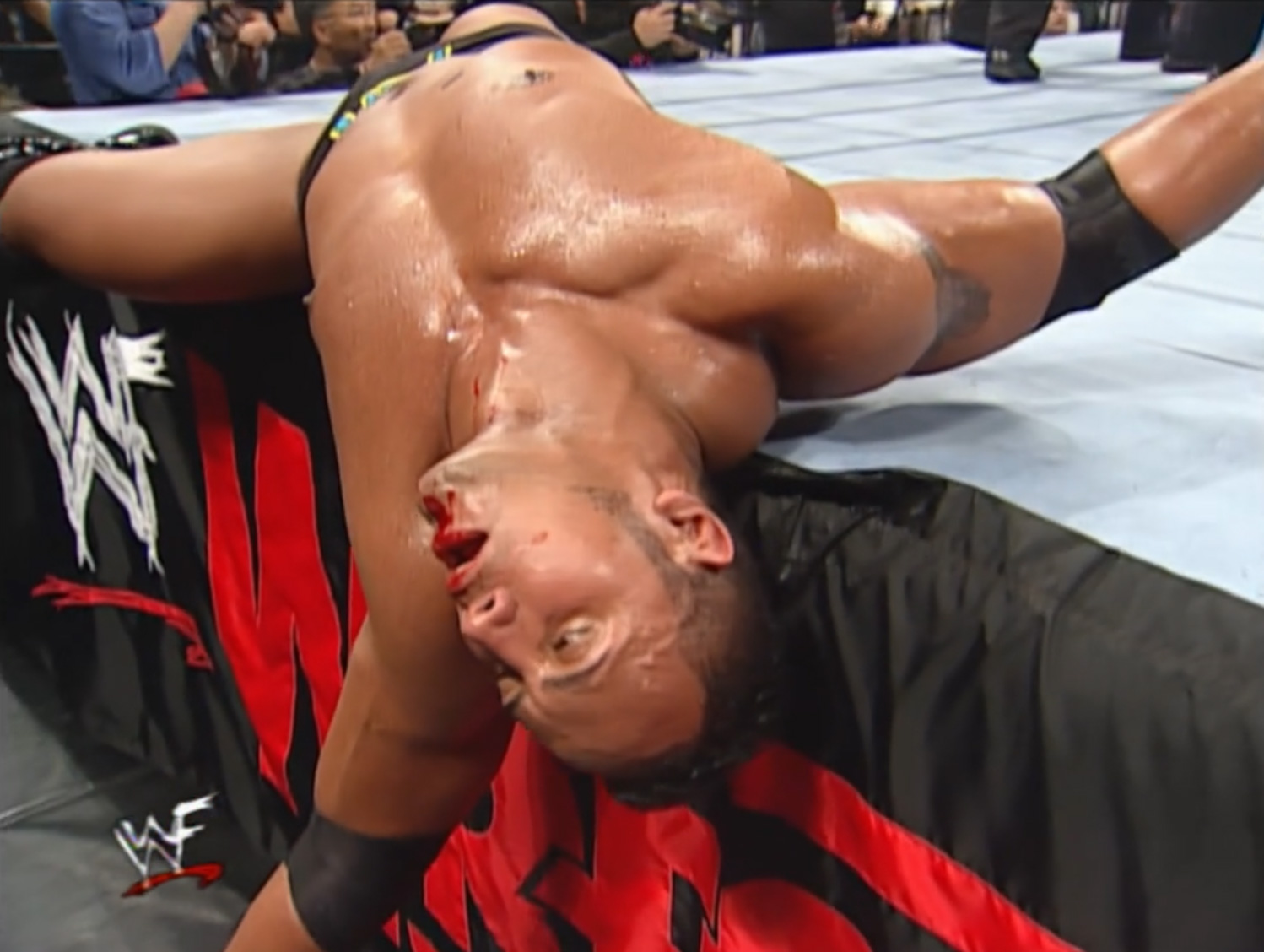 EMTs arrive to place Rock on a stretcher, and ring announcer Howard Finkel declares that Rock won by reverse decision. As Shamrock's rage continues, he bolts to the aisle to dump Rock from the stretcher. He slams Rock on the bandstand and holds the belt overhead to a HUGE ovation. Add * for the post-match antics.
WWF Attitude promo airs.
Prior to the next match, we revisit RAW when the NAO dumped Charlie and Cactus over the edge of the platform while in a dumpster.
Match 6 for the WWF tag team titles (dumpster): The New Age Outlaws (champions) versus Cactus Jack & Chainsaw Charlie
Highlights:
Charlie brawled with Gunn outside the ring and rammed him into the steps.
As Cactus supplied the same treatment to him, he rammed Road Dogg face-first into the dumpster.
He then sandwiched Road Dogg's head between his knee and a dumpster, and Gunn guillotined Charlie with the top rope.
When Dogg located a cookie sheet, he whacked Cactus with it.
With Road Dogg leaning against the dumpster, Cactus leaped from the apron.
In the nick of time, Gunn baseball-slid Road Dogg to safety, and Cactus propelled himself directly into the dumpster. OUCH!
Gunn sent Charlie reeling into the steel railing, and the NAO whipped and backdropped him into the dumpster.
After Gunn sent Cactus against the dumpster, Road Dogg implemented a side-Russian leg sweep to ram him again.
NAO then guillotined Cactus and Charlie with the dumpster lids and tossed them inside it.
While NAO attempted to close the lid, Cactus emerged and applied a Mandible claw to Road Dogg.
He then put Gunn in the same predicament, but Gunn escaped and hammered him with a cookie sheet.
As Charlie emerged from the dumpster, he scrambled Gunn's brains with a bigger cookie sheet.
Back in the ring, Cactus provided Road Dogg with a swinging neckbreaker, and Charlie followed with a hangman's neckbreaker.
With Gunn on the floor, Cactus delivered a cookie-sheet-assisted Cactus elbow to him.
Charlie then hit a DDT to Road Dogg on a cookie sheet, and Cactus located a ladder from under the ring.
When they set up the ladder, Cactus climbed, but Gunn nailed Charlie in the lower section of Boston.
Gunn then joined Cactus on the ladder to brawl, and Road Dogg smacked Charlie.
After Charlie bumped the ladder, both Gunn and Cactus plummeted into the dumpster in a neat visual.
Gunn then powerbombed Charlie into the dumpster.
I hope there was significant padding at the bottom of the dumpster.
Nevertheless, the NAO followed Cactus into the aisle and sent him into the cheap seats.
Backstage, NAO destroys Cactus with steel carts followed by a ride into a few plastic soft drink coolers.
Cactus rebounded with a chair shot for each of them and dealt Gunn a double-arm DDT on a palette.
While Cactus positioned Road Dogg on the palette, Charlie started the forklift and raised the palette.
He then drove the forklift to a dumpster and deposited them into it.
As Cactus closed both lids, Charlie maneuvered the palette atop the dumpster to seal the victory.
WE HAVE NEW CHAMPIONS!
Cactus and Charlie won at 9:59.
Rating: **
Summary: A hardcore match with a stipulation that led to one good spot and a unique finish.
Prior to the next match, we revisit the story of Undertaker and his not-so-little brother.
Baseball legend Pete Rose comes to the ring to be the guest ring announcer. To warm up the crowd, Rose, showing his Cincinnati Reds roots, runs down the Red Sox fans in attendance. He name-drops Bucky Dent and belittles Bill Buckner. Next, he references the "Curse of the Bambino" and calls them "losers."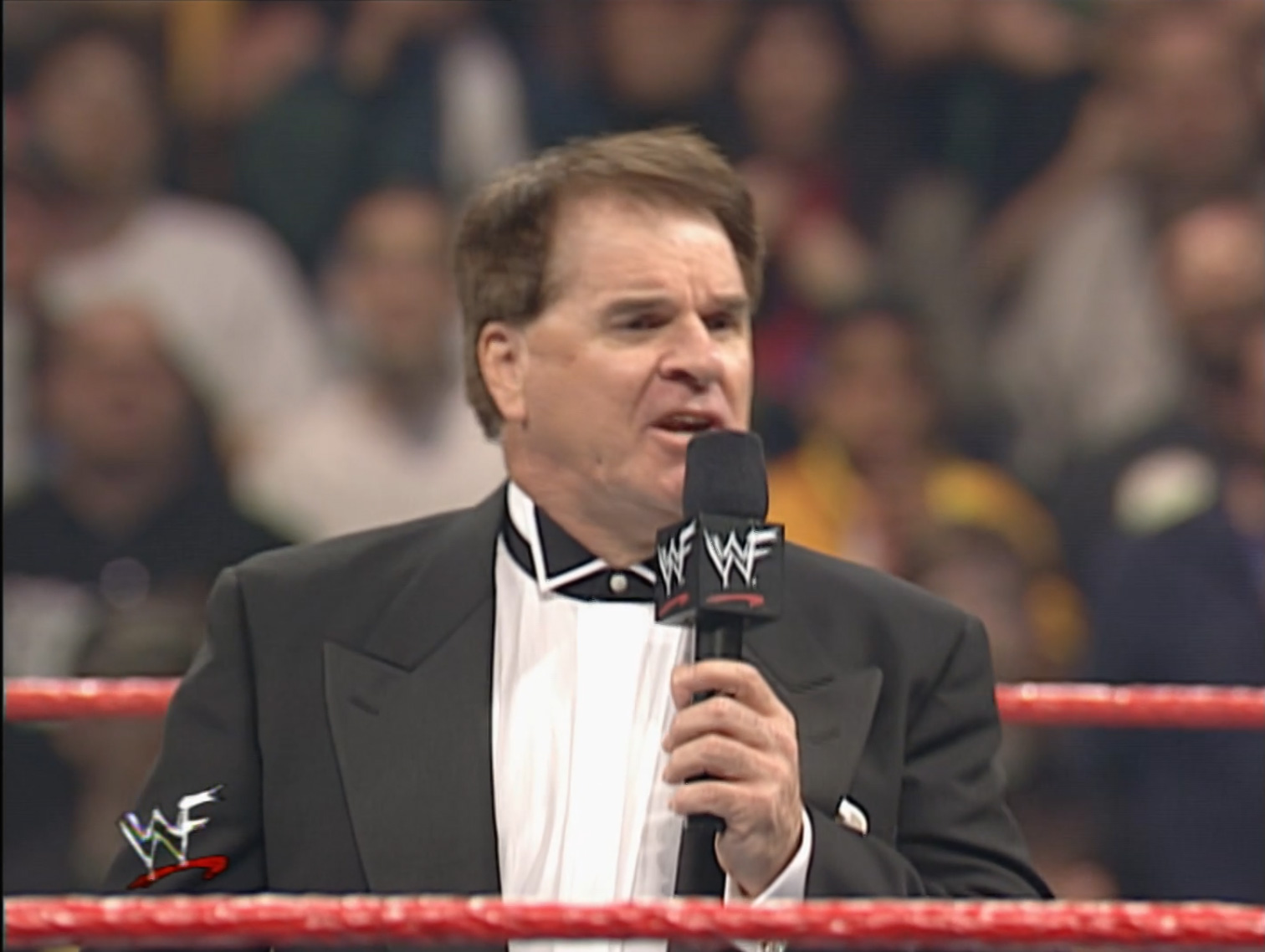 When he introduces Kane, Rose stands in both fear and awe. Kane enters the ring and tombstone-piledrives him to a RAUCOUS ovation. Now THAT'S a celebrity appearance.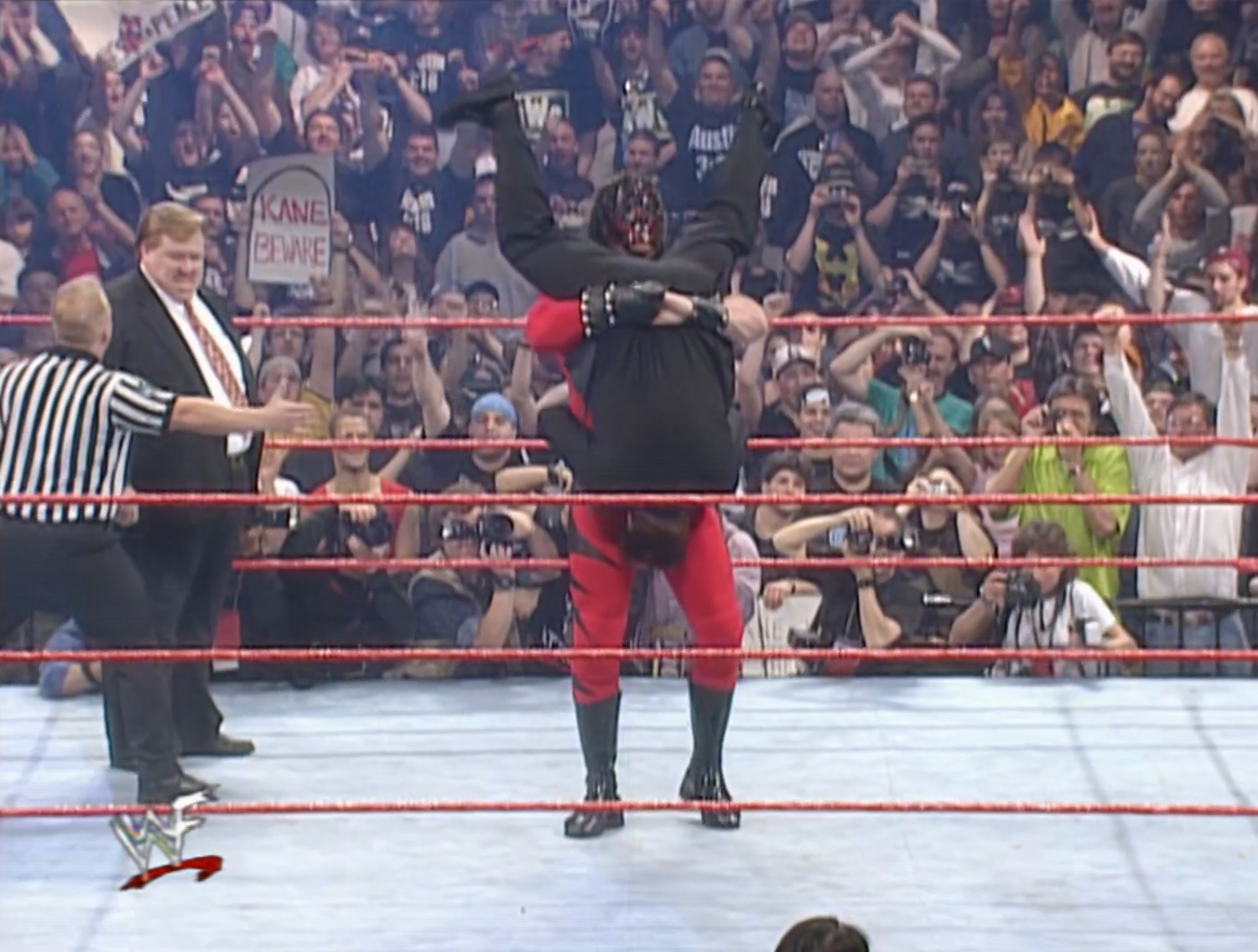 For Undertaker's entrance, druids with torches line the aisle. As a lightning bolt strikes, Undertaker emerges. WCW really dropped the ball by not making Sting's entrance at Starrcade theatrical.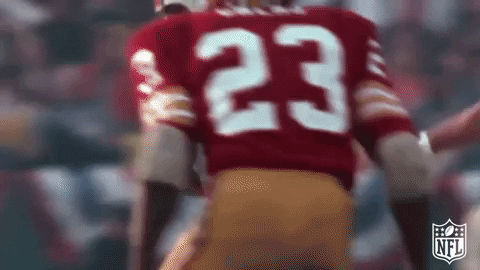 Match 7: Undertaker versus Kane (w/ Paul Bearer)
Highlights:
Kane reversed a cross corner whip but ate boot on his follow-through.
When Kane clotheslined him, Undertaker sat right up.
Kane then reversed an Irish whip and sandwiched Undertaker upside-down in the corner.
As Kane gave him a pair of HARD cross corner whips, he followed with a corner clothesline.
He then hung Undertaker out to dry on the top rope, mounted the top turnbuckle, and delivered a flying fist.
After the match segued to the floor, Kane guillotined Undertaker with the steel railing.
He then rammed Undertaker face-first into the steps.
While Bearer distracted referee Jack Doan, Kane blasted Undertaker in the back with the steps. Evil!
Kane then distracted Doan, so Bearer nailed Undertaker from behind. Sinister!
With Undertaker on the apron, Kane suplexed him back into the ring.
Kane then gave him another cross corner whip, but Undertaker rebounded with a clothesline.
When Kane chokeslammed Undertaker, he got 2.
He clotheslined Undertaker again and landed an elbow drop.
As Undertaker countered a side head lock by crotching Kane on the top rope, he kicked Kane down to the floor.
He then launched a tope con hilo missing Kane but destroying the Spanish broadcast table. Wow!
Back in the ring, Kane mounted the top turnbuckle and hit a flying clothesline for 2.
Kane reversed an Irish whip, but Undertaker caught him.
After Kane reversed the hold, he tombstone-piledrove Undertaker.
Has Kane defeated his big brother?
1-2-NO!
Undertaker rebounded with a clothesline and chokeslammed Kane.
While he tombstone-piledrove Kane, Undertaker only got 2.
Undertaker supplied Kane with a leg drop and tombstone piledriver #2.
Can he defeat his younger brother now?
1-2-NO!
When Undertaker mounted the top turnbuckle, he caught Kane with a flying clothesline.
Kane sat right up, but Undertaker tombstone-piledrove him for a third time.
1-2-3.
Undertaker won at 17:01.
Rating: **½
Summary: For those keeping track, Undertaker is 8-0 at WrestleMania. Kane proves to be a tough foe for Undertaker, but two tall fit monsters can wrestle a better match than this, can't they? This feud is FAR from over.
After the match, Bearer passes a chair into the ring, tosses down Doan, and puts the Florsheims to Undertaker. Bearer urges Kane to continue the fight, but Undertaker nails Bearer. Kane grabs the chair and WALLOPS Undertaker in the back with it. As he tombstone-piledrives Undertaker on the chair, Kane leaves with Bearer to a chorus of boos.
WWF Attitude promo airs.
Prior to the main event, Tyson's introduction and induction into DX are shown.
Connecticut Yankee played the DX theme song for Michaels.
Match 8 for the WWF title: The 'Heartbreak Kid" Shawn Michaels (champion w/ HHH & Chyna) versus Stone Cold Steve Austin
Highlights:
"Iron" Mike Tyson was the special enforcer at ringside for this match.
As he chased Michaels around the ring, Austin clobbered him with a double axe handle.
He then provided the Boston faithful with a full moon courtesy of Michaels.
When Michaels charged, Austin backdropped him over the top rope onto HHH.
Austin followed Michaels around the ring, and HHH nailed him from behind. Hideous!
After he sent Austin into the steel railing, HHH along with Chyna were ejected from ringside.
Michaels then leaped from the apron and supplied Austin with a double axe handle.
While Austin tossed HHH into the drum set on the bandstand, Michaels hammered him.
Michaels then knocked Austin silly with a cymbal stand and reversed an Irish whip sending Austin into a dumpster.
As the match returned to the ring, Michaels mounted the top turnbuckle, leaped, but ate a shot to the midsection.
Austin then gave Michaels a HARD cross corner whip that resulted in a Michaels flip.
Don't forget that Michaels' back was fucked six ways to Sunday coming into this match. I bet that bump HURT.
When Michaels attempted a Thesz press, Austin countered with an inverted atomic drop for 2.
He then supplied Michaels with a stun gun for another 2.
After Austin attempted a Stunner, Michaels escaped to the apron.
Austin then CLOCKED him sending Michaels face-first into the broadcast table.
While Austin joined him, he rammed Michaels face-first into the steps.
Austin then unloaded a pair of forearm smashes for 2.
As Michaels countered a rear chin lock with a jawbreaker, he tried to ensure Jeanie Clark didn't have a satisfying evening with her husband.
Instead, Austin made Michaels HIT THE POLE.
He then made Michaels taste the steel railing. It must have tasted like the Freedom Trail burger at Bell in Hand.
When Austin charged, Michaels backdropped him into the front row.
He then grabbed the bell and smashed it into Austin's face.
Back in the ring, an anguished and injured Michaels nailed Austin while the Boston faithful chanted "Ho-ly-field" at Tyson. I bet Vince McMahon's happy they didn't chant the charge that put Tyson in prison.
Austin rebounded with a flurry of rights and projected Michaels over the top rope to the floor.
After Michaels rammed Austin's left knee into the ring post three times, Tyson pie-faced the challenger.
Michaels attempted a figure-four leg lock, but Austin kicked him so hard that he HIT THE POLE.
While Austin rolled Michaels up, he got 2.
Austin sought refuge outside the ring to gather himself and adjust his knee brace, so Michaels baseball-slid him right into JR's lap. Rumors he was tasting a new BBQ sauce recipe were unfounded.
As Tyson tossed Austin back into the ring, Michaels dealt Austin a chop block.
Michaels then hooked a rope-assisted figure-four leg lock well within Tyson's eyesight.
Of course, Tyson did NOTHING to stop him.
Austin countered the hold, but Michaels escaped.
When Austin catapulted him, Michaels HIT THE POLE face-first.
Austin rolled him up and got 2.
After Michaels reversed an Irish whip, he hooked a sleeper.
Austin not only sandwiched Michaels but also referee Mike Chioda in the corner.
While Chioda was

OUT COLD

, Austin vaulted Michaels face-first into the top turnbuckle.
Austin then backdropped him, but Michaels responded with a flying forearm smash.
Incredibly, Michaels nipped up albeit in severe pain.
He then mounted the top turnbuckle and scored with a big elbow.
As Michaels attempted Sweet Chin Music, Austin ducked.
Austin tried a Stunner, but Michaels escaped.
When Michaels attempted another superkick, Austin caught the leg.
He then spun Michaels around and delivered a Stone Cold Stunner.
Since Chioda needed medical attention due to oxygen deprivation at this point, Tyson entered the ring.
1-2-3.
WE HAVE A NEW CHAMPION!
Austin won at 20:02.
To punctuate the importance, JR uncorked "Stone Cold" three times as well as "the Austin era has begun."
Rating: ****
Summary: History-making victory as the Austin era begins. With a rabid crowd waiting for Austin's moment, he and Michaels used psychology and high-flying to the limits of their abilities due to injury. Bravo, gentlemen!
After the match, Austin offers Tyson an Austin 3:16 shirt, and Tyson readily accepts. Michaels awakens and discovers Tyson's mutiny. As he steals the t-shirt away from Tyson, Michaels argues with him. He throws the shirt out of the ring and tries a cheap shot. On the other hand, Tyson blocks it and FLATTENS Michaels.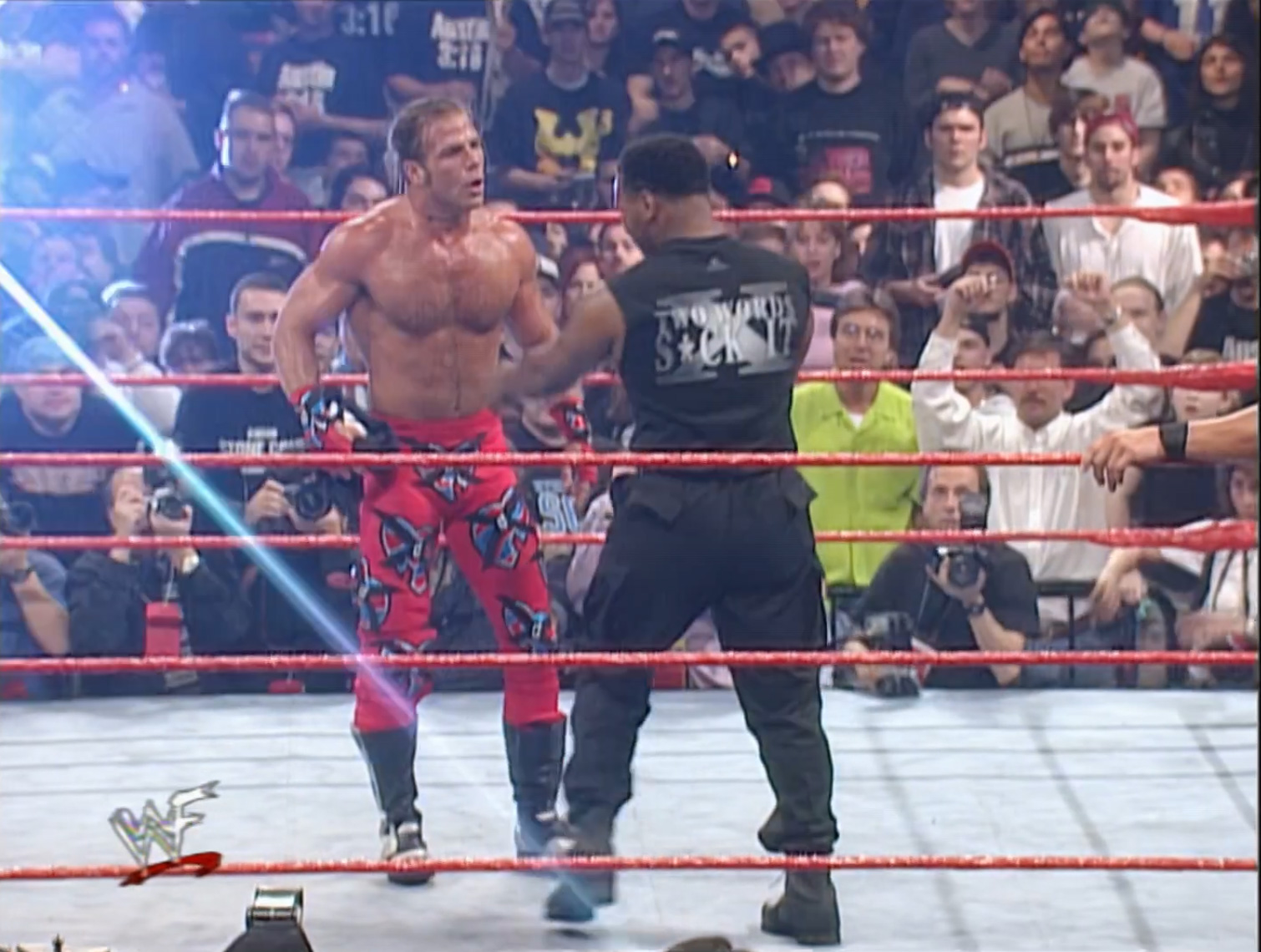 For those unaware, this was Michaels' last WWF match until August 2002.
Conclusion: Once again, with a WWF PPV, you get your money's worth with the main event, yet the undercard underperforms. In this case, however, you get much more than your money's worth as Austin's ascension to the main event has culminated. Since it's WrestleMania and one of Austin's biggest moments, I heartily recommend this show.
Buyrate: 2.30 (Wow!)
Stay tuned for WCW Monday Nitro 03-30-98!
Comments? Suggestions? Send them to me at rsg@rockstargary.com and follow me on Twitter (@rockstargary202).
Custom Search