WELCOME TO ROCK STAR GARY REFLECTIONS!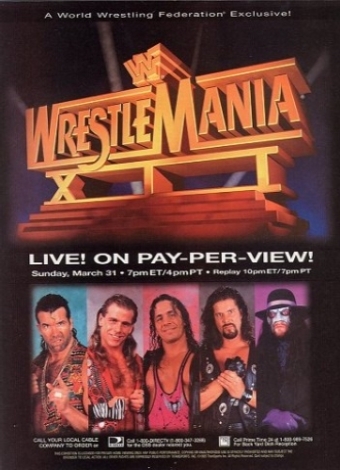 Live from Anaheim, CA
Airdate: March 31, 1996
Attendance: 15,855 (12,909 paid)
Hosted by Vince McMahon and Jerry Lawler
For those of you who need the epic match-up during the Free for All between the Huckster and the Nacho Man, here ya go! The less said about it, the better. Also, the Bodydonnas beat the Godwinns to win the WWF tag team titles in the finals of the tournament.
Match 1 (six man): Yokozuna, Ahmed Johnson, and Jake "The Snake" Roberts (w/ Mr. Fuji) versus Vader, Owen Hart, and the "British Bulldog" Davey Boy Smith (w/ Jim Cornette)
Highlights:
Stipulation for this match was if the faces won, then Yokozuna got five minutes with Cornette. I don't like Cornette's chances.
As soon as Yokozuna entered the ring, he got in Vader's face.
Subsequently, all six men brawled in the ring.
Huge clothesline by Yokozuna took Vader off his feet.
A second one sent him over the top rope to the floor.
Holy flying linebackers, Batman! Johnson delivered a tope con hilo to Vader on the floor.
As Owen tagged in, he gave Yokozuna a dropkick to the back, but it had ZERO effect.
Yokozuna attempted an avalanche, but Smith pulled Owen out of the corner to avoid getting SQUISHED.
Vince noted that Owen won his first Slammy for "putting Michaels out of action." Congrats.
Vader pounded Yokozuna in the corner to a chorus of boos.
Yokozuna ducked a right by Vader then gave him a uranage. Wow!
Afterwards, Johnson tagged in and pummeled the brothers-in-law.
Powerslam by Johnson to Smith, but Vader came in and levelled Johnson.
Sunset flip by Johnson, but Vader tried to SQUISH him to no avail.
Huge flying clothesline by Johnson, but Cornette distracted referee Jack Doan so that his team could retake advantage.
Slam by Johnson followed by a Pearl River Plunge attempt to Smith.
However, as Cornette distracted Doan again, Owen hit a missile dropkick on Johnson.
Enziguri by Owen to Johnson sent him into the middle of 1997.
Vader tagged in and splashed Johnson.
Running body block by Vader who tagged out to Owen.
Clothesline off the ropes by Owen didn't knock Johnson down.
A second attempt, but Johnson clotheslined him instead.
As Johnson crawled to his corner, Mr. Fuji waved the American rather than the Japanese flag.
Hot tag to Roberts.
Short-arm clothesline to Owen.
DDT blocked by Owen, but he couldn't block a knee lift.
After receiving a cross-corner whip, Owen raised his knees at the charging Roberts.
Vader tagged in and gave Roberts a short-arm clothesline.
Avalanche by Vader followed by a clothesline.
After a Vader slam, Owen mounted the top turnbuckle and delivered an elbow for 2.
Running powerslam by Bulldog…only got 2?
Splash by Vader only got 2.
Smith missed an elbow drop leading to the hot tag to Yokozuna.
Yokozuna pummeled Vader in the corner then gave him an avalanche.
Double noggin-knocker of the brothers-in-law by Yokozuna.
He followed that with a Samoan drop to Smith.
As Roberts tried to DDT Owen, Smith nailed him.
With Doan distracted by Smith and Johnson, Roberts gave Owen the DDT.
Cornette came into the ring to nail Roberts with the tennis racquet.
Roberts caught him in the midsection then set him up for the DDT.
Seeing Vader re-enter the ring, Roberts released Cornette yet fell victim to a running body block.
Vader bomb got the pin on Roberts.
Rating: ***1/2
Summary: Anti-climactic finish to a really good tag match. Unfortunately for Yokozuna, he will not get five minutes with Cornette.
Promo for Piper and Goldust.
Marlena sits in the dressing room with champagne on ice in anticipation of some type of victory.
Match 2 (Backlot brawl): "Rowdy" Roddy Piper versus Goldust PART I
Highlights:
According to Meltzer, this part of the match was taped the day before with slick edits involved.
Piper stood in the backlot holding a wooden baseball bat.
Goldust pulled up in a gold Cadillac.
As Goldust drove closer, Piper doused the car with a fire hose then smashed the driver's window with the bat.
Goldust escaped out the passenger door.
Piper beat up both Goldust and his Cadillac with the bat.
He then rammed Goldust head-first into the catering table. Huh?
After he nailed Goldust with a trash can, Piper sent Goldust shoulder-first into a dumpster.
Meanwhile a white Ford Bronco was parked in the lot. That becomes important later.
Another trash can shot preceded another trip to the dumpster for Goldust.
Now that Piper had established that Goldust was trash, he took the fire hose and punished Goldust with his phallic weapon. Isn't the subtlety remarkable?
As Goldust climbed on the hood of his car, Piper rammed him face-first into it.
After a slam on the hood it was revealed that Goldust was

BUSTED OPEN

hardway.
A right cross sent Goldust back down to the pavement.
However, a shot to Baja California helped Goldust regain himself.
Goldust got in his car, dented the Bronco, and then ran over Piper (or someone dressed just like him).
Upon spilling Piper back onto the pavement, Goldust tore out of the lot like a bat out of hell.
Piper limped toward the Bronco, got in, and went after Goldust.
Rating: TBD
Summary: Pre-taped segment that resembled an action movie. To be continued.
Prior to the next match, Dok Hendrix interviews Vega. Due to Scott Hall's suspension a random drawing, Austin was Vega's partner in the tag team tournament on Superstars. After a couple of instances where Austin refused to tag Vega, the Caribbean legend nailed Austin. After a spinning heel kick put Vega in position to win the match, Austin delivered a top rope forearm smash to knock Vega out and lose the match (aired 3/23, taped 3/10). The following weekend on Superstars, Austin used the Million Dollar Dream to put Ben Greer to sleep. Afterwards, Vega came to Greer's aid but was put in the hold as well (aired 3/30, taped 3/10). During the interview, Vega is fired up and "ready for anything."
Match 3: Stone Cold Steve Austin (w/ the "Million Dollar Man" Ted DiBiase) versus Savio Vega
Highlights:
Vega delivered a sidewalk slam off the ropes then brawled with Austin down to the floor.
Distraction by DiBiase failed as Austin received a chop on the floor.
After Austin sent Vega into the ring post shoulder-first, he warmed up and walloped Vega with a double axe handle.
Vega countered a hammerlock with a leap over Austin's head. He followed that with a crescent kick to the jaw.
Piper called on his cell phone as Austin rammed Vega into the ring post again. What is this? RAW?
Hammerlock slam by Austin. I bet he learned that while in the Dangerous Alliance.
He then mounted the second turnbuckle and dropped an elbow.
Meanwhile Vince was reconnected with a crazed Piper who referred to Goldust as a "fruitcake." Gee, that'll stop the hate mail at Titan Towers.
Cross-body block by Vega got 2.
Thesz press by Austin got 2.
Series of pinfall reversals segued into a backslide, but Austin rammed Vega into the mat face-first.
As Vega successfully delivered a leg lariat, the OJ Simpson Bronco chase was aired. Groan.
Vega mounted the second turnbuckle but only hit knees on a splash.
Vega countered a slam with an inside cradle for 2.
After a slam, Austin mounted the top turnbuckle.
Upon coming down, he ate boot. D'oh!
A pair of clotheslines by Vega put Austin down on the mat.
As Vega went for a spinning heel kick, Austin ducked.
Instead, referee Tim White got demolished.
In the meantime, DiBiase handed the million dollar belt to Austin.
Boot to the face received no count.
Austin then took the million dollar belt and WALLOPED Vega.
Another crack to the skull with the belt from the apron by Austin sent Vega into 1999.
As Austin put the Million Dollar Dream on Vega, DiBiase used a Coke® to wake up White.
When White recovered, he ruled Vega unable to continue and called for the bell.
Austin won.
Rating: *1/2
Summary: Decisive win for Austin, but the crowd was completely COMATOSE during the match.
After the match, a fan holds up a sign stating "Bite Me, WCW." Stay classy, Anaheim.
More OJ Piper Bronco footage.
In the dressing room, Mr. Perfect interviews Diesel. They revisit IYH VI then RAW with the Undertaker's mind games. Diesel's cool, calm, and collected.
Match 4: The Ultimate Warrior versus Hunter Hearst Helmsley
Highlights:
With Rena Lesnar Sable, Helmsley made his entrance.
As the bassline for the entrance song played, the crowd ERUPTED cheered! This is who they came to see.
I don't like Helmsley's chances here, but he attacked at the bell.
Before Warrior can remove his jacket, Helmsley killed his finisher applied the Pedigree.
The Warrior lost his return match? Seriously?
C'mon!
Nope, he no-sold it like Hogan would a spinebuster.
A trio of clotheslines by the Warrior put Helmsley down repeatedly.
Running shoulder tackle as Warrior signaled for the military press drop.
Splash by the Warrior got the pin.
Rating: DUD
Summary: The Warrior returns…to a mild reaction. Meanwhile Helmsley's career took a detour. According to James Dixon's Titan Shattered, Helmsley's reward for being professional with Warrior was the crown at King of the Ring. Hmmm…did that really happen?
Backstage Todd Pettengill interviews the newest member of the WWF roster—"Wildman" Marc Mero. Holy jump-the-shark, Batman! Johnny B. Badd is in the WWF! Oh, wait, he can't use that name. As Pettengill interviews Mero, Helmsley bumps into him. As Helmsley blames Sable for his loss, he and Mero fight against the steel door.
More OJ footage disguised as Piper's return to the arena. Sigh.
Match 5: The Undertaker (w/ Paul Bearer) versus Diesel
Highlights:
I realize the main event is guaranteed to go a little over an hour including introductions, but we're less than an hour into this show at this point.
Running clothesline in the corner by Diesel, but he tried another one and was forced to eat boot.
Clothesline by the Undertaker, but he missed an elbow drop.
Clothesline by Diesel sent the Undertaker over the top rope to the floor. Undertaker landed on his feet.
Undertaker brought Diesel outside the ring with him. The feed disappeared, but from the sounds of it, Undertaker rammed Diesel into the steel steps.
As the feed returned, both men were in the ring.
Tombstone attempt by the Undertaker was unsuccessful, but a cross-body block off the ropes got 2.
Ropewalk and shoulder smash didn't take Diesel off his feet.
After a failed flying clothesline, Undertaker ended up on the apron. He then guillotined Diesel using the top rope.
Back in the ring, a right hand by the Undertaker sent Diesel over the top rope to the floor. Similar to the Undertaker, he also landed on his feet.
Undertaker rammed Diesel back-first into the ring post.
He then grabbed a steel chair and tried to nail Diesel with it. Instead, he only hit the ring post. The reverberation could have sounded like this.
Diesel then whipped Undertaker back-first into the steel railing.
He then rammed Undertaker back-first into the ring post twice.
Back in the ring, Diesel hit a big boot.
As the crowd chanted "Rest in Peace," Diesel delivered a sidewalk slam.
Next, he hit Snake Eyes followed by a running guillotine.
Both men hit one another with right hands.
Suddenly both men hit a big boot simultaneously.
Both men were down.
Undertaker up at 8 with a zombie sit-up.
After giving the Undertaker a cross-corner whip, Diesel applied a bear hug.
Undertaker rang Diesel's bell to break the hold.
As Diesel applied a standing side head lock, the Undertaker delivered a belly-to-back suplex.
Elbow drop by the Undertaker, but he then mounted the top turnbuckle.
Amazingly he then hit a top rope clothesline. Wow!
1-2-NO!
Undertaker set too early on a back body drop attempt, so Diesel hammered him with a forearm.
He then hit the Jackknife powerbomb.
Instead of making a cover, he just leaned against the rope jawing with the crowd.
After encouraging the Undertaker to get up again, Diesel delivered a second jackknife powerbomb.
Again, rather than making the cover, he flaunted his new WCW contract greatness.
As he finally made the cover, Undertaker grabbed Diesel by the throat.
As Diesel broke the chokehold, he gave the Undertaker a belly-to-back suplex.
Flying clothesline off the ropes by the Undertaker.
Chokeslam by the Undertaker, but both men were down again.
The Undertaker got to his feet and signaled for the end.
Tombstone.
1-2-3.
Rating: ***1/2
Summary: Great big man match that I didn't expect to reach anywhere near this high of a level.
Backstage Pettengill stands beside the security TVs. Both the gold Cadillac and white Bronco pull into the arena. Piper cuts Goldust off by blocking the driver door with the Bronco. As Piper stalks Goldust, Marlena takes a bloody Goldust to safety. As Goldust heads for higher ground, Pat Patterson was spotted backstage. Both Goldust and Piper make their way through the gorilla position out to the ring.
Match 2 (Backlot brawl): "Rowdy" Roddy Piper versus Goldust PART II
Highlights:
Goldust, knowing Piper's mobility issues due to a hip replacement, worked on his knees.
He then lowered the boom down around Saskatoon if you catch my drift.
As Goldust set up Piper for a piledriver, he put both of his hands on Piper's butt.
He then ripped Piper's shirt off.
Next he rammed Piper's leg into the ring post.
As Piper laid on the mat, Goldust mounted the top turnbuckle.
Piper shook the top rope causing Goldust to straddle the turnbuckle. OUCH!
A pair of head butts by Piper caused Goldust to kiss him.
Oh shit.
Piper lost his composure and grabbed Goldust by his genitals.
He then broke the wishbone on Goldust. YEE-OUCH!
Finally he spanked Goldust, tore his golden outfit off, and humiliated him.
Goldust was wearing women's lingerie.
As Piper broke the wishbone one more time, Goldust escaped the ring and hightailed it to the back with Marlena.
Piper got his revenge for Goldust's mind games.
Rating: *1/2
Summary: Sports-entertainment mixed with hardcore wrestling made this match watchable. Despite that, the WWF took the Goldust character way too far including here.
After the match, the bagpipes play as Piper thanks his fans. I wonder when the next time we'll see him will be.
Promotional video for the main event narrated by Michael Cole. That doesn't make sense. Cole didn't begin working for the WWF until '97. I wonder who narrated this piece previously that they overdubbed it.
Prior to the main event, ring announcer Howard Finkel informs us that Gorilla Monsoon is now the official WWF President. Congratulations!
Match 6 for the WWF title (Iron man): Bret "Hitman" Hart (champion) versus the "Heartbreak Kid" Shawn Michaels (w/ Jose Lothario)
Highlights:
Similar to the Royal Rumble, the Iron Man match idea was conceived by Pat Patterson. So THAT'S why he's in attendance.
Lothario came through the entrance, but where's Michaels?
Was he no-showing? Did he sign with WCW? Even Vince asked: "Where is he?"
Actually Michaels was at the top of the arena and used a zip-line to the ring. What a ham.
Referee Earl Hebner described the rules for the Iron Man match. This was a nice touch to both the importance of the match as well as education for new viewers.
Bret then went outside and put his sunglasses on his son, Blade.
Mat wrestling sequence began the match in favor of Michaels.
Bret then grabbed a side head lock controlling the match.
Five minutes gone.
Arm drag takeover by Michaels turned the tide.
Stu Hart and Freddie Blassie sat in the front row. There's no confirmation that Blassie called Hart a "pencil-necked geek."
Drop toe hold by Hart, but Michaels kept control with a hammerlock.
With Bret holding Michaels in the corner, he did not break clean.
After giving Michaels some shoulder blocks, Michaels went on offense and nailed Bret.
Head scissors by Michaels sent Bret through the ropes to the floor.
Ten minutes gone.
Bret used Michaels' momentum to send him over the top rope, but Michaels skinned the cat back into the ring.
He then caught Bret by total surprise with the arm bar.
Knee to the midsection by Bret followed by a head butt in the same area.
Leg drop by Bret which evolved into a rear chinlock.
Jawbreaker by Michaels followed by a leg drop.
Submission arm bar by Michaels, but Bret won't submit.
Leapfrog by Michaels, but a second one was caught by Bret.
Bret then dropped him back-first and tried to apply the Sharpshooter to no avail.
Clothesline by Bret sent Michaels over the top rope to the floor.
Bret followed him, but Michaels shoved him shoulder-first into the ring post.
As Bret sat on the timekeeper's lap, Michaels hit the superkick…on the timekeeper.
Goodnight, Mr. Timekeeper. He was OUT COLD.
Fifteen minutes gone.
As officials removed the timekeeper on a stretcher, Bret held a chinlock in the ring.
Clothesline by Michaels, but Bret delivered one of his own.
After an unsuccessful rollup attempt, Michaels gave Bret a dropkick.
Twenty minutes gone.
With the exception of a few spurts, this has been a very old school match thus far.
A quartet of European uppercuts put Bret in control.
On the other hand, Michaels put a knee in the midsection then sent Bret shoulder-first into the ring post again.
Shoulder breaker by Michaels followed by a second rope double axe handle.
Anderson slam by Michaels then he rammed Bret's shoulder into the top turnbuckle.
Single-arm DDT on the shoulder by Michaels. Nice psychology.
Twenty-five minutes gone.
Fujiwara arm bar by Michaels, but Bret won't submit again.
Stungun by Bret on the second rope.
Catapult by Bret sent Michaels into the ring post.
After ramming Bret's head into the top turnbuckle three times, Michaels leaped at Bret in an adjacent corner but missed.
After punting him off the top turnbuckle, Bret gave Michaels an inverted atomic drop and followed with a clothesline.
1-2-NO!
Bulldog by Bret, and he mounted the top turnbuckle.
As Bret drove his knee into Michaels' neck, they bumped Hebner.
Thirty minutes gone.
Powerslam by Michaels only got 2.
Piledriver by Bret got 2.
Some boos can be heard from the crowd.
Leg drop by Bret and he mounted the top turnbuckle again.
This time Michaels caught him and brought him down the hard way.
Huracanrana by Michaels, and a backbreaker got 2.
Bret dodged a superkick attempt by leaving the ring.
Michaels countered by mounting the top turnbuckle and hitting an excellent tope.
Will Bret get counted out?
Nope, Michaels left the ring to toss him back in.
He then mounted the top turnbuckle and hit a flying body press.
Bret used his momentum, got the advantage, but only got a 2 count. That was close.
Bret countered a hip toss into a backslide attempt.
Michaels flipped over and hooked an inside cradle for 2.
Fisherman's suplex by Michaels got 2.
Sleeper by Michaels with thirty-five minutes gone.
Bret tried to counter by backing Michaels into the corner, but Michaels moved.
After a mule kick, Michaels gave Bret a cross-corner whip.
He then charged Bret who gave him a back drop over the turnbuckle to the floor. Wow!
Bret went outside the ring and rammed Michaels back-first into the ring post.
HARD cross-corner whip by Bret sent Michaels down to the mat.
Bret then mounted the second turnbuckle and delivered an elbow to Michaels' back.
Backbreaker by Bret followed by a leg drop.
Forty minutes gone.
Cross-corner whip by Bret transitioned into a Michaels flip.
Bret mounted the second turnbuckle and gave Michaels a belly-to-back superplex for 2.
Sunset flip by Michaels got 2.
Bret put Michaels on the top turnbuckle, but Michaels nailed him.
Michaels then leaped from the second turnbuckle but ate a shot to the midsection.
Side Russian leg sweep by Bret only got 2.
Another HARD cross-corner whip by Bret sent Michaels over the top turnbuckle to the floor. Michaels' foot hit Lothario on the way down.
Bret followed him and whipped Michaels into the steel steps as he grazed Lothario again.
Forty-five minutes gone.
Terrific belly-to-belly suplex by Bret only got 2.
Michaels countered a vertical suplex with a rollup for 2.
Bret's kick out sent Michaels outside the ring.
When Michaels got to his feet, Bret delivered a tope suicida.
As Michaels made it to the apron, Bret attempted a vertical suplex.
Michaels flipped over him and tried a rollup.
Standing switch by Bret who then hit a German suplex with a bridge for 2. Awesome!
Head butt by Bret affected both wrestlers.
Fifty minutes gone.
L-O-N-G reverse chinlock by Bret.
Double clothesline put both men down.
Bret placed Michaels on the top turnbuckle again and hit a top rope superplex.
Michaels blocked a Sharpshooter attempt.
Single-leg crab by Bret. Will Michaels submit?
NO! He hooked the bottom rope.
More boos can be heard.
Backbreaker by Bret, and he mounted the second turnbuckle.
He hit boot on the way down.
Five minutes left.
Dropkick by Michaels sent Bret into the corner.
Michaels gave Bret a cross-corner whip, and Bret hit sternum-first.
Four minutes left.
Flying forearm by Michaels, and he nipped up.
Flying back elbow by Michaels followed by a slam.
Michaels then mounted the top turnbuckle and hit a double axe handle for 2.
Three minutes left.
Snap suplex by Michaels, and he mounted the top turnbuckle again.
Big elbow hit but only got 2.
Sit-out powerbomb by Michaels.
Two minutes left.
Michaels mounted the top turnbuckle yet again and hit the moonsault.
1-2-NO!
Second rope huracanrana got 2.
One minute left.
Michaels mounted the top turnbuckle yet again.
He leaped, but Bret caught him and applied the Sharpshooter.
Thirty seconds left.
Fifteen.
Ten.
Does Michaels submit?
NO!
Time-limit draw.
Monsoon came into the ring as Hebner gave Bret the belt.
As Bret made his way down the aisle, Finkel announced that this match must continue under sudden death rules.
Bret returned to the ring and questioned Monsoon's decision.
The bell rang to begin overtime.
High back body drop by Bret followed by yet another backbreaker.
Bret gave Michaels a cross-corner whip.
Michaels sailed over Bret and hit him with Sweet Chin Music.
Do we have a new champion?
Both men were down on the mat.
Michaels got to his feet again and hit Sweet Chin Music a second time.
1-2-3.
WE HAVE A NEW CHAMPION!
Rating: ****1/2
Summary: Only two things kept this match from being perfect—the mild reaction from the crowd and the numerous rest holds. I understand it's a long match, but there are ways around them. This match ranks as one of the best matches of 1996 thus far. I wonder if anything will beat it.
Please allow me to add more commentary about this match: If you haven't watched matches prior to this era, the old school approach that Michaels and Hart used in the early portion of the match may not sit well with you. As a fan for over four decades, I truly appreciate the hard work invested for this match. I certainly hope you can too.
After the match, it would appear that Hebner is waiting for Bret to pass the torch, but the "Hitman" just leaves. Rumor has it that Michaels told Hebner to make Bret leave with an expletive, but I'm not certain if it's true. Regardless, as Bret returns to the dressing room, Michaels can't believe his dream has been realized. Michaels stands up, puts the belt on his shoulder, and gets his arm raised in victory. Hebner then fastens the belt around Michaels' waist. Finally, Michaels thanks his fans and poses for them.
Conclusion: With the opener, the Undertaker-Diesel match, and the Iron man match, this show is a big recommendation to watch on my list. But, be forewarned, the rest of the show is either RAW fodder or not very good.
With that being said, the Shawn Michaels era has begun. I wonder what the WWF has in store with him on top. RAW should be very interesting.
See you for Monday Night War week 30!
Buyrate: 1.20 (Wow!)
Comments? Suggestions? Send them to me at rsg@rockstargary.com and follow me on Twitter (@rockstargary202).
Custom Search