WELCOME TO ROCK STAR GARY REFLECTIONS!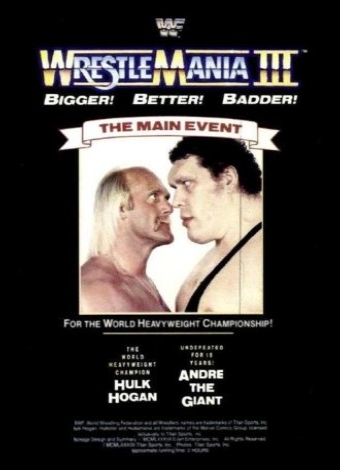 WWF WrestleMania III
Live from Detroit Pontiac, MI
Airdate: March 29, 1987
Attendance: 93,173 (announced), 78,000 (75,700 paid)
Hosted by Gorilla Monsoon and Jesse "The Body" Ventura
With the previous Saturday Night's Main Events completed, the table is now set for one of the biggest shows in sports-entertainment history. There's a key to why I say that—according to Pat Patterson on Legends of Wrestling shown on the WWE Network, similar to WrestleMania I, Vince McMahon risked EVERYTHING for this show. Let's see if his gamble paid out.
Vince welcomes the huge crowd to the Superdome Silverdome and to WRESTLEMANIA III!
Aretha Franklin sings "America the Beautiful."
Monsoon and Jesse are joined by Bob "Just a bit outside" Uecker and Mary "Don't call me Gary" Hart.
Match 1: "Cowboy" Bob Orton & Magnificent Muraco (w/ Mr. Fuji) versus the Can-Am Connection
Highlights:
Shoulder block from Zenk to Muraco got the first pop of the night.
Cross-corner whip by Muraco, but Martel floated over and delivered a hip toss.
After a leap frog by Zenk, the CAC gave Muraco a double monkey flip followed by a double hip toss to the charging Orton.
Slam by Zenk to Orton who then got nailed by Martel.
Full nelson by Orton reversed by Zenk reversed again by Orton.
Unfortunately, that led to some heel miscommunication as Muraco nailed Orton instead of Zenk resulting in a 2 count for Zenk.
Martel tagged in, mounted the second turnbuckle, and delivered an elbow smash to Orton's arm.
Afterward, Muraco tagged in but received a slam from Zenk.
A well-placed knee in Zenk's back turned the tide for the heels.
After a neckbreaker by Muraco, Orton tagged in, mounted the second turnbuckle, and delivered an elbow to Zenk's sternum.
Following that, a double shoulder block put both men down on the mat.
Hot tag Martel.
Cross-corner whip by Martel resulted in a Muraco flip.
Subsequently, all four men were in the ring.
Double cross-corner whip led to a do-si-do by the CAC and a back drop to Orton.
After a double dropkick by the CAC, a Zenk dropkick sent Orton over the top rope to the floor.
Cross body block by Martel with a schoolboy assist from Zenk gave the CAC a pinfall victory.
Rating: ***
Summary: Exciting match to kick off this gigantic event.
We revisit the full nelson challenge of Hercules to Haynes on Superstars (aired 1/17, taped 1/5).
Next, "Mean" Gene Okerlund interviews Hercules with Heenan.
Match 2: Hercules (w/ Bobby "The Brain" Heenan) versus Billy Jack Haynes
Highlights:
For the record, the first wrestler spotted on camera riding a cart was Haynes.
A pair of knee lifts gave Hercules the early advantage.
Military press slam by Haynes, but Hercules escaped the full nelson attempt.
Cross-corner whip by Haynes, but he ate a tremendous clothesline on his follow-through.
After a back drop, Hercules gave Haynes a HARD cross-corner whip.
After a second whip, Hercules delivered a vertical suplex for 2 only because he picked Haynes up.
Haynes tried to suplex Hercules, but his back gave out.
Backbreaker by Hercules was followed by a military press slam.
Full nelson by Hercules, but Haynes powered out to a big ovation.
Double clothesline put both men down on the mat.
Inverted atomic drop by Haynes was followed by a clothesline.
After another clothesline, Haynes delivered a leg drop.
He then mounted the second turnbuckle and hit a fist drop.
Full nelson by Haynes, but Hercules made the ropes.
In the process, both men spilled to the floor.
Haynes reapplied the full nelson, but both men were counted out.
Rating: **1/2
Summary: This was the WWF's version of high-impact before high-impact wrestling became mainstream later in the 80s.
After the match, Heenan puts a well-placed knee in Haynes' back. As Haynes chases after him, Hercules brings his chain into the ring and WALLOPS Haynes with it. After a couple more shots, Monsoon reveals that Haynes is BUSTED OPEN. Hercules knocked him down with the chain one last time then applied the full nelson. This feud will continue when it comes to YOUR town.
Backstage, Okerlund interviews Bundy with Littlebrook and Tokyo.
After the heels make their entrance, Okerlund interviews Hillbilly Jim with Little Beaver and the Haiti Kid.
Match 3 (mixed tag team): King Kong Bundy, Little Tokyo, and Lord Littlebrook versus Hillbilly Jim, Little Beaver, and the Haiti Kid
Highlights:
Uecker joined the broadcast booth for this match. Why not? It's a comedy match.
Atomic drop by Haiti Kid to Tokyo as Beaver tagged in.
Bundy tagged in, but before Hillbilly Jim entered, Beaver tried to dropkick Bundy to no avail.
Clothesline by Hillbilly Jim was followed by an elbow drop.
Dogpile by the faces only got 2.
Back elbow by Bundy was followed by some Little Beaver comedy.
Avalanche by Bundy, but Beaver tried some more interference.
However, as referee Jack Lutz checked on Hillbilly Jim, Bundy slammed Beaver.
Elbow drop by Bundy not only caused the DQ but SQUISHED Beaver.
Rating: DUD
Summary: Quite the downfall from main-eventing last year's show to this dreck for Bundy here.
After the match, Bundy tried to splash Beaver, but Tokyo and Haiti Kid turned on Bundy to assist their fellow little man.
Backstage, Mary Hart interviews Miss Elizabeth. As soon as Hart stumbles over the word "trepidatious," Savage interrupts. That causes Hart to refer to Savage as "a real charm." C'mon, Hart, it's PPV, tell us how you really feel.
Next, we revisit the events that led up to the servitude match. Please visit my SNME X reflection for more details.
Afterward, Okerlund interviews Race with Heenan along with WWF Women's champion Fabulous Moolah. Uecker fawns over Moolah and hightails it from the broadcast location.
After Race makes his entrance, Okerlund interviews JYD. "Just as soon as I'm black and the day's asunder" is JYD's response to his attaining the crown after this match. Alrighty then.
Match 4 (loser must bow): "King" Harley Race (w/ Bobby "The Brain" Heenan versus the Junkyard Dog
Highlights:
Head butt by JYD put Race down on the mat.
Race responded by tossing JYD outside the ring.
He then tried a diving head butt from the apron, but missed. In the process, he hit his head on the mats surrounding the ring.
While a clothesline brought Race in the hard way, a ringing of Race's bell sent him back-first over the top rope to the floor.
Slam by JYD brought Race back into the ring.
Abdominal stretch by JYD, but Race escaped.
Diving head butt by Race backfired.
Cross-corner whip by JYD resulted in a Race flip to the floor.
After a distraction by Heenan, Race delivered a belly-to-belly suplex and got the pin.
Rating: *1/2
Summary: Race is a miracle worker to get that rating from a match with JYD.
After the match, JYD must kneel and bow before Race although I highly doubt that'll occur. After giving Race both a curtsy and a bow, JYD nails him with a steel chair then wears the royal robe much to the crowd's delight.
Back in the locker room, Vince interviews Hogan who refutes the notion that tonight's match is his last ride then rips his t-shirt off. According to Hogan, Hulkamania is the "purest form of the truth." HA! I didn't know Hogan was a comedian.
Prior to the next match, Okerlund interviews the Dream Team with Valiant and Bravo. More French than I can understand is spoken. Can my French-Canadian viewers please help me out here?
Match 5: The Rougeaus versus the Dream Team (w/ "Luscious" Johnny Valiant & Dino Bravo)
Highlights:
Monsoon mentioned the Federettes that could have been Missy Hyatt's job if she hadn't crawled back to Jim Crockett.
Atomic drop by Raymond to Beefcake preceded a double dropkick.
After a leap frog by both Rougeaus, Raymond hit a cross-body block on Valentine for 2.
Jacques tagged in and delivered a spinning back elbow for 2.
Cross-corner whip by Valentine; however, Jacques tried a cross-body block from the second turnbuckle and came up empty.
After an elbow drop and slam, Beefcake tagged in.
Double-team maneuver by the Dream Team involved both a top rope forearm from Valentine and a backbreaker from Beefcake.
Heenan joined the broadcast team for this match.
In the meantime, Valentine applied the figure-four leg lock to Jacques.
Jacques escaped by making the ropes.
Valentine tried a piledriver but received a back drop.
Savate kick by Raymond was followed by another back drop.
Sleeper by Raymond to Valentine, but Beefcake leaped from the second turnbuckle.
Unfortunately, he hit Valentine instead of Raymond.
Le bombe de Rougeau hit then Raymond hooked a somersault cradle.
As referee John Bonello was tied up with Jacques and Beefcake, Bravo entered the ring, mounted the second turnbuckle, and nailed Raymond.
After transposing Valentine over Raymond, Bravo exited stage left.
1-2-3.
Rating: *1/2
Summary: Shenanigans by the Dream Team humbled the Rougeaus here.
After the match, Bravo, Valentine, and Valiant argue with Beefcake and leave him behind. Hmmm…
Next, the events leading up to the upcoming hair versus hair match are shown. Following that, Piper cuts a quick but volatile promo.
In a pre-recorded interview of Adonis (with Hart) by Okerlund, Adonis threatens all types of haircuts for Piper.
Match 6 (hair versus hair): "Rowdy" Roddy Piper versus "Adorable" Adrian Adonis (w/ Jimmy Hart)
Highlights:
Refusing the cart, Piper walked then jogged to the ring.
He received a standing ovation as this was his "retirement" match.
Piper's belt got involved as each wrestler took turns with it.
Cross-corner whip by Piper led to an Adonis flip to the floor.
Piper dragged Adonis back in as Hart tried to pull the other arm.
With both Adonis and Hart in the ring, Piper gave them a double noggin knocker.
He then whipped Hart into Adonis as both men sailed over the top rope to the floor.
Another cross-corner whip by Piper, but Hart mounted the top turnbuckle.
Regretfully for him, Piper LAUNCHED him at Adonis.
As Adonis distracted referee Dave Hebner, Hart tripped Piper coming off the ropes.
Clothesline by Adonis was followed by an elbow smash to the head.
Piper fell out of the ring, so Adonis followed him.
He then rammed Piper face-first into the timekeeper's table.
As Adonis distracted Hebner, Hart nailed Piper in the midsection.
Once again, Adonis distracted Hebner so that Hart could spray perfume in Piper's eyes.
Adonis then applied "Goodnight, Irene."
After Hebner dropped Piper's arm twice, Adonis released the hold.
While Adonis celebrated prematurely distracting Hebner once again, Beefcake entered the ring and woke Piper up.
WE HAVE A FACE TURN!
Holding the hedge clippers, Hart entered the ring but got nailed by Piper.
Adonis tried to hit Piper with them, but the rebound off the ropes caused the clippers to bop Adonis in the face.
Piper applied a sleeper knocking Adonis

OUT COLD

, and the crowd went wild.
Rating: **
Summary: More entertainment than wrestling here, but they did a good job.
After the match, Beefcake re-enters the ring and shaves Adonis' head. Following this match, he would be given the nickname "the Barber". Afterward, Piper shows Adonis his reflection in the mirror to which Adonis takes exception. Embarrassed, Adonis scampers away. After Piper kisses Finkel on top of his head, a fan runs into the ring to congratulate him.
At the broadcast location, Monsoon discusses Jesse's absence with Mary Hart and Bob Uecker.
Ring announcer Howard Finkel then announces Jesse to the crowd as Monsoon shills Predator starring both Jesse along with some guy named Arnold Schwarzenegger. You might have heard about him.
Earlier tonight, Okerlund interviewed the Hart Foundation, Davis, and Hart. As Hart ran down the British Bulldogs, Bret, Neidhart, and Davis ham it up for the camera.
Match 7 (six-man): The British Bulldogs & Tito Santana (w/ Mathilda) versus the WWF tag team champions Hart Foundation & "Dangerous" Danny Davis
Highlights:
As the Bulldogs hit the ring, Matilda chased and attacked Hart. She's quite the bitch.
Outside the ring, Santana whipped Neidhart directly into Bret.
The Bulldogs then backdropped Davis atop the Hart Foundation.
Cross-corner whip by Santana, but Bret tried to float over him.
Santana caught him and sent him face-first to the mat.
Jesse left the ring with Matilda. I wonder if perhaps Mrs. Ventura was jealous.
As Smith gave the Hart Foundation a double noggin knocker, Mary claimed zero relation to Jimmy Hart. Interestingly, she didn't mention whether or not she was close to Bret. That "excellence of execution" nickname seemed like a great pick-up line for him.
Anyway, Dynamite Kid tagged in, and the Bulldogs gave Neidhart a double head butt.
Santana immediately tagged in but got caught in the heel corner.
After a slam by Neidhart, Bret mounted the second turnbuckle but missed an elbow drop.
Dynamite Kid tagged in and whipped Bret into the top turnbuckle sternum-first.
Clothesline and diving head butt by Dynamite Kid only got 1 as Neidhart made the save.
He then tried to suplex Bret, but Neidhart nailed Dynamite in the back.
Backbreaker/elbow smash combo by the Hart Foundation to Dynamite.
Davis finally tagged in, gave Dynamite a couple of stomps, and tagged Bret.
After Bret and Neidhart pound away on Dynamite, Davis tagged back in, delivered a couple more stomps, and tagged Bret.
Assisted slingshot splash by Davis hit knees.
Hot tag Santana.
Back drop by Santana to Davis was followed by the flying forearm.
He then tried to apply the figure-four leg lock, but Neidhart ambushed him.
Smith tagged in and gave Davis a clothesline.
He then rammed Davis' head into Dynamite's.
Tombstone piledriver by Smith was followed by a delayed vertical suplex.
Running powerslam by Smith only got 2 thanks to a save by Neidhart.
While the anonymous referee was occupied with Dynamite and Bret, Davis HAMMERED Smith with the megaphone.
1-2-3.
Rating: ***1/2
Summary: The champs win by nefarious means thanks to shenanigans by Hart and Davis. Gee, who'd a thunk it?
Backstage, Okerlund interviews Heenan (with Andre) who has changed into a white tuxedo with gold trim. The dapper Heenan promises victory while Andre stood still ominously.
Match 8: Koko B. Ware versus "Hacksaw" Butch Reed (w/ Slick)
Highlights:
Sshh…don't tell the WWE Network that they left in Morris Day & the Time's "The Bird."
Dropkick by Ware sent Reed over the top rope to the floor.
After a Reed cross-corner whip was reversed, Ware gave Reed a hip toss.
Ware dropkick #2 only got 2.
Inside cradle by Ware only got 2.
Cross body block by Ware, but Reed shifted momentum, hooked the tights, and got the pin.
Rating: DUD
Summary: Only fitting that the former #1 contender to the NWA World title would win here.
After the match, Ware nails Reed sending him to the floor. Slick then whacks Ware with the cane. Suddenly, Santana runs into the ring after Slick. Once Santana rips both the jacket and shirt from Slick, he and Ware give Reed a double dropkick.
We then revisit the double axe handle from Savage that damaged Steamboat's throat along with moments from SNME IX. Afterward, Savage cuts a promo on Steamboat. According to Savage, he is the "lord and master of the ring." Would YOU argue with it about it? I think not.
After Savage makes his entrance, Steamboat cuts an intense promo on Savage.
Match 9 for the WWF Intercontinental title: "Macho Man" Randy Savage (champion w/ Elizabeth) versus Ricky "The Dragon" Steamboat (w/ George "The Animal" Steele)
Highlights:
Before the match got too serious, Savage moved Elizabeth far away from Steele.
Standing choke by Steamboat, but Savage left the ring to regroup.
Savage then used the top rope to guillotine Steamboat and got a 2 count.
Elbow smash to the head by Savage as a "Steamboat" chant rang out from the tremendous crowd.
Savage countered an arm bar with a back elbow then sent Steamboat over the top turnbuckle to the floor.
He draped Steamboat over the top rope and hammered him with an elbow.
Next, he brought Steamboat in with a snap mare over the top rope.
An elbow smash got another 2 for Savage.
A subsequent knee drop got 2 again.
On the other hand, a chop by Steamboat tied Savage up in the ropes.
Moments, later, a cross body block by Steamboat got 2.
Shoulder block by Steamboat got another 2.
Another shoulder block got yet another 2 as the pace became frantic.
Well-placed knee in the back by Savage who then tossed Steamboat over the top rope, yet Steamboat caught himself and skinned the cat back inside.
An unimpressed Savage clotheslined him back over the top rope to the floor.
He then joined Steamboat and delivered another well-placed knee into his back.
As Steamboat landed in the front row, Steele assisted him back to the ring.
Once again, an unimpressed Savage tossed Steamboat over the top rope to the floor. DEVIOUS!
He then mounted the top turnbuckle and hit Steamboat with a double axe handle.
Afterward, he tossed Steamboat back in, remounted the top turnbuckle, and delivered another double axe handle.
Elbow smash got 2 for Savage.
Guillotine #2 with the top rope got another 2 for Savage.
Atomic drop got 2 again for Savage.
Vertical suplex by Savage got 2 yet again.
Gutwrench suplex by Savage almost got 3.
During a brief comeback by Steamboat, he backdropped Savage over the top rope to the floor. LOOK OUT BELOW!
Outside the ring, Steamboat joined Savage and rammed him face-first into the apron.
Back in the ring, Steamboat mounted the top turnbuckle and hit a flying chop for only 2 due to Savage's foot being on the bottom rope.
Chop off the ropes got another 2 for Steamboat.
Trying to avoid being clobbered, Savage sought refuge outside the ring.
Back in, a sunset flip by Steamboat almost got 3.
After ducking a right, Steamboat rolled Savage up for 2.
Somersault rollup by Steamboat got another 2.
Inside cradle by Steamboat got yet another 2 as Jesse gives great kudos to the match. I cannot disagree with you, Governor.
After a slam, Steamboat catapulted Savage head-first over the top turnbuckle into the ring post.
He then hooked Savage for another 2 count.
Rollup off the ropes got 2, but Savage reversed, grabbed the tights, but only got 2. Whew!
Thereafter, Savage used momentum to send Steamboat into the ring post shoulder-first.
After a cross-corner whip got reversed a few times, Savage whipped Steamboat directly into referee Dave Hebner knocking him

OUT COLD

.
Double clothesline put both men down on the mat.
Savage mounted the top turnbuckle and hit the big elbow.
Since Hebner was still down, no count was made, although argument could be made that Savage had this sewn up had Hebner counted.
Savage left the ring and grabbed the bell.
However, before any chicanery occurred, Steele swiped it away from Savage.
Savage nailed Steele, retrieved the bell, and remounted the top turnbuckle.
Just when you thought Savage would cause permanent damage to Steamboat, Steele pushed Savage down to the mat.
While getting slammed, Steamboat hooked an inside cradle.
1-2-3!
WE HAVE A NEW CHAMPION!
Rating: *****
Summary: BEST. MATCH. EVER. I could seriously watch these guys wrestle for hours since they keep you on the edge of your seat. As you may be aware, this match has received some of the biggest accolades in wrestling history and rightfully so.
If it was possible, the roof practically comes off the Silverdome while Finkel's announcement cements how awesome this match truly is.
Backstage, Okerlund interviews Roberts (with Alice Cooper). We revisit the Snake Pit where Honkytonk Man nailed Roberts with his guitar while Roberts promises revenge. As an addendum to Roberts' promo, Cooper refers to Detroit as the home of metal.
After Roberts makes his entrance, Okerlund interviews Honkytonk Man (w/ Hart).
Match 10: Jake "The Snake" Roberts (w/ Alice Cooper) versus the Honkytonk Man (w/ Colonel Jimmy Hart)
Highlights:
Before Honkytonk Man could enter the ring, Roberts nailed him on the apron.
He then countered a back drop attempt with a knee lift.
Honkytonk Man sought refuge outside the ring, but Roberts joined him.
Upon doing so, he slammed Honkytonk Man on the floor before rolling him back in.
Cross-corner whip by Roberts, but he ate a knee on his follow-through.
Short-arm clothesline by Roberts, but Honkytonk Man evaded the DDT.
Again, Roberts joined Honkytonk Man on the floor but received a whip into the ring post.
With Roberts on the apron, Honkytonk Man delivered a knee to the head sending Roberts up against the steel railing.
Back in the ring, Honkytonk Man slammed Roberts then mounted the second turnbuckle.
Next, he delivered a fist drop then signaled for the end.
A back elbow by Honkytonk Man was followed by a double axe handle; however, the Shake, Rattle, & Roll attempt was thwarted by Roberts with a back drop.
Ten-punch count-along by Honkytonk Man was countered with an inverted atomic drop.
After a back drop, Roberts nailed Honkytonk Man as he was caught in the ropes.
Roberts hooked him for the DDT, but Hart grabbed Roberts' leg.
Seeing the distracted Roberts, Honkytonk Man rolled him up while holding the top rope.
1-2-3.
UPSET CITY!
Rating: **
Summary: Considering everyone thought Roberts would be getting his revenge here, it was truly an upset for the somewhat newcomer to the WWF Honkytonk Man.
After the match, Roberts tries to wallop Honkytonk Man with the guitar and OBLITERATES it on the ring post. With Hart in the ring, Cooper and Roberts gang up on him. Roberts then grabs Hart as Cooper opens the bag containing Damian. As Hart tries to escape, Roberts tosses Damian atop him. Finally, Honkytonk Man rescues his manager from becoming Damian's snack.
SPECIAL ANNOUNCEMENT: Okerlund enters the ring and announces tonight's attendance at 93, 173 and is a world indoor attendance record. Your mileage may vary.
Match 11: The Killer Bees (w/ "Hacksaw" Jim Duggan) versus the Iron Sheik & Nikolai Volkoff (w/ Slick)
Highlights:
Still wearing his tattered suit, Slick accompanied his men to the ring.
To create nuclear heat, Volkoff sang the Soviet national anthem.
Like an army ranger, Duggan stormed the ring and chased off Volkoff and Sheik with his 2x4. He then got on the microphone and quoted the final lyrics to the "Star Spangled Banner."
Atomic drop by Blair was followed by Brunzell's ringing of Sheik's bell.
After a double back elbow by the Bees, Blair tagged in, mounted the second turnbuckle, and gave Sheik an elbow smash to the arm.
Upon a double hip toss by the Bees, Brunzell rang Sheik's bell again.
As Blair tagged out, Brunzell delivered a SPECTACULAR dropkick for only 2 thanks to save by Volkoff.
After a knee to the midsection from Volkoff to Brunzell, Sheik tagged in, gave Brunzell a shot, and got 2.
Bear hug by Volkoff to Brunzell, but Brunzell rang his bell to escape. Methinks "Jumping' Jim must be hungry.
While a gutwrench suplex by Sheik only got 2, a vertical suplex by Sheik afterward almost got 3.
Nonetheless, a high knee by Brunzell knocked Sheik down to the mat.
False tag transpired as Volkoff occupied referee John Bonello's attention.
As Bonello put Blair back in his corner, Sheik and Volkoff gave Brunzell a double back elbow.
While Duggan chased Volkoff around the ring, Sheik applied the camel clutch to Brunzell.
Volkoff scampered into the ring as Duggan followed closely behind.
Seeing Brunzell trapped, Duggan DEMOLISHED Sheik with the 2x4.
Bonello called for the DQ.
Rating: **1/2
Summary: Fun match that incorporated Duggan's WWF debut.
After the match, Duggan leads a healthy "USA" chant.
Backstage, Okerlund interviews Andre who feels it won't take long for him to return with the belt. An eager Heenan is ready to make history.
Next, we revisit the events that led up to this historic main event.
Backstage, Okerlund interviews Hogan.
Finkel announces Uecker as the guest ring announcer. As Uecker enters the ring, Jesse says hello to his wife and kids at home albeit subtly. Aw.
Uecker then introduces the guest timekeeper Mary Hart as Jack Lanza assists her both into the ring and to her seat. What a gentleman!
Match 12 for the WWF title: Hulk Hogan (champion) versus Andre the Giant (w/ Bobby "The Brain" Heenan)
Highlights:
Big stare down by both Andre and Hogan as Monsoon appropriately referred to this match as "the irresistible force meeting the immovable object."
After a couple shots, Hogan tried to slam Andre, but Andre's monstrous weight took the Hulkster down.
Referee Joey Marella counted 1-2-NO!
We almost had a new champion!
As Heenan clamored for the count of three, Andre pounded Hogan's back.
Modified knee lift by Andre who then slammed Hogan.
Slam #2 preceded Andre's walking on Hogan's back. Does he think he's George Jefferson?
A pair of HARD whips into the corner kept Andre in control.
After a pair of shoulder blocks, Andre SQUISHED Hogan in the corner.
While holding Hogan in the corner, Andre delivered a head butt that could have, but didn't, split Hogan open.
A second Andre head butt was attempted, but Hogan was finally able to vacate the corner.
In addition to three shots to the head, even the Axe Bomber couldn't take Andre off his feet.
Top-turnbuckle count-along by Hogan dazed Andre, but he kept his feet.
Hogan tried a clothesline in the corner but ate boot instead.
Bear hug by Andre had the Silverdome faithful wondering if the title will change hands.
Marella checked Hogan's arm, it fell once…twice…but not a third time.
A series of right hands by Hogan finally broke the bear hug.
Next, a pair of shoulder blocks by Hogan still couldn't take Andre down.
Yet another shoulder block attempt was met by a HUGE Andre chop.
Extra-large boot to the midsection by Andre sent Hogan through the ropes to the floor.
Andre joined, chopped, and then tried to head butt Hogan; however, he hit the ring post instead. OUCH!
Hogan then removed the exterior mats, attempted a piledriver, but Andre backdropped him.
Back in the ring, Andre missed a second big boot then ate a clothesline that FINALLY knocked him off his feet.
Worried, Heenan checked on his man down on the mat.
Amazingly, Hogan SLAMMED Andre!
Leg drop got the pin for Hogan to an overwhelming ovation.
Rating: *1/2
Summary: Wrestling-wise, this stunk up the Silverdome, but as a spectacle, it was one of, if not THE most historic match in wrestling history. If anything made Hogan bigger than life itself, it was Andre's passing of the torch to him here.
For those that care, the Wrestling Observer faithful actually voted this match Worst Worked Match of the Year for 1987.
After the match, a despondent Heenan and angry Andre leave on the cart. Hogan then poses for the crowd.
Conclusion: So you have the biggest and the best matches in professional wrestling history on this show; so, of course, I LOVED and recommend it. Gather your friends, family, and pets, fire up the WWE Network, and spend three hours enjoying the festivities.
See you for NWA Crockett Cup '87!
Buyrate: 8.00 (400,000 homes)
Comments? Suggestions? Send them to me at rsg@rockstargary.com and follow me on Twitter (@rockstargary202).
Custom Search