WELCOME TO ROCK STAR GARY REFLECTIONS!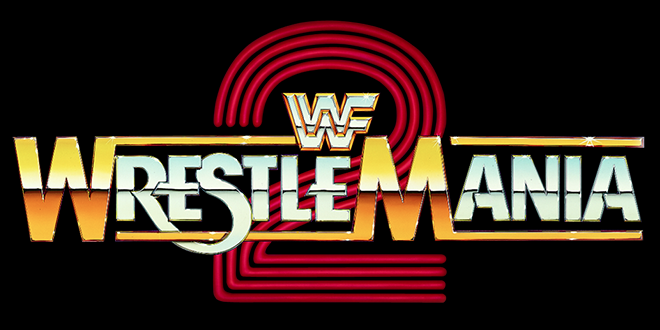 In the supreme act of one-upmanship, due to Starrcade '85 emanating from two locations, WrestleMania II emanated from THREE locations! If they keep this up, Starrcade '86 could emanate from Tokyo AND London simultaneously.
Location one:
Live from Uniondale, NY
Airdate: April 7, 1986
Attendance: 16,585
Hosted by Vince McMahon and Susan St. James
Vince is in the ring and says "Welcome to WrestleMania!" That particular sound bite would be captured and replayed on numerous WWE DVDs as well as on the WWE Network. He then introduces his guest color commentator for the evening—Susan St. James. Who, you ask? Not only was she an actress who played Allie in the successful CBS sitcom Kate & Allie but also was NBC producer Dick Ebersol's wife. You do the math!
Ray Charles performs "America the Beautiful" in his own unique way.
Next, "Mean" Gene Okerlund addresses us from Rosemont, IL.
Back in New York, boxing trainer Lou Duva introduces "Rowdy" Roddy Piper who informs us that he's down to 219 lbs. He also announces that if he gets knocked out, he'll retire from everything enjoyable in life including wrestling and tiddlywinks. He then runs down Mr. T.
Match 1: "Mr. Wonderful" Paul Orndorff versus the Magnificent Muraco (w/ Mr. Fuji)
Highlights:
As the match began, sound bites from both Muraco and Orndorff were played. Muraco vowed to make Orndorff the embarrassment of WrestleMania for the second consecutive year. Wow! That's harsh!
Slam by Muraco was followed by a mule kick by Orndorff.
Orndorff slammed Muraco much to the Nassau County Coliseum crowd's delight.
He then reversed a cross-corner whip and gave Muraco a back drop.
Samoan drop by Muraco gave him brief control of the match.
They brawl with one another and spill over the top rope to the concrete floor.
From there, the brawl continued until both men were counted out.
As the bell rang, Orndorff rammed Muraco shoulder-first into the ring post.
Rating: DUD
Summary: Four minutes for that crappy finish? Moving along.
After the match, referee Dick Kroll prevents Orndorff from nailing Muraco with a plastic chair. A very loud and justifiable "BULLSHIT" chant emanates from the Long Island crowd.
Mr. T cuts a promo alongside "Smokin'" Joe Frazier and the Haiti Kid.
Prior to the match, a promo by Savage from earlier today was shown.
Match 2 for the WWF Intercontinental title: "Macho Man" Randy Savage (champion w/ Elizabeth) versus George "The Animal" Steele
Highlights:
Wait a minute! When last we spoke, didn't Tito Santana hold this title? Well, this happened.
While Steele was already in the ring upon introduction, Savage received a proper introduction with his music.
Steele's antics chased Savage from the ring.
Savage played cat-and-mouse with Steele until he got caught by the ankle.
Steele then bit Savage's leg. Ew. In the meantime, St. James advocated his cannibalism. What happens in the Ebersol bedroom…STAYS in the Ebersol bedroom. I don't wanna know!
Back in the ring, a standing choke by Steele gave him control of the match.
Steele got distracted by Elizabeth (who wouldn't?), but Savage flipped him upside-down in the ropes.
Next, he mounted the top turnbuckle, hit a flying body press, but only got 2.
Steele's exuberant kickout sent Savage outside the ring to the concrete floor.
After working on Savage in the ring, Steele tossed him out back to the concrete floor.
In a clever move, Savage crawled under the ring by Elizabeth's feet and crawled out the other side.
He then put a knee in Steele's back to take control.
Savage tried a clothesline, but Steele bit his arm. St. James continued to laugh at Steele's cannibalism. Too kinky!
Savage retrieved a bouquet of flowers, brought it into the ring, and paint-brushed Steele in the face with it.
Steele stole the flowers from Savage and made him eat them. I'm certain it made Savage clamor for the delicious taste of the steel railing instead.
After giving Savage a cross-corner whip, Steele went to the adjacent corner for his dinner—turnbuckle stuffing.
Savage tried to attack, but Steele force-fed Savage some stuffing. Yuck! Needs gravy.
Steele followed Savage around the ring until he encountered Elizabeth.
Savage noticed the distraction, mounted the top turnbuckle, and delivered a double axe handle to Steele's back.
After tossing Steele back into the ring, Savage slammed him.
He then remounted the top turnbuckle and hit the big elbow.
1-2-NO!
Steele grabbed Savage by the nose and tossed him into the corner.
After a double takedown, Savage put his feet on the ropes of the second turnbuckle and pinned Steele.
Savage retained.
Rating: **
Summary: The crowd response and Savage's aerial ability were the highlights of this match.
After the match, Steele eats another turnbuckle to console himself then chases the anonymous referee backstage.
Back in Chicago, Okerlund interviews Big John Studd and Bill Fralic. The big men are at each other's throats.
Match 3: Jake "The Snake" Roberts versus George Wells
Highlights:
Historical fact: Wells was the first partner of Bret Hart when Hart entered the WWF.
Roberts barely had a month tenure in the WWF prior to this match.
He entered the ring and slapped the taste out of Wells' mouth. How rude!
Wells delivered a back drop but was soon dumped outside the ring down to the concrete floor.
After a leap frog by Roberts, Wells nailed him with a flying shoulder block.
A head butt by Wells knocked Roberts silly.
After giving Roberts a pair of cross-corner whips, Wells snapped off a flying headscissors.
McMahon noted that Wells gained 20-30 pounds over the last six months. From the looks of Wells, he must have been on the Budweiser diet plan.
After a knee lift, Wells delivered a powerslam for 2.
When Roberts exited the ring, Wells followed him.
Upon his re-entry, Wells received a knee lift.
Roberts then hit the DDT.
1-2-3.
Rating: *1/2
Summary: Great selling by Roberts here, but isn't he a heel?
After the match, Roberts grabs the bag containing his python. Roberts then wrapped the python all over Wells. Out of fear, Wells was frothing at the mouth. According to Vince, Roberts is still undefeated (in the WWF). I added the last part because, upon further review, with the last part included, McMahon is correct.
We revisit the ending to the boxing match from SNME where Piper & Orton got the best of Mr. T.
In Los Angeles, Jesse "The Body" Ventura interviews WWF Champion Hulk Hogan. Despite the ribs being hurt, Hogan vows to defend his title tonight.
Back in the ring, ring announcer Howard Finkel recognizes the guest ring announcer for the next match—Joan Rivers. She announces the judges: New Jersey Nets center "Chocolate Thunder" Darryl Dawkins, Cab Calloway, and G. Gordon Liddy. For those unaware, back in 1971, Liddy was a chief operative in the Watergate scandal. It's so nice that McMahon wants to give a convicted felon a second chance. What a swell guy! Rivers then announces the guest timekeeper—Herb of Burger King commercial fame.
Match 4 (boxing): "Rowdy" Roddy Piper (w/ "Cowboy" Bob Orton & Lou Duva) versus Mr. T (w/ "Smokin' Joe Frazier & The Haiti Kid)
Highlights:
For those unaware, Duva trained notable boxers such as Pernell "Sweet Pea" Whitaker, Michael Moorer, Arturo Gatti, Bobby Czyz, "The Pazmanian Devil" Vinnie Pazienza, Hector "Macho" Camacho, and "The Real Deal" Evander Holyfield among others.
The three knockdown rule was in effect.
Mr. T and Piper had to be separated during instructions.
Other than Piper being sneaky and conniving, round one was rather uneventful.
The fighters needed their corner men to separate them at the end of it however.
During the one minute break between rounds, Piper walked over to Mr. T's corner to badmouth him.
As round two began, referee Jack Lutz wiped a mysterious substance from Piper's face.
Whereas round one at least appeared legitimate, if Piper landed some of these shots he landed in round two, the fight would have been over.
A haymaker by Piper knocked Mr. T down to the mat.
Rather than going to a neutral corner, Piper kicked Mr. T.
Mr. T got to his feet at the count of eight.
A raucous "Roddy" chant emanated from the crowd.
As round two ended, Mr. T went down again. Once he regained his feet, his corner men carried him back to his corner.
During the rest period, Orton splashed water at Mr. T.
In round three, Mr. T pummeled Piper in the corner.
After Piper got up, Mr. T pushed him in the corner then threw a phantom punch "knocking" Piper out of the ring. D'oh!
During the rest period, Mr. T walked over to Piper's corner to badmouth him.
As the whistle blew to remove corner men from their respective corners, Piper stood up and threw his stool.
Round four began with a "gimme your best shot" approach by both fighters.
A right hand by Piper knocked the mouthpiece from Mr. T's mouth.
As Lutz tried to separate the fighters in the corner, it appeared that Piper shoved him down.
Piper then slammed Mr. T.
Mr. T won by disqualification.
Rating: NONE
Summary: This is a complete farce for publicity's sake. No other explanation is necessary.
After the "match," not only do Piper and Mr. T need to be separated but also Duva and Frazier. As Lutz raises Mr. T's hand in victory, Piper attacks Mr. T.
Location two:
Live from Chicago, IL
Airdate: April 7, 1986
Attendance: 9,000
Hosted by Gorilla Monsoon, "Mean" Gene Okerlund, and Cathy Lee Crosby
For those unaware, Crosby was famous for being the one of the hosts of That's Incredible alongside John Davidson and pro football Hall of Fame quarterback Fran Tarkenton.
Match 5 for the WWF Women's title: The Fabulous Moolah (champion) versus Velvet McIntyre
Highlights:
Wait a minute! Didn't Wendy Richter have the belt the last time we spoke of this title? What happened? This.
Whereas Finkel was the ring announcer in New York, Chet Coppock was the ring announcer in Chicago.
After three hair mares, Moolah nailed McIntyre in the chest with a forearm.
Moolah missed a clothesline. Afterward, McIntyre used a leap frog followed by a dropkick to take the early advantage.
After a second dropkick, McIntyre hit Moolah with a back elbow.
Upon slamming Moolah, McIntyre mounted the second turnbuckle but missed the splash.
Moolah made the cover and got the pin in spite of McIntyre's left leg being on the bottom rope.
Rating: *
Summary: Needless to say, but hair mares don't generate snowflakes.
While Monsoon and Okerlund sit at the broadcast table wearing their headsets, Crosby doesn't want to mess up her hair so she has the microphone in front of her while the "SPARE" headset sat out in the open in front of her. Oops.
Match 6 (flag): Corporal Kirchner versus Nikolai Volkoff (w/ "Classy" Freddie Blassie)
Highlights:
In order to create nuclear heat, Volkoff sang the Soviet national anthem.
A vociferous Chicago crowd booed mercilessly.
Spinning crescent kick by Volkoff put him in control early.
After tossing Kirchner outside the ring, Volkoff rammed him face-first into the ring post.
A poor camera angle was unable to disguise a blade attempt by Volkoff as he "bit" Kirchner on the forehead. Yikes!
For a second time, Volkoff rammed Kirchner head-first into the ring post.
As noted by Okerlund, Kirchner was

BUSTED OPEN

!
While Kirchner was hammering on Volkoff in the corner, he caught the anonymous referee with his elbow.
In an attempt to assist his protégé, Blassie tossed his cane to Volkoff; however, Kirchner intercepted it and walloped Volkoff for the pin.
Rating: *
Summary: Neither blood nor xenophobia could save this one. To say Kirchner was a poor man's Sgt. Slaughter would be an insult to Slaughter.
Match 7 (20-man battle royal):
Participants:
WWF Superstars: Big John Studd, the "Golden Boy" Danny Spivey, Bruno Sammartino, Pedro Morales, King Tonga, the Iron Sheik, Hillbilly Jim, B. Brian Blair, Jim Brunzell, Bret Hart, Jim Neidhart, Tony Atlas, Ted Arcidi, and Andre the Giant
NFL players: Jimbo Covert (Chicago Bears), Bill Fralic (Atlanta Falcons), Russ Francis (San Francisco 49ers), Ernie Holmes (Pittsburgh Steelers-retired), Harvey Martin (Dallas Cowboys), and William "The Refrigerator" Perry (Clemson University Chicago Bears)
Highlights:
Coppock handed the announcing duties for this match to Okerlund.
The guest timekeeper for this match was Claire Peller of Wendy's fame.
Much to her delight, I suppose, the beef will be in the ring shortly.
The guest referees were pro football Hall of Fame linebacker from the Chicago Bears—Dick Butkus and Ed "Too Tall" Jones.
Just how many times in his career did Jim Neidhart say "Yeah, baby"?
To give you an idea of how much spring is in this particular ring, when Perry entered the ring, he jumped from the top rope down to the mat. By doing so, Okerlund bounced a few feet in the air.
Joining the broadcast team in place of Okerlund was the "Big Cat" Ernie Ladd.
Interestingly, mats were placed around the ring. That wasn't standard practice in 1986.
Much to the crowd's delight, Covert protected Perry from being eliminated.
As soon as I typed that, both Covert and King Tonga were eliminated.
Sammartino eliminated Holmes.
Brunzell, wearing a cast on his left arm, was eliminated.
Perry eliminated Atlas.
artin and Morales were eliminated simultaneously.
Arcidi was eliminated next.
The Iron Sheik eliminated Spivey.
He then eliminated both Hillbilly Jim and B. Brian Blair.
Sheik and Studd eliminated Fralic.
Eight men remained.
Sammartino got rid of the Sheik.
Unfortunately, Studd eliminated Sammartino shortly thereafter.
Six men left.
A "tackle" by Perry sent both members of the Hart Foundation over the top rope, but neither was eliminated.
After Perry knocked Studd into the corner with another "tackle," he ate a forearm on "tackle #2" and was eliminated by Studd.
Perry shook Studd's hand and pulled him out of the ring.
Four men left.
Double dropkick by the Hart Foundation tied Andre up in the ropes.
They then eliminated Francis.
Shoulder block by Neidhart in the corner assisted by Bret.
They tried another cross-corner maneuver, but Bret ate boot on the follow-through.
Oh.My.God. A big boot from Andre was way oversold by Neidhart that he eliminated himself.
Bret made the cardinal mistake of mounting the top turnbuckle in a battle royal.
Andre pressed him overhead and tossed him on top of Neidhart on the floor for the win.
Rating: NONE
Summary: There was little doubt that Andre would win. The commentary combined with the football talent made this a lot more entertaining than I thought it would be.
We return to New York as Vince & Susan interview Piper. To say Piper's words were politically incorrect would be a blatant understatement. We revisit the end of the "boxing" match, and Piper gives his side of the story.
Back in Chicago, Okerlund interviews Covert who accuses Fralic of cheating. Okerlund then speaks with the Iron Sheik. Of course, he drops a "Gene Mean" into his interview.
We then revisit the end to the battle royal.
Match 8 for the WWF tag team titles: The Dream Team (w/ "Luscious" Johnny Valiant) versus the British Bulldogs (w/ Capt. Lou Albano & Ozzy Osbourne)
Highlights:
Wait a minute! The champions were introduced first? That's not tradition!
Okerlund rejoined the broadcast crew.
Two referees were assigned to this match.
Hip toss by Valentine, but he missed the hammer.
Dynamite Kid tagged in and rammed Valentine head-first into the top turnbuckle.
That resulted in a Valentine flop and a 2 count for the Dynamite Kid.
Holy roadrunners, Batman! Lightning-fast shoulder block by the Dynamite Kid took Valentine off his feet. While Shawn Michaels could possibly be the fastest pro wrestler I've ever seen, perhaps the Dynamite Kid surpasses him in quickness.
Snap suplex by the Dynamite Kid was followed by an elbow drop.
Smith tagged in, but Valentine blocked a vertical suplex attempt.
Valentine tried to suplex Smith, but Smith shifted his momentum and delivered a suplex of his own for 2.
Monsoon mentioned Albano's challenging Valiant outside the ring. Yeah, to a drinking contest perhaps.
Smith reversed a cross-corner whip but ate a knee from Valentine.
"The Hammer" then dropped a head butt into Smith's abdomen.
Finally, Beefcake tagged in.
As he held an arm bar on Smith, he was military-pressed and slammed by Smith.
Running clothesline and a chop by the Dynamite Kid got 2.
Inside cradle by the Dynamite Kid got 2.
Fisherman's suplex by Smith got another 2.
Valentine tagged in, mounted the top turnbuckle, and lowered the boom onto Smith.
Vertical suplex by Valentine only got 2.
The Dynamite Kid tagged back in, won a forearm battle with Valentine, and then delivered a series of shoulder blocks in the corner to him.
A forearm to the upper back by the Dynamite Kid resulted in Valentine flop #2 as well as a 2 count.
Double shoulder block by the Bulldogs got yet another 2 count.
Sunset flip by the Dynamite Kid to Valentine only got 2.
Excellent backbreaker by the Dynamite Kid only got 2 thanks to a save by Beefcake.
Knee drop to the head by the Dynamite Kid got another 2.
Forearm off the ropes by Valentine was followed by a VICIOUS piledriver.
1-2-NO!
Valentine mounted the top turnbuckle, got caught, and came down the hard way.
The Dynamite Kid only got a 2 count as all four men were in the ring.
Smith ejected Beefcake then military-pressed the Dynamite Kid overhead.
Before the Dynamite Kid can be dropped for the head butt, Valentine exited the ring to regroup.
Smith tagged in and delivered his patented powerslam to Valentine.
1-2-NO!
Vertical suplex #2 by Smith only got 2.
Valentine reversed a cross-corner whip and sent Smith shoulder-first into the ring post.
Beefcake tagged in, mounted the second turnbuckle, and nailed Smith.
After Beefcake rammed Smith shoulder-first into the top turnbuckle, Valentine tagged back in.
Again he mounted the top turnbuckle and lowered the boom on Smith.
Shoulder breaker by Valentine, but he picked him up at 2.
Could this be a mistake in judgment?
With the Dynamite Kid halfway up the top turnbuckle, Smith rammed Valentine head-first into the Dynamite Kid's head.
The Dynamite Kid flew out of the ring halfway to Milwaukee.
1-2-3!
WE HAVE NEW CHAMPIONS!
Rating: ****
Summary: Superb match that deserves a first-look by newcomers or another look by previous viewers. My only gripe was that Valentine was in for at least 90% of the match for the Dream team.
Upon completion of the match, the crowd comes UNGLUED for the Bulldogs' victory. Along those lines, Ozzy is ecstatic for his team. Meanwhile, Smith tries to pick a dazed and probably concussed Dynamite Kid up off the floor.
In the ring, Okerlund interviews Albano who talks a million miles an hour. Ozzy shouts "British Bulldogs FOREVER!" Smith vows to stay in America since they won the belts. Unfortunately, the Dynamite Kid is in NO condition to speak.
We return to New York with Vince and Susan who prepare us for the Los Angeles portion of the show.
Location three:
Live from Los Angeles, CA
Airdate: April 7, 1986
Attendance: 14,500
Hosted by Lord Alfred Hayes, Jesse "The Body" Ventura, and Elvira, the "mistress of the dark"
Like a true horror queen, Elvira is ready for all of the violence. Attagirl!
Match 9: Hercules versus Ricky "The Dragon" Steamboat
Highlights:
Holy Tony the Tiger, Batman! Of all people, "Stagger" Lee Marshall was the ring announcer for this portion of the show.
Hernandez attacked Steamboat at the onset so that Steamboat can show off his great selling ability.
However, Steamboat reversed an Irish whip and took control with a pair of arm drags.
OK…quick question…whose skin is paler? Hernandez or Elvira?
After a leap frog by Hernandez, he ate a crescent roll kick from Steamboat.
To break a key lock from Steamboat, Hernandez delivered a shot to the ribs.
After a pair of leap frogs by Steamboat, he gave Hernandez a back elbow.
Vertical suplex by Steamboat kept him in control.
…until Hernandez rammed him head-first to the top turnbuckle then clotheslined him all the way down to Baja California.
Stun gun by Hernandez kept his momentum going.
Steamboat tried a slam, but Hernandez's momentum put him on top for a 2 count.
Back elbow by Hernandez was followed by a pair of elbow drops.
Arrogant cover only got 2.
Two chops from Steamboat worked, but a third one missed.
Hernandez countered with a clothesline for a pair of 2 counts.
Military press slam by Hernandez.
Make that 2.
He then mounted the top turnbuckle, tried to splash Steamboat, but hit knees.
Steamboat then mounted the top turnbuckle, hit the flying body press, and got the pin.
Rating: **1/2
Summary: When given a good opponent, a match involving Hernandez doesn't suck.
Match 10: Adrian Adonis (w/ Jimmy Hart) versus Uncle Elmer
Highlights:
I truly believe Adonis could not look more effeminate than he did here.
A cross-corner whip by Elmer resulted in an Adonis flip.
A right hand by Elmer not only knocked Adonis outside the ring to the concrete floor but also himself.
A perturbed Adonis ripped the WrestleMania 2 apron right off the ring. Wow!
A shot to the top of Adonis' head sent him shoulder-first into the ring post down onto the timekeeper's table.
As Adonis got up on the apron, Elmer tore Adonis' dress quite a bit.
He then brought Adonis In the hard way.
A belly bump from Elmer twisted Adonis up in the ropes.
As Adonis shed his torn dress, Elvira clamored for him to put it back on. HA!
After reversing a cross-corner whip, Elmer SQUISHED Adonis with an avalanche.
Upon Elmer missing a leg drop, Adonis mounted the top turnbuckle, hit the splash, and got the pin.
Rating: ½*
Summary: If Adonis got sixty seconds of offense in this match, I'd be surprised. This would be Elmer's last match in the WWF.
Backstage, Hayes interviews Hogan.
Match 11: Junkyard Dog & Tito Santana versus Terry & Hoss Funk (w/ Jimmy Hart)
Highlights:
For those unaware, Hoss was actually Dory Funk, Jr.
Before the match began, Terry tossed a steel chair into the ring then slammed one down on the concrete floor.
After Terry tumbled over the top rope into the ring, JYD reversed a cross-corner whip sending Hoss into his brother.
After JYD slammed Hoss twice and Terry once, a forearm from Santana sent the Funks to the concrete floor to regroup.
Clothesline by Santana sent Terry over the top rope down to the concrete floor.
Hoss came in but ate a pair of dropkicks from Santana.
A battle of fisticuffs between Terry and JYD was brief but better than Piper versus Mr. T.
JYD delivered the ten-turnbuckle count-along with Terry.
After falling near the opposite corner, JYD gave him another turnbuckle count-along followed by a head butt.
That only got 2 thanks to a save by Hoss.
JYD then tossed Terry over the top rope down to the concrete floor.
Flying forearm smash by Santana only got 2 thanks to a save by Terry.
Criss-corner by Santana to Hoss was halted due to a knee by Terry into Santana's back.
After Terry tossed Santana to the concrete floor, Hart put the shoes to him.
Vertical suplex by Terry only got 2.
Santana reversed a second vertical suplex with one of his own.
A horny Elvira wondered if the trunks were coming down. Naughty girl!
After a mid-ring collision, Terry tagged out to Hoss.
Hoss hooked a double underhook suplex on Santana and got 2.
Double clothesline by the Funks kept the Texans in control.
Leg drop by Terry got 2.
Santana dodged a second leg drop but ate a head butt.
Hot tag JYD.
Double noggin knocker sent the Funks in separate directions.
Clothesline by JYD to Terry was followed by a head butt.
A back drop by JYD sent Terry over the top rope down to the concrete floor. Funk was nuts for taking that bump.
Outside the ring, JYD slammed Funk on the timekeeper's table.
Back in the ring, JYD brought Hart up onto the apron and slapped him.
Inside cradle by JYD only got 2 thanks to a save by Hoss.
Santana intercepted Hoss and applied the figure-four leg lock to him.
With Hebner distracted by Santana and JYD distracted by Hoss, Hart tossed the megaphone to Terry who WALLOPED JYD with it.
1-2-3.
The Funks won.
Rating: ***
Summary: Tag formula worked here as the Funks stole this one. I'll give an extra ½* for Terry's selling of the knee after the match.
As the big blue cage is mounted, Okerlund broadcasts from Hogan's private gym as the Hulkster performs stiff-legged dead lifts. We then revisit SNME where Bundy attacked Hogan damaging Hogan's ribs. Afterwards, Okerlund interviews Dr. Bob Ponovich who along with Hillbilly Jim is assisting Hogan with his training. Ponovich states that Hogan should not compete as Hogan may have a herniated disc in his lower back. According to Ponovich, further damage to the area could result in permanent injury and/or surgery. With a hundred pound weight clamped to a chain, Hogan performs chin-ups. That's over 400lbs! Hogan vows to take Bundy down in the steel cage.
Back at the arena, Ventura interviews Bundy with Heenan. It must be a special occasion as Bundy not only has his head shaved but also his eyebrows. According to Heenan, Bundymania will rule the world!
Elvira feeds it back to New York where Susan questions the validity of Bundymania.
Match 12 for the WWF World title (steel cage): Hulk Hogan (champion) versus King Kong Bundy (w/ Bobby "The Brain" Heenan)
Highlights:
Marshall handed the microphone over to guest ring announcer Tommy Lasorda, then manager of the Los Angeles Dodgers.
The guest timekeeper for this match was Ricky Schroder of Silver Spoons fame.
The special guest referee was Robert Conrad from the 60's TV show The Wild Wild West.
With taped ribs, Hogan entered the cage by climbing to the top rather than through the door.
Big boot by Hogan stunned the challenger.
Hogan then choked Bundy with Bundy's singlet strap.
He then rammed him face-first into the cage.
Next, after giving Bundy a cross-corner whip, Hogan delivered a clothesline.
Axe bomber by Hogan kept the champion in control.
Hogan blocked Bundy's attempt to ram him face-first into the cage, but he couldn't block a shot to the ribs.
Slam by Bundy further hurt Hogan's ribs.
Bundy tried to exit, but Hogan grabbed him by the leg.
Bundy then rammed Hogan back-first into the cage.
He then tried to leave again, but Hogan grabbed him around the waist.
Bundy proceeded to unwrap Hogan's taped ribs then choked him with the bandage.
Cleverly, Bundy tied the bandage to the second rope as he made a third attempt to exit the cage.
Hogan freed himself and raked Bundy's eyes to thwart his exit strategy.
Cross-corner whip by Hogan was followed by a back elbow on the follow-through.
Hogan then rammed Bundy face-first into the cage.
Heenan tried extremely hard to keep the camera from revealing Bundy blade himself.
Bundy was

BUSTED OPEN

!
Bundy's blade job was eons better than Corporal Kirchner's.
Again Hogan rammed Bundy face-first into the cage.
Make that twice.
Make that thrice.
Hogan tried to slam Bundy, but Bundy fell on top.
To thwart another Bundy exit, Hogan used his tape to choke Bundy.
Elvira questioned Ventura's purported jealousy of Hogan by using Hogan's cartoon TV show as bait.
After a cross-corner whip, Bundy delivered the avalanche.
He then lowered the boom with a splash.
DO WE HAVE A NEW CHAMPION?
Bundy crawled for the door, but Hogan grabbed him by the leg again.
As Ventura mentioned blood to Elvira, her response was "it's making me hungry." HA!
Avalanche #2 hit by Bundy.
However, Hogan no-sold it.
Hogan reversed a cross-corner whip and delivered a powerslam. Wow!
After a leg drop, Hogan climbed the cage, but Bundy stopped him.
Hogan kicked him away and climbed out to win the match.
Rating: ***
Summary: This was much better than I had anticipated. While not technically beautiful, it was very entertaining.
After the match, Heenan climbs into the cage and closes the door. Hogan pries it open and follows him inside. Heenan tries to escape, but Hogan nails him then rams him into the cage. Next, he gives Heenan an atomic drop sending him through the door down to the concrete floor.
To close out the show, Hogan poses as Ventura refers to him as an "egomaniac."
Conclusion: Following last year's success, this show was definitely a spectacle. With the celebrity involvement, the three venues, and the production values, this show was certainly entertaining. Is it a great WrestleMania? No, because while there were good matches, only the tag title match was superb/historical. Methinks in order to get WrestleMania over as a wrestling card that is bigger and better than ever, the WWF will have to improve the show even further next year.
See you for NWA Crockett Cup '86!
Buyrate: 7.00 (250,000 buys)
Comments? Suggestions? Send them to me at rsg@rockstargary.com and follow me on Twitter (@rockstargary202).
Custom Search