WELCOME TO ROCK STAR GARY REFLECTIONS!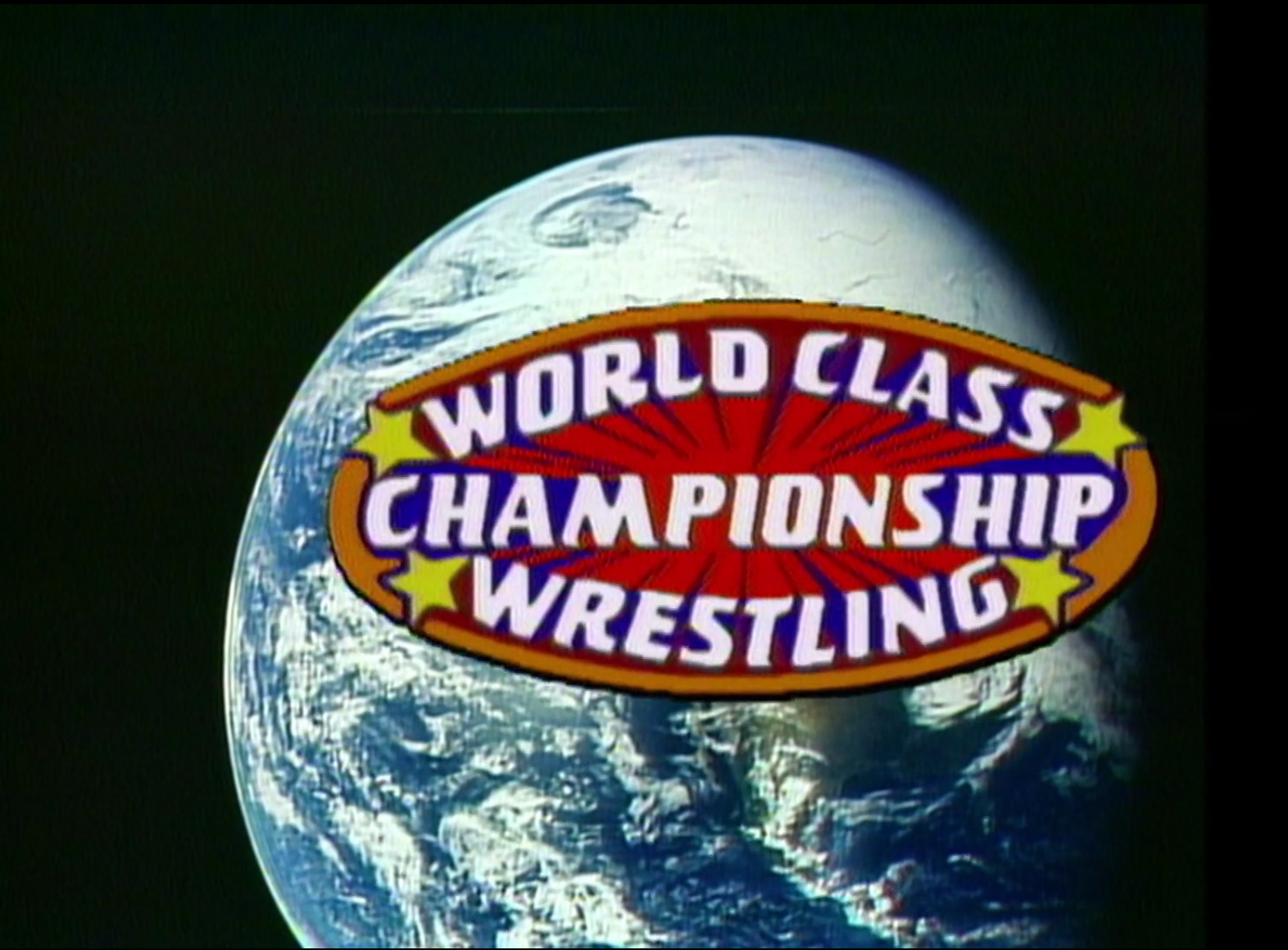 WCCW 11-17-84
Taped from Dallas, TX
Airdate: November 17, 1984 (taped 11/09)
Attendance: unknown
Hosted by Bill Mercer
Can Kerry outmuscle Reed in an arm-wrestling match? How will Kerry and Mike fare against Devastation, Inc.? What surprise does this episode have for us? And who will be joining me for this roaring episode?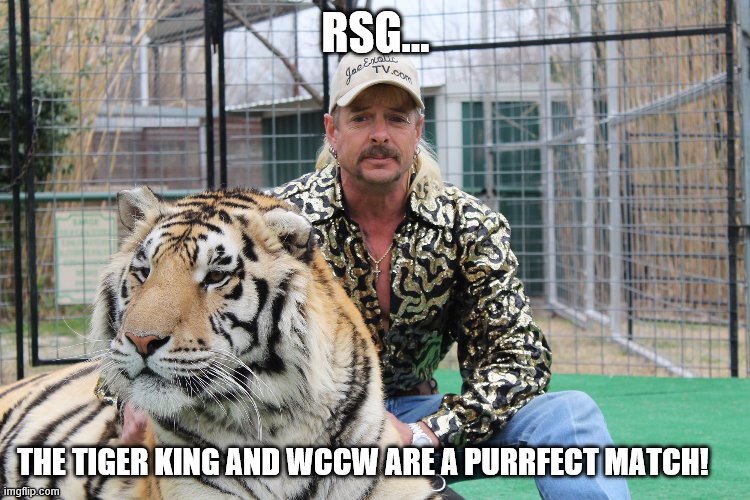 Sorry, Joe, but you were not a pop culture icon in 1984. Where's the real Tiger king of 1984?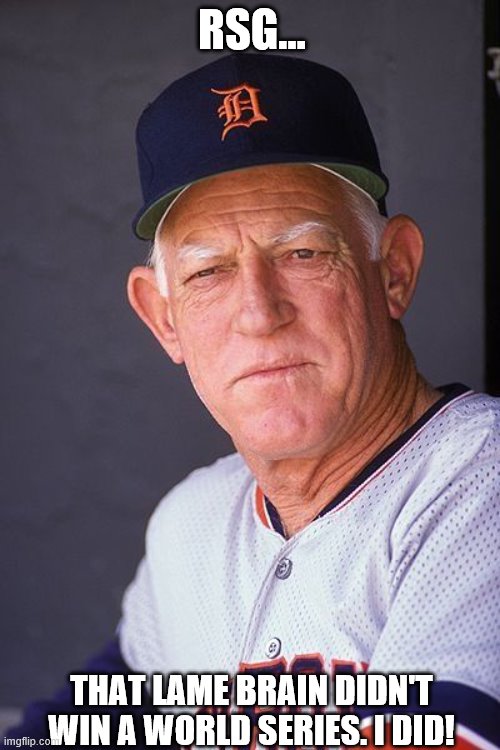 Sparky! Tell us how you really feel.
Opening montage.
By the way, where the FUCK are the Freebirds?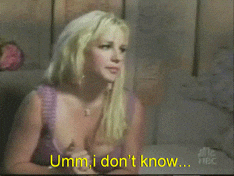 OK, I'll level with you. They had a two-month stint in the World Wrestling Federation as Vince McMahon needed some Georgia blood on his TBS show. Obviously, the Freebirds were TOO BIG for the WWF, so they returned to WCCW. But for what reason?
To begin the show, we revisit last week's episode for Sunshine's return via helicopter and highlights of the mixed tag match. We then head to Fort Worth where Marc Lowrance interviews Stella Mae French who states that Sunshine has returned to Florida. Suddenly, Gino Hernandez interrupts, and Nickla Roberts attacks her. Nickla then DDTs French and cuts her hair. How dastardly! Next, Lowrance interviews Hernandez, but Sunshine emerges to confront him. Hernandez laughs at her until Sunshine maces him. Awesome! Nickla tries to attack but gets a face full of mace too.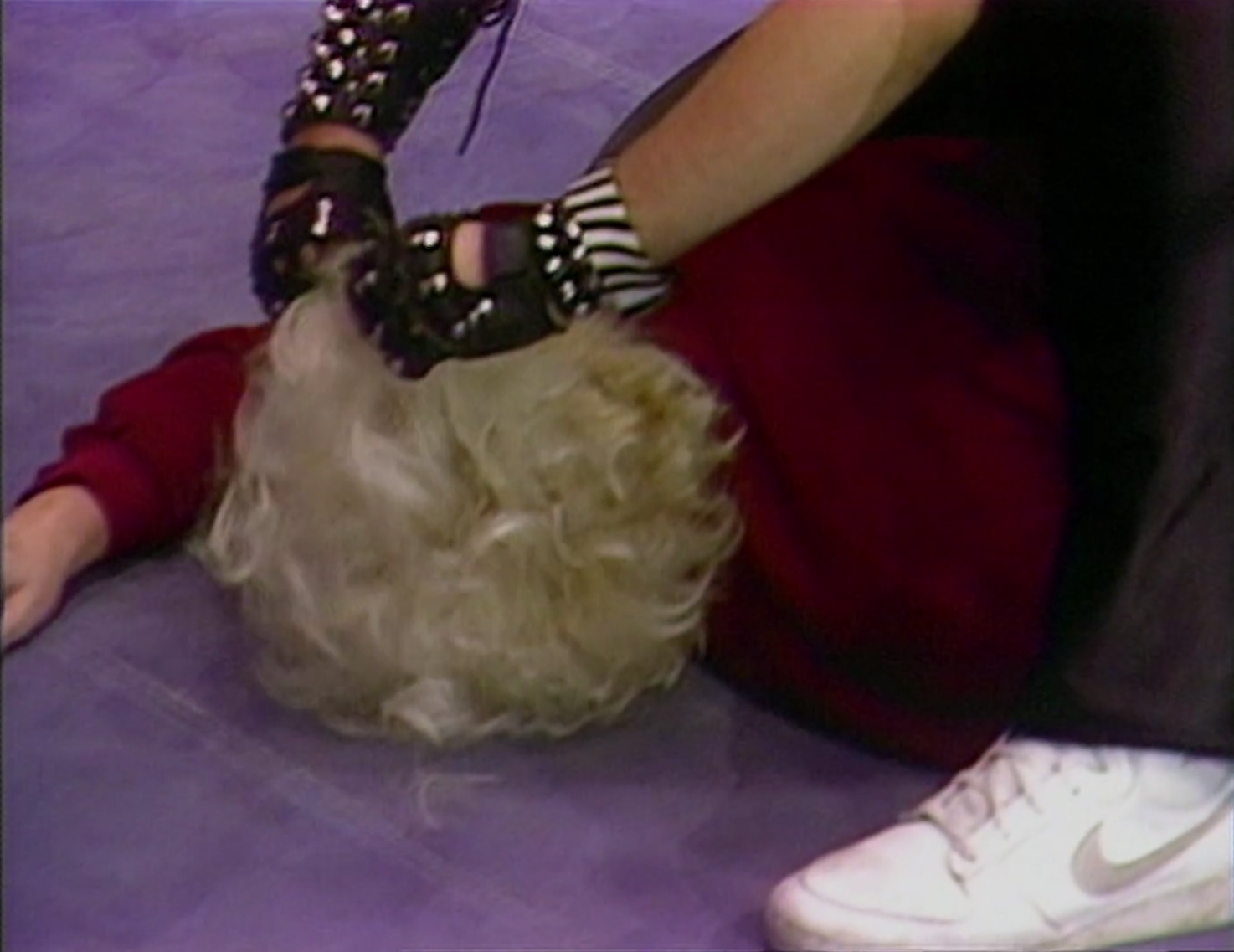 Match 1 (arm-wrestling): The "Modern Day Warrior" Kerry Von Erich versus "Hacksaw" Butch Reed
Highlights:
This match occurred at the Cotton Bowl on 10/27.
As you'd expect, Reed stalled before locking up with Kerry.
Reed got the early advantage while the Dallas faithful chanted "go Kerry, go."
When Kerry turned the tide, Reed almost put him down.
Kerry rebounded again, but Reed almost won again.
After Kerry rebounded once again, Reed kicked the card table down. Why would they use a card table?
The match resumed, and Kerry almost won.
Instead, the table went astray, and Kerry wanted to wallop Reed.
Like a scared dog, Reed exited the ring, and referee Rick Hazzard declared Kerry the winner.
Kerry won $5000. Woohoo!
Rating: NONE
After the match, Reed complains by ramming a chair into the ring post. And you guys thought Jericho invented that.
Following a commercial break, we revisit…
OH MY GOD! The Freebirds are back! Double woohoo!
Nevertheless, we revisit the infamous van interview where Gordy loses his shit about Khan. If you've never seen this interview, you owe it to yourself to do so. We then see an Irwin-Mike match interrupted so that Khan and Gordy can wage war RIGHT THIS INSTANT. Without question, mayhem ensues. It's amazing that the Dallas faithful loves the Freebirds except when they face the Von Erichs. They were definitely the prototype for "cool heels" and a breath of fresh air on the babyface side.
We then head to Fort Worth (taped 11/5) when Khan defeated Skip Young. After the bell rings, Gordy returns to brawl with Khan. Although both Akbar and referee David Manning try to intervene, they get either nailed or ejected by Gordy.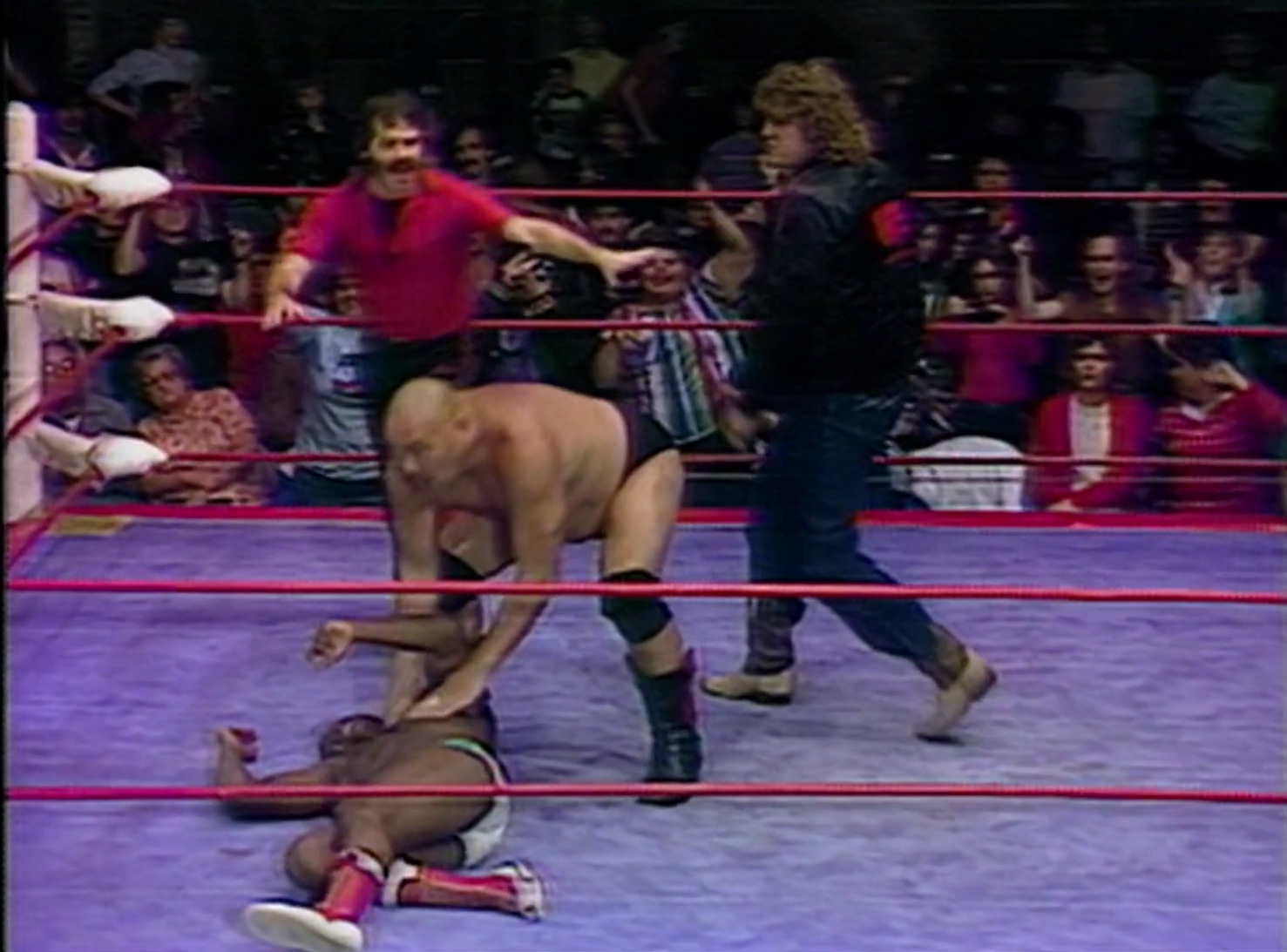 Following a commercial break, we revisit the "superkick heard 'round the world" which launched "Gentleman" Chris Adams' heel turn. Afterward, Mercer interviews Kevin about the nightmare at the Cotton Bowl. Kevin vows to make Adams feel the same pain Kevin experienced. Mercer wants to review the tape, but Kevin's too angry and storms off. Nonetheless, we revisit the Adams-Kevin match at the Cotton Bowl along with the chair shot that split Kevin wide open hardway.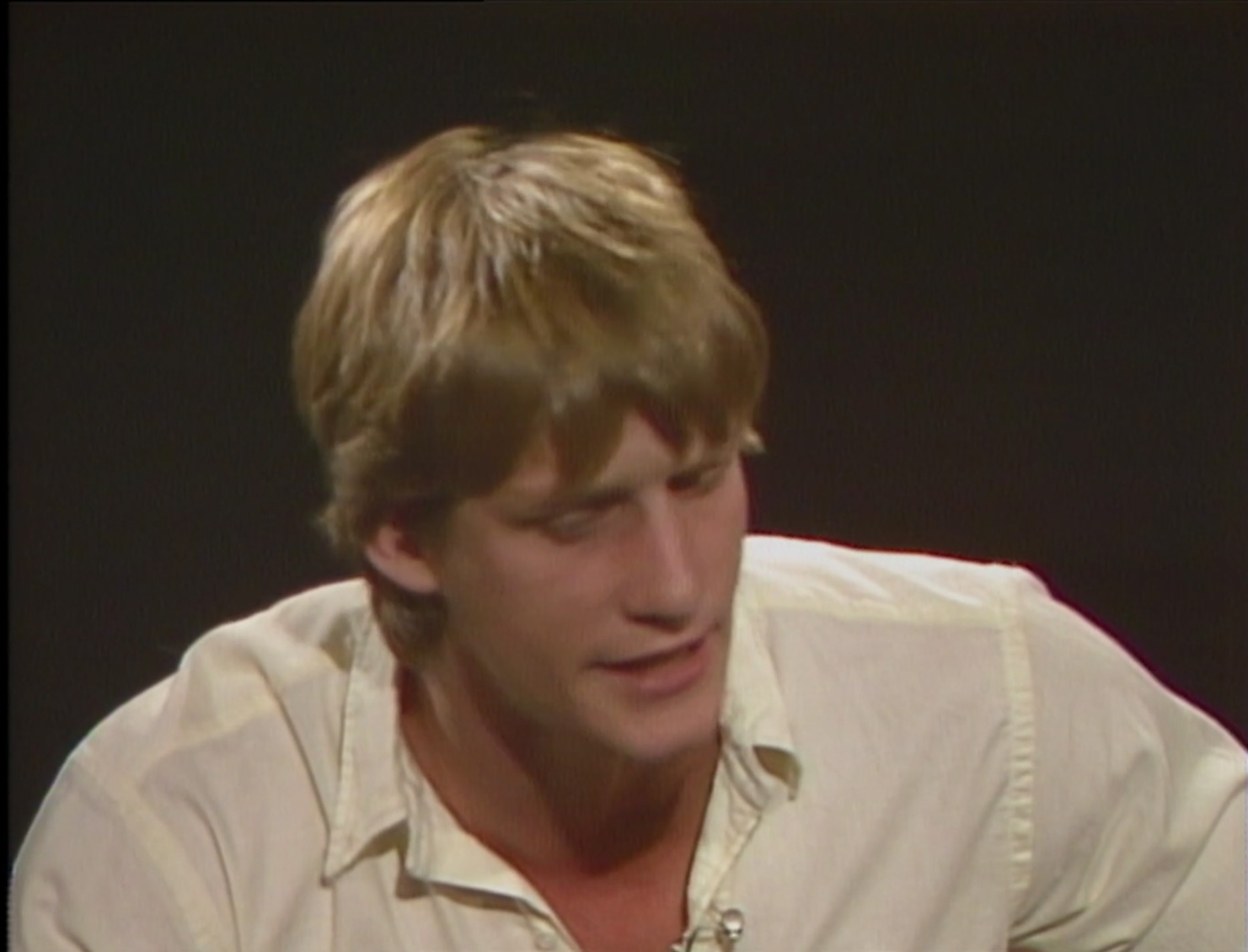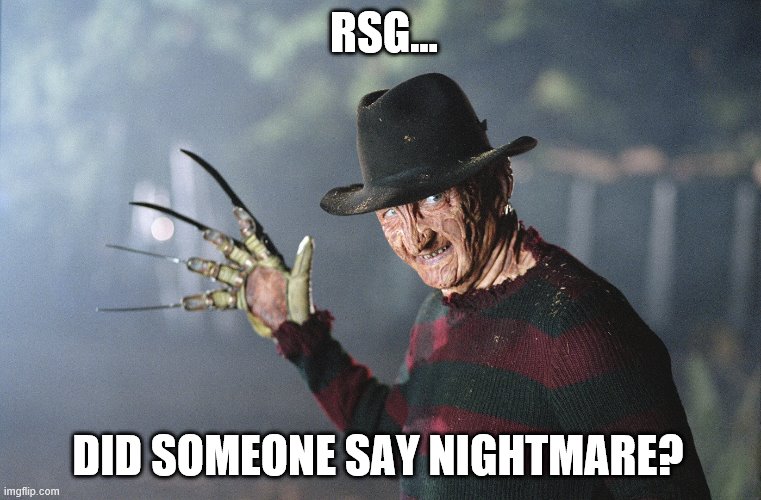 Cool it, Freddy! Nancy took away all your evil powers.
Match 2 (Texas tornado): Kerry & Mike Von Erich versus the Missing Link & Killer Khan (w/ Gen. Skandor Akbar)
Highlights:
With less than seven minutes left in the show, our first wrestling match began.
Strike that as Chic Donovan made his return to WCCW after reconstructive knee surgery.
He cut a promo on Akbar and nailed him before all hell broke loose.
As Akbar tried to destroy Donovan's other knee, Gordy returned to a hellacious pop. Triple woohoo!
He attacked Khan both in and out of the ring while the Von Erichs double-dropkicked Link.
When the Von Erichs double-backdropped Link, referee David Manning threw the match out.
Lowrance announced a double-disqualification at 1:18.
Summary: The match was a mere backdrop for Gordy's well-received return to the Sportatorium.
Rating: NONE
Before the show leaves the air, Mercer interviews Gordy who "wants some of" Khan.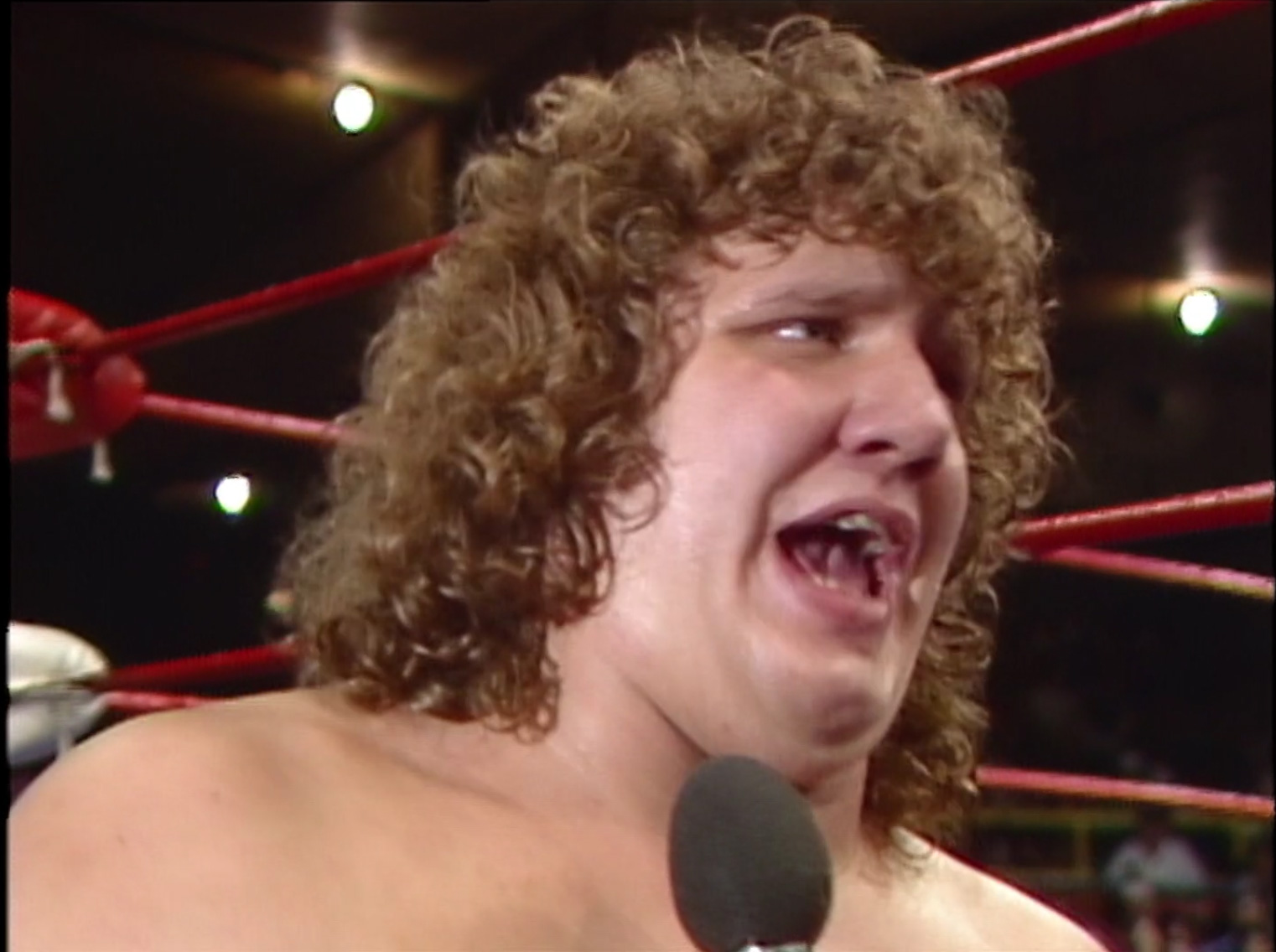 Conclusion: If there ever was a clip show for wrestling, this episode is IT. However, with the return of Gordy, the episode gets salvaged and is worth seeing. WCCW sorely missed the Freebirds. With the Thanksgiving show on the horizon, I can't wait to see how they will be involved. Needless to say, but I'm certain we can bet on a match between Gordy and Khan. What's that, Kirk?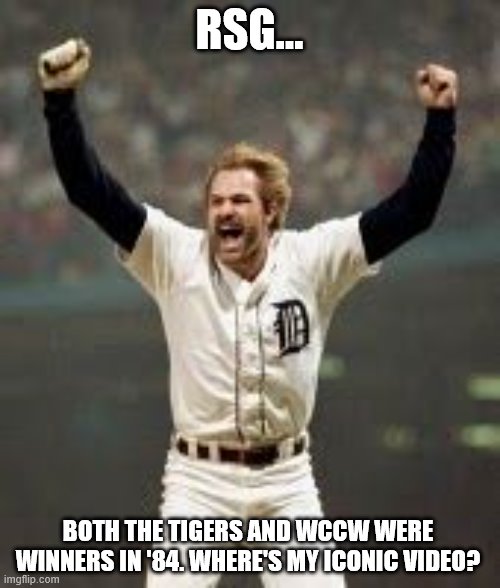 Congratulations, Kirk! This shot sealed the fate of the San Diego Padres. Hope to see you again soon!
TV Rating: NONE
Stay tuned for WCCW 11-24-84!
Comments? Suggestions? Send them to me at rsg@rockstargary.com and follow me on Twitter (@rockstargary202).
Custom Search