WELCOME TO ROCK STAR GARY REFLECTIONS!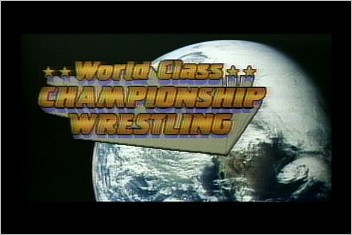 WCCW 09-17-83
Taped from Dallas, TX
Airdate: September 17, 1983 (taped 09/09)
Attendance: unknown
Hosted by Bill Mercer
Gordy returns and faces Brody. Who will get the duke? Will Garvin survive a tough match against Parsons? And who's trying to steal my spotlight with tonight's reflection?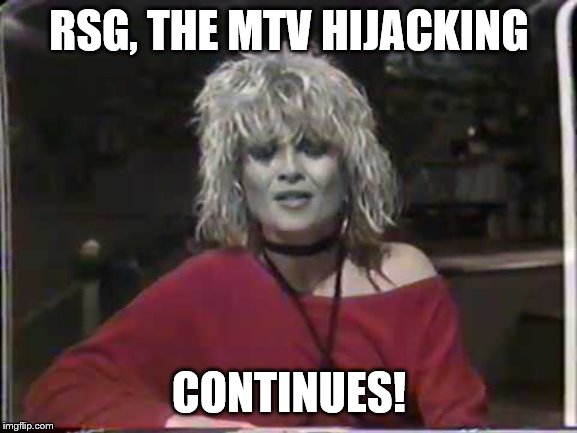 Wow! It's Nina Blackwood! What could she have in store for us?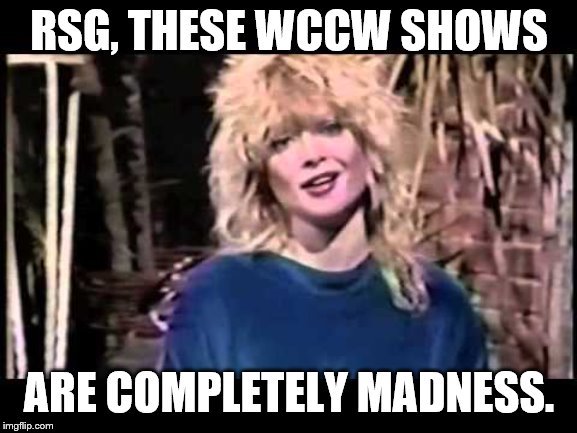 Opening montage.
Prior to the opening match, we revisit the Adams-Garvin match and post-match interview by Garvin from last week.
Match 1 (non-title): NWA American champion "Gorgeous" Jimmy Garvin (w/ Sunshine) versus "Iceman" King Parsons
Highlights:
Garvin leap-frogged him, but Parsons immediately head-butted him for 2.
When he leap-frogged Garvin, Parsons slammed him and followed with an elbow drop.
In the process, Garvin nailed him.
As Garvin hammered him in the chest for 2, Parsons rebounded with a hip toss.
He then dropkicked Garvin twice, gave him a cross corner whip, but ate boot on his follow-through.
While Garvin attempted a vertical suplex, Parsons countered with an inside cradle.
1-2-3.
Parsons won.
Rating: *½
Summary: Short match that signaled two things: Parsons was in line for a title shot, and Garvin's days as champion were numbered.
Match 2: The "Modern Day Warrior" Kerry Von Erich versus Mr. Ebony (w/ Gen. Skandor Akbar & Mongol)
Highlights:
Kerry leap-frogged Ebony before hip-tossing him.
As he gave Ebony a cross corner whip, Kerry ate knee on his follow-through.
He then reversed an Irish whip and hip-tossed Ebony again.
When he landed an elbow drop, Kerry got 2.
He then powerslammed and pinned Ebony.
Rating: *
Summary: Akbar cried about his men not being challenged by the likes of the Von Erichs. With this match, he got his wish, but his man suffered defeat.
After the match, Mongol enters the ring and ambushes Kerry. After suffering a brief beating, Kerry rebounds with a discus punch to send the heels reeling.
FREEBIRD-VON ERICH FEUD RUNDOWN: We revisit the cage match from Christmas Star Wars between Kerry and Flair when the Freebirds turned heel. Next, we revisit the handcuff match between Gordy and David when David achieved victory but felt pain afterward. Seeing the replay, I didn't notice a fan had entered the ring only to be removed without incident. Needless to say, but this feud is FAR from over.
Match 3: Bruiser Brody versus Terry "Bam Bam" Gordy
Highlights:
The brawl began prior to the introductions, and they fought to the floor.
While there, Gordy made Brody HIT THE POLE.
When Brody gave Gordy a cross corner whip, it resulted in a Gordy flip.
Meanwhile, Mercer detailed that Gordy learned a new finishing hold called the oriental spike.
Also, he mentioned that Gordy took David out of action upon his return from Japan.
Gordy then slammed Brody, scored with an elbow smash, and got 2.
As he gave Brody a cross corner whip, Gordy ate boot on his follow-through.
Brody then slammed Gordy twice but missed a running knee drop.
After Gordy mounted the second turnbuckle, he landed a flying right.
Brody then delivered a cross body block and pinned Gordy.
Rating: *½
Summary: Although Gordy's making his return to WCCW, Brody didn't put him over by doing a job. Methinks there must be a post-match angle.
Gordy attacks Brody after the match and applies the oriental spike. Upon releasing the hold, Gordy beat Brody senseless until he is BUSTED OPEN. Remarkably, Brody returns to the ring but succumbs to the oriental spike again.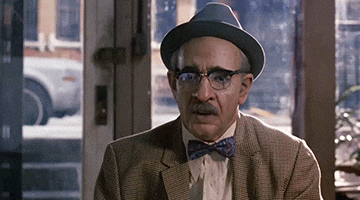 Although Mercer tries to interview him, Brody wasn't available due to his injuries.
Before the show leaves the air, Mercer interviews the Freebirds who promote Gordy's oriental spike.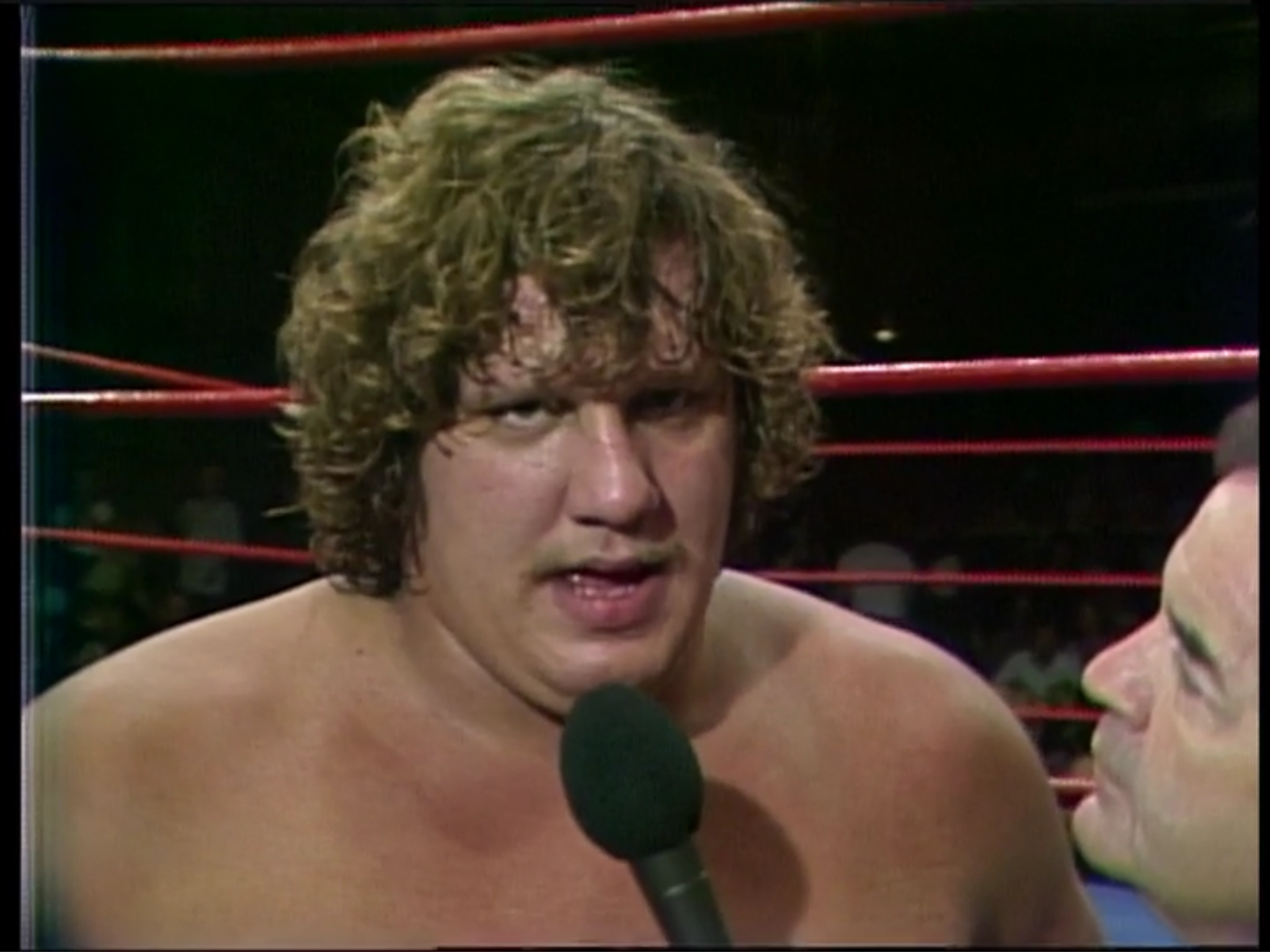 Conclusion: Yes, folks, this episode marked the debut of Gordy's oriental spike. While he lost to Brody, Gordy introduced his newest weapon in grand fashion. Additionally, Parsons' defeat of Garvin could lead to something shortly down the road. The rest is spilt milk for Akbar.
What was that, Nina?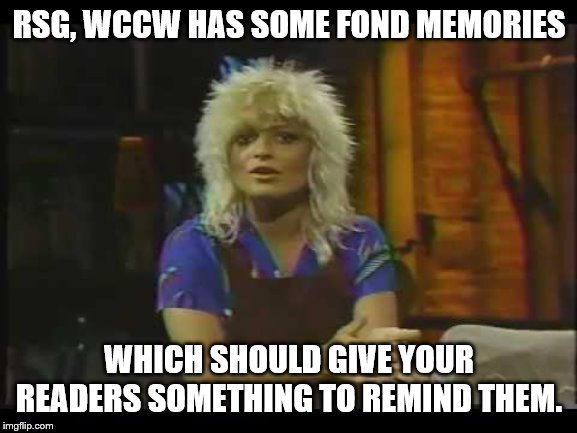 I hope so, Nina. Thanks for another infusion.
DISCLAIMER: In no uncertain terms do I represent MTV or its properties. Their inclusion was for nostalgia/entertainment purposes only.
TV Rating: NONE
Stay tuned for WCCW 09-24-83!
Comments? Suggestions? Send them to me at rsg@rockstargary.com and follow me on Twitter (@rockstargary202).
Custom Search