WELCOME TO ROCK STAR GARY REFLECTIONS!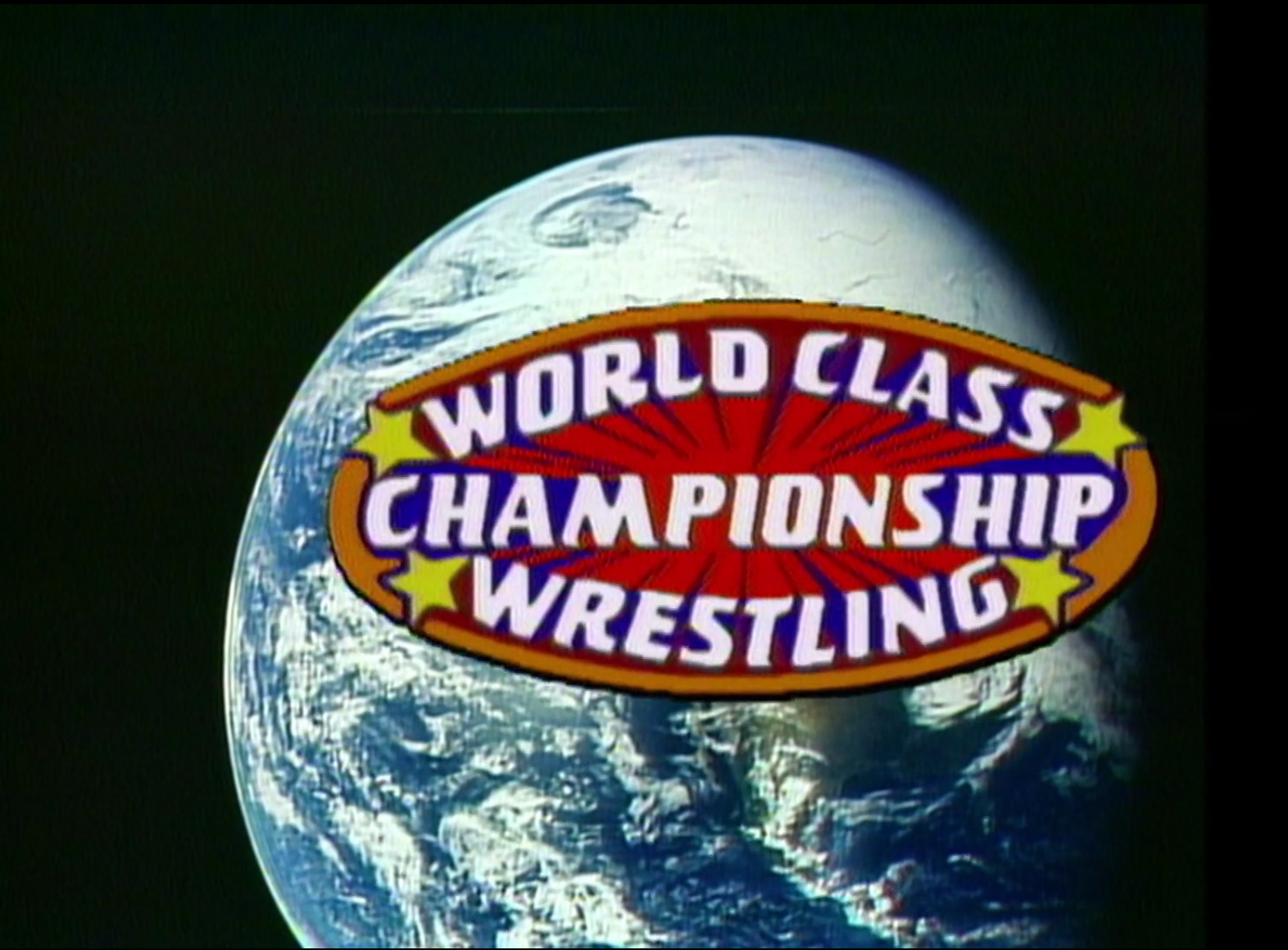 WCCW 09-15-84
Taped from Dallas, TX
Airdate: September 15, 1984 (taped 08/31)
Attendance: unknown
Hosted by Bill Mercer
Can the Von Erichs deconstruct Devastation, Inc.? What will happen during the Irwin-Adams match with Akbar on one side and Hart on the other? And who will join me for this soaring episode?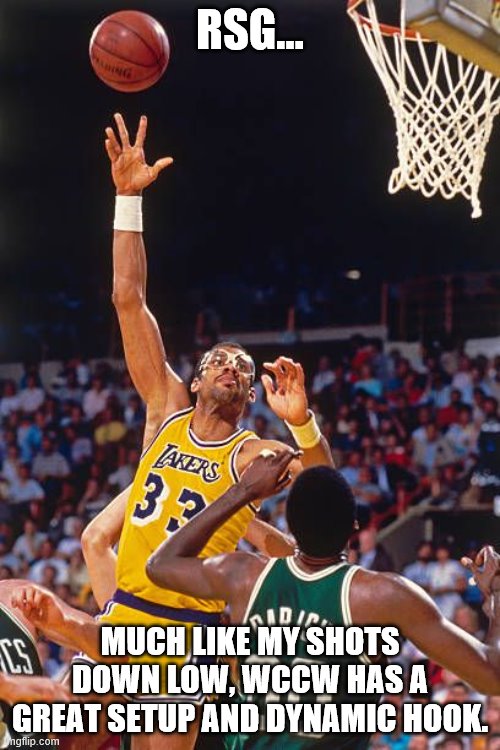 Kareem! Great to have such a legendary center here. Welcome! Let's give this episode a jump start!
Opening montage.
Prior to the opening match, we revisit last week's episode when Khan and Link tried to destroy Kerry to no avail.
Match 1: "Gentleman" Chris Adams (w/ Gary Hart) versus "Wild" Bill Irwin (w/ Gen. Skandor Akbar)
Highlights:
According to Mercer, Adams' brother, Neil, won a silver medal at the Summer Olympics in judo.
Irwin leapfrogged Adams but got hip-tossed.
When Adams dropkicked Irwin, the Dallas faithful chanted "go, Gary, go" in support of his adviser. I won't make the same mistake I made last week. Mr. Hart does NOT play.
Irwin then tossed Adams to the floor for Akbar to pounce, but Hart intervened instead.
As Adams hooked an O'Connor roll, he got 2.
Irwin then put a knee into Adams' midsection that sent him reeling to the floor.
After Irwin made a second attempt, Adams side-stepped and cradled him for 2.
Irwin rebounded with a clothesline followed by a slam.
When he landed a flying knee drop, Irwin got 2.
Adams scored with a knee lift followed by another dropkick.
As he gave Irwin a cross corner whip, Adams supplied Irwin with a pair of meaty fists.
He then hip-tossed Irwin again, delivered his own knee drop, and got 2.
After he gave Irwin another cross corner whip, Adams ate boot on his follow-through.
Irwin hit an elbow drop and hooked a gutwrench suplex for 2.
When he gave Adams a cross corner whip, Irwin came up empty on his follow-through.
Adams then launched a superkick but only got 2.
How did that happen?
Oh, Akbar placed Irwin's right boot on the bottom rope. SNEAKY!
Akbar distracted Adams giving Irwin the advantage.
As Irwin delivered a bicycle kick, he only got 2.
Why, you ask?
Because Hart placed Adams' arm under the bottom rope. Wily!
Unbeknownst to referee Rick Hazzard, Hart nailed Irwin. Crafty!
Adams then pinned Irwin much to the delight of the Dallas faithful.
Rating: ***
Summary: Fascinating story told here with the hatred between Hart and Akbar interspersed with a solid wrestling match. The Hart interference was a unique twist as you'd expect Akbar's interference to cause the finish. What's that, Magic?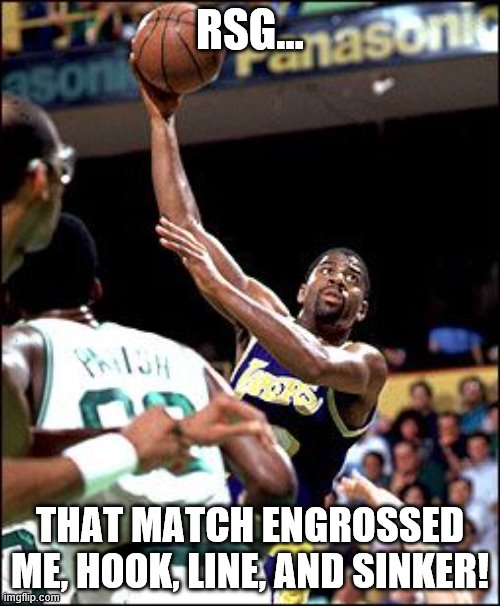 At least it didn't have you jumping through hoops!
Following a commercial break, we see highlights of Gino Hernandez battling "Nature Boy" Ric Flair. While Hernandez stood on the apron and placed brass knux on his right hand, Flair tried to suplex him back into the ring. As you'd expect, Hernandez BLASTED Flair with the knux. He then mounted the top turnbuckle ready to win the World title, but Stella Mae French disrupted him with a 2x4.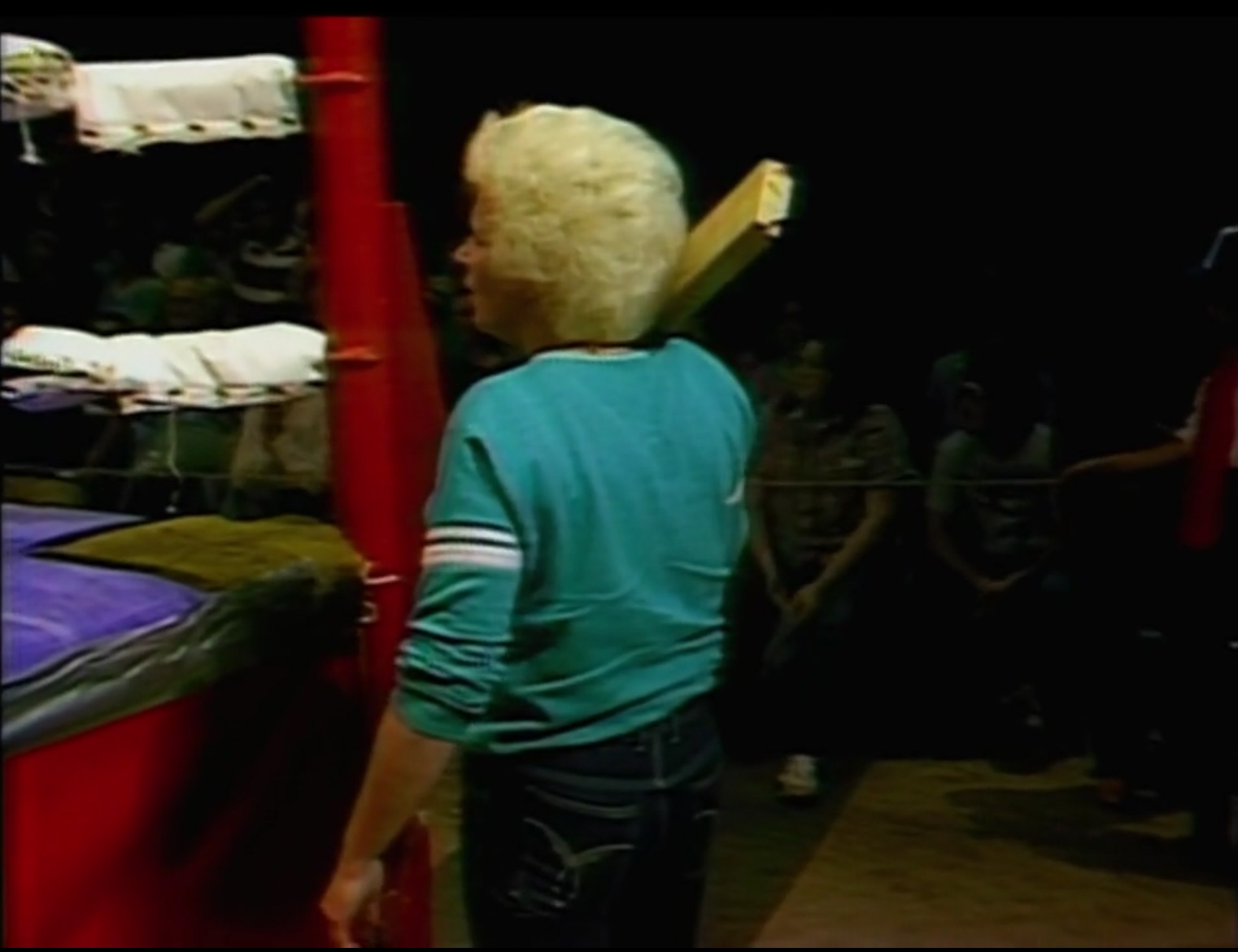 We then revisit Labor Day Star Wars as French attempted to cost Hernandez a victory for the American title, but Nickla Roberts CLOBBERED her as well as Mike. From last week's reflection, you learned that due to said interference, Hernandez regained the American title.
Afterward, Hernandez cuts an extremely brief promo on French.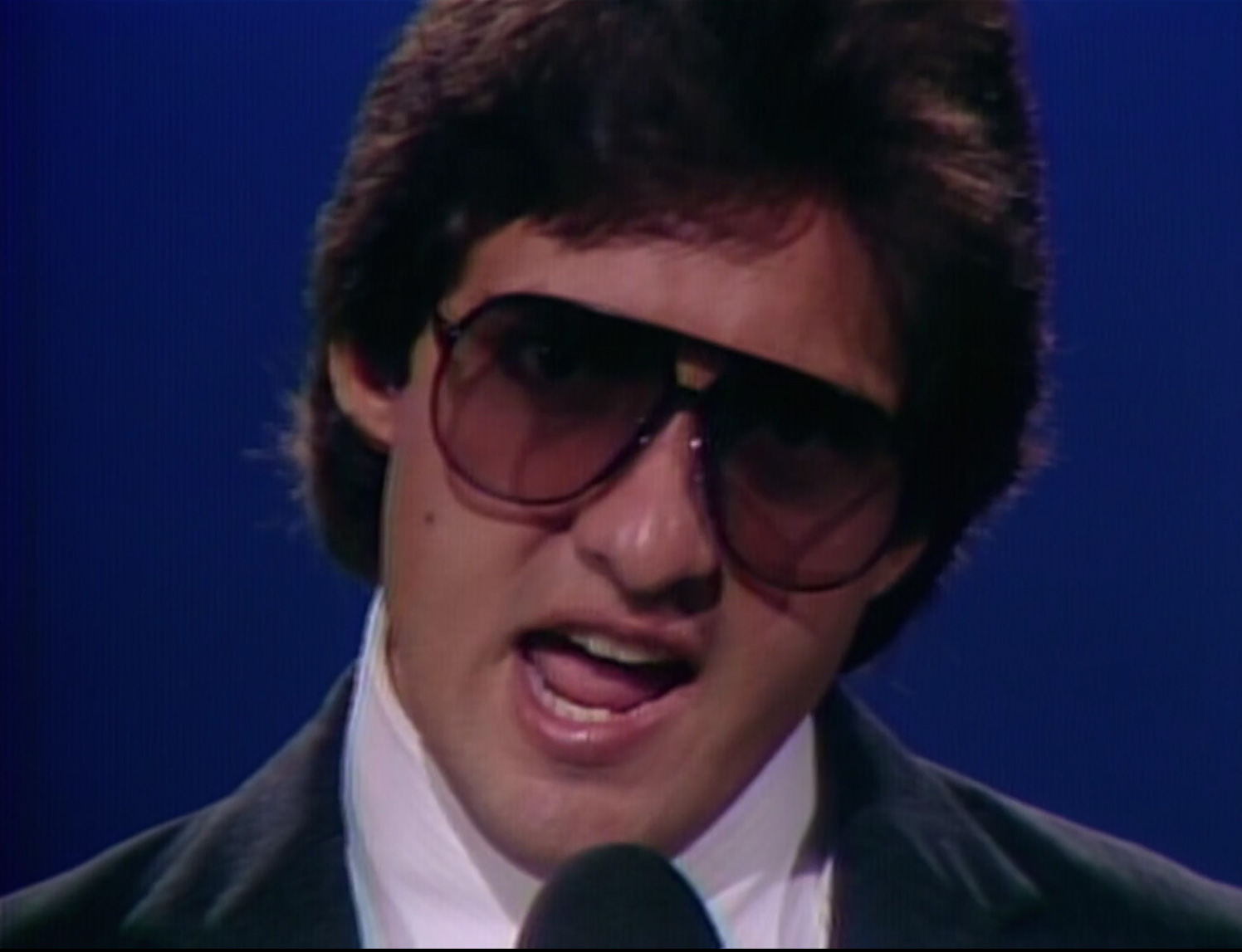 Match 2: Jake "The Snake" Roberts versus George Weingeroff
Highlights:
Weingeroff slammed Roberts three times, reversed a cross corner whip, and got 2.
As Weingeroff hooked an abdominal stretch, Roberts escaped with a hip toss.
Weingeroff slammed Roberts a fourth time, landed an elbow drop, and earned another 2-count.
When Roberts scored with a series of chop blocks, he clotheslined Weingeroff.
Although Weingeroff attempted a sunset flip, he ate a knuckle sandwich from Roberts.
While attempting to slam Weingeroff, Roberts lost his balance. That allowed Weingeroff to get 2.
Roberts rebounded with a knee lift and DESTROYED Weingeroff with a DDT.
1-2-3.
Roberts won.
Rating: DUD
Summary: Showcase match for Roberts.
Match 3: Kerry & Kevin Von Erich versus Killer Khan & the Missing Link (w/ Gen. Skandor Akbar)
Highlights:
Kevin tagged in, mounted the top turnbuckle, and lowered the boom on Khan.
When Kevin applied a flying headscissors, the Von Erichs focused on Khan's left leg.
Link tagged in, attempted to mount the second turnbuckle, but Kerry interjected himself and stopped him.
As Khan tagged in, he hooked an over-the-shoulder backbreaker, but Kevin escaped.
Khan then slammed Kevin but missed a knee drop.
After Kerry tagged in, he scored with a discus punch.
He then secured a sleeper on Khan, but Link made the save.
With all four wrestlers in the ring, Akbar got up on the apron only for Kevin to nail him.
While Kevin was detained by Akbar, Khan and Link double-teamed Kerry.
Khan hammered Kerry with an Asiatic spike and pinned him.
As a result, Khan and Link won.
Rating: **
Summary: HOT main event where Akbar's distraction paid off enabling his team to upset the Von Erichs and the Dallas faithful's Friday night.
Conclusion: Devastation, Inc. gets the better of the Von Erichs this week thanks to Akbar while the Hernandez-French saga continues. Since Hernandez has a new valet, I wonder how they'll mix the battle of valets into Hernandez's bouts with the Von Erichs. Finally, Hart got the last laugh this week on Akbar by helping Adams defeat Irwin. What are your thoughts, Larry?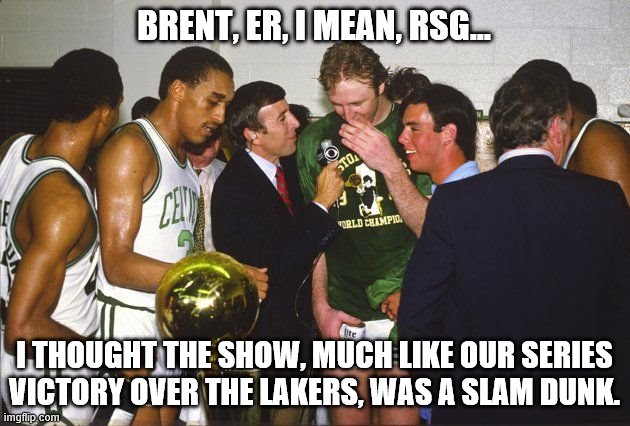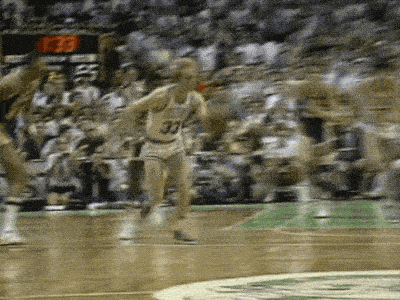 Thanks for bringing the good stuff, Larry. Let's hope the Celtics and Lakers keep flying high in the 80's.
TV Rating: NONE
Stay tuned for WCCW 09-22-84!
Comments? Suggestions? Send them to me at rsg@rockstargary.com and follow me on Twitter (@rockstargary202).
Custom Search