WELCOME TO ROCK STAR GARY REFLECTIONS!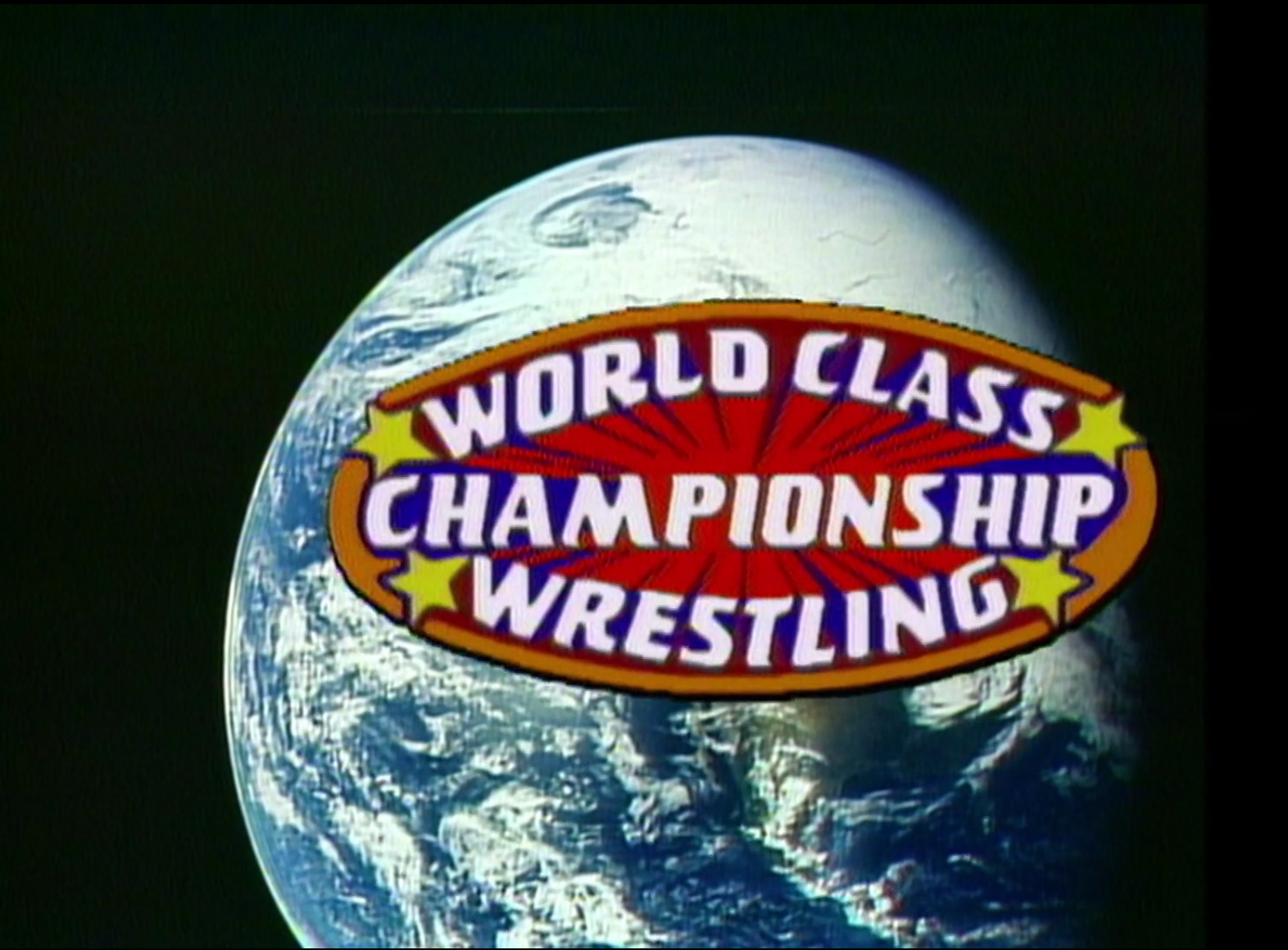 WCCW 08-25-84
Taped from Dallas, TX
Airdate: August 25, 1984 (taped 08/17)
Attendance: unknown
Hosted by Bill Mercer
Kerry and Gordy go toe-to-toe in a lumberjack match. A familiar reptile-like wrestler debuts, and a very familiar face returns. How will it all play out? And who will join me for this surreal episode?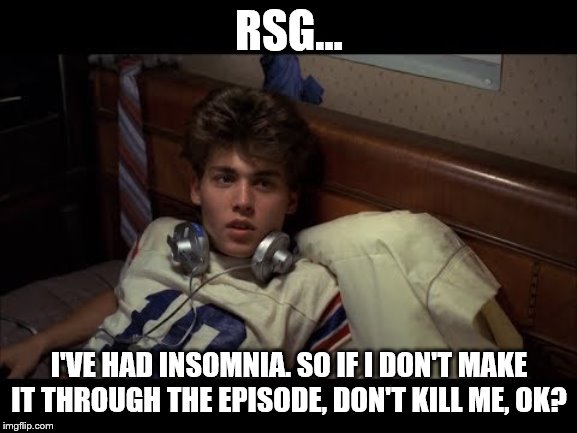 No promises, Glen. I understand you've been having some killer nightmares.
Opening montage.
To start the show, we revisit the 8/4 episode when Kevin and Killer Khan had a wild battle where both men applied their finishing holds simultaneously.
Following a commercial break, Mercer interviews Skip Young, a.k.a. Sweet Brown Sugar, at South Oak Cliff High School in the western part of Dallas. Young is ecstatic to be back home and compete in WCCW.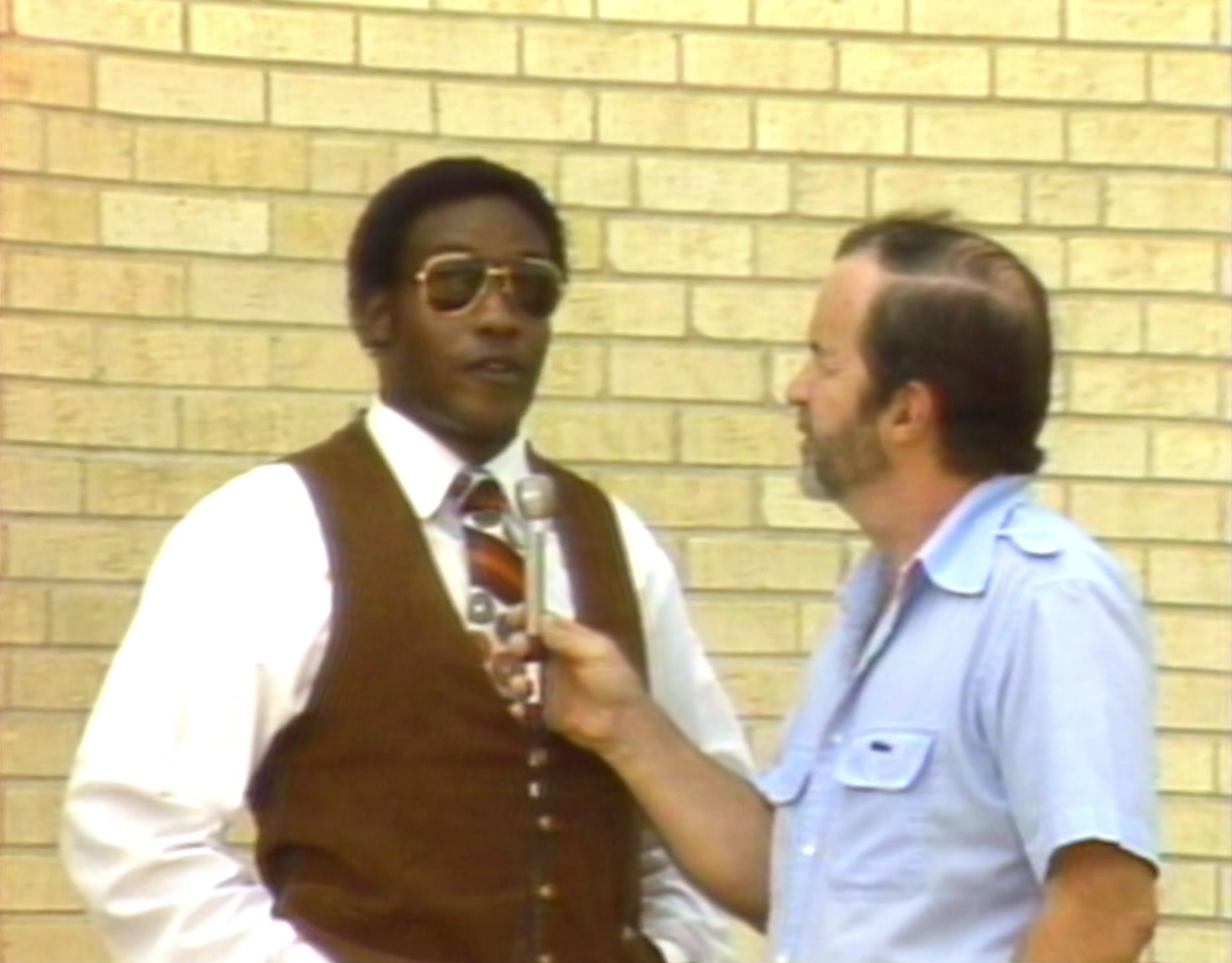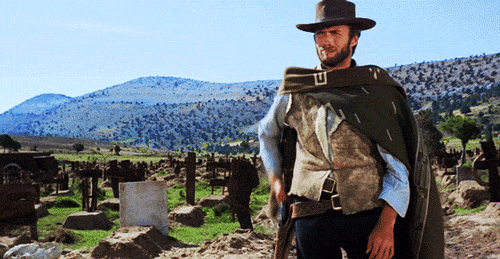 Match 1: The Long Riders (w/ Gen. Skandor Akbar) versus "Rock'n'Roll" Buck Zumhofe & Chief Jules Strongbow
Highlights:
Strongbow hip-tossed Scott and followed with a chop.
When Scott leapfrogged him, Strongbow chopped him down again.
Bill tagged in and withstood more chops than the Chicago Chop House can cook on a Saturday night.
As Zumhofe tagged in, the Dallas faithful chanted "Rock'n'Roll."
Scott tagged in and slammed Zumhofe.
After Strongbow tagged in, he slammed Scott.
While Scott used momentum to send Strongbow to the floor, he distracted referee Bronko Lubich.
In the meantime, Bill WHACKED Strongbow with his bull whip. How dastardly!
Strongbow was

BUSTED OPEN

!
When Zumhofe tagged in, Strongbow left ringside to seek medical attention.
Zumhofe then rang Scott's bell and controlled both Long Riders by himself.
As he leapfrogged Bill, Zumhofe dropkicked him.
Bill then countered Zumhofe's turnbuckle-climbing head lock with a belly-to-back suplex.
After Scott tagged in, he suplexed Zumhofe for 2.
He then provided Zumhofe with a shot to the midsection and tagged in Bill.
Suddenly, Strongbow returned with a strap and whipped the Long Riders with it.
Referee Bronko Lubich called for the bell and disqualified Strongbow and Zumhofe.
Rating: **
Summary: The underdog story was what they were trying to achieve, but the wild Native American revenge finished the tale. Truthfully, I thought the Long Riders would demolish Zumhofe.
After the match, Akbar hops into the ring, and GARY HART returns to knock him silly. Woohoo!
At ringside, Mercer interviews Hart who refers to Akbar as a "nitwit" and wants a piece of him.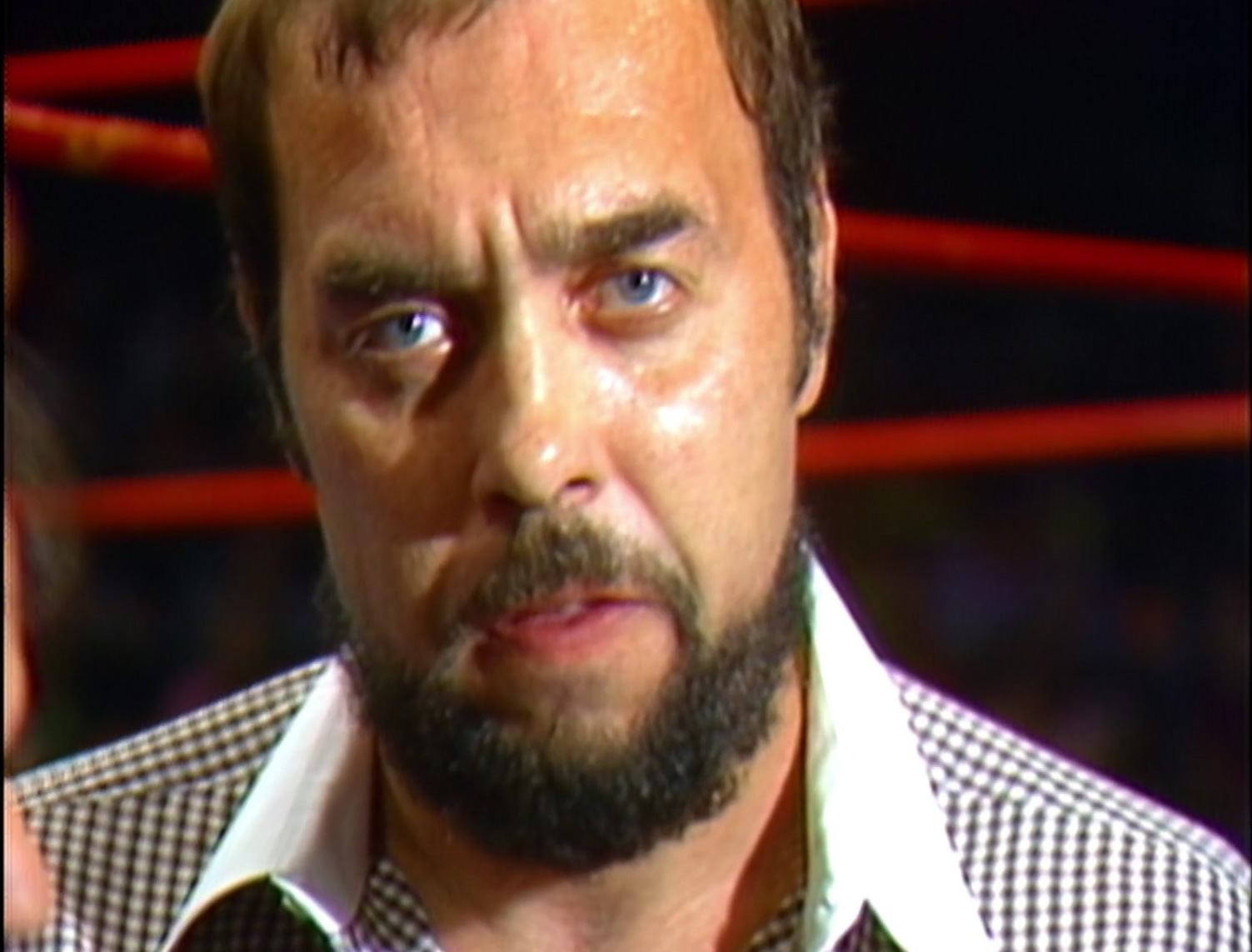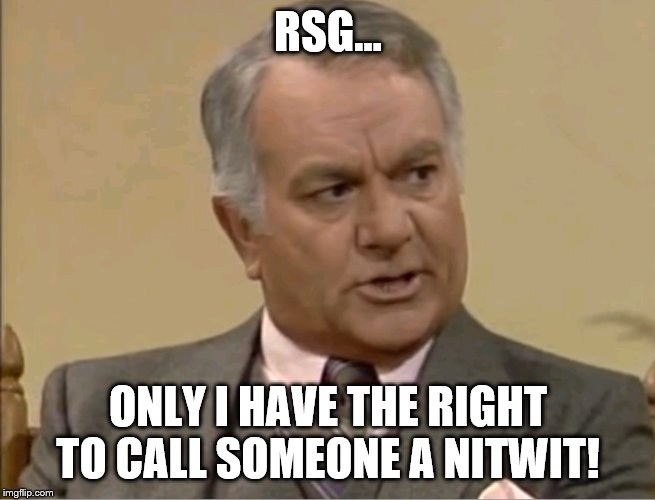 Sorry, Chester.
Match 2: Jake "The Snake" Roberts versus Mike Gallagher
Highlights:
Prior to joining WCCW, Roberts competed as a member of the Legion of Doom in Mid-Atlantic.
Roberts unleashed a short-arm clothesline and demolished Gallagher with a DDT.
1-2-3.
Roberts won.
Rating: DUD
Summary: Extremely quick showcase match for Roberts. Uh-oh, Glen. Did you fall asleep?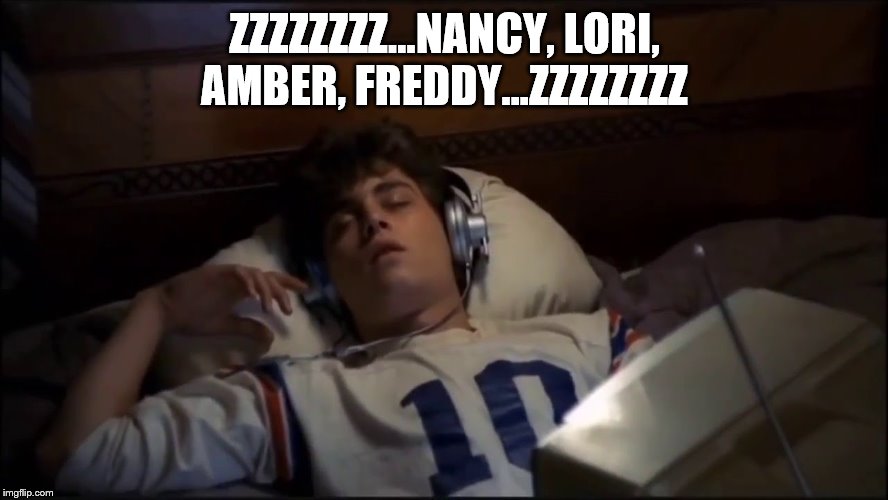 It sounds like you're having quite a nightmare, Glen, with all of the talking in your sleep.
Match 3 (lumberjack): The "Modern Day Warrior" Kerry Von Erich versus Michael Hayes Terry "Bam Bam" Gordy
Highlights:
Due to "travel issues," Hayes was unavailable; therefore, Gordy substituted for him.
Kerry backdropped Gordy and tossed him to the floor.
Immediately, the lumberjacks returned Gordy to the ring without incident.
Mercer then plugged the FINAL match for the held-up World Six-Man titles between the Freebirds and Von Erichs. What he didn't tell you was that it will happen on 9/3/84 in Fort Worth.
Nevertheless, Gordy clotheslined Kerry while the Dallas faithful chanted "go Kerry, go."
He then tossed Kerry over the top rope but didn't get disqualified.
Instead, the lumberjacks returned Kerry to Gordy's clutches.
Kerry then missed a dropkick, so Gordy scored with a piledriver for 2.
When Gordy attempted another piledriver, Kerry countered with a back drop.
He then landed his own piledriver but only got 1 thanks to a foot on the bottom rope.
As Kerry supplied him with an elbow drop, Gordy tried to escape to no avail thanks to the lumberjacks.
Gordy clotheslined Kerry again and applied an Asiatic spike.
While the Dallas faithful LOUDLY chanted "go Kerry, go" again, Khan entered the ring and applied his own Asiatic spike to Gordy.
Referee David Manning called for the bell, and the match ended in a double-disqualification.
Rating: **
Summary: Since the Dallas faithful's attention was firmly based upon the combatants, the lumberjacks didn't detract from the story in the ring yet helped to fulfill the match stipulation in text-book fashion.
After the match, the lumberjacks storm the ring, and a battle royal erupts. Kevin joins the fray and goes after Khan to end the show.
Conclusion: Exciting main event with a gimmick solidifies this episode as a strong one.Add in the return of Hart, and this is a must-see. If that's not enough, Roberts makes his debut, and Strongbow asserts himself against the Long Riders. What do you think, Glen?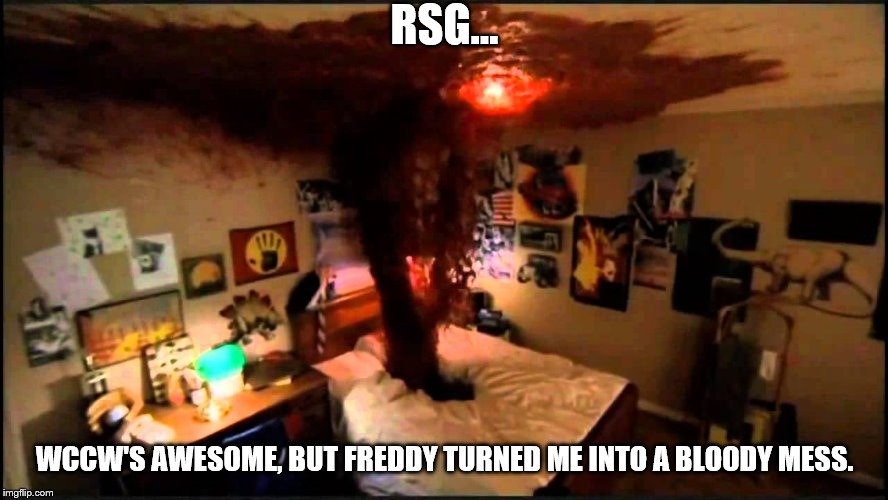 I'm sorry to hear that, Glen. I'll ask my RSG-ites to pray for you on Sunday. Thanks for stopping by!
TV Rating: NONE
Stay tuned for WCCW 09-01-84!
Comments? Suggestions? Send them to me at rsg@rockstargary.com and follow me on Twitter (@rockstargary202).
Custom Search