WELCOME TO ROCK STAR GARY REFLECTIONS!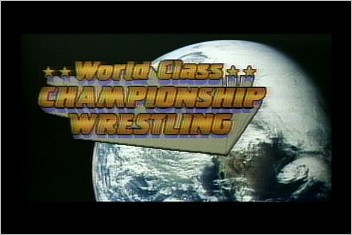 WCCW 06-11-83
Taped from Dallas, TX
Airdate: June 11, 1983 (taped 05/27)
Attendance: unknown
Hosted by Bill Mercer
Who will win the eight-man elimination match? Can Adams topple Yatsu? What are the Freebirds doing by the pool? And who or what could impact us with tonight's reflection?
Oh, shit! It's The Day After! Everyone to your bomb shelters immediately!
Opening montage.
Match 1: "Gentleman" Chris Adams versus Tola Yatsu (w/ Arman Hussein)
Highlights:
While Mercer mentioned Adams' younger brother, Neil, as a silver medalist in the 1980 Olympics, Yatsu hiptossed Adams.
In response, Adams monkey-flipped Yatsu.
Upon escaping a headscissors, Yatsu applied a Mexican surfboard.
When Adams wouldn't submit, Yatsu guillotined him with the top rope.
According to Mercer, Yatsu will face Kamala at the Star Wars extravaganza.
Adams then catapulted Yatsu head-first into the top turnbuckle.
As Yatsu rebounded by mounting the second turnbuckle, he delivered an inverted DDT for 2.
He then hit a pair of thrust kicks but succumbed to a pair of superkicks.
After Yatsu reversed a cross corner whip, Adams leaped to the second turnbuckle and delivered a cross body block for 2.
He then delivered another superkick while Hussein jumped onto the apron.
Without hesitation, Adams superkicked him much to the delight of the Dallas faithful.
Adams then mounted the top turnbuckle and delivered a missile dropkick.
1-2-3.
Adams won.
Rating: ***
Summary: Although Kevin may get a lot of credit for being the most athletic wrestler in the territory, Adams brings a tremendous repertoire and enthusiasm that makes his matches stand out in WCCW.
At the swimming pool, Mercer interviews the Freebirds. While Roberts has traded in the scissors for some hair removal cream, he cuts a promo on Parsons. Gordy then gives salutations to his mother, hopes the mystery man will be a good choice, and dives into the pool. While Hayes claims that Andre the Giant will be in Puerto Rico, he proclaims that Dusty Rhodes "is too fat." OUCH! He then cuts a promo on Kerry and yells about Fritz's unwillingness to leave retirement. Great promo.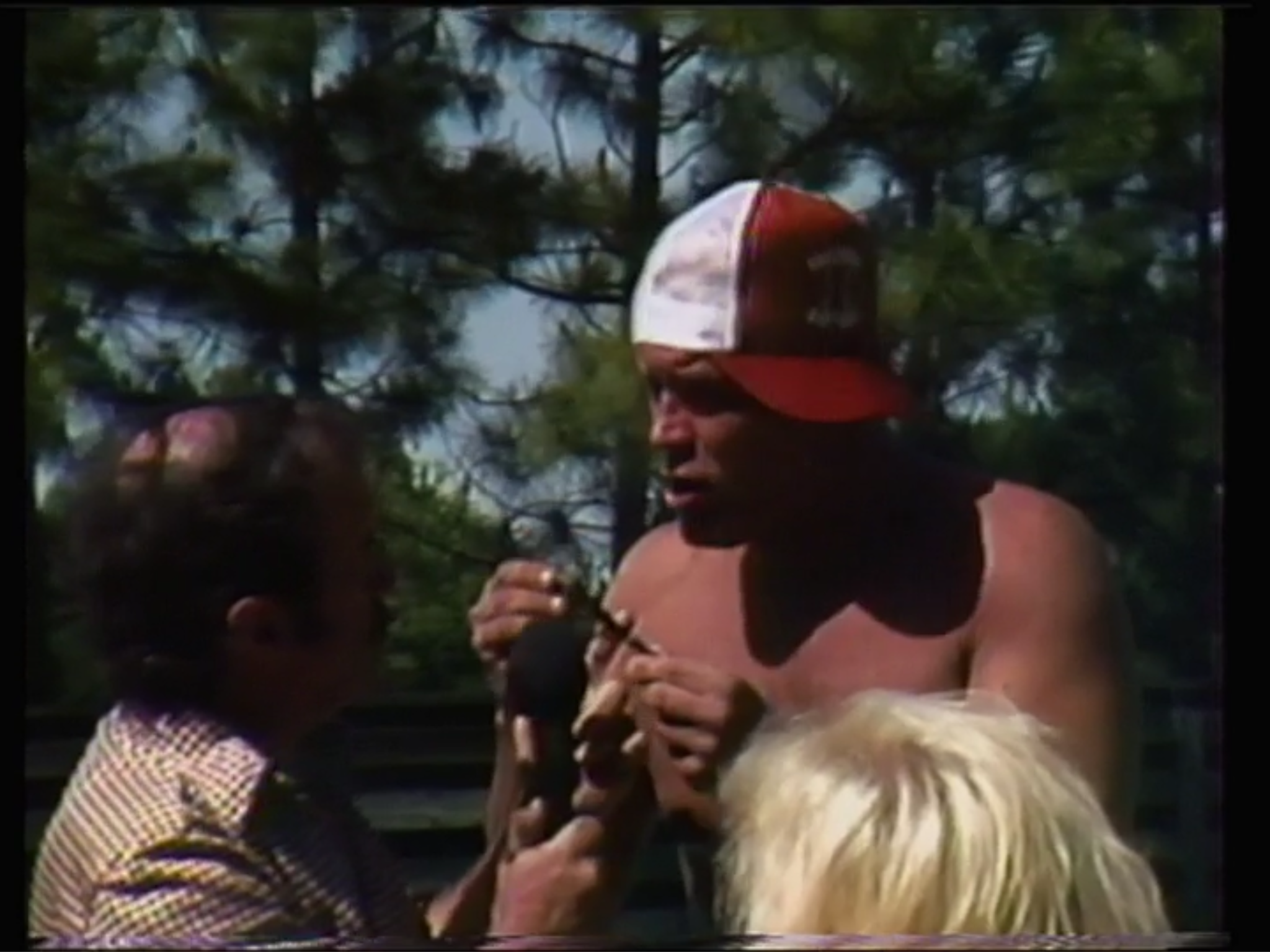 Match 2: The Mongol (w/ Gen. Skandor Akbar) versus Kenny Johnson
Highlights:
Who? This would not be the same Ken Johnson who became Slick in the WWF.
Mercer then revealed Kerry's mystery partner at Star Wars to be...Bruiser Brody! Woohoo!
As Mongol clotheslined Johnson, he delivered a backbreaker.
Johnson then reversed a cross corner whip but ate a back elbow on his follow-through.
When he hit a swinging neckbreaker, Mongol pulled Johnson up at 2.
He then delivered a running powerslam and pinned Johnson.
Rating: DUD
Summary: Showcase match for Mongol.
Following the match, Mercer interviews Akbar at ringside with Mongol. Akbar states that Kamala will face three wrestlers at the extravaganza. Suddenly, Hayes paces in front of the camera and questions the validity of Brody's involvement. Hayes then claims that Brody will be in Japan, but Mercer refutes it.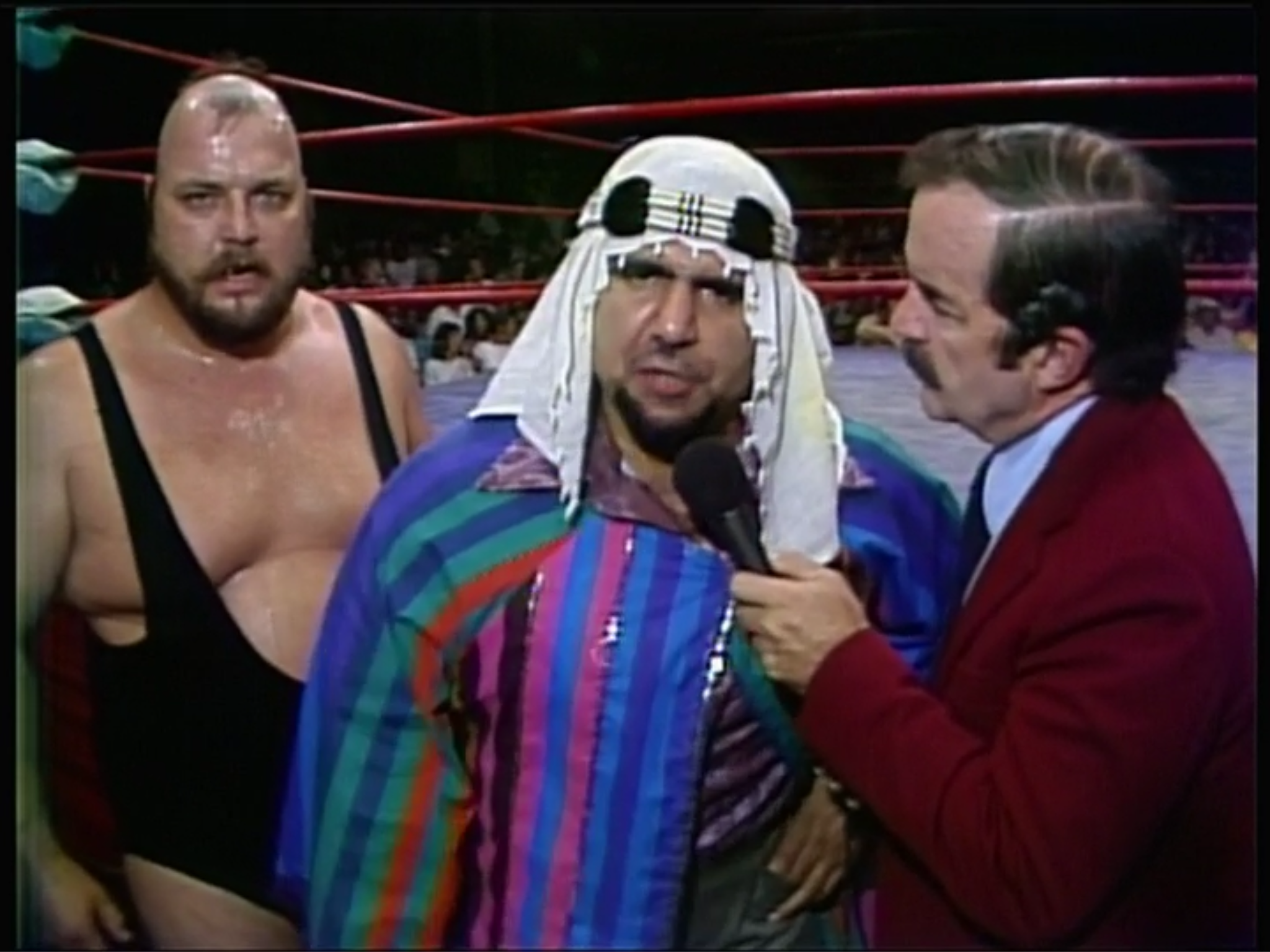 Next, Mercer interviews Kevin at the broadcast table and describes the stipulations for the World title match at the extravaganza—no-over-the-top-rope-disqualifications and a Flair DQ = title change. Kevin then guarantees his victory for the World title, and the replay of Flair's post-match interview at the 4/1 show airs.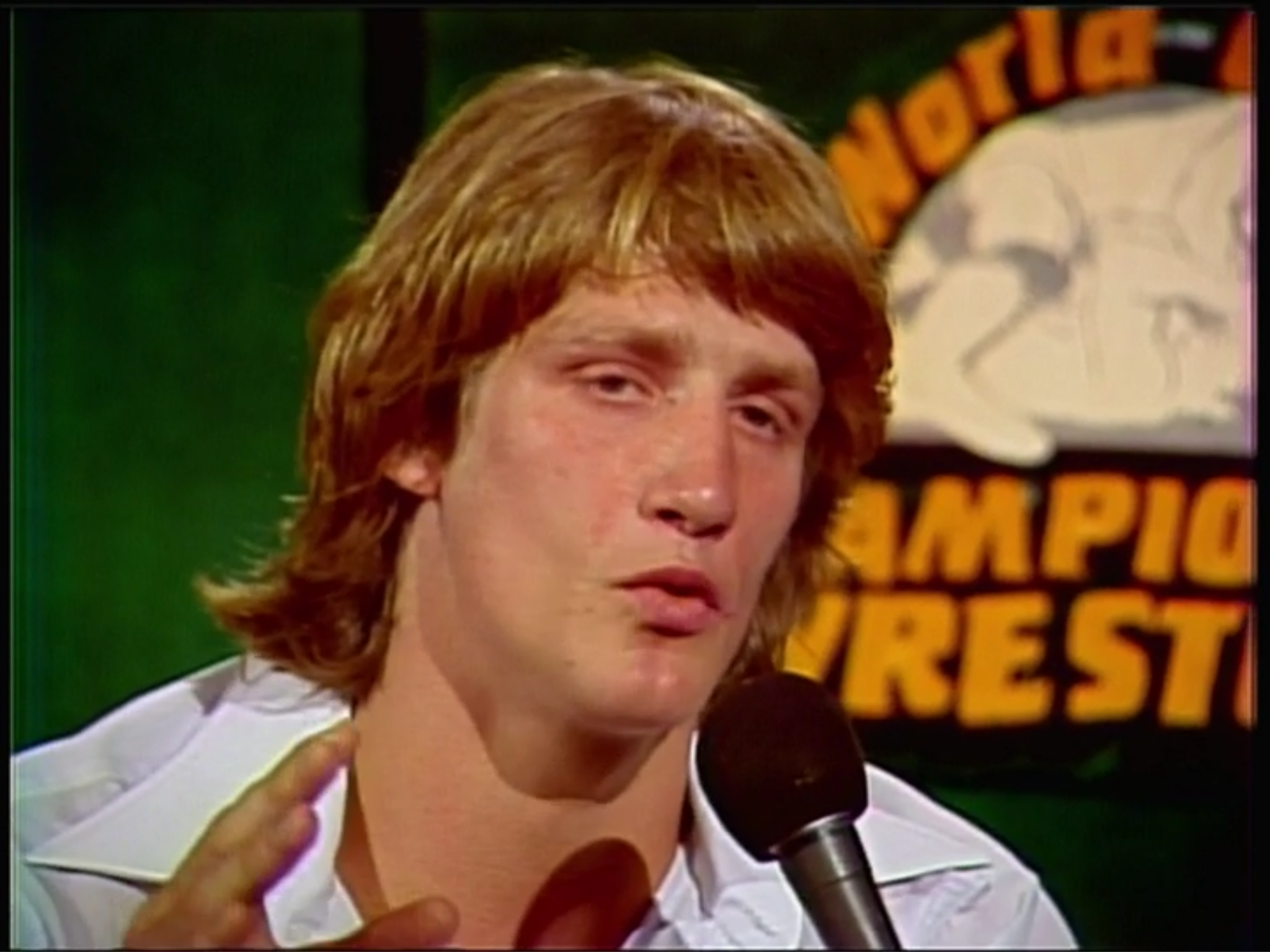 Match 3 (eight-man/elimination): Kevin, David, Kerry Von Erich, & "Iceman" King Parsons versus the Freebirds & "Gorgeous" Jimmy Garvin (w/ Sunshine)
Highlights:
As you'd expect, pandemonium broke out at the onset.
Sorry, Chester.
The faces then gave the heels cross corner whips into one another.
When Gordy attempted to piledrive Parsons, Kevin delivered a cross body block.
That put Parsons atop Gordy, and the Von Erichs dog-piled Gordy to ensure a pin.
With the faces leading 4-3, Parsons hit a butt butt to Hayes.
The Freebirds intervened, and Parsons got pinned.
As the match was tied at 3, Garvin tossed David over the top rope to eliminate him.
The heels led 3-2.
After David distracted Garvin, Kevin dropkicked Garvin over the top rope. Clever!
The match was tied at 2 apiece.
When Kerry applied a sleeper to Roberts, Hayes interfered to save his bacon.
Kevin slammed Roberts and delivered a splash for 2.
As Kevin hooked an Iron claw on Roberts, Hayes thwarted his efforts.
With Kevin dispatched to the floor, the Freebirds double-clotheslined Kerry for 2.
Kerry then mounted the second turnbuckle and hit an elbow smash to Hayes.
After heel shenanigans backfired for the Freebirds, Kerry almost pinned a bewildered Hayes.
Kevin then applied another Iron claw, but Hayes broke it up again.
When Hayes hooked a sleeper on Kerry, Roberts attempted to toss Kevin over the top rope.
Instead, Kevin skinned the cat back into the ring.
Kerry then reversed an Irish whip and hooked his own sleeper on Hayes.
As Kevin reapplied an Iron claw, Hayes escaped.
Both Kevin and Kerry applied an Iron claw to a Freebird and rammed them together.
After each Von Erich dropkicked a Freebird, Kerry delivered an elbow drop to Hayes for 2.
Kevin then missed a splash, and Hayes bulldogged Kerry for 2.
When Roberts hit a swinging neckbreaker to Kevin, he got 2.
Hayes then delivered a swinging neckbreaker to Kerry while Roberts hit a backbreaker to Kevin for 2.
As the Von Erichs double-dropkicked him between the ropes to the floor, Hayes prevented them from doing the same to Roberts.
He then mounted the top turnbuckle and hit a flying elbow smash to Kerry.
1-2-3.
The heels led 2-1.
After they delivered a double backbreaker, the Freebirds got 2.
They then attempted to toss Kevin over the top rope, but Kevin skinned the cat again.
When they tried a double choke, momentum took all three wrestlers over the top rope.
While Hayes and Roberts fell to the floor, Kevin skinned the cat a third time to win the match.
Rating: ***
Summary: Steaming hot match with bell-to-bell action and a vociferous crowd. Great work, gentlemen!
Following a commercial break, Mercer interviews the Von Erichs. While David's excited to face Garvin for the Texas title at the extravaganza, Kerry claims he and Brody will become American tag team champions. Not to be outdone, Kevin's ready to become World champion.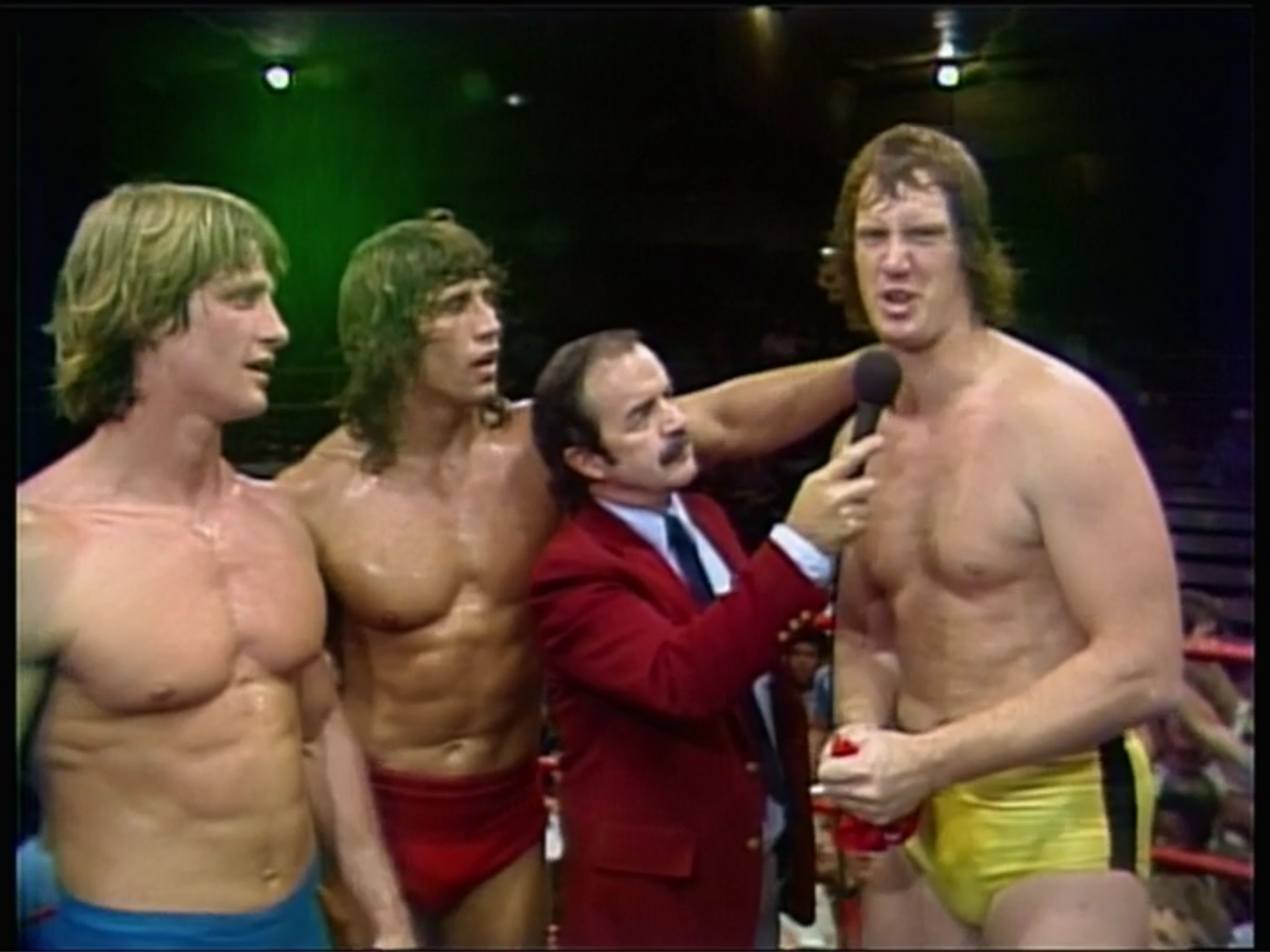 Conclusion: With a solid opener plus a great main event, this show's a no-brainer to recommend.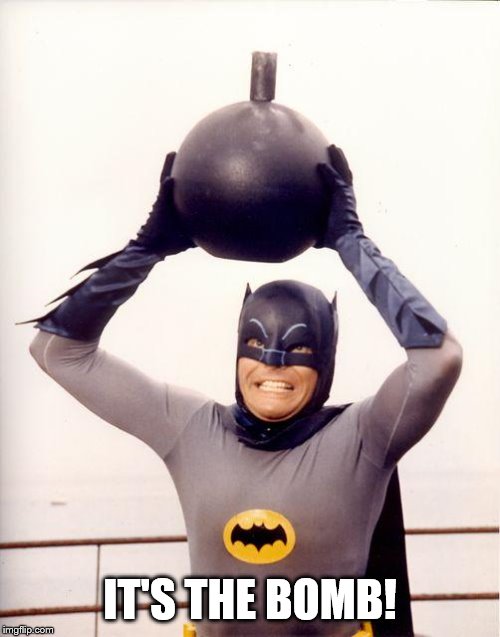 Thanks, Batman!
TV Rating: NONE
Stay tuned for WCCW 06-18-83!
Comments? Suggestions? Send them to me at rsg@rockstargary.com and follow me on Twitter (@rockstargary202).
Custom Search