WELCOME TO ROCK STAR GARY REFLECTIONS!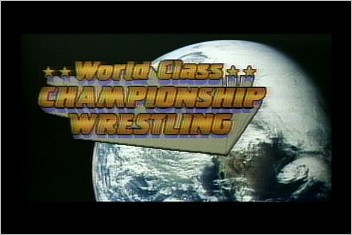 WCCW 03-26-83
Taped from Dallas, TX
Airdate: March 26, 1983 (taped 03/18)
Attendance: unknown
Hosted by Bill Mercer
It's a Texas tornado! Run for cover! Seriously, the Freebirds and Von Erichs lock up in a Texas tornado match. In addition, can Bundy get revenge against Yatsu? How will Garvin fare with Lothario? Who's our special guest today?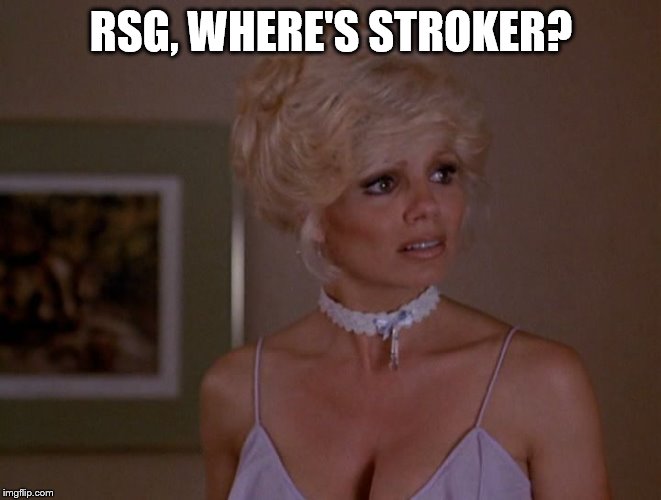 Opening montage.
As the program begins, David joins the broadcast table to discuss the main event. He'll have his brothers' backs and also wants to regain the Texas title from Garvin.
Match 1 (non-title): NWA Texas champion "Gorgeous" Jimmy Garvin (w/ Sunshine) versus Jose Lothario
Highlights:
Lothario leap-frogged and monkey-flipped Garvin.
When Lothario countered a side head lock with a knee crusher, Garvin bailed out of the ring for some comfort from Sunshine.
Garvin rebounded with a knee to Lothario's midsection.
As the Dallas faithful chanted "go Jose," Sunshine distracted referee Fred Sinclair so that Garvin could pull some chicanery. SNEAKY!
Lothario then delivered a backbreaker but couldn't capitalize further.
Next, Garvin took him off his feet with a double leg take down twice, yet Lothario powered out each time.
Upon the third try, Garvin held the second rope for leverage. Clever!
1-2-3.
Garvin won.
Rating: *
Summary: Solid victory for the new champion over a proven veteran.
When Lothario complains to Sinclair about the second rope, Garvin attacks him but loses badly. Sunshine then steps in between them to protect her man. Sunshine truly embodies her role as Garvin's valet.
In the conference room at the offices of Devastation, Inc., Mercer interviews Akbar with Bundy. Akbar begins discussing oil production with a newspaper quoting $29/barrel. Wow, it hovers in the 60s these days. Regardless, he intimates that NWA World champion "Nature Boy" Ric Flair is under his control.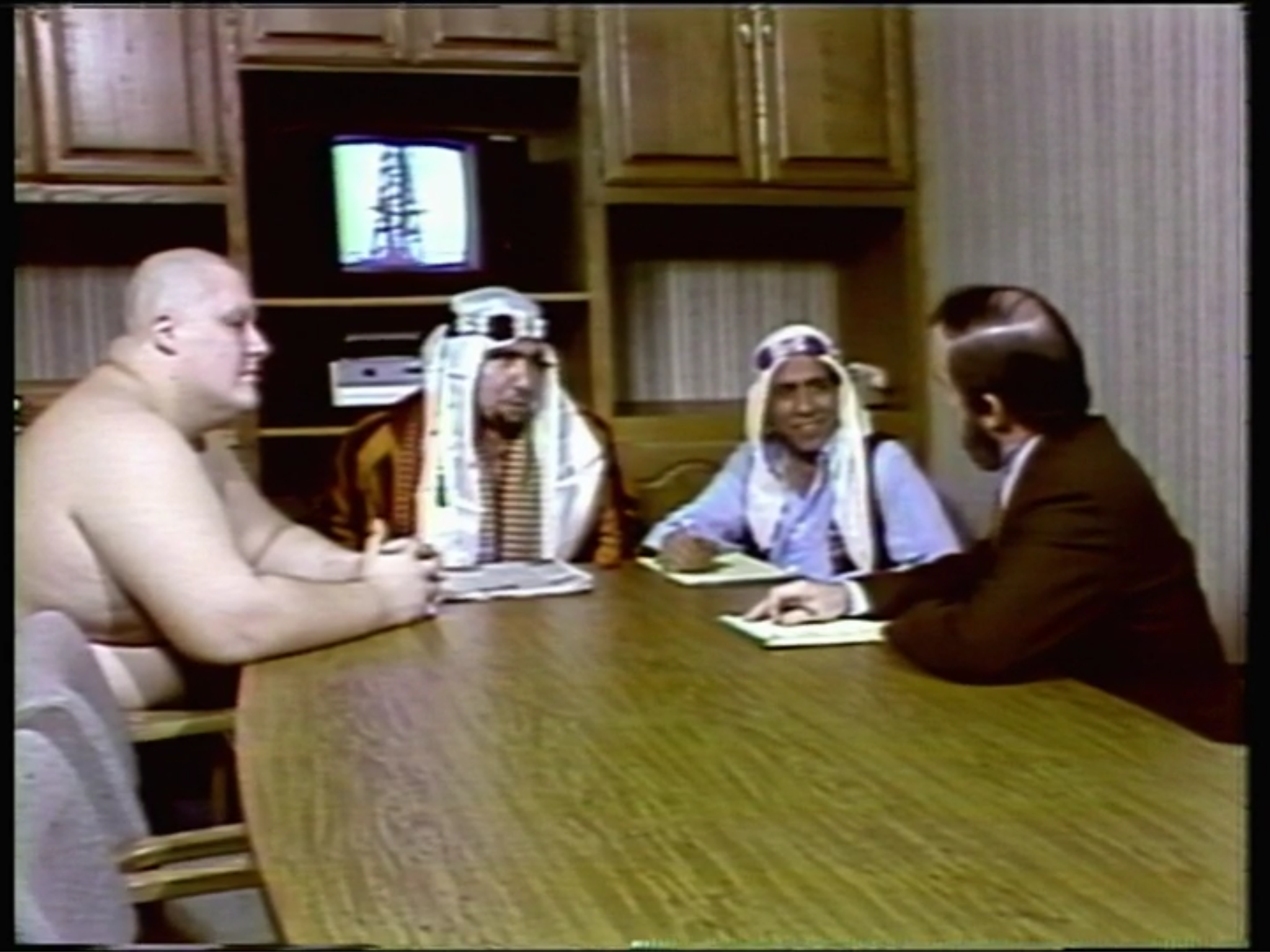 Prior to the next match, Mercer interviews Hussein with Yatsu. Hussein promises that Yatsu will beat Bundy tonight and Kabuki in a kendo stick match. Methinks Yatsu pulled a Robert Gibson there.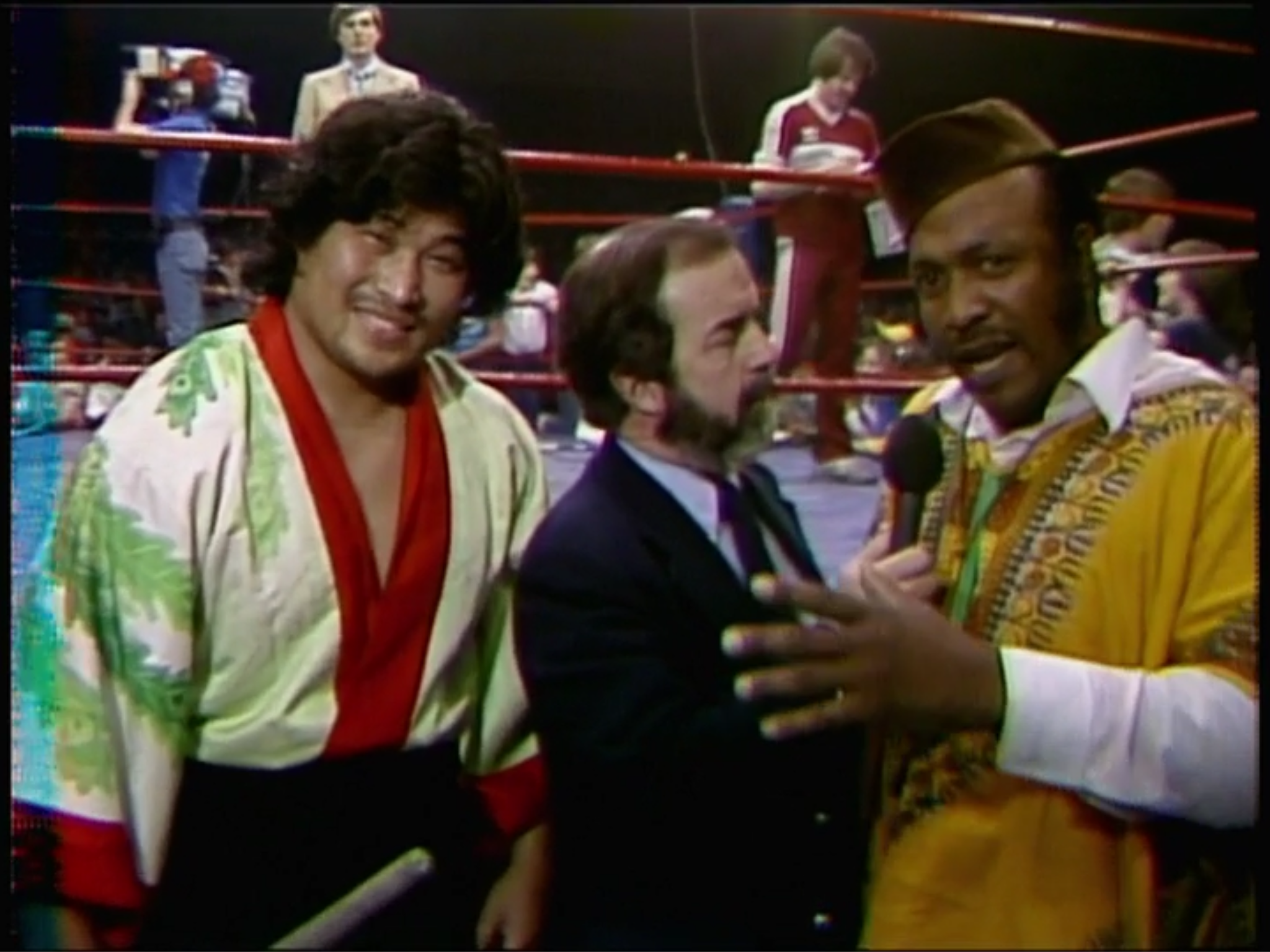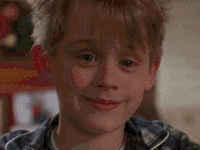 Match 2: King Kong Bundy (w/o Skandor Akbar) versus Tola Yatsu
Highlights:
According to Mercer, Kevin Von Erich regained the American title from Gordy on March 11.
As Bundy missed a clothesline, Yatsu delivered a thrust kick that took down Bundy.
Following a back drop, Bundy gave Yatsu a cross corner whip followed by an avalanche.
Hussein then grabbed Bundy by the leg so that Yatsu could regain the advantage. How dastardly!
When Hussein tossed a kendo stick to him, Yatsu WALLOPED Bundy with it.
Referee David Manning then called for the bell to disqualify Yatsu.
Rating: DUD
Summary: Mere appetizer for the upcoming kendo stick match.
After the match, Yatsu continues to whack Bundy with the kendo stick until Hussein keeps him at bay.
Following a commercial break, we revisit the feature on Kamala the Ugandan giant.
Um, Pembrooke...I found Stroker…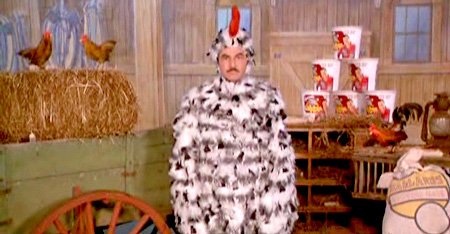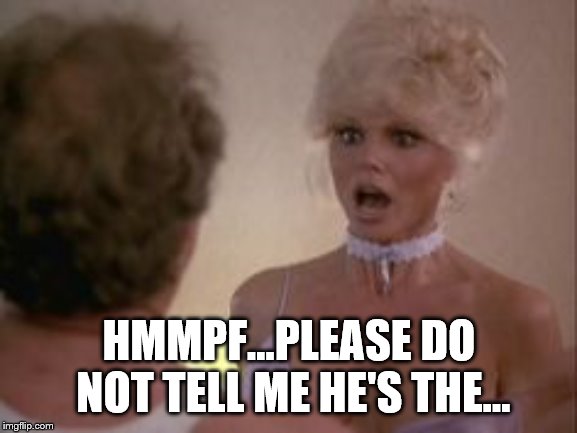 Fastest chicken in the South! Sorry, Pembrooke.
Match 3 (non-title/Texas tornado): NWA American tag team champions the Freebirds (w/ Buddy Roberts) versus Kevin & Kerry Von Erich (w/ David)
Highlights:
Kevin dropkicked Hayes while Kerry hammered on Gordy.
When Kevin tossed Hayes from the ring, Kerry gave Gordy a cross corner whip followed by a knee to the midsection.
The Von Erichs then delivered a double hip toss as well as a double dropkick to Gordy.
As Hayes returned, Gordy lifted Kerry up, and the Freebirds hit a gutbuster on Kerry.
Hayes then tossed Kerry to the floor, and the Freebirds delivered a backbreaker to Kevin.
After Kevin mounted the top turnbuckle, he hit an axe handle to Hayes.
Kerry then delivered a knee drop to Gordy and hooked a sleeper.
When Hayes dispatched Kevin outside the ring, he saved Gordy from the depths of slumber.
The Von Erichs then whipped the Freebirds into one another much to the delight of the Dallas faithful.
As Kevin hit a knee drop, he got 2 on Gordy.
Gordy then used momentum to toss Kevin to the floor while Hayes brawled with Kerry.
After Hayes sent Kevin to the floor again, the Freebirds tied Kerry up in the ropes.
Kevin then delivered a standing dropkick to Hayes, and Kerry freed himself.
When Kerry nailed Hayes, he got 2.
He then landed an elbow drop, and David interjected his own count instead of the referees.
As Kevin countered a back elbow with an Iron claw to Gordy, Kerry applied his own Iron claw on Hayes.
To break the hold, Gordy tossed Kevin over the top rope to the floor.
Gordy then tied Kerry to the Tree of Woe, but Kevin disrupted their shenanigans.
After Kevin tossed Gordy to the floor, Hayes got tied up in the ropes.
Roberts then inserted himself into the ring; thus, David followed suit.
Due to the interference, referee David Manning called for the bell.
The match was ruled a double-disqualification.
BOOOOOOOOOOOOOOOOOOOOOOOO!
Rating: *½
Summary: MOLTEN hot match with a ton of action that whipped the Dallas faithful into a frenzy.
Following a commercial break, Mercer interviews Bundy with Kabuki at the broadcast table. Bundy promotes the kendo stick between Kabuki and Yatsu.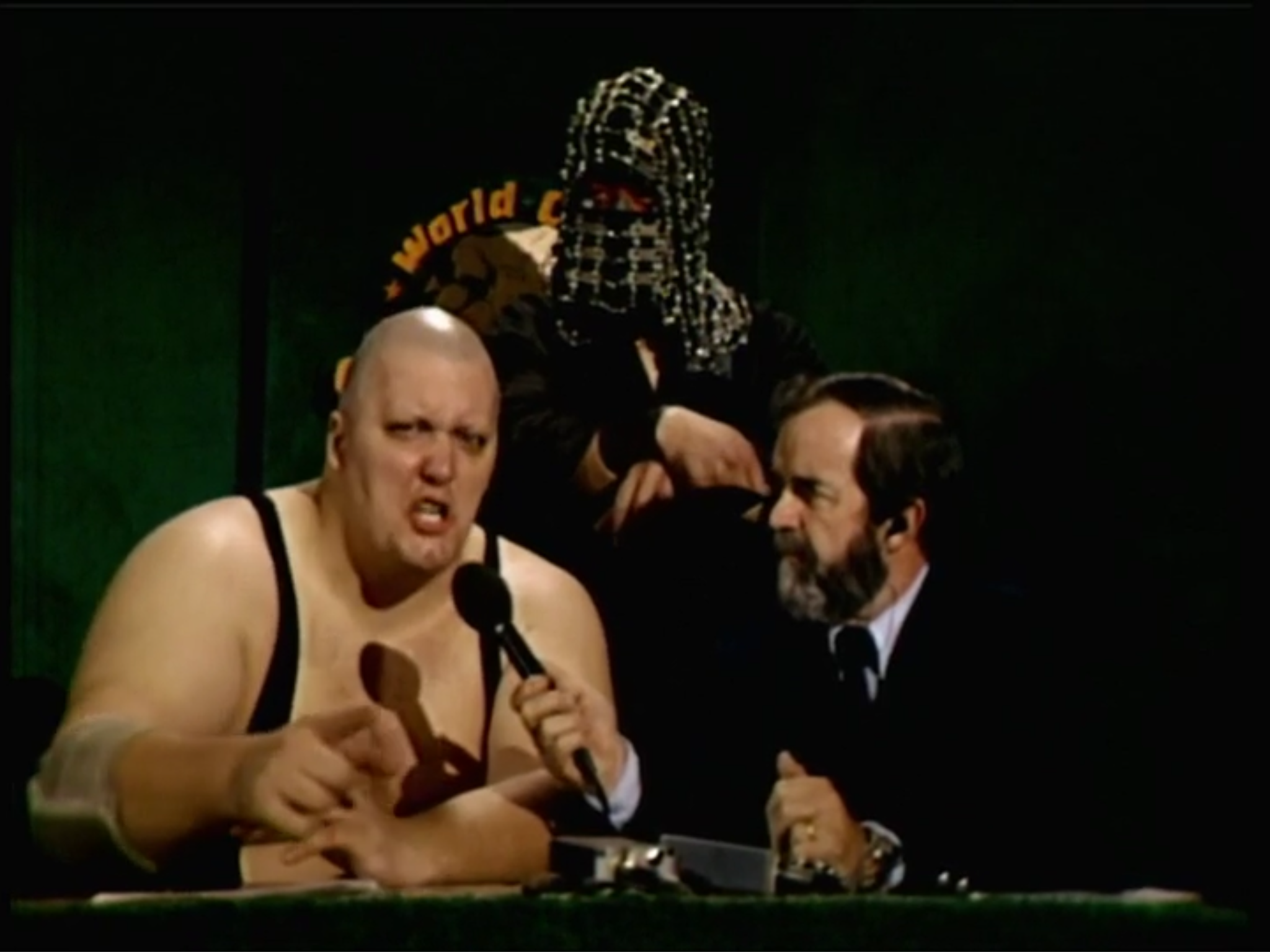 Conclusion: The saga between the Freebirds and Von Erichs rolls on while the card for the State Fair begins to take shape. What did you think of the show, Pembrooke?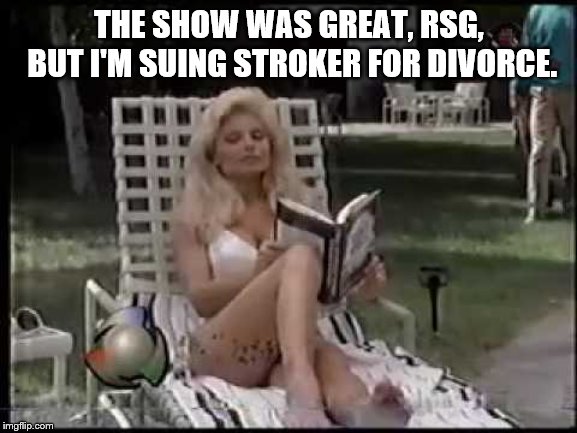 Hopefully, you get more than just the chicken suit.
TV Rating: NONE
Stay tuned for WCCW 04-02-83!
Comments? Suggestions? Send them to me at rsg@rockstargary.com and follow me on Twitter (@rockstargary202).
Custom Search