WELCOME TO ROCK STAR GARY REFLECTIONS!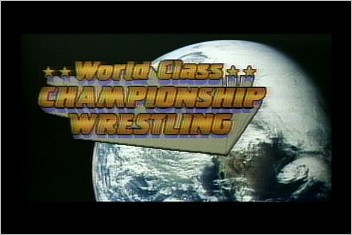 WCCW 2-27-82
Taped from Dallas, TX
Airdate: February 27, 1982
Attendance: unknown
Hosted by Marc Lowrance & Kevin Von Erich
Can Kevin Von Erich earn a title shot by beating "Wild" Bill Irwin in the main event? Who undergoes a change in character? Also, what special guests reveal their presence in tonight's reflection? Read on!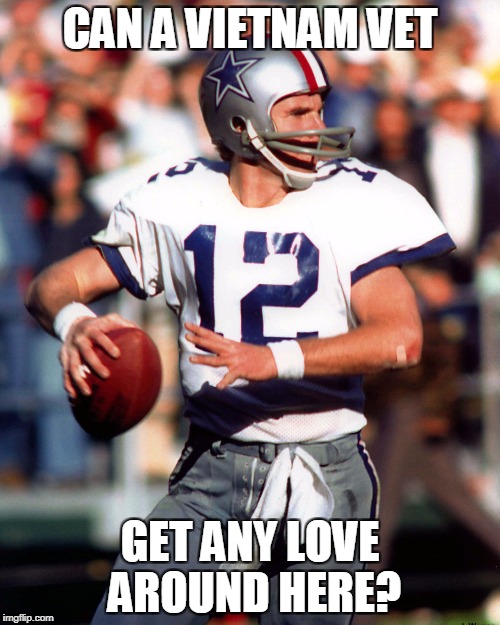 Thank you for your service, Mr. Staubach.
Opening montage.
Match 1: Bugsy McGraw versus Jesse Relampago León
Highlights:
According to Kevin, Kerry beat McGraw for the NWA American title. Where's the footage?
Uh oh...we've reached Blazing Saddles' level of comedy tonight.
C'mon, Sheriff, this is a PG-rated reflection!
Since Lowrance commentated, Joe Renelli replaced him as the ring announcer.
After a leap frog, León delivered a dropkick.
McGraw came back with a hip toss for a 1-count.
Upon giving McGraw a pair of flying forearms, León came up empty on his third try.
McGraw then gave León a pair of fist drops before pounding him face-first repeatedly into the top turnbuckle.
After a slam, McGraw mounted the top turnbuckle and delivered a splash.
1-2-3.
McGraw won.
Rating: ½*
Summary: Showcase match for McGraw.
Lowrance then interviews Gary Hart with King Kong Bundy. Wait a minute! When did Bundy make a heel turn? I want the footage! For those unaware, Bundy wears his familiar double strap singlet for the first time here while cutting a promo about taking the "big bucks." How scandalous!
Thanks for the support, Jerry.
Match 2: Al Madril versus "Captain" Frank Dusek (w/ NWA Texas champion "Wild" Bill Irwin)
Highlights:
This was a return match from last week.
As Dusek stalled, he returned to the apron only for Madril to bring him back in the hard way.
Madril then took him to the corner causing Dusek to be tied to the Tree of Woe.
When Dusek grabbed a foreign object (e.g. bull whip), he nailed Madril with it.
Referee David Manning then called for the bell to disqualify Dusek.
Rating: *
Summary: Waste of time as neither wrestler showed any wrestling acumen. If that was the feature match of the show, we're in trouble. At least the Dallas faithful got behind Madril.
After the match, Madril grabs ahold of the foreign object and chases Dusek and Irwin from ringside. He then gets on the microphone and riles up the Dallas faithful by shaking the foreign object in Dusek's direction. Perhaps Madril enjoys Devo.
Lowrance then interviews Fritz who vows revenge against Hart, Kabuki, and Bundy.
Match 3: King Kong Bundy (w/ Gary Hart) versus El Negro Assassin
Highlights:
Hart corrected Renelli for calling his charge "Big Daddy."
As Bundy gave Assassin a cross corner whip, he followed with an avalanche.
Bundy then hooked a bear hug and SQUISHED him in the corner.
While Kevin left the broadcast table to prepare for the next match, Bundy gave Assassin a belly-to-back suplex.
He then shoulder-blocked Assassin over the top rope to the concrete floor.
With Assassin on the apron, Bundy suplexed him back in.
He then delivered a splash.
1-2-3.
Bundy won.
Rating: ½*
Summary: Showcase match for the freshly heel-turned Bundy. No five-count for those keeping track.
Match 4 (non-title): NWA Texas champion "Wild" Bill Irwin (w/ "Captain" Frank Dusek) versus Kevin Von Erich
Highlights:
While the Dallas faithful chanted "Chauncey" at Irwin, Kevin countered a hip toss with one of his own.
After a leap frog, Kevin delivered a dropkick.
Irwin came back with a gutwrench suplex for a 1-count.
As he gave Kevin a back drop, Irwin followed with a backbreaker.
According to Lowrance, NWA World champion "Nature Boy" Ric Flair will appear in "two weeks." In case you're wondering, that's the next episode on my schedule.
Nevertheless, Irwin delivered another backbreaker for 2.
When Kevin attempted a rollup, referee David Manning got knocked down temporarily.
Kevin then reversed a cross corner whip and put a knee into Irwin's midsection.
After Irwin reversed a cross corner whip, Kevin hooked a leg scissors.
To save Irwin, Dusek got up on the apron and nailed Kevin.
Referee David Manning then called for the bell disqualifying Irwin.
As Kevin disputed the decision, he called out "Chauncey" for a fight.
Manning then restarted the match.
While Irwin returned to the ring, Kevin ambushed and gave him an elbow drop.
Kevin was incapable of applying the Iron claw to Irwin's head so he secured it on the midsection instead.
When Irwin escaped, a brawl erupted.
After a splash, Kevin got a 1-count.
They then brawled until the bell rang signaling the time limit.
Time-limit draw.
Rating: **
Summary: Decent bout with almost nothing occurring after the restart.
After the match, Dusek enters the ring and nails Kevin with the foreign object. He then holds Kevin but eats a stomp from Irwin as Kevin escapes. Kevin then dropkicks Irwin who scampers away. Next, Kevin wants to restart the match again to no avail.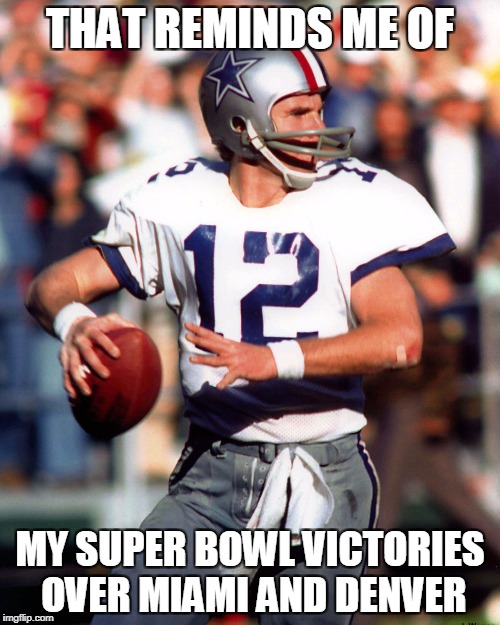 Don't forget the three touchdown passes you had in Super Bowl XIII, Roger.
Conclusion: While the main event's exciting and leaves us wanting more, this episode marks the beginning of Bundy's days as a heel. Next week's show involves Flair so let's see what happens.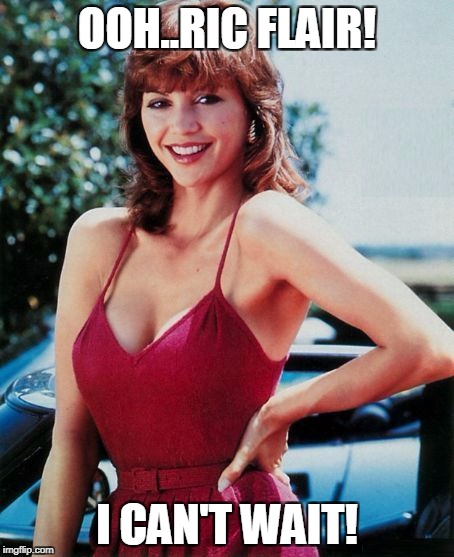 Thanks for coming, Ms. Ewing. I'm sure Flair would love to see you next week too.
TV Rating: NONE
Stay tuned for WCCW 3-13-82!
Comments? Suggestions? Send them to me at rsg@rockstargary.com and follow me on Twitter (@rockstargary202).
Custom Search