WELCOME TO ROCK STAR GARY REFLECTIONS!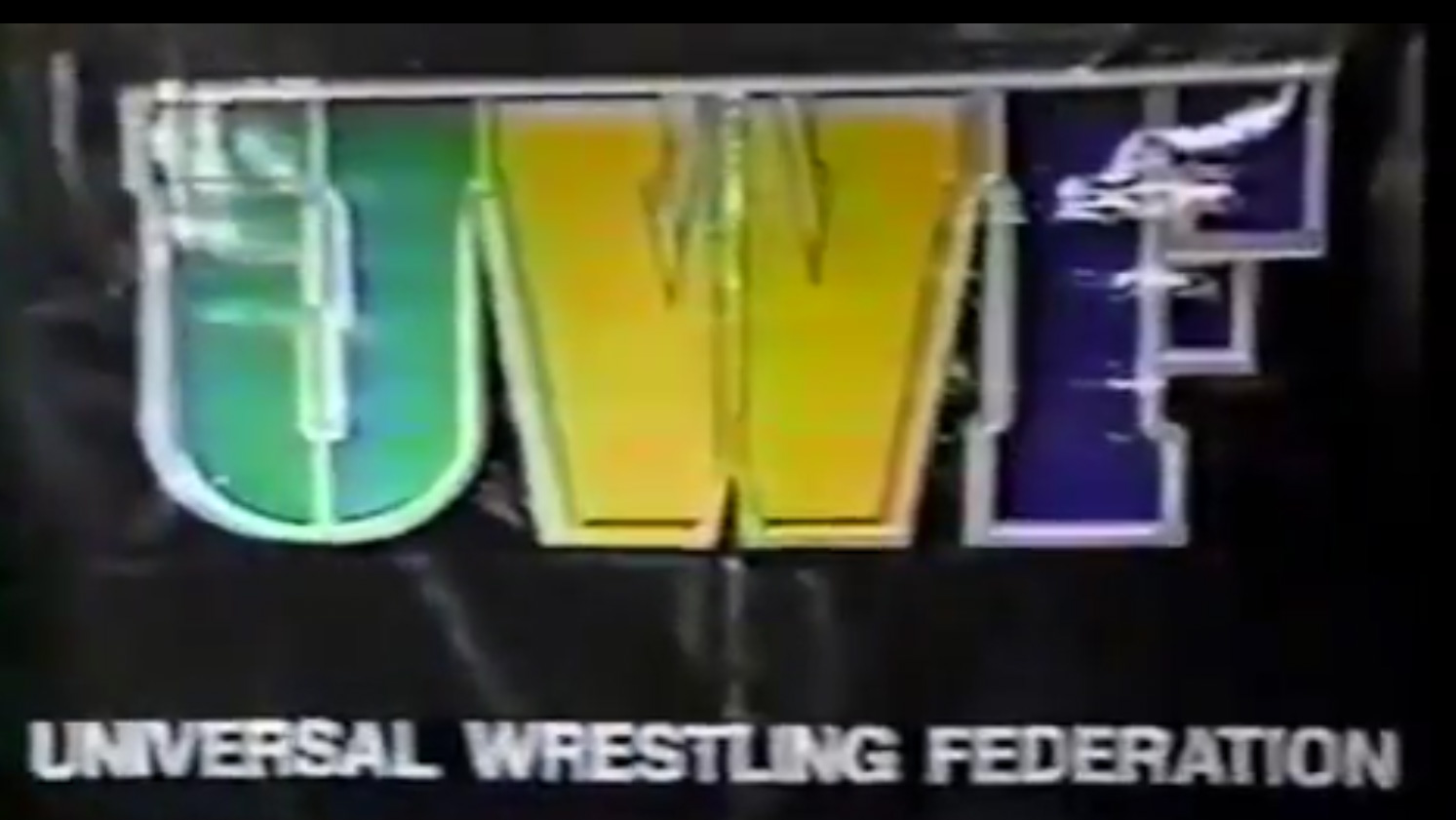 UWF Rampage '93
Taped from Minot, ND
Airdate: never (taped 07/24/93)
Attendance: 300
Hosted by "Commissioner" Carlo Gianelli & the "Golden Greek" John Tolos
Can Warlord defeat Orton and become Intercontinental champion? How will the Killer Bees fare against the Blackhearts? What's going on with Wild Thing? And who in the blue hell is Zoogz Rift?
This event took place during the North Dakota State Fair and is an unedited bunch of film with four matches, numerous interviews with different takes, and some "publicity" at the hands of the Wild Thing.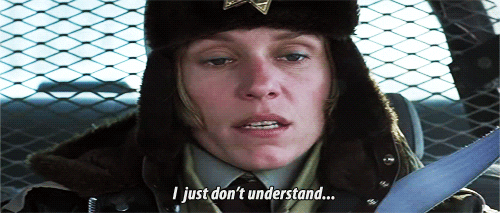 Don't worry, I'll clue you in when it's appropriate.
We begin with news feature showcasing a press conference where "Wild Thing" cuts a brief promo on "Mr. Outrageous." He's gained some hair and self-confidence but still falls short on the promos.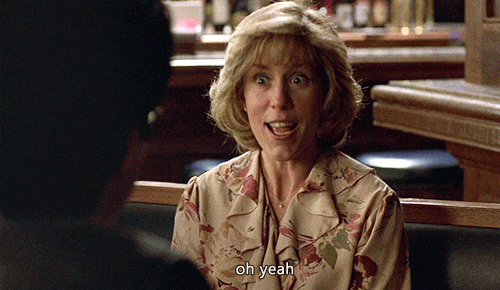 Tolos, in rare form already, informs us of the lesbian population of Minot, ND.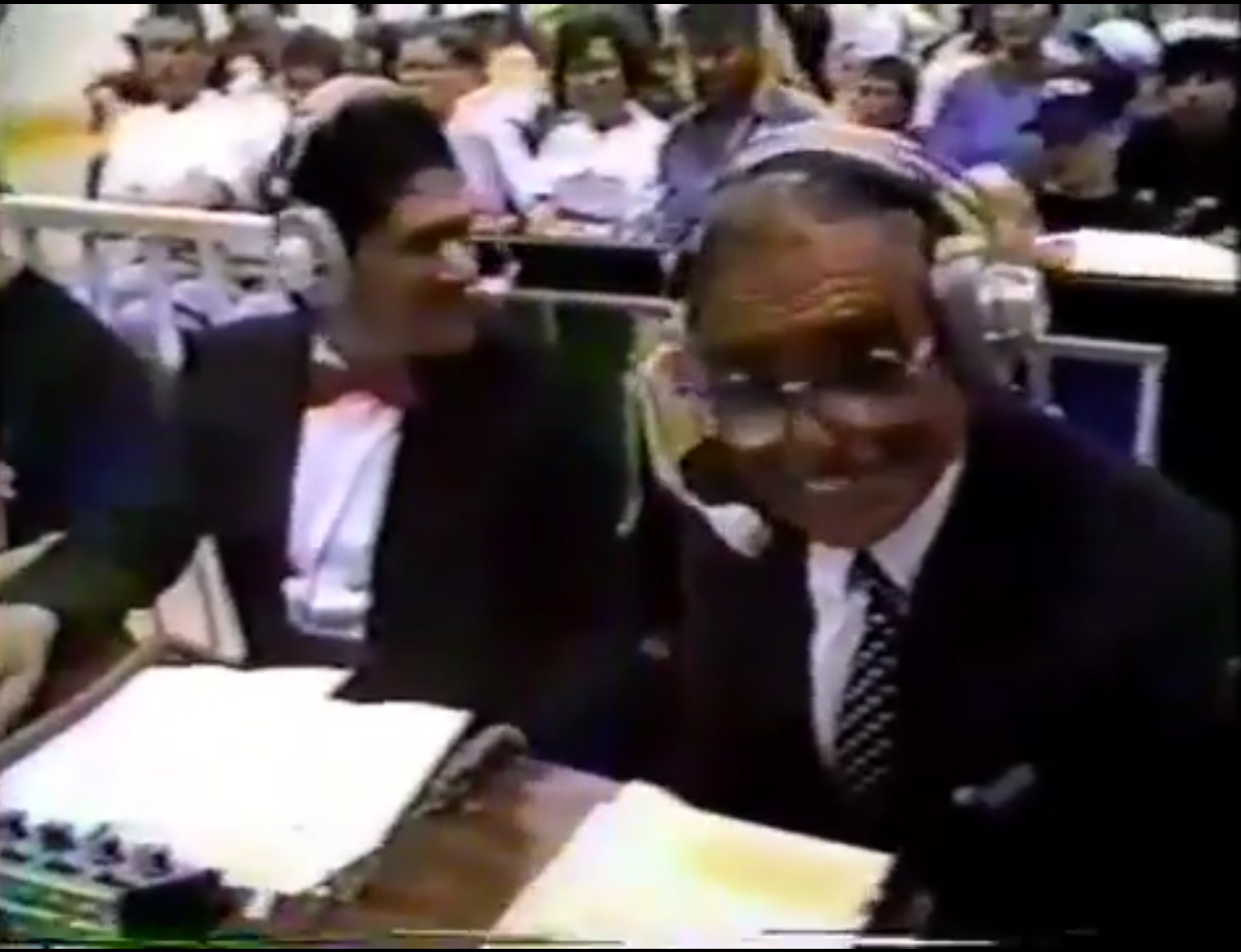 Match 1: "Mr. Outrageous" versus Randy Gusto
Highlights:
For those unaware, Outrageous was portrayed by Al Burke who began his career as enhancement talent in the WWF. Gusto mostly wrestled in the PWA prior to this match.
Gusto blocked a hip toss and supplied Outrageous with one of his own.
When Outrageous guillotined him with the top rope, he missed a clothesline.
Gusto delivered his own clothesline for 2.
As he suplexed Outrageous, he got another 2.
He backdropped Outrageous who shoved Gusto directly into the anonymous referee.
With the referee

OUT COLD

, Outrageous grabbed his skateboard and WALLOPED Gusto with it.
1-2-3.
Outrageous won at 7:07.
Rating: *
Summary: While the wrestling was solid, the match didn't wow the Minot faithful.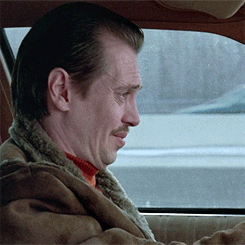 Herb Abrams interviews Outrageous and calls him a "fraud." Nonetheless, Outrageous cuts a promo on Wild Thing.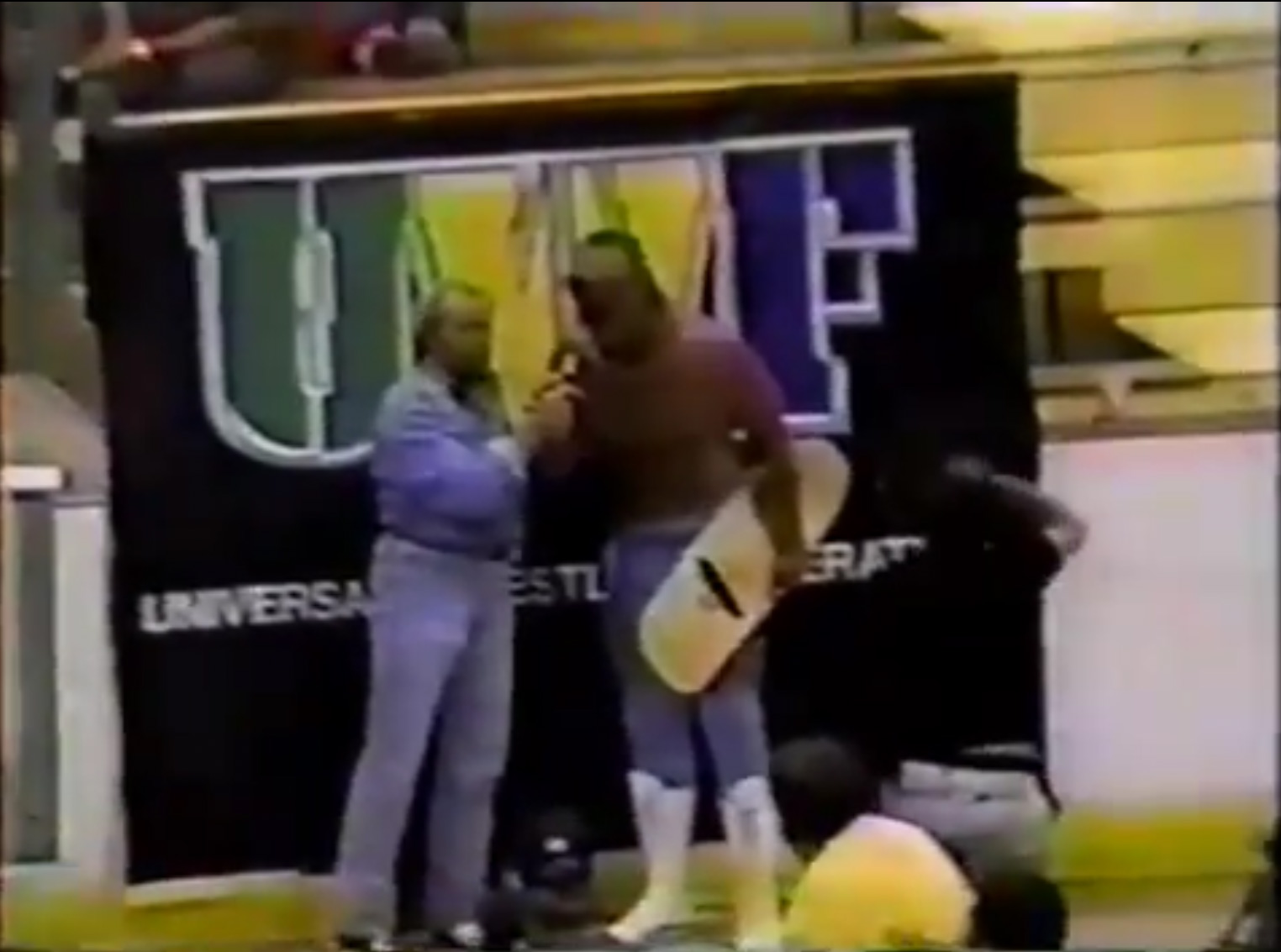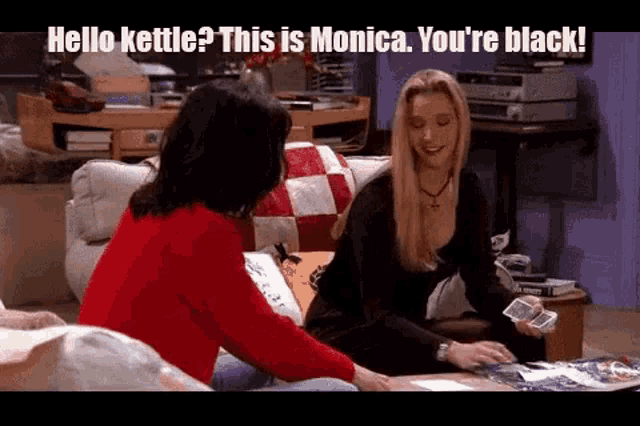 Mass Confusion Killer Bees pose for pictures, and we hear where the direction their promo is focused. Next, they cut a promo on the Blackhearts. We get a second take, and Blair flubs it. A third take follows, and Blair nails the Dustyism of "kings/queens/pork'n'beans." Take #4 happens, and Brunzell can't keep a straight face. As take #5 happens, they get interrupted. For take #6, they cut an anti-drug PSA. What's that, Abrams?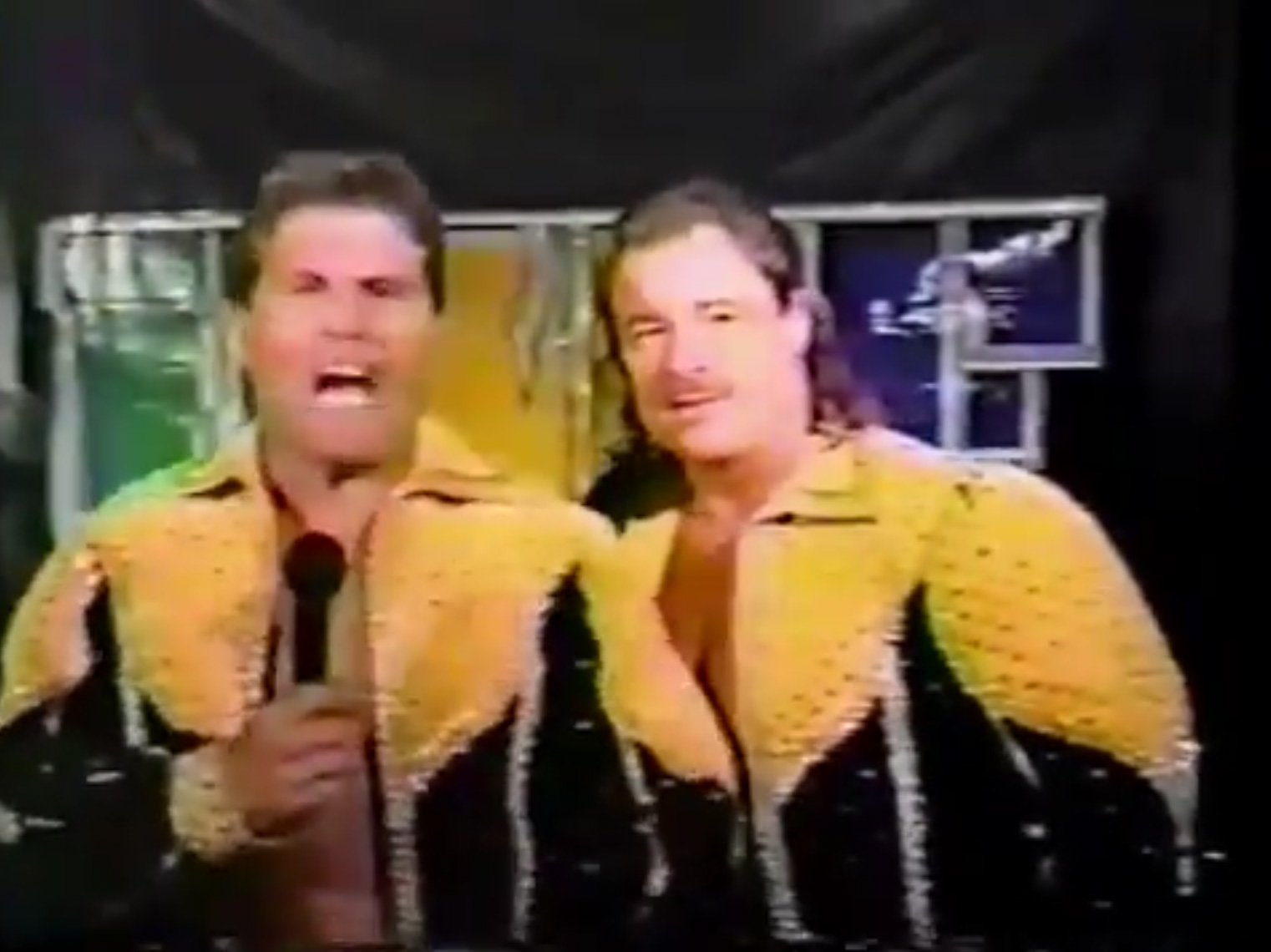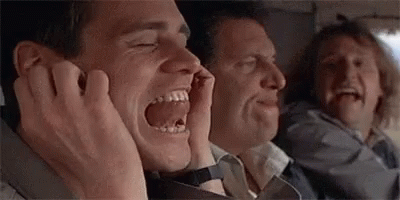 Next, Abrams hosts a press conference for Rampage '93. Commissioner Gianelli wants to "control" the UWF and calls Abrams a "little man." Afterward, Wild Thing emphasizes wrestling instead of entertainment and puts his arm around Rift. Speaking of Rift, he cuts a promo on Orton for Warlord: "Nobody beats the Warlord."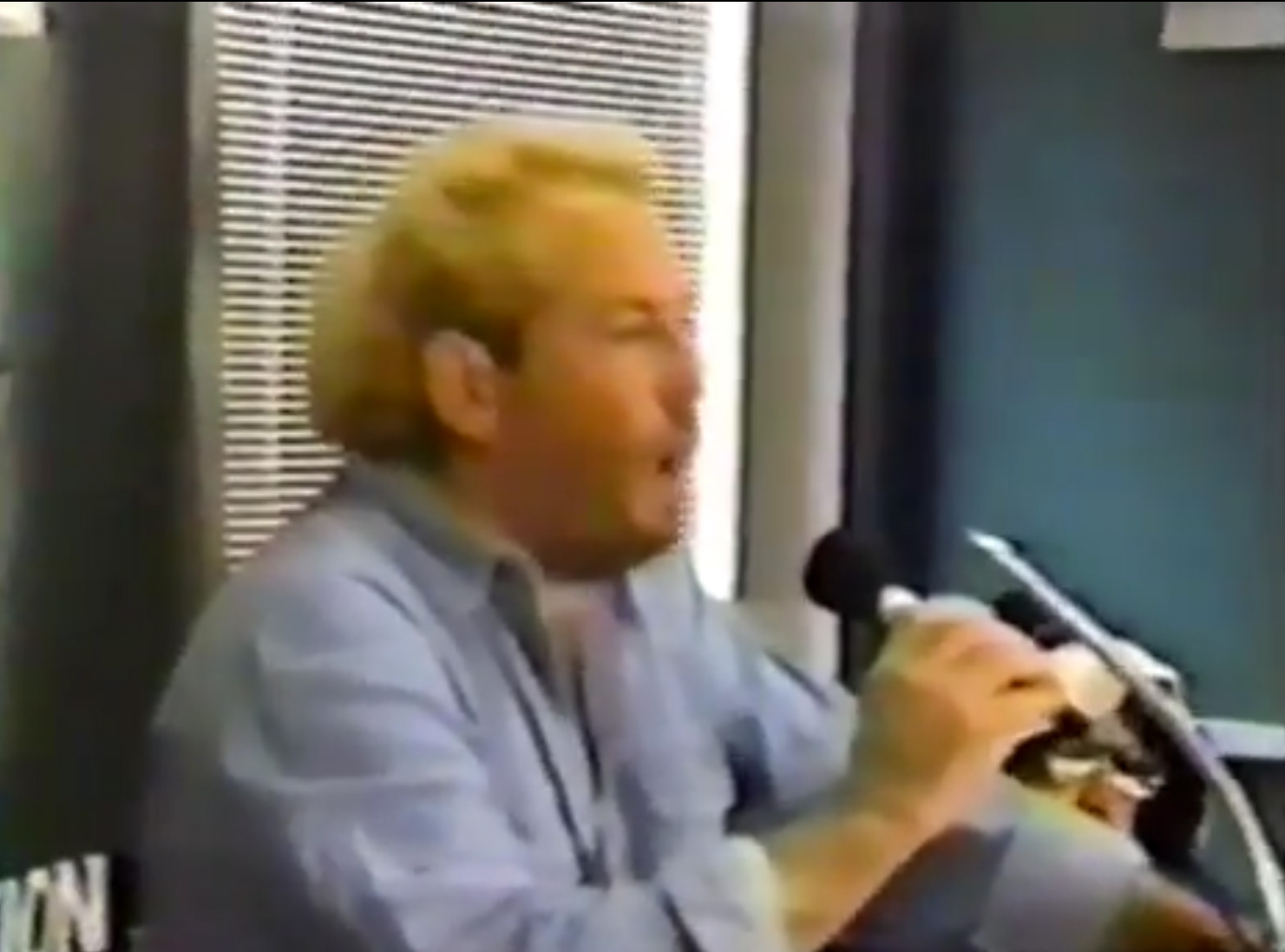 In our next segment, Wild Thing shills Diet Pepsi at the North Dakota State Fair and shouts to the Minot faithful to attend the UWF show. "Who's gonna go to the wrestling show?"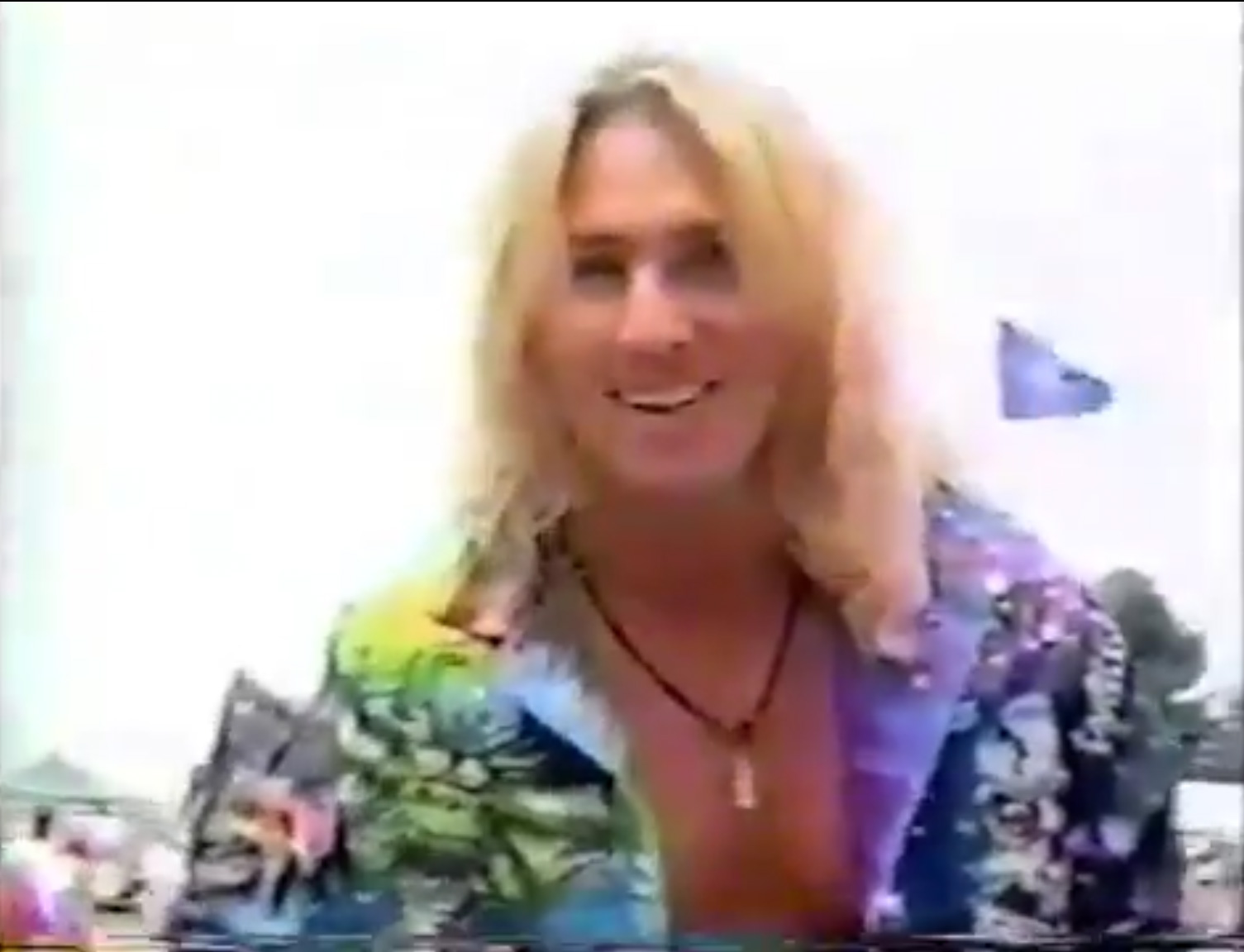 Rift babbles like he's gotten into Abrams' stash.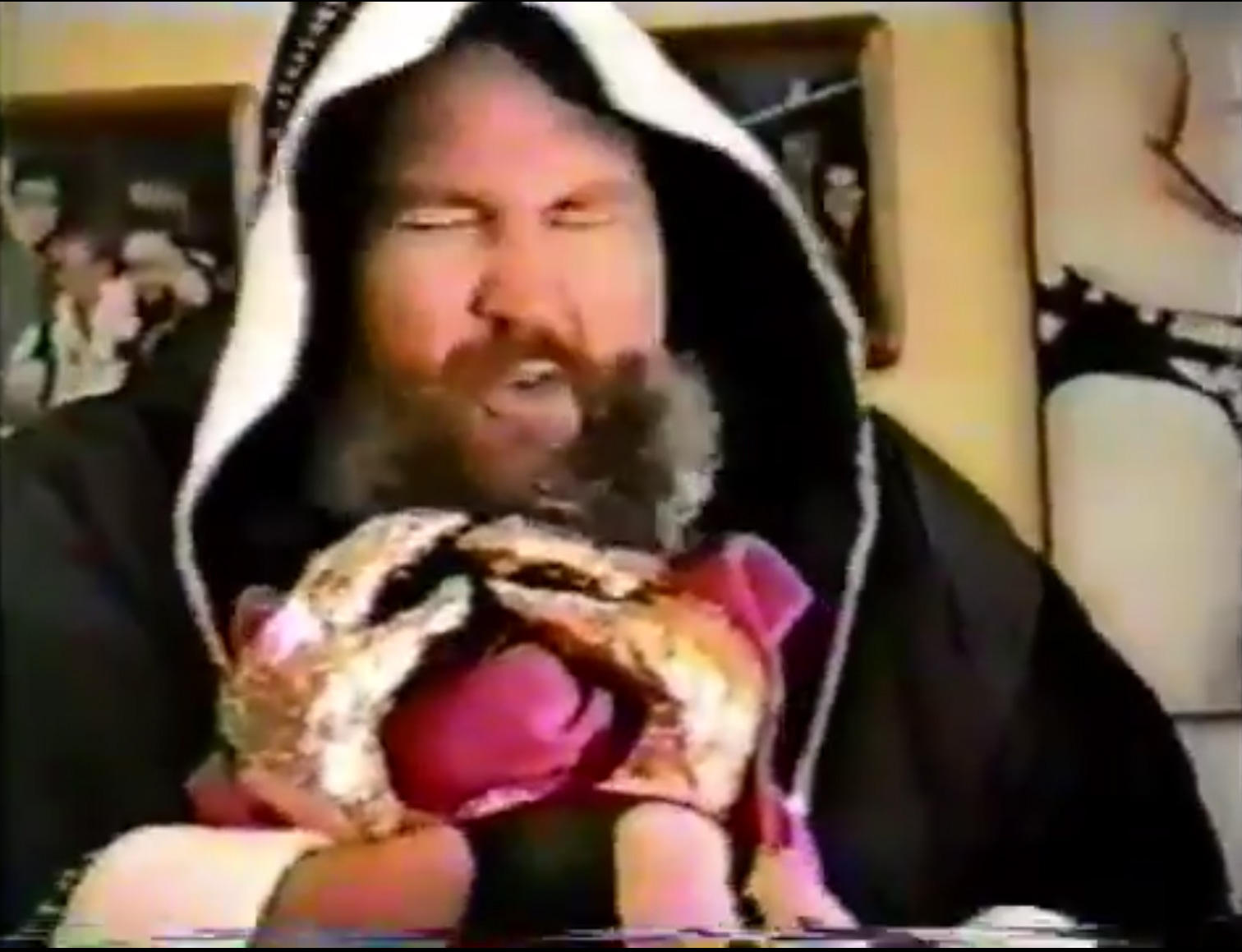 Todd Becker learns how to cut a promo.
Next, Wild Thing tries his best despite the poor video quality by cutting a promo on "Dr. Death" Steve Williams.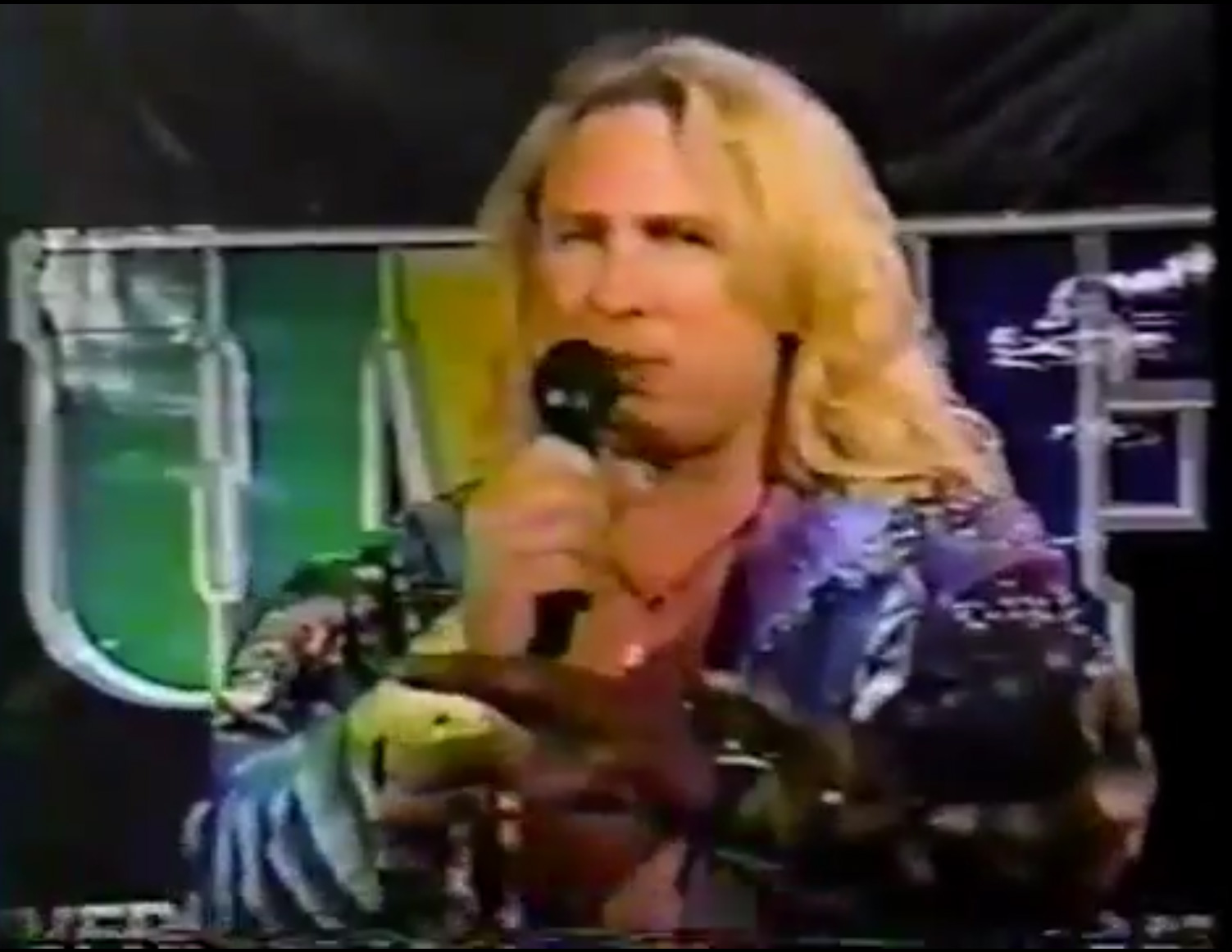 Abrams interviews Brunzell who details the history of the Killer Bees.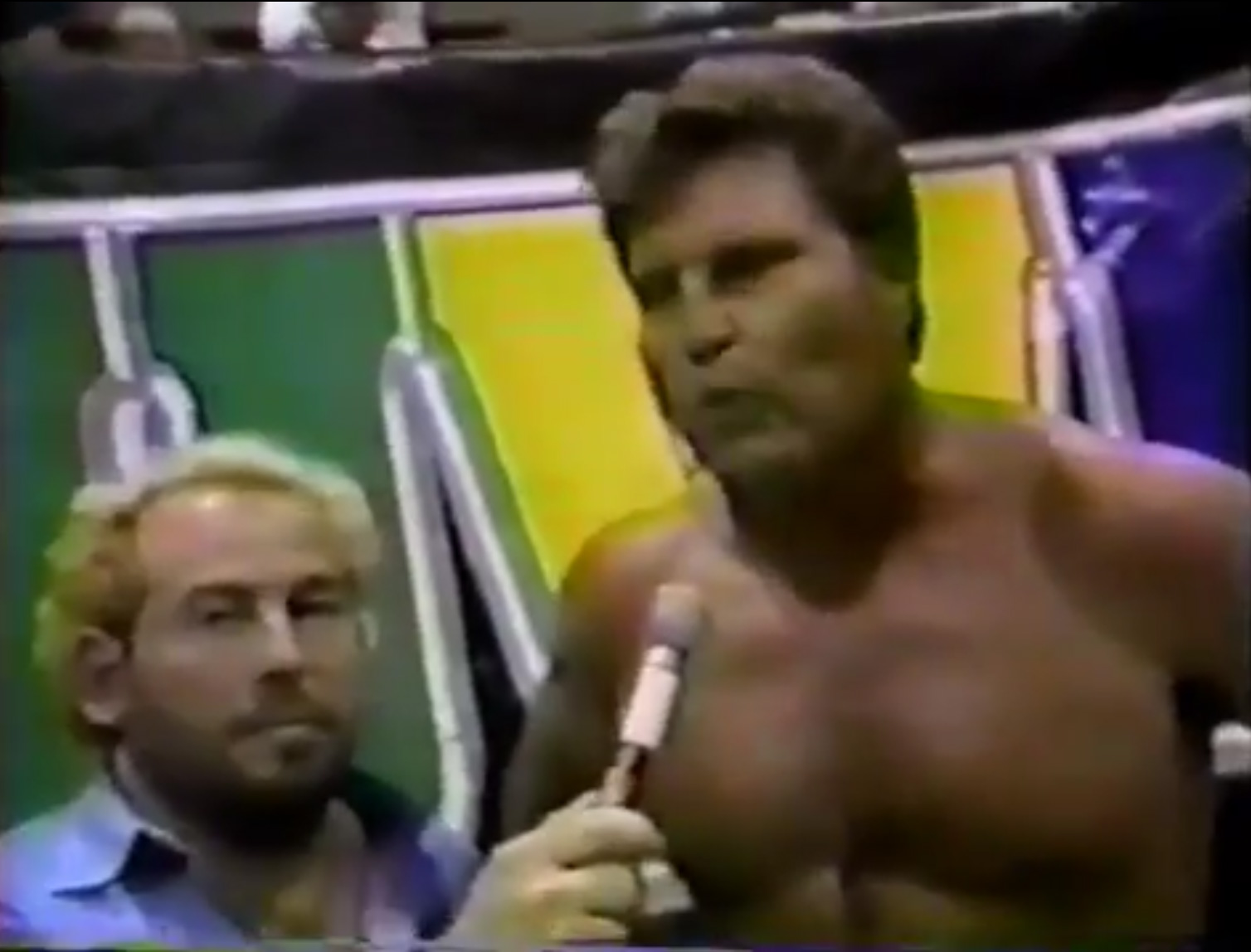 Afterward, Abrams interviews Orton who cuts a passionate promo on the Warlord.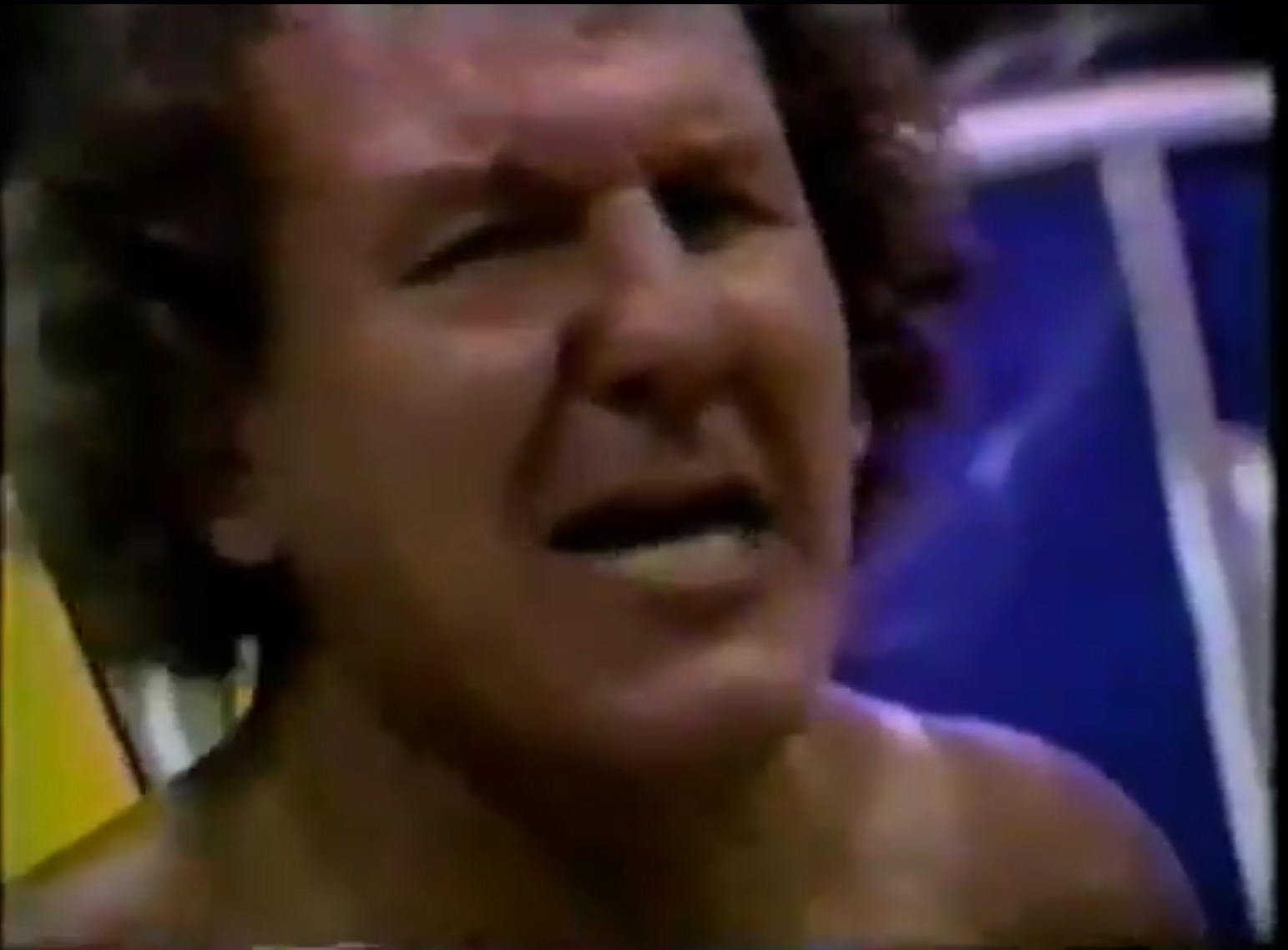 Match 2: The Blackhearts versus Mass Confusion the Killer Bees
Highlights:
For those unaware, David Heath and Luna split from the Blackhearts, and Dave Johnson joined Tom Nash. I could be mistaken, but I believe these Blackhearts are neither of these guys.
Tags were exchanged on both sides, and Brunzell monkey-flipped Destruction.
As Blair tagged in, he mounted the second turnbuckle, and lowered the boom on Destruction.
Brunzell tagged in, and the Bees double-hip-tossed Destruction for 2.
When Blair tagged in, the Bees double-backdropped Destruction.
Blair landed a pair of elbow drops and tagged in Brunzell.
After the Bees fed Destruction a double back elbow, Brunzell hooked a somersault rollup for 2.
Destruction distracted the anonymous referee, so Apocalypse gave Brunzell the business in the heel corner. SNEAKY!
While the Blackhearts illegally switched, Apocalypse nailed Brunzell in the midsection.
Blair tagged in and dealt Apocalypse a belly-to-back suplex.
As Blair applied a step-over toe hold, Brunzell tagged in, and the Bees punished Apocalypse with a double step-over toe hold.
Tags were exchanged on both sides again, and the Bees split Destruction's uprights.
When Brunzell tagged in, he trapped Destruction in a figure-four leg lock.
Blair distracted the referee, so Apocalypse interfered to break the hold. Clever!
After Blair continued the distraction, Apocalypse took liberties with Brunzell. How dastardly!
Destruction scored with a back elbow to Brunzell for 2.
While Apocalypse tagged in, he slammed Brunzell and followed with an elbow drop for 2.
The Minot faithful chanted "go, Bees, go," yet Destruction tagged in.
As a false tag occurred, the Blackhearts cheated more than the 1919 Chicago White Sox.
Destruction guillotined Brunzell with the second rope, and Apocalypse earned a 2-count from it.
When Destruction tagged in, the Blackhearts delivered their own double back elbow for 2.
A double clothesline put both Brunzell and Destruction down on the mat.
Hot tag Blair.
After Blair cleaned house, he powerslammed Apocalypse for 2.
With all four wrestlers in the ring, the Bees rammed the Blackhearts together.
The Bees hit an atomic drop/dropkick combo to Apocalypse.
1-2-3.
The Bees won at 14:55.
Rating: ***
Summary: Honestly, no matter who donned the masks for the Blackhearts, they were elevated by wrestling the Bees. If they only had Joan Jett in their corner, the Blackhearts could have a new reputation.
After the match, a somewhat insane Abrams (Moondogs?) interviews the Bees. Blair wants the Steiners while Brunzell believes the Bees have overcome "the political thing in New York." Methinks he means the wrestler union concept.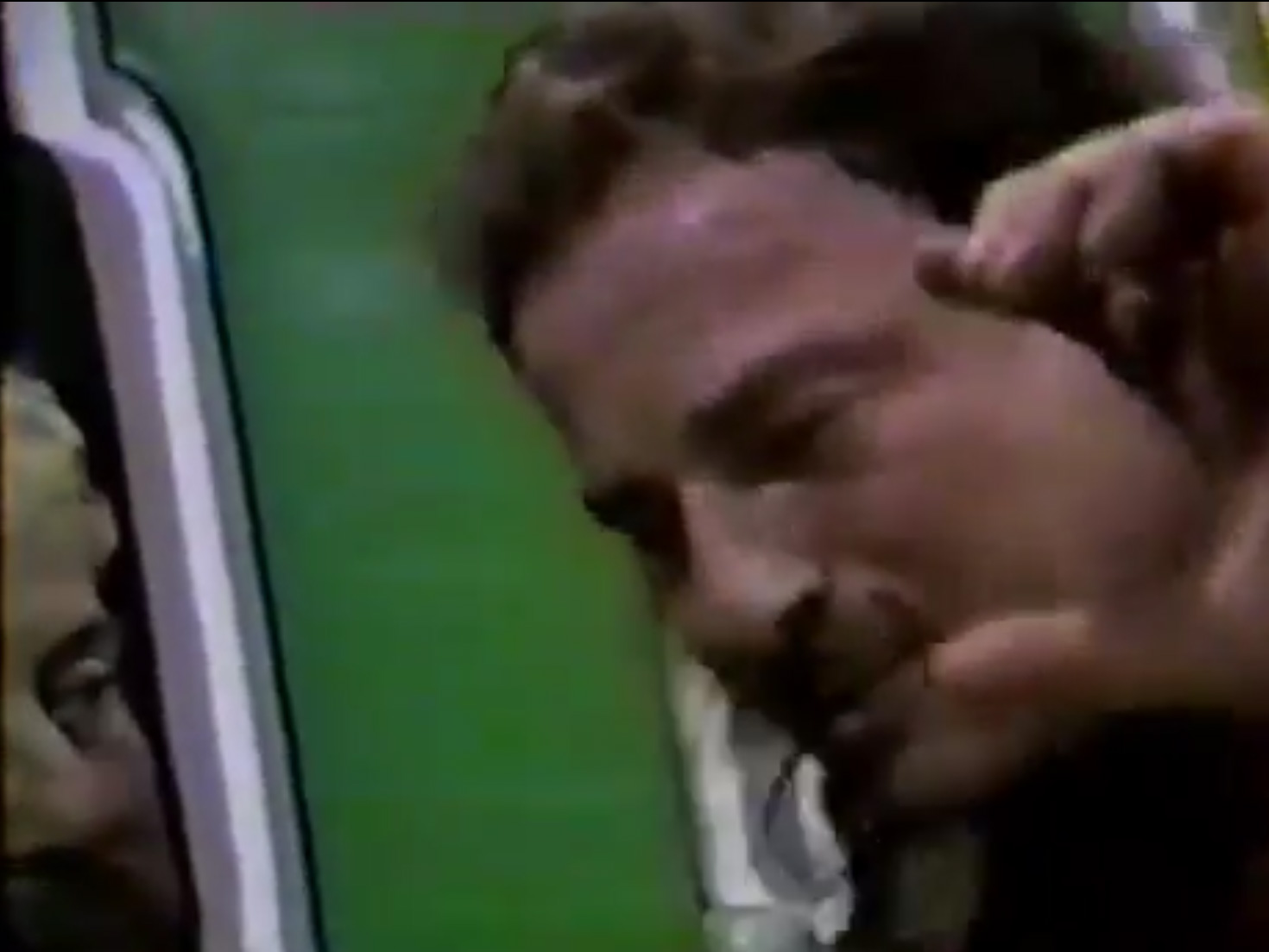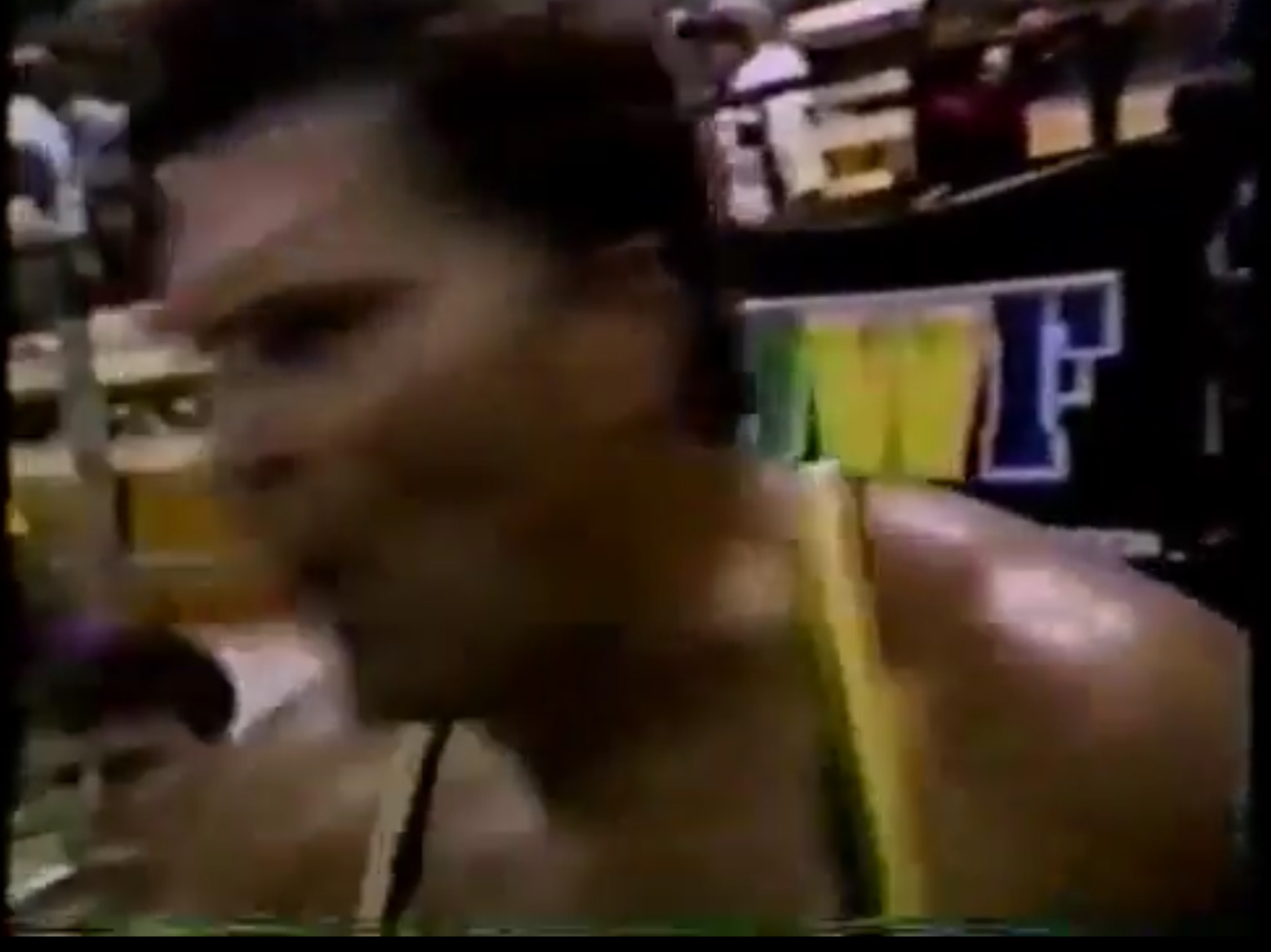 Following that segment, Orton cuts a promo by praising his feud with Paul Orndorff. Also, he runs down the Warlord for their upcoming match. On the second take, he runs down Rift.
Warlord alongside Rift rebuts.
Afterward, Wild Thing rides an anti-gravity ride that would make most people lose their lunch.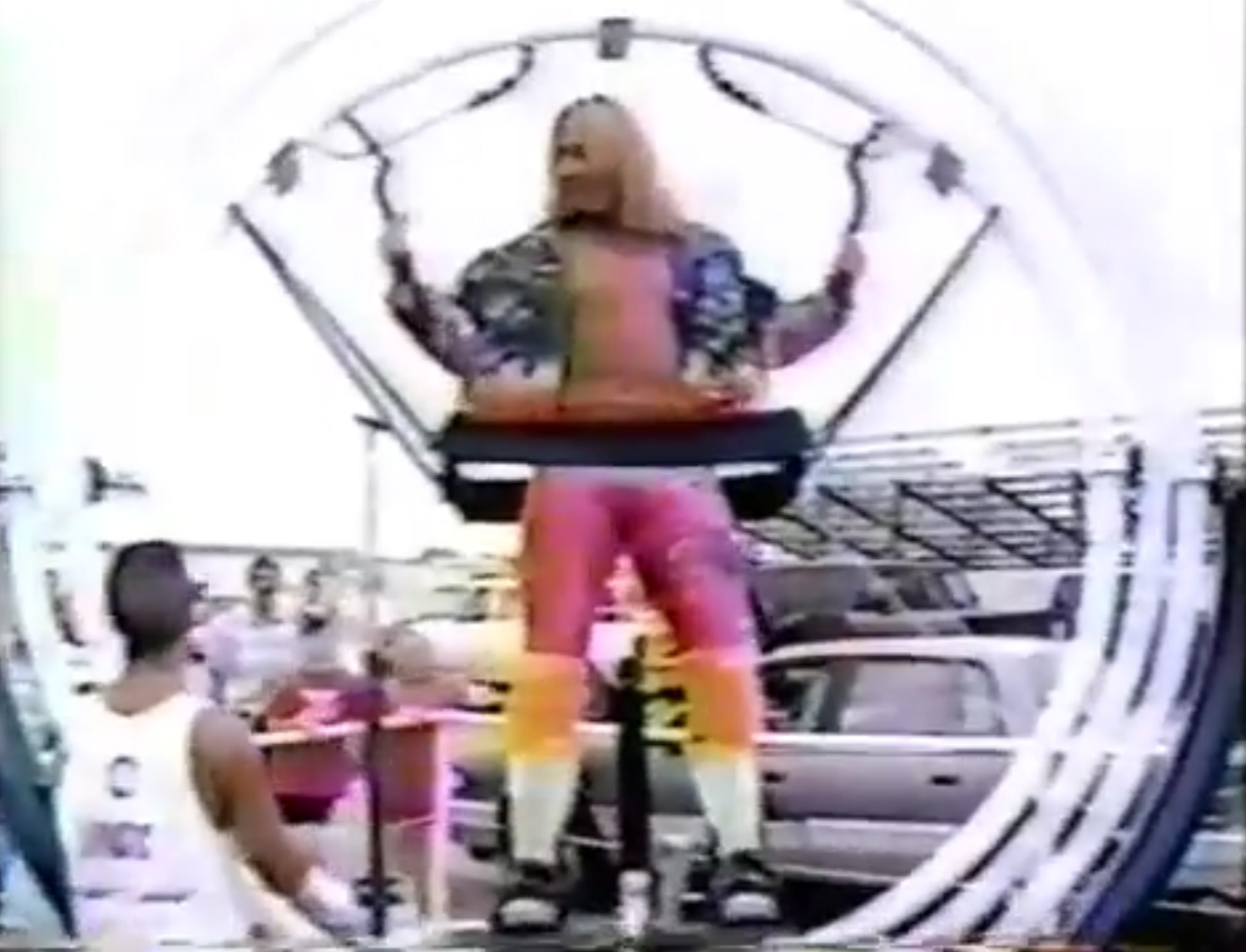 Orton cuts another promo on the Warlord. On the second take, he gives his own PSA to kids. Are you listening, Randy?
Match 3: Wild Thing versus "Mr. Outrageous"
Highlights:
Outrageous tried to heel up the crowd, but Wild Thing blinded him by putting his ring jacket over his head.
When Outrageous tossed him out of the ring, Wild Thing played with Outrageous' skateboard. That'll irk the dander!
Outrageous nailed Wild Thing from behind, joined him on the floor, and WHACKED him with the skateboard.
As Wild Thing grabbed Outrageous by his left leg, he rammed it into the ring post.
He retrieved the skateboard and SMACKED Outrageous in the leg with it.
After he rammed the leg against the ring post twice more, Wild Thing hooked a figure-four leg lock.
Outrageous countered it by turning it over, but Wild Thing regained the advantage.
While Outrageous raked the eyes to escape, Wild Thing mounted the second turnbuckle and unleashed a flying elbow smash.
He clotheslined Outrageous over the top rope to the floor, joined him, and pounded his face for pleasure.
Back in the ring, he slammed Outrageous, mounted the top turnbuckle, but missed a splash.
Wild Thing reversed an Irish whip and backdropped Outrageous. It appeared that Outrageous went for a sunset flip but failed.
When he slammed Outrageous, Wild Thing missed a leg drop.
Outrageous attempted his own leg drop, but Wild Thing evaded him.
As Outrageous blocked a slam, he hooked an inside cradle for 2.
He backdropped Wild Thing, and the Minot faithful chanted "Wild Thing."
After he clotheslined Wild Thing, Outrageous got 2.
He fed Wild Thing a knee lift but stopped to insult the Minot faithful.
Seeing the distraction, Wild Thing rolled him up.
1-2-3.
Wild Thing won at 8:05.
Rating: **½
Summary: With the Minot faithful behind him, Wild Thing eeked out a victory with the dreaded distraction finish.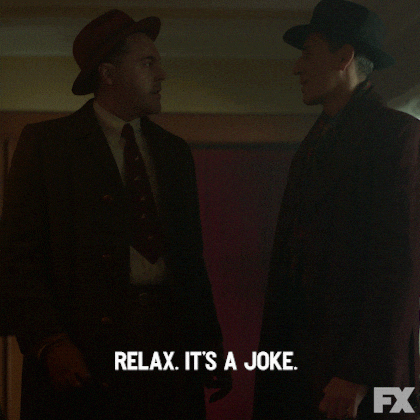 Rift and Warlord cut another promo on Orton and Williams. Apparently, Abrams had sold these guys on an event at the Nassau Coliseum on 11/20.
Match 4 for the UWF Intercontinental title: "Cowboy" Bob Orton (champion) versus the Warlord (w/ Zoogs Rift)
Highlights:
Tolos, using his memory, refers to Orton's title as the "Southern title" which Orton lost in Spartanburg in the previous year. I realize this is unedited footage, but that's a whiff between Tolos and Abrams.
As Warlord reversed a cross corner whip, he applied a bear hug.
Orton escaped by raking Warlord's eyes but couldn't slam him.
Instead, Warlord slammed him.
After an obvious clip, Warlord made Orton HIT THE POLE twice.
Orton was

BUSTED OPEN

!
From the apron, Warlord held Orton in a standing choke.
He released the hold and knocked down the anonymous referee in the process.
When Warlord hooked a full nelson, both the referee and Orton were

OUT COLD

, so Warlord couldn't yet secure the victory.
The referee woke up and called for the bell, but what's the decision?
Do we have a new champion?
Rift entered the ring and raised Warlord's arm in victory.
However, the referee awarded the match to the unconscious Orton via countout.
BOOOOOOOOOOOOOOOOOOOOOOOOOOOOOOOOOOOOO!
Rating: DUD
Summary: Orton tried his best, but you can't polish a turd like Warlord. C'mon, Szopinski! You laid down for Virgil in your last WWF match. You could lay down for Orton. The blade job by Orton rescues this match from negative stars.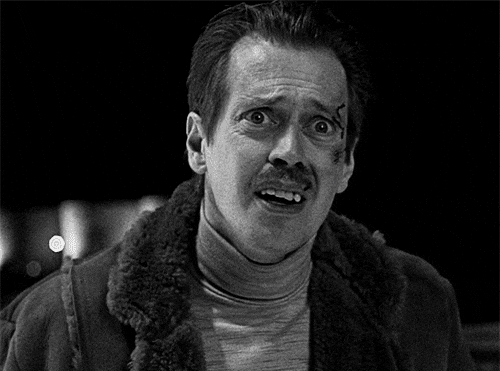 After the match, the heels are in disbelief, and a bloodied Orton remains OUT COLD on the mat. Rift complains like someone stole his lunch. Warlord bitches about the decision but promises to defeat Orton on another occasion.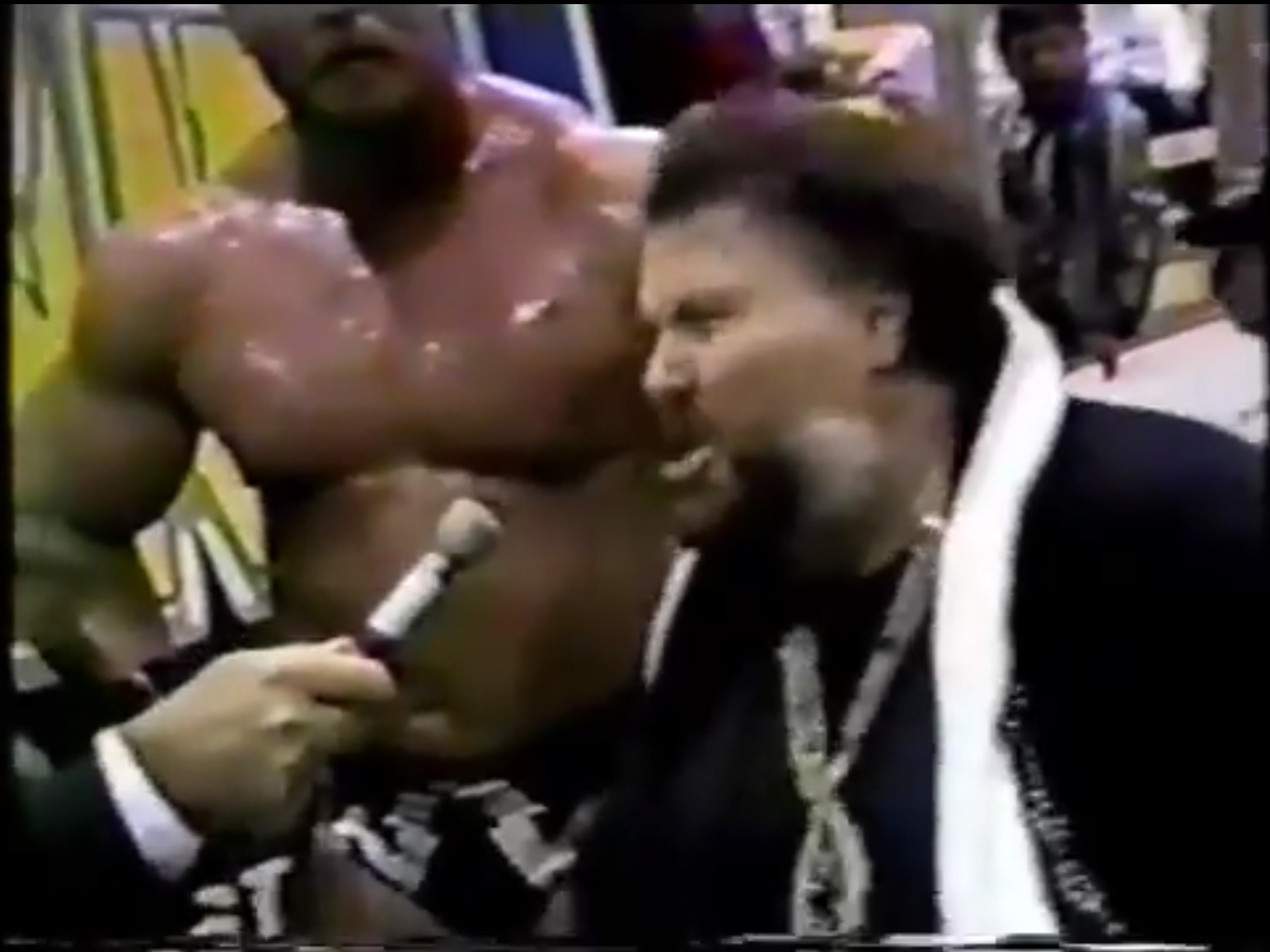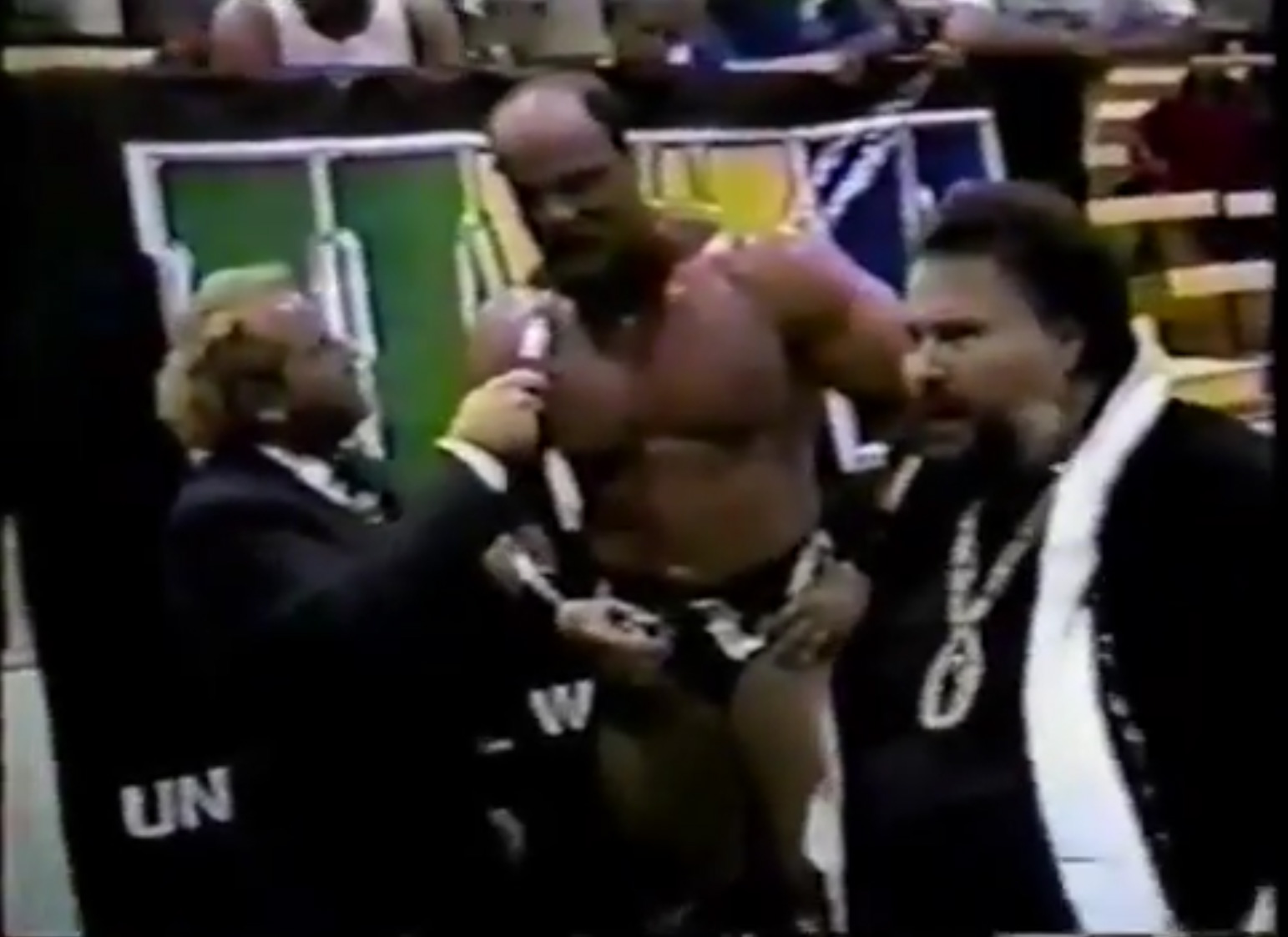 Conclusion: You can't fault this video for not being unique. Wild Thing's personality certainly stands out. Despite not shaving his head, Warlord still looks huge. Rift tried his best despite looking like the head of the trolls. Although he was featured in two matches, I don't see the appeal of Outrageous. Unless you're a UWF completist, avoid this disaster.
In other matches not included on the video:
Wild Thing defeated Todd Becker
Jim Brunzell defeated the Masked Marvel
B. Brian Blair beat Todd Becker
Next week, the UWF invades Las Vegas!
TV Rating: NONE
Stay tuned for UWF Blackjack Brawl!
Comments? Suggestions? Send them to me at rsg@rockstargary.com and follow me on Twitter (@rockstargary202).
Custom Search