WELCOME TO ROCK STAR GARY REFLECTIONS!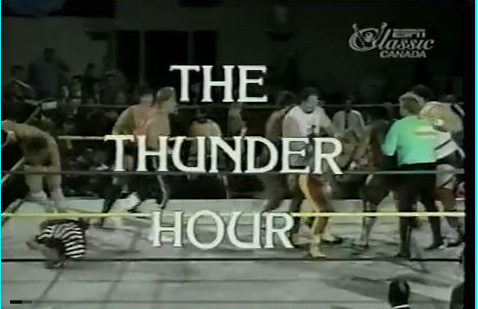 UWF Fury Hour: The Lost Episode
Taped from New York, NY
Airdate: April 1, 1991 (taped 03/10/91)
Attendance: 400
Hosted by Craig DeGeorge and Bruno Sammartino
How will Bigelow do in his UWF debut against the wily veteran Orton? See Williams, Afa, and the Power Twins as they showcase their talents for Abrams. Dare to enter the lost episode!
Why is it lost? What happened to it? Technically, I'm not sure. According to Jonathan Plombon, it was missing from the archives. This episode occurred on April 1, 1991—the same day that Duke beat Kansas for the NCAA national championship. We all hate Christian Laettner for it.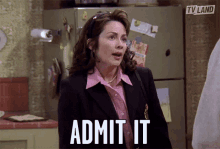 Let's just hope Dr. Jack Shepard and his crew aren't involved here.
Thankfully, no, because Abrams' cocaine use hadn't gotten THAT bad as of this taping.
Opening montage.
Match 1: "Dr. Death" Steve Williams versus Captain Badd
Highlights:
Williams reversed a cross corner whip and backdropped Badd.
When he clotheslined Badd, Williams took him out of the ring and rammed him face-first into the timekeeper's table.
Williams military-pressed Badd and tossed him between the ropes back into the ring. Impressive!
As Williams applied a single-leg crab, he gave Badd a cross corner whip.
He delivered an Oklahoma Stampede and pinned Badd at 4:53.
Rating: DUD
Summary: Showcase match for Williams.
Match 2: Afa versus Carmine Albano
Highlights:
Albano hip-tossed Afa but ate a shot to the midsection.
As Afa tossed him outside the ring, he rammed Albano face-first into the apron twice.
Albano returned but ate a chop from Afa.
When he supplied Albano with a diving head butt, Afa reversed an Irish whip and delivered a Samoan drop.
1-2-3.
Afa won in 3:17.
Rating: DUD
Summary: Showcase match for Afa.
CAPTAIN LOU'S CORNER: Albano interviews Orton who touts his manager Tolos and calls "sour grapes" on Albano.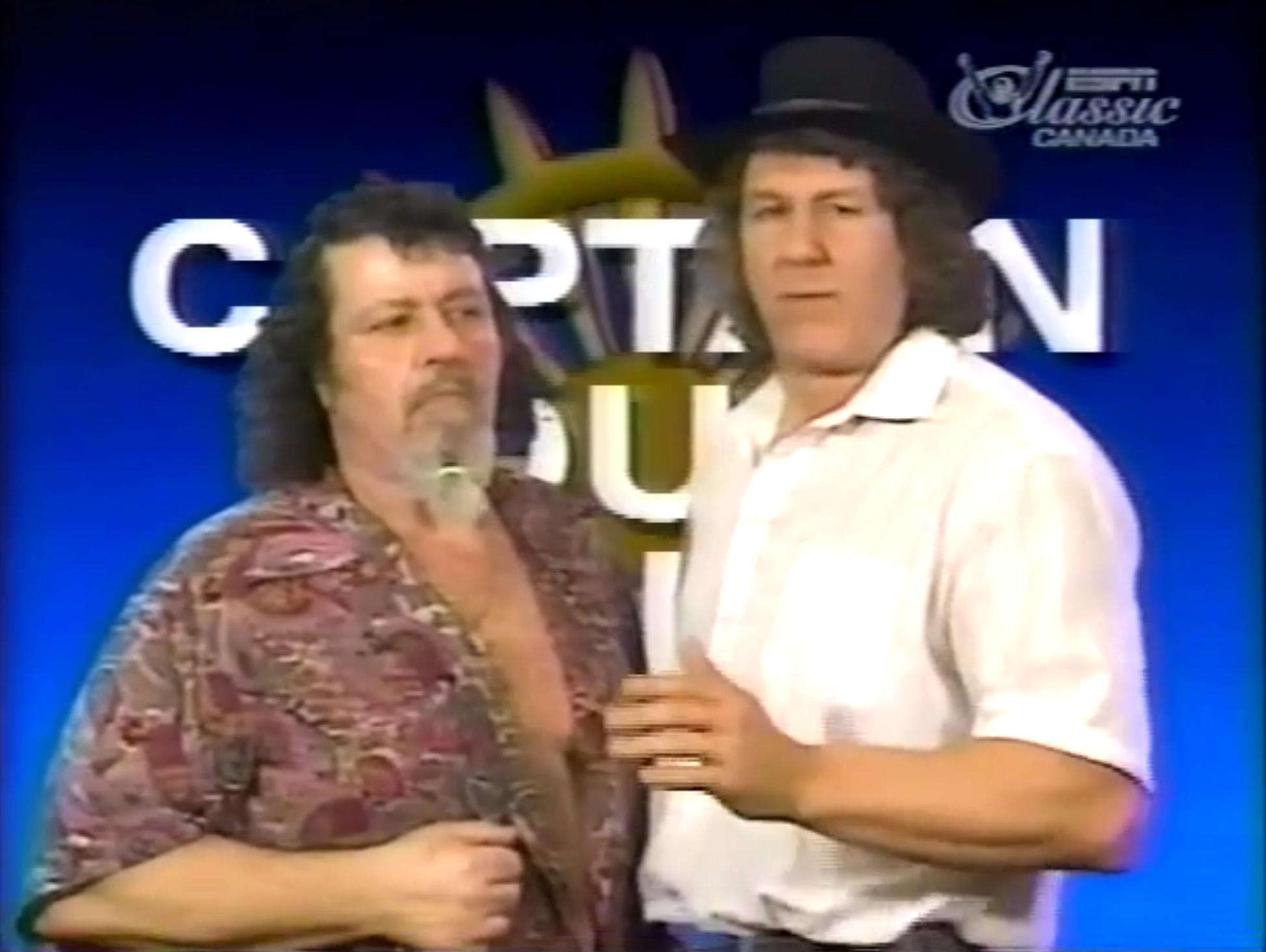 The Power Twins cut a promo.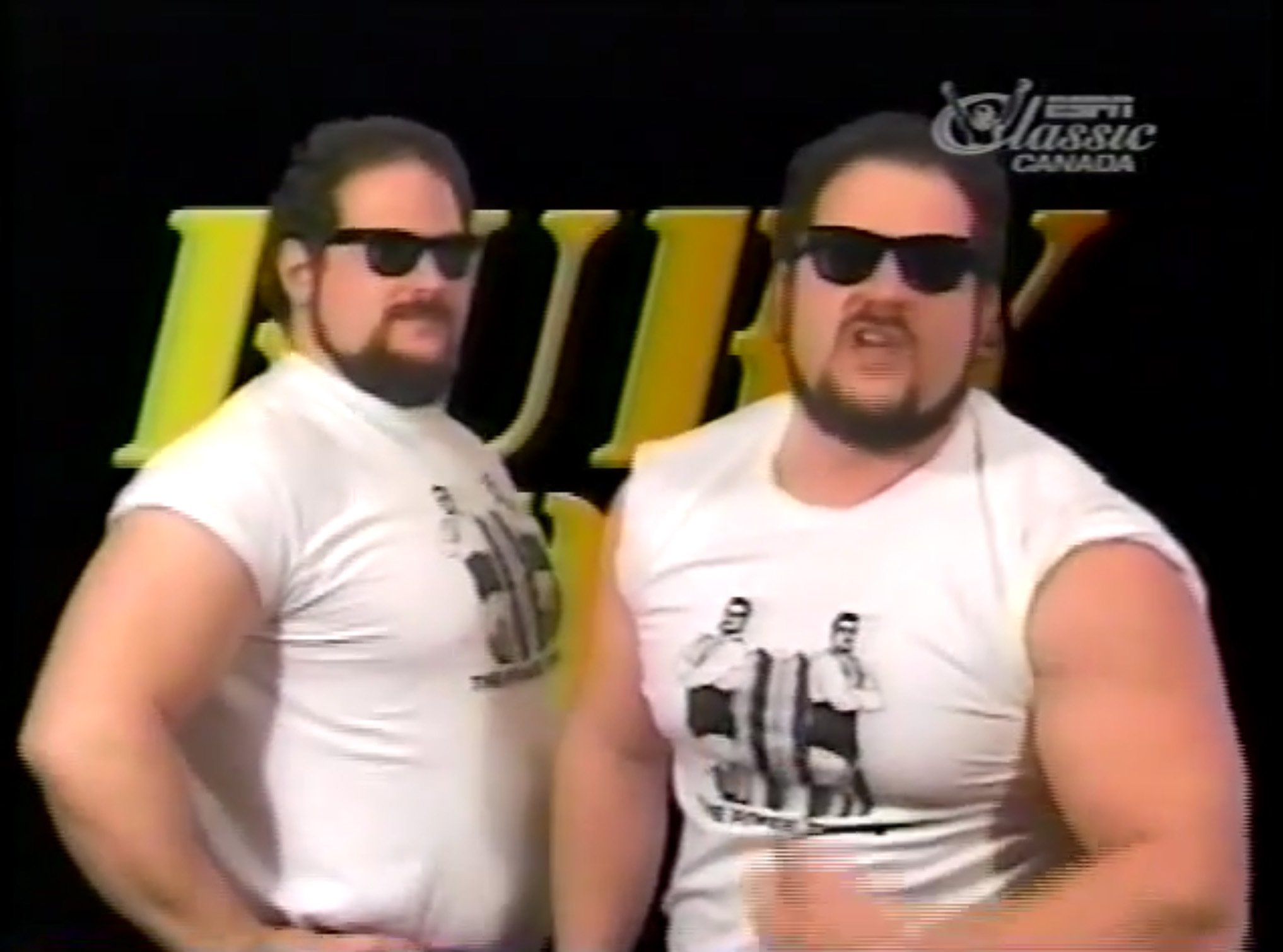 Match 3: The Power Twins (w/o Rick Golden) versus Tom Brandi & Chris Michaels
Highlights:
I would like to apologize to Rick Golden. I caught an entertaining audio shoot interview of Rick Bassman who ran UPW, and Rick Golden was his alter ego. No hard feelings, Rick.
When Larry tagged in, the Power Twins double-clotheslined Brandi.
Tolos abruptly joined the broadcast table for this match unbeknownst to Sammartino who was taken aback.
As Michaels tagged in, Larry clotheslined him.
He supplied Michaels with a sidewalk slam and tagged in David.
After the Power Twins dealt Michaels a double shoulder block, David clotheslined him.
Larry tagged in, and the Power Twins destroyed Michaels with a double back elbow.
While the Power Twins provided Michaels with a double knee to the midsection, Larry powerslammed him for 2.
David tagged in, and he powerslammed Michaels.
When Larry tagged in, the Power Twins decimated Michaels with the Power Ending.
1-2-3.
The Power Twins won at 5:03.
Rating: **
Summary: Showcase match for the Power Twins whose teamwork is uncanny, but they look like they sell hot dogs at Shea Stadium.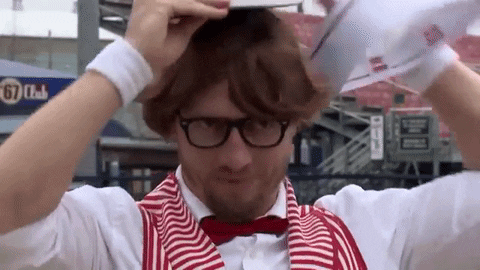 ASK THE WRESTLERS: An open letter to the UWF: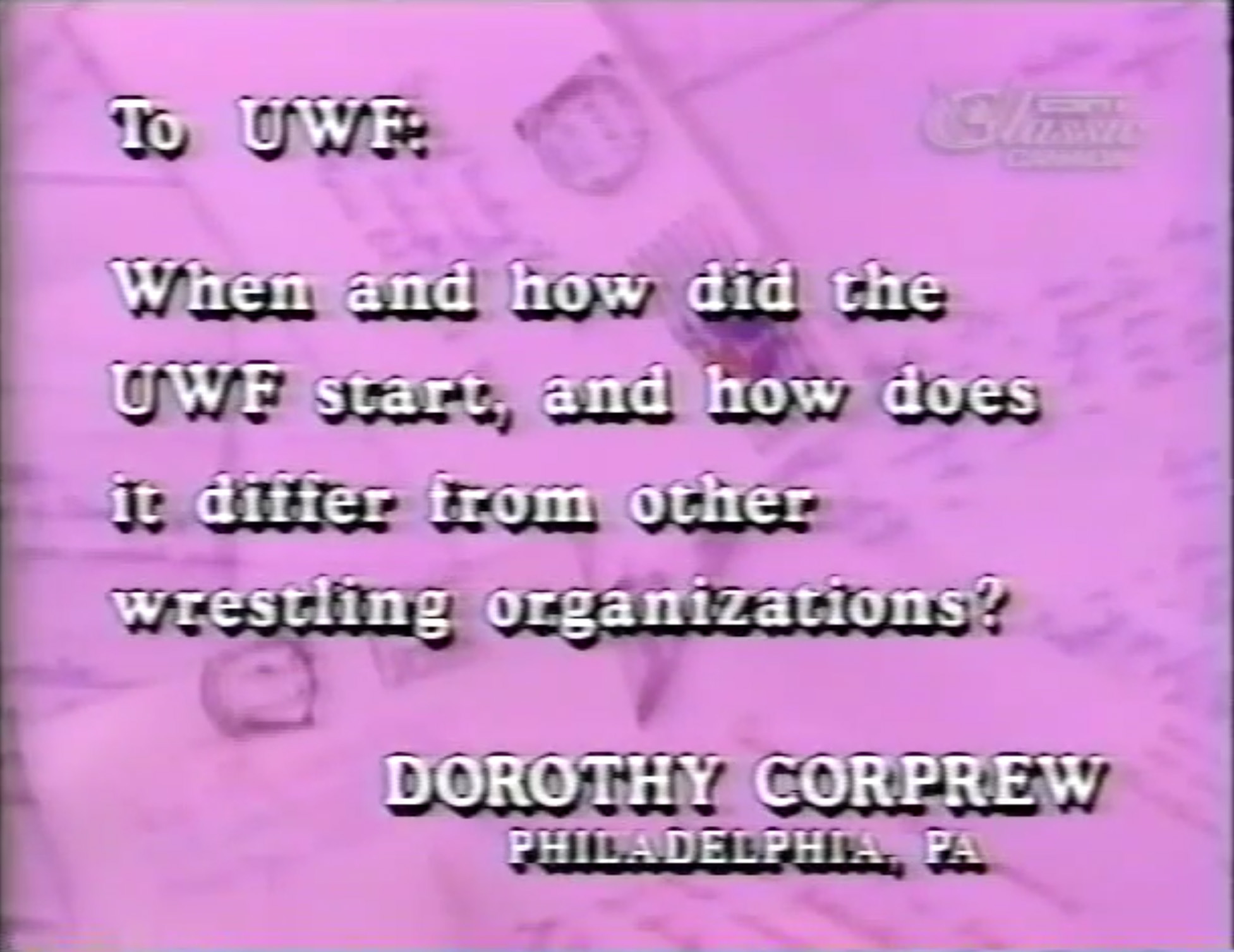 Herb Abrams answers.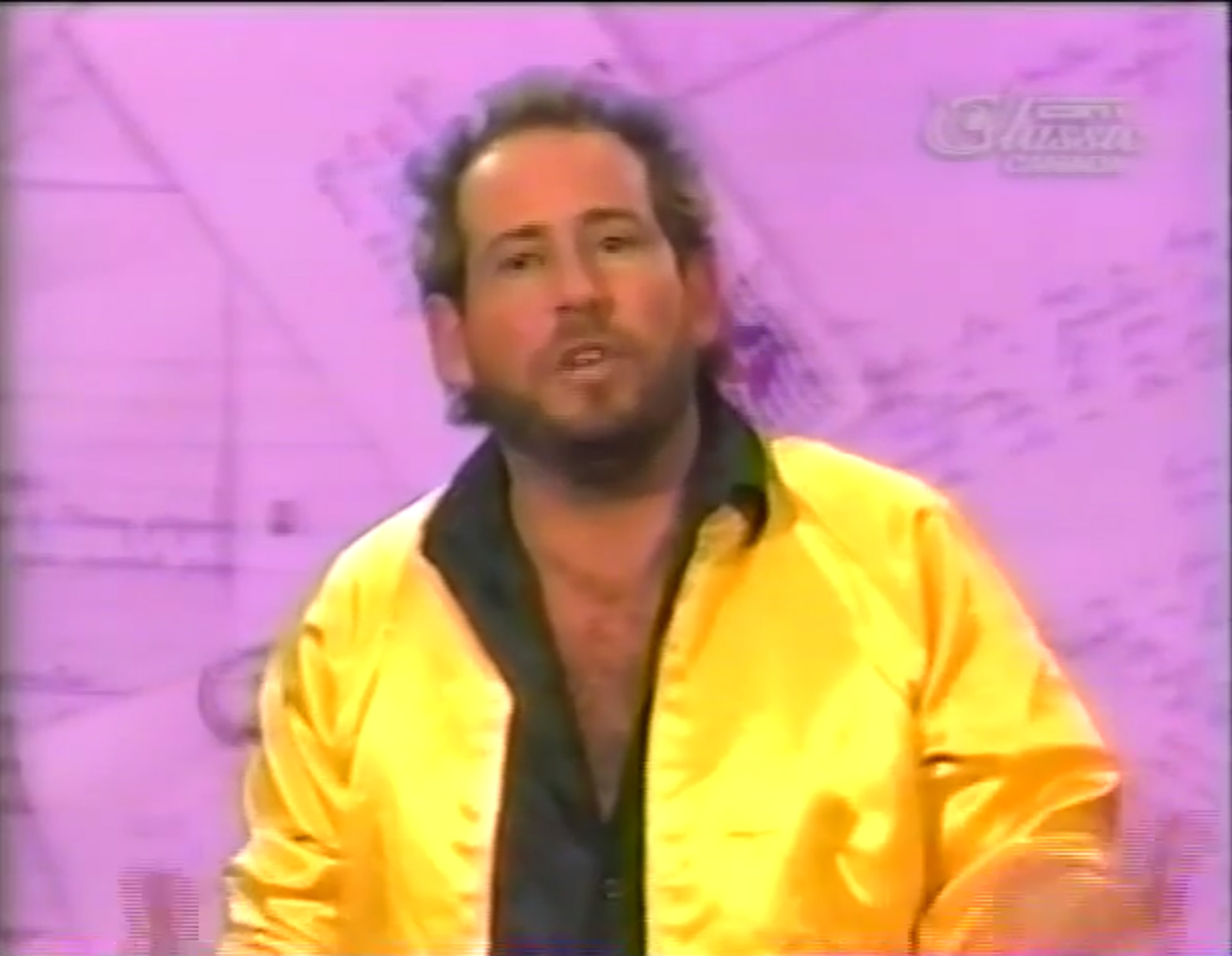 Match 4: "Cowboy" Bob Orton (w/ John Tolos) versus Bam Bam Bigelow
Highlights:
Oddly, there was quite a bit of stalling to begin the match.
Bigelow head-butted Orton sending him over the top rope to the floor.
As Bigelow caught him by the leg, he provided Orton with an atomic drop.
He gave Orton a cross corner whip but ate boot on his follow-through.
When Orton clotheslined him twice, he dealt Bigelow an elbow smash.
Orton distracted referee Dick Kroll, so Tolos rammed Bigelow knee -first into the timekeeper's table. SNEAKY!
After another elbow smash, Orton ate a clothesline.
Bigelow missed a diving head butt, and the show took a break.
Following the commercial break, Orton dropkicked Bigelow.
On the other hand, Bigelow returned the favor with a dropkick of his own. Touché!
He gave Orton a series of cross corner whips but came up empty on his follow-through.
While Orton procured a foreign object from the timekeeper's table, he tried to rearrange Bigelow's facial features.
Since Bigelow's so damn ugly, it had no effect.
Orton missed an elbow smash but delivered a knee drop.
As the bell rang, Kroll declared the bout a time-limit draw at 12:24.
BOOOOOOOOOOOOOOOOOOOOOOOOOOOO!
Rating: **
Summary: With the high amount of stalling, it was obvious that the wrestlers were building to this unfavorable finish. Since Orton was a tag wrestler, a victory by Bigelow would have built him up greatly for the TV title tournament.
After the match, Orton nails Bigelow down near Battery Park but an Orton head butt hurts him more than Bigelow.
Conclusion: Typical UWF main event with a non-finish. Seeing Williams, Afa, and the Power Twins showcased makes his episode much better than the entire effort in Ft. Lauderdale. Watch this episode at your own risk.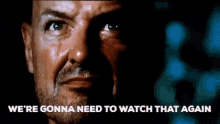 Twice may be a bit much however.
Next week, we head to North Dakota!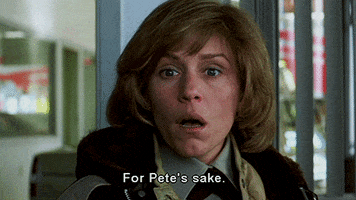 TV Rating: NONE
Stay tuned for UWF: Rampage '93!
Comments? Suggestions? Send them to me at rsg@rockstargary.com and follow me on Twitter (@rockstargary202).
Custom Search