WELCOME TO ROCK STAR GARY REFLECTIONS!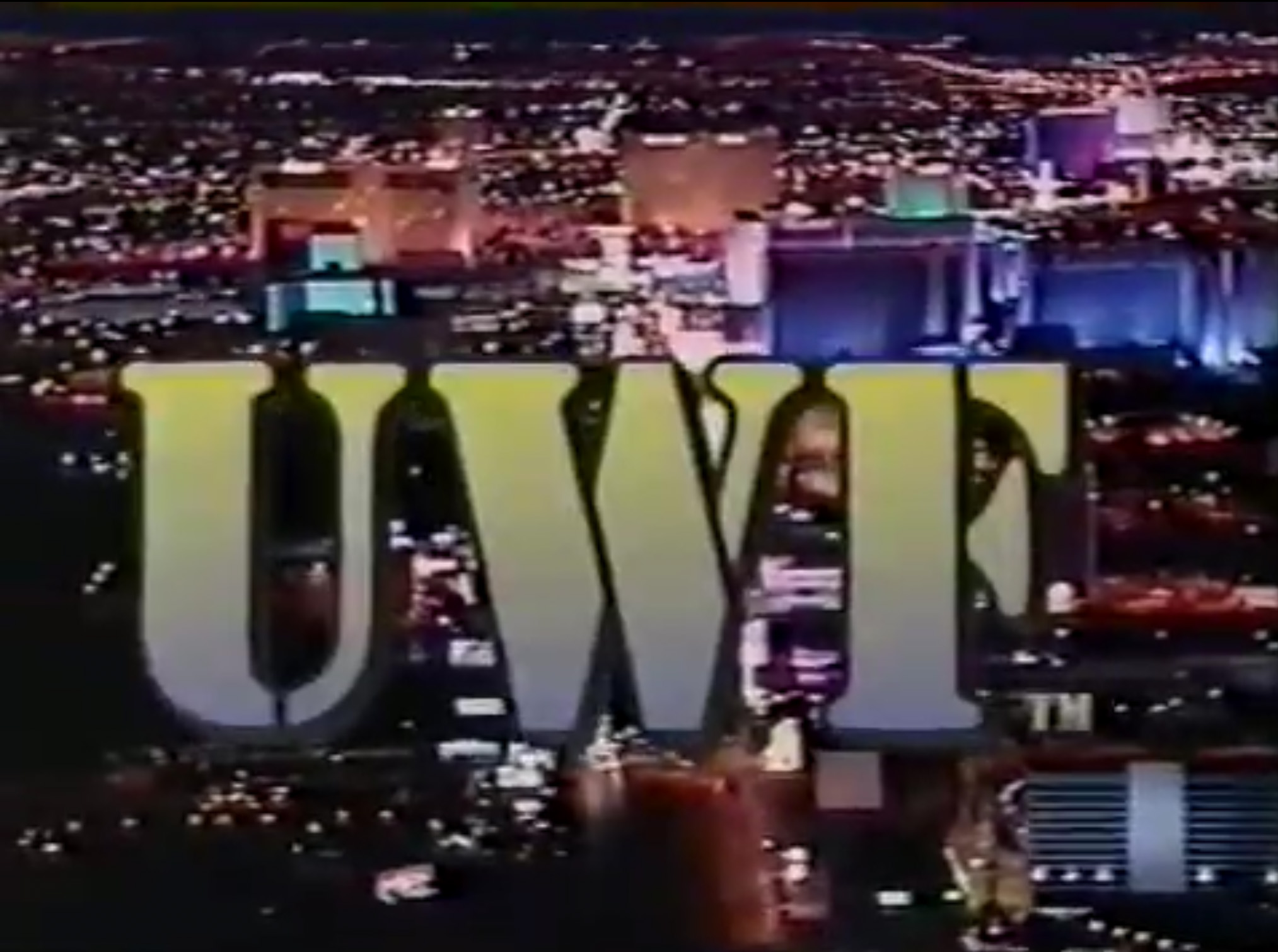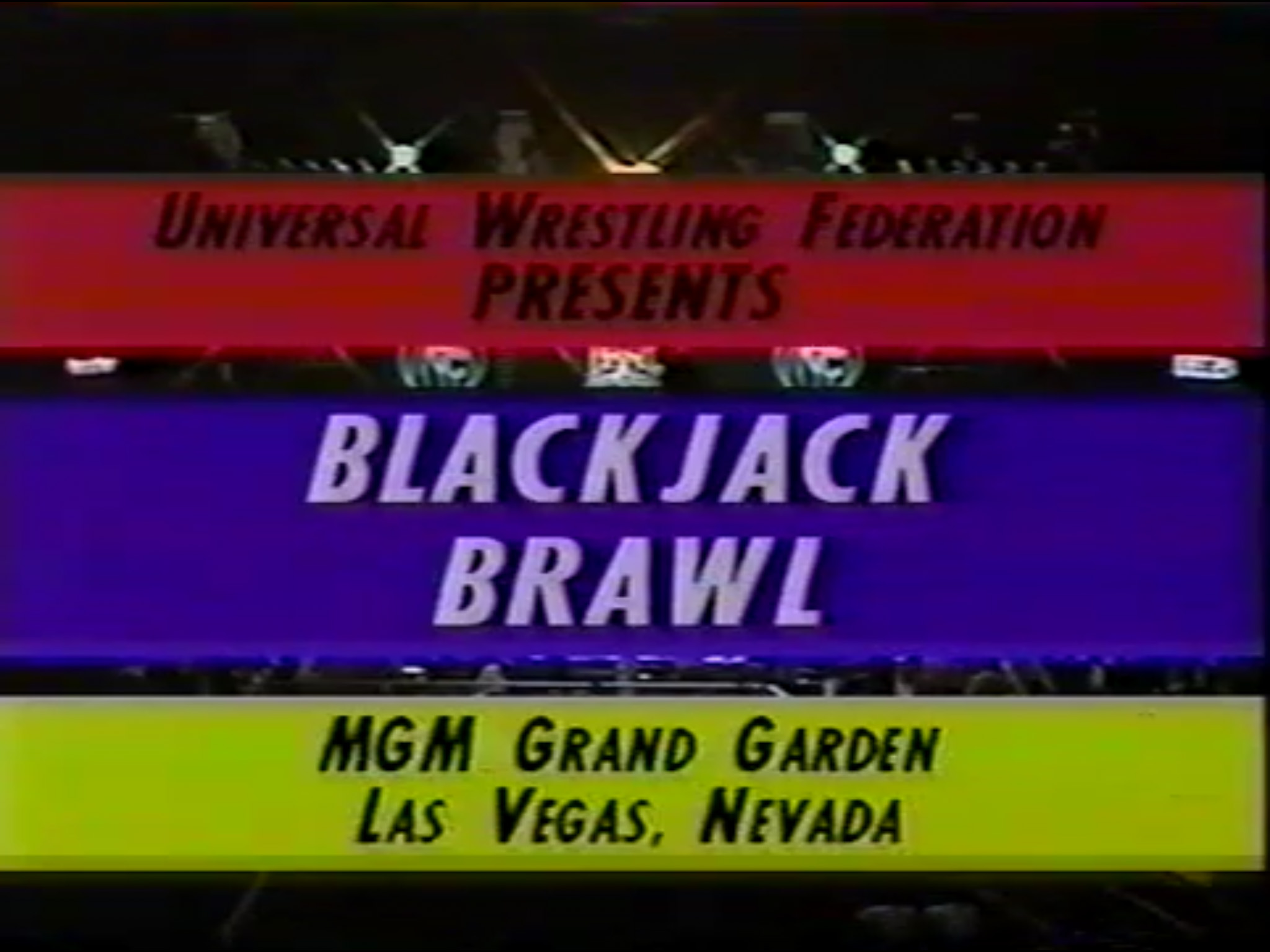 UWF Blackjack Brawl
Live from Las Vegas, NV
Airdate: September 23, 1994
Attendance: 600 (228 paid)
Hosted by Carlo Gianelli & the "Golden Greek" John Tolos
Can Sid defeat Williams to become World champion? Will the Killer Bees finally become World champions? Who wins the lumberjack match? Also, women, little people, and more! Let's sink our teeth in!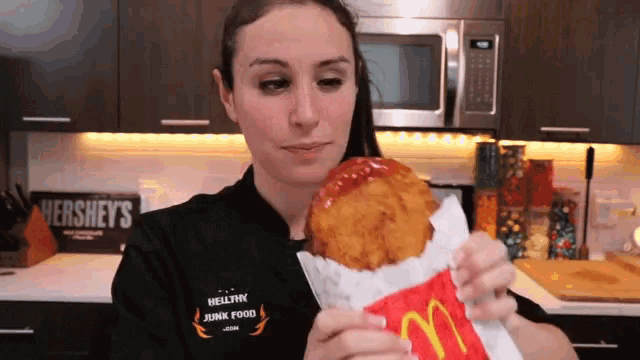 To start the show, highlights from the Blackjack Brawl press conference offer snippets from wrestlers who will be performing. Like the press conference that launched the UWF, Spivey knocks someone's block off. This time, it's Herb Abrams'. Methinks that's payback for allegedly stiffing him in Reseda.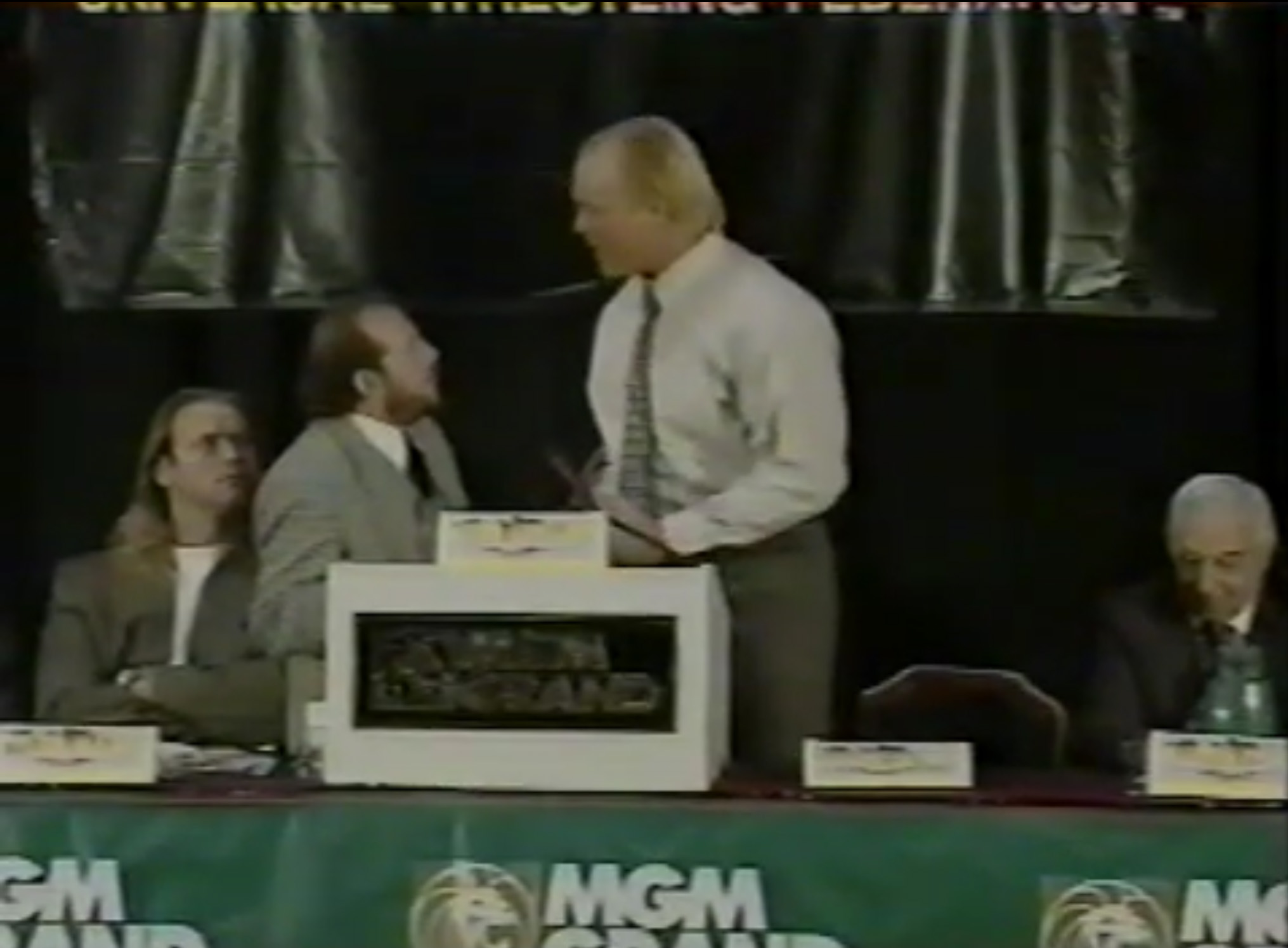 "Mr. Electricity" Steve Regal Herb Abrams opens the telecast by introducing Blackjack Mulligan. Unfortunately, it's extremely obvious that there are numerous people dressed as empty seats.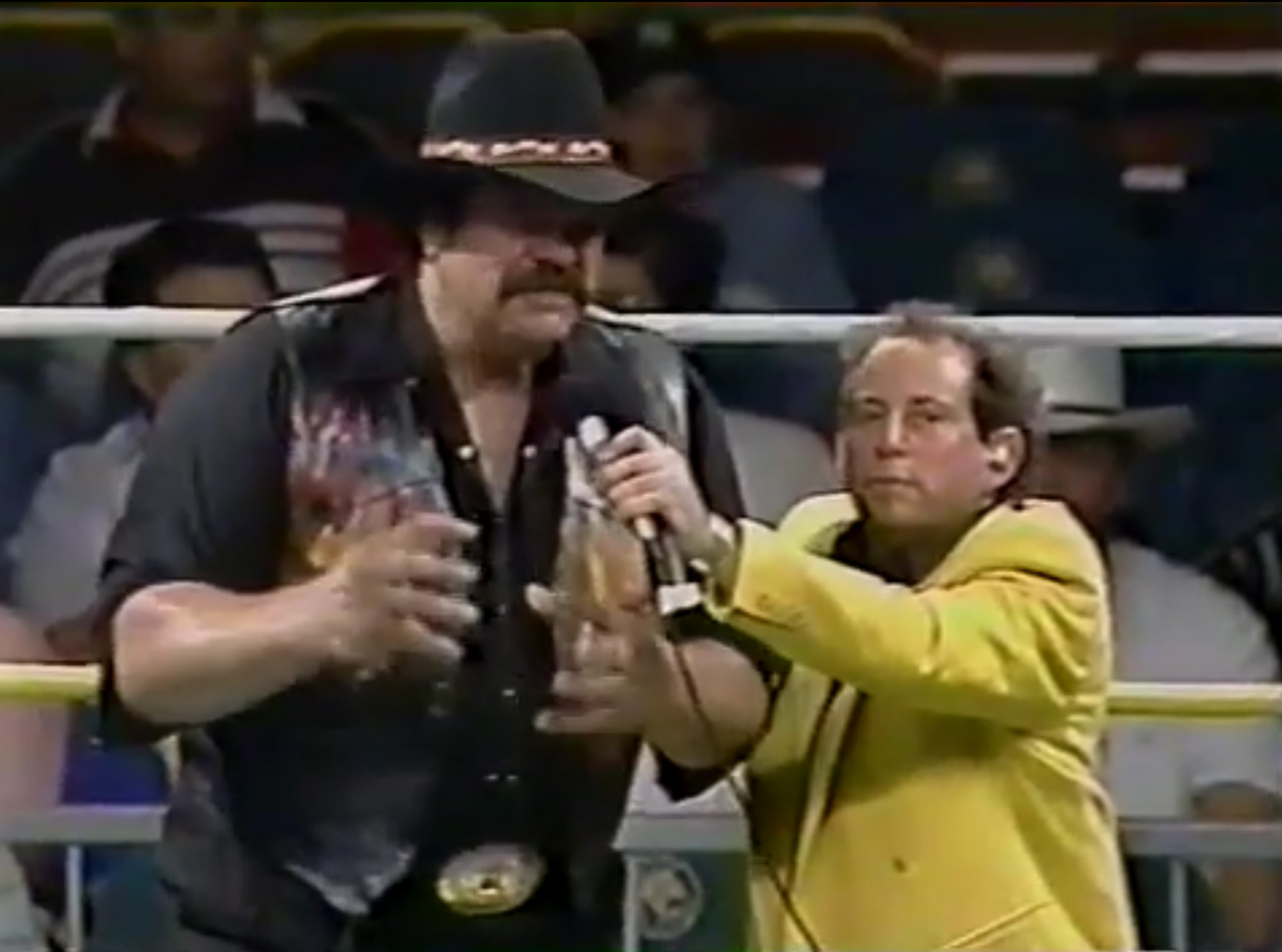 Get Baseball World's Dynamic Practice Organization for only $29.95.
Order H3O's Surf Sessions '94 today!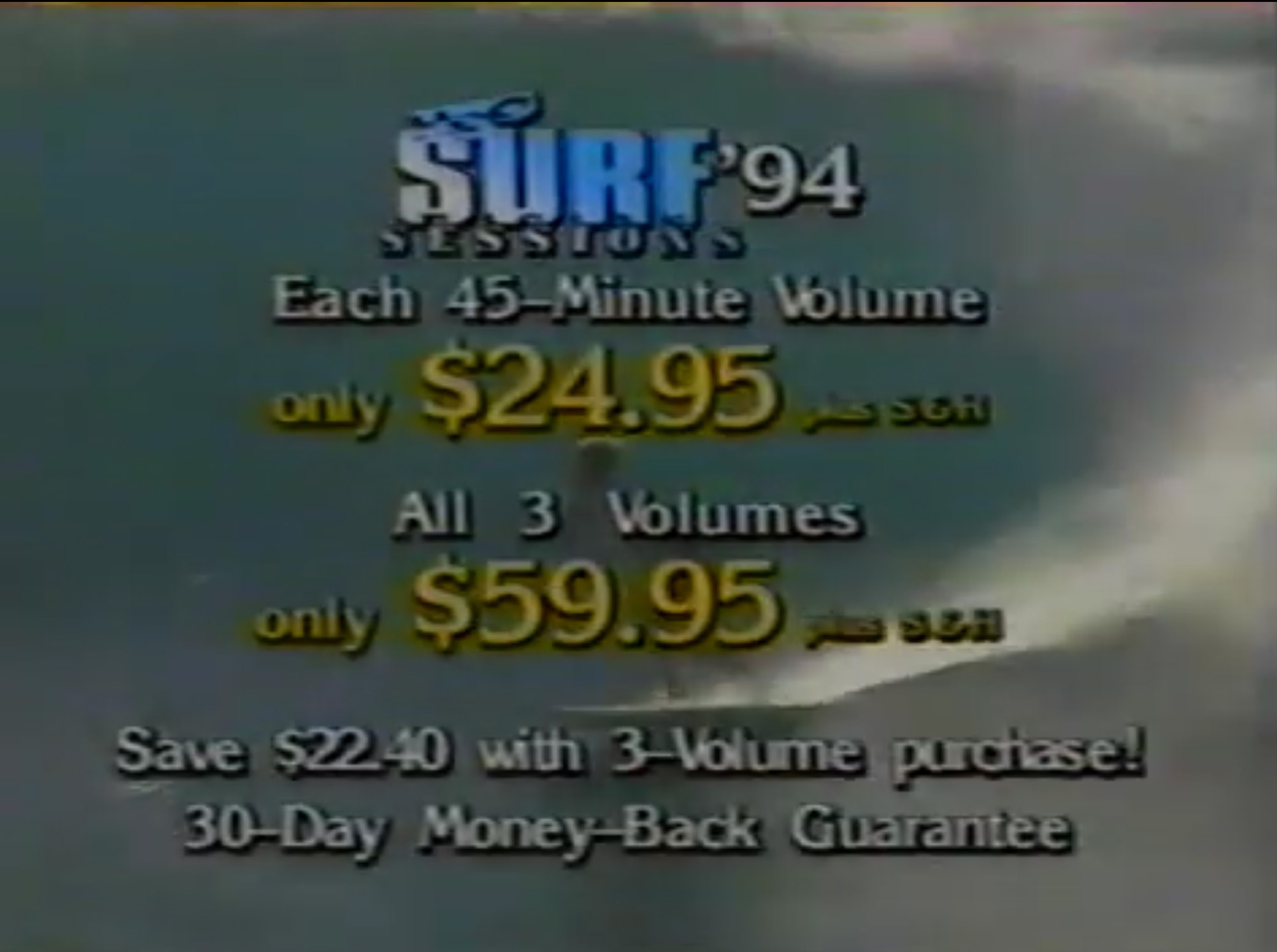 We return from commercial break, and Abrams introduces our special guest ring announcer Steve Rossi. For those unaware, Rossi was a stand-up comedian, so this should be thrilling.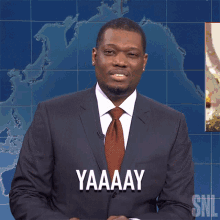 Match 1 for the UWF Americas title: "Dangerous" Dan Spivey versus Johnny Ace (w/ Missy Hyatt)
Highlights:
Ace and Hyatt entered the ring to Dire Straits' "Money for Nothing."
When Ace rolled up Spivey, he got 1.
Spivey gave Ace a cross corner whip but ate a back elbow on his follow-through.
As Ace leaped to the second turnbuckle, he uncorked a cross body block for 2.
He dropkicked Spivey who fell out of the ring onto some refreshments.
After he scored with a flying back elbow, Ace couldn't earn a count due to Spivey's proximity to the bottom rope.
Spivey countered a side head lock with a belly-to-back suplex but missed a leg drop.
While Spivey delivered a backbreaker, he got 2.
He fed Ace a side-Russian leg sweep for another 2.
When he gave Ace a cross corner whip, Spivey came up empty on his follow-through.
Ace hooked his own belly-to-back suplex, mounted the top turnbuckle, launched a flying clothesline, but couldn't get 3.
Somehow, Hyatt doesn't seem terribly concerned. Hmmm…
As he hit a belly-to-belly suplex, Ace earned yet another 2-count.
Ace attempted a vertical suplex, but Spivey blocked it.
After Ace escaped a suplex attempt, Spivey planted him with a DDT for 2.
Spivey applied an awful abdominal stretch, but an embarrassed Ace made the ropes to escape.
While Spivey caught him with a Bossman slam, he got another 2.
Spivey secured a proper abdominal stretch this time, yet Ace made the ropes again.
When he slammed Ace, Spivey dropped a leg but couldn't get 3. Hogan who?
A third yet terrible abdominal stretch by Spivey caused Missy to throw in the towel for Ace. Seriously, with how this match was going, I don't blame her.
As a result, referee Jesse Hernandez awarded the match and the title to Spivey at 7:19.
Rating: **
Summary: It's apparent that neither wrestler wanted to job, so they implemented the old Arnold Skaaland trick from 1983 that cost Backlund the WWF title. Spivey's workrate and Ace's high spots highlighted the match, but Spivey's forgetting how to hook an abdominal stretch irrevocably spoiled the match.
After the match, Tolos claims a double cross while Spivey drags Abrams into the ring by his jacket. Hyatt and Mulligan join them in the ring, and Abrams calls Spivey a "chickenshit." Ace seems rather confused, so it's an actual double cross for Missy and Spivey. While Ace wants a rematch, Abrams drops every name in the naughty book at Spivey.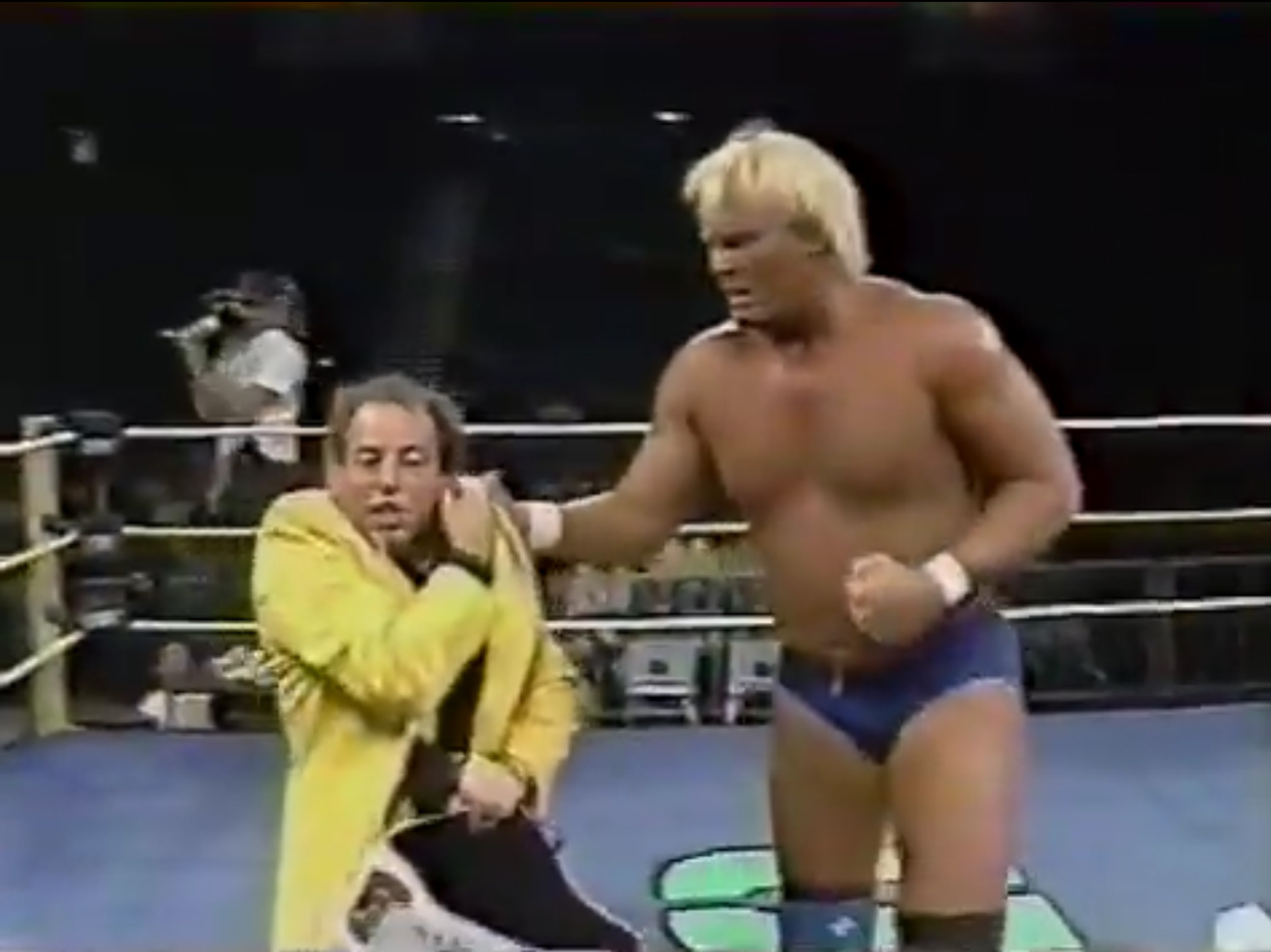 Curt Hennig will be interviewed next. Wait a minute! This isn't one of my AWA reflections. Although he wasn't under WWF contract, I believe he no-showed.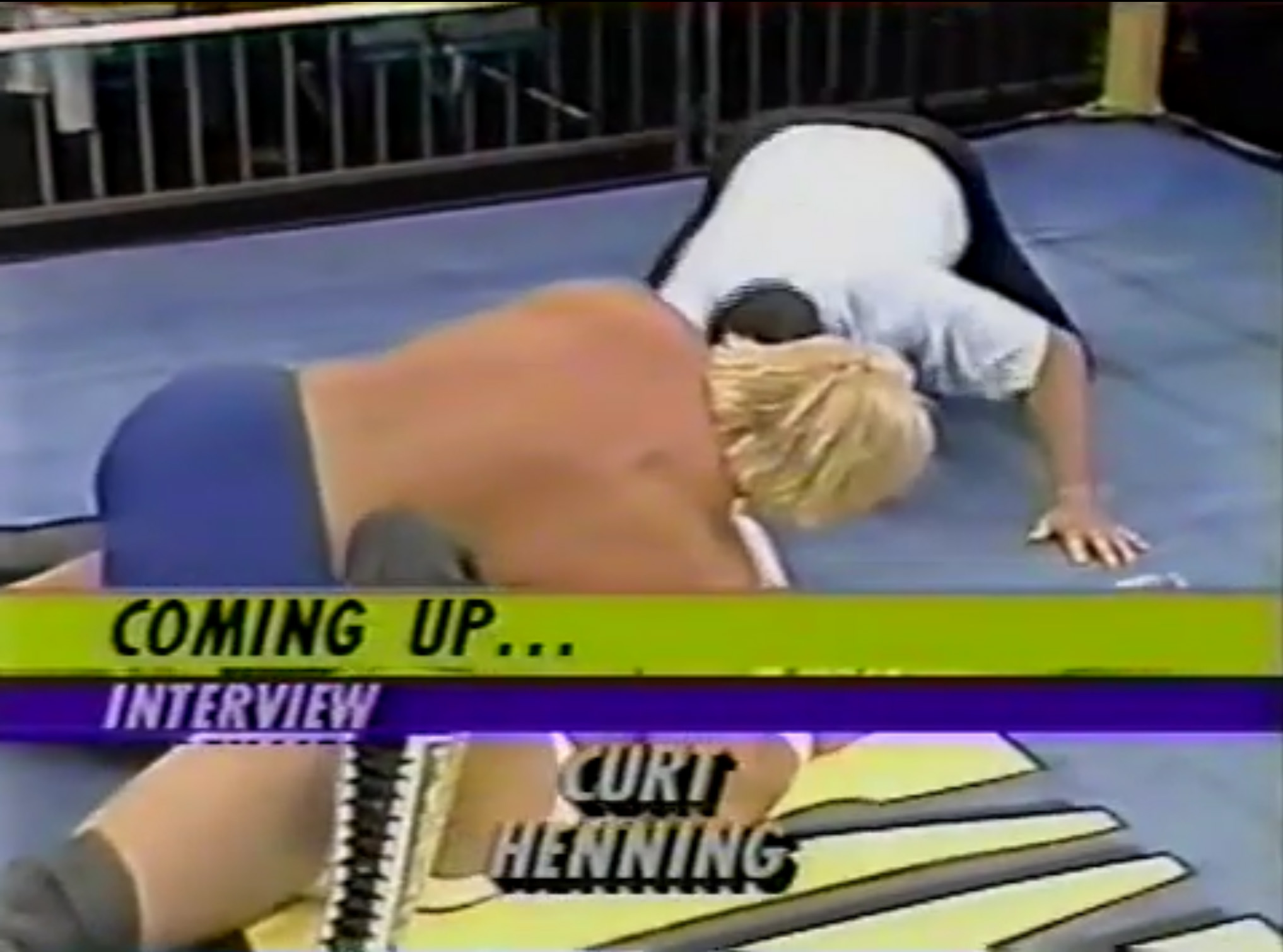 See the Rolling Stones LIVE on 10/14 & 10/15 at the MGM Grand Garden Arena. Get your tickets NOW!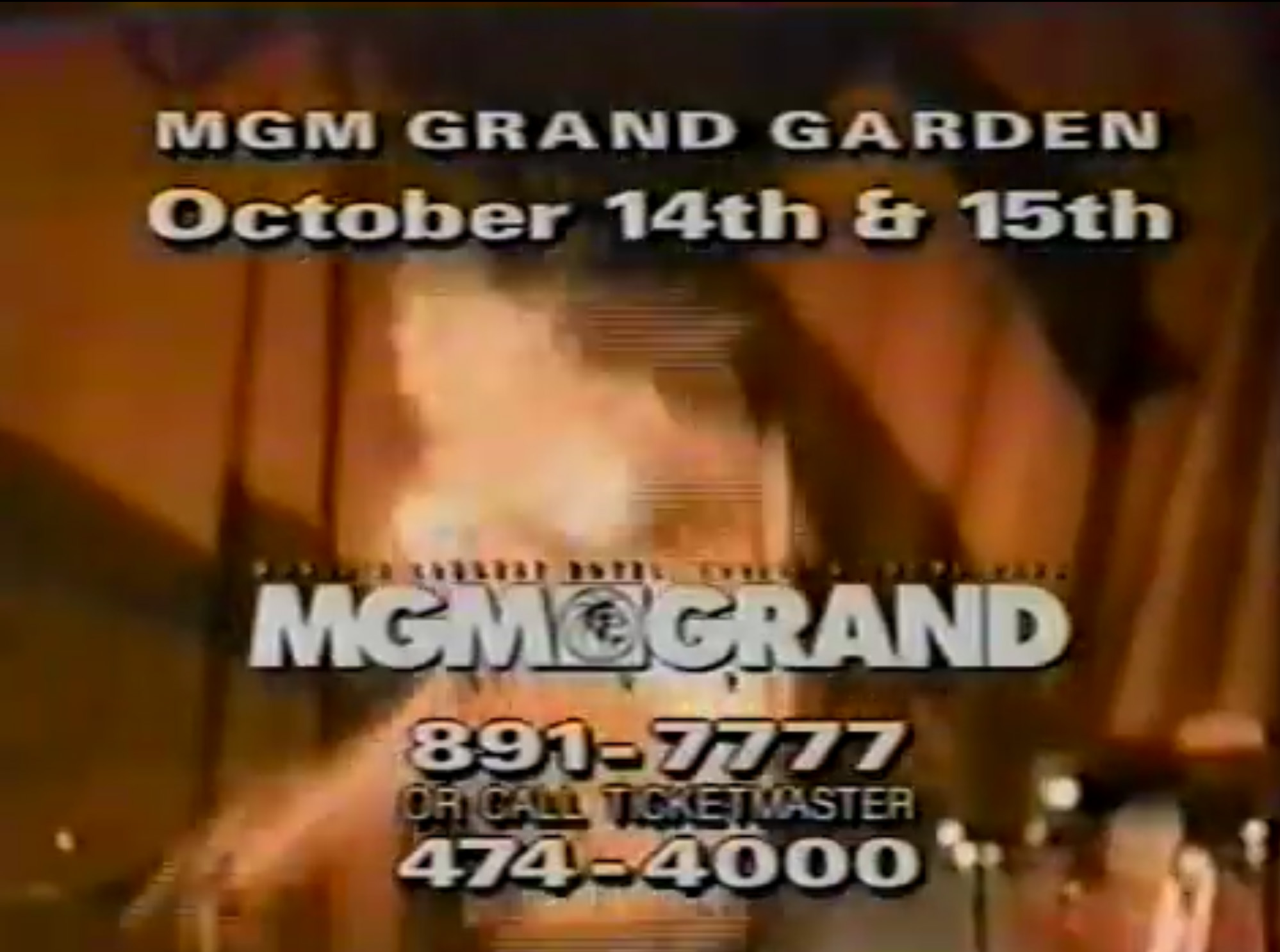 Visit the MGM Grand Hotel & Casino for all your vacation and entertainment needs.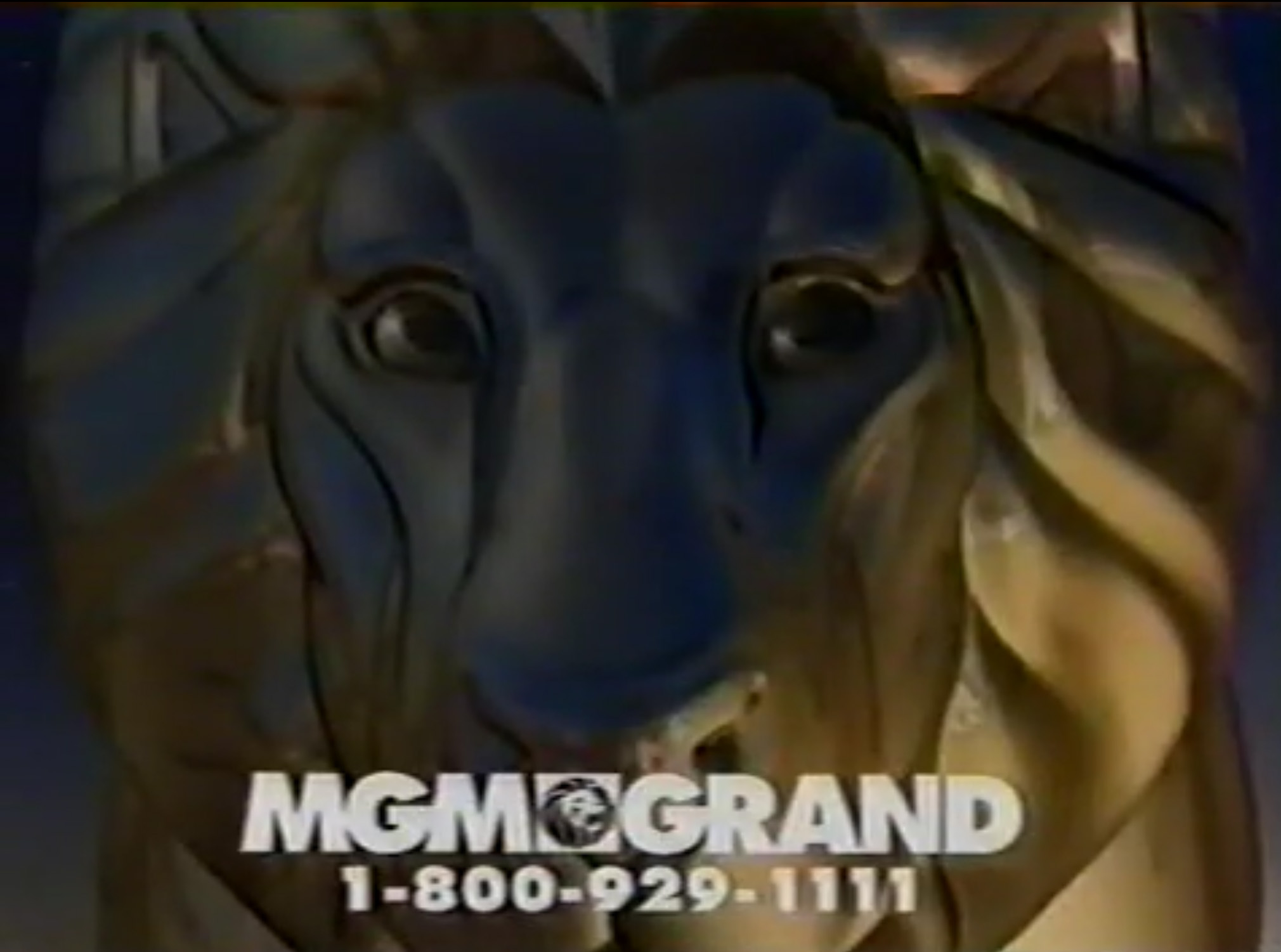 Subscribe to Log Home Living for only $19.95!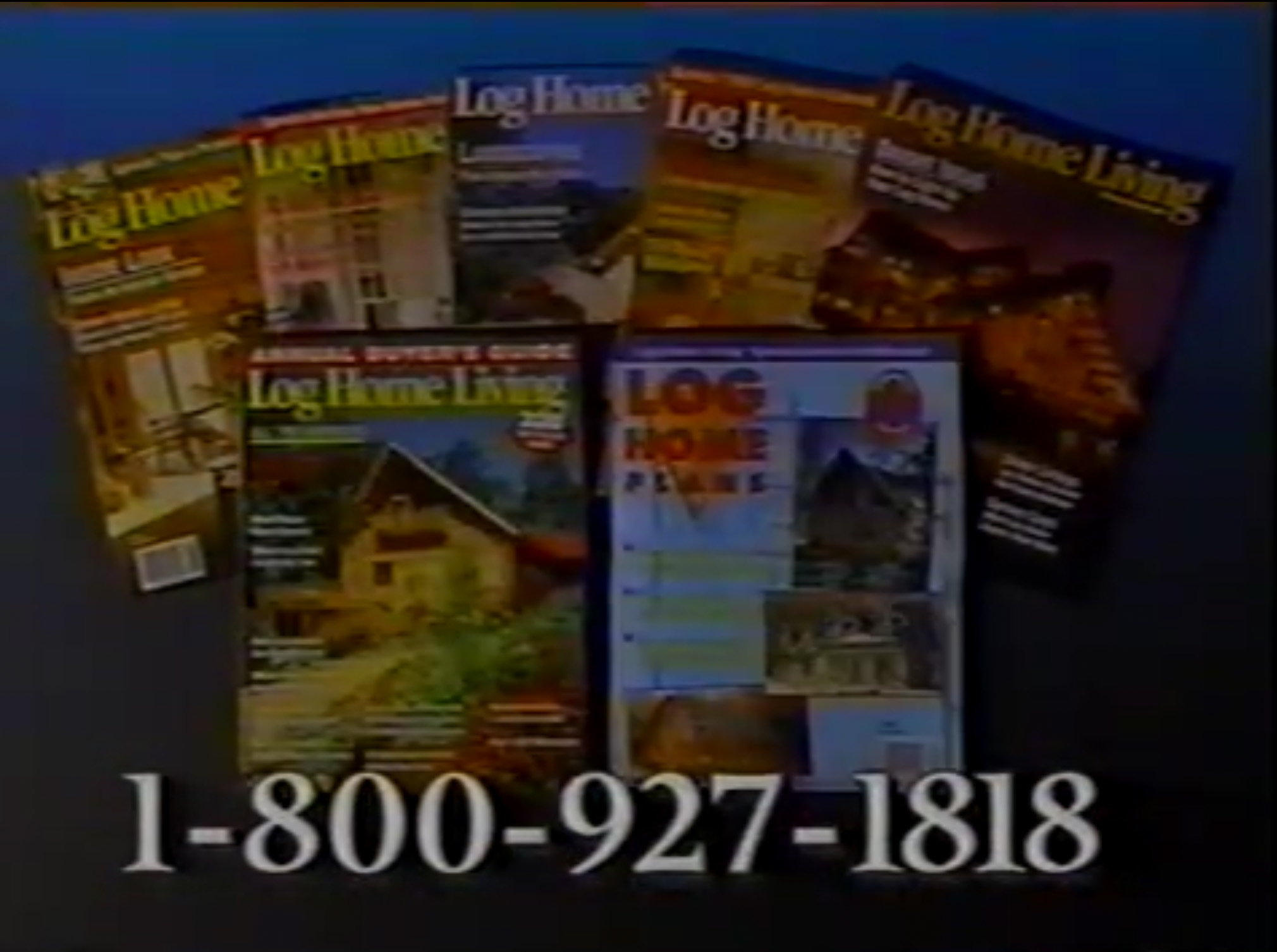 Get the best of Julio Cesar Chavez for only $19.95!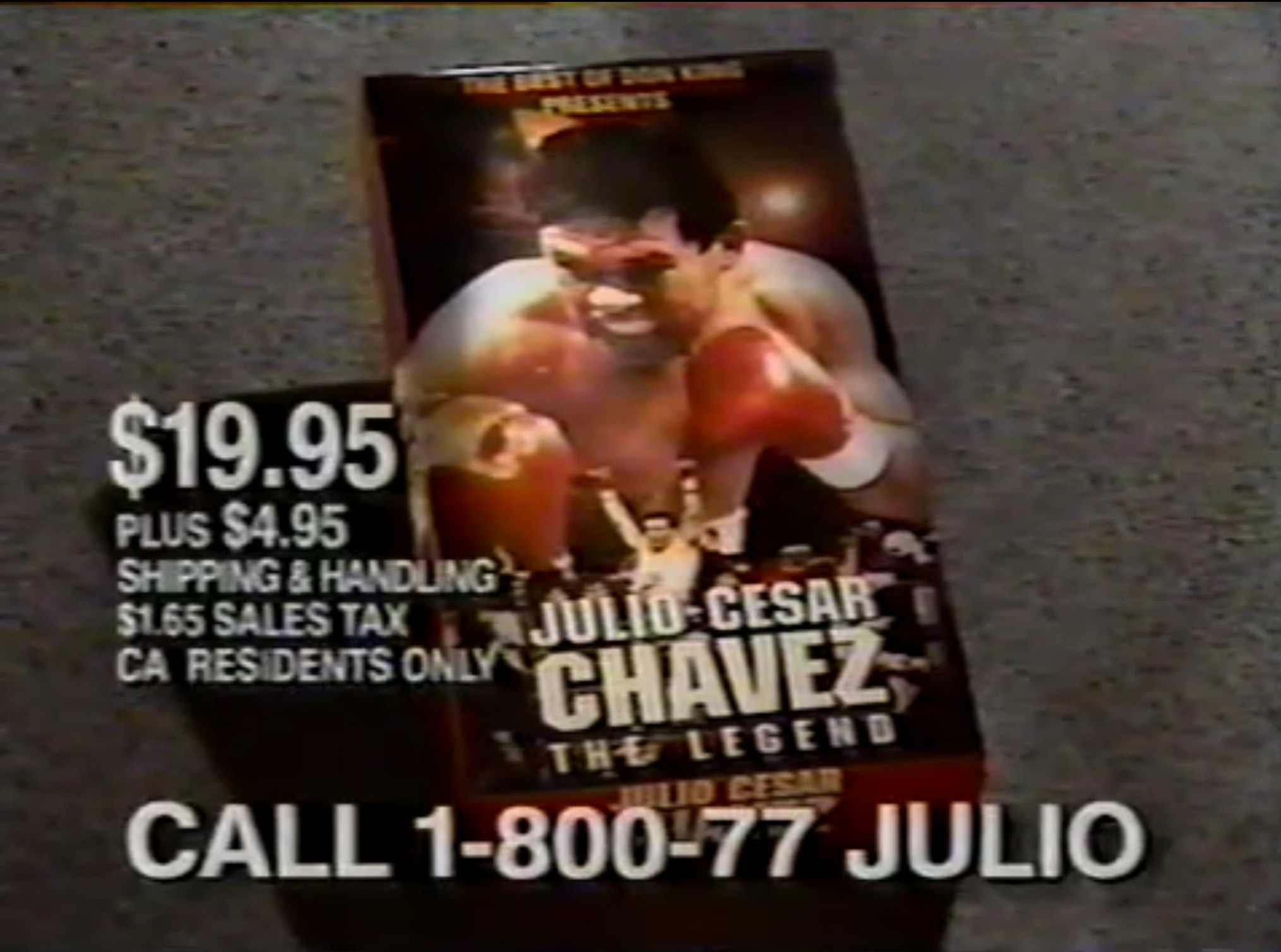 Purchase your Nolan Ryan golden stamp for only $39.95!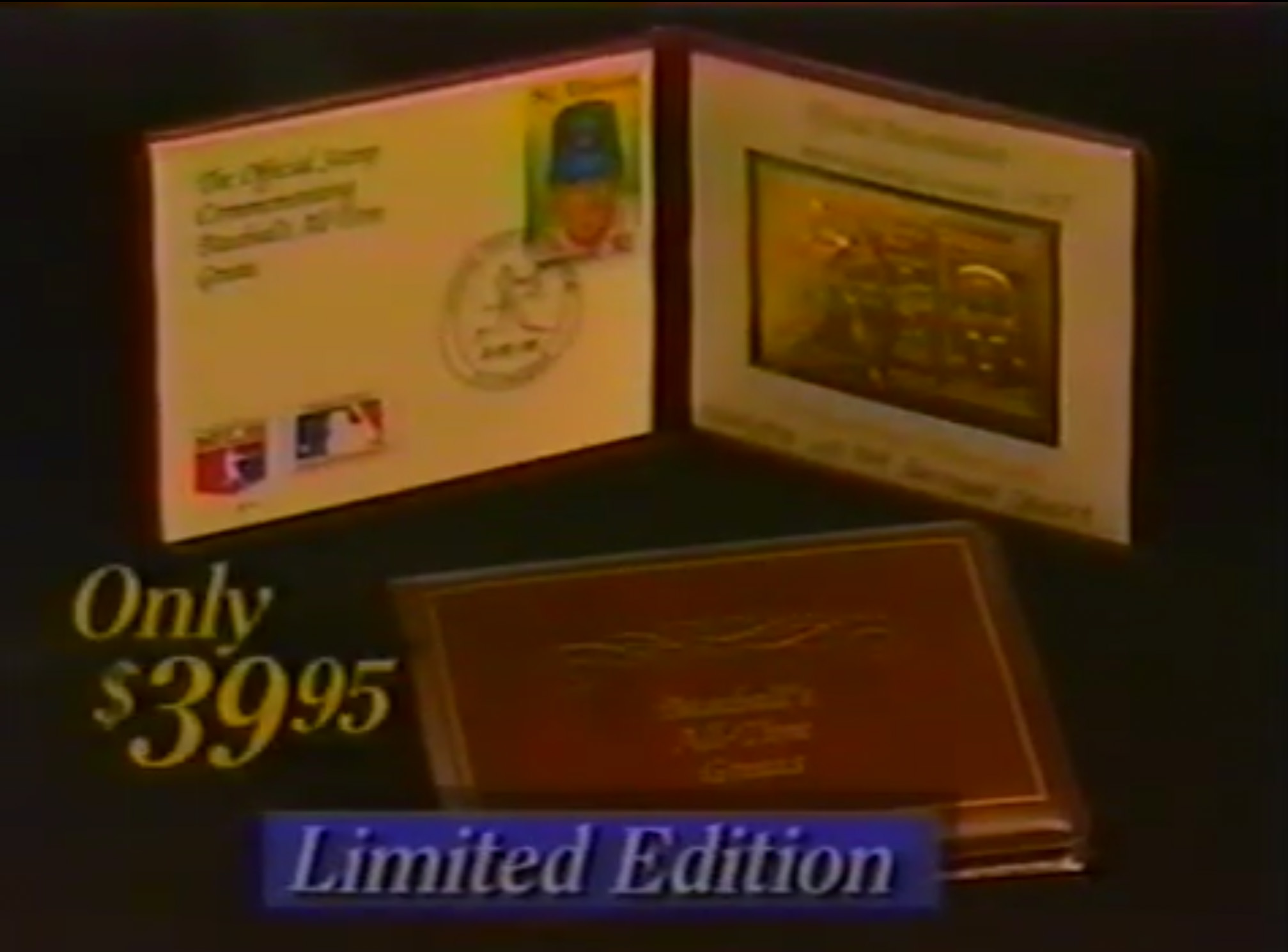 Considering Hennig won't be here, we head back to the ring.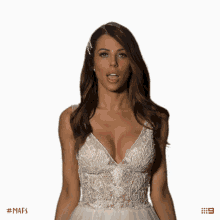 Match 2 for the UWF Junior Heavyweight title: Mando Guerrero versus "Wildman" Jack Armstrong
Highlights:
If you read some of my reflections from the Reseda tapings, you'll recall Armstrong.
Guerrero came to the ring to Weird Al Yankovic's "Taco Grande." That Mando's a funny guy.
As Van Halen's "Right Now" played, Armstrong made his entrance.
Guerrero outfoxed Armstrong and dropkicked him.
When Guerrero hooked a flying headscissors, Armstrong tossed him down to the concrete floor.
A bald manager for Armstrong tried to attack Guerrero who would have none of it.
Nevertheless, Armstrong joined and made Guerrero taste the steel railing. It must have tasted like the Golden Knights Nachos at Nacho Daddy.
He slammed Guerrero on the concrete floor but ate an Asai moonsault. Impressive!
After Guerrero gave a

BUSTED OPEN

Armstrong a cross corner whip, he followed with a spinebuster.
He slammed Armstrong, mounted the top turnbuckle, but missed a moonsault.
While Armstrong dealt him a pair of elbow drops, he pinned Guerrero for the title at 4:39.
Rating: *½
Summary: Despite Guerrero's getting the Vegas faithful into the match, Armstrong took advantage of his mistake and beat him.
After the match, Abrams interviews Armstrong who calls him a "sick bastard." Armstrong delights all cartoon fanatics with "I'm a thinker, not a stinker."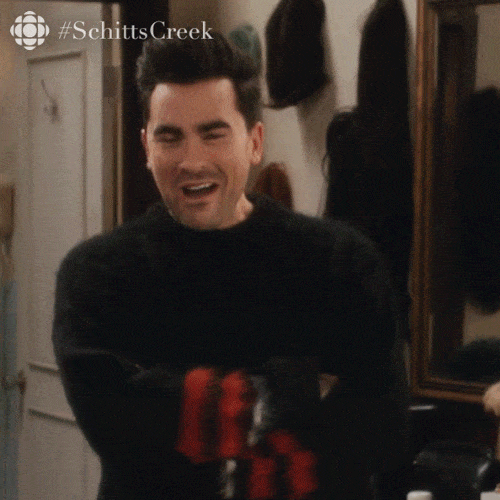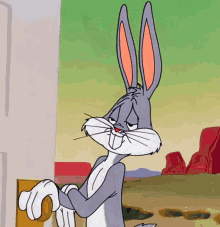 Order Jeff Foxworthy: You Might Be a Redneck for only $19.95!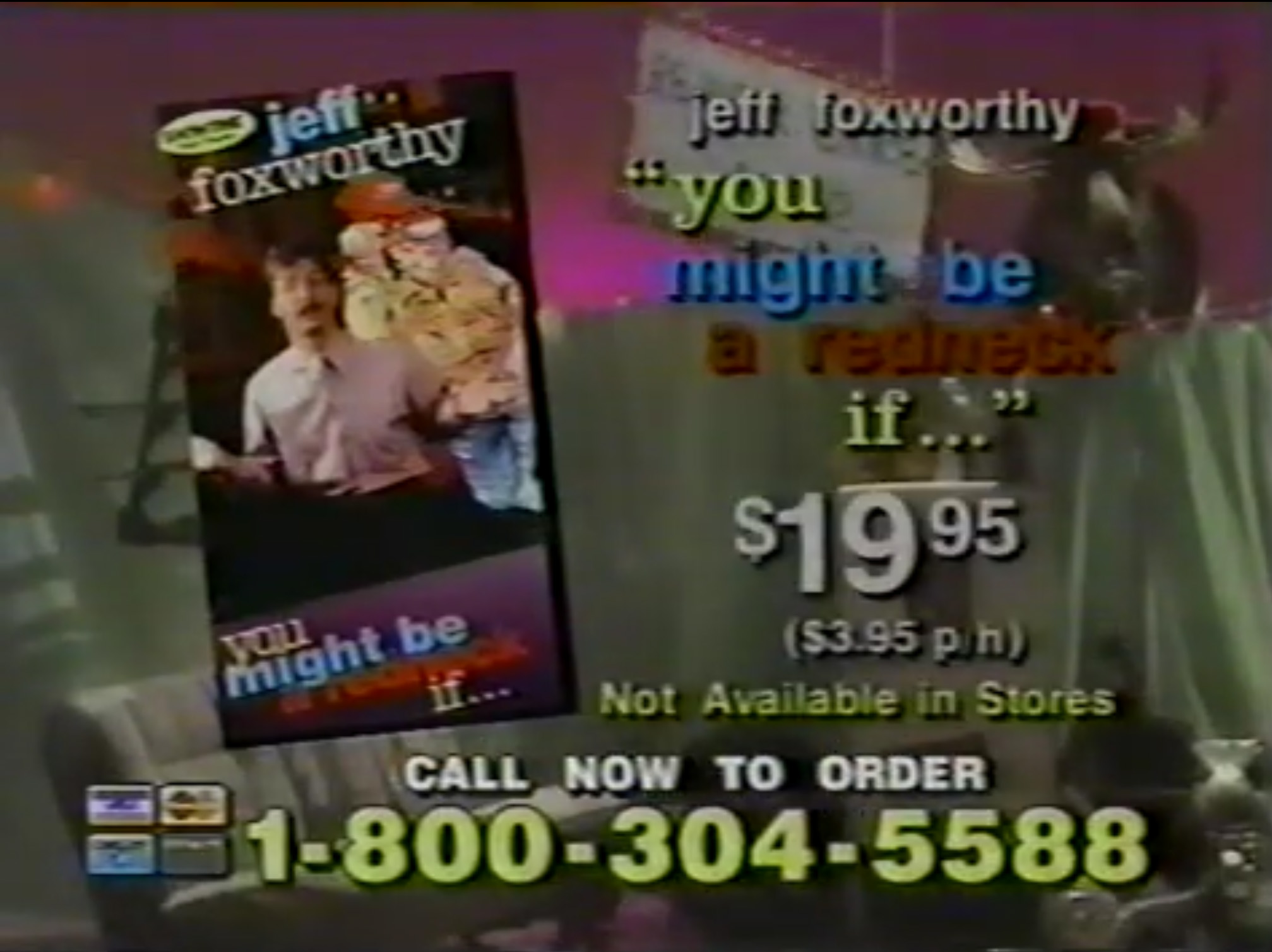 Get your favorite team on a Balfour ring for only $95!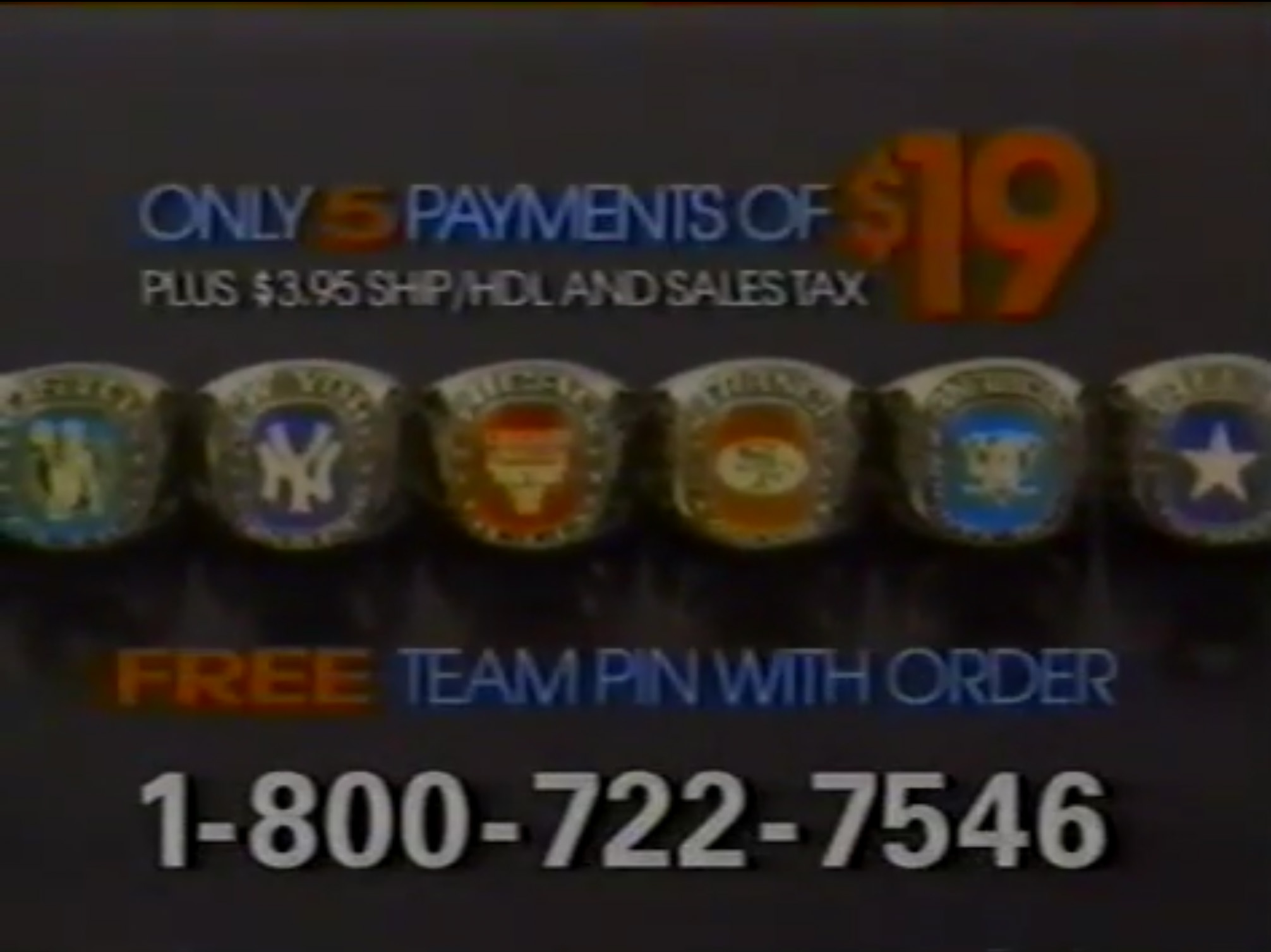 Match 3 for the UWF TV title: Sunny Beach versus Dr. Feelgood (w/ Missy Hyatt)
Highlights:
For those unaware, Feelgood was none other than "Mr. Outrageous" Al Burke.
Instead of Motley Crue, Robert Palmer's "Bad Case of Loving You" played both Feelgood and Hyatt to the ring.
Hyatt wore a lab coat and carried a physician bag. Will she screw the doctor? Oh, I meant double-cross. My bad.
When Beach rolled up Feelgood, he got 2.
Beach backdropped him for another 2.
As Feelgood distracted referee Pete Enriquez, Hyatt CLOBBERED Beach. SNEAKY!
Beach countered a back drop attempt with a backslide for 2.
After Beach hooked an overhead belly-to-belly suplex, he got another 2.
He dealt Feelgood a gutwrench suplex but couldn't get 3.
While Feelgood clotheslined him, he fed Beach a backbreaker for 2.
He delivered a DDT and sought pharmaceuticals from the physician bag. Hey, if he wanted to party, Abrams had the goods up in the penthouse suite.
Nonetheless, Feelgood took copious amounts of time soaking a rag with chloroform.
He attempted to turn Beach's lights out with it, but Beach turned the tables on him.
1-2-3.
Beach won the title at 5:26.
Rating: **½
Summary: Beach did solid work while Feelgood looked like a ham'n'egger.
After the match, Hyatt enters the ring and slaps the bejeezus out of Beach. He must not have done his part if you catch my drift. Regardless, Beach manhandles Missy until Feelgood applies the rag to subdue him. While it sucks, at least he sticks to the gimmick.
With Beach OUT COLD on the mat, Abrams interviews Hyatt who wants "another championship belt."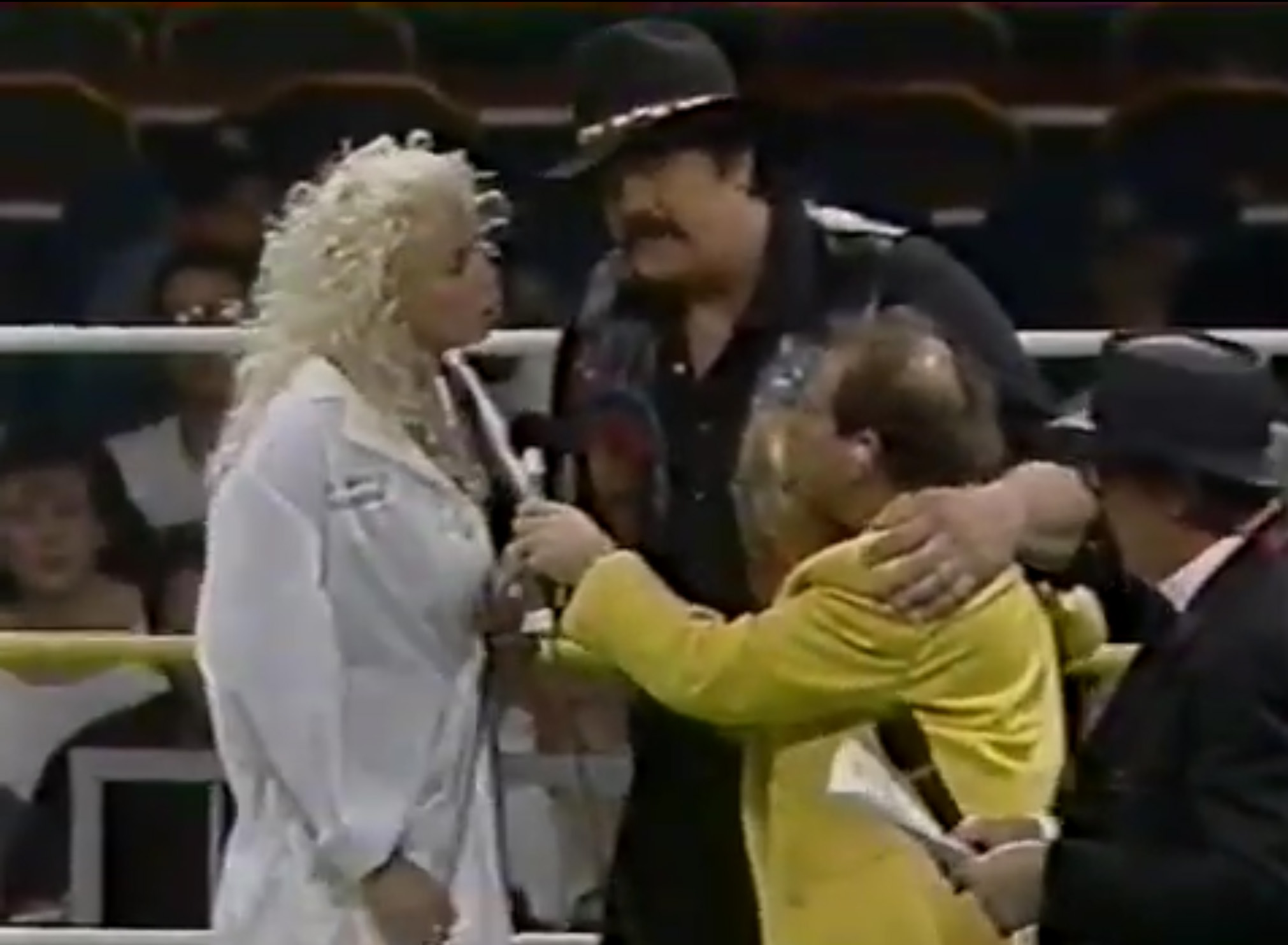 Feelgood and Mane shill UWF merchandise, and Sid makes a cameo.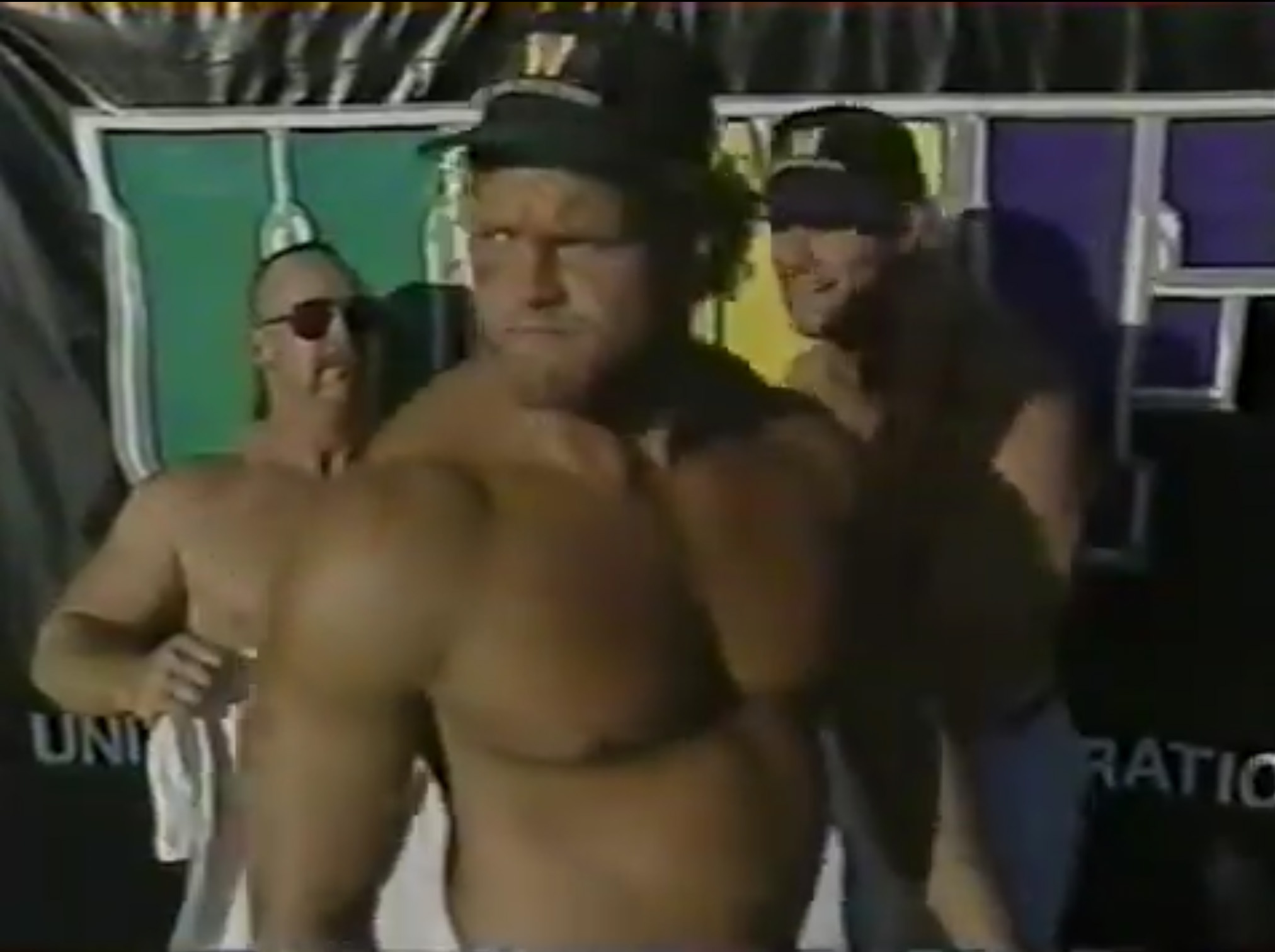 Get your UWF Wear NOW!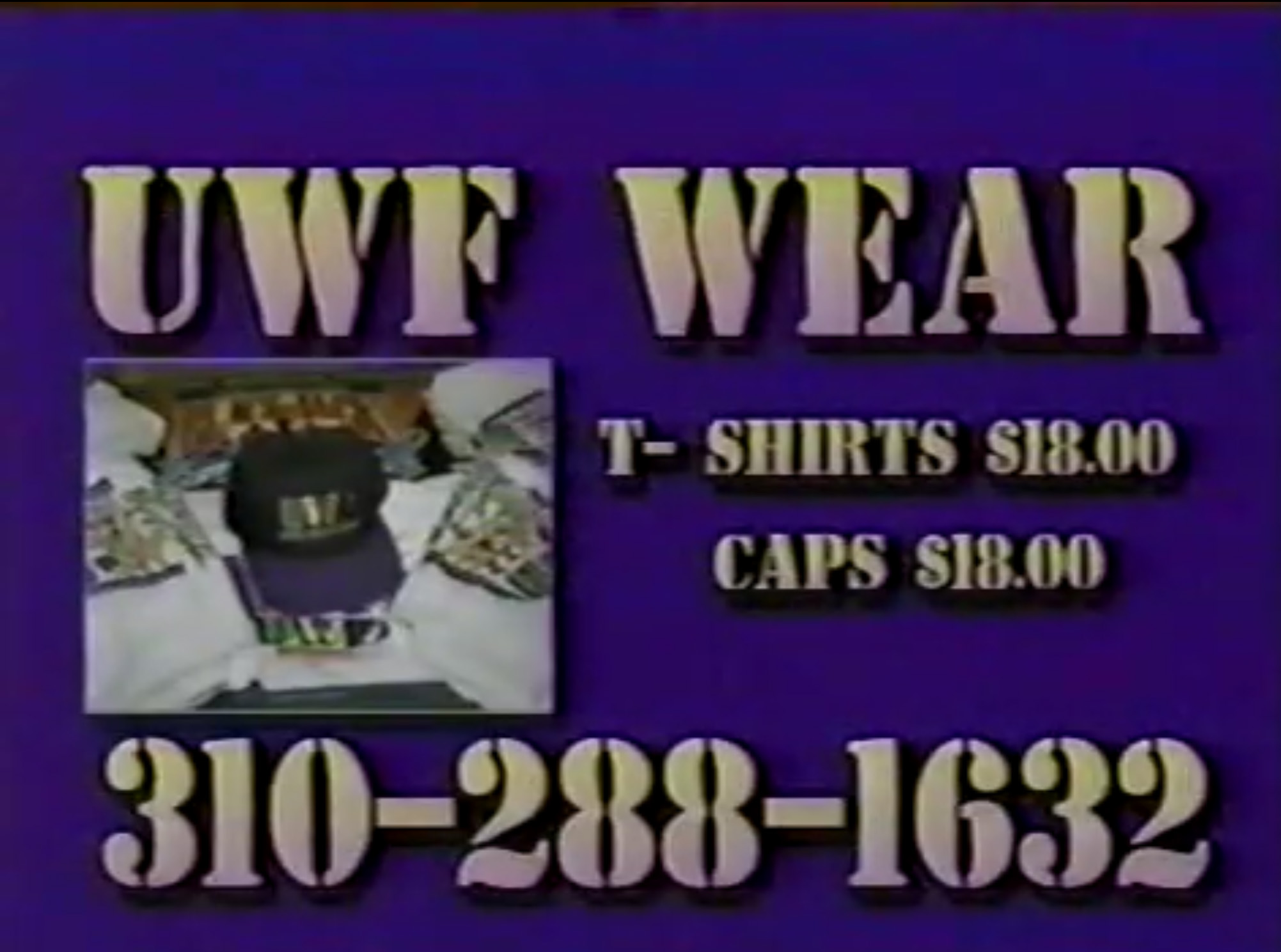 Ad #2 for Log Home Living airs.
In the ring, Abrams announces that Bruno Sammartino couldn't join us due to an Italian-American celebration in "Pittsburg, CA." Methinks the drugs are affecting him now. Regardless, Mulligan confuses honored with audited which I bet is something Abrams knows quite well. He puts Williams over as a great champion.
Order Real Life Giant Construction Equipment for Kids for only $12.95. Yes, I'm serious, why?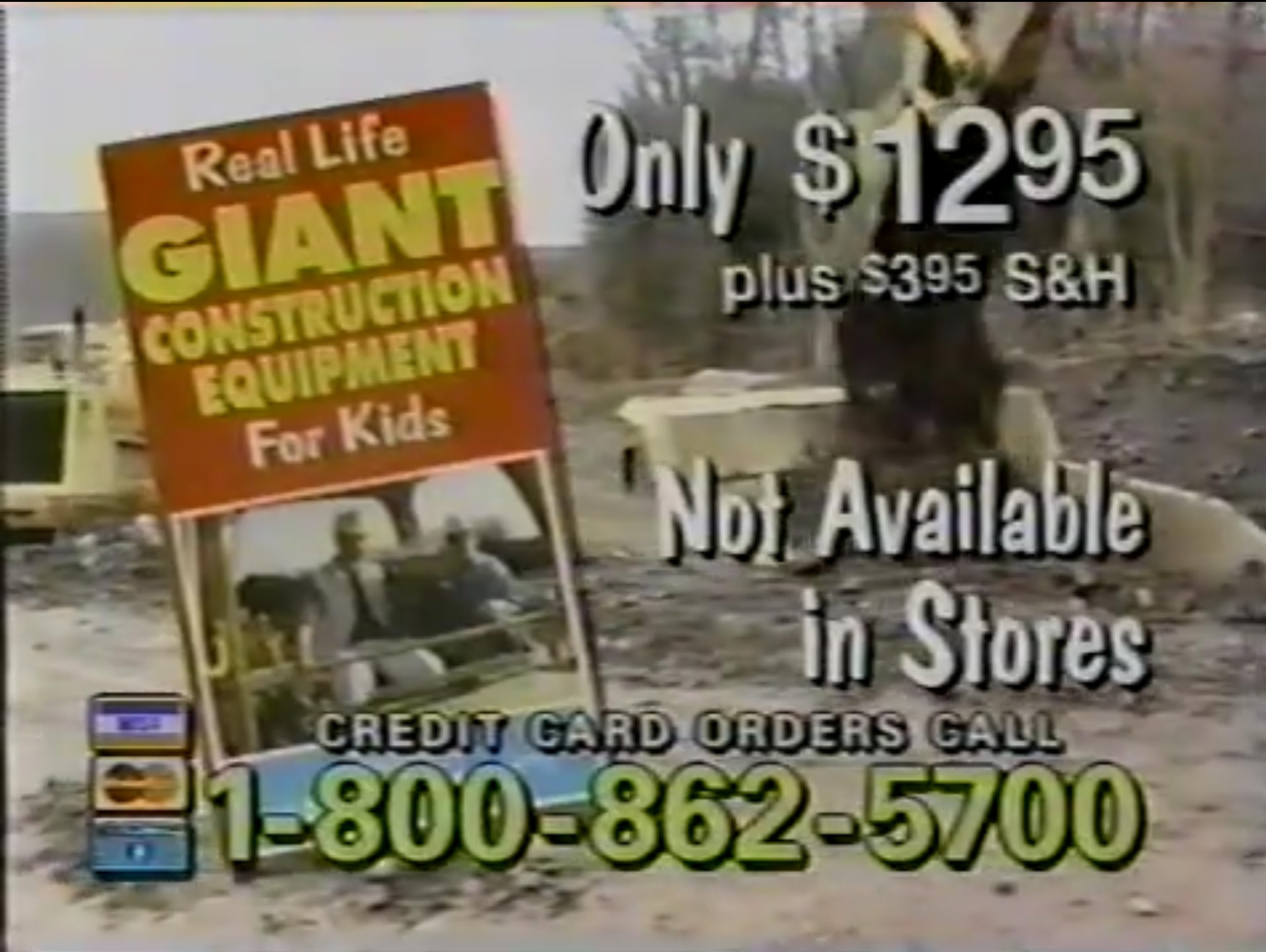 Ad #2 airs for Balfour rings.
Match 4 for the UWF Southern States title: "Cowboy" Bob Orton (champion) versus Thor
Highlights:
When last we saw Tony Halme, he was the Viking. Now he's a "hellraiser."
He must have thought he was going to annihilate Orton by using "Do Ya Know" by Slaughter.
If we forego what garbage occurred for the Minot faithful last year, Orton last wrestled as a babyface to be a role model for his son, Randy.
Thor gave Orton a cross corner whip but came up empty on his follow-through.
As Thor mauled him with body shots, he gave Orton another cross corner whip.
Orton HIT THE POLE and was BUSTED OPEN!
When Thor delivered a sidewalk slam, Orton mounted the second turnbuckle and CLOCKED him.
He dropkicked Thor and attempted a piledriver.
On the other hand, Thor countered with a back drop, and Orton sailed over the top rope onto the timekeeper's table. In the process, Abrams spilled to the concreter floor.
Orton tossed Abrams' cocktail in Thor's eyes, dragged him to the concrete floor, and WALLOPED him with the belt.
After the bell rang, the anonymous referee ruled the bout a double countout at 5:28.
BOOOOOOOOOOOOOOOOOOOOOOOO!
Rating: ½*
Summary: Definitely not Orton-Orndorff from Spartanburg. Let's move on.
After the match, Orton and Thor brawl at ringside, and Thor rams him face-first into the timekeeper's table. Thirsty for more violence, Abrams hands Thor a steel chair, but Orton nails Thor before any shenanigans take place.
Mulligan interviews Orton who talks about "knowledge, desire, and heart."
Hit Gold's Gym and work out with the best including Ivan Lendl!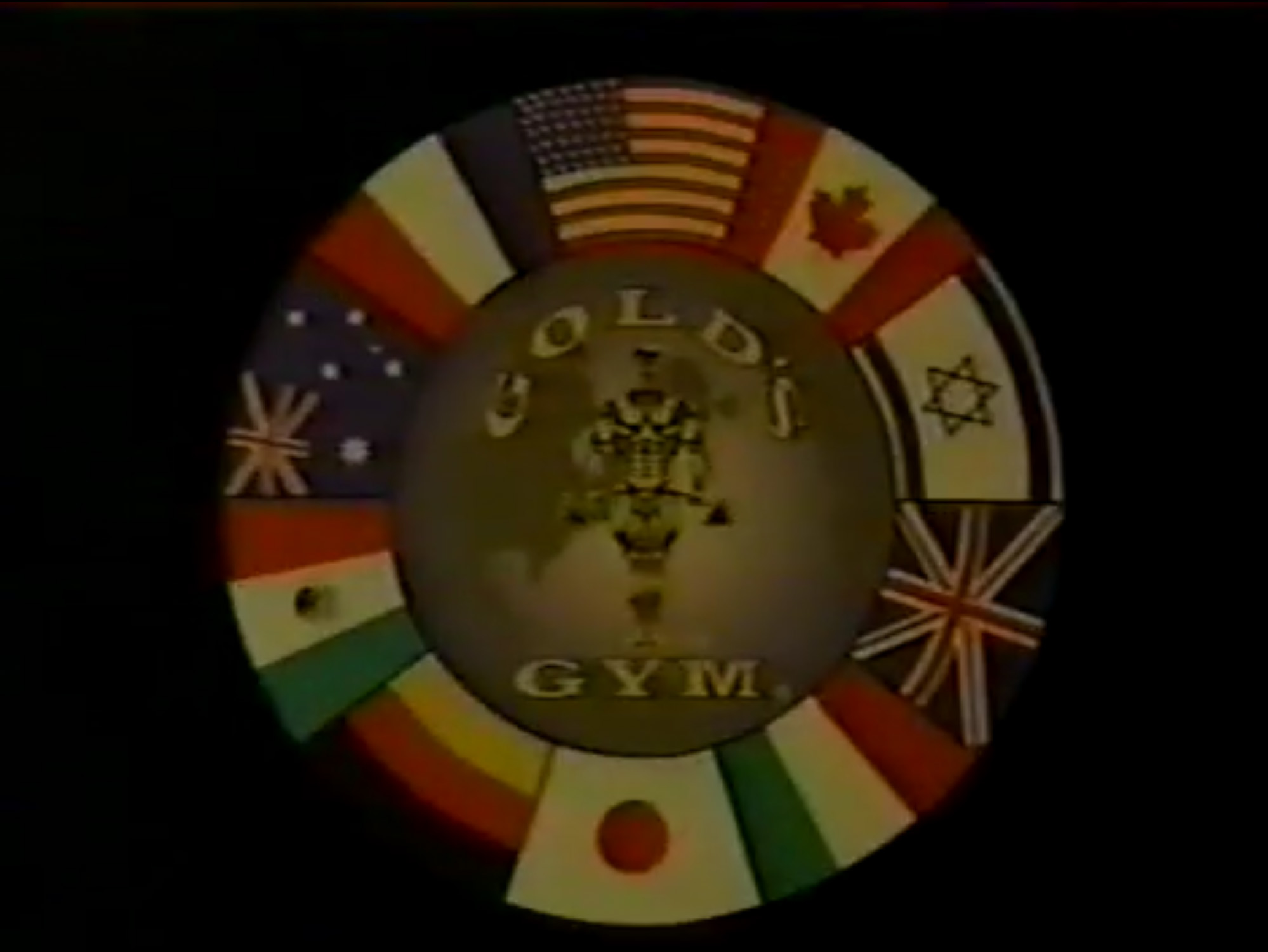 Ad #3 airs for Log Home Living. Meanwhile, I take a respite.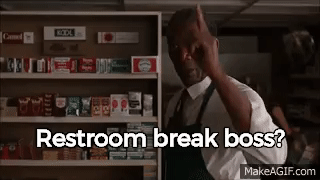 Match 5 for the UWF Midget World title: Little Tokyo versus the Karate Kid
Highlights:
For those curious, no, the Karate Kid was NOT Ralph Macchio.
Kid hip-tossed Tokyo and followed with a senton.
When a criss-cross ensued, Kid hid behind referee Jesse Hernandez to confuse Tokyo. It worked.
Kid monkey flipped Tokyo and got 2.
As Tokyo mocked Hernandez's "slow" count, Kid powerslammed him for a fast 2-count.
A miffed Tokyo applied a full nelson, but Kid escaped and hooked his own.
After Tokyo put his feet on the top rope to escape, Kid dropped him like a bad habit.
Kid hit a pair of flying headscissors but missed on a third attempt.
While Kid reversed a cross corner whip, he ate a double thrust from Tokyo.
1-2-3.
Tokyo won at 7:32.
Rating: *
Summary: Comedy match that had its moments.
After the match, Abrams, standing at about the same height, interviews Tokyo. Abrams and Tokyo discuss sake and kanpai. (e.g. a Japanese toast while drinking).
Promo #2 airs for UWF Wear.
Ad #2 airs for the Nolan Ryan golden stamp.
Sid, who usually whispers, cuts a promo without the benefit of his microphone being on. Oops.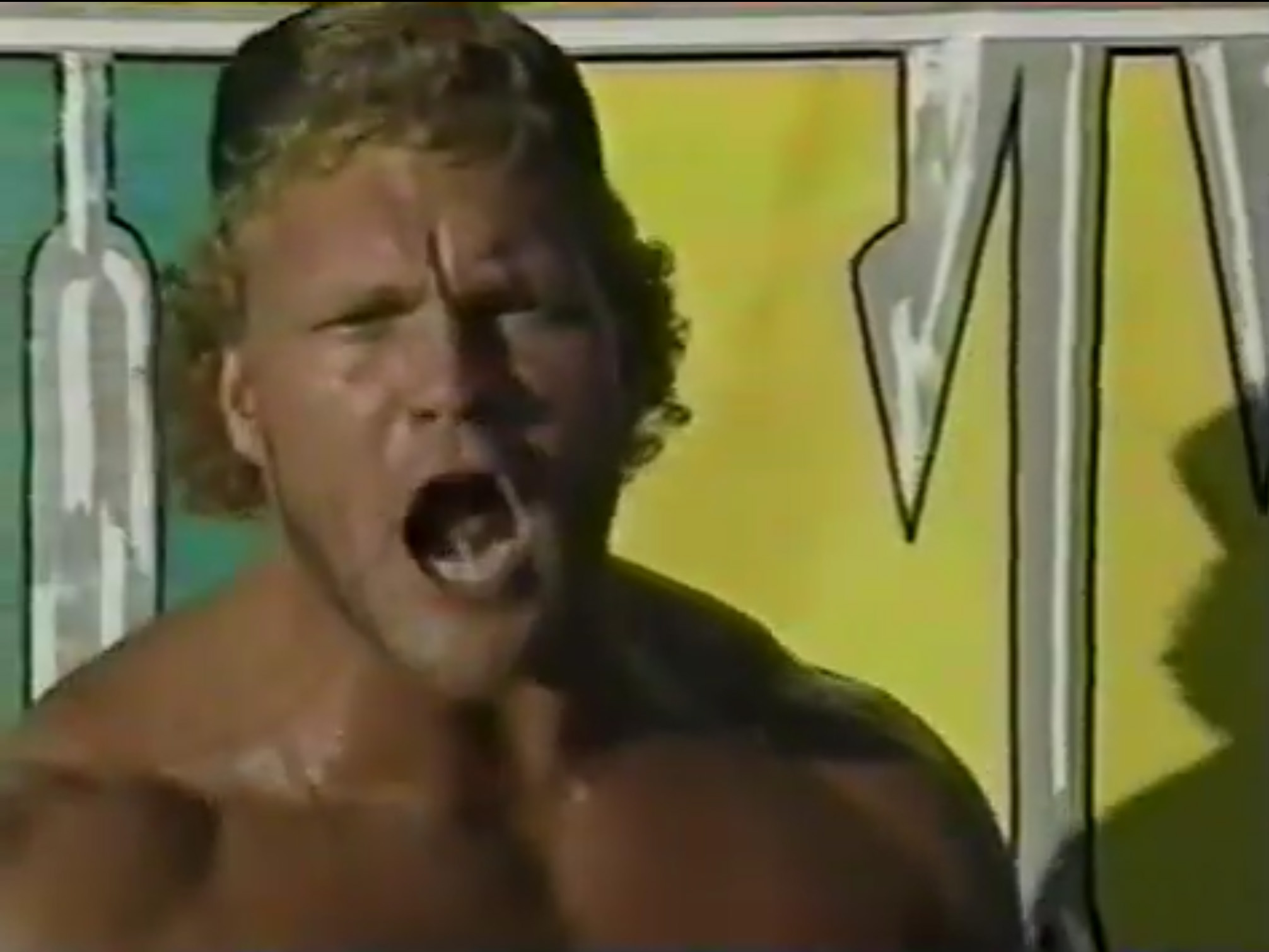 Ad #2 airs for Jeff Foxworthy.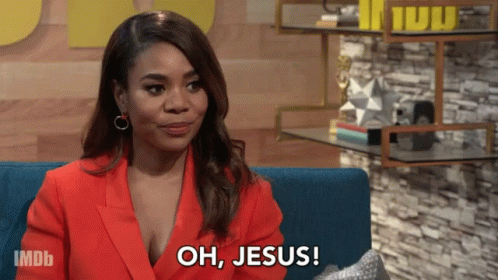 Catch Sports Interview on SportsChannel!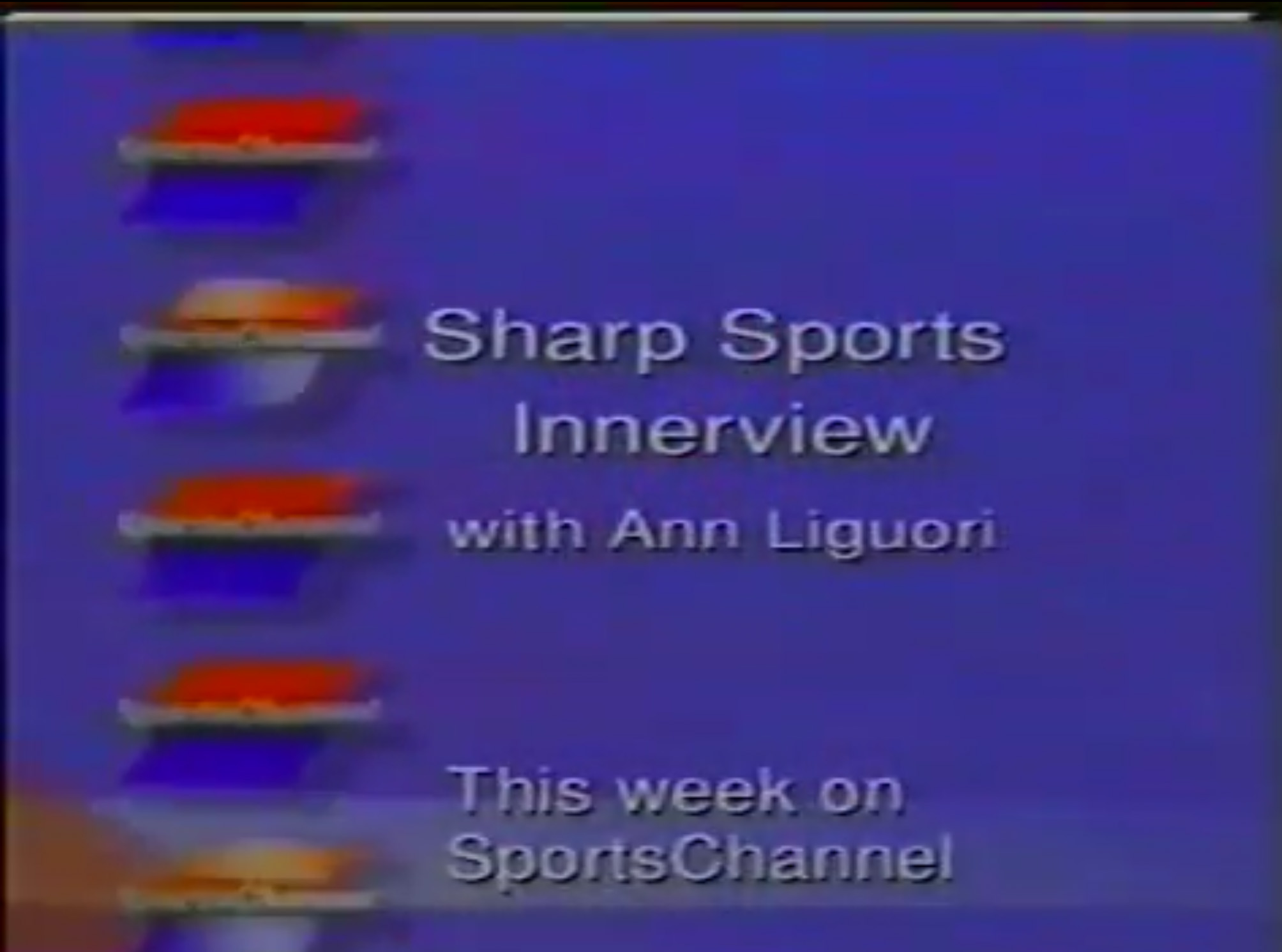 Match 6: The Irish Assassin versus Samson
Highlights:
You may remember Paul Samson from Beach Brawl and that god-awful Ft. Lauderdale taping. Assassin was portrayed by Mick Tierney who was wrestling his second pro match.
As Samson had transformed from hairy monster to buff daddy, Gianelli informed us that he replaced Hercules who no-showed despite being available. Hercules had wrestled for NJPW in August.
Assassin placed a pair of knees into Samson's midsection, gave him a cross corner whip, and followed with a leaping axe handle.
When Assassin powerslammed Samson, Gianelli questioned the viability of the ring.
Assassin powerslammed Samson for a second time but missed an elbow drop.
After Samson dealt him a series of clotheslines, he slammed Assassin.
He hooked a vertical suplex with a bridge and pinned Assassin at 4:46.
Rating: DUD
Summary: Preliminary match if there ever was one. Pass the popcorn!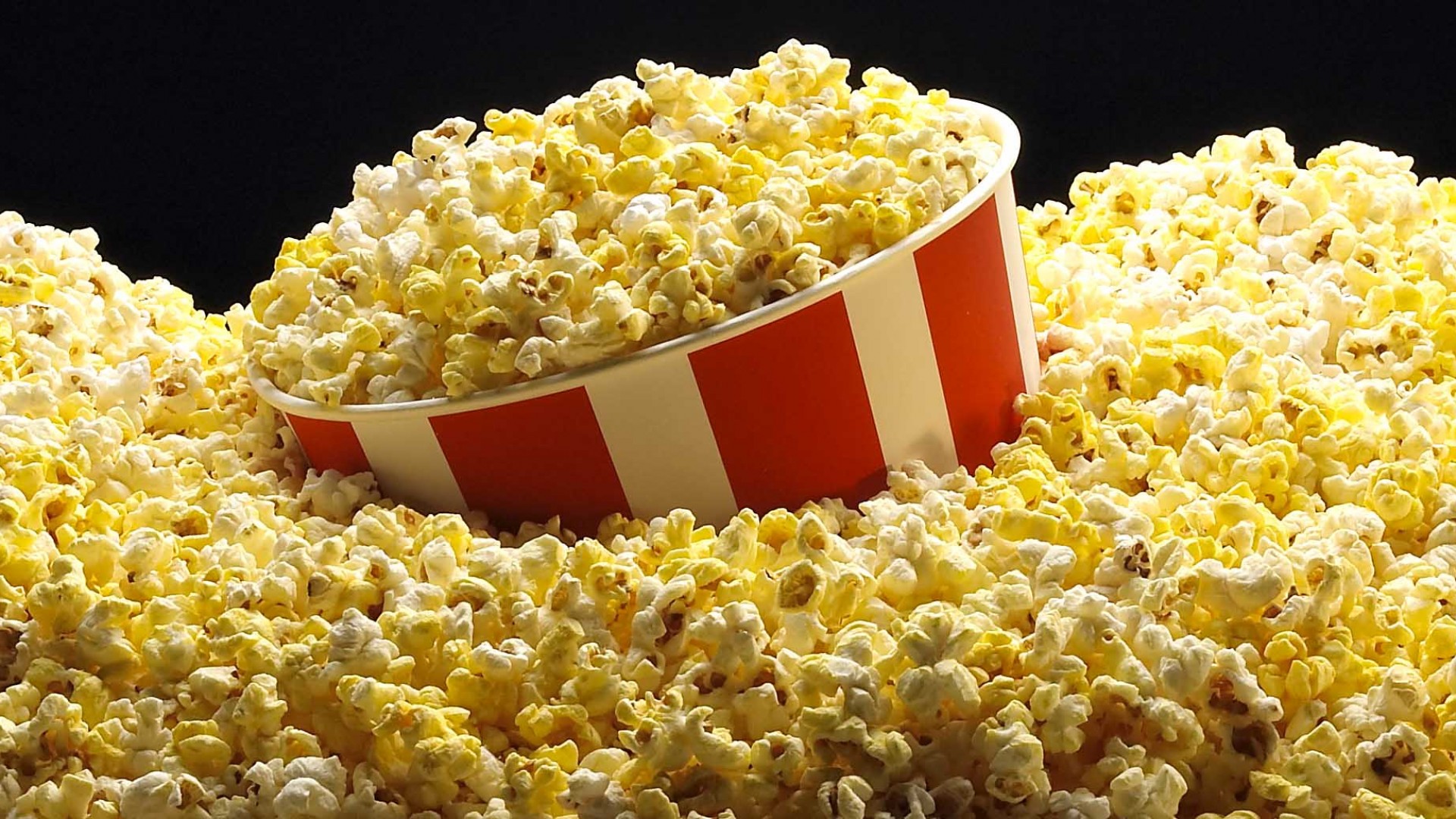 Backstage, Sid, Mane, Feelgood, & Wild Thing shill the UWF PowerLine.
Ad #3 airs for Balfour rings.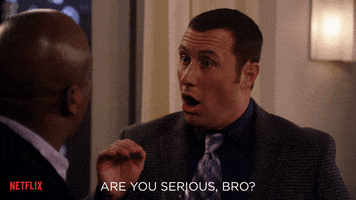 Within the casino, Wild Thing with some little wild things cuts a brief promo on Mane and shills both the UWF and MGM Grand.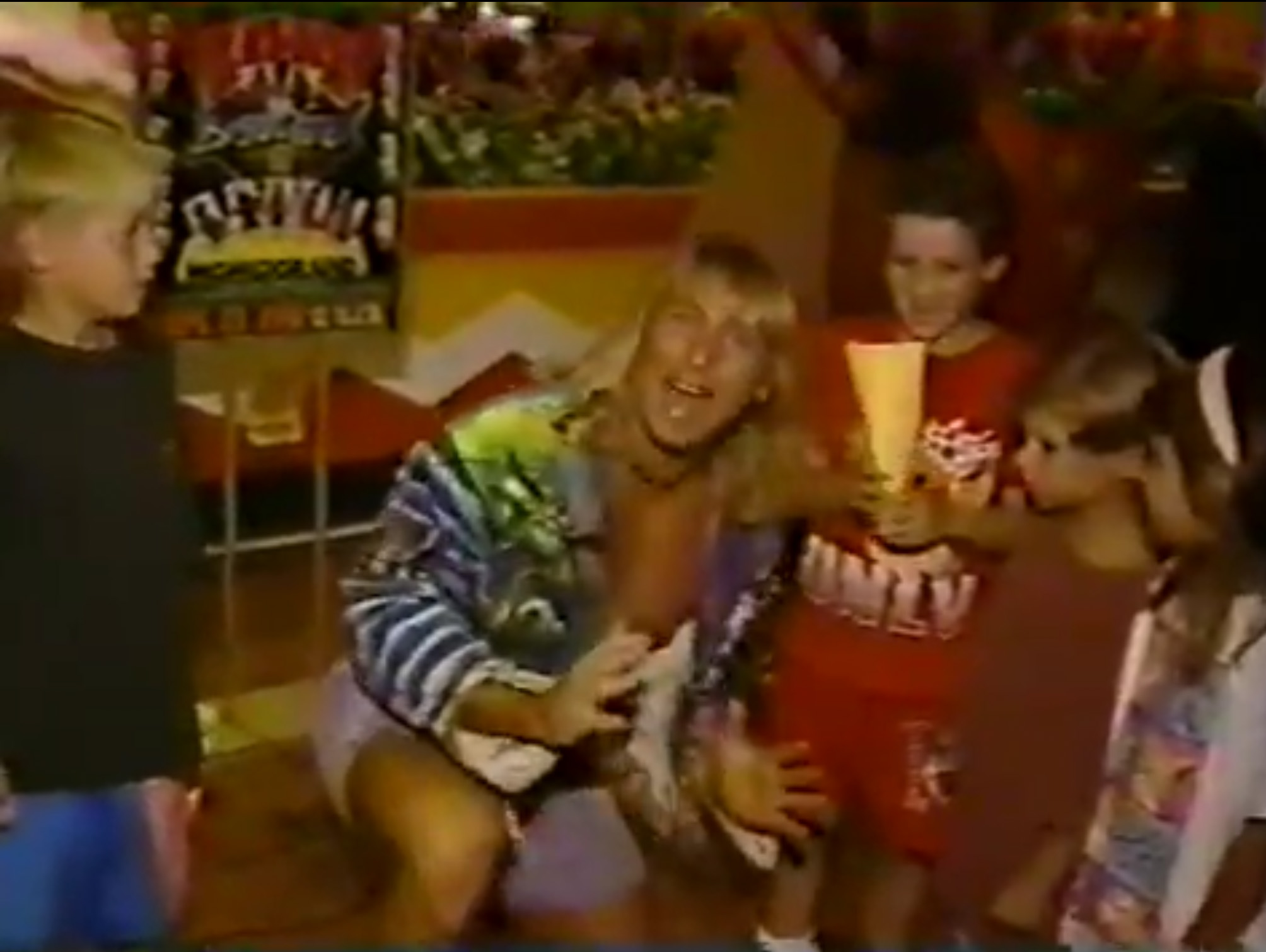 Match 7 for the UWF MGM Grand title: "Wild Thing" versus Tyler Mane
Highlights:
For those unaware, Mane would leave pro wrestling for acting after this match. His famous roles are Michael Myers from the Rob Zombie's Halloween and Halloween II as well as Sabretooth in X-Men. Prior to this match, Mane wrestled in WCW as Big Sky. He lost to Charlie Norris at Fall Brawl '93.
Mane won a shoving match, showboated, and got rolled up for 2.
When Wild Thing hip-tossed him, he clotheslined Mane.
Wild Thing attempted a cross body block, but Mane caught and slammed him.
As Mane missed a knee drop, Wild Thing punished the knee until referee Dominic Nastasio mysteriously broke the hold.
Did Mane submit?
No, Mane nailed Wild Thing from behind and delivered a belly-to-back suplex. Deceit!
He chokeslammed Wild Thing and followed with a slam.
After he mounted the second turnbuckle, Mane missed a flying knee drop.
Wild Thing rebounded with a clothesline and a ten-punch count-along.
While he gave Mane a cross corner whip, Wild Thing followed with a slam.
He attempted another cross body block, but Mane low-bridged him with the top rope.
Unfortunately, Wild Thing tumbled down to the concrete floor.
Wild Thing re-entered the ring via sunset flip, but Mane maintained his balance.
When Mane grabbed the top rope, he pinned Wild Thing at 6:23.
Rating: **
Summary: Good psychology by Wild Thing, but shenanigans by Mane earned him the victory. Believe it or not, Wild Thing retired following this match due to family commitments.
In the ring, Abrams presents Mane with the UWF MGM Grand title belt. Mane praises Wild Thing before crowing about his victory.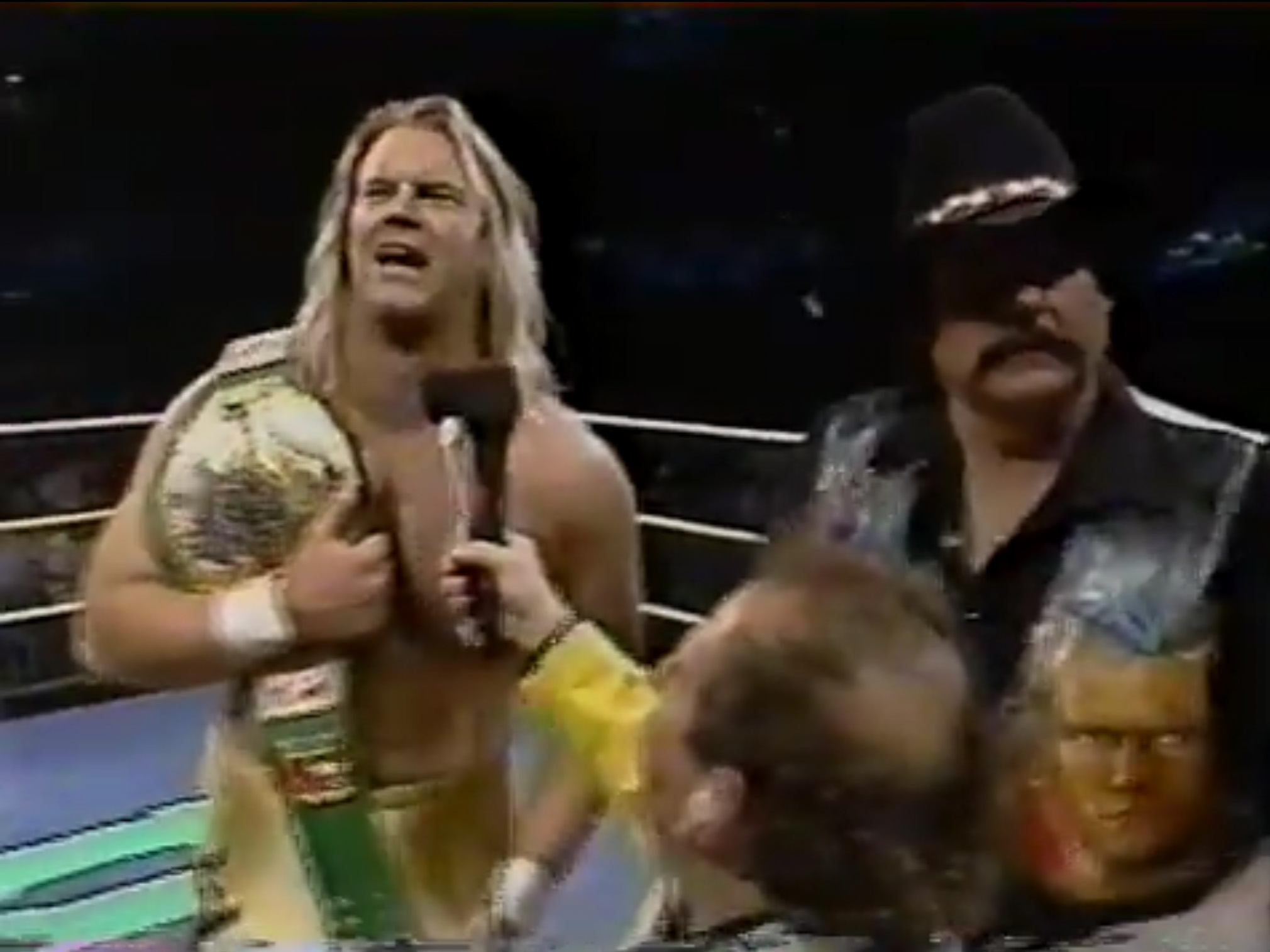 Promo #2 airs for the Rolling Stones.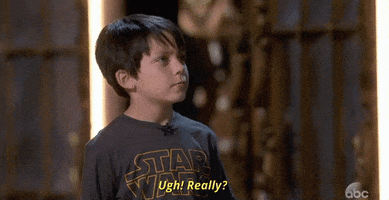 Promo #2 airs for the MGM Grand.
Ad #4 airs for Log Home Living.
Match 8 for the vacant UWF Women's title: Candi Devine versus Tina Moretti
Highlights:
Obviously, Rossi was NOT a wrestling fan as he butchered Devine's introduction.
Moretti entered the ring to Bon Jovi's "You Give Love A Bad Name." Interestingly, she was trained by Mando Guerrero.
As Devine backdropped her, Moretti responded with a dropkick.
Devine sought respite outside the ring, but Moretti joined and brawled with her.
When Devine rammed her face-first into the apron, Moretti gave her a taste of her own medicine.
Devine slammed her on the concrete floor, but Moretti followed her back into the ring.
After Devine rang her bell, Moretti hooked a crucifix for 1.
Moretti rolled her up for another 2, but Devine hoisted her atop the top turnbuckle.
While she slammed Moretti, Devine pinned her at 3:24.
WE HAVE A NEW CHAMPION!
Rating: DUD
Summary: Devine used her height and experience to win, but she's prettier than this match was. As you may know, Moretti would do fine for herself becoming Ivory in the WWF.
Ad #2 airs for the Julio Cesar Chavez tape.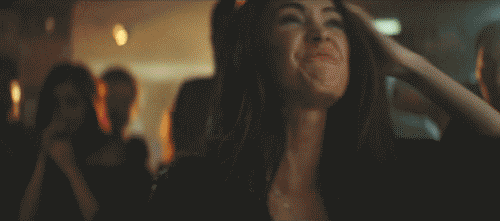 Ad #3 airs for the Nolan Ryan stamp.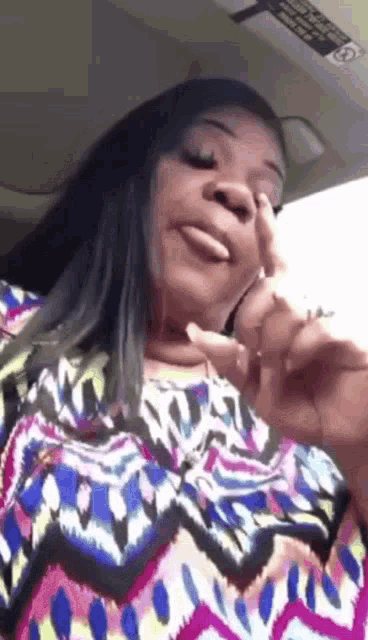 Williams cuts a promo on Sid while challenging WCW wrestlers Hulk Hogan and Ric Flair.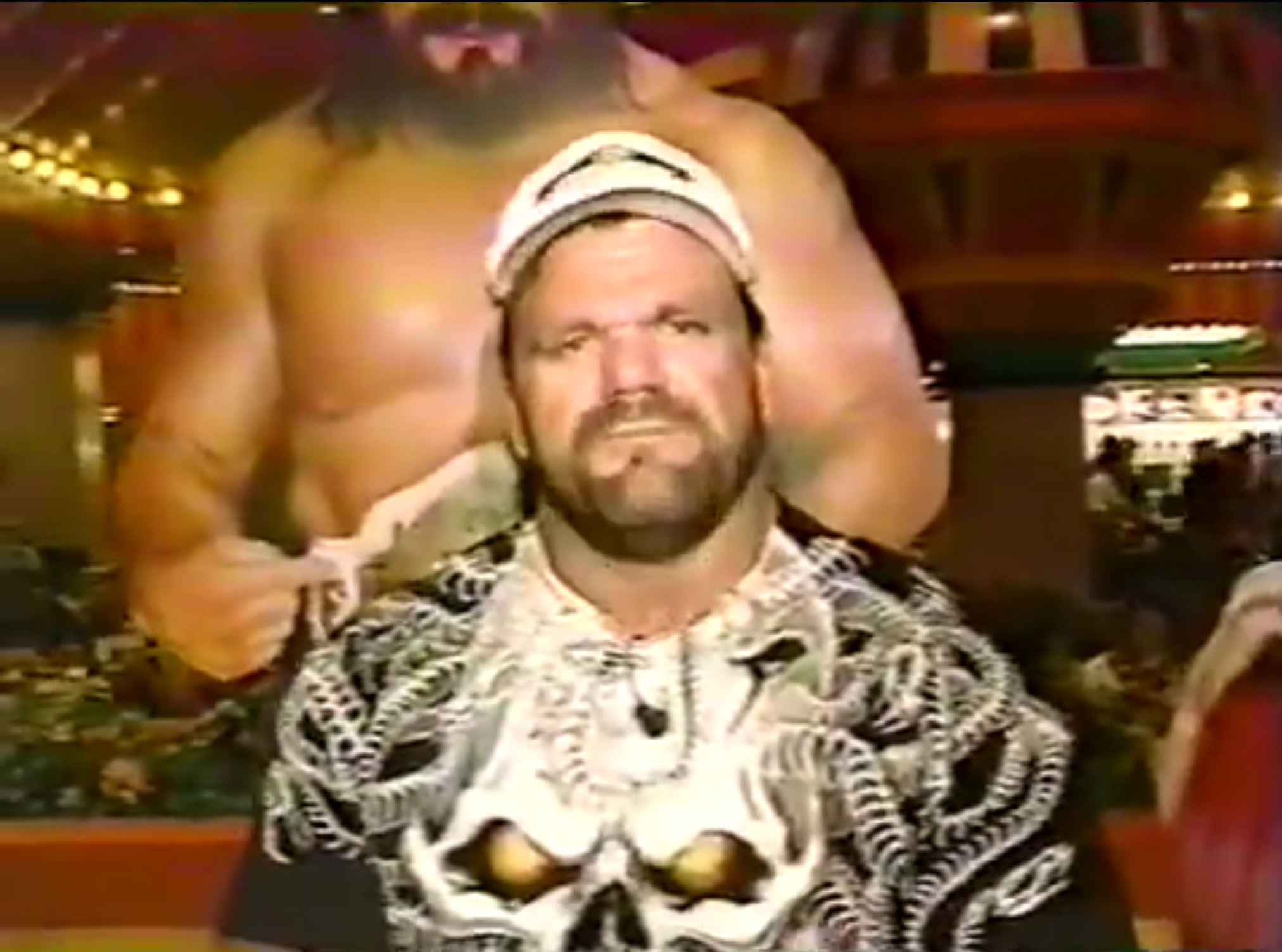 Ad #3 airs for the Foxworthy tape.
Ad #4 airs for Balfour rings.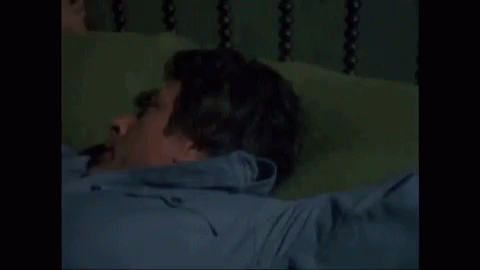 Match 9 for the UWF World tag team titles: Killer Bees versus the New Powers of Pain
Highlights:
For those unaware, the NEW Powers of Pain were Warlord and Larry (Or was it David? Hmmm….) Power a.k.a. Power Warrior. Somewhere Kensuke Sasaki was crying.
Nonetheless, the Bees came to the ring to Thin Lizzy's "Boys Are Back in Town."
Unlike Rampage '93, Warlord bothered to shave his head for this match.
Warrior blocked a hip toss and clotheslined Blair.
When Warrior missed an elbow drop, Brunzell tagged in, and the Bees double hip-tossed him.
Warlord tagged in and applied a bear hug to Brunzell.
As Brunzell rang Warlord's bell to escape, Blair tagged in.
Warlord escaped an arm bar with a slam, and tags were exchanged on both sides.
After the Bees split Warrior's uprights, Brunzell hooked a spinning toe hold.
Blair tagged in, and the Bees applied stereo spinning toe holds to Warrior. OUCH!
While Brunzell tagged in, the Bees split Warrior's uprights again.
Brunzell trapped Warrior in a somersault rollup but only got 2.
When Blair tagged in, he reapplied a spinning toe hold.
Warrior kicked Blair away to escape, and Warlord low-bridged Blair with the top rope sending him down to the concrete floor.
As Warrior distracted referee Jesse Hernandez, Warlord rammed Blair back-first into the ring post. Nefarious!
He rammed Blair face-first into the timekeeper's table, tagged in, and the Powers of Pain double-clotheslined him.
After Warlord slammed him, he dealt Blair a double axe handle.
Warrior tagged in and secured his own bear hug.
While Warlord tagged in, he slammed Blair again, mounted the second turnbuckle, leaped, but ate boot.
Hot tag Brunzell.
When he monkey-flipped Warrior, Brunzell followed with a dropkick.
He slammed Warrior, tagged in Blair, and the Bees connected with a catapult/clothesline combo for 2.
With all four wrestlers in the ring, Warlord inadvertently clobbered Hernandez.
Power Twin #2 (David?) illegally switched with Warrior, yet the Bees double-dropkicked Warlord.
As Power Twin #2 locked Blair in a full nelson, Warlord mounted the second turnbuckle, leaped, but nailed his partner off-camera.
Meanwhile, Brunzell tossed Hernandez back into the ring.
1-2-3.
WE HAVE NEW CHAMPIONS!
The Bees won at 11:48.
Rating: ***
Summary: Solid tag match with the Bees using ring psychology while the Powers of Pain implemented heel psychology. Regrettably, it backfired for the heels.
Snuka cuts a promo on Cactus.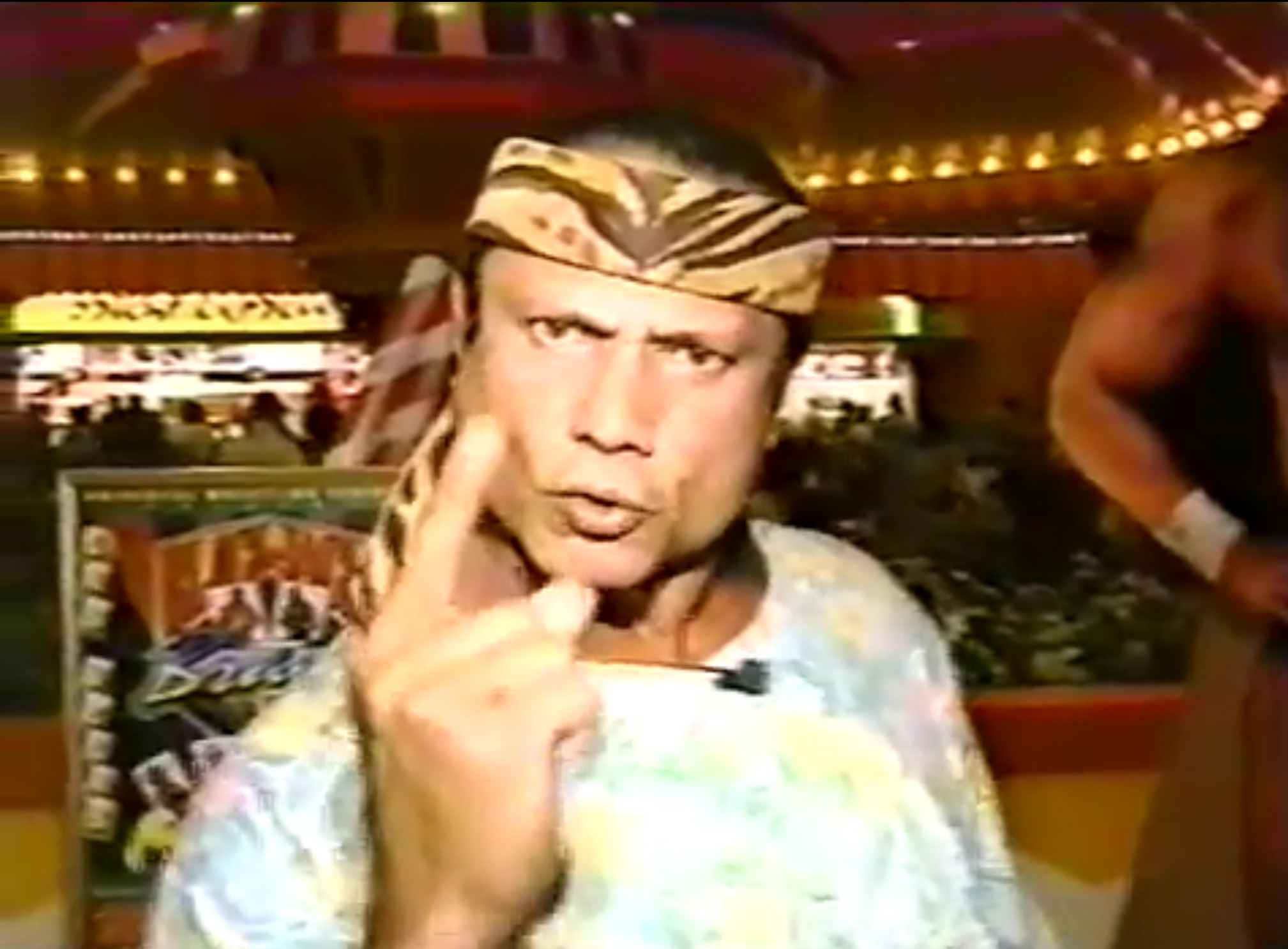 Promo #3 airs for UWF Wear.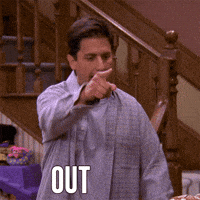 Promo #2 airs for Sports Interview.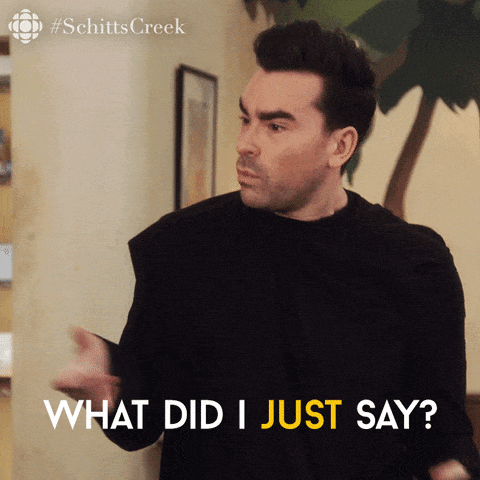 Match 10 (lumberjack): "Superfly" Jimmy Snuka versus Cactus Jack
Highlights:
This match has some infamy to it.
For those unaware, Cactus lost a loser-leaves-WCW match to Kevin Sullivan five days prior to this match. He would return to ECW a week afterward.
Snuka performed at ECW Hardcore Heaven '94 in August teaming with the Tazmaniac to defeat the Pit Bulls.
As Cactus made his entrance to the Fabulous Thunderbirds' "Tuff Enuff," Snuka adopted Muraco's entrance music—the theme from the TV show Hawaii Five-O.
First, Tolos mentioned Cactus' lack of front teeth. Second, he informed us that Cactus had "no ear." By 2030, Cactus might have "no brain."
Cactus placed a knee into the midsection, and Snuka bumped between the ropes to the concrete floor.
When the lumberjacks gingerly returned Snuka to the ring, Cactus fed him three head butts.
Due to a poor camera angle, Snuka apparently no-sold them and responded with his own headbutt.
After Cactus tried to take a powder, Abrams yelled "Not mine!"
Seriously, the lumberjacks returned Cactus to the ring.
Speaking of Abrams, he joined the broadcast table for this match.
Cactus clotheslined Snuka causing him to soar over the top rope to the broadcast table.
While the broadcast team had a conniption and demanded hazard pay, the heel lumberjacks struggled to get ahold of Snuka.
Cactus appropriated a table and jammed it into Snuka's head.
As Wild Thing encouraged the Vegas faithful to chant "Su-per-fly," Snuka bumped off a Cactus shoulder block over the top rope to the concrete floor again. That was perhaps a bit oversold.
The match segued to the concrete floor, the wrestlers brawled, and the lumberjacks struggled to replace them in the ring.
When Cactus sent him over the steel railing, Snuka rebounded with a KABONG by a steel chair.
They brawled up into the stands, and Abrams yelled "ring the bell."
Hey! He beat Vince McMahon to that one too!
The match ended in a double countout at 9:03.
Rating: *
Summary: This had the makings of an ECW-style brawl which had yet to be invented. Unfortunately, you could tell that they had ZERO chemistry. Since Snuka was Cactus' idol, I'm certain he would say this wasn't a good match whatsoever.
Afterward, the spotlight follows Cactus and Snuka into an empty section so that Abrams doesn't get sued on top of going bankrupt. Snuka suplexes Cactus in the cheaper seats while Rossi's voice hits a few octaves higher out of sheer surprise and terror. The lumberjacks separate them and walk them up the stairway.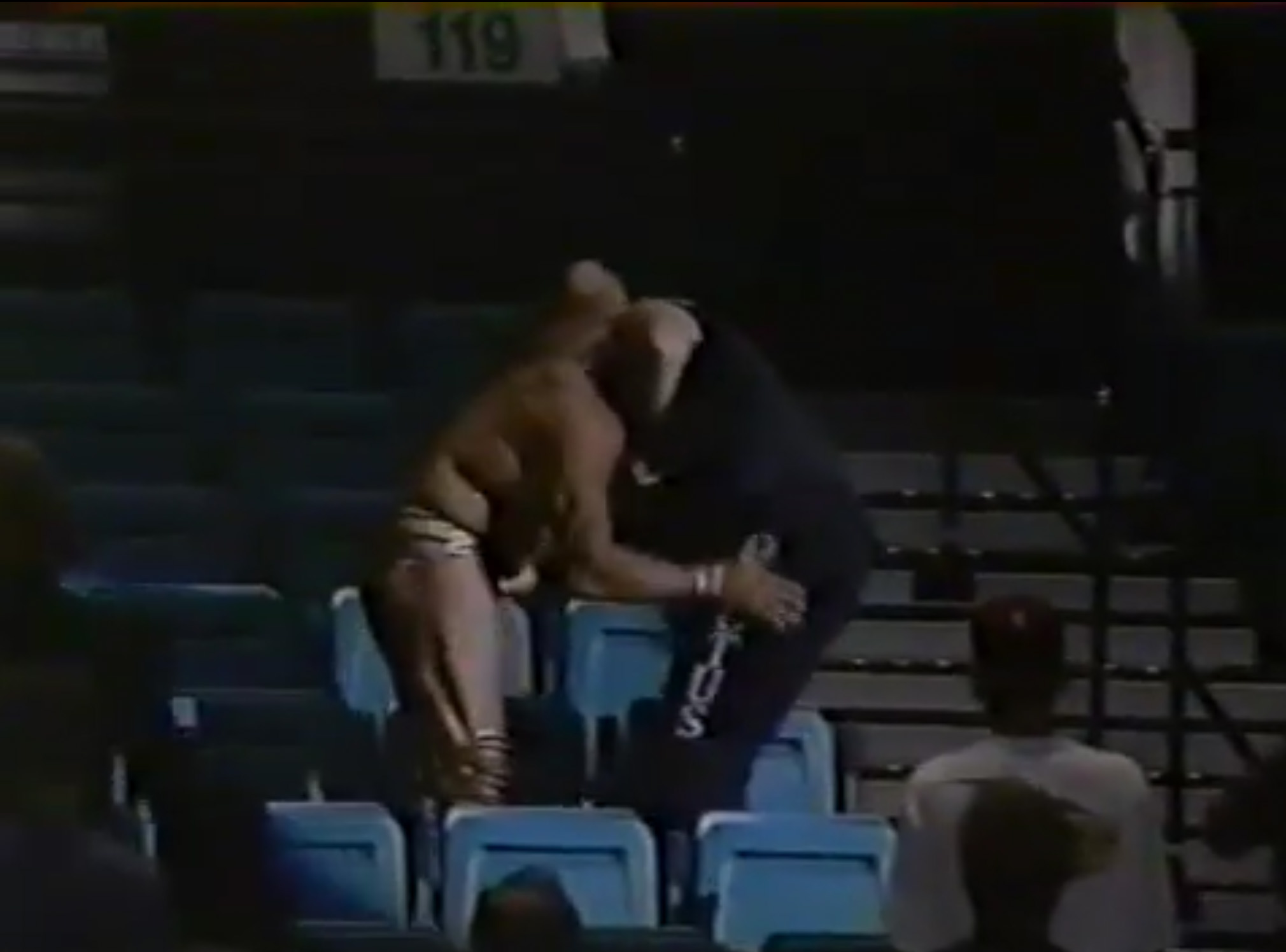 Promo #3 airs for the Rolling Stones.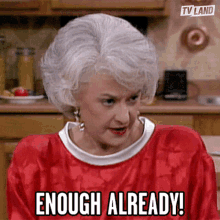 Promo #3 airs for the MGM Grand.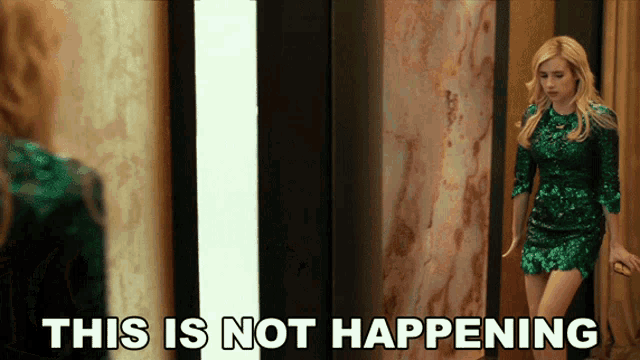 Ad #5 airs for Balfour rings.
A crazed Abrams tries to rile up the Vegas faithful by hyping the main event.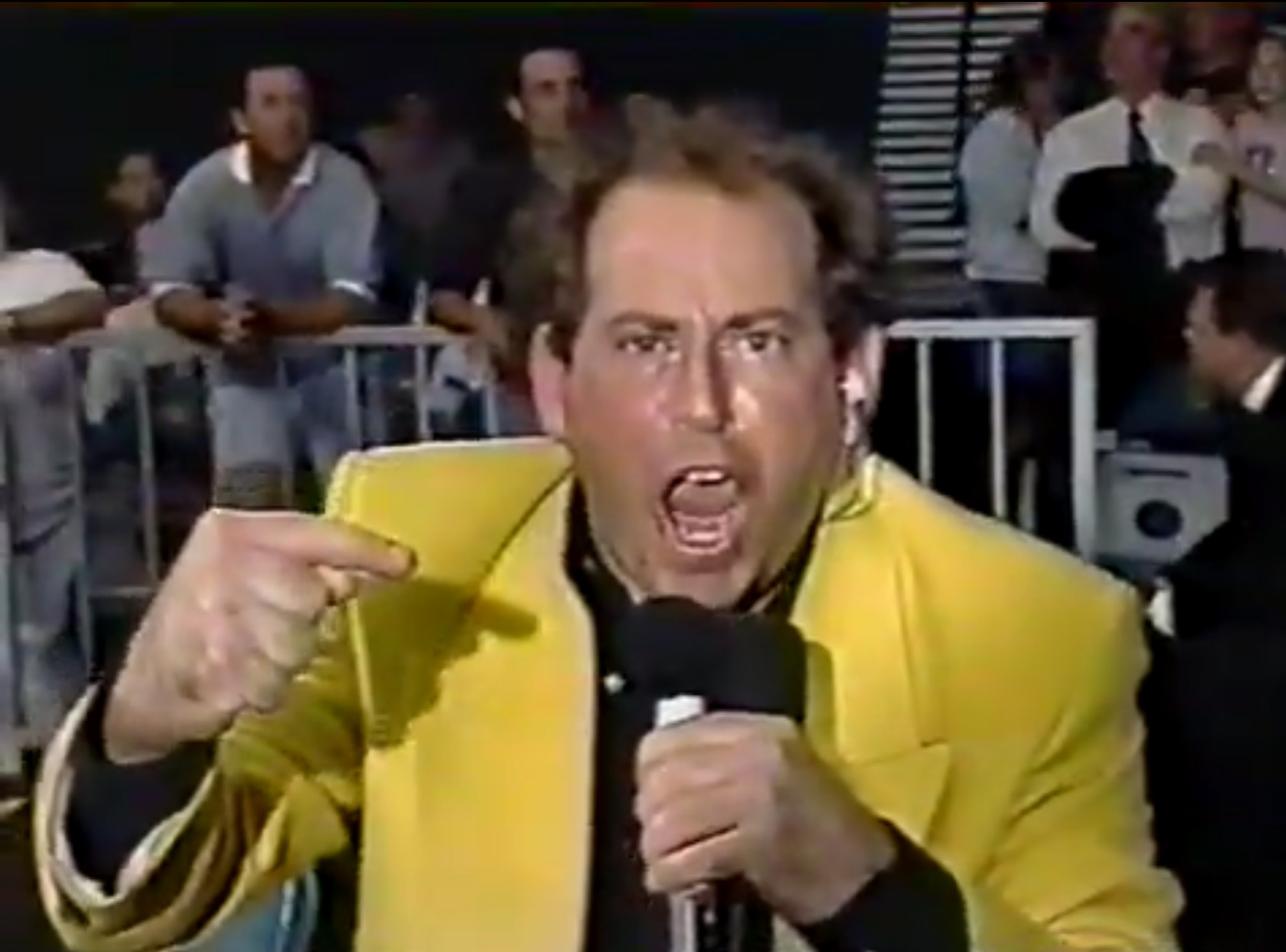 Match 11 for the UWF World title: "Dr. Death" Steve Williams (champion) versus "Malicious" Sid Vicious
Highlights:
For those unaware, Sid had been fired by WCW in December 1993 due to his altercation with Arn Anderson in England. That must have been why Abrams dubbed him "malicious." His entrance music was The Alan Parsons Project's "Sirius."
Williams made his entrance to Meatloaf's "I'd Do Anything for Love," and Rossi's complaining on live television. SMH


When neither man budged from shoulder blocks, Williams made another attempt but ate a big boot.
Sid chokeslammed Williams and cupped his ear to the Vegas faithful like Hogan.
As Sid gave him a HARD cross corner whip to injure the back, he slammed Williams for 2.
He gave Williams another cross corner whip but ate boot on his follow-through.
After Williams rebounded with a clothesline, Sid powerslammed him for 2.
He slammed Williams again, but Williams responded with his own powerslam for 2.
While the ring began to break, Williams gave Sid a cross corner whip followed by an avalanche for another 2.
He slammed Sid, mounted the second turnbuckle, leaped, but there wasn't any water in the pool. After all, this show occurred in the desert.
Nevertheless, Sid mounted the top turnbuckle, but Williams caught, joined, and gutwrench superplexed him. Wow!
Williams followed with a Doctorbomb, but Spivey ran in to prevent the pin.
Evidently, this was another double-cross as Spivey had supported his former AJPW tag team partner.
As a result, Williams retained by DQ at 11:03.
Rating: ***
Summary: Once they got going, the match cooked. The finish stunk on Melba toast, but they were supposed to be building to another show.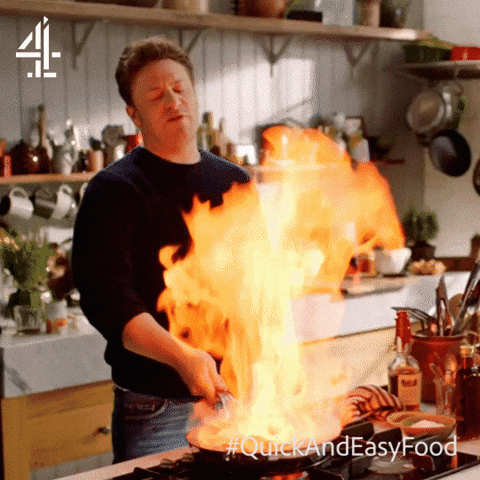 After the match, the newly reunited Skyscrapers double-team Williams. Sid powerbombs Williams with Spivey's help. While Ace storms the ring with a steel chair to rescue Williams, the Skyscrapers head for safer ground.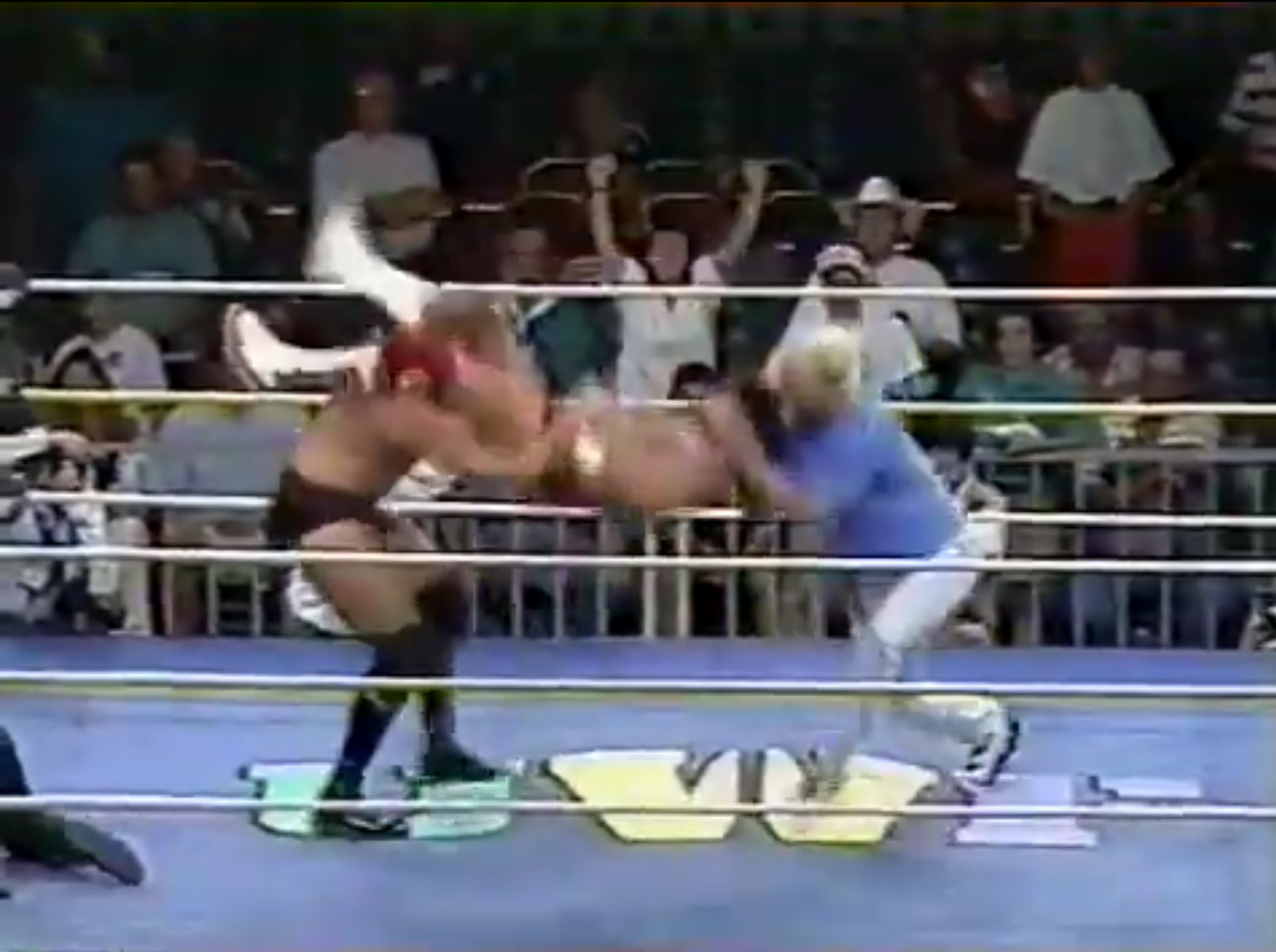 Ad #3 airs for the Julio Cesar Chavez tape.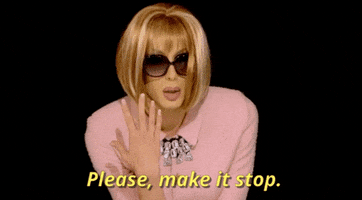 Get your World Cup '94 stamps for only $29.95!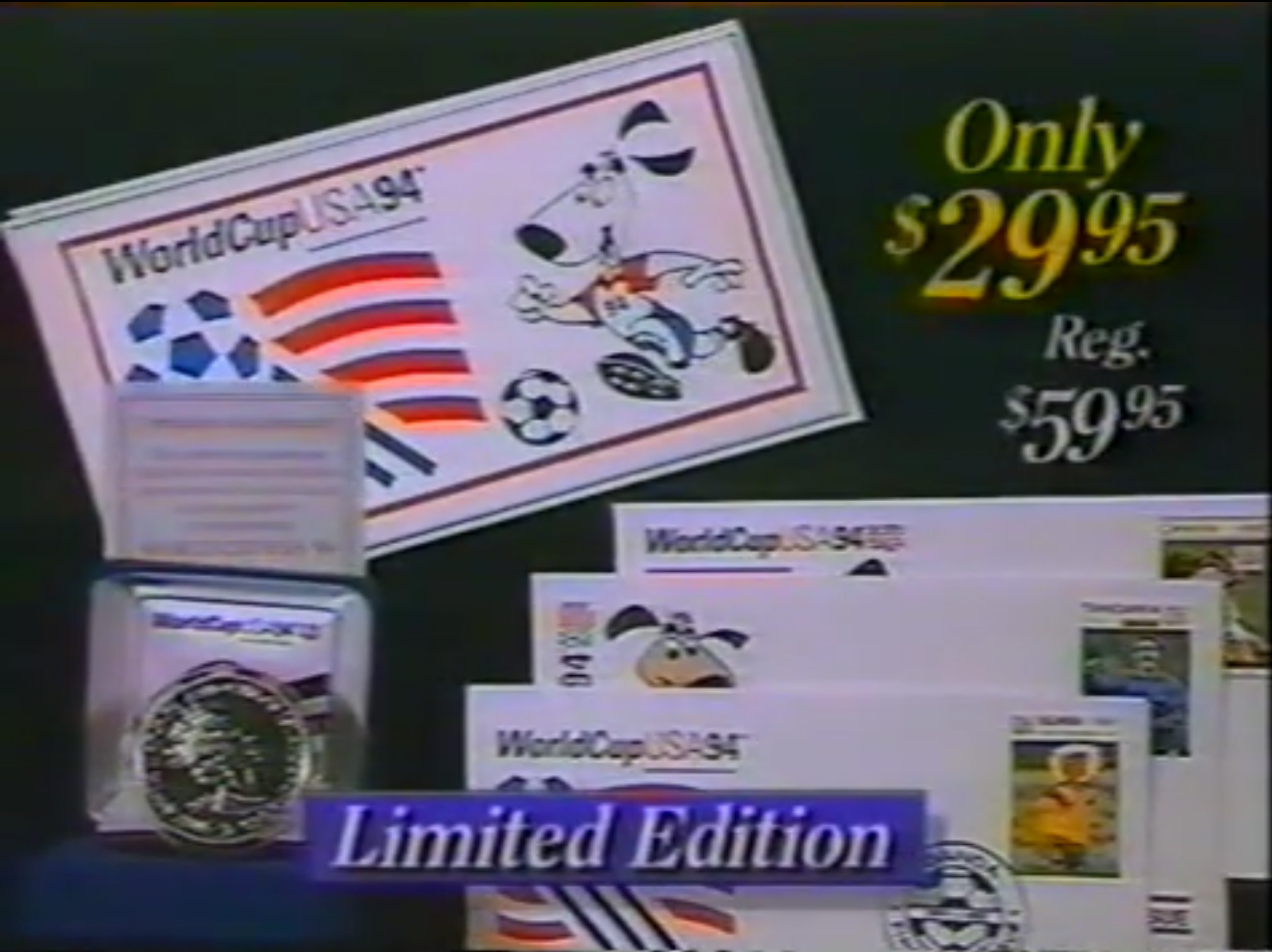 While Williams is aided by medical personnel, Abrams interviews him. Abrams promotes a steel cage rematch, Williams will sign the contract. He cuts a promo on the Skyscrapers and touts Ace as a partner.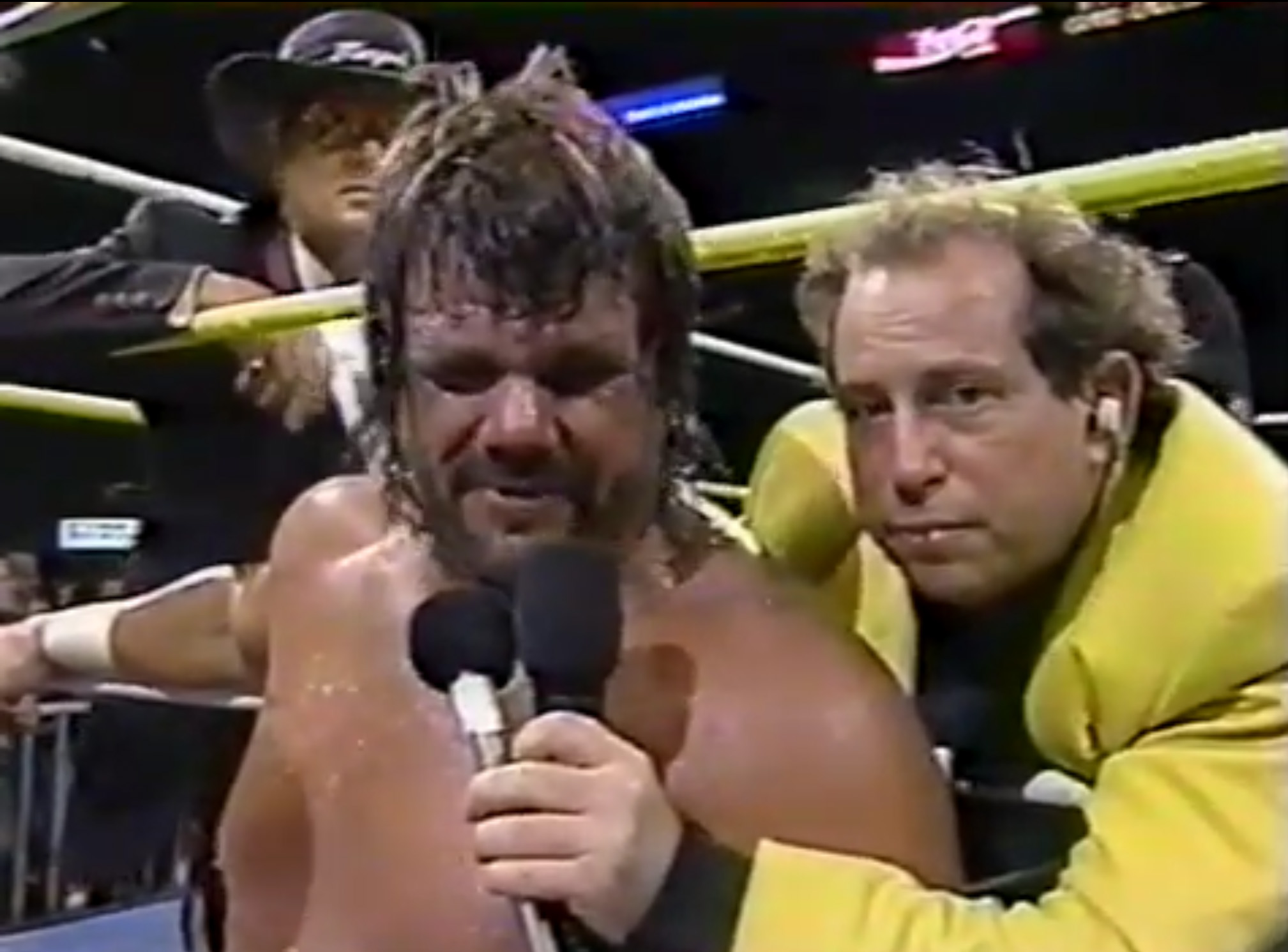 Ad #2 airs for the kids' construction tape.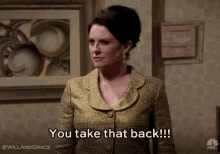 Promo #2 airs for the UWF PowerLine.
In the ring, Abrams interviews the Skyscrapers, and Sid refers to Spivey as his "mentor." Mulligan calls them on their bullshit and supports Williams. With Mulligan as backup, Abrams taunts Spivey about Williams' retaining the championship, and the Skyscrapers exit the ring.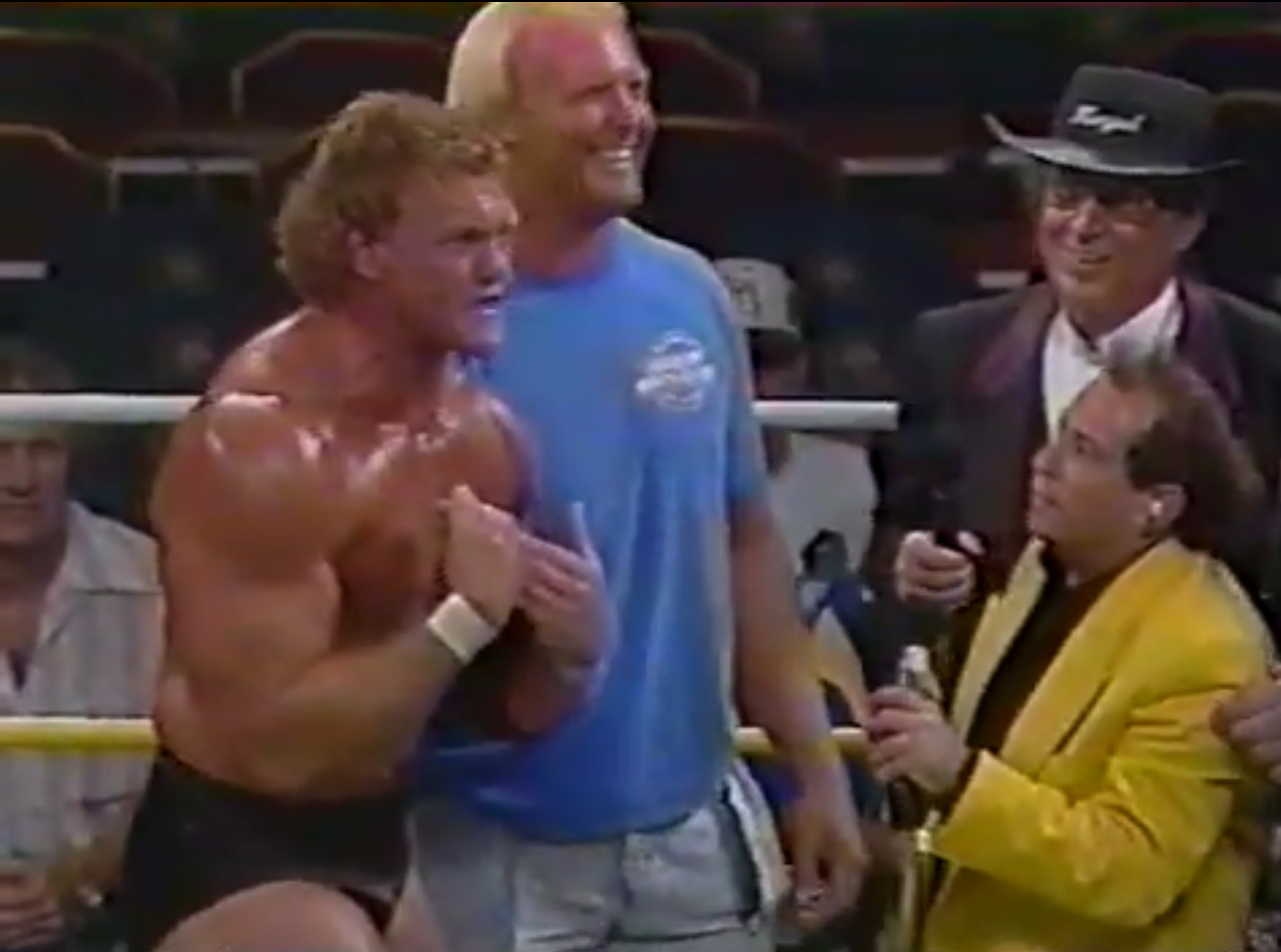 Ad #4 airs for the Foxworthy tape.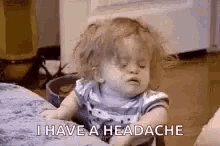 Promo #3 airs for Sports Interview.

To close out the show, Abrams and Mulligan put their exclamation point on the show.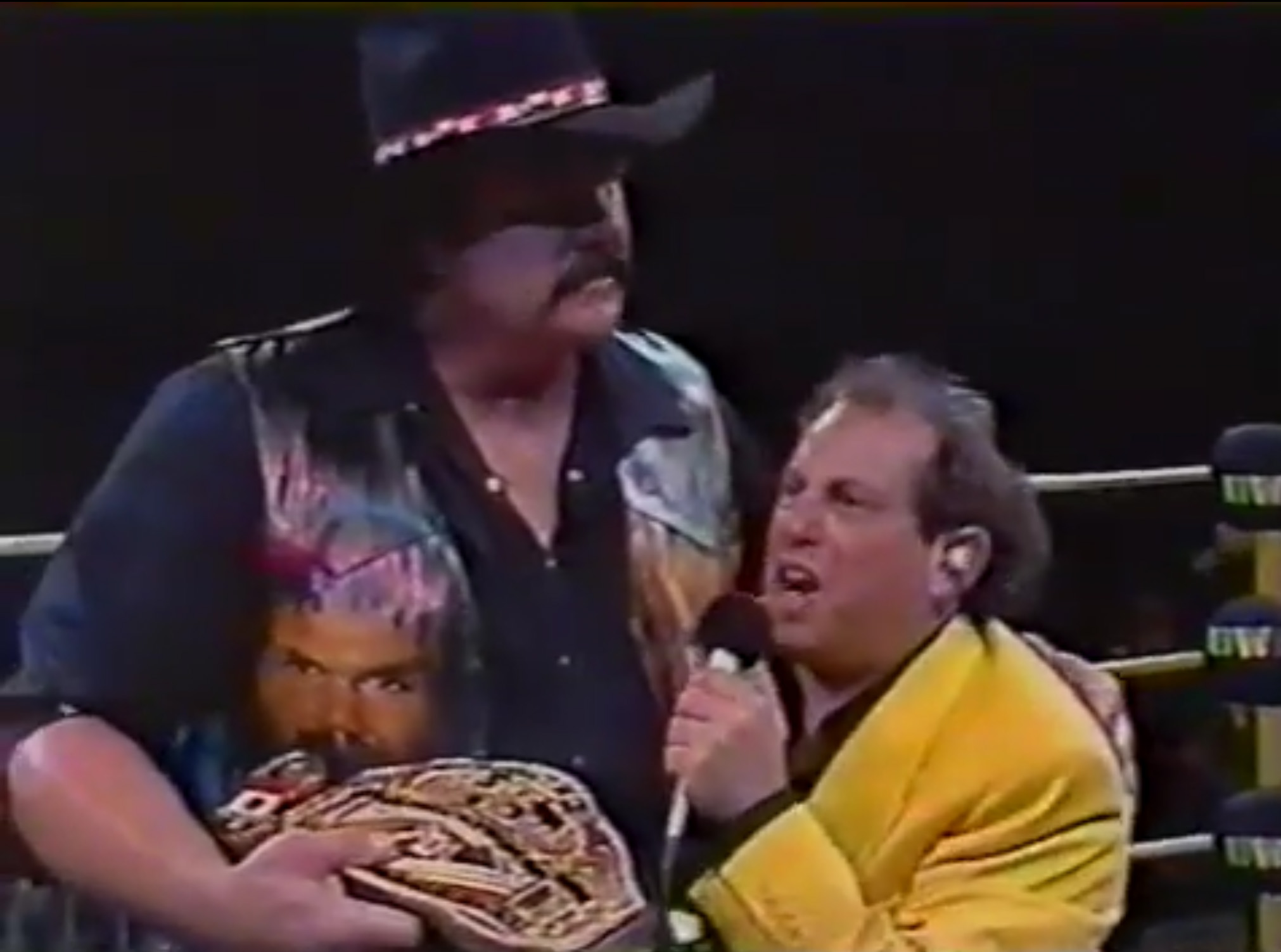 Conclusion: During the event, Gianelli promotes the possibility of upcoming shows like Blackjack Brawl II and Blackjack Brawl III. Sadly, neither show comes to pass since this show did a horrific gate and lost a lot of money.
Let's discuss the matches. The opener had an angle that foreshadowed Spivey's double-cross in the main event. Next, an Asai moonsault was the highlight of the Light Heavyweight title match. Beach wrestled the match of his career in the TV title match. Following that, Orton struggled trying to make Thor worth a damn. The little people and the steroid monsters did what they could to entertain. In the MGM Grand title match, both Mane and Wild Thing ended their wrestling careers with a decent showing. Unlike today, the women's match served as a concession stand break. The Bees scored the World tag team titles by avoiding heel chicanery and persevering. In the lumberjack match, Snuka and Cactus tried to make it work but failed. The main event saw not only the breaking of the ring but also a few minutes of Sid and Williams performing at their best before the storyline finish.
Let's discuss the rest. Steve Rossi, as ring announcer, performed more like he was at a kid's party trying to keep them entertained between the matches. Needless to say, but he did a poor job. Gianelli and Tolos were a terrible broadcasting duo. I wish Abrams had brought back Craig DeGeorge for the show because he had good rapport with Tolos and could orchestrate a show. Abrams' drug addiction reared its ugly head a few times during the show as his voice and antics were not completely solid. I caught a quick glimpse of his yellow ostrich boots, but they rightfully did not get great attention. Allegedly, some of his checks to the wrestlers bounced which is a fitting end to the promotion.
If you've never seen the UWF or this show in particular, be forewarned. This is an independent promotion with lower production values than WCW or WWF in 1994. I recommend the Bees match and main event but skip the rest.
Farewell, UWF! We hardly knew ya.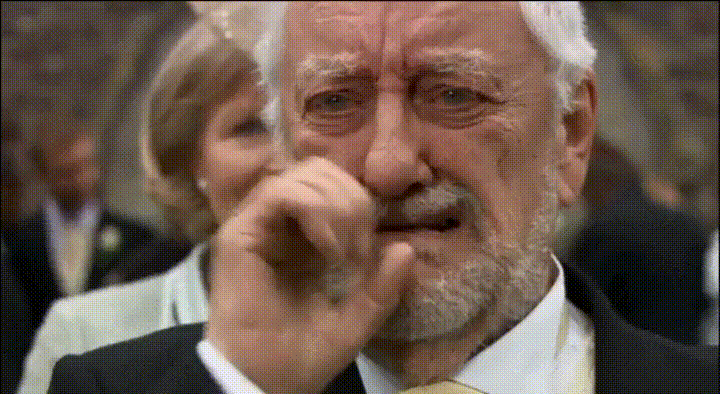 TV Rating: NONE
Stay tuned for The History of Herb Abrams' UWF!
Comments? Suggestions? Send them to me at rsg@rockstargary.com and follow me on Twitter (@rockstargary202).
Custom Search