WELCOME TO ROCK STAR GARY REFLECTIONS!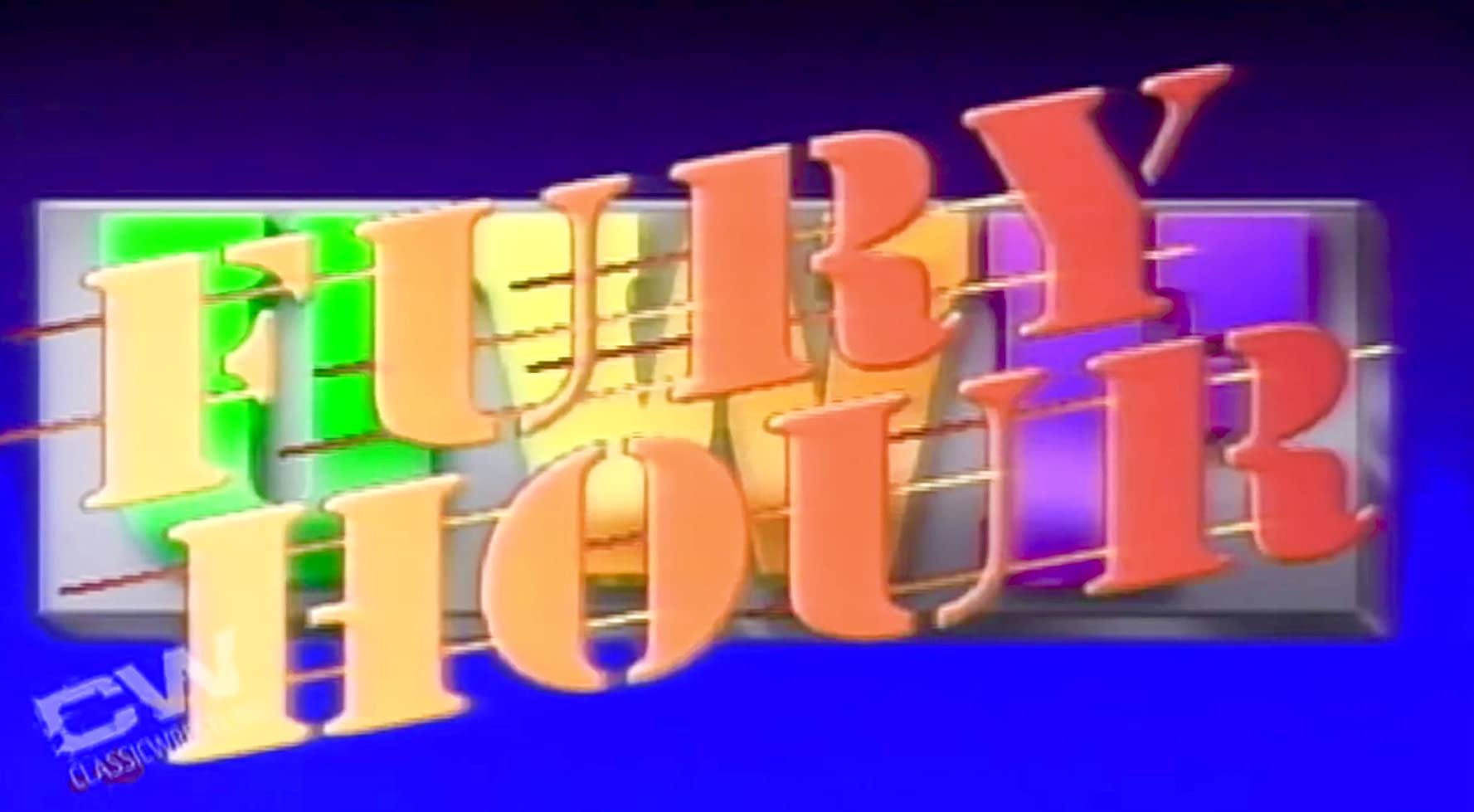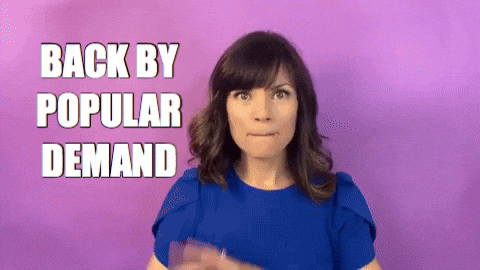 UWF Fury Hour 10-08-90
Taped from Reseda, CA
Airdate: October 8, 1990 (taped 09/24)
Attendance: 450
Hosted by Herb Abrams and Bruno Sammartino
Can Haynes crush apartheid in the form of DeBeers? Will Spivey and Blair play nice this week? Who's in Lou's Corner? Let's find out!
Opening montage.
Match 1: The "Unpredictable" Cactus Jack versus Davey Meltzer
Highlights:
Here's something you don't get with the WWE Network—original music! Cactus made his entrance to Steppenwolf's "Born to be Wild."
When Meltzer reversed a cross corner whip, he ate a back elbow on his follow-through.
Cactus then delivered an elbow drop followed by a running guillotine.
As Meltzer spit after some Cactus heel tactics, the loogie landed on the camera lens.
Meltzer rebounded with a few shots that even Abrams wasn't selling and missed a dropkick.
Upon scoring with a forearm smash, Cactus hit a belly-to-back suplex and picked up Meltzer at 2.
He then gave Meltzer a cross corner whip followed by a bulldog.
While he tossed Meltzer to the concrete floor, Cactus joined and slammed Meltzer. How dastardly!
He then mounted the apron and launched a Cactus Elbow.
When he tossed Meltzer back into the ring, Cactus pinned him.
Cactus won at 3:00.
Rating: ½*
Summary: Showcase match (a.k.a. a "shellacking" courtesy of Bruno) for the "Unpredictable" one.
Commercial for TVN Buyer's Card airs. This advertisement is as shady as a check from Abrams. Next, an ad for Champions Forever featuring Ali, Frazier, Foreman, and Norton for only $19.95 plus $4.00 shipping.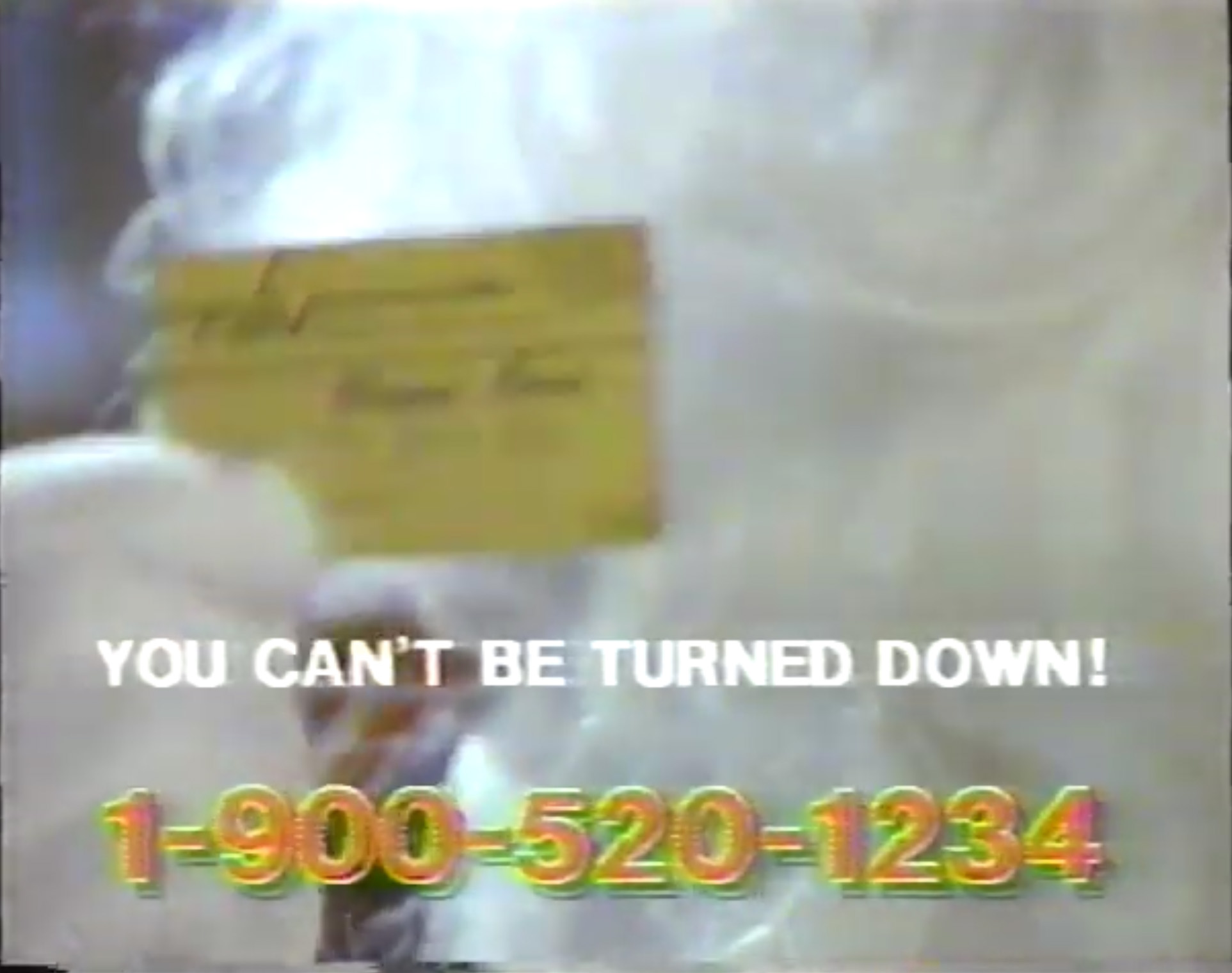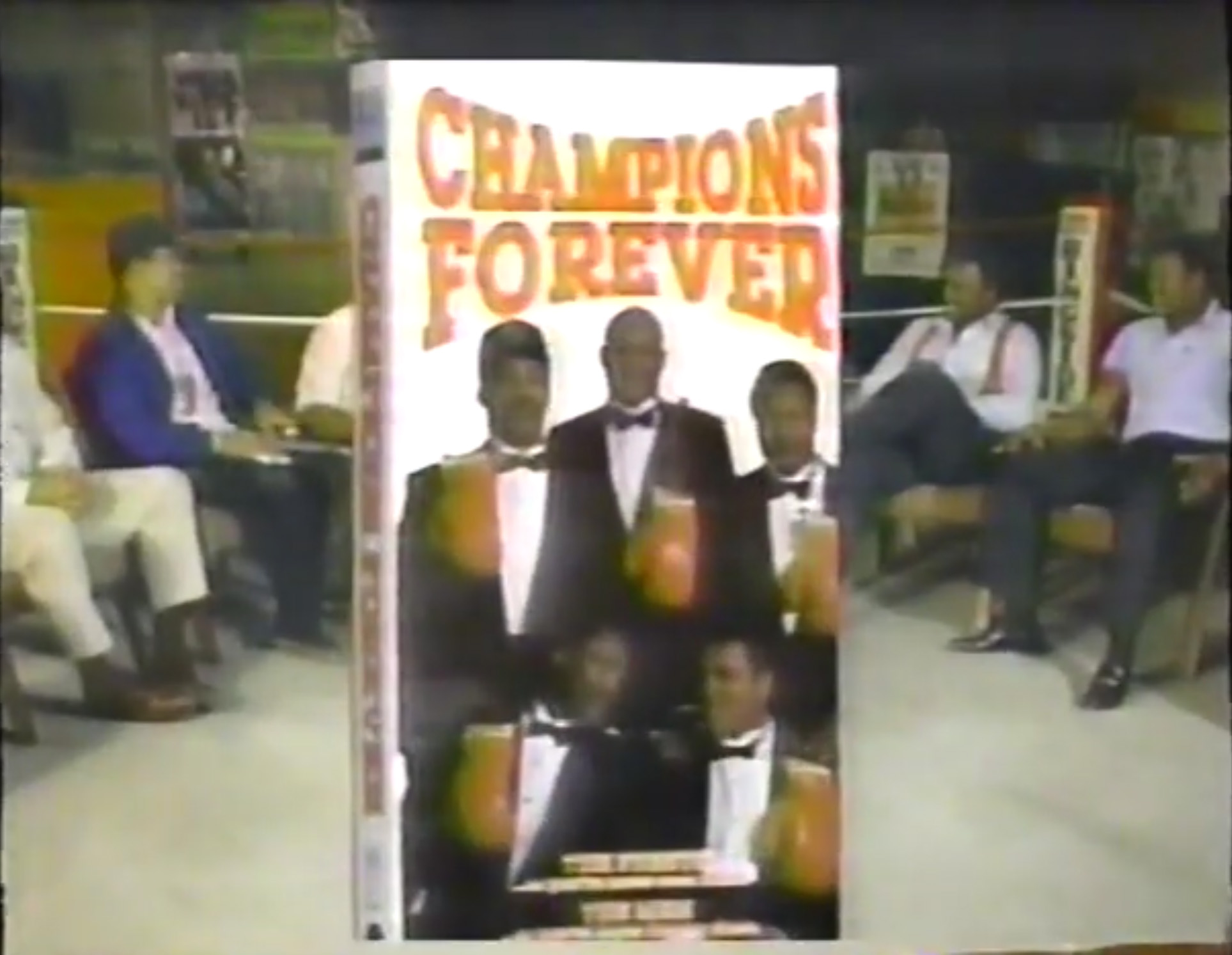 The tape sent to SportsChannel by Abrams was so crooked, it skipped; thus, we get this: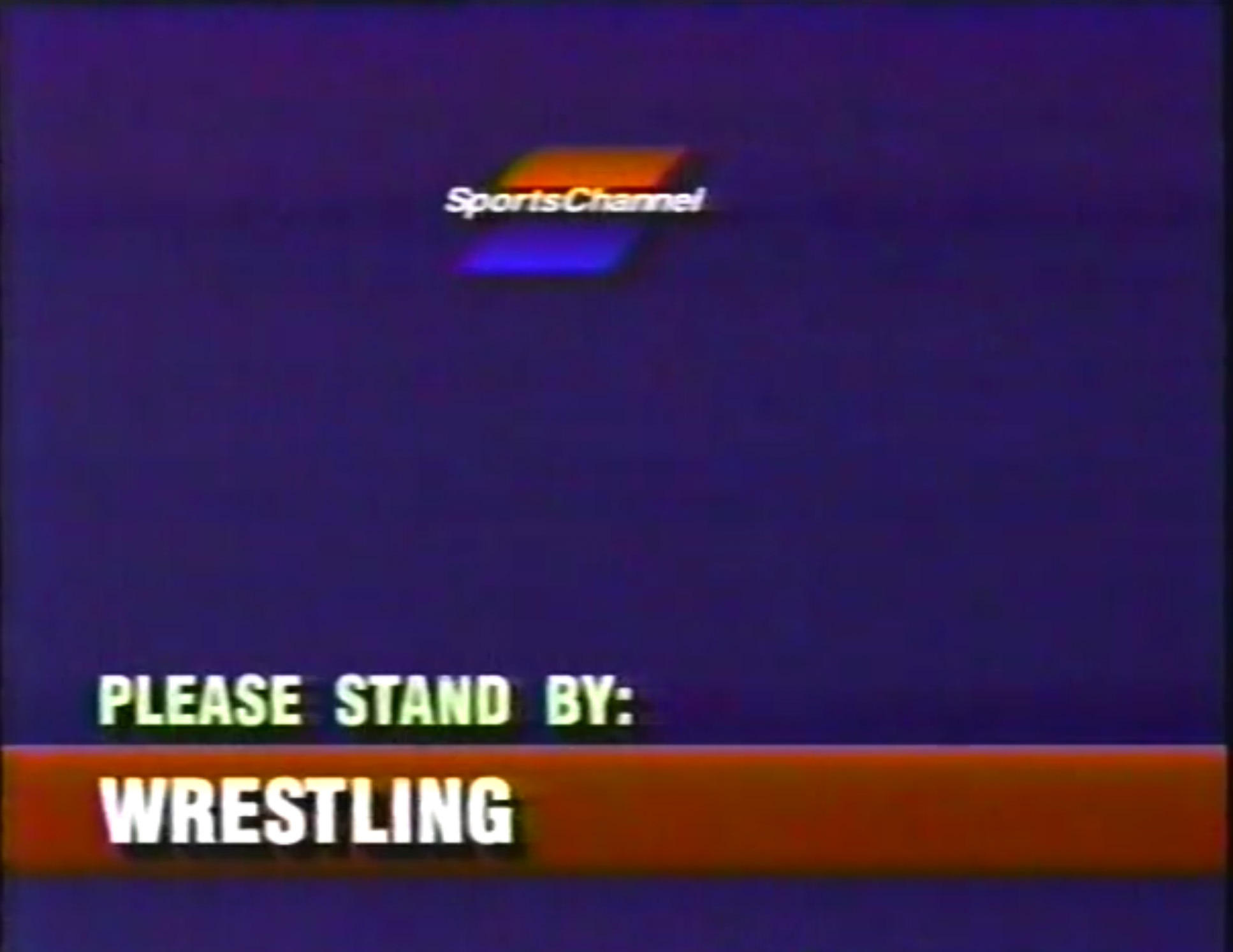 Match 2: "Dangerous" Dan Spivey versus Scott Cole
Highlights:
As Spivey made his entrance, he tore up a Blair t-shirt. Nefarious!
Spivey clotheslined Cole who is not likely related to either Adam Cole, Michael Cole, or Nat King Cole.
When he delivered a swinging neckbreaker, Spivey suplexed Cole.
He then landed a gutwrench suplex for 1 as he literally stopped covering him.
Since the anonymous referee had no clue, he counted to three.
Spivey then powerbombed and pinned Cole at 1:08.
Rating: DUD
Summary: Showcase match for Spivey.
Match 3: "Mr. Wonderful" Paul Orndorff versus the Black Knight
Highlights:
For those unaware, Knight was portrayed by Bill Anderson. Sheesh! It's no wonder he donned a disguise. His name screamed tax accountant. I wonder if he does windows.
Of course, this show preceded WWF Survivor Series 1993 when Jeff Gaylord portrayed the Black Knight. If Anderson had been a lawyer, he could have sued for gimmick infringement.
Unlike Spivey, Orndorff tossed one of his t-shirts to one of the lucky 450 in the building.
Orndorff leapfrogged Knight and followed with a hip toss.
When Knight sought refuge outside the ring, he re-entered the ring via sunset flip but botched it terribly.
Orndorff then tried to punish Knight by removing his mask but came up short.
After he gave Knight a cross corner whip, Orndorff backdropped him.
He then planted Knight with an elbow smash and a knee drop.
While he clotheslined Knight, Orndorff dropkicked him.
He then put a knee into the midsection and piledrove Knight flatter than a pancake.
1-2-3.
Orndorff won at 5:10.
Rating: DUD
Summary: Showcase match for Orndorff. I hope Knight's premiums are paid off.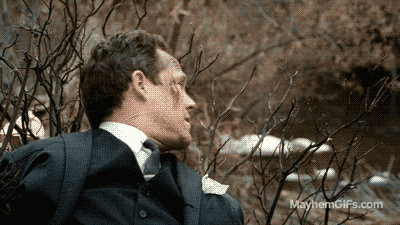 We get a merchandise shill by B. Brian Blair, a sales pitch for UWF by Albano, and an alleged return for the UWF to the "Southern California area" on 10/8.
Same Haynes promo as last week airs.
Merchandise shill #2 in the same commercial break airs. Methinks last week's ratings didn't earn Abrams many big-time advertisers.
Match 4: "Dr. Death" Steve Williams versus Larry Ludden
Highlights:
According to cagematch, this match marked Ludden's pro wrestling debut. I don't like his chances.
Williams made his entrance to George Thorogood's "Bad to the Bone."
As Ludden attacked him before the bell, he gave Williams a cross corner whip followed by a corner clothesline.
Williams no-sold it, demolished Ludden with a lariat, and picked him up at 2.
When he supplied Ludden with a cross corner whip, Williams practically decapitated him with a corner clothesline.
He then slammed Ludden, military-pressed him, considered tossing him into the Pacific Ocean, but settled upon down to the mat.
After he whipped Ludden into the corner, Williams came up empty on his follow-through.
Ludden then caught Williams' left foot but ate an enziguri.
While he provided Ludden with another cross corner whip, Williams CRUSHED him yet landed on his feet on the concrete floor.
He then mounted the top turnbuckle and delivered a cross body block for 2.
As he slammed Ludden, Williams bowled him over like an SMU linebacker from this era.
He then whipped Ludden into the corner, caught him, rammed him back-first into the opposite turnbuckles, and unloaded an Oklahoma Stampede.
1-2-3.
Williams won at 4:08.
Rating: *
Summary: Showcase match for Williams. You might want to get Ludden a map because I'm sure he doesn't know which bus hit him.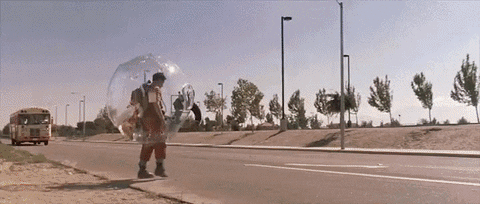 Commercials! Hair Club for Men! Eaton's Neck, Long Island! New Jersey Devils hockey (Devils beat the Minnesota North Stars 5-2 and lost to the Flyers 7-4 this week)!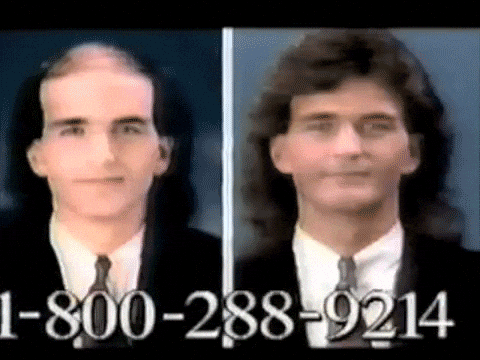 DeBeers seeks respect unlike his nemesis Nelson Mandela. As he refers to Haynes, as Billy "Jerk," DeBeers runs him down.
Match 5: David Sammartino versus Houdini
Highlights:
David mustn't be a rock'n'roll fan as his entrance music was "Poison" by Bel Biv DeVoe.
For those unaware, Houdini had a cup of coffee in the dying days of the AWA before making a pit stop in Reseda.
Houdini reversed a cross corner whip but came up empty on his follow-through. If you asked him, he'd have said that David vanished into thin air. Houdini "injured" his right knee as well.
When David hooked a figure-four leg lock, Houdini couldn't escape and submitted.
David won at 1:50.
Rating: ½*
Summary: Showcase match for David, and the Reseda faithful were mesmerized by Houdini's magical loss of credibility.
CAPTAIN LOU'S CORNER: Albano interviews Spivey who downplays leverage in professional wrestling. Spivey then cuts a promo on Blair, wants to be the World champion, and wonders where the "weasel" Herb Abrams is. I bet his check bounced.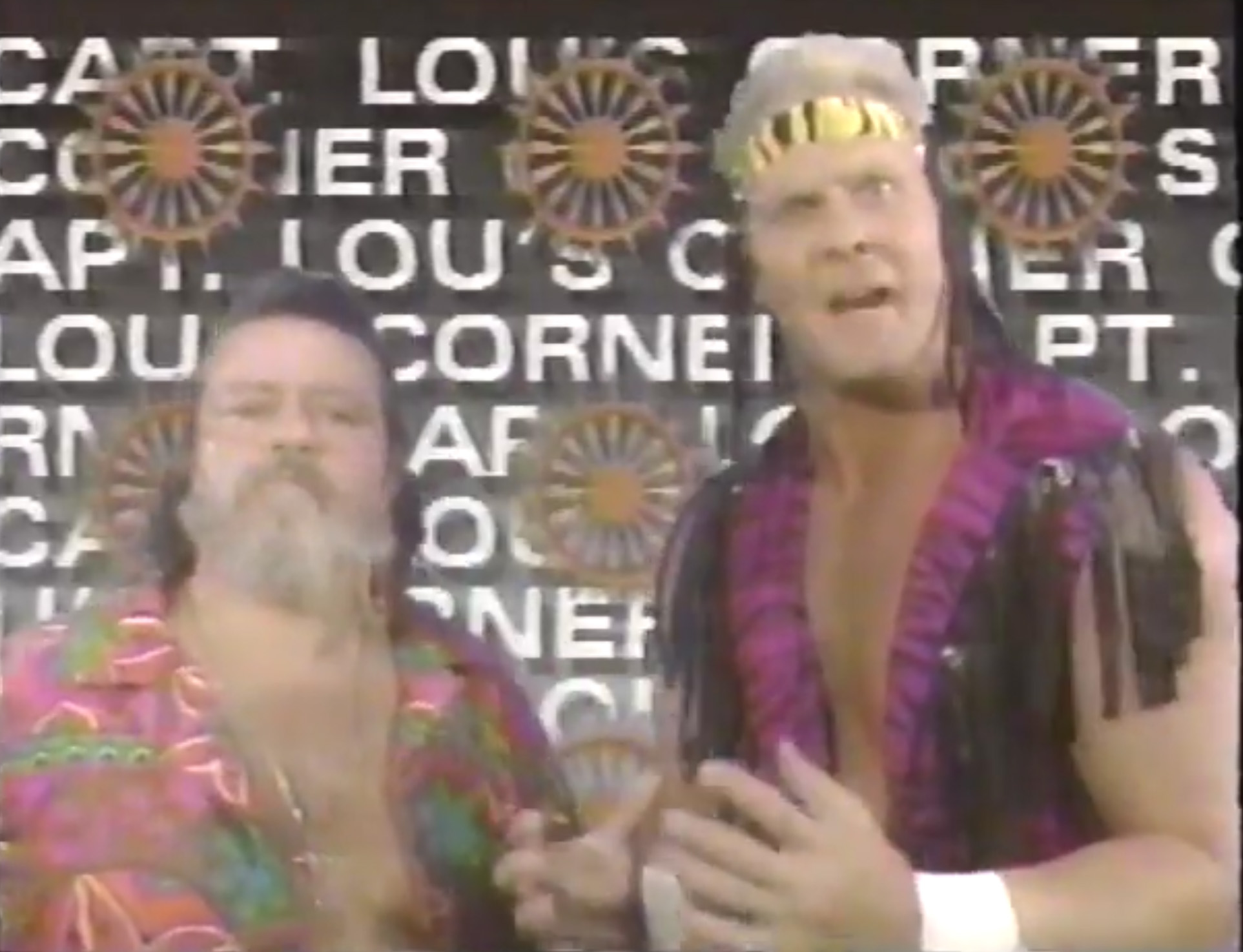 Merchandise shill #3 airs.
Spivey craves the spotlight on SportsChannel.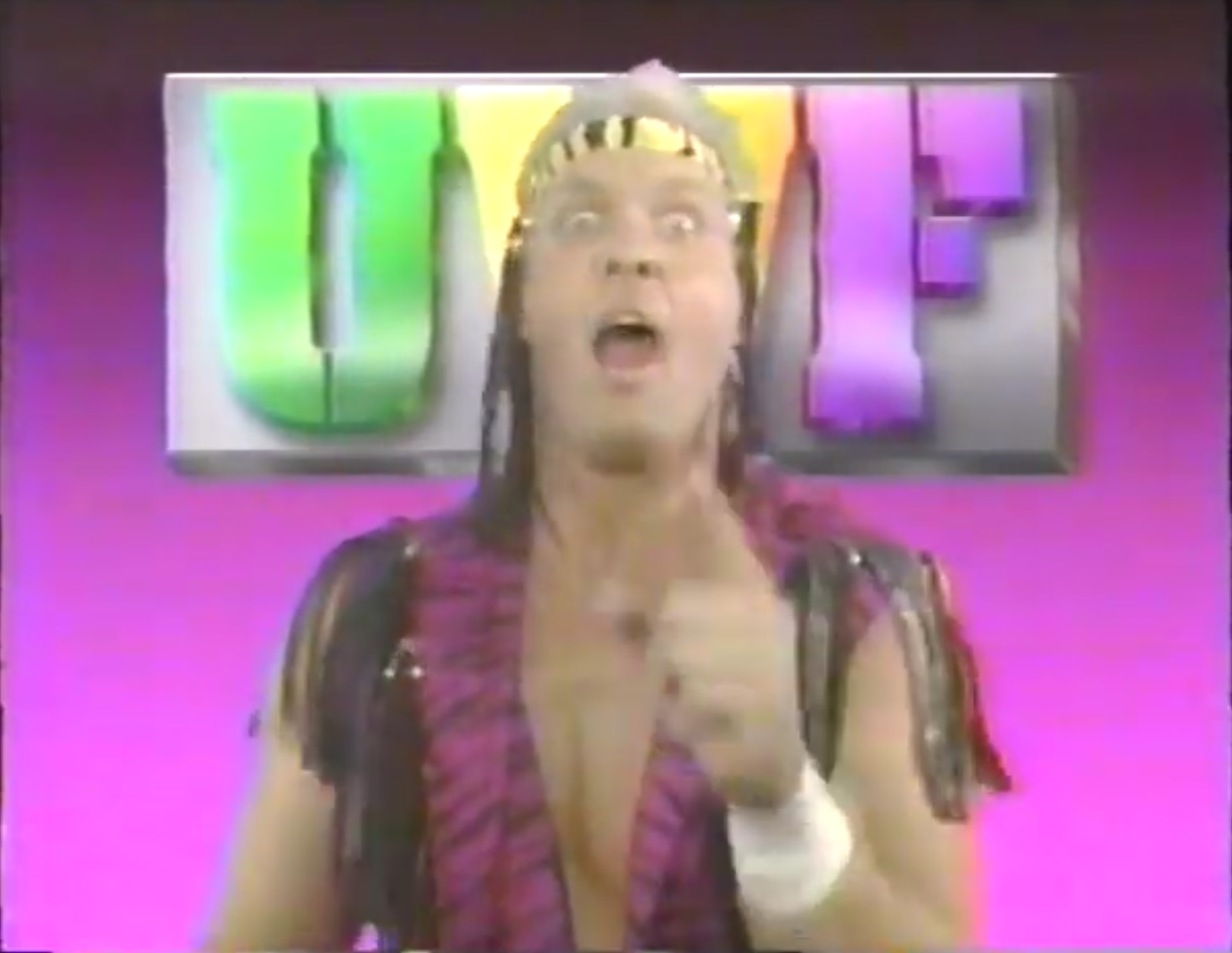 Jay Strongbow, Jr. cuts a babyface promo.
Merchandise shill #4 airs. Someone needs new sponsors.
Match 6: B. Brian Blair versus Tim "Spitball" Patterson
Highlights:
Blair must be feeling electric as his entrance music was AC/DC's "You Shook Me All Night Long."
As Spivey came to ringside to get a bird's eye view, he tripped Blair coming off the ropes. Heinous!
Referee Jesse Hernandez didn't see it, so the Reseda faithful showed their love for Spivey.
When Spivey tripped Blair again, Patterson hooked a double leg takedown but ate knees on a splash attempt.
Blair then mounted the second turnbuckle, buzzed, and delivered a flying elbow smash.
After he gave Patterson a cross corner whip, Blair bulldogged him.
Blair then wrapped him in a Sharpshooter, and Patterson submitted.
Therefore, Blair won at 4:45.
Rating: *
Summary: Showcase match for Blair, but Spivey generated all the heat.
After the match, Spivey enters the ring and clotheslines Blair. He then powerbombs Blair much to the delight of the Reseda faithful.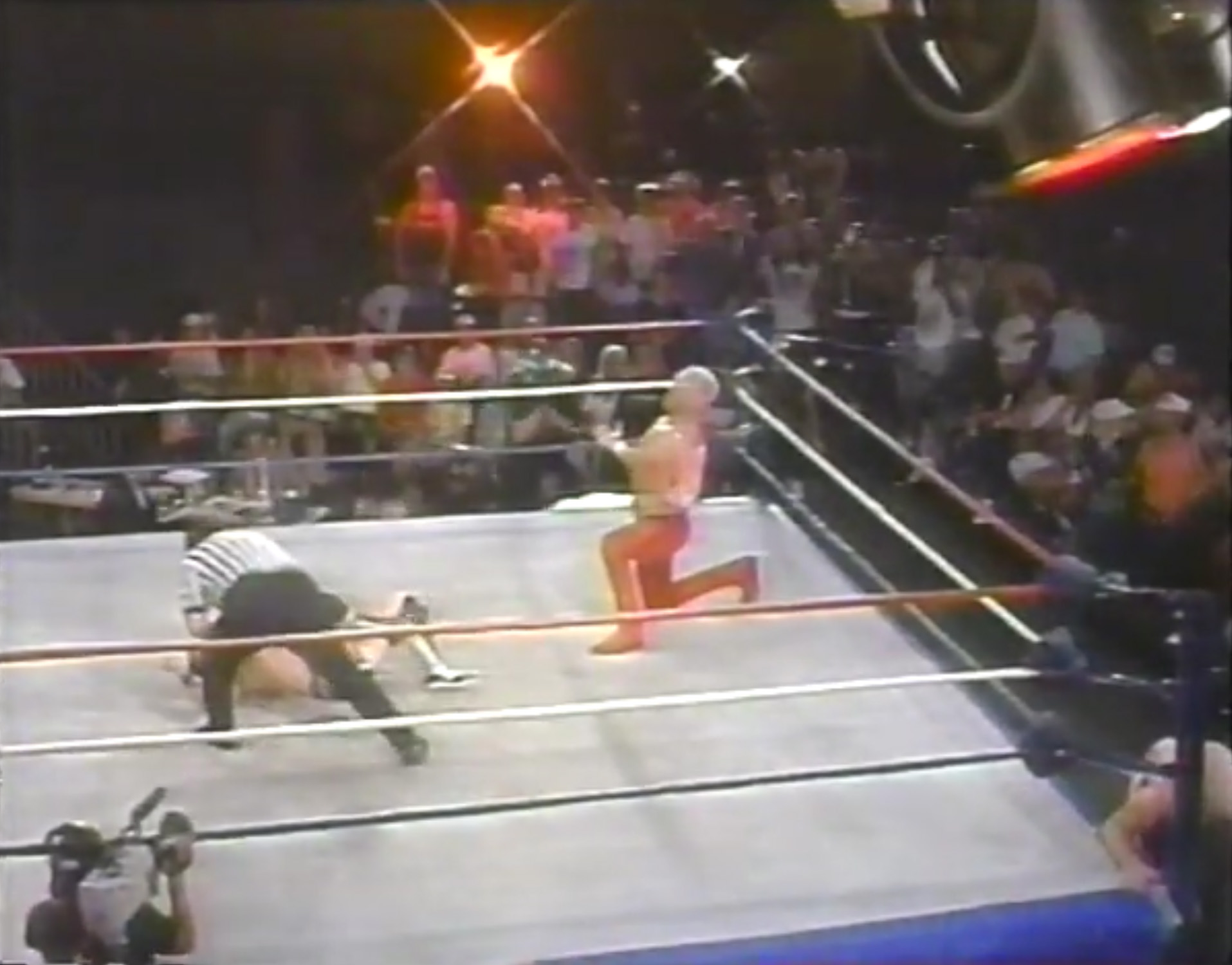 Commercial for the James Bond collection from Time-Life Video airs, and check out Sports Nightly on SportsChannel. This Friday, SportsChannel brings you the high school football game of the week: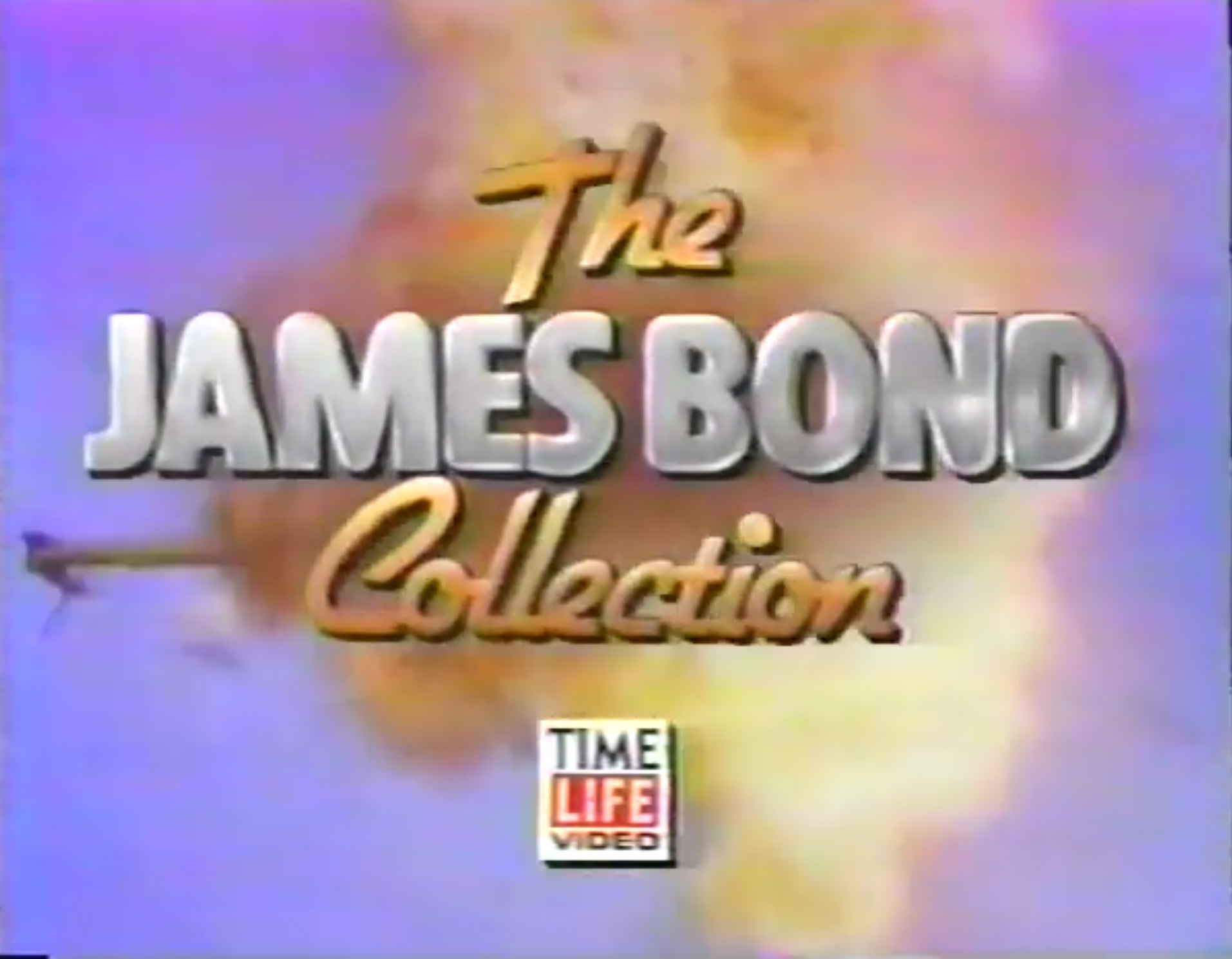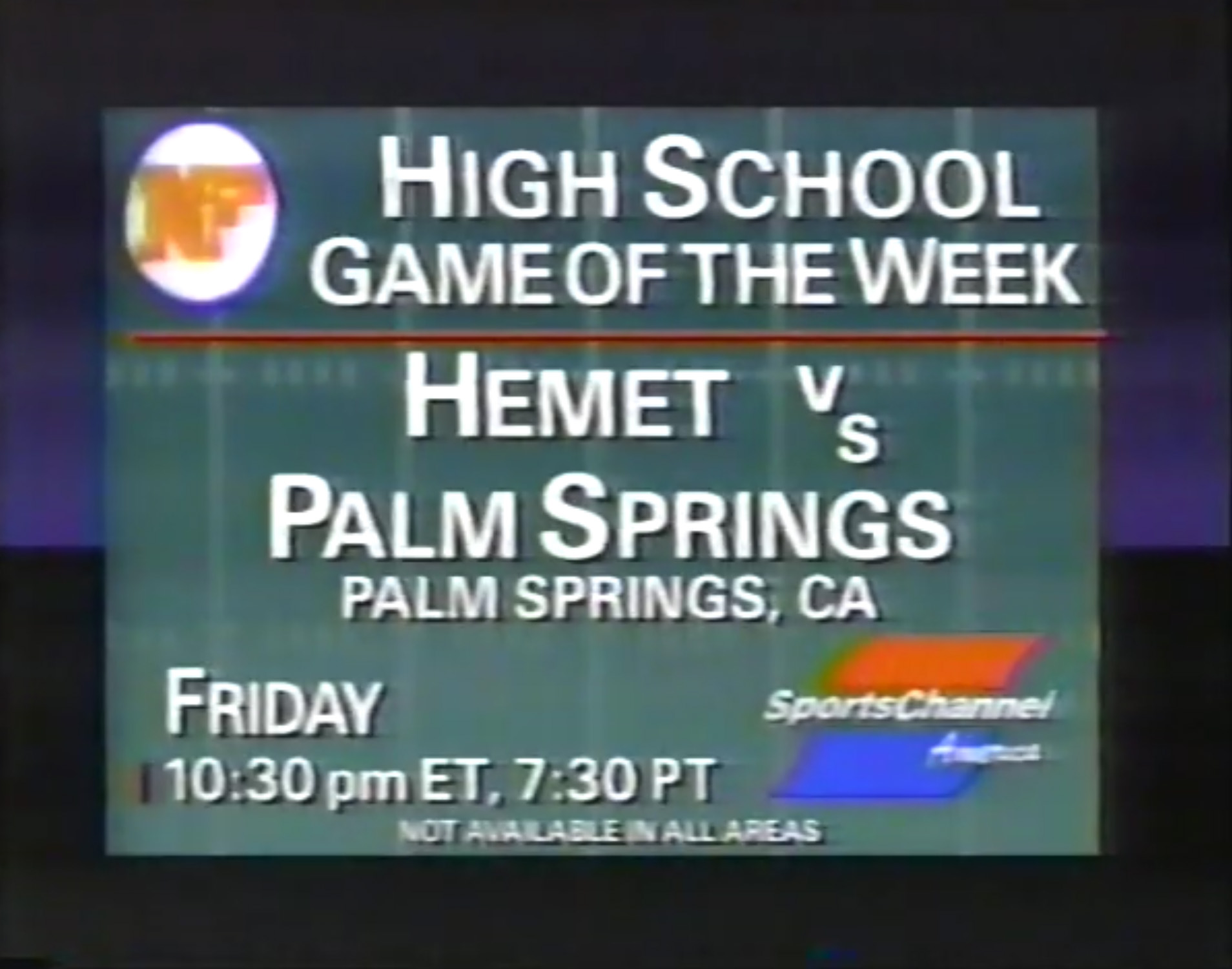 Match 7: Billy Jack Haynes versus Colonel DeBeers
Highlights:
DeBeers must like to travel north out of South Africa because his entrance music is "Welcome to the Jungle" by Guns'n'Roses.
When DeBeers complained about referee Larry Sampson's African-American ethnicity, the ring announcer actually obliged him and switched officials.
Haynes questioned why Jesse Hernandez was installed, and the Reseda faithful chanted "U-S-A" to piss off DeBeers.
As Haynes grabbed the microphone, he insisted on having Sampson referee this match but to avail.
DeBeers attacked him before the bell, but Haynes, still wearing his ring jacket, face-planted him.
After Haynes delivered a knee lift, he caught DeBeers by his left foot.
DeBeers then knocked Haynes silly with an enziguri and used momentum (as well as the trunks) to toss him to the floor.
While DeBeers tried to ram him into the top turnbuckle, Haynes blocked it and rammed him instead.
DeBeers attempted a piledriver, but Haynes countered with a back drop.
When he slammed Haynes, DeBeers mounted the top turnbuckle, attempted a flying splash, but ate knees.
Haynes supplied DeBeers with a back elbow, and a chop by Haynes led to DeBeers' getting tied up in the ropes.
As Haynes took advantage, he hit an elbow drop but was too close to the ropes to earn a count.
Haynes then reversed an Irish whip and dropkicked DeBeers over the top rope to the concrete floor.
With DeBeers on the apron, Haynes suplexed him back into the ring for 2.
Haynes then attempted a full nelson, but DeBeers escaped down to the concrete floor.
After Haynes provided a baseball slide, he prevented DeBeers from re-entering the ring.
Neither wrestler paid any attention to the count, so Hernandez counted them out at 9:05.
BOOOOOOOOOOOOOOOOOOOO!
Rating: *
Summary: Despite DeBeers' attempt to leave his feet, this match didn't have any heat; thus the Reseda faithful sought popcorn.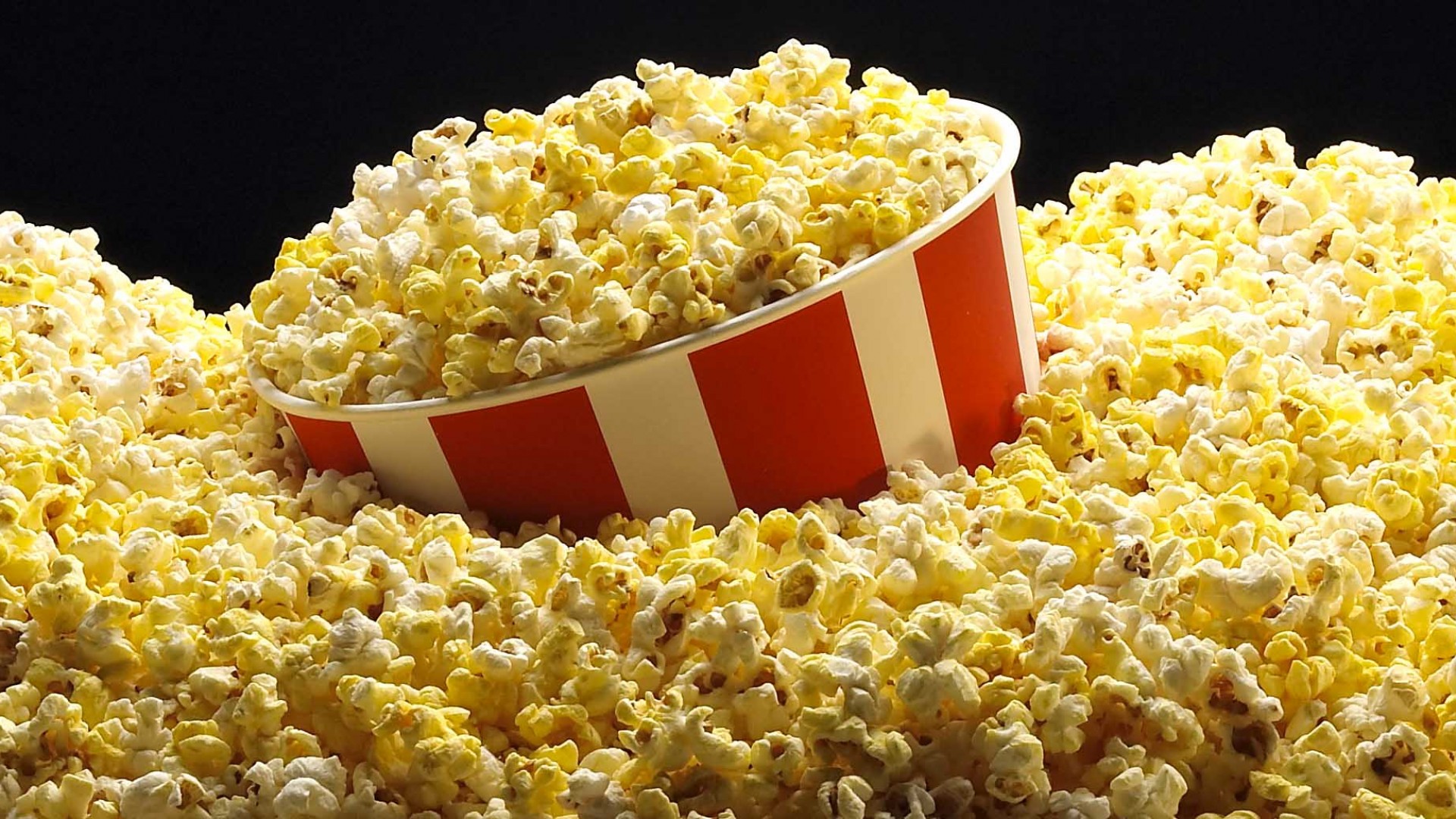 Commercial airs for the SportsChannel hotline followed by an advertisement for Air & Space Smithsonian magazine. Talk about not knowing your audience. Wrestling fans don't visit museums.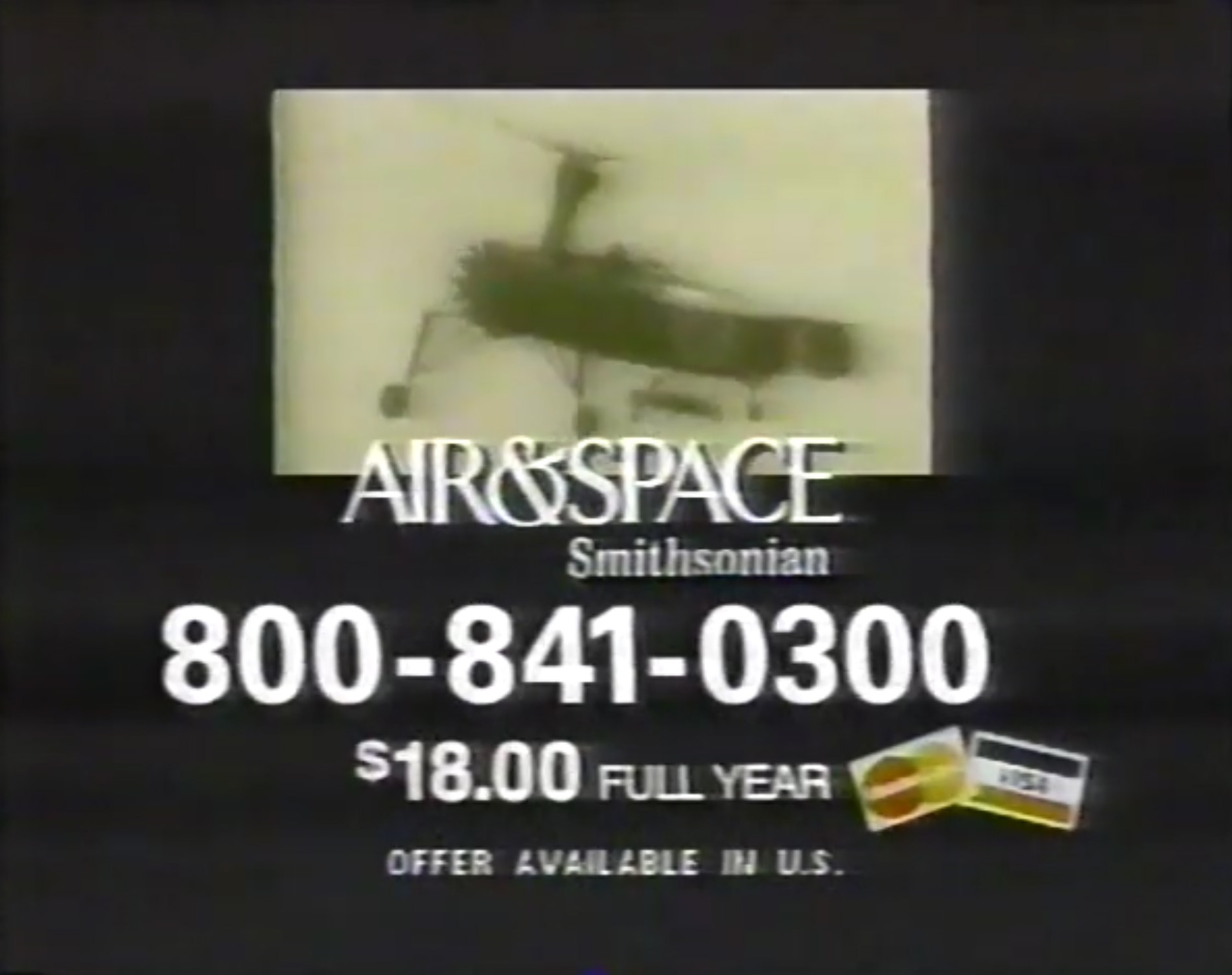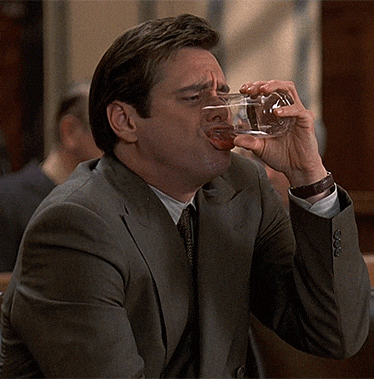 Williams cuts a promo on Orndorff.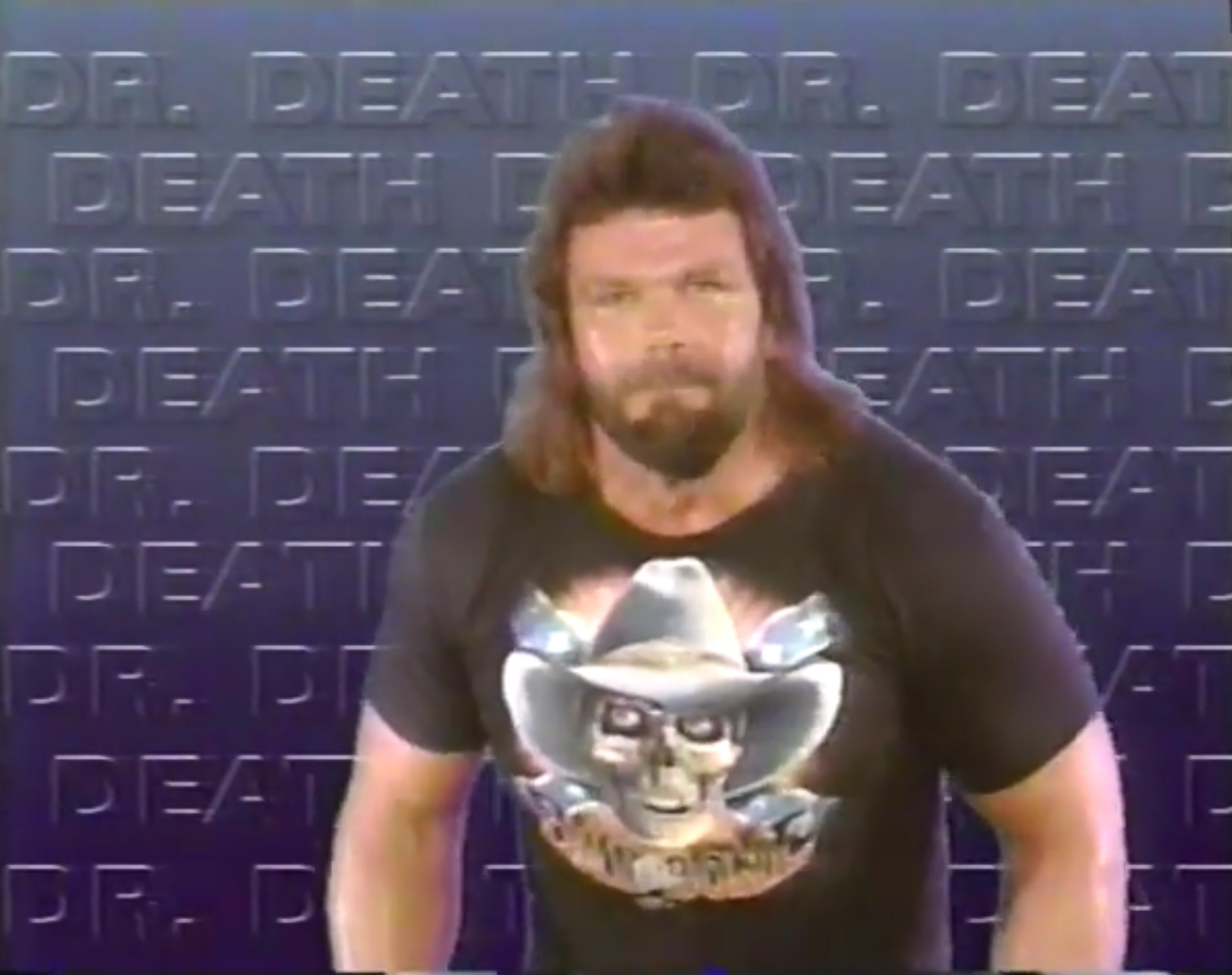 See the UWF in person on 11/8 but who knows where? Reseda? Poughkeepsie? Sarasota? Tacoma?
Conclusion: Another exciting episode of UWF is in the books, and Spivey is looking like the king of the playground. Considering the quality of ads on this show, I'm not sure how much longer this program will remain on SportsChannel. You'd better stay glued to this site for the most up-to-date information.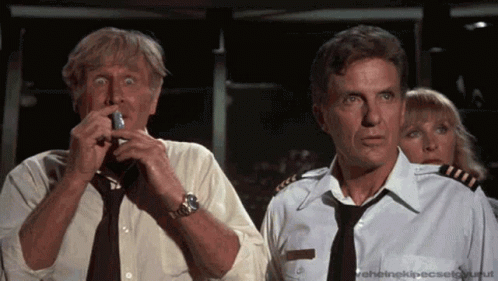 OK, maybe not like that.
Next week, Williams and Orndorff settle their score.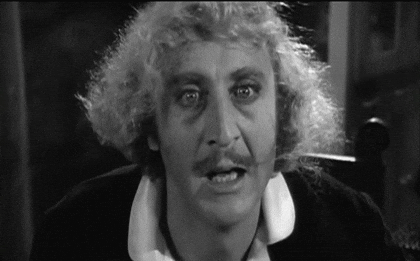 TV Rating: NONE
Stay tuned for UWF 10-15-90!
Comments? Suggestions? Send them to me at rsg@rockstargary.com and follow me on Twitter (@rockstargary202).
Custom Search