WELCOME TO ROCK STAR GARY REFLECTIONS!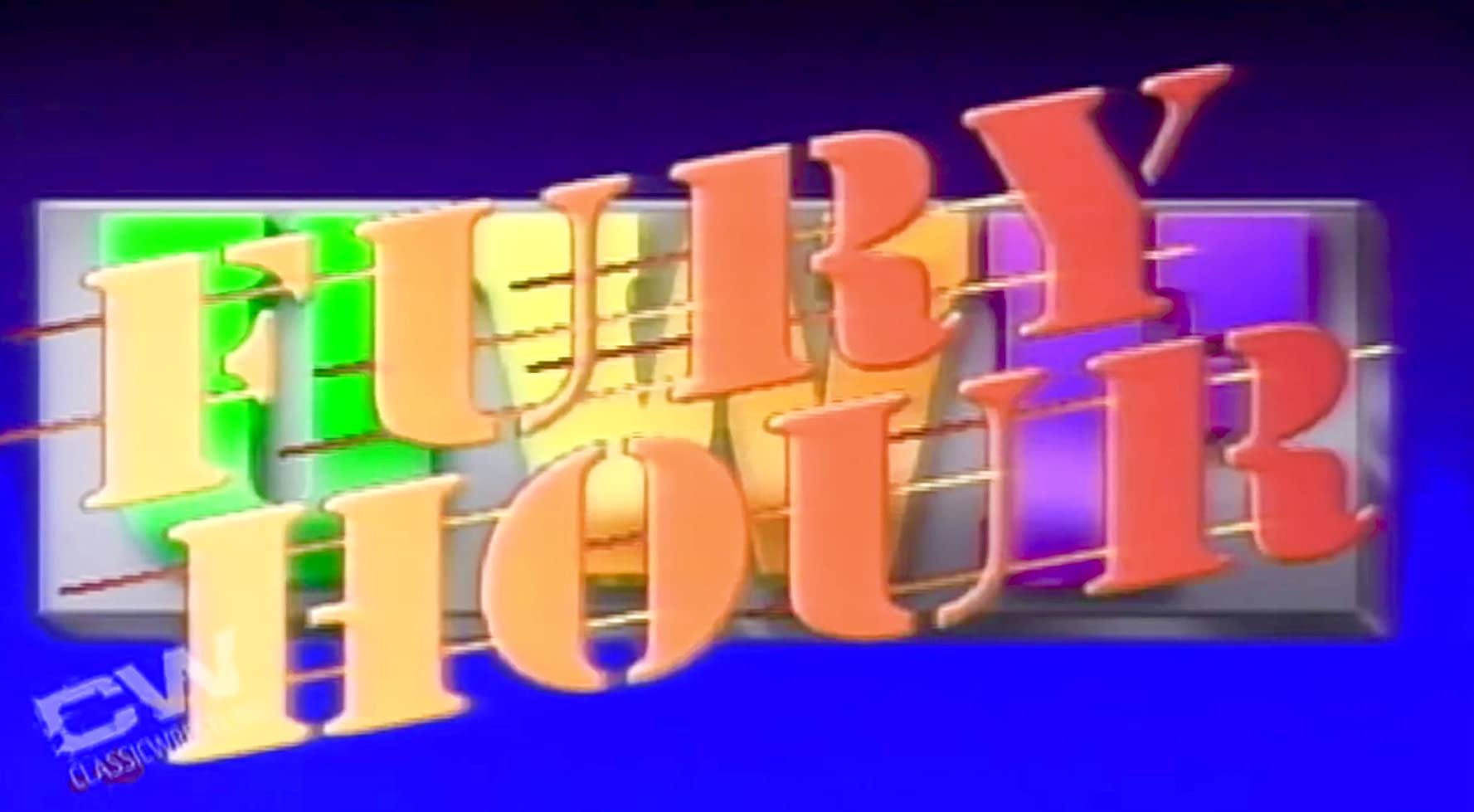 UWF Fury Hour 10-01-90
Taped from Reseda, CA
Airdate: October 1, 1990 (taped 09/24)
Attendance: 450
Hosted by Herb Abrams and Bruno Sammartino
It's the premiere episode of UWF Fury! You won't believe who will wrestle on tonight's card. Can Blair topple Spivey in the main event? What else will happen? Let's find out!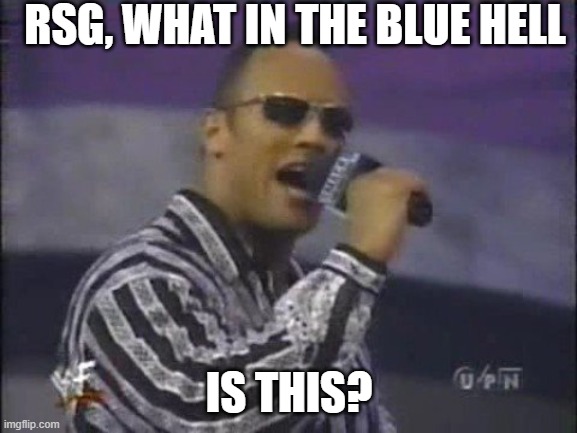 2000 Rock, go back into hiding. The Monday Night War will resume shortly, so grab a bottle of shut-up juice and relax at the Smackdown hotel.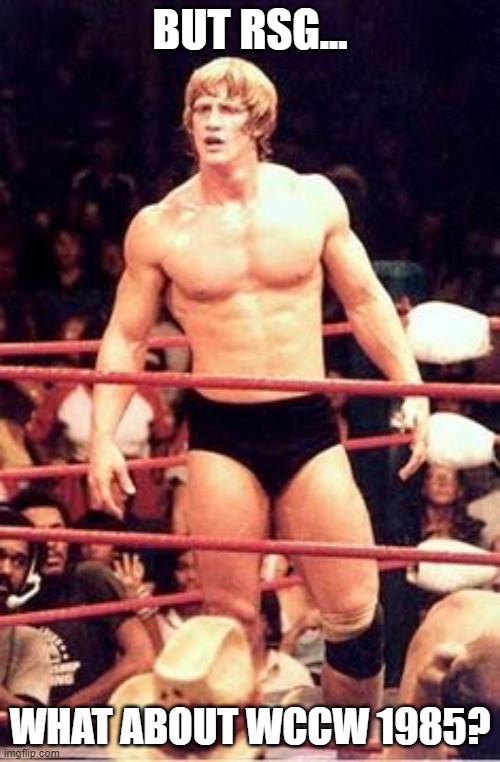 Kevin, the WCCW train is still rolling. While 1984 was a tumultuous year for WCCW, I'm ready to dive into 1985. Keep your shirt on.
Oh, wait…
Opening montage.
Match 1: "Dr. Death" Steve Williams versus Davey Meltzer
Highlights:
For those unaware of the intentional spoof upon the creator of the Observer, "Meltzer" was portrayed by Adam Michaels.
Williams clotheslined Meltzer at the onset and followed with a short-arm clothesline out of the corner.
When Williams military-press-slammed him, Meltzer was sent to the apron.
Williams then returned him to the ring with a pseudo-suplex/slam.
As he gave Meltzer a cross corner whip, Williams sandwiched him in opposite corners before unleashing an Oklahoma Stampede.
1-2-3.
Williams won at 3:48.
Rating: DUD
Summary: Showcase match for Williams. Meltzer had ZERO physique. We're talking 100% dad bod, folks. How he absorbed Williams' offense remained a question for the ages.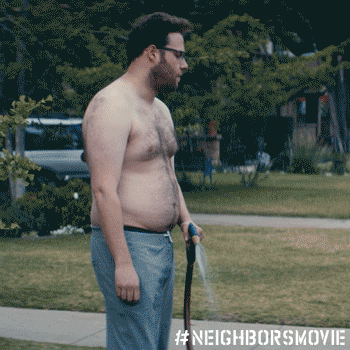 After the match, Williams shoves some paper in Meltzer's mouth to send a statement to the real David Meltzer.
Commercial for NordicTrack airs. Get yours today!
Match 2: The "Unpredictable" Cactus Jack versus David Sammartino
Highlights:
For those curious, Jack had previously wrestled earlier in 1990 in WCW. He was infamous for his Nestea Plunge.
Methinks Bruno won't be impartial during this match.
As the match began, Cactus cut an inset promo declaring he'd "rather hurt a man than love a woman." OK, Mick, I hope you weren't courting Collette when you said that. David flubs his promo by affirming his "walk in the park" status.
Unlike his rather bulky build at WrestleMania in '85, David weighed approximately 225 for this match per his father.
David gave Cactus a cross corner whip but suffered a double leg takedown.
When Cactus tried to pin David with his feet on the second rope, he only got 2.
He then gave David a cross corner whip but came up empty on his follow-through. In fact, he HIT THE POLE.
Afterward, Cactus bit David's stomach to garner heel heat. Either that or he was so broke that he couldn't afford a Big Mac.
He then clotheslined David and tossed him down to the concrete floor.
While he joined David, Cactus guillotined him on the steel railing.
During a station break, we get another promo by David.
We then get rewarded by a UWF merchandise shill courtesy of Blair.
As a promo by Williams followed, UWF allegedly returned to "Southern California" on 10/11.
Meanwhile, Cactus suplexed David back into the ring and got 2.
David then countered a rear chin lock with an electric chair, but Cactus rebounded with an inverted atomic drop.
When he supplied David with a Cactus clothesline, Cactus offered the Reseda faithful a "BANG, BANG."
Cactus then attempted a suplex on the concrete floor, but David blocked it and provided Cactus with one of his own.
After David kicked him in the midsection, he hooked Cactus within an inside cradle for 2.
Cactus then reversed an Irish whip and delivered a swinging neckbreaker.
While he gave David a HARD cross corner whip, Cactus attempted a hangman's neckbreaker.
David immediately countered with a backslide for 2.
As Cactus got frustrated, he head-butted both David and the anonymous referee.
Speaking of whom, he disqualified Cactus at 12:34.
Rating: *½
Summary: Cactus walked David through every sequence during the match and did a fine job. Since Bruno was working commentary, I'd bet David wouldn't job. Since Cactus was an up-and-comer, he needed to be protected with the DQ finish. The Reseda faithful was not too interested despite the canned crowd noise.
Commercials! Hair Club for Men! Texaco! Also, catch the NHL on SportsChannel!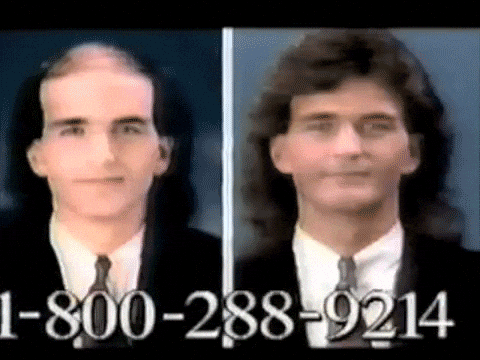 Match 3: Billy Jack Haynes versus Tim "Spitball" Patterson
Highlights:
For those unaware, Patterson was a journeyman with previous tenure in the AWA and WWF. I'm not sure, however, if his favorite baseball player was Gaylord Perry.
Patterson launched a flying back elbow, gave Haynes a cross corner whip, and followed with a back elbow.
When Haynes reversed a cross corner whip, Patterson took a sternum-first bump in the corner.
Haynes then hooked a release German suplex, mounted the second turnbuckle, and face-planted Patterson.
As he landed a flying knee drop, Haynes applied a full nelson.
Patterson submitted; thus, Haynes won at 4:09.
Rating: **
Summary: Showcase match for Haynes. Since Haynes had credibility from the WWF, the Reseda faithful praised him mightily.
During a wrestling convention in New York City on 8/26, Abrams holds a press conference announcing the formation of the UWF as well as tonight's main event. If that's not enough, Spivey douses Blair's face with a pitcher of water and rams him face-first into the table. He then sends Blair into the wall knocking down a SportsChannel poster. To top it off, he flips over a table thankfully missing Blair.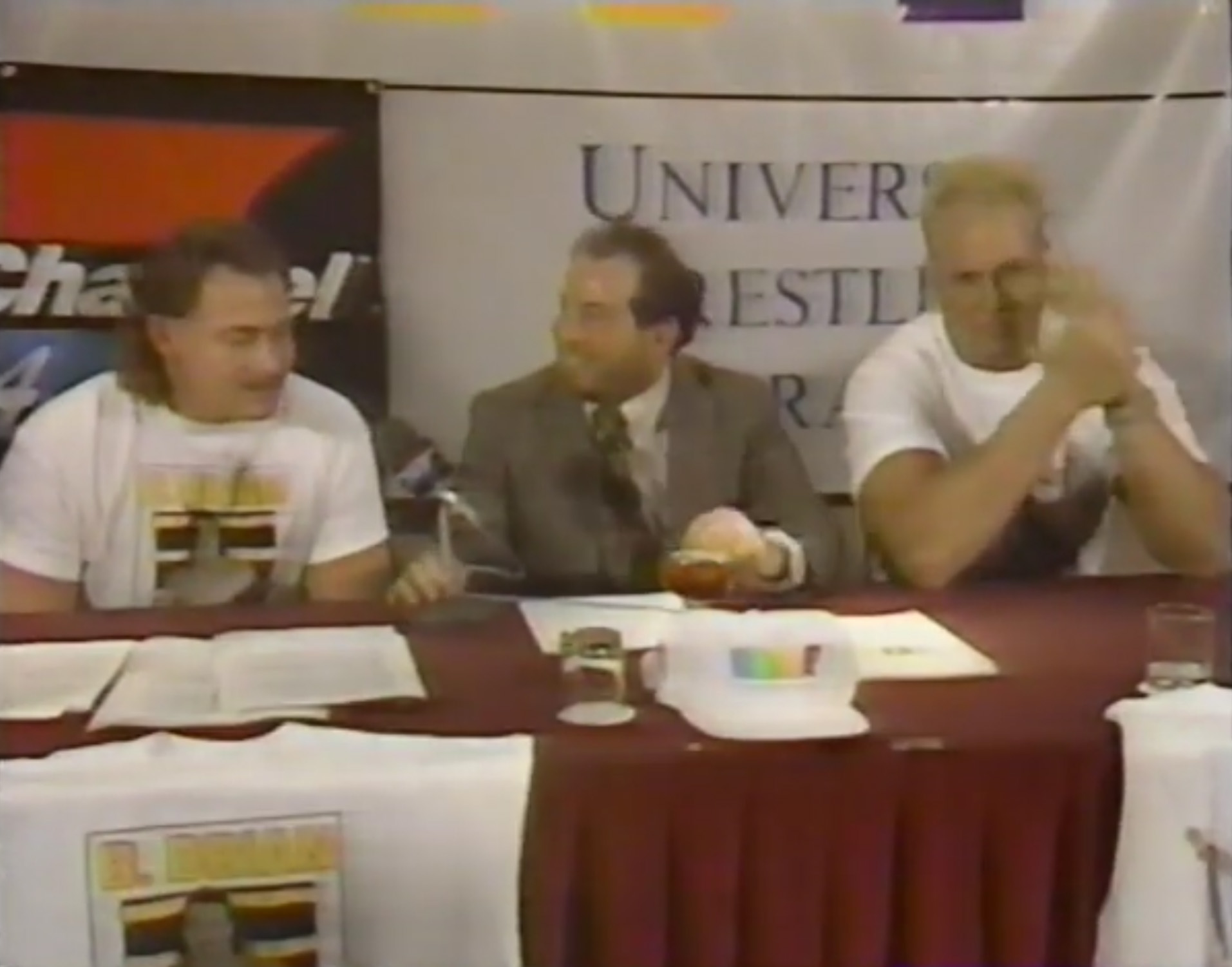 CAPTAIN LOU'S CORNER: Albano interviews Blair who cuts a promo on Spivey.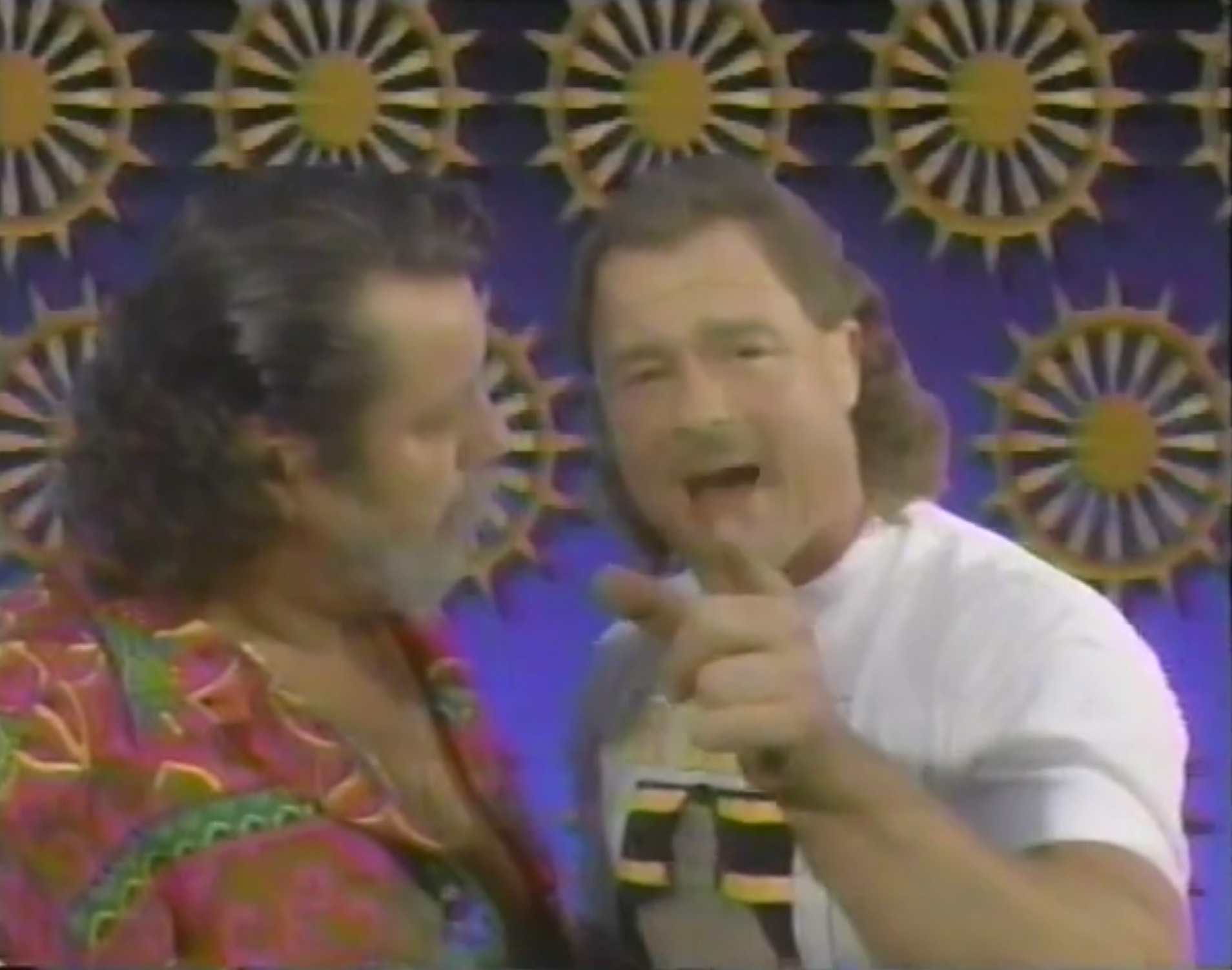 Haynes cuts a solid promo.
Promo airs for UWF t-shirts again.
DeBeers cuts a promo saying the "one-eyed man is king."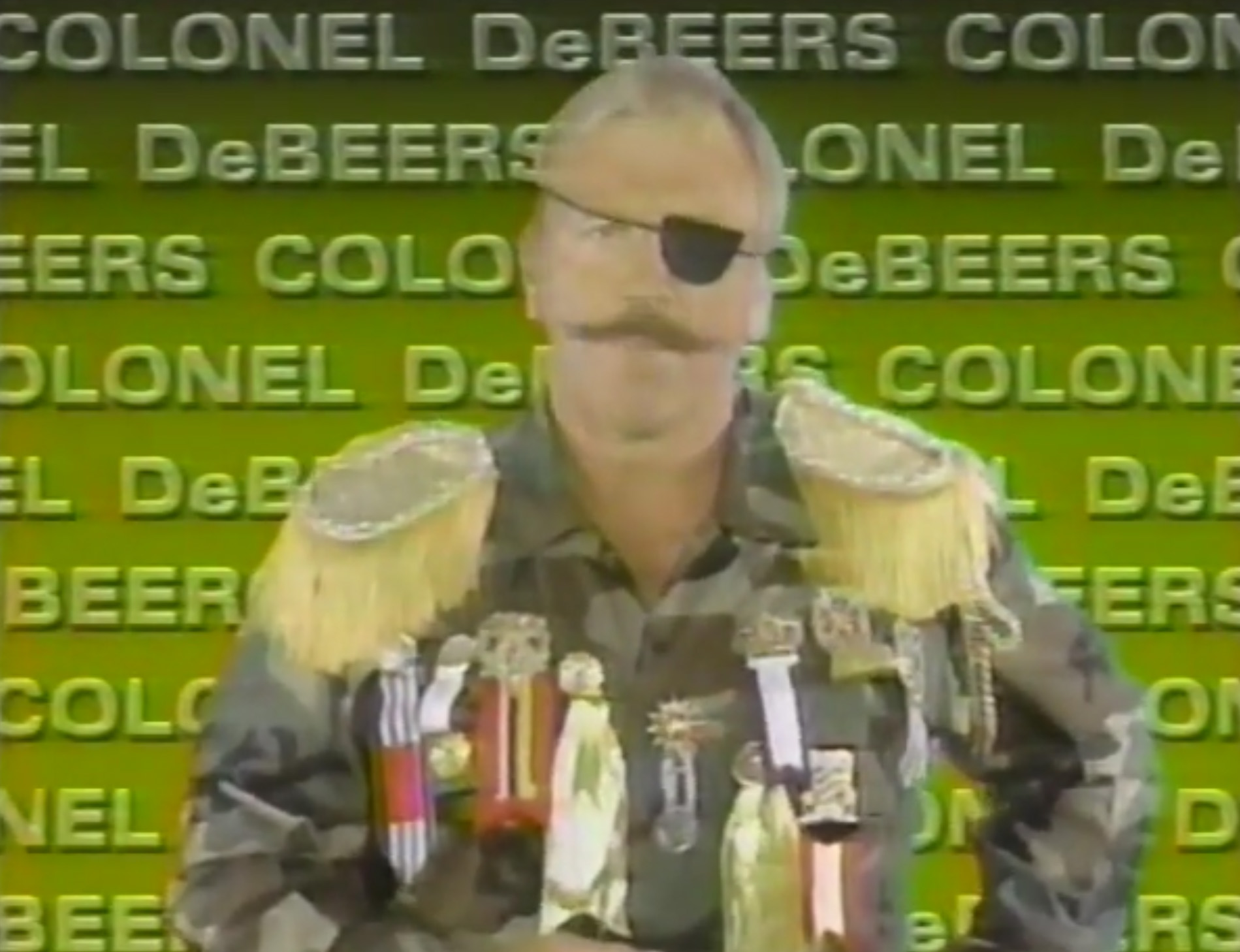 Match 4: Colonel DeBeers versus Mike Allen
Highlights:
According to Abrams, Allen was a local kid from San Bernardino.
DeBeers gave Allen a cross corner whip followed by a clothesline.
As he provided Allen another cross corner whip, DeBeers followed with a backbreaker.
DeBeers then attempted another backbreaker, but Allen countered with a flying headscissors.
When Allen dropkicked DeBeers, he whiffed on a second attempt.
DeBeers then mounted the second turnbuckle and CRUSHED Allen's fucking skull on the way down to the mat.
After he PLANTED Allen with a DDT, DeBeers pinned hm at 3:05.
Rating: ½*
Summary: Showcase match for DeBeers. Say what you want about his politics, but he demolished the poor kid.
Match 5: "Mr. Wonderful" Paul Orndorff versus Ricki Ataki
Highlights:
Prior to joining the UWF, Orndorff spent time in WCW tagging with Junkyard Dog.
Orndorff ducked a clothesline and unleashed one of his own.
When he tossed Ataki to the concrete floor, Orndorff joined and made him taste the steel railing. It must have tasted like the Mega Ton at Zig's.
He then dropkicked Ataki and followed with a vertical suplex for 2.
As he buried a knee into Ataki's midsection, Orndorff nailed him downstairs and supplied a knee lift to Ataki.
He then mounted the top turnbuckle and launched a flying elbow smash.
To cater to the non-Hulkamaniacs cheering him, Orndorff mimicked Hogan by cupping his ear.
He then flattened Ataki with a piledriver.
1-2-3.
Orndorff won at 2:55.
Rating: *½
Summary: Showcase match for Orndorff that truly pleased the smart Reseda faithful.
After the match, Williams confronts Orndorff. When the anonymous referee tries to intervene, Williams tosses him like a rag doll out of the ring. I smell a challenge.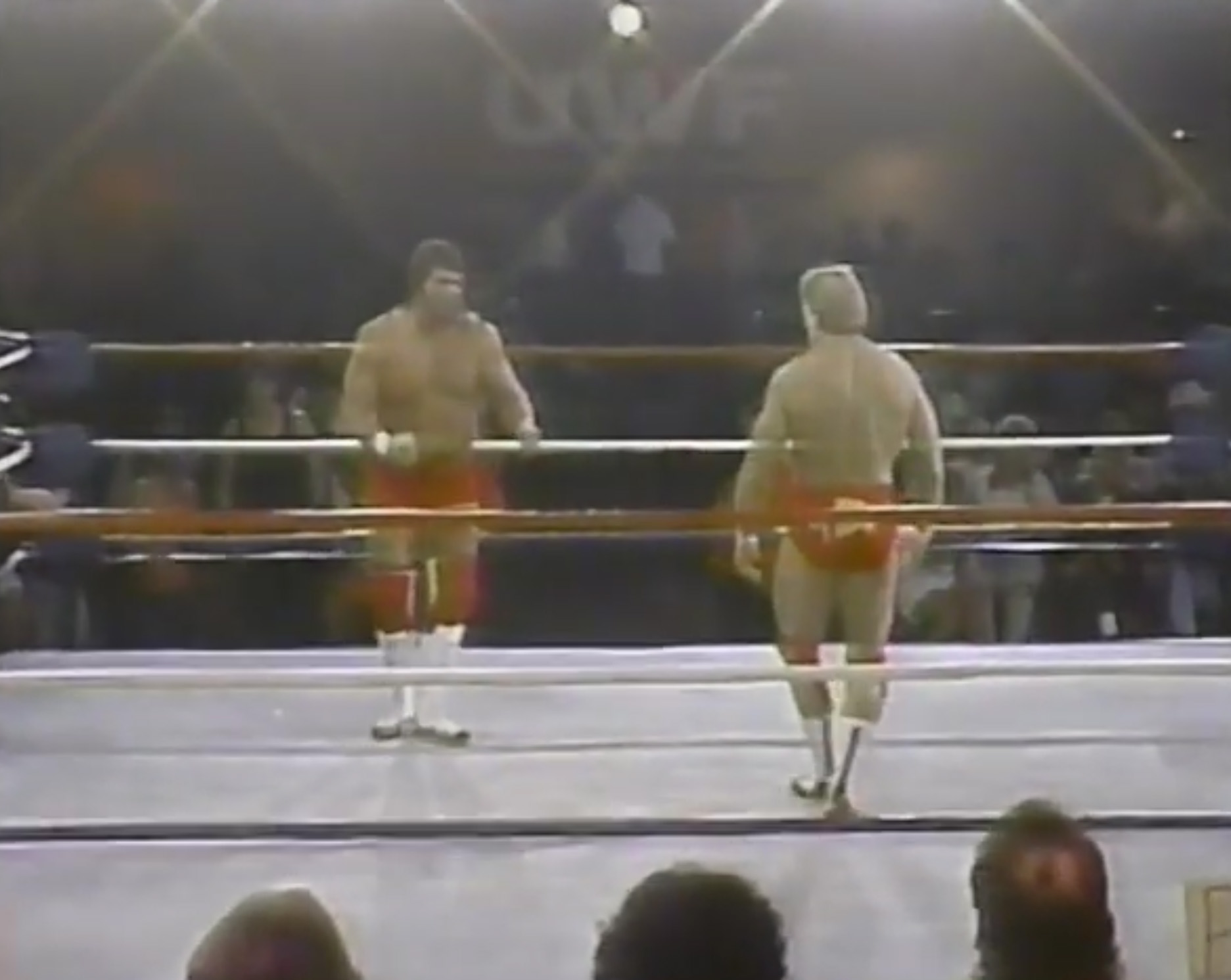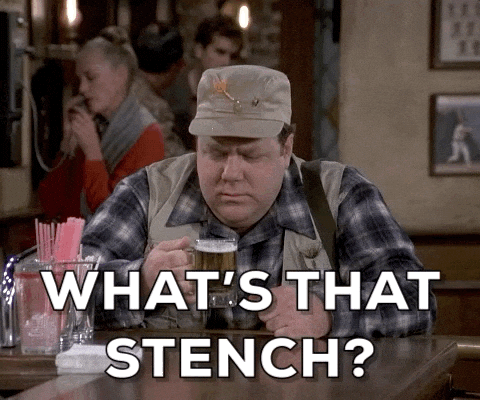 C'mon, Norm. Let's give this promotion a chance, ok?
Commercial for a Mickey Mantle tape. I believe that a martini was not included in the purchase. In another advertisement, ADT can protect you, but it won't protect your liver.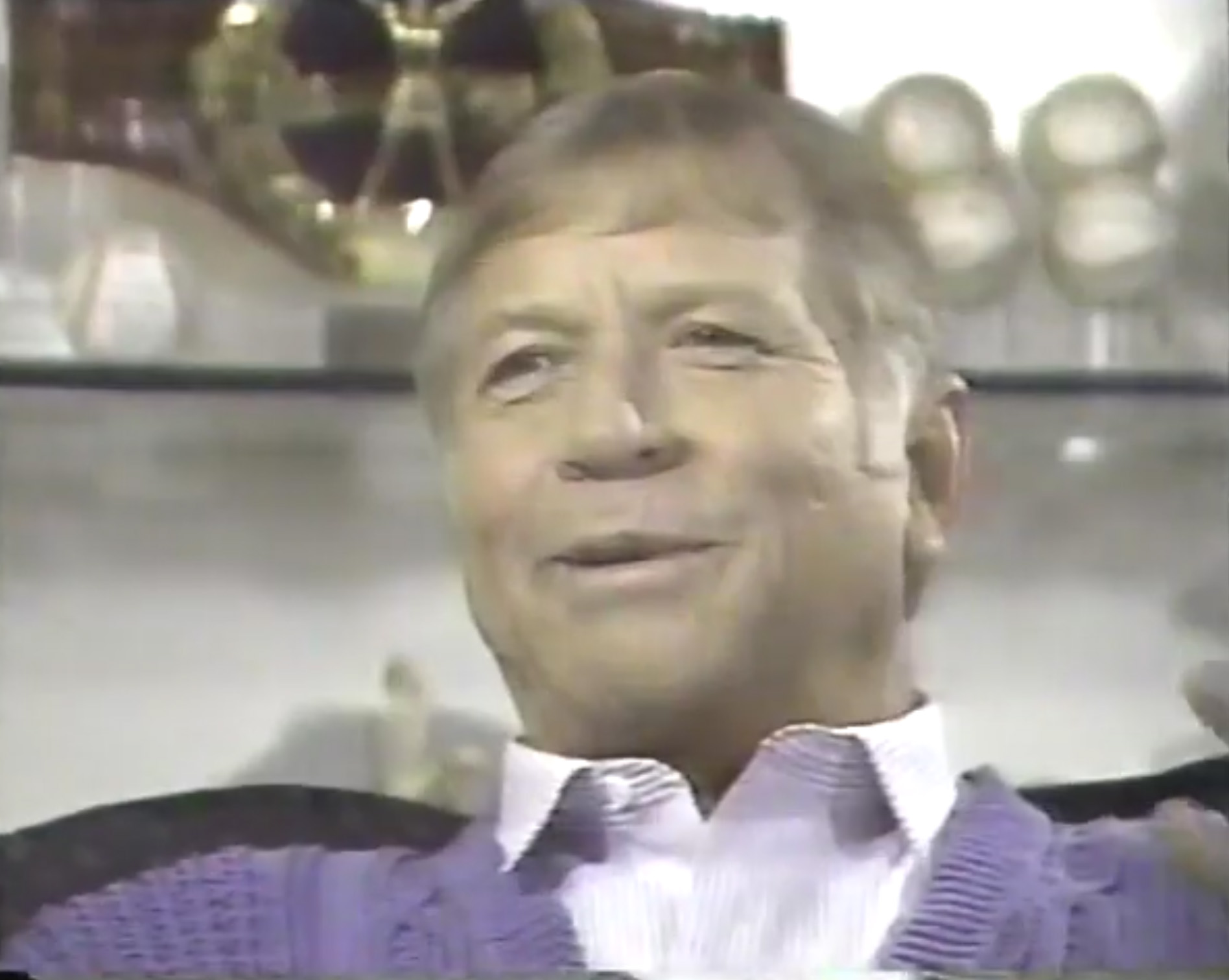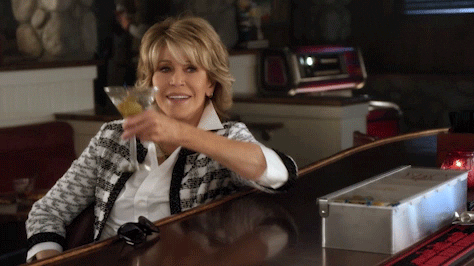 Match 6: "Dangerous" Dan Spivey versus B. Brian Blair
Highlights:
Spivey unloaded a big boot and rammed Blair face-first into the mat.
As Spivey applied a bear hug, Blair escaped with an elbow smash.
Spivey immediately clotheslined and held Blair in a standing choke.
When Spivey attempted a gutwrench suplex, Blair powered out of it.
Spivey then locked Blair in an abdominal stretch until Blair hip-tossed him to escape.
After Spivey delivered a hangman's neckbreaker, he got 2.
He then gave Blair a cross corner whip followed by a corner clothesline.
While he gave Blair another cross corner whip, Spivey ate boot on his follow-through.
Blair mounted the second turnbuckle and hit a flying elbow smash.
As Blair reversed a cross corner whip, he bulldogged Spivey.
He then clotheslined Spivey twice and landed a knee drop.
When Spivey grabbed him by the tights, he sent Blair between the ropes to the concrete floor.
Spivey tried to ram Blair but HIT THE POLE himself.
After they brawled without making any effort to return to the ring, the anonymous referee counted both wrestlers out at 6:03.
Rating: **
Summary: Solid match where there was a good combination of wrestling and brawling. I hope the non-finish leads to another match down the road.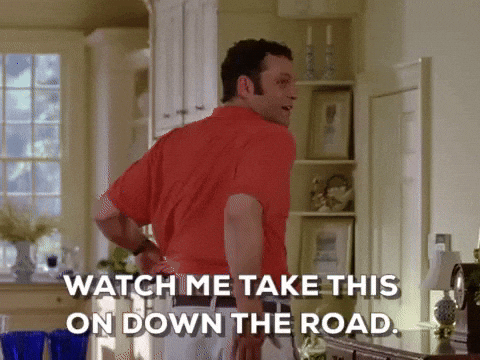 Afterward, they brawl down to the concrete floor where a gaggle of wrestlers try to separate them. Dissatisfied with being unable to continue brawling with Blair, Spivey gives two wrestlers a double noggin knocker and retreats backstage.
Commercial airs for Vegas Dream for Nintendo followed by a promo by SportsChannel featuring Notre Dame football, CFL, and more.
Promo #3 for UWF merchandise. Get yours TODAY!
Conclusion: For a premiere, this was a good wrestling show. Despite the over-the-top commentary by Abrams, the talent level was very strong, and the presentation worked for its time.
Next week, DeBeers will square off against Haynes.
If you would like for me to continue this series, please leave a comment below or send me an email.
TV Rating: NONE
Stay tuned for WCCW 01-12-85!
Comments? Suggestions? Send them to me at rsg@rockstargary.com and follow me on Twitter (@rockstargary202).
Custom Search