WELCOME TO ROCK STAR GARY REFLECTIONS!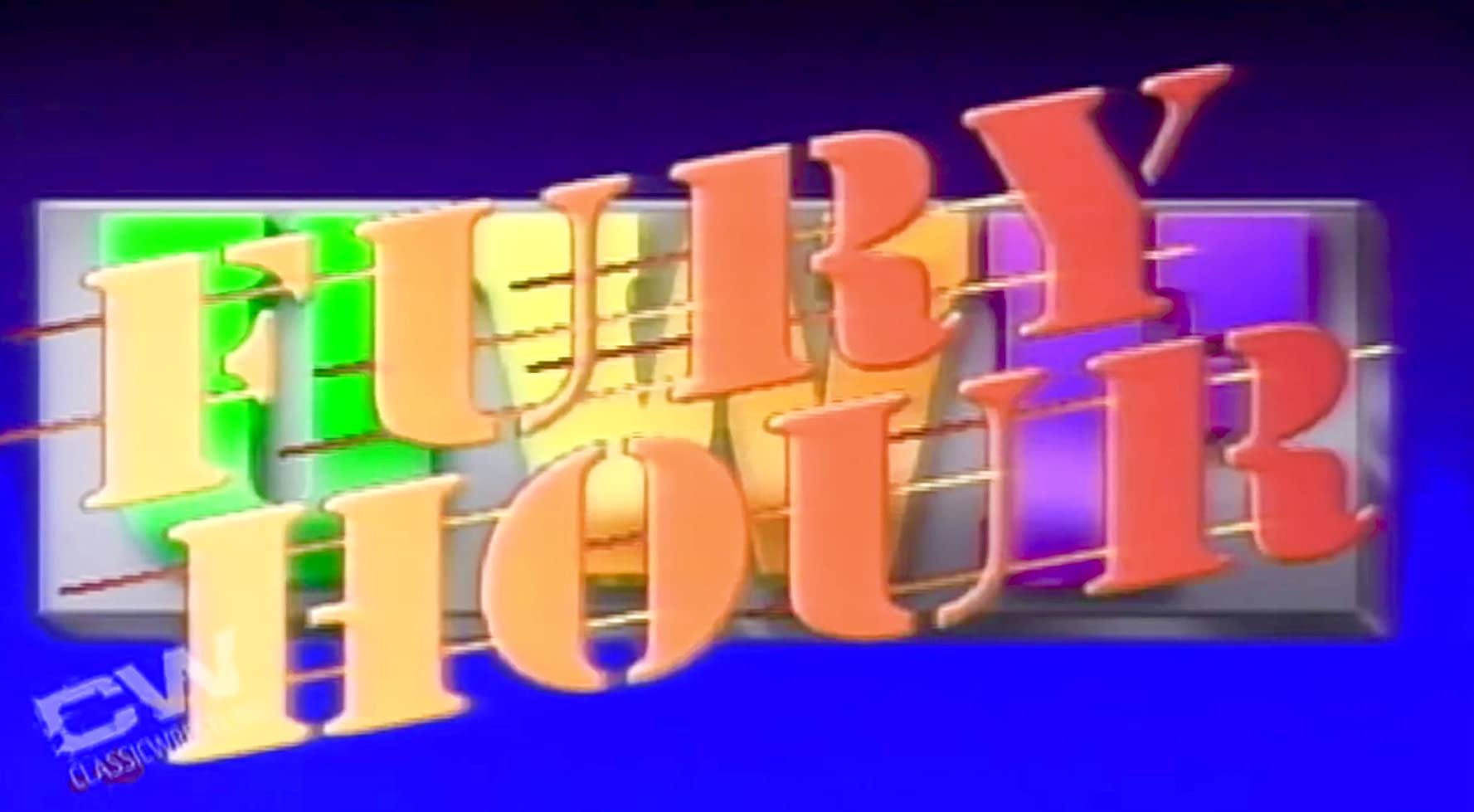 UWF Fury Hour 09-09-91
Taped from Ft. Lauderdale, FL
Airdate: September 9, 1991 (taped 07/20)
Attendance: 300
Hosted by Craig DeGeorge, Bruno Sammartino, & Captain Lou Albano
What does Abrams have up his sleeve for us this week? Perhaps another new wrestler? Could any of the matches achieve a single *? Let's find out!
Opening montage.
Get the Best of the UWF for only $119.70 plus $15 shipping and handling. They'll throw Beach Brawl in for FREE.
Call the LegendLine NOW!
Order the Beach Brawl program!
Purchase Pert Plus, or feel the wrath of "Classy" Freddy Blassie!
Invest with Charles Schwab or finance the second season of UWF on SportsChannel!
Catch Kickboxing on SportsChannel!
Watch great college football action on SportsChannel!
See the Irish Sports Cavalcade on SportsChannel!
Call the Captain Lou hotline NOW!
Match 1: "Wild Thing" versus Muhammed the Butcher (w/ Abudadein)
Highlights:
Wild Thing nailed Muhammed with a series of big boots and chased Abudadein around the ring.
When Muhammed took advantage of the distraction, he clobbered Wild Thing with a double axe handle.
Since Muhammed had already exhausted his vast arsenal of moves, he consulted with Abudadein on the apron.
Nonetheless, he tossed Wild Thing down to the concrete floor and consulted with Abudadein again.
With the anonymous referee distracted, Wild Thing employed a fire extinguisher and doused Muhammed with it.
Wild Thing clotheslined and pinned Muhammed at 4:05.
Rating: -*
Summary: C'mon Abrams! Wild Thing's not a ring general so the belief that his carrying this tub of goo to anything decent was foolhardy if not asinine. We're off to a great start!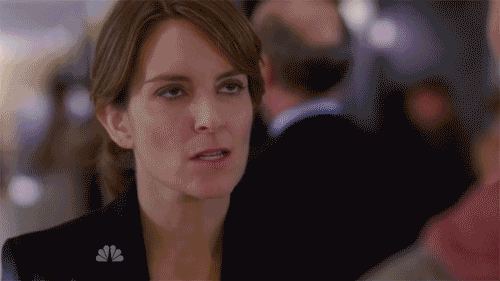 After the match, Wild Thing brings Abudadein into the ring the hard way and vaults him atop the blinded Muhammed. However, I will give credit where it's due. Both Albano and Sammartino went into full Mystery Science Theater 3000 mode on commentary.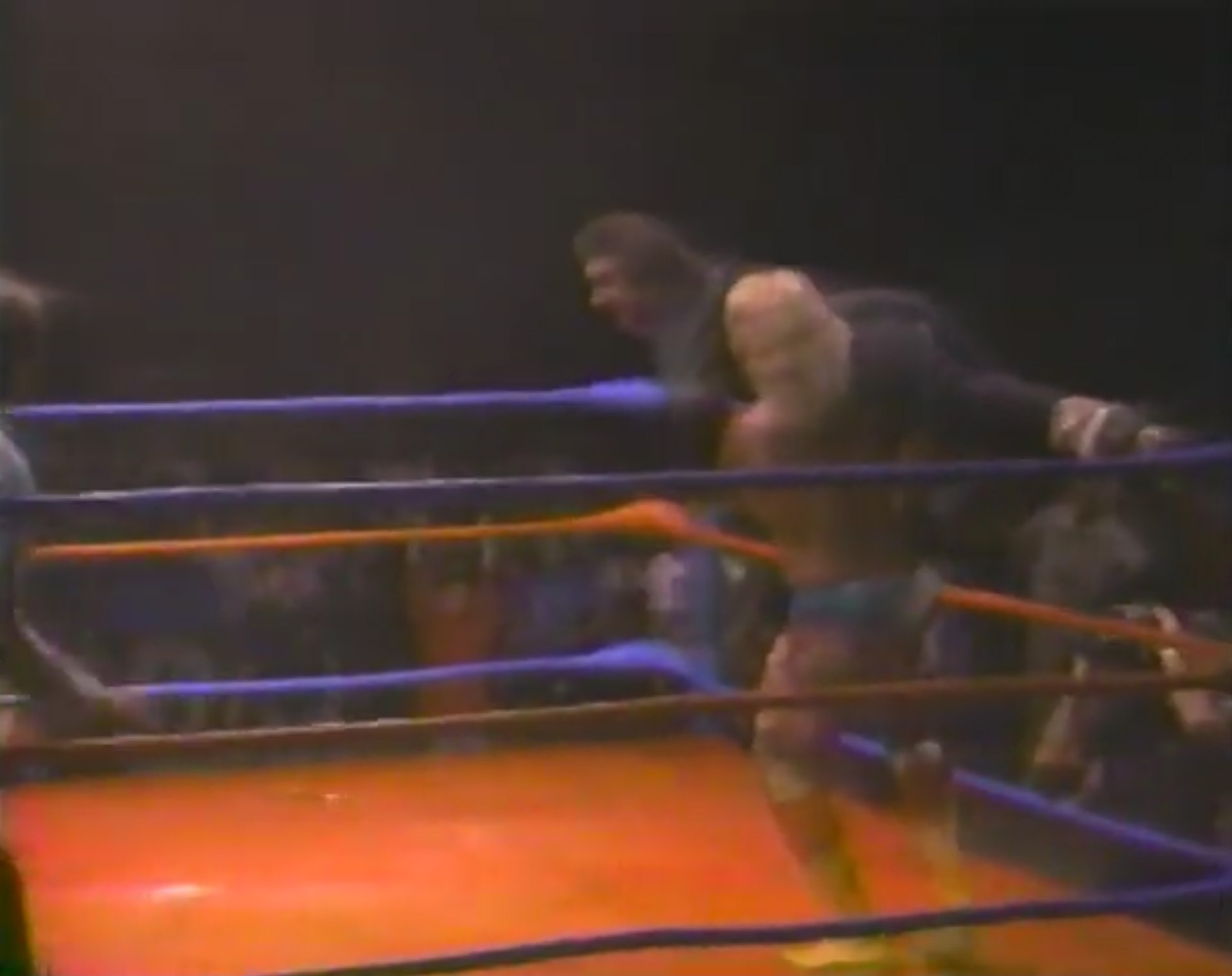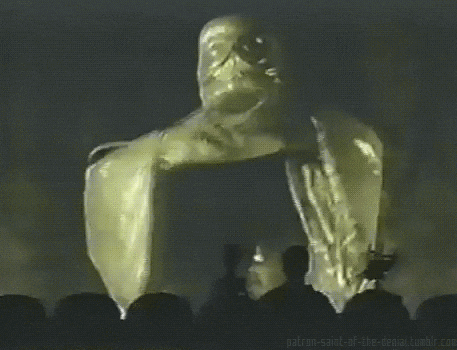 Catch the UWF LIVE on 9/14 in the Bronx!
Subscribe to The Sporting News!
Choose AT&T as your long-distance provider.
Call the UWF PowerLine NOW!
Match 2: B. Brian Blair versus Sonny West
Highlights:
For those curious, I have NO CLUE who Sonny West is.
Blair slammed West and followed with a knee drop.
As Blair suplexed him, West rebounded with a slam.
West then mounted the top turnbuckle, but Blair caught and slammed him down to the mat.
When Blair clotheslined him, he hooked a sleeper.
West went

OUT COLD

; thus, Blair won at 3:10.
Rating: DUD
Summary: Showcase match for Blair.
Promo #2 airs for UWF action in the Bronx.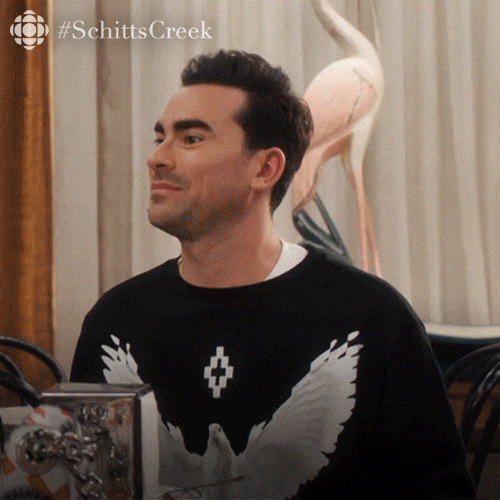 Get your model 1966 Ford Mustang TODAY!
Watch the 20th season of the New York Islanders at the Nassau Coliseum!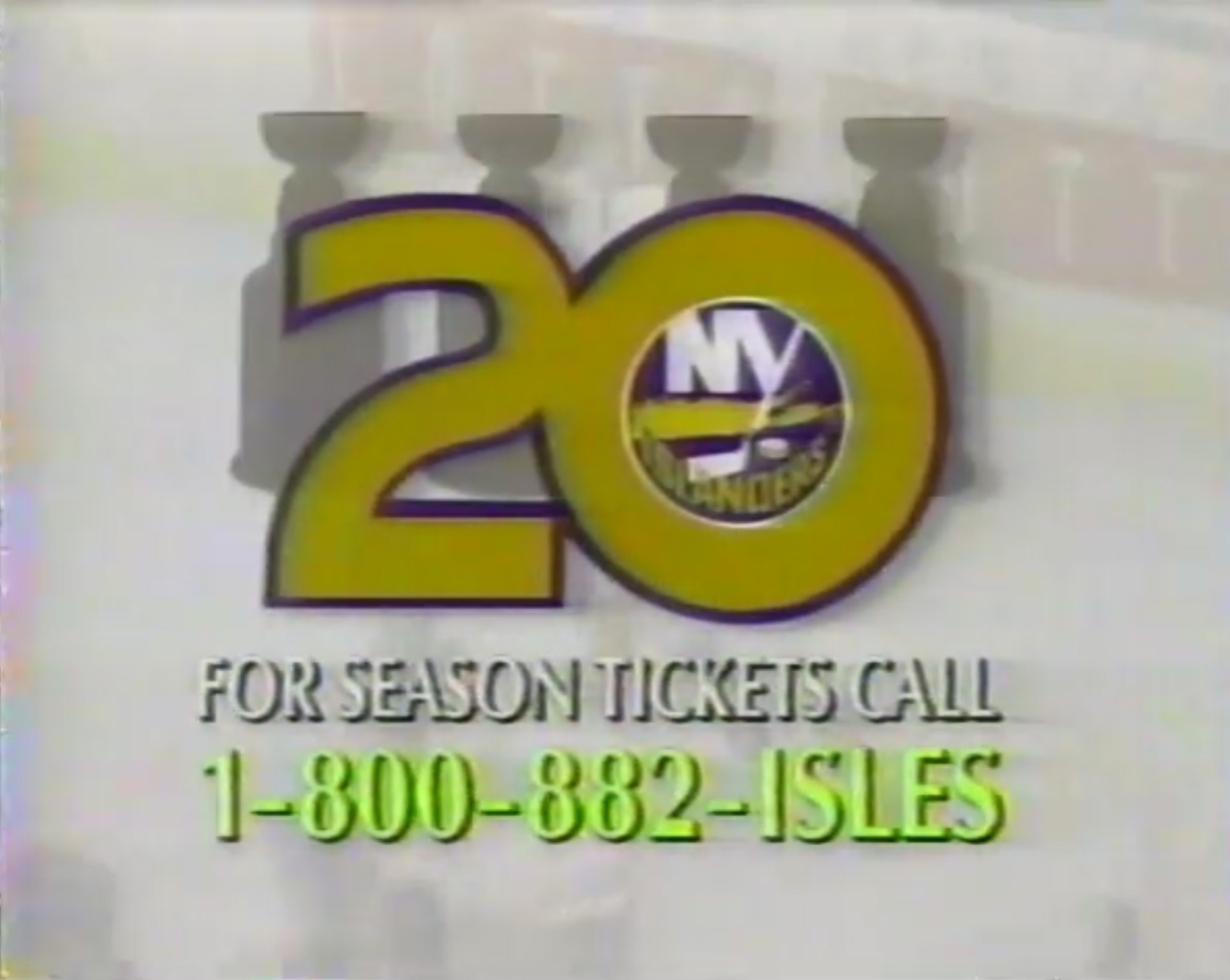 ASK THE WRESTLERS: Sheila Hall asks Blair about wrestling "Dr. Death" Steve Williams.
Blair answers.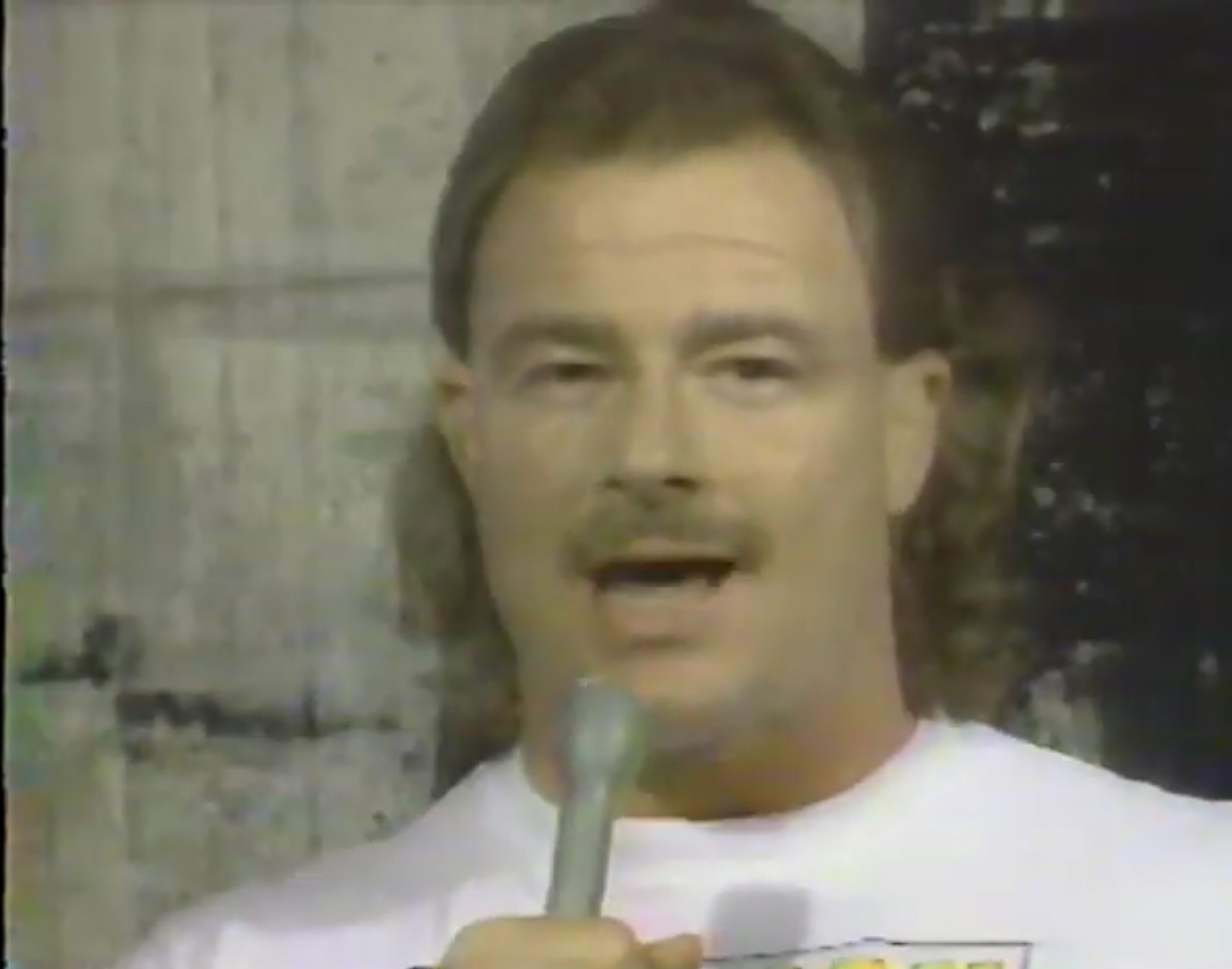 Promo #3 airs.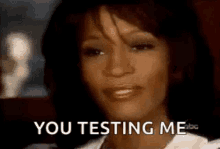 We then revisit Mr. Red's attempted coup of Captain Lou's Corner. Afterward, Red takes liberties with Pondo last week, so Abrams suspends him for thirty days. Abrams' attack on Mr. Red followed by Ninja's destruction follow.
Subscribe to Road & Track today!
Call Singles Connection to hook up.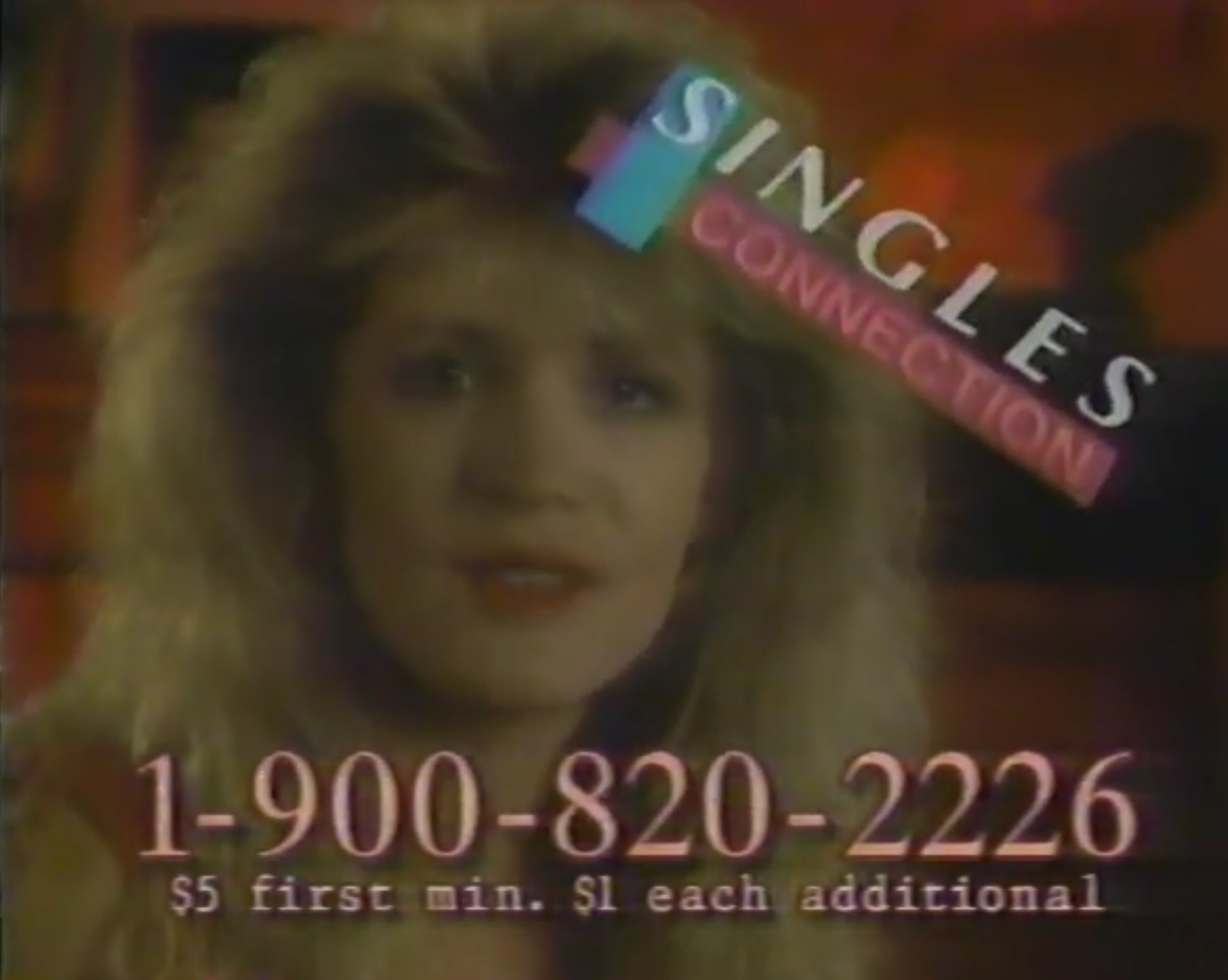 Catch Freddy's Dead in theaters staring Friday.
Call the SportsChannel hotline!
TO THE POINT: Herb Abrams and Albano interview Mr. Red along with Super Ninja. As the discussion gets heated, Abrams threatens to toss him off the segment, Mr. Red crows about taking the Captain's Corner. Abrams calls him "pure trash," but Mr. Red claims prejudice. While Albano laughs at him, Mr. Red claims to be "in control" of the UWF. This is nothing but a shouting match.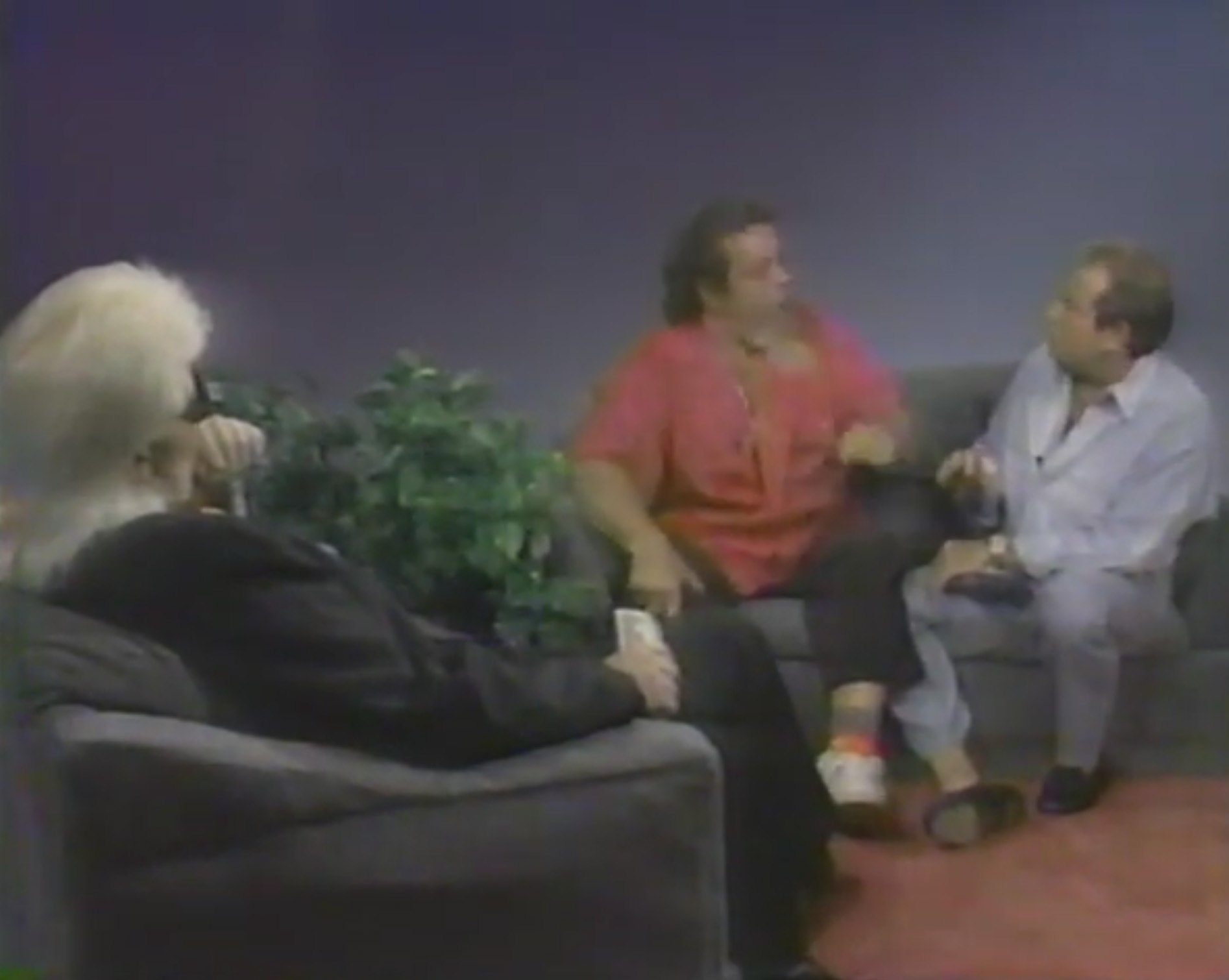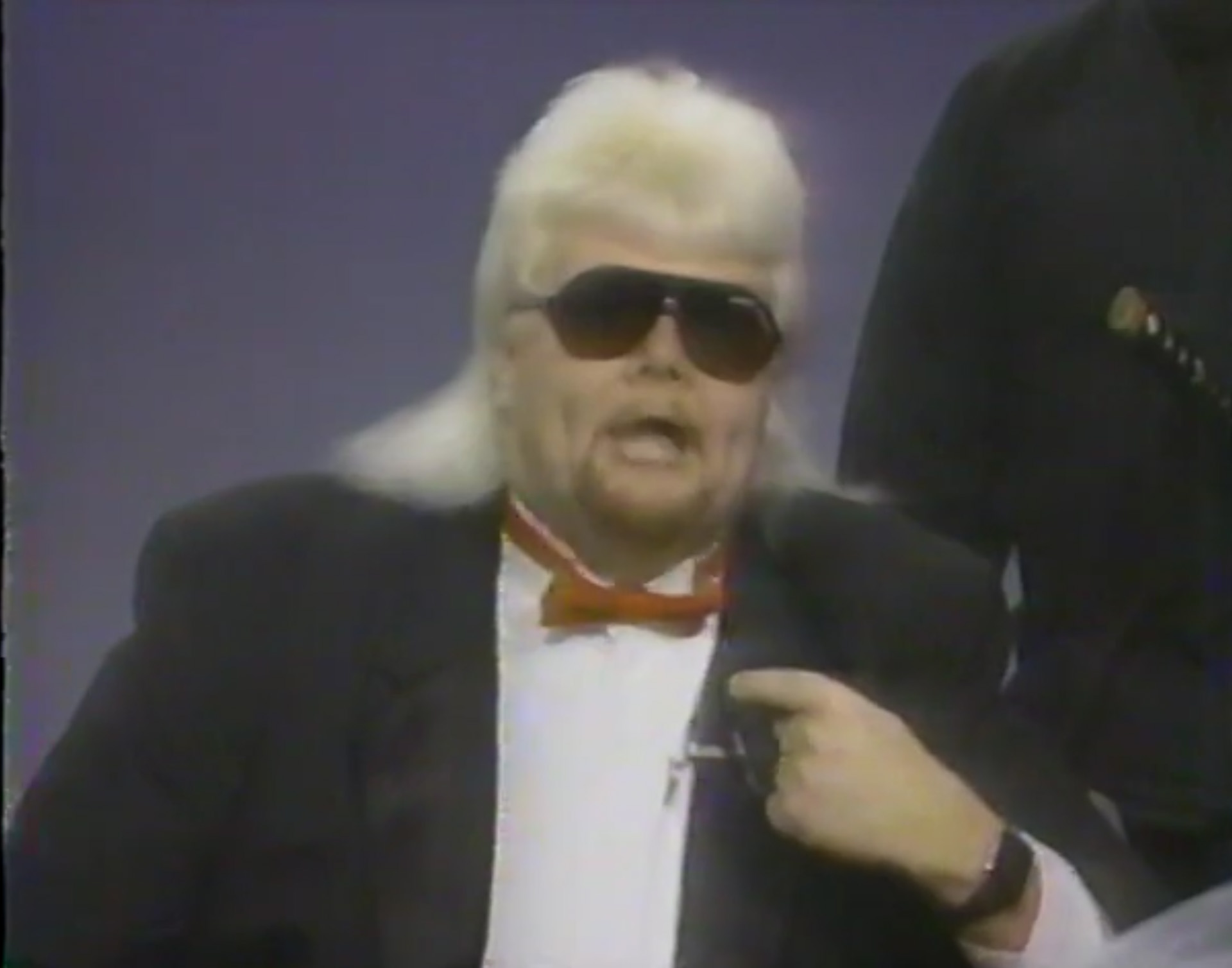 Subscribe to Car and Driver.
Ad #2 airs to get laid.
Catch Olympic Showcase only on SportsChannel!
Purchase Sure or smell poorly.
Ad #2 airs for Irish Cavalcade.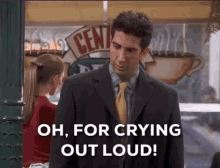 Promo #2 airs for the UWF PowerLine.
Get your UWF merchandise by getting the UWF catalog!
Here are this week's ratings: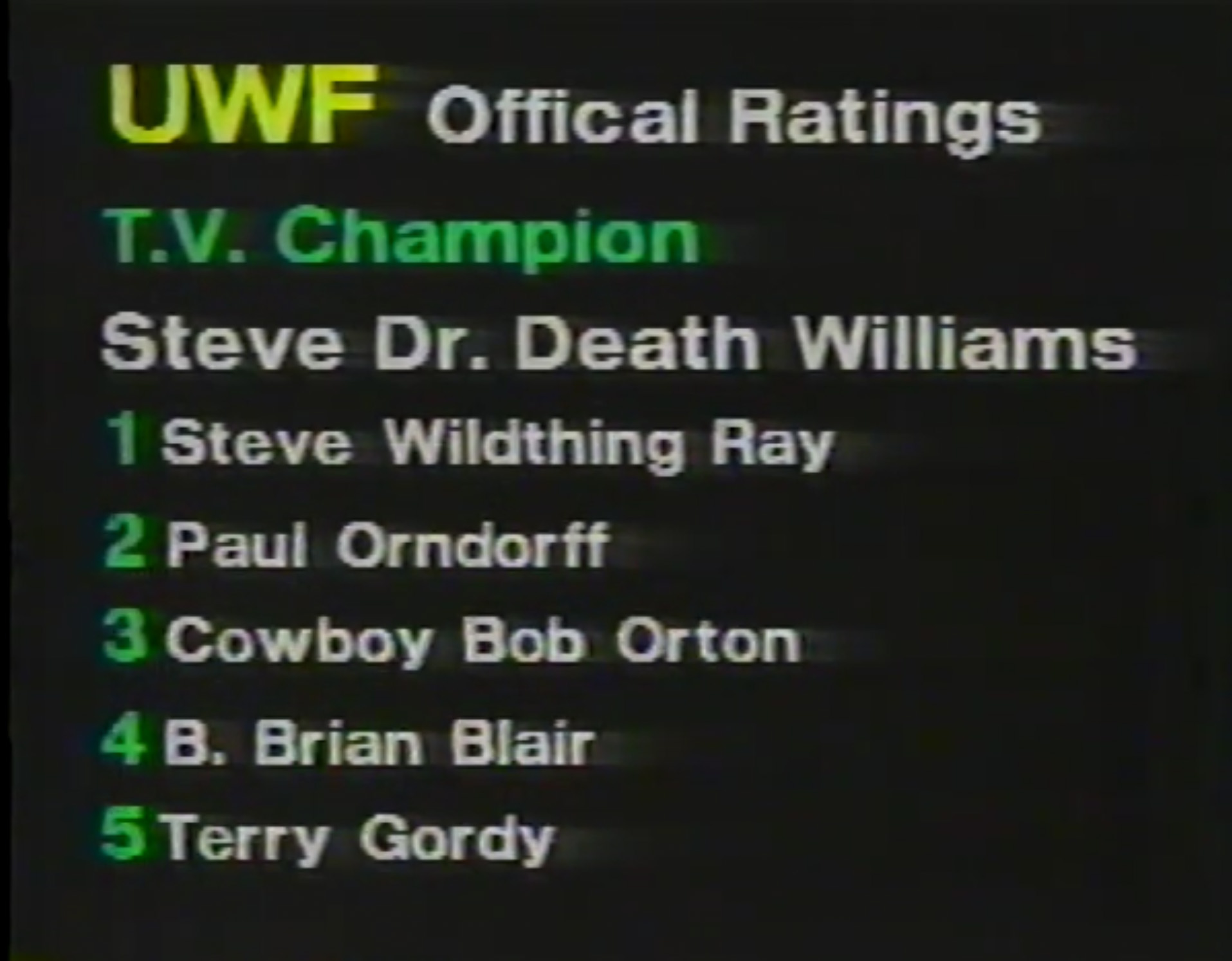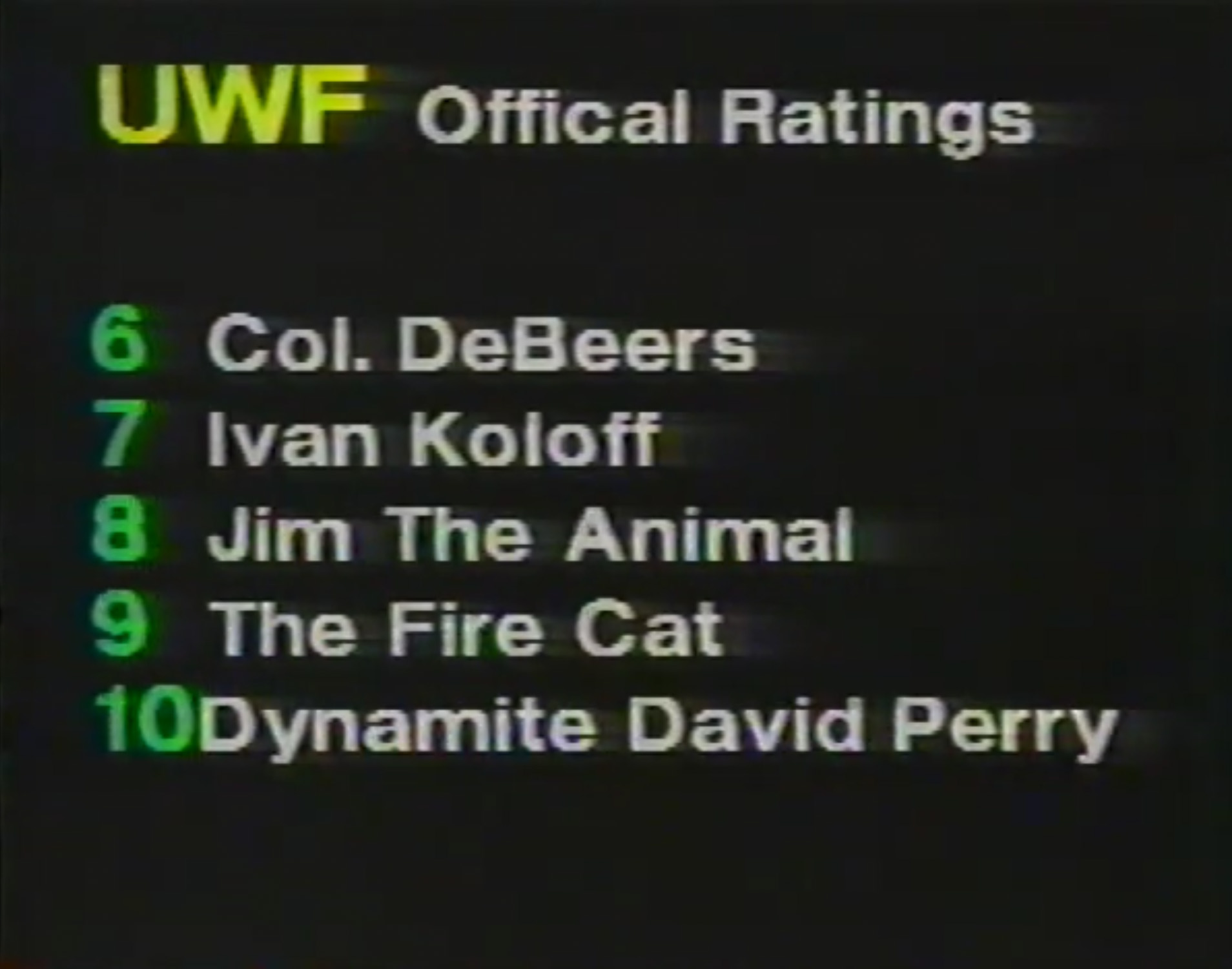 Promo #4 airs.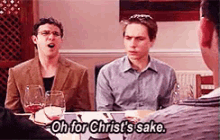 Backstage, Frankie E interviews Luna and the Blackhearts. She cuts a promo on Fire Cat.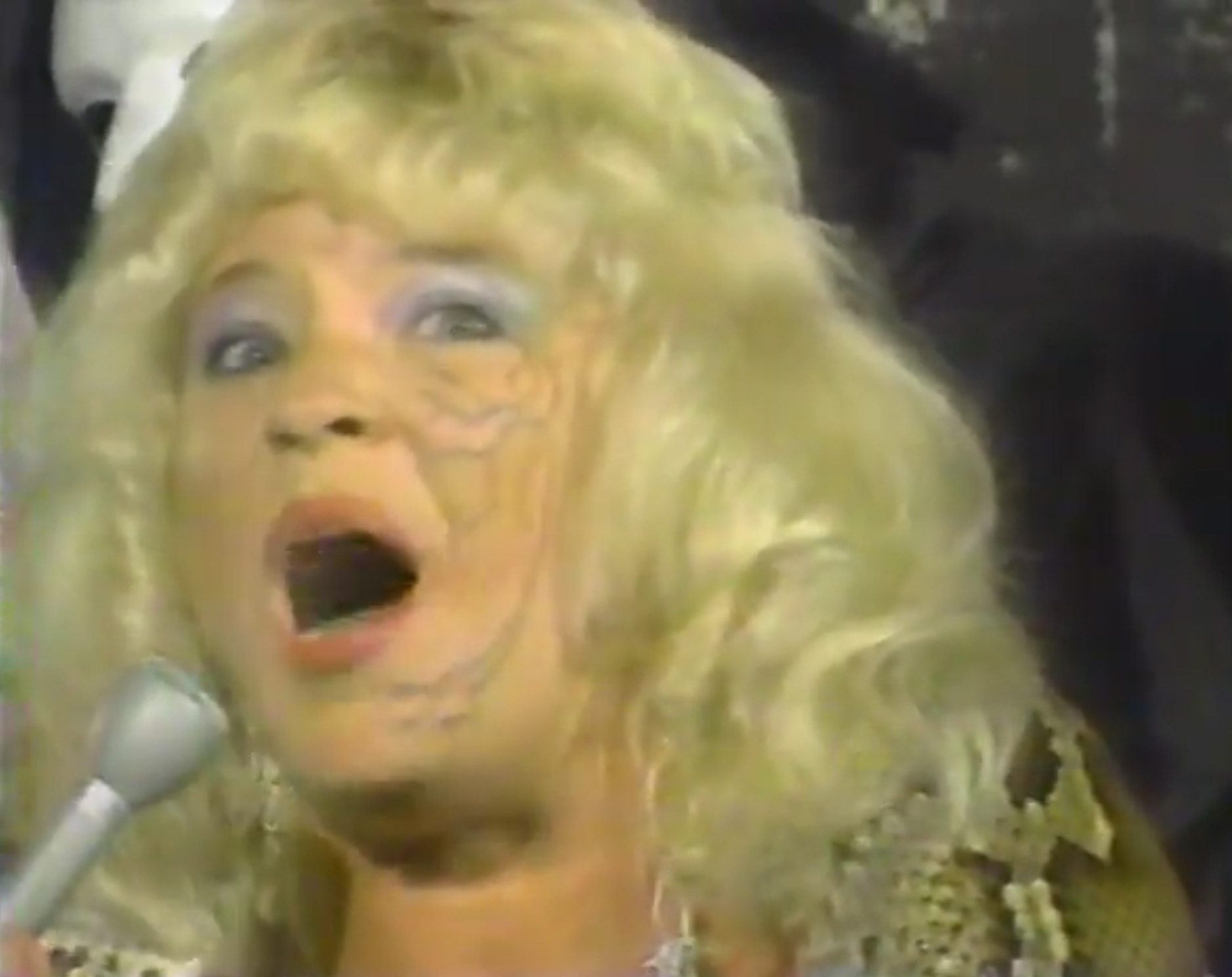 Get Crazy Calls!
Subscribe to Golf Week for only $19.95!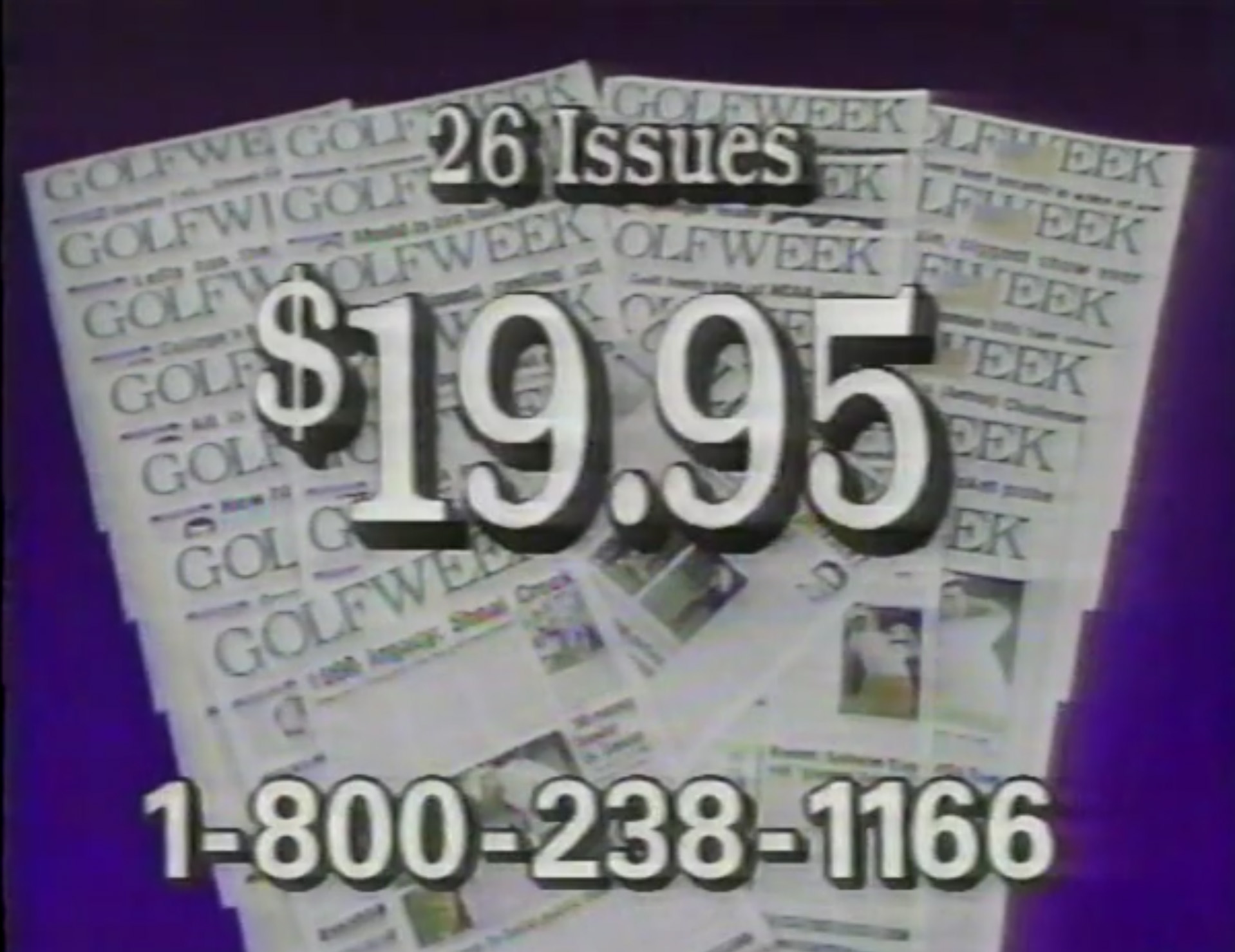 Promo #2 airs for the Beach Brawl program.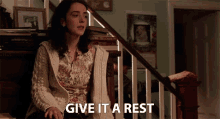 Promo #2 airs for the Beach Brawl video.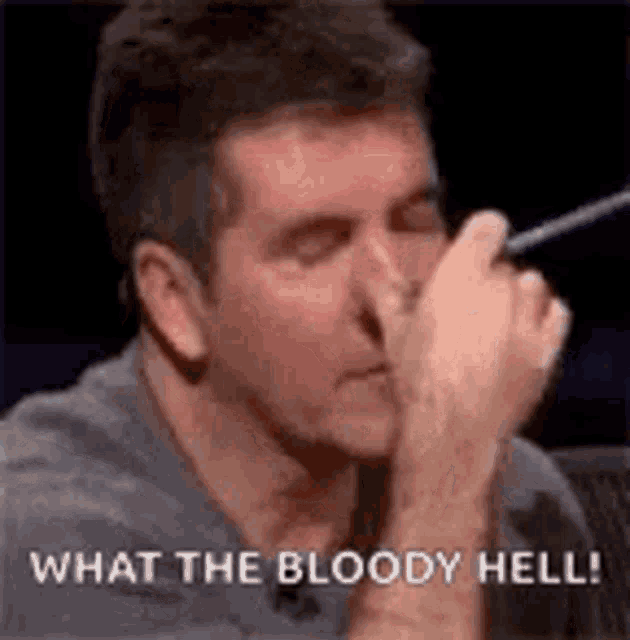 Promo #5 airs.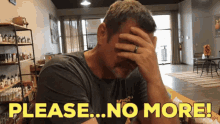 Ad #3 airs for getting busy possibly in a Burger King bathroom.
Get Bruno's book!
Conclusion: SKIP. THIS. EPISODE. I mean it. The wrestling was horrible. The incessant plug for the house show are annoying. And the talk show segment makes Jerry Springer Emmy-worthy.
Next week, Lenny promises the "long-awaited return of 'Dangerous' Dan Spivey and the possible arrival of the Ultimate Warrior."
TV Rating: NONE
Stay tuned for UWF 09-16-91!
Comments? Suggestions? Send them to me at rsg@rockstargary.com and follow me on Twitter (@rockstargary202).
Custom Search