WELCOME TO ROCK STAR GARY REFLECTIONS!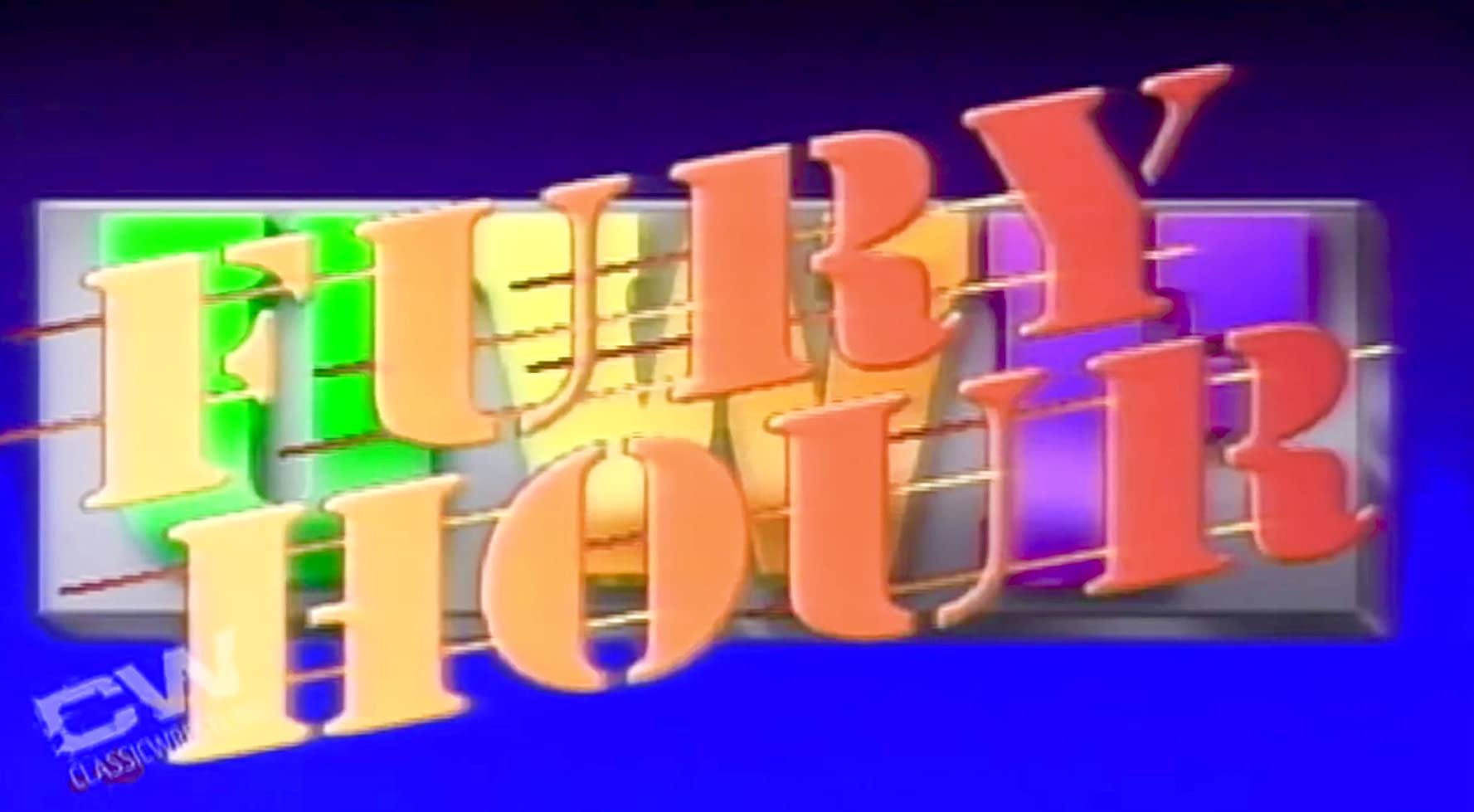 UWF Fury Hour 06-29-92
Taped from Spartanburg, SC
Airdate: June 29, 1992 (taped 06/19)
Attendance: 912 (300 paid)
Hosted by Craig DeGeorge & the "Golden Greek" John Tolos
Fast-forward to 1992, and the UWF is back! Are they back on SportsChannel America? Who are the newest acquisitions, and are our favorites back for more? Let's find out!
To answer the first question, no, UWF earned a spot Sunday night on Prime Ticket originated by Lakers owner Jerry Buss.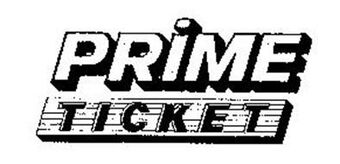 Opening montage.
Orton cuts a babyface promo mentioning his 12-year-old son (Randy) along with his "victory" over Ronnie Garvin for the Southern States title. No, folks, the match didn't actually occur. Next, he cuts a promo on Orndorff.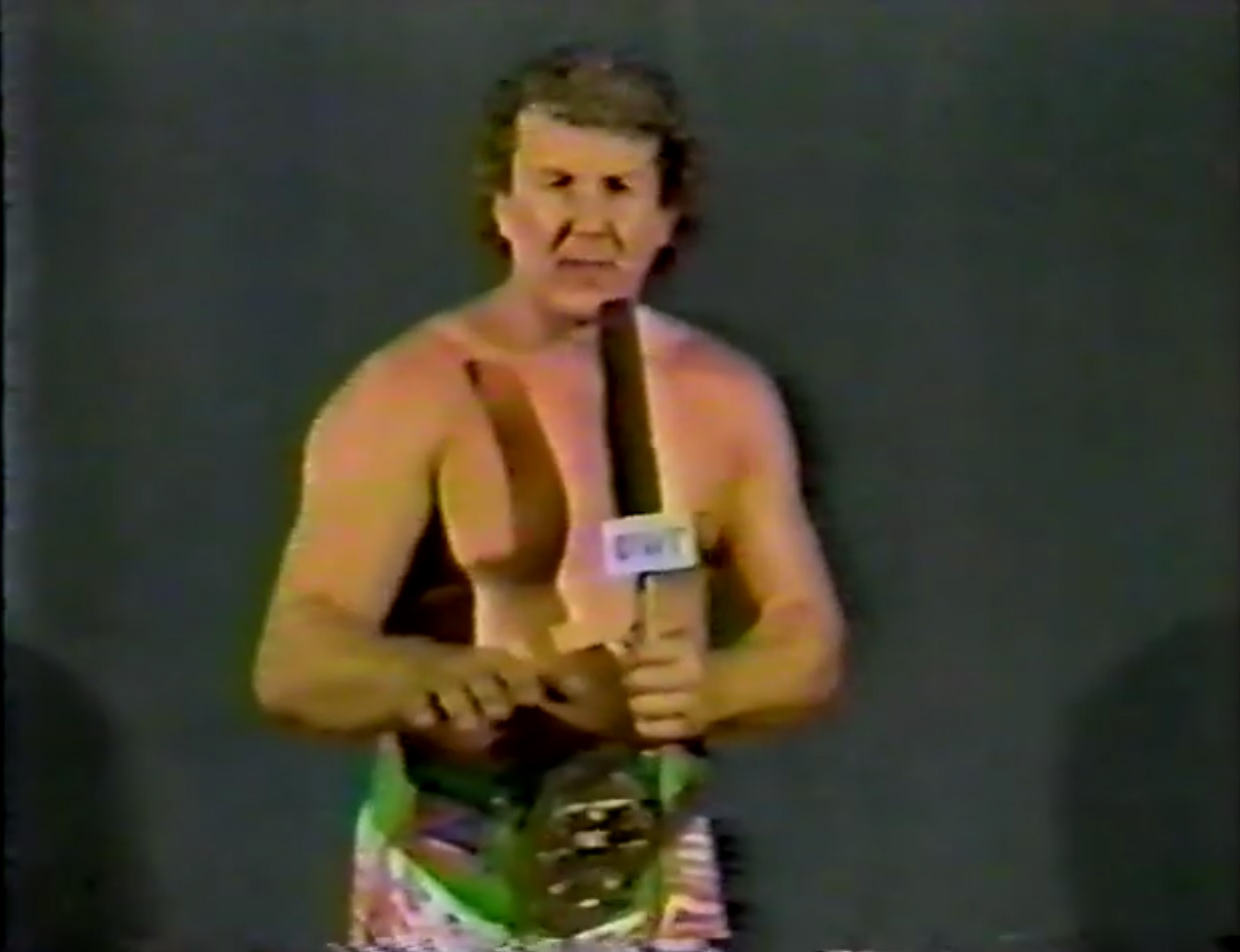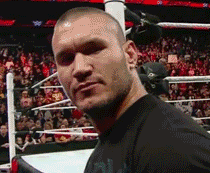 Match 1 (non-title): UWF Southern States champion "Cowboy" Bob Orton versus Midnight Star
Highlights:
For those unaware, I have NO CLUE who Star was.
According to DeGeorge, "Dr. Death" Steve Williams "did not fulfill his contractual obligations" and has been stripped of the TV title. This was code for Williams belonged to WCW.
Orton provided Star with a knee lift followed by a backbreaker.
When Star rebounded with a back elbow, he gave Orton a cross corner whip that made him HIT THE POLE.
Orton reversed a second cross corner whip and dealt Star a short-arm clothesline.
As he dropkicked Star, Orton tossed him down to the concrete floor.
Star mounted the top turnbuckle, but Orton caught, joined, and superplexed him.
1-2-3.
Orton won at 5:10.
Rating: **
Summary: Showcase match for Orton.
At ringside, Abrams interviews Orton who gives a squeaky-clean PSA for kids. Wow! He has turned over a new leaf.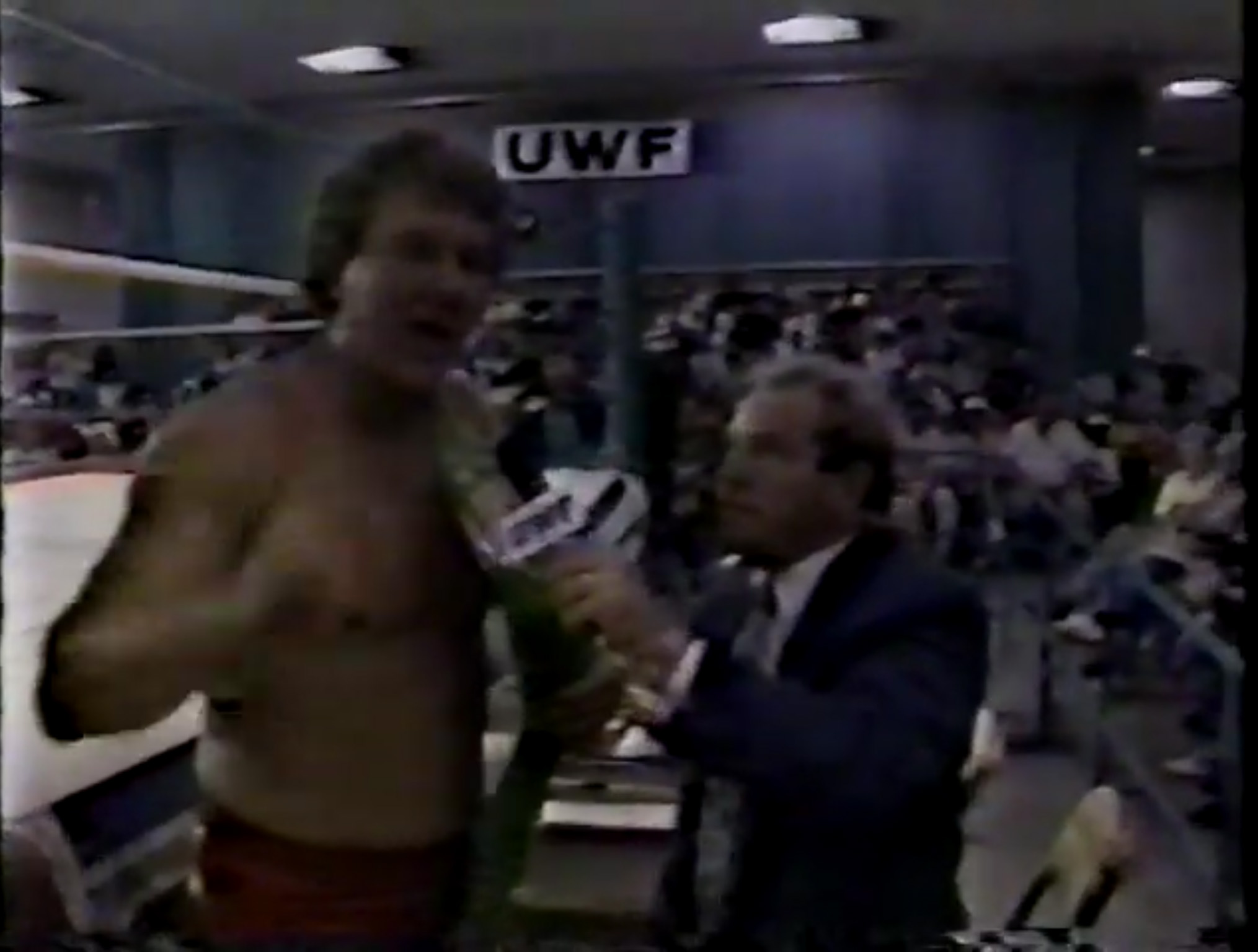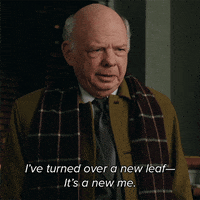 Call the UWF PowerLine NOW!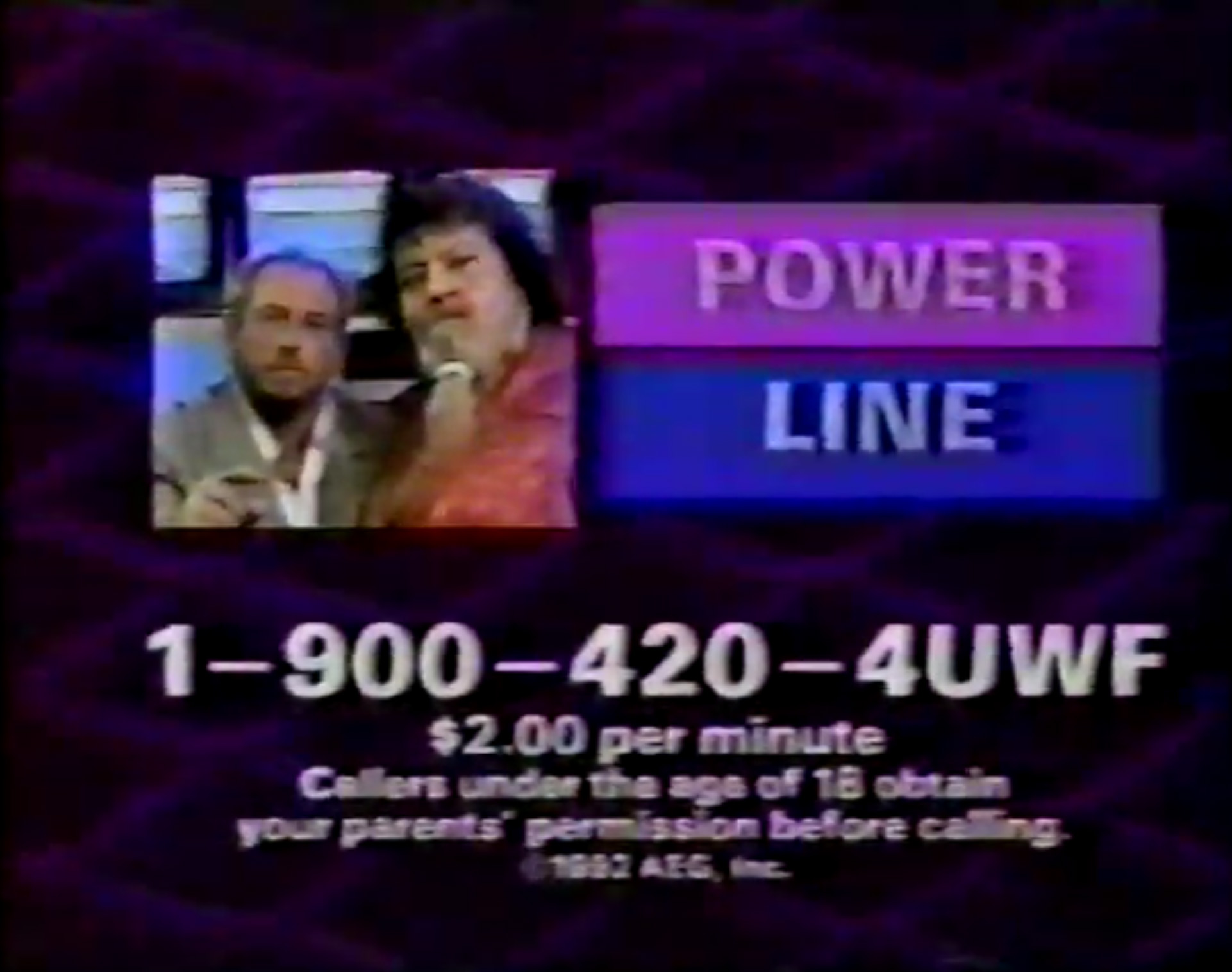 Get your See Doo today!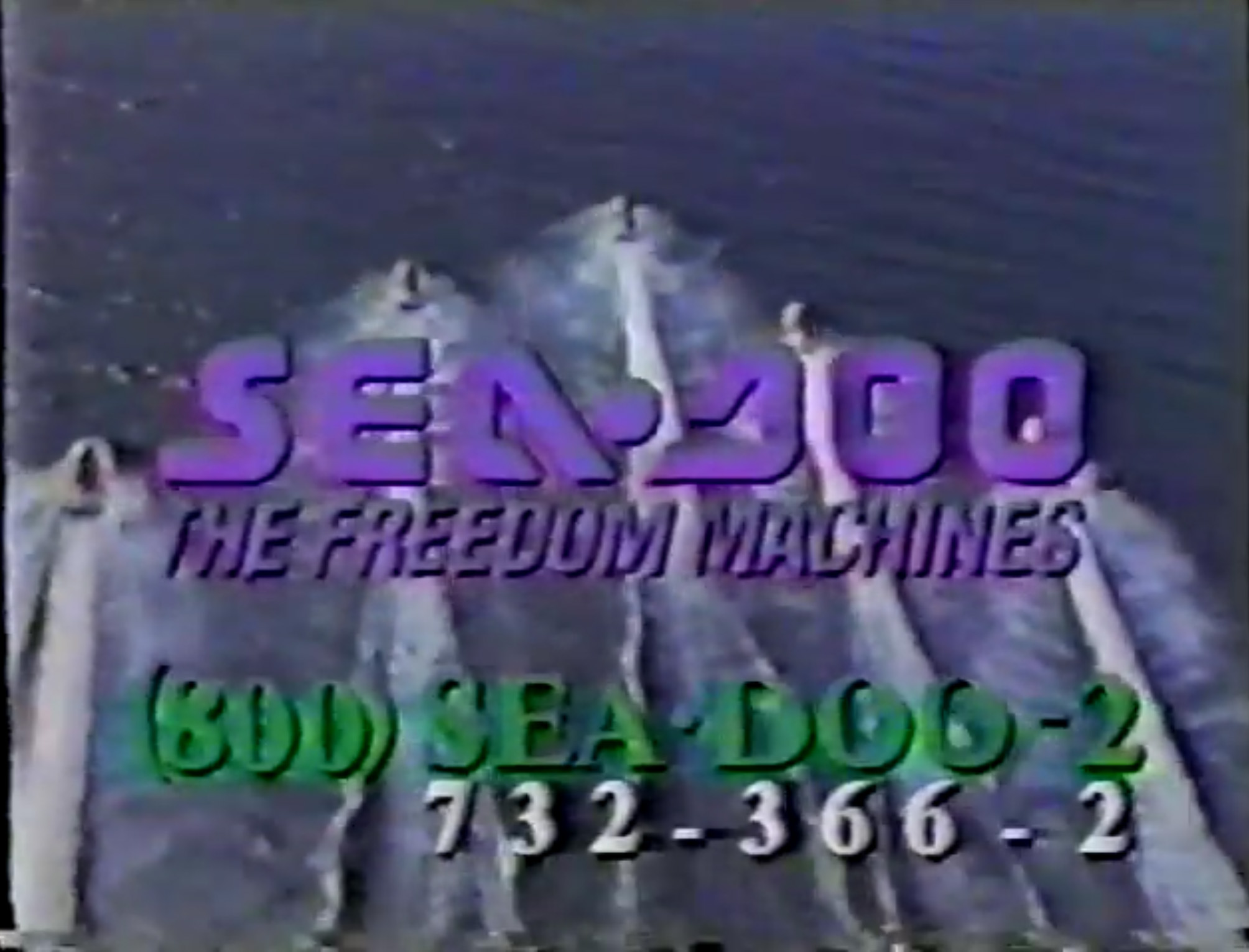 Subscribe to Road & Track.
Prior to the next match, Red, clad in a white tuxedo and top hat, berates the Spartanburg faithful who chastise Ivan with a "U-S-A" chant.
Match 2: The "Russian Bear" Ivan Koloff (w/ Colonel Red) versus Jake Steele
Highlights:
For those unaware, Steele was portrayed by Brett Farrell.
Ivan whipped Steele into the corner but came up empty on his follow-through.
As Ivan delivered a leg drop, he followed with a swinging neckbreaker for 2.
He clotheslined Steele for another 2.
When Red distracted the anonymous referee, Steele powerslammed Ivan but only earned a false pin. SNEAKY!
Koloff BLASTED Steele with his chain and disposed of it outside the ring. How dastardly!
Nevertheless, Ivan pinned Steele at 4:23.
Rating: *
Summary: Between Red and Ivan, the Spartanburg faithful added their voice to the match. Beyond the powerslam, Steele didn't offer much.
Order Hollywood's Greatest Chase Scenes for only $19.95!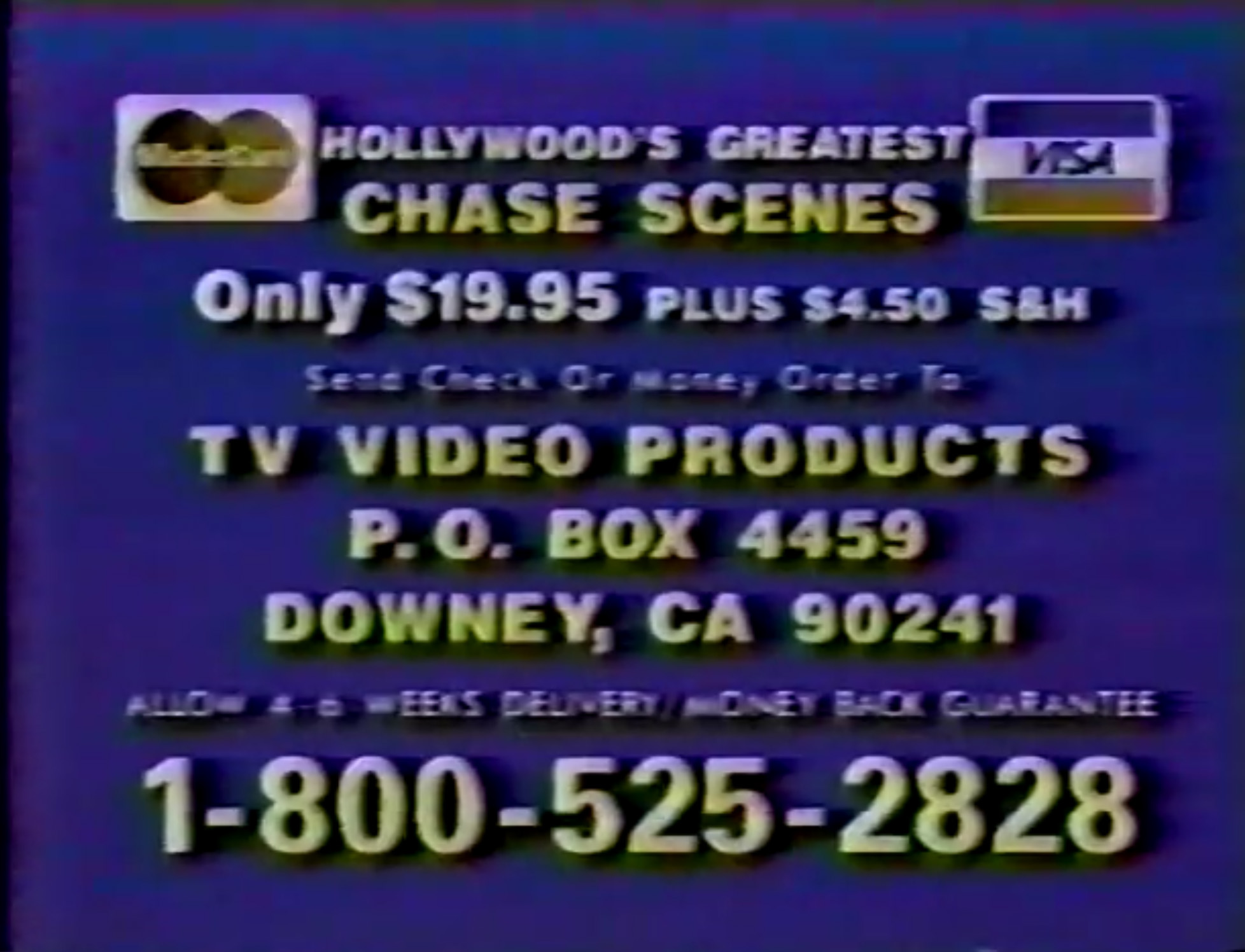 Manute Bol spends his quality time with CARE.
Invest with Charles Schwab or give Abrams some cash for another TV taping.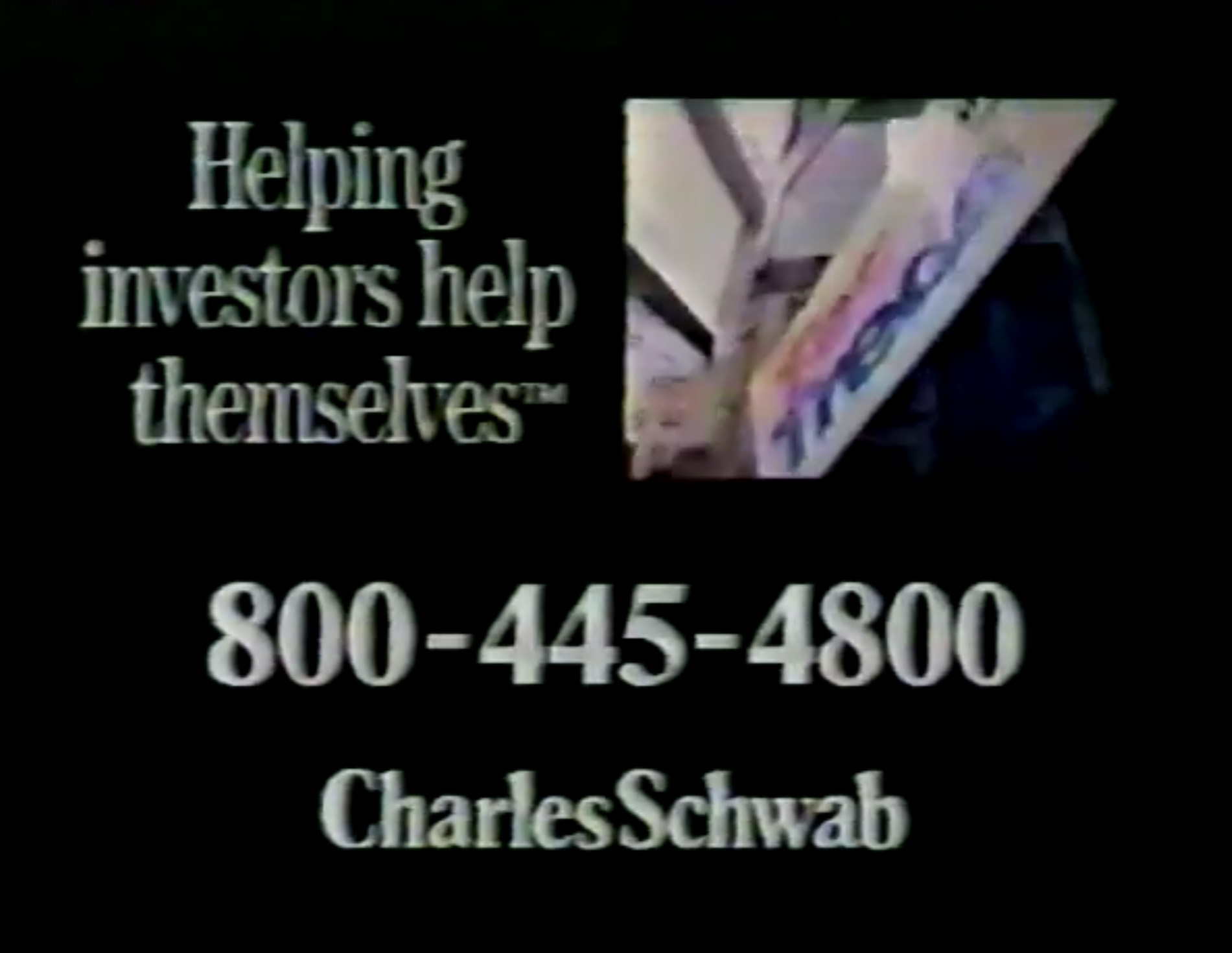 COLONEL RED'S CORNER: Red interviews Ivan and Vladimir Koloff. For those unaware, Vladimir was portrayed by Carl Brantley and was a smaller version of Nikita. Despite the dissolution of the USSR, Ivan touts his Soviet heritage while the Spartanburg faithful boo all of them out of the building.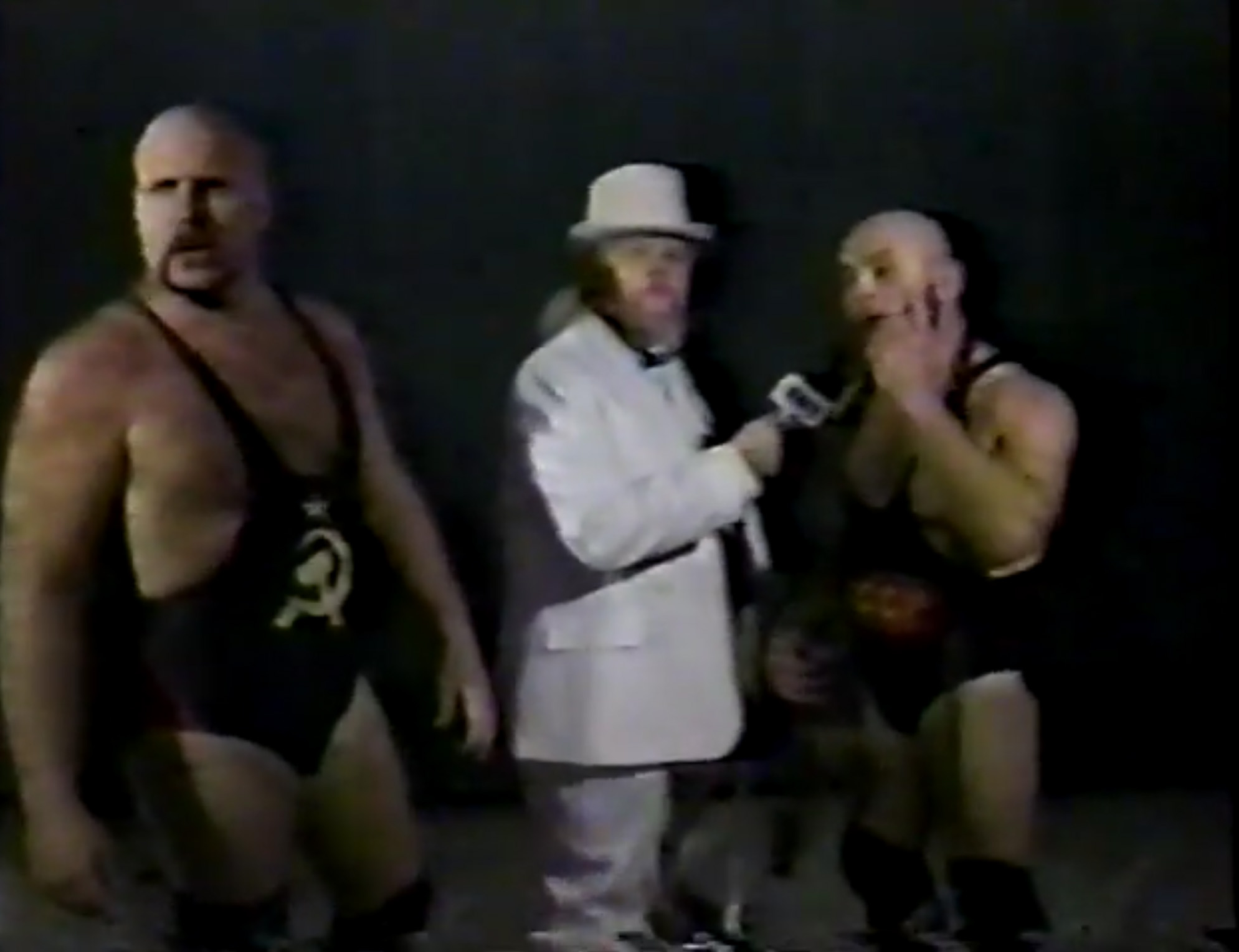 Get Radio Guard and protect your car stereo.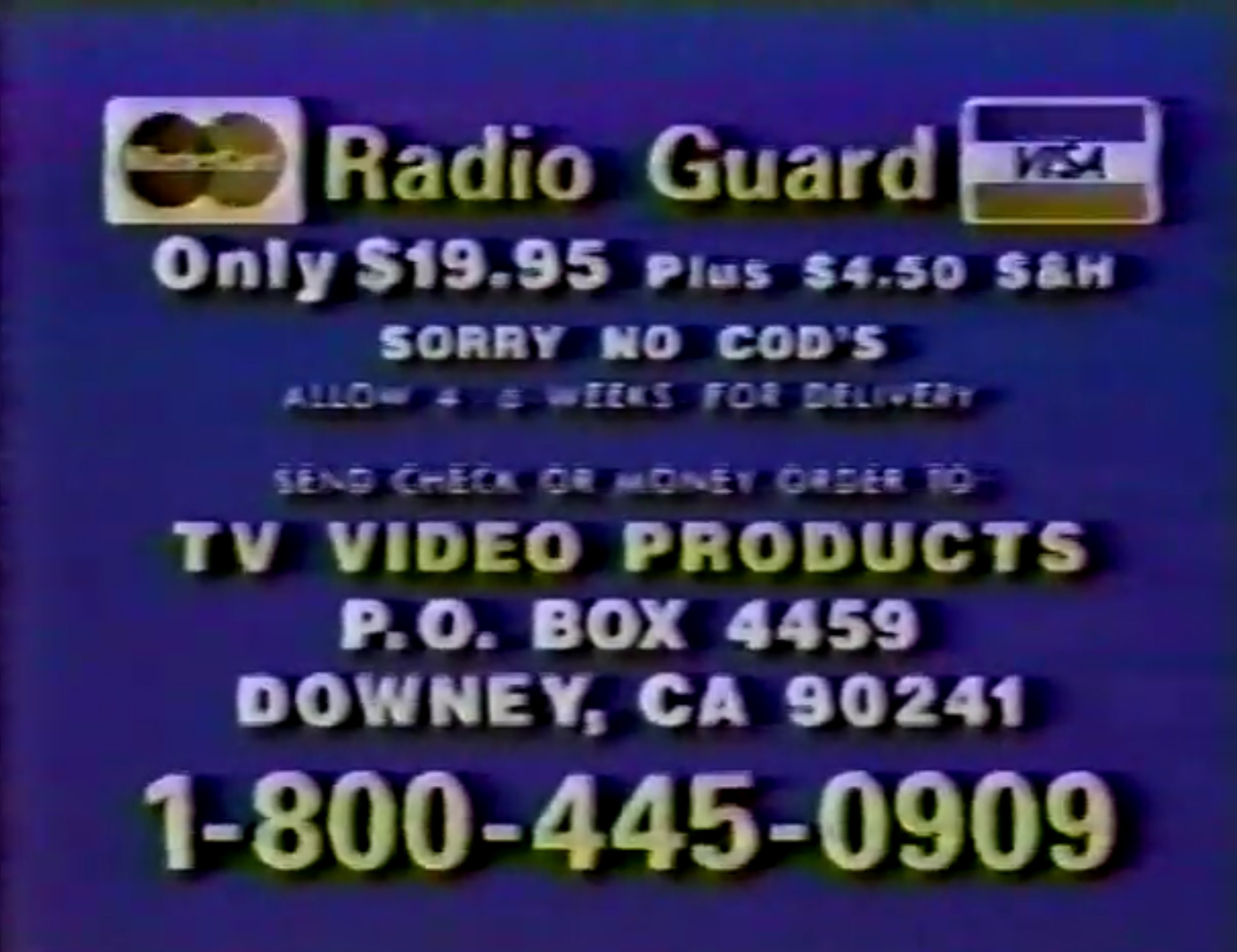 Have a luxurious stay at the Ritz-Carlton Huntington Hotel.
Subscribe to The Wall Street Journal.
Match 3: "Mr. Wonderful" Paul Orndorff versus Tommy Angel
Highlights:
You may recognize Angel as he performed enhancement work in WCW.
When Orndorff leapfrogged him, Angel countered with a hip toss.
He then supplied Orndorff with a back elbow and a double axe handle.
As Orndorff countered a side head lock with a belly-to-back suplex, he tossed Angel down to the concrete floor.
Orndorff joined and made Angel taste the steel railing. It must have tasted like the Jamiepoo at Cribb's Kitchen.
After they returned to the ring, Orndorff dropkicked Angel.
He then hooked a double underhook suplex, mounted the top turnbuckle, and unleashed an axe handle.
While he piledrove Angel, Orndorff won at 4:20.
Rating: *
Summary: Energetic showcase match for Orndorff.
At ringside, Abrams interviews Orndorff who cuts a promo on Orton.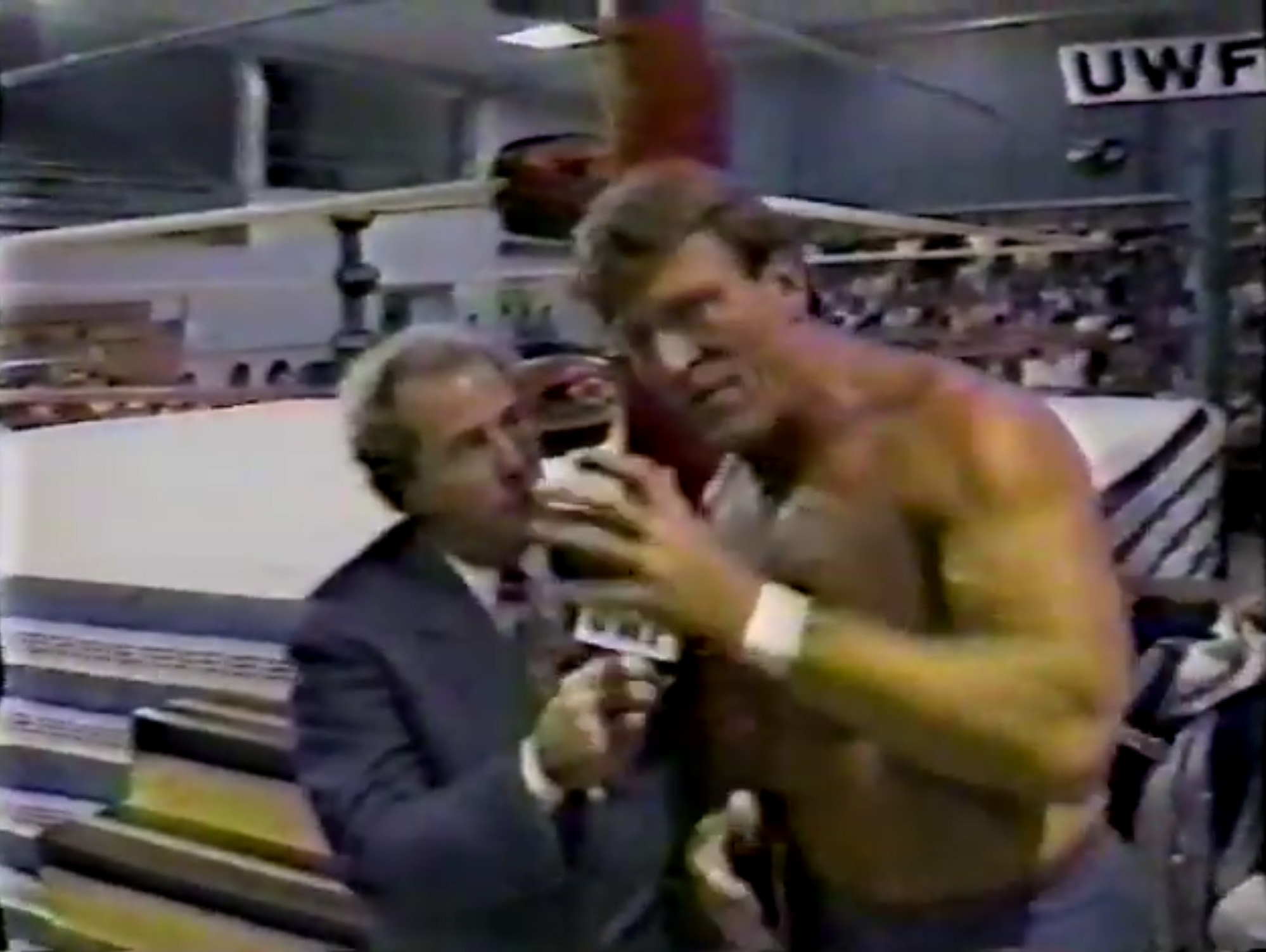 Promo #2 airs for the UWF PowerLine.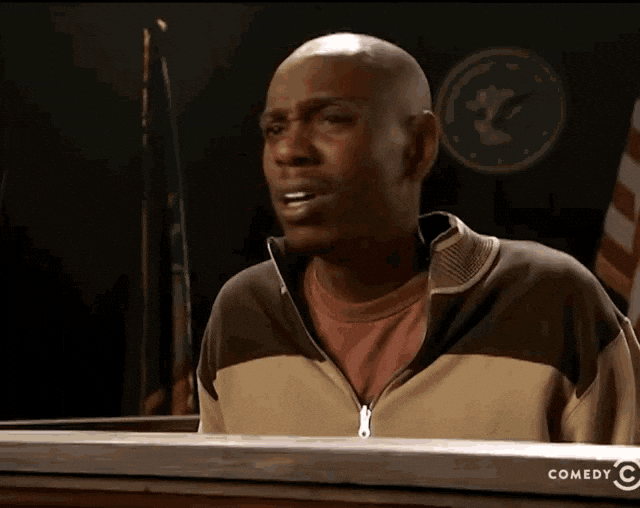 Subscribe to The Sporting News.
Match 4: "Pistol" Pez Whatley versus the Marauder
Highlights:
For those unaware, Marauder was portrayed by Ken Timbs formerly of the Fabulous Blonds with Eric Embry.
As Whatley strutted, Marauder exited to the apron.
Whatley brought Marauder back into the ring the hard way, reversed a cross corner whip, and hip-tossed him.
When he slammed Marauder, Whatley followed with a dropkick.
A criss-cross ensued, and Whatley head-butted Marauder.
After DeGeorge namedropped The Wrestler magazine, Whatley unloaded a flying head butt.
1-2-3.
Whatley won at 3:28.
Rating: ½*
Summary: Showcase match for Whatley.
Order Fantastic Fights for only $19.95!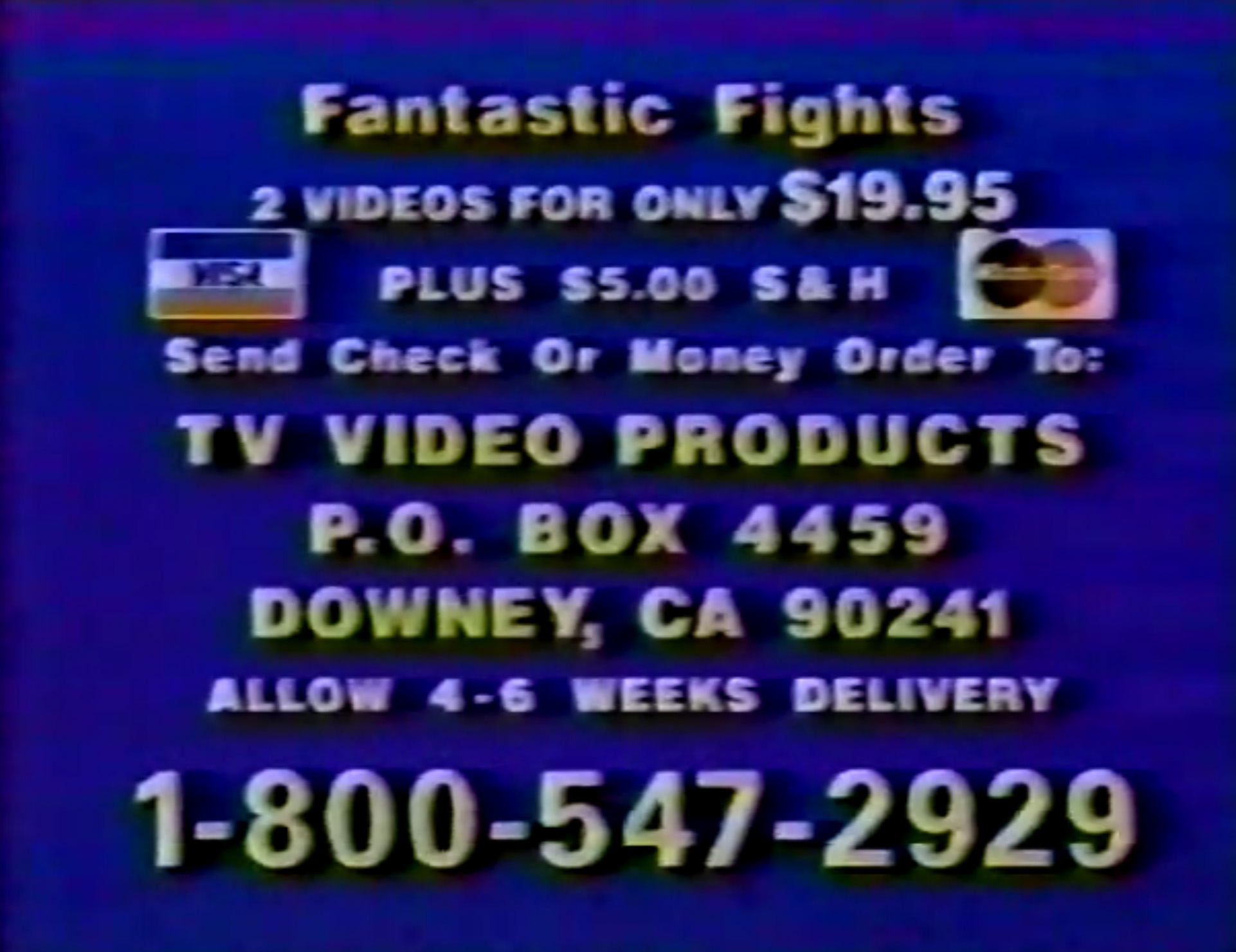 Catch Miller Lite pro beach volleyball tour only on Prime Ticket.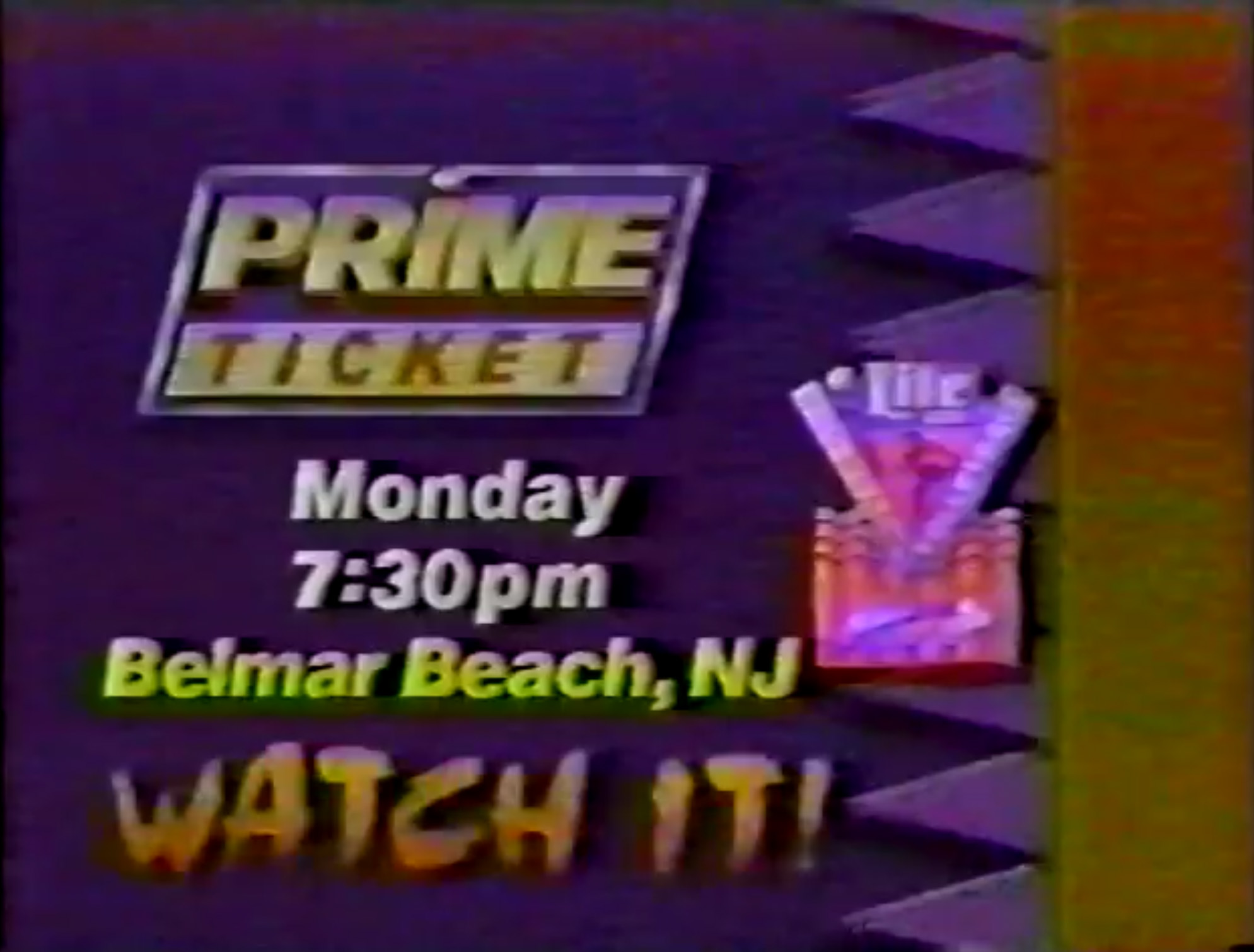 Subscribe to Tennis magazine.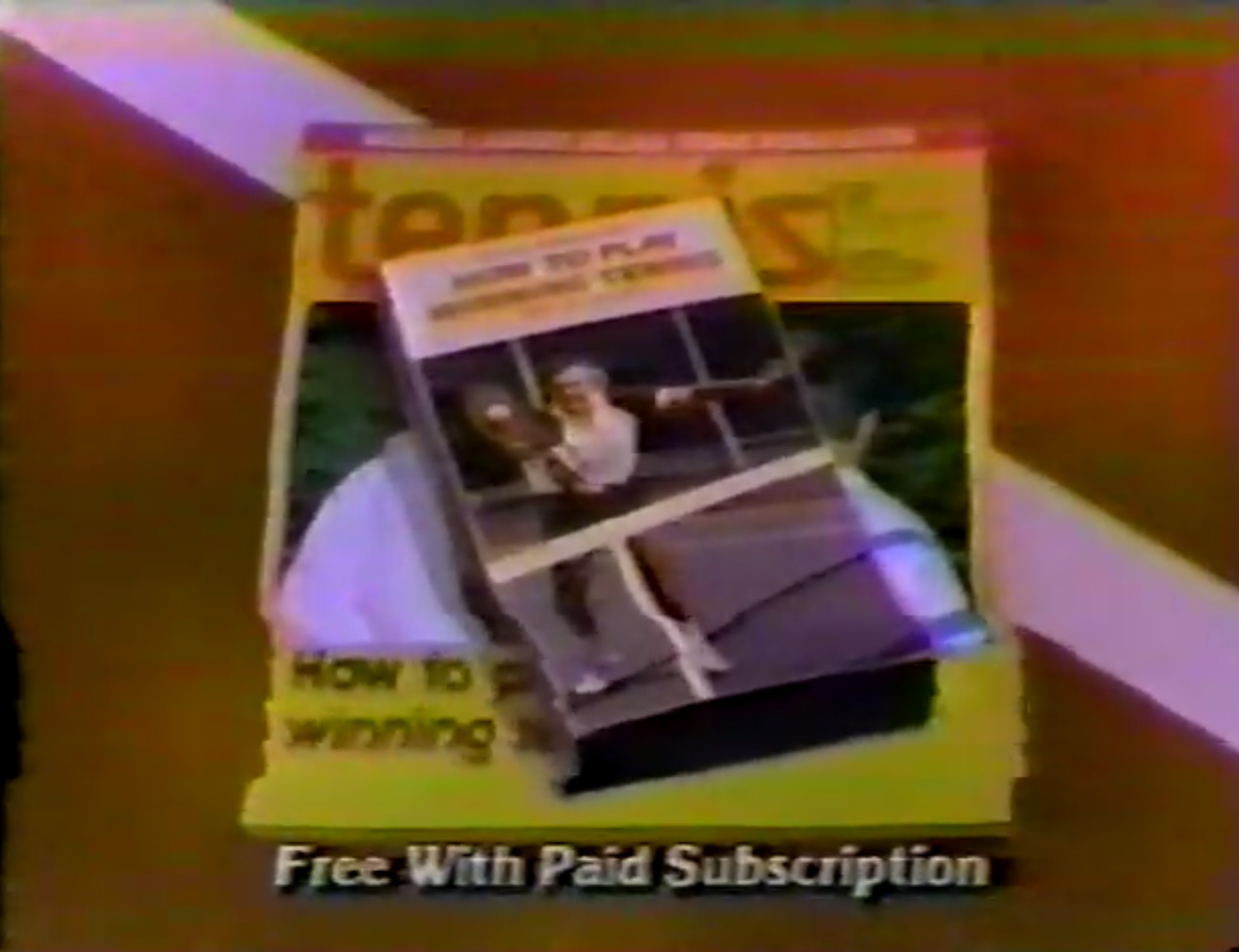 Match 5: Wet'n'Wild versus Stone Cole & Johnny Kid
Highlights:
For those unaware, Kid was portrayed by Michael Taylor, and Cole was portrayed by Mike Meyers making his pro wrestling debut.
Wild Thing tagged in, mounted the top turnbuckle, and lowered the boom on Cole.
When Beach tagged in, Wet'n'Wild annihilated Cole with a double back elbow.
Beach then uncorked a gutwrench suplex for 2.
As Beach slammed Cole twice, Kid tagged in but ate a back elbow from Beach.
Wild Thing tagged in, and Wet'n'Wild unloaded a double boot to Kid.
After Wild Thing suplexed Kid twice, he got 2.
He slammed Kid and followed with a leg drop for another 2.
While Wild Thing provided Kid with a gutwrench suplex, Beach tagged in, mounted the top turnbuckle, launched a flying splash, but couldn't get 3.
Beach powerbombed Kid for yet another 2.
When Wild Thing tagged in, Wet'n'Wild double-dropkicked Kid but only got 2.
Beach tagged in, and Wet'n'Wild split Kid's uprights.
As Beach dealt Kid an atomic drop, Wild Thing mounted the top turnbuckle and unloaded a cross body block.
1-2-3.
Wet'n'Wild won at 5:26.
Rating: ***
Summary: Showcase match for Wet'n'Wild who used Kid as a tackling dummy for their own as well as the Spartanburg faithful's amusement.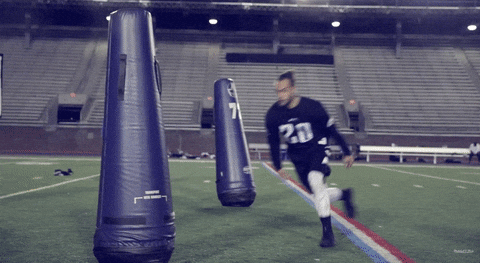 Promo #3 airs for the UWF PowerLine.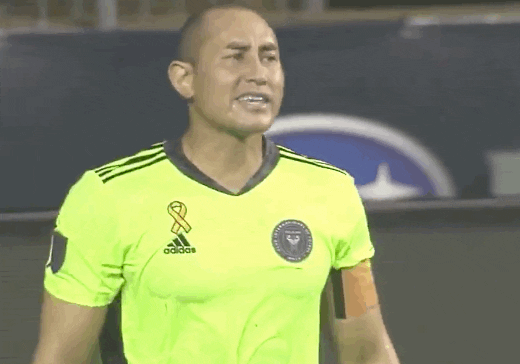 Ad #2 airs for Charles Schwab.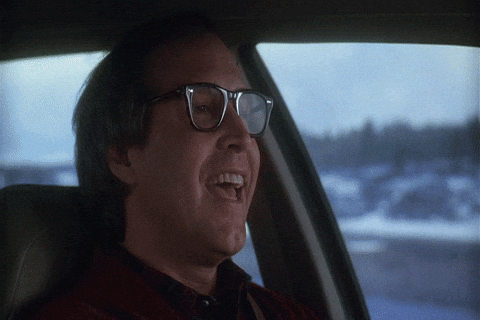 No one wins with child abuse.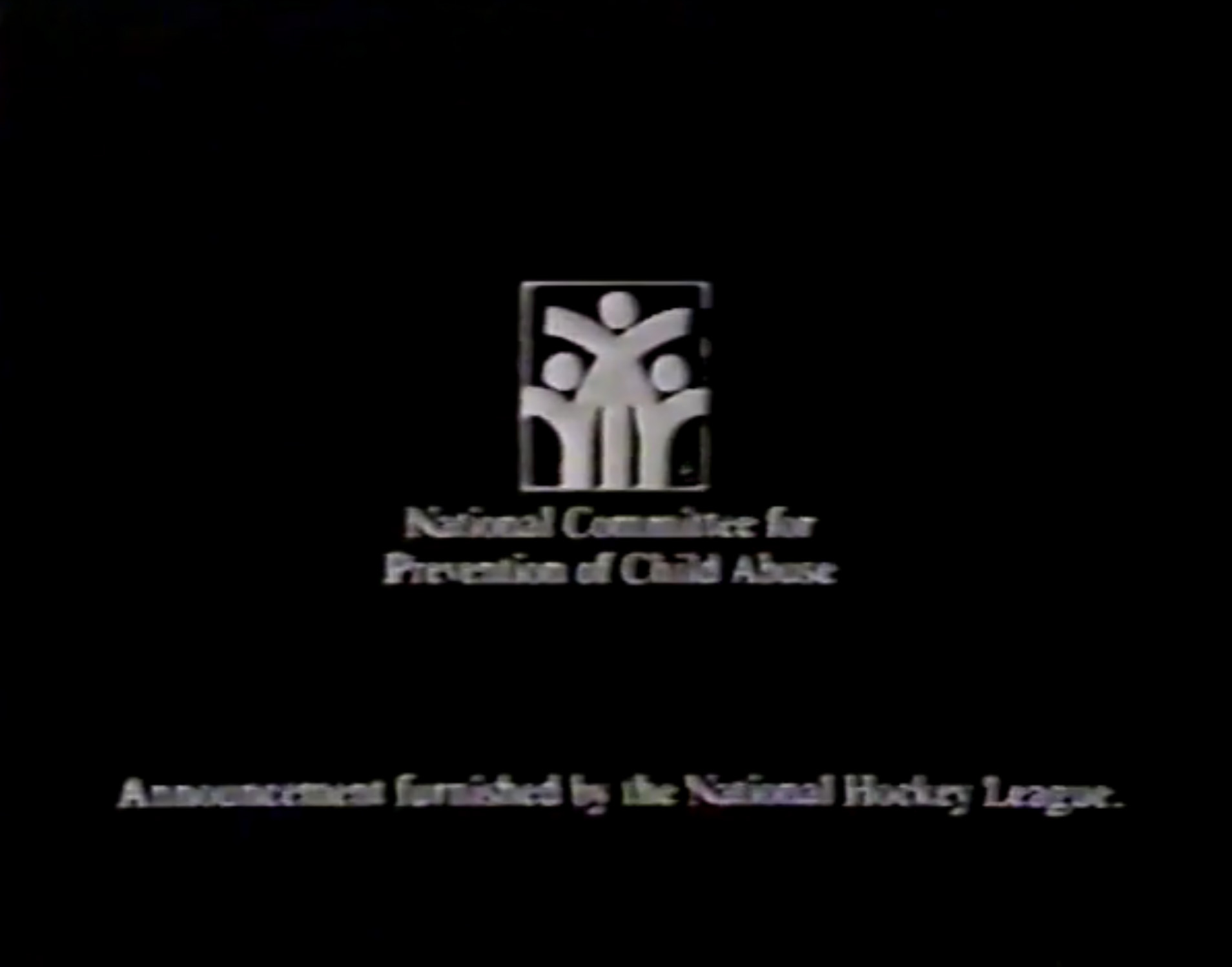 Valiant cuts a promo on Colonel Red.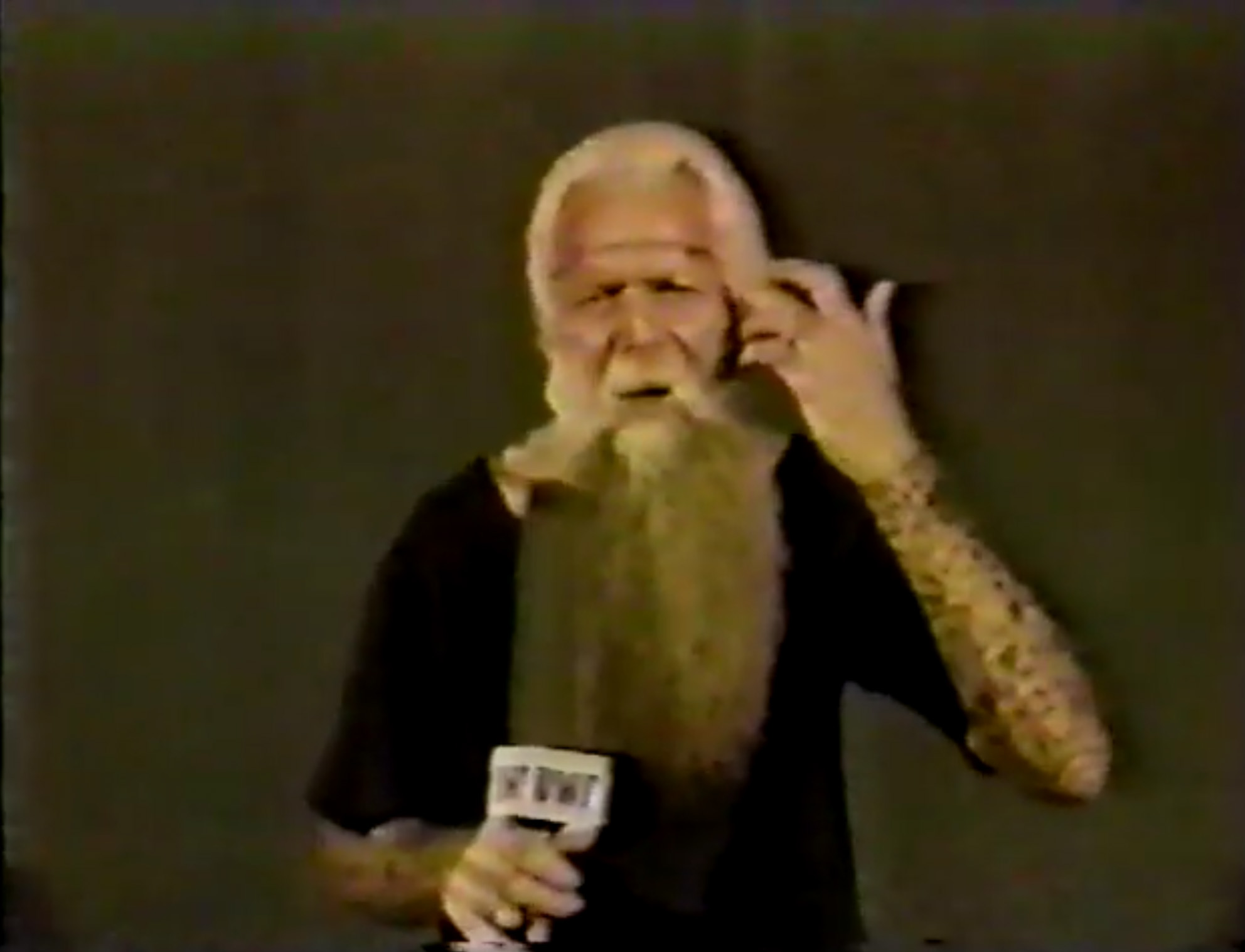 Conclusion: Much better visual presentation, but the audio, along with the recording, suffered greatly. However, I would still grade it well above the Ft. Lauderdale taping. Seeing a Whatley match in the UWF is a nice surprise as well as a promo by Valiant. Let's see where this goes while it lasts.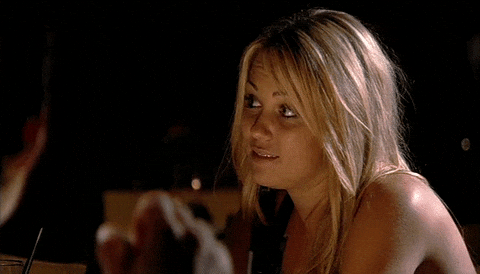 Next week, the UWF wrestling debut of the "Boogie Woogie Man" Jimmy Valiant!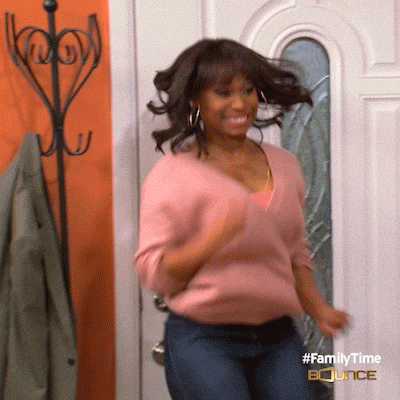 TV Rating: NONE
Stay tuned for UWF 07-06-92!
Comments? Suggestions? Send them to me at rsg@rockstargary.com and follow me on Twitter (@rockstargary202).
Custom Search