WELCOME TO ROCK STAR GARY REFLECTIONS!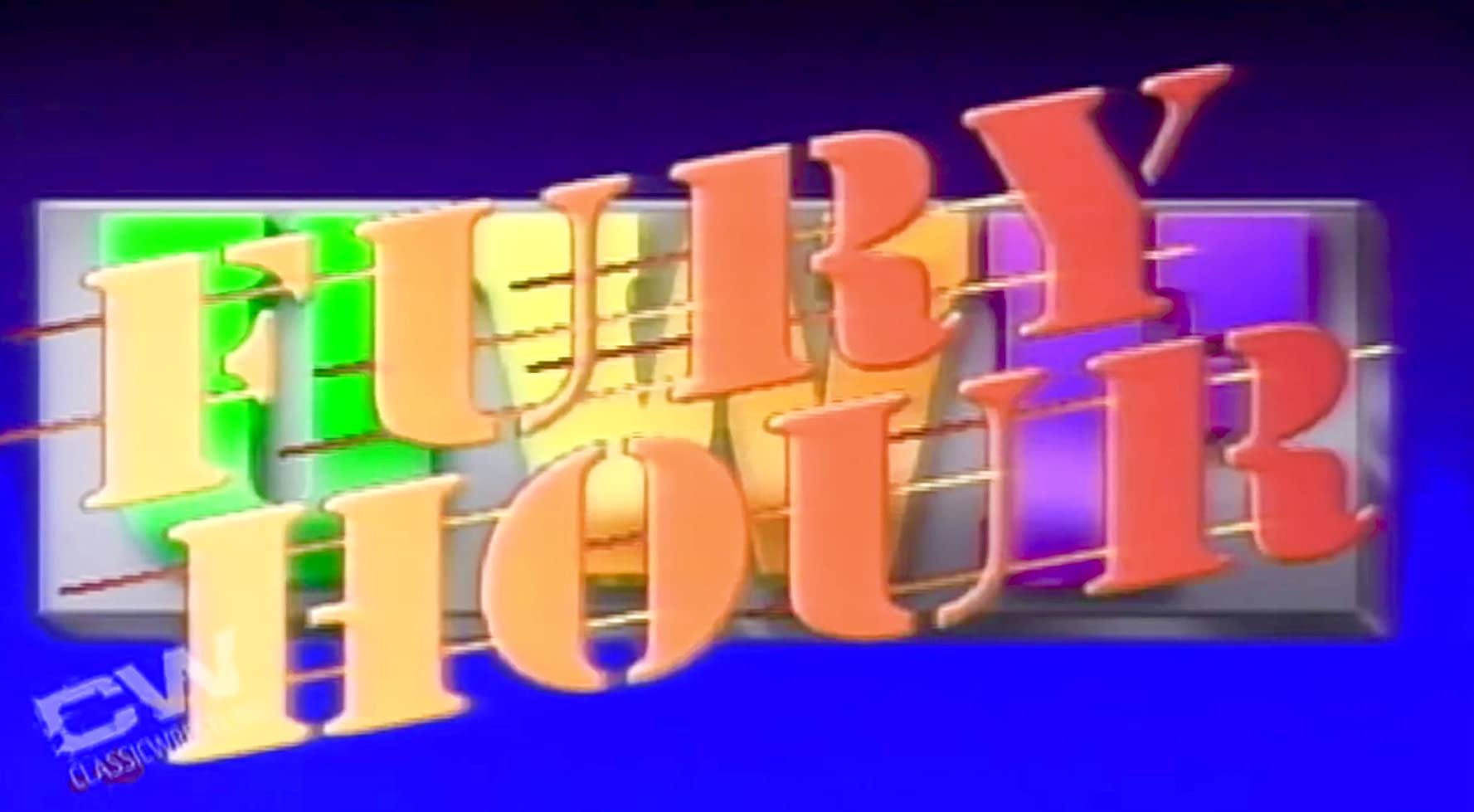 UWF Fury Hour 06-03-91
Taped from New York, NY
Airdate: June 3, 1991 (taped 05/10)
Attendance: 450
Hosted by Craig DeGeorge and Bruno Sammartino
Finally, it's the go-home show for Beach Brawl! Can Wet'n'Wild get the better of the Power Twins? More newcomers arrive plus the entire card for the PPV. Let's find out all about it!
Opening montage.
Promo airs for the PPV this Sunday. Order NOW!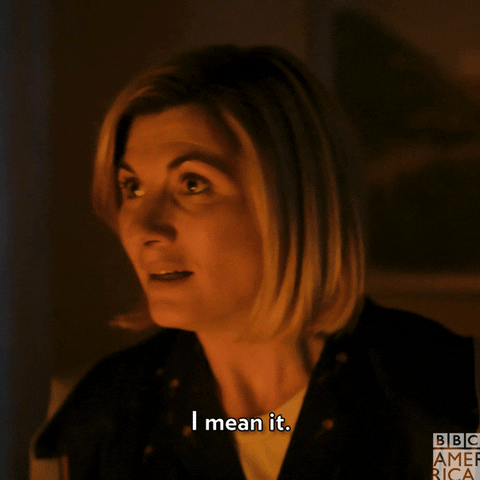 Prior to the opening match, Mr. Red grabs the microphone and calls the NYC faithful "hillbillies" and runs down Albano. HA! Let's hope the wiseguys in Queens don't find out about it.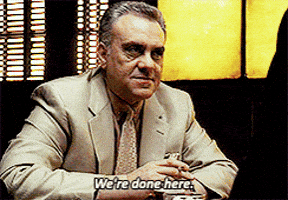 Match 1: Ivan Koloff (w/ Mr. Red) versus Corporal Chris Michaels
Highlights:
For those unaware, Mr. Red was portrayed by Marty Yesberg.
Ivan clotheslined Michaels and followed with a leg drop.
When he supplied Michaels with a swinging neckbreaker, Ivan backdropped him.
Ivan then applied a Cobra clutch, and Michaels submitted at 3:38.
Rating: DUD
Summary: Showcase match for Ivan.
After the match, Mr. Red distracts the anonymous referee, and Ivan nails Michaels in the head with his chain. Nefarious! While Michaels is BUSTED OPEN, the beating continues. The referee shoves down Mr. Red, but Ivan physically dismisses him. As Ivan further whips Michaels, Bob Backlund arrives to save Michael's bacon.
Muraco shills the PPV while cutting a promo on Gordy, and Gordy rebuts.
Watch City Slickers in theaters on Friday.
Get Soloflex today!
Catch Irish Sports Cavalcade only on SportsChannel America!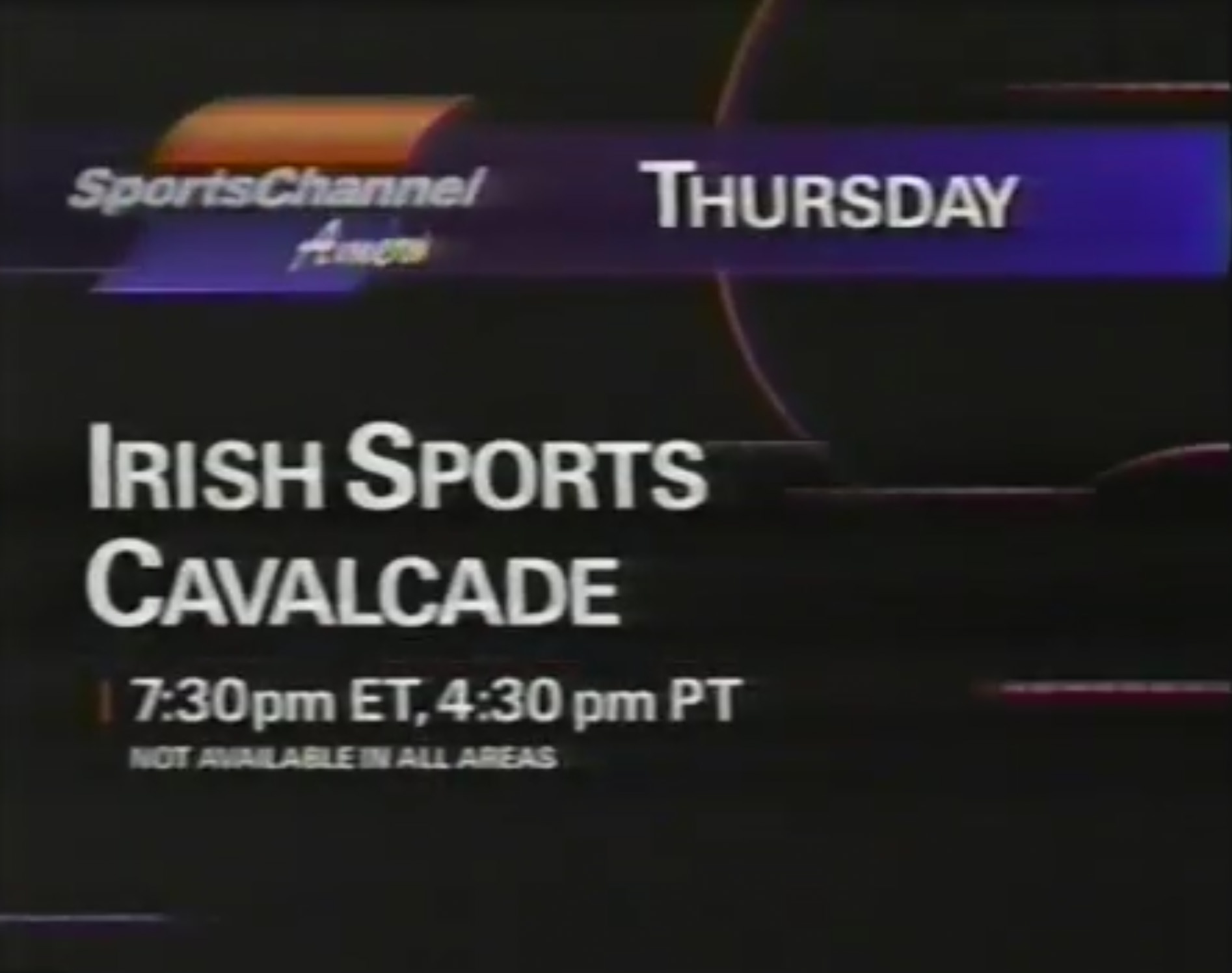 Invest with Charles Schwab or get stuck holding onto GameStop too long.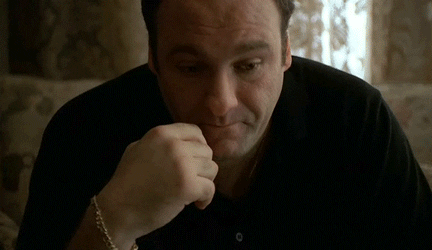 Catch the WBL only on SportsChannel America!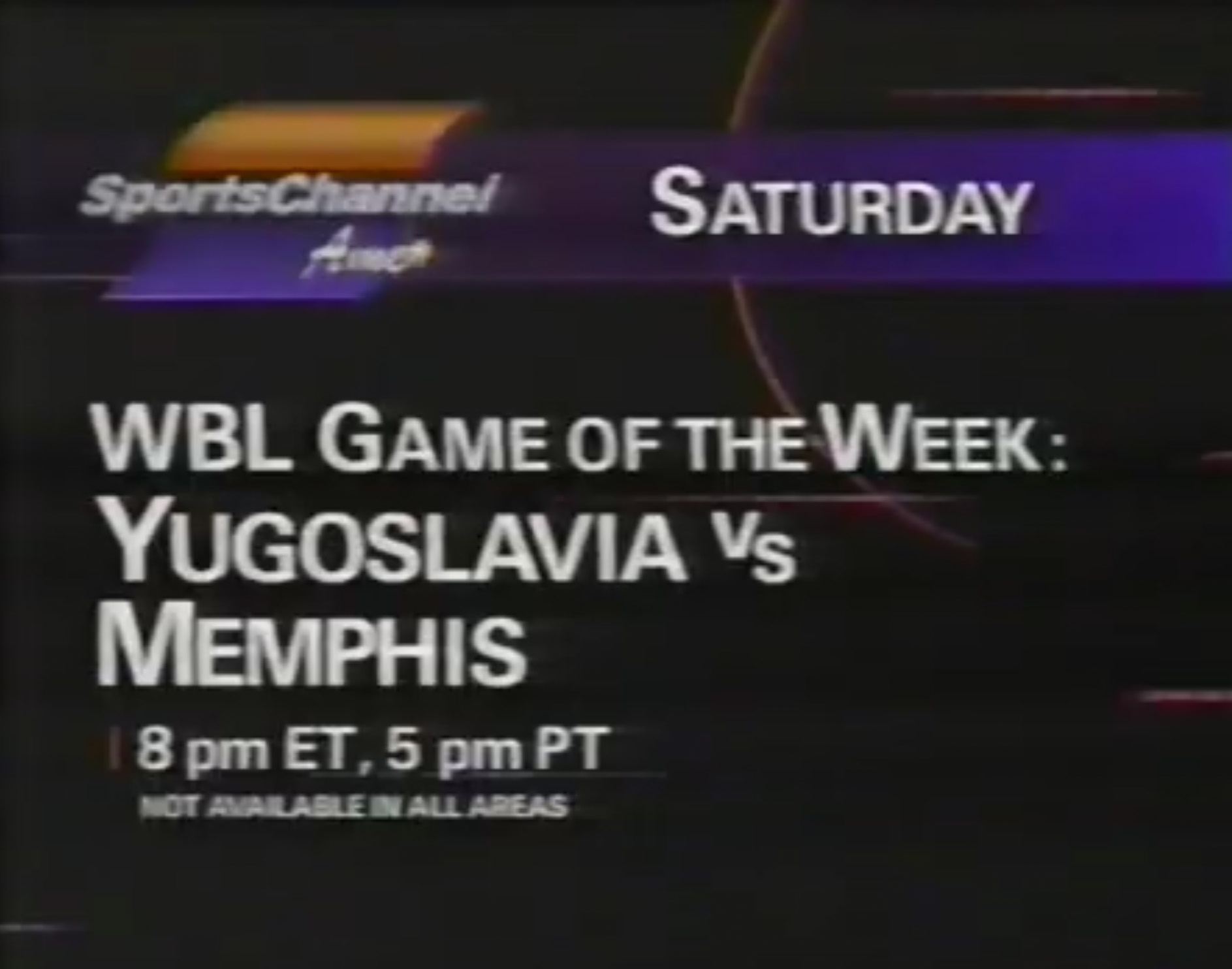 Watch the UWF LIVE on 6/7 in Ft. Lauderdale!
Call the Captain Lou hotline NOW!
CAPTAIN LOU'S CORNER: Albano interviews Terry "Bam Bam" Gordy who cuts a promo on Muraco.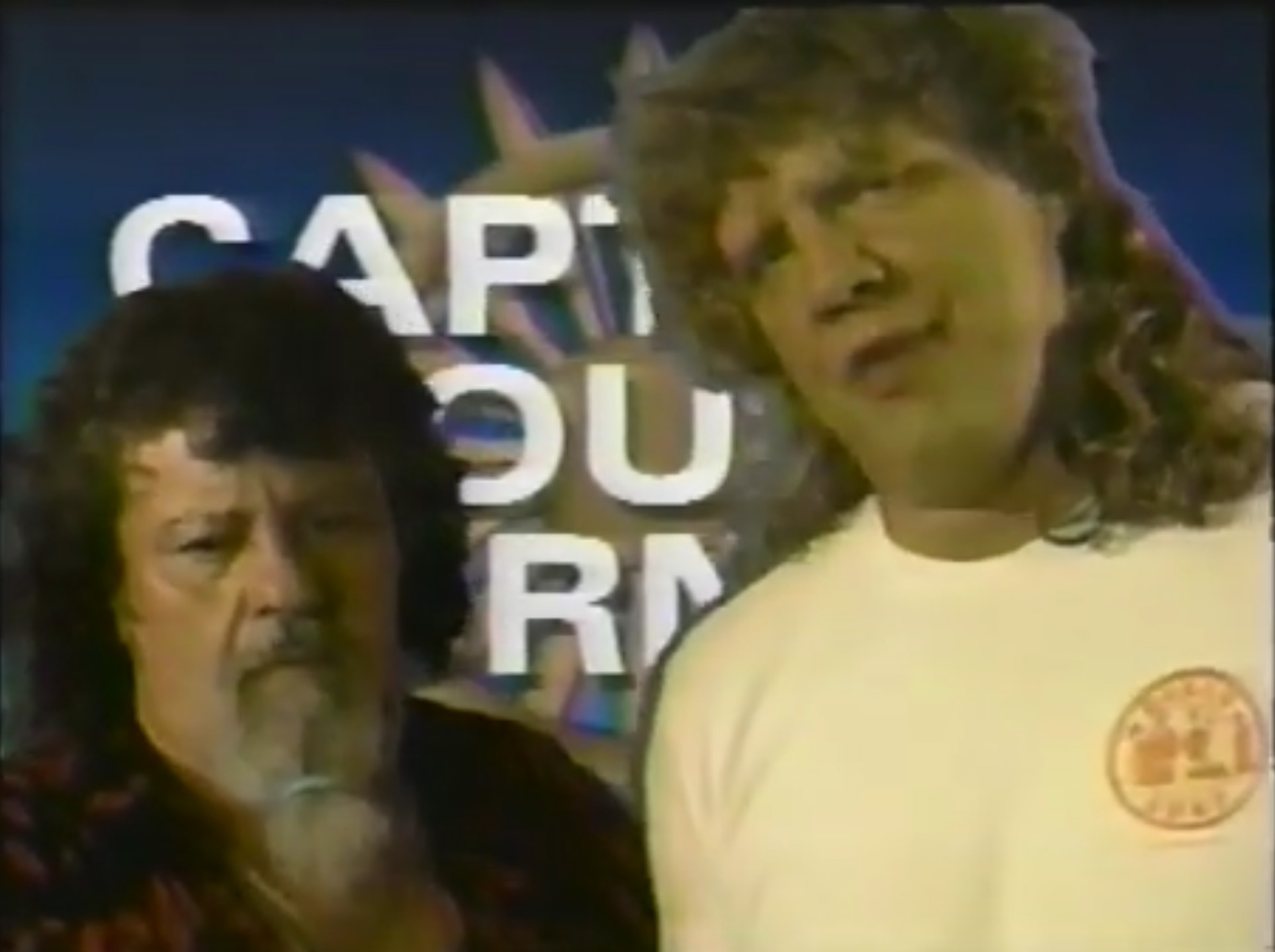 OUR TWO CENTS: DeGeorge, Sammartino, Herb Abrams, and Brian Ricco discuss the PPV. As Sammartino picks Williams to win the TV title, DeGeorge chooses Bigelow. Ricco prefers Bigelow as well, but Abrams disagrees with him and selects Williams as his pick.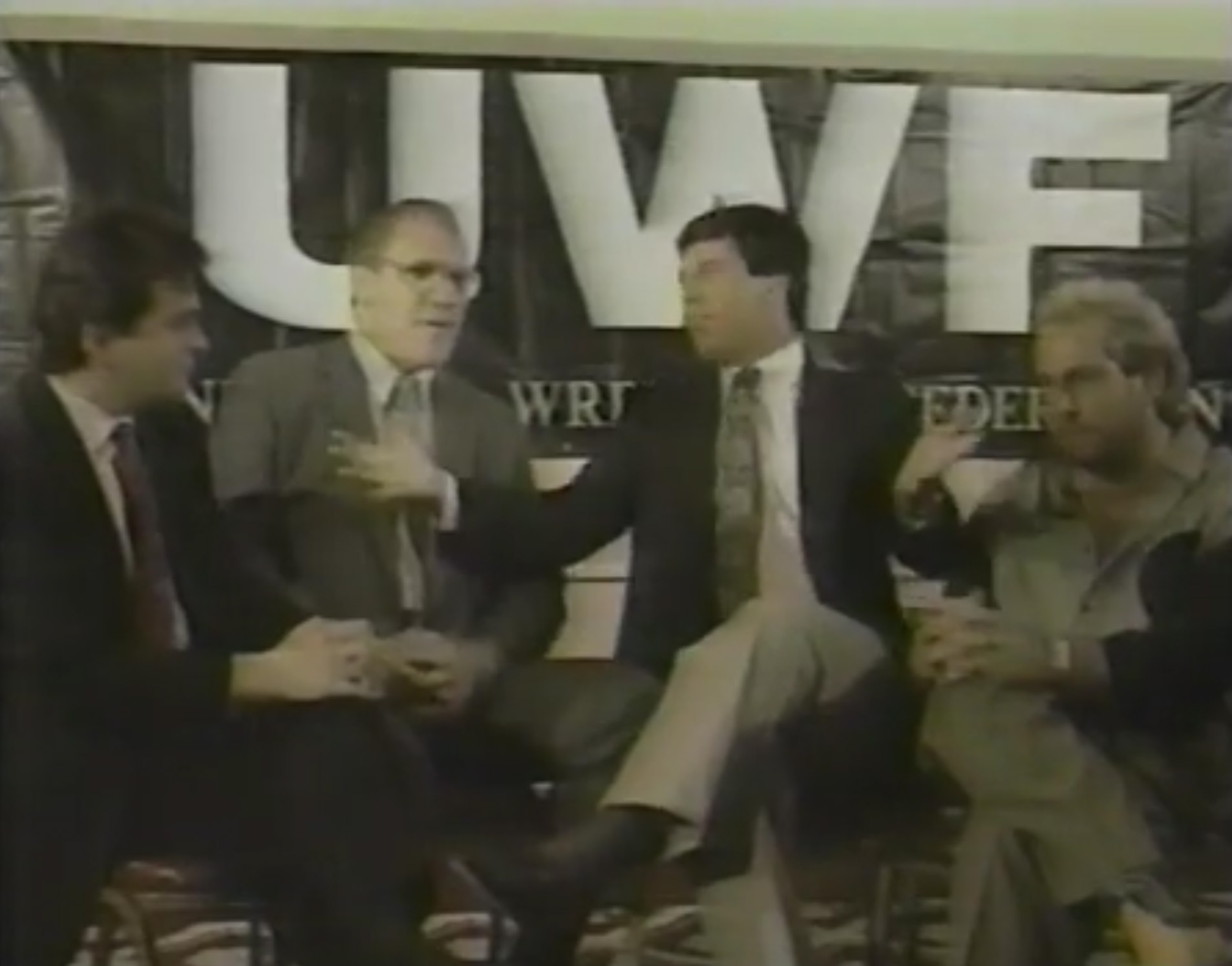 Abrams then runs down the card for the PPV:
The Power Twins (w/ John Tolos) versus Mass Confusion
Don Muraco versus Terry Gordy
In a strap match, Colonel DeBeers faces "Mr. Wonderful" Paul Orndorff
For the UWF Women's title, Rockin' Robin squares off against Candi Devine
Wet'n'Wild versus "Cowboy" Bob Orton & Cactus Jack (w/ John Tolos)
Legends match: Ivan Koloff versus Bob Backlund
For the vacant UWF TV title, Bam Bam Bigelow versus Steve "Dr. Death" Williams.
Ad airs for the Hotel Pennsylvania
Get your UWF Power Products TODAY!
Promo #2 airs for the PPV.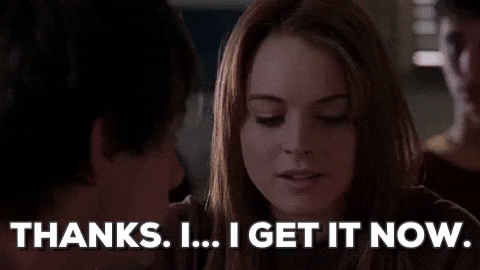 Call the UWF PowerLine NOW!
Match 2: Wet'n'Wild versus the Power Twins (w/ John Tolos)
Highlights:
Beach took both Power Twins down with a flying headscissors.
As he dropkicked Larry, Wild Thing tagged in, and Wet'n'Wild double-backdropped him.
Wild Thing then slammed Larry, delivered a leg drop, and got 2.
When Beach tagged in, he hooked a gutwrench suplex upon Larry.
Wild Thing tagged in, mounted the second turnbuckle, and lowered the boom on Larry.
After Larry rebounded with a double underhook suplex, David tagged in.
The Power Twins then double-backdropped Wild Thing, and David clotheslined him.
While Larry tagged in, the Power Twins double-guillotined Wild Thing on the top rope.
Beach then distracted referee Dick Kroll, and John Tolos nailed Wild Thing with a banquet chair on the floor. How dastardly!
As a mid-ring collision occurred, tags were exchanged on both sides.
Beach then provided the Power Twins with a double noggin knocker and dropkicked Larry.
When he supplied David with a ten-punch count-along, Beach bulldogged him.
David then held Beach from behind, and Larry retrieved Beach's surfboard.
After Beach avoided getting creamed thanks to heel miscommunication, Wild Thing entered the ring and WALLOPED David with the surfboard.
Kroll called for the bell and ruled the bout a double disqualification at 6:49.
Rating: **½
Summary: While they used the tag formula to a certain degree, the match lacked heat but had some solid wrestling. Perhaps a rematch can garner better results with the fans?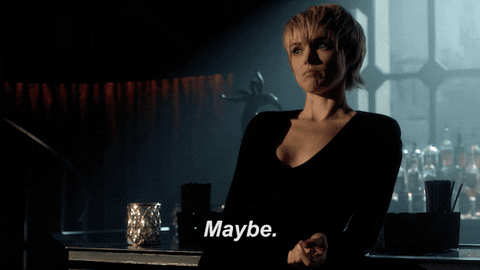 After the match, the two teams brawl in the aisle, and Tolos smacks Beach with his shoe. Wild Thing comes to his partner's aid, and the heel scatter.
Get your tickets NOW for the PPV on Sunday. They're going fast!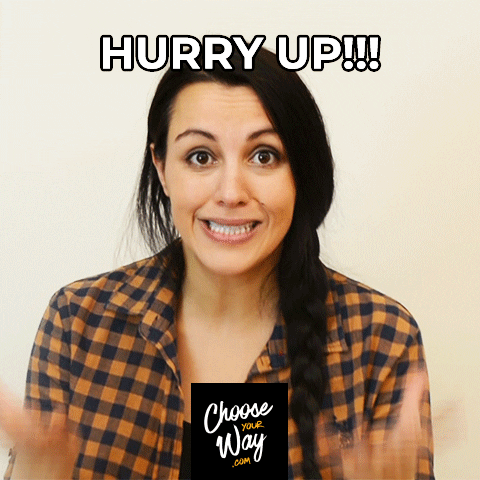 Subscribe to Car and Driver magazine TODAY!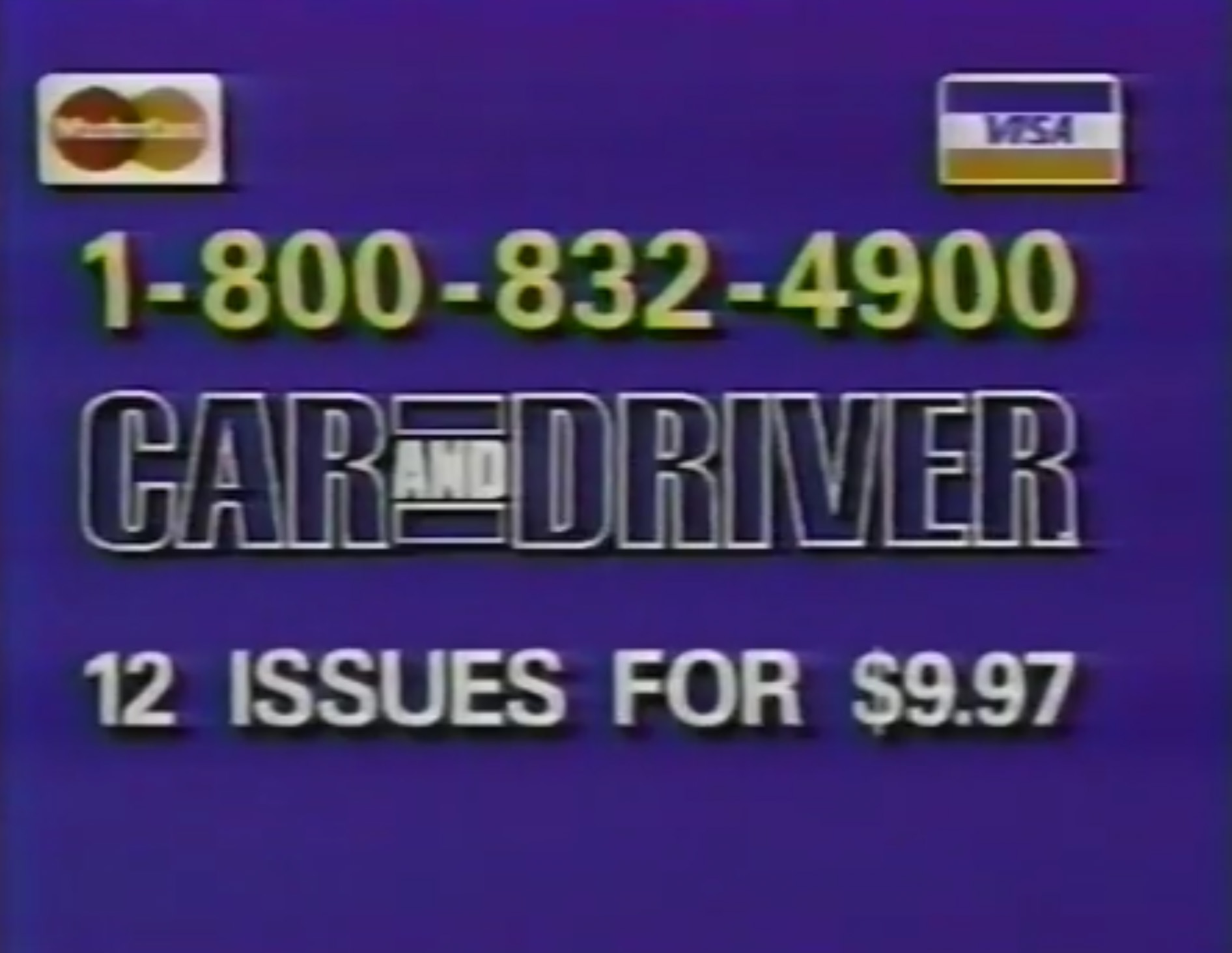 Promo airs for the Ft. Lauderdale show as Orndorff squares off against DeBeers. Blair will face Boris Zhukov, the Power Twins battle Wet'n'Wild, the Blackhearts will be in action, and Luna Vachon too!
Order Warren Miller's Extreme Skiing on VHS NOW!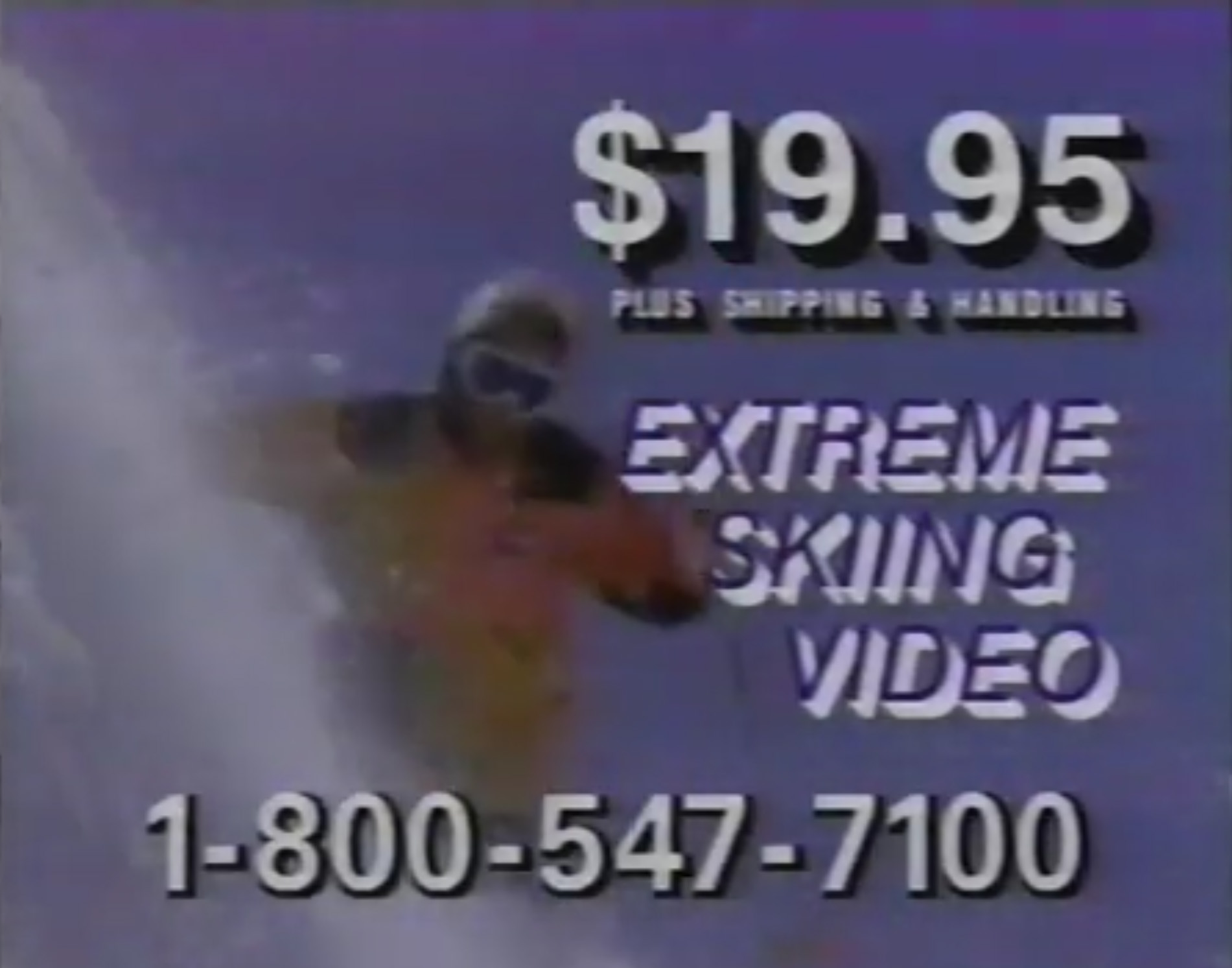 Catch the Mets as they face the Reds on both Wednesday and Thursday on SportsChannel! Hopefully, you're a Reds fan because the Mets lost both games.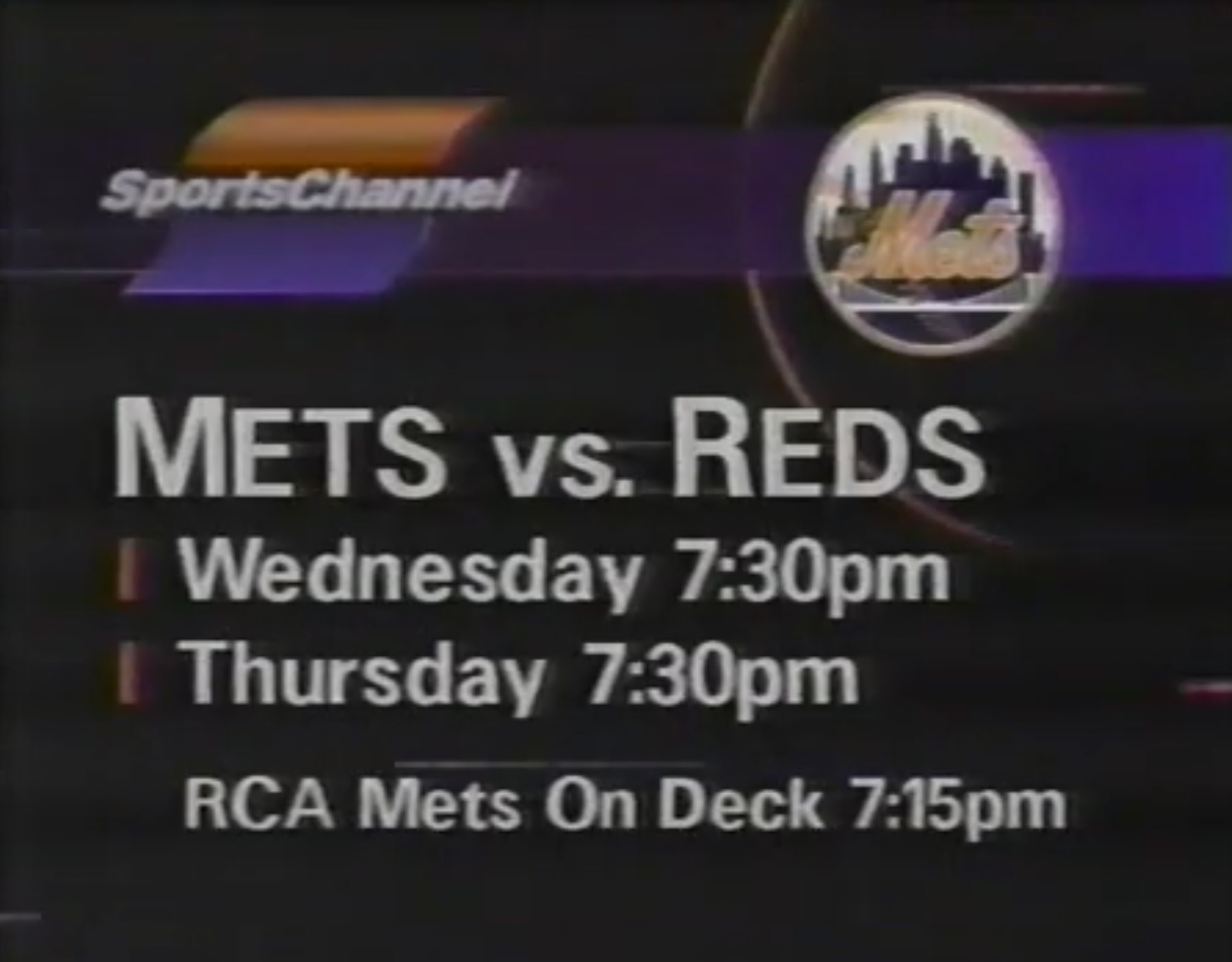 Watch Inside Racing on Tuesday!
BEACH BRAWL PRESS CONFERENCE: Bigelow vows to win the TV title.
Bigelow and Albano shill the PPV, and Orndorff cuts a quick promo about the strap match.
CAPTAIN LOU'S CORNER: Albano interviews the Power Twins with John Tolos and states that Tolos will be suspended above the ring in a cage during the match against Mass Confusion on Sunday. Tolos then protests being put in a cage and refers to Mass Confusion as "insects."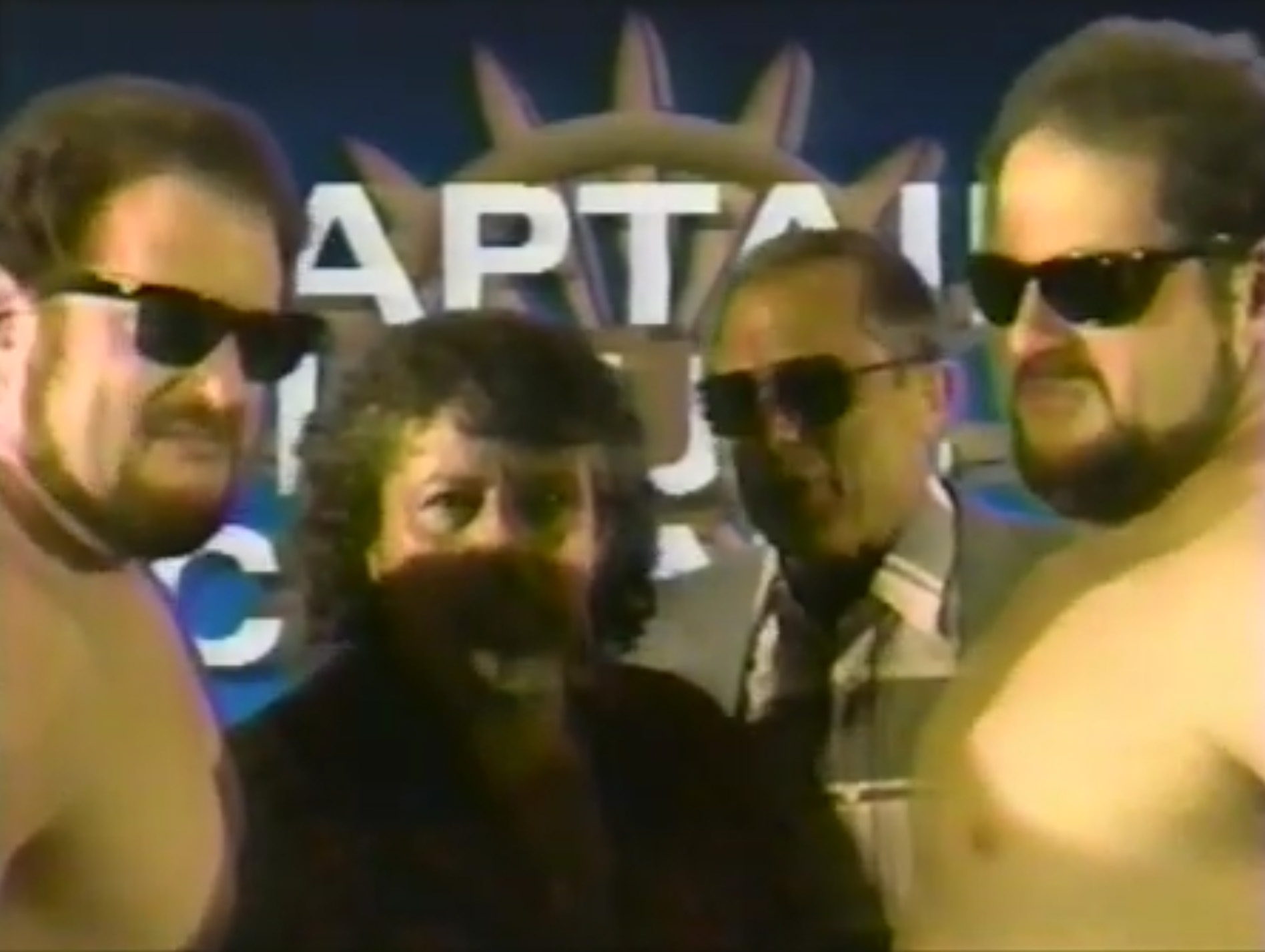 Plug #2 airs for tickets. Are you itching to go?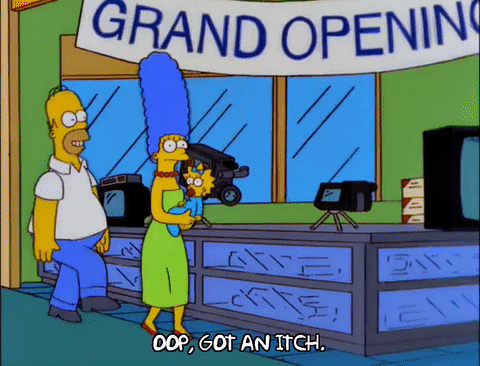 Match 3: Mass Confusion versus Hog Calhoun & Cash Jackson
Highlights:
For those unaware, Calhoun was portrayed by Jack Martin, yet I have NO CLUE who Jackson was. Perhaps his parents preferred quick and smooth transactions.
Blair attempted to slam the HUGE Calhoun but got slammed instead.
When Calhoun missed an elbow drop, Brunzell tagged in.
Mass Confusion then double-slammed Calhoun, and Brunzell got 1.
As tags were exchanged on both sides, Mass Confusion supplied Jackson with a double back elbow.
Blair then powerslammed Jackson and tagged in Brunzell.
After Mass Confusion double-backdropped him, Brunzell got 1.
Blair tagged in, mounted the second turnbuckle, and lowered the boom to Jackson.
While Brunzell tagged in, Mass Confusion double hip-tossed Jackson.
Brunzell then hooked an abdominal stretch, but Jackson escaped.
When tags were exchanged on both sides again, Calhoun sandwiched Blair in the heel corner.
Tags were exchanged on both sides yet again, and Brunzell launched a dropkick to Jackson.
1-2-3.
Mass Confusion won at 6:18.
Rating: **
Summary: Showcase match for the former Killer Bees. I had forgotten how high Brunzell's dropkick used to be.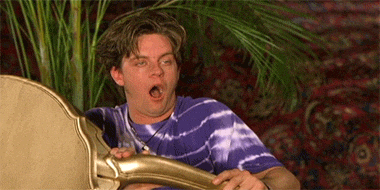 Mass Confusion cuts a promo.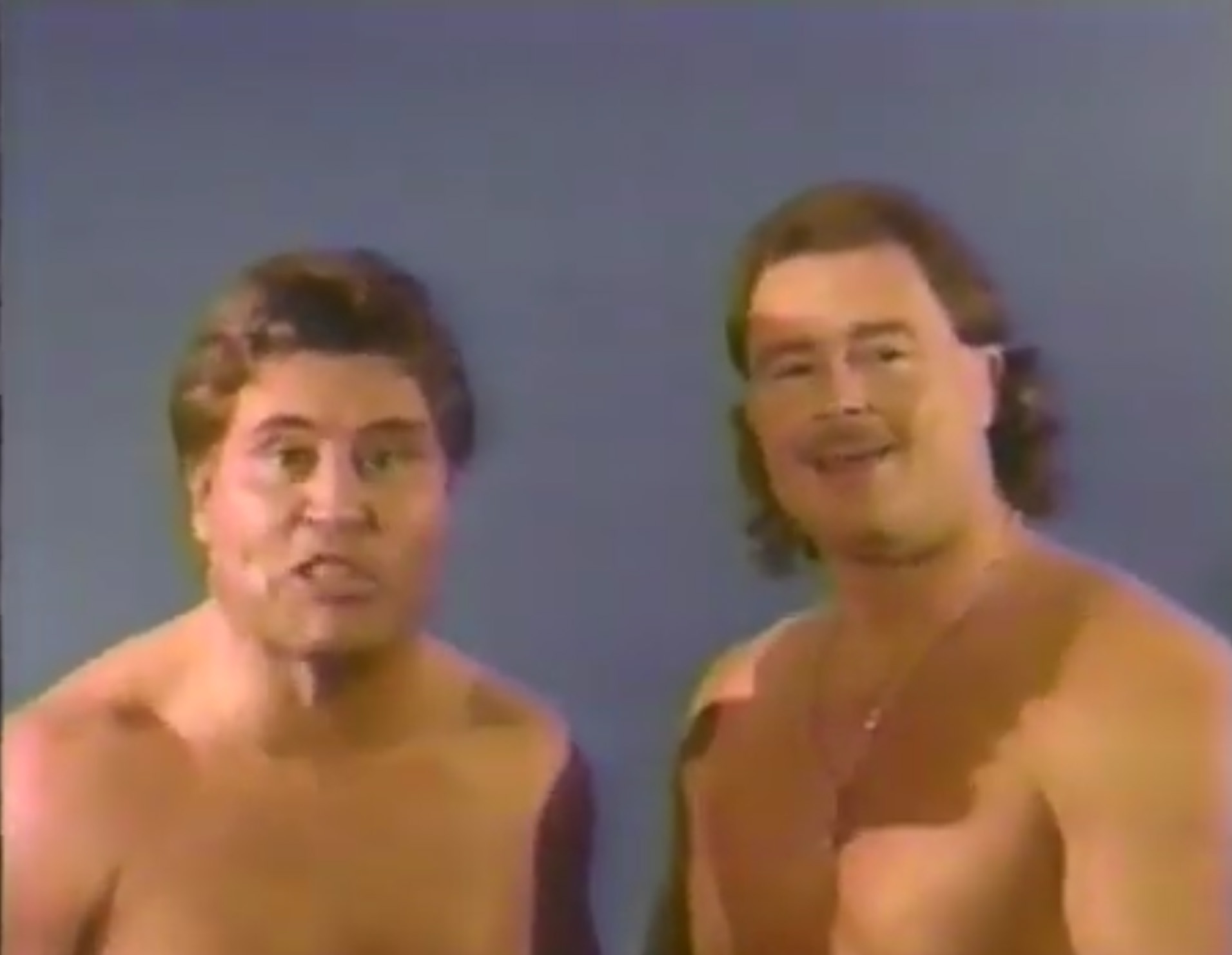 Promo #3 airs for the PPV.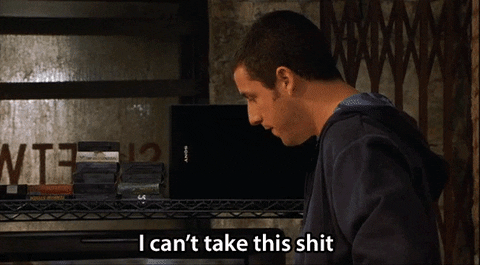 Get Bruno's book!
Promo #2 airs for the show in Ft. Lauderdale.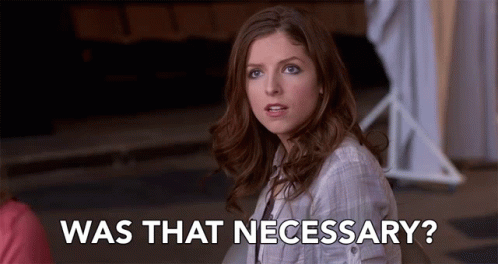 Subscribe to Saltwater Sportsman magazine for all the best fishing tips.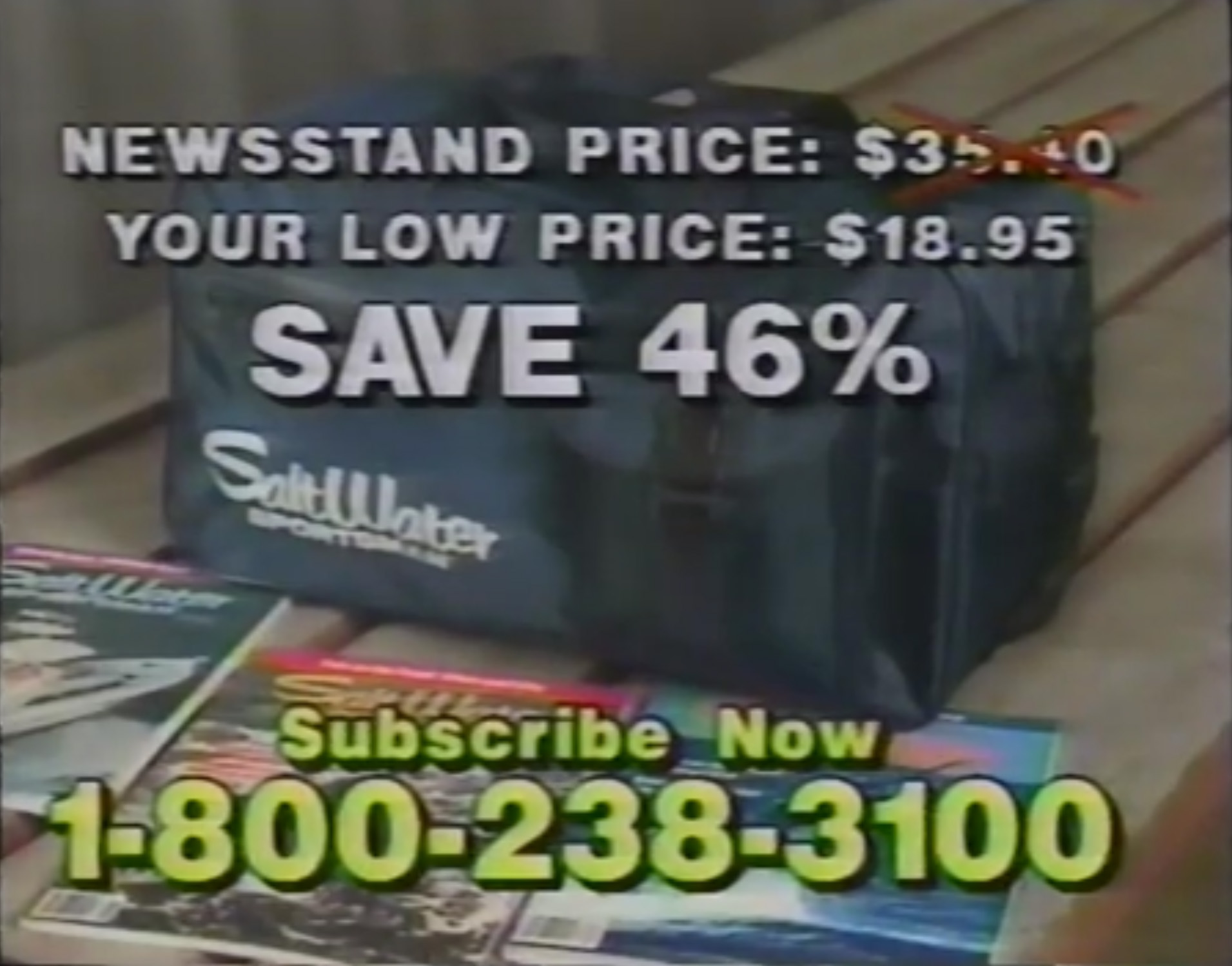 At the UWF Beach Brawl press conference, Bigelow uses HARD WORK instead of going to the gym to stay in shape.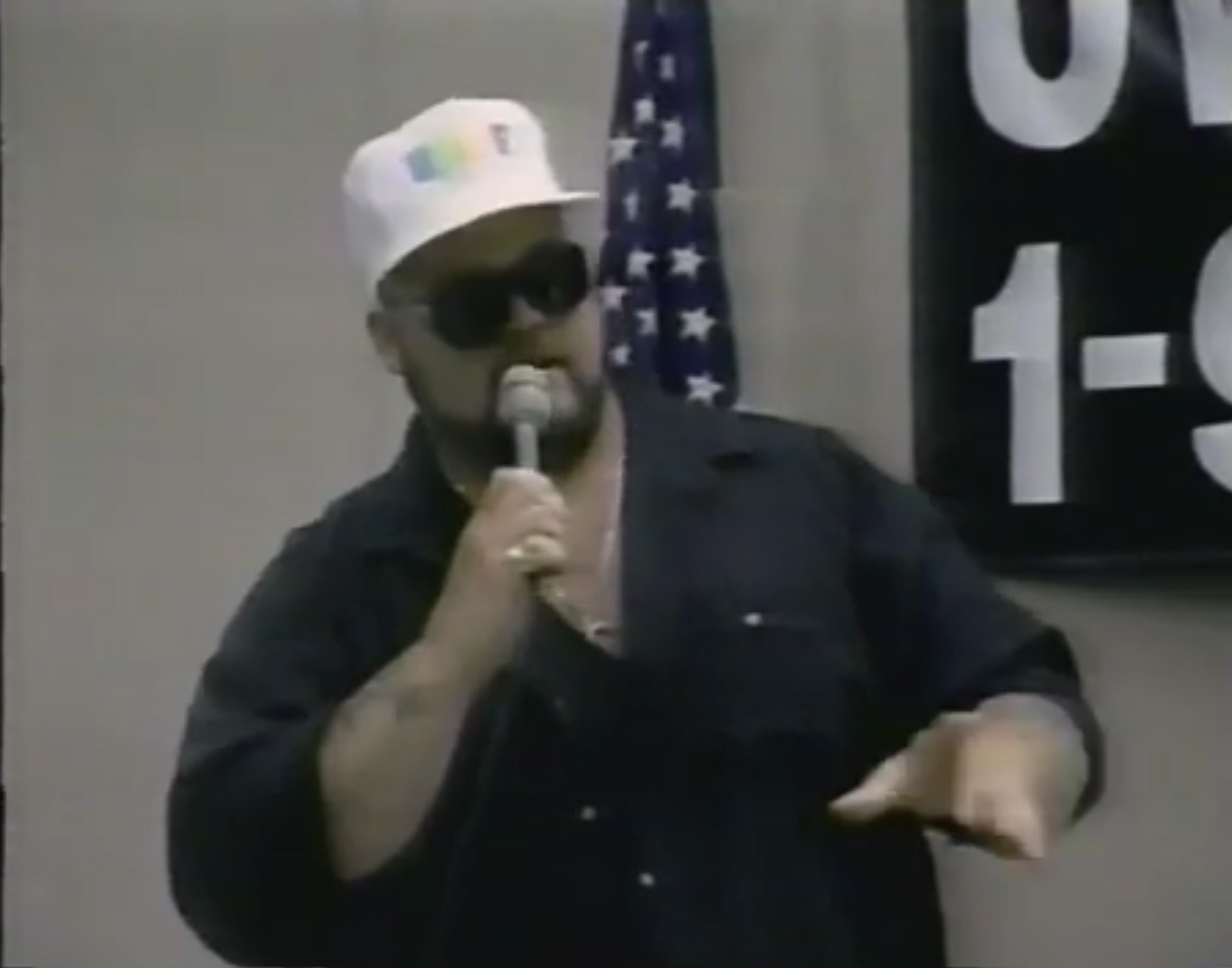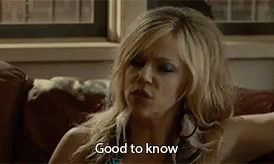 Williams cuts a promo on Bigelow.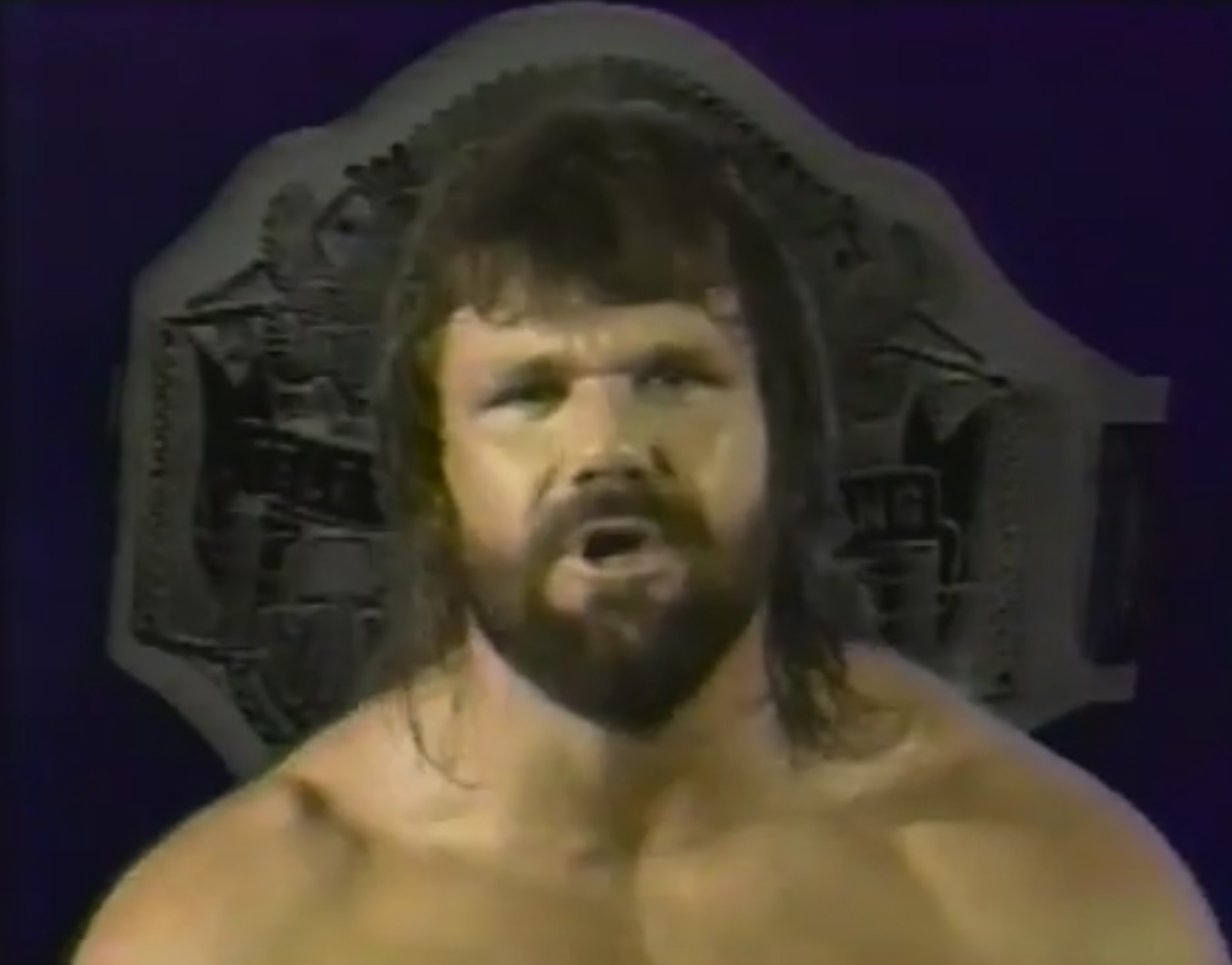 The Albano/Bigelow/Orndorff PPV shill airs again.
ASK THE WRESTLERS: A letter to Muraco: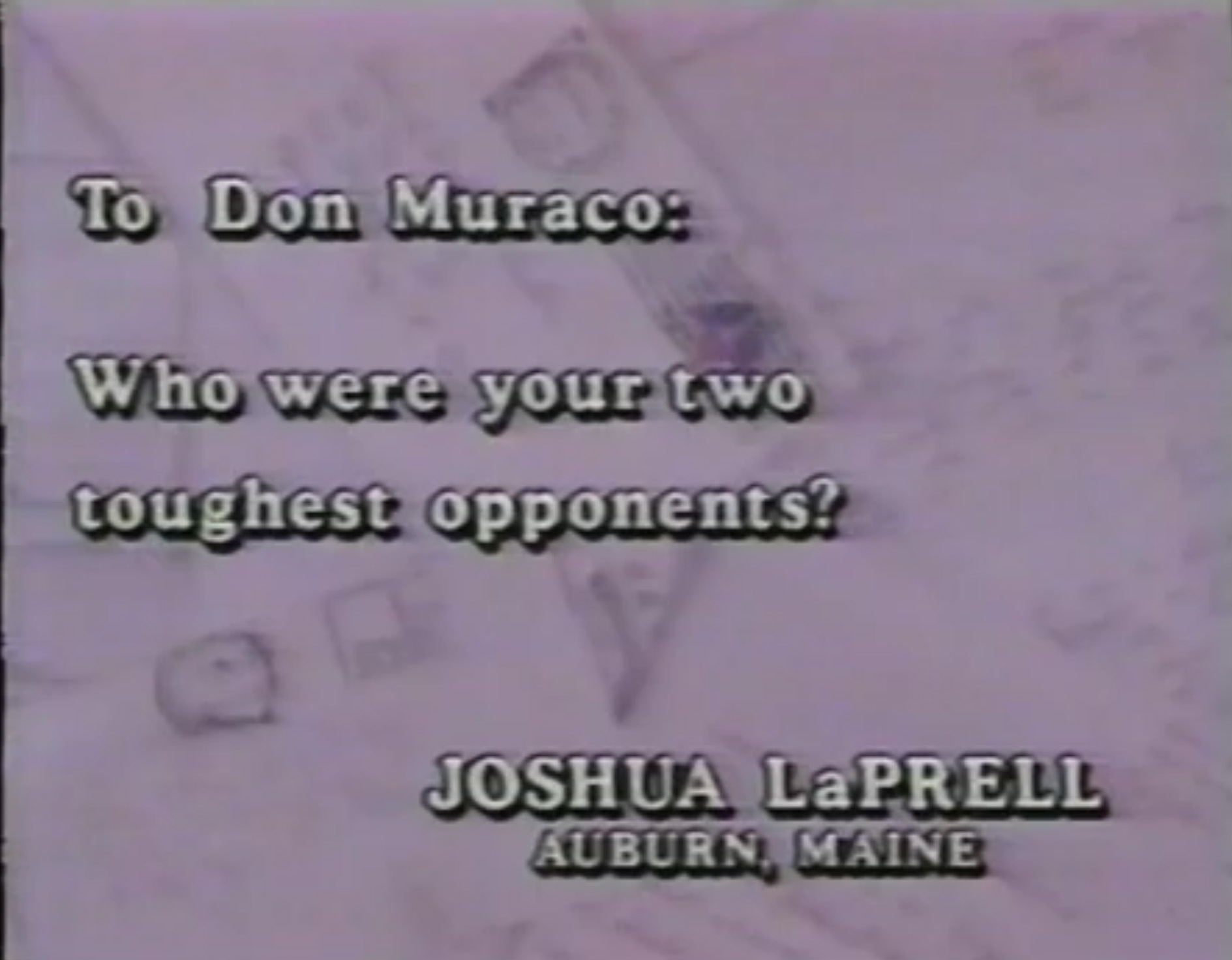 Muraco responds.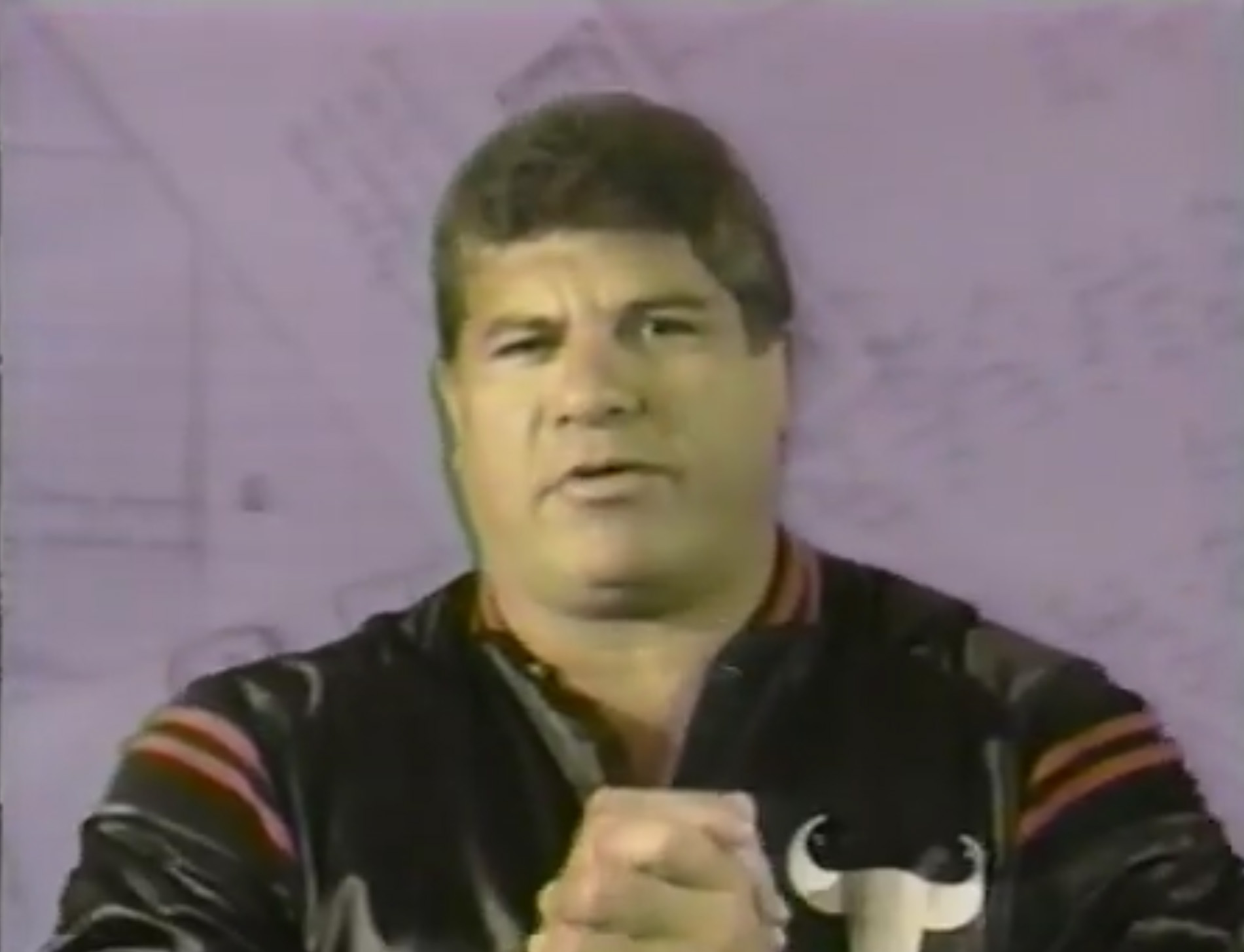 Plug #3 airs for tickets.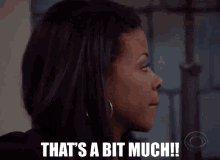 Get Flex CTS at your local sports retailer today!
Call the Captain Lou hotline on Thursdays to speak to him "live."
Did you forget to invest with Charles Schwab? If not, here's more GameStop stock.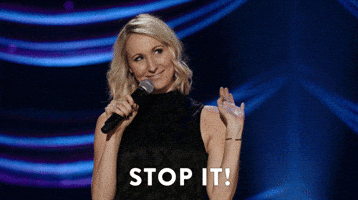 Volkoff cuts a promo stating he has become an American citizen and lives in Baltimore, MD. Pass the crab cakes please!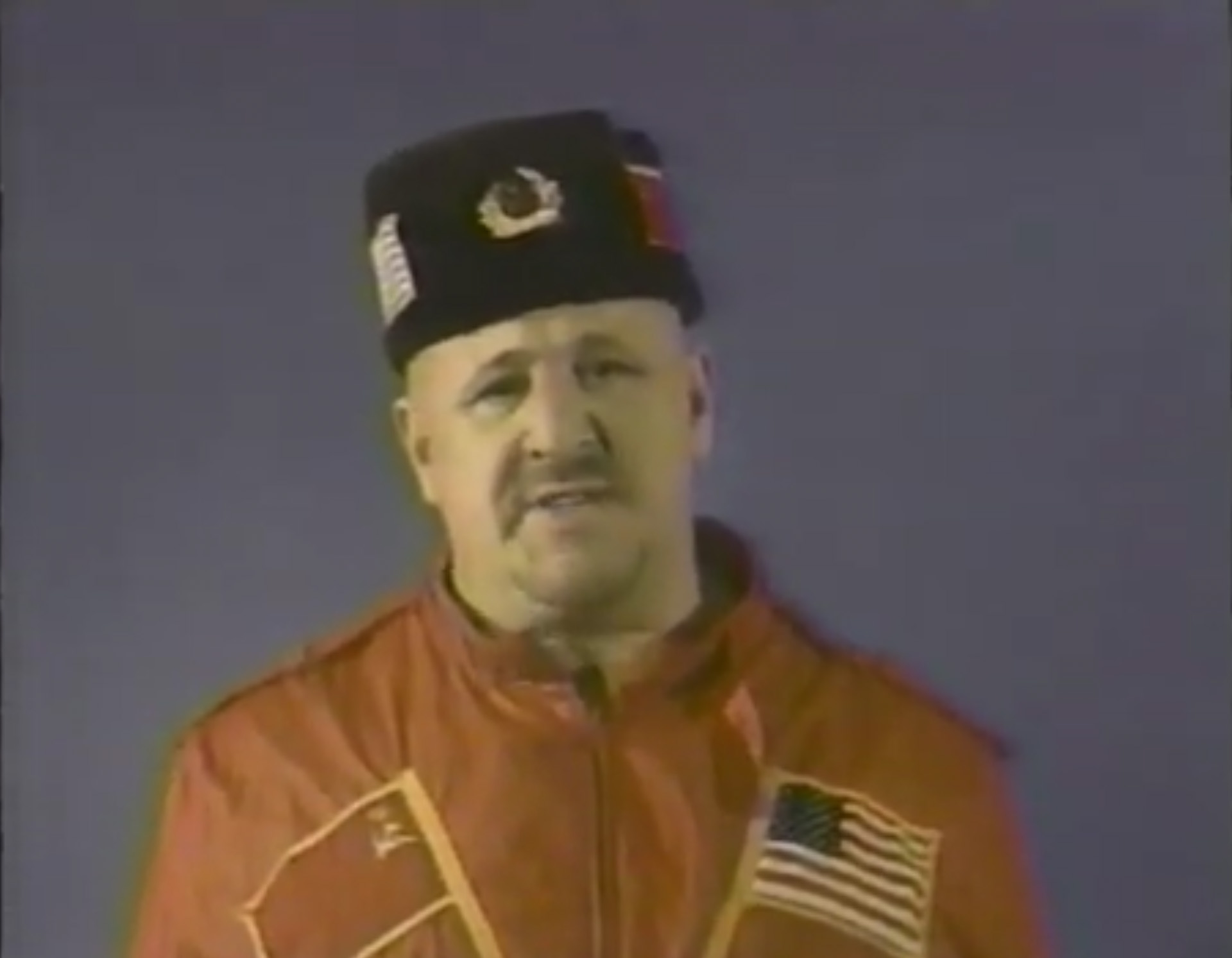 Match 4: Nikolai Volkoff versus the Beast
Highlights:
Volkoff delivered a double underhook suplex to Beast for 2.
As the Beast made a comeback, he nailed Volkoff somewhere near Lower Manhattan.
Volkoff slammed Beast and followed with a boot to the midsection.
When he unleashed a spin kick, Volkoff gave Beast a cross corner whip.
Beast took a sternum-first bump, and Volkoff DESTROYED him with a clothesline to the back of the neck.
1-2-3.
Volkoff won in 1:42.
Rating: DUD
Summary: Showcase match for Volkoff.
Plug #4 airs for tickets.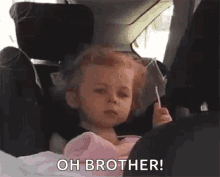 Buy paint at Sherwin-Williams.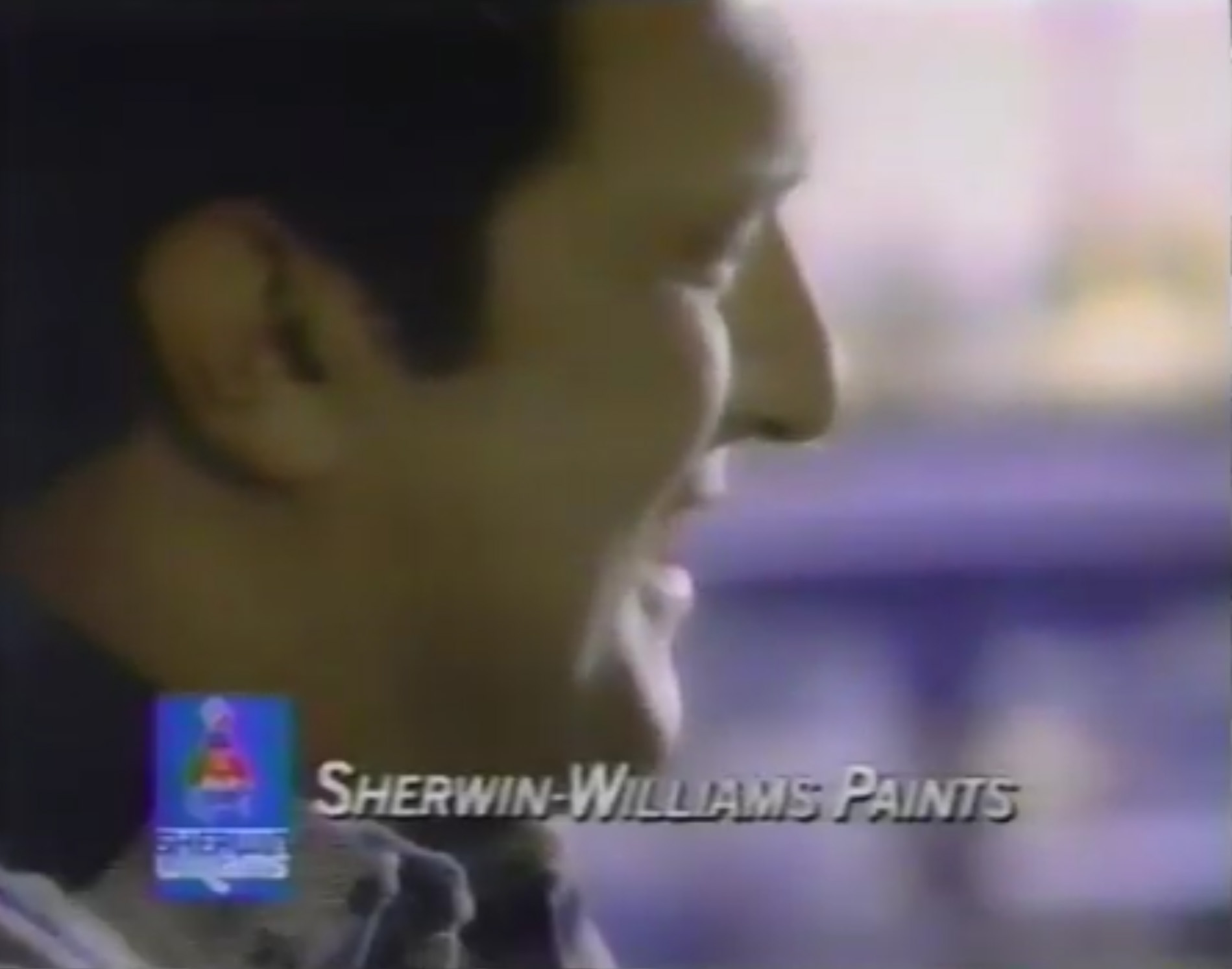 Enter the RCA Sports Blunder Video Contest to win valuable prizes!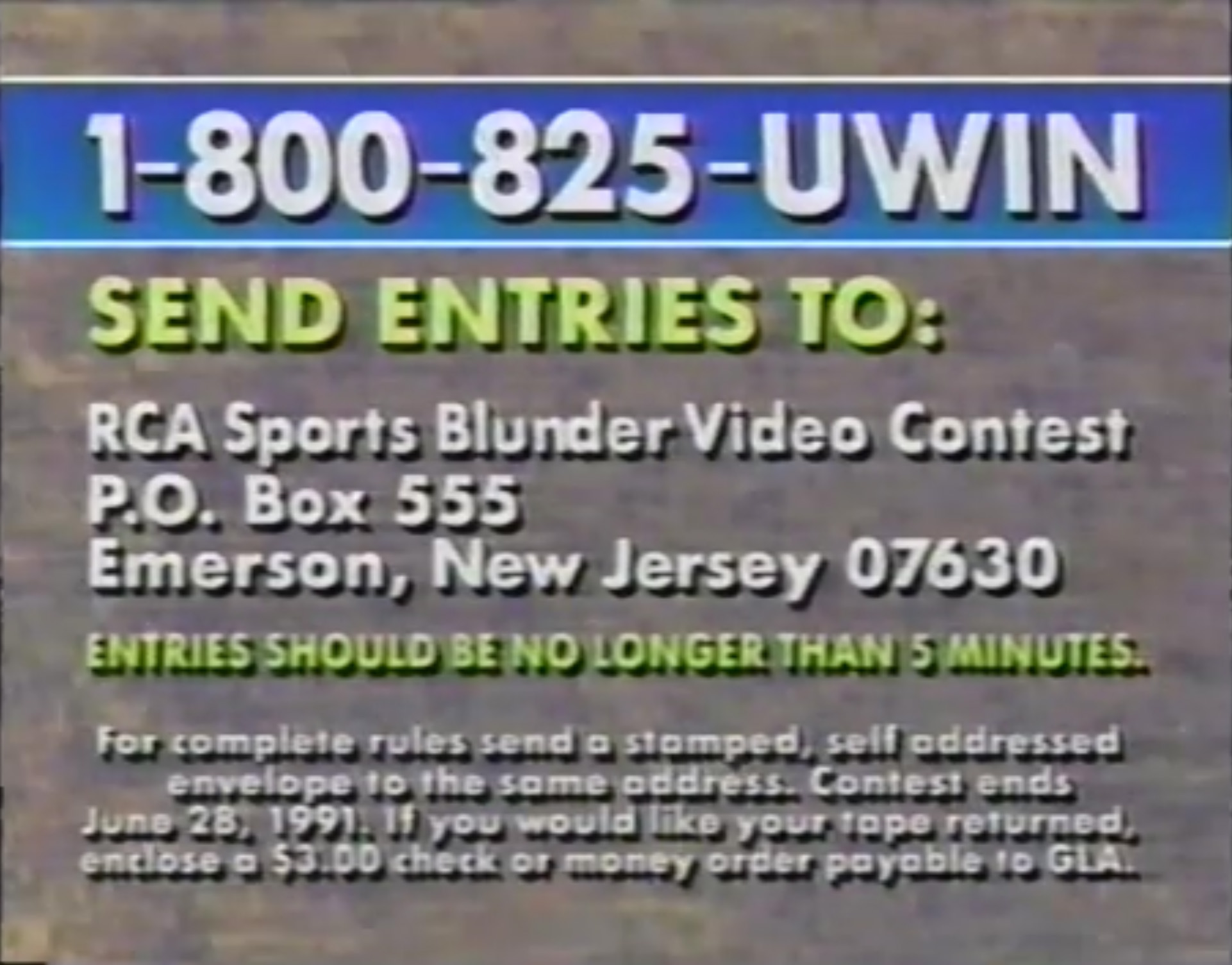 Subscribe to Road & Track TODAY!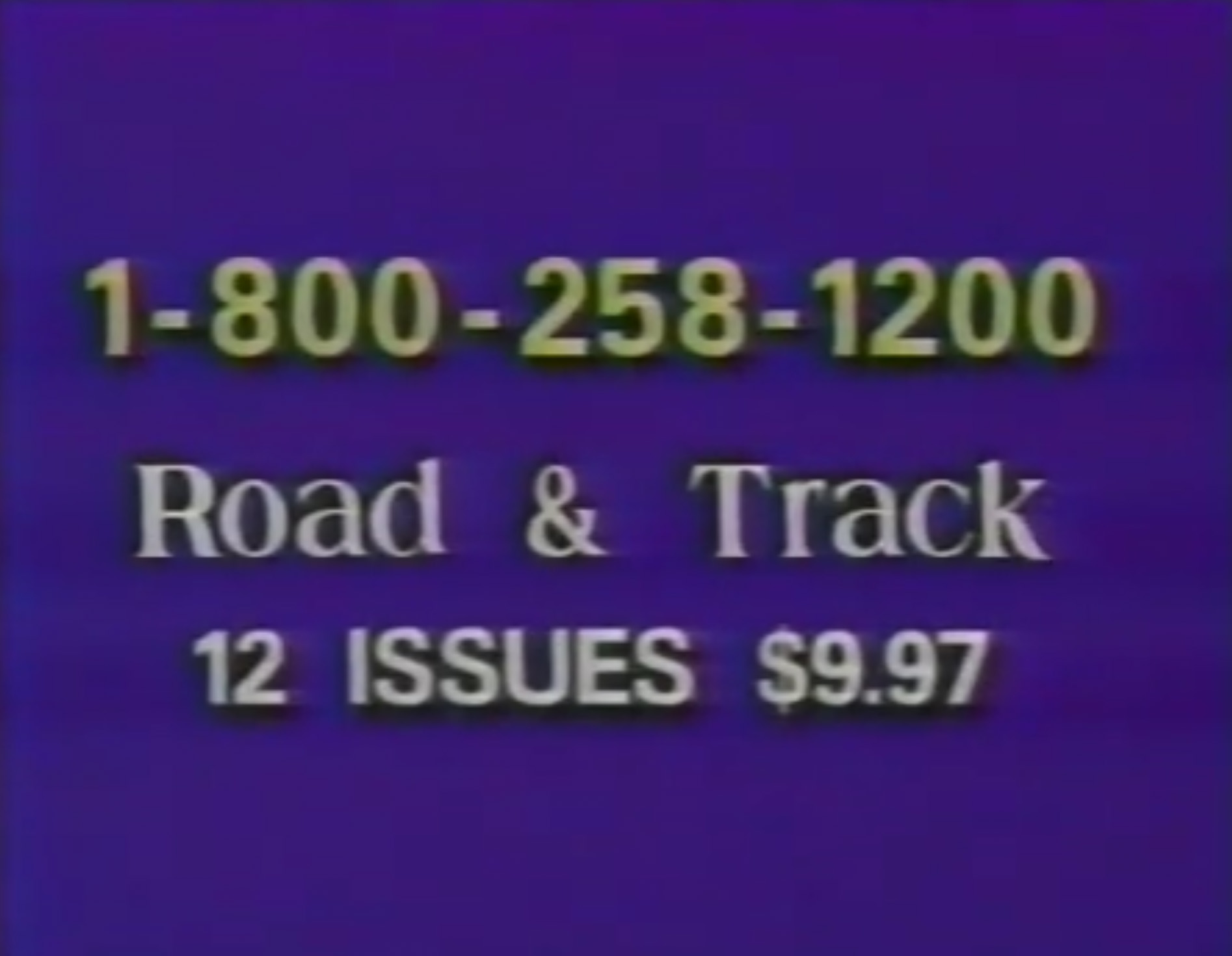 Promo #4 airs for the PPV.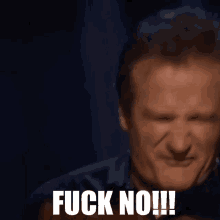 Promo #3 airs for the Ft. Lauderdale show.
Conclusion: Are you ready for the PPV? The UWF and Herb Abrams hope so! Rather than a double-DQ in the Wet'n'Wild/Power Twins match, couldn't we get a Tolos-influenced heel victory to garner sympathy heat for the babyfaces? The Backlund arrival was a nice surprise and having Volkoff on the show was a good change of pace. I bet you're truly excited for the PPV, right?
TV Rating: NONE
Stay tuned for UWF Beach Brawl!
Comments? Suggestions? Send them to me at rsg@rockstargary.com and follow me on Twitter (@rockstargary202).
Custom Search