WELCOME TO ROCK STAR GARY REFLECTIONS!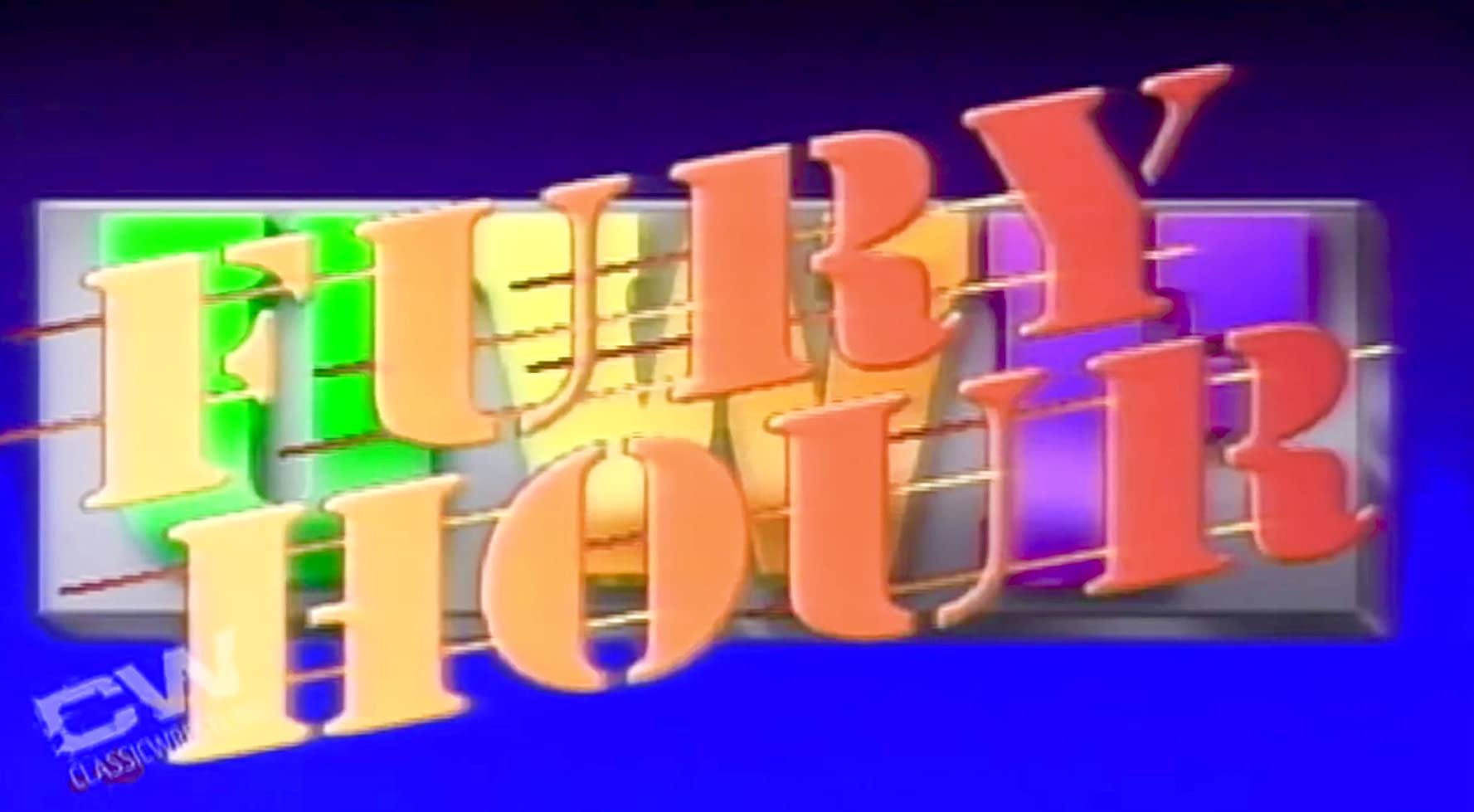 UWF Fury Hour 04-15-91
Taped from New York, NY
Airdate: April 15, 1991 (taped 03/10)
Attendance: 400
Hosted by Craig DeGeorge and Bruno Sammartino
It's Herb Abrams' favorite holiday—Tax Day! Besides tax evasion, to what other improprieties can Abrams subject us? Also, in a steel cage, can Williams and Orndorff finally blow off their elongated feud? Who wins and who gets sent to the hospital? Let's find out!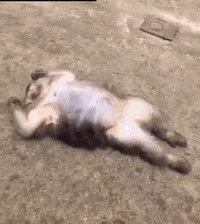 Opening montage.
Abrams shills the PPV LIVE on PPV on 6/9.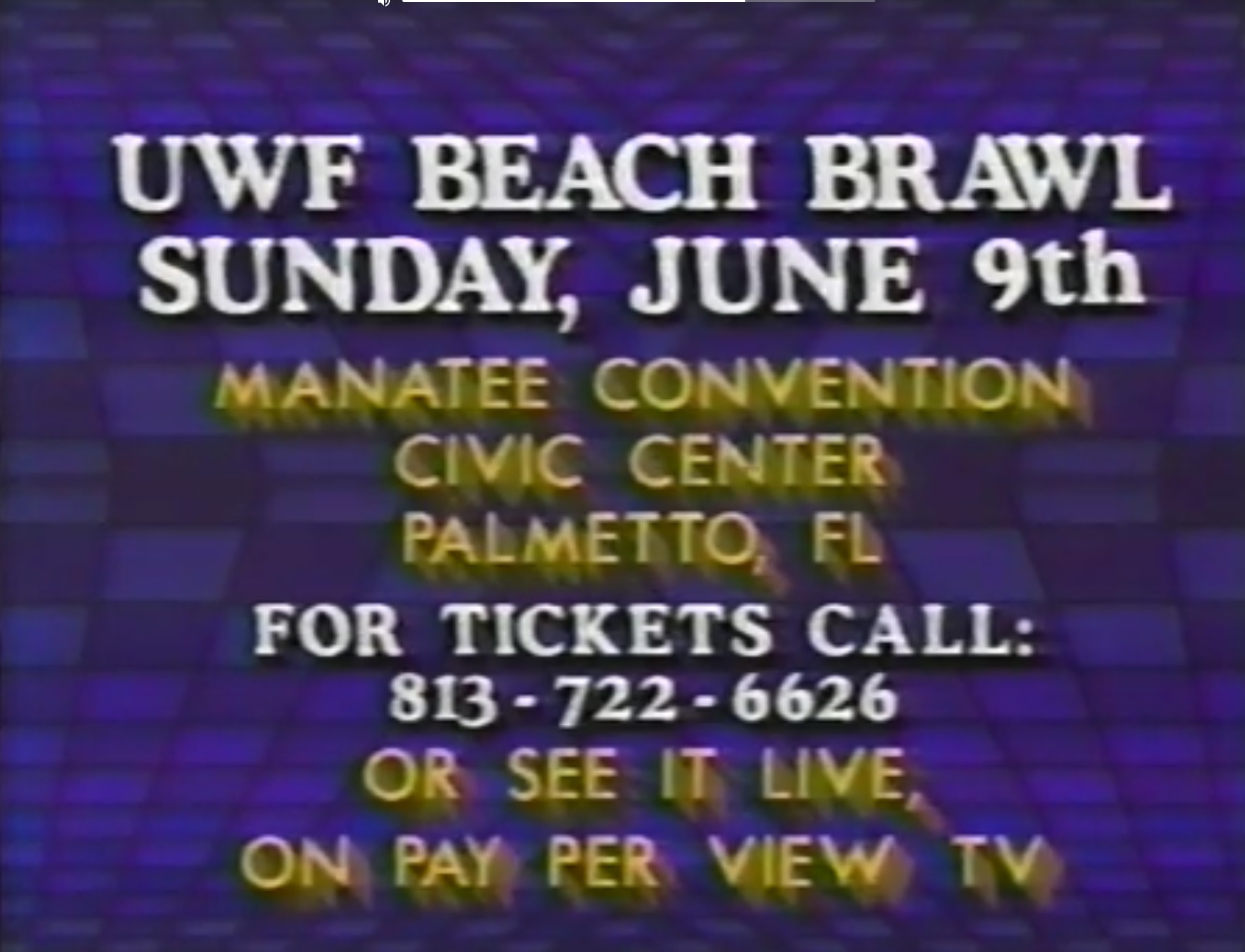 Wait a minute! I've been to that venue albeit not for this show.
Call the Captain Lou Rapline NOW!
Match 1: Wild Thing versus the Beast
Highlights:
John Tolos joined the broadcast table for this match.
When Beast stupidly climbed to the second turnbuckle to ZERO reaction, Wild Thing rolled him up for 2.
He then hip-tossed Beast twice and slammed him.
As Beast rebounded by ramming Wild Thing's face into the mat, he followed with a leg drop.
Wild Thing then leapfrogged Beast and PLANTED him with a DDT.
1-2-3.
Wild Thing won at 4:29.
Rating: DUD
Summary: Showcase match for Wild Thing.
See the UWF LIVE in NYC on 5/10 at the Hotel Pennsylvania.
If you can't get enough, head to SUNY-Delhi on 5/11 for more UWF action!
Catch Toy Soldiers in theaters starting 4/26.
Get Soloflex today!
Subscribe to Golf Digest ASAP!
Call the LegendLine NOW and hear the inside dope from Bruno.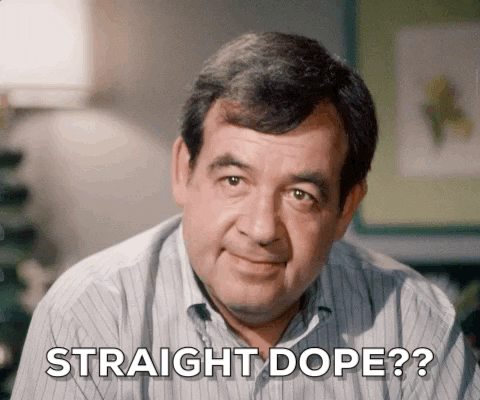 Yes, Mr. Cunningham.
Plug #2 for the PPV airs.
Match 2: "Cowboy" Bob Orton & Cactus Jack (w/ John Tolos) versus Tom Brandi & Mike Iorio
Highlights:
For those unaware, Iorio would gain notoriety later in his career in ECW as Big Guido. However, this was his pro wrestling debut.
As Cactus nailed Iorio down to the floor, he delivered a somersault plancha from the apron. Wow!
In the ring, Cactus supplied Iorio with a back elbow, yet tags were exchanged on both sides.
Brandi reversed a cross corner whip and followed with an avalanche.
When Brandi gave him a cross corner whip, Orton almost HIT THE POLE.
He gave Orton another cross corner whip but ate boot on his follow-through.
After Cactus tagged in, Brandi scored with a cross body block but only got 1.
While Cactus reversed an Irish whip, Brandi provided him with a sidewalk slam.
He then attempted another cross body block but guillotined himself on the top rope instead.
As Orton tagged in, he hooked a swinging neckbreaker for 2.
Cactus tagged in and hit a mistimed high knee for another 2.
When Cactus attempted a piledriver, Brandi countered with a back drop.
Orton tagged in and distracted the anonymous referee.
In the meantime, Cactus gave Brandi the business in the heel corner. SNEAKY!
Iorio continued to distract the referee, so the heels double-teamed Brandi. How dastardly!
After Cactus tagged in, he provided Brandi with a running knee drop for 2.
He then mounted the top turnbuckle, leaped, but ate boot.
FREEZING COLD tag.
While Tolos distracted the referee, Cactus tripped Iorio coming off the ropes. Nefarious!
Orton then mounted the top turnbuckle and launched a Vader bomb upon Iorio.
1-2-3.
Orton and Cactus won in 7:17.
Rating: **½
Summary: Showcase match for Orton and Cactus.
Plug #2 for the LIVE shows in NY airs.
Ad for the Hotel Pennsylvania airs.
Get your UWF Power Products NOW!
Ad for Midnight Express Limousine airs.
Plug #2 for the Captain Lou hotline airs.
CAPTAIN LOU'S CORNER: In the ring, Albano and Sammartino unveil the UWF SportsChannel America TV championship belt.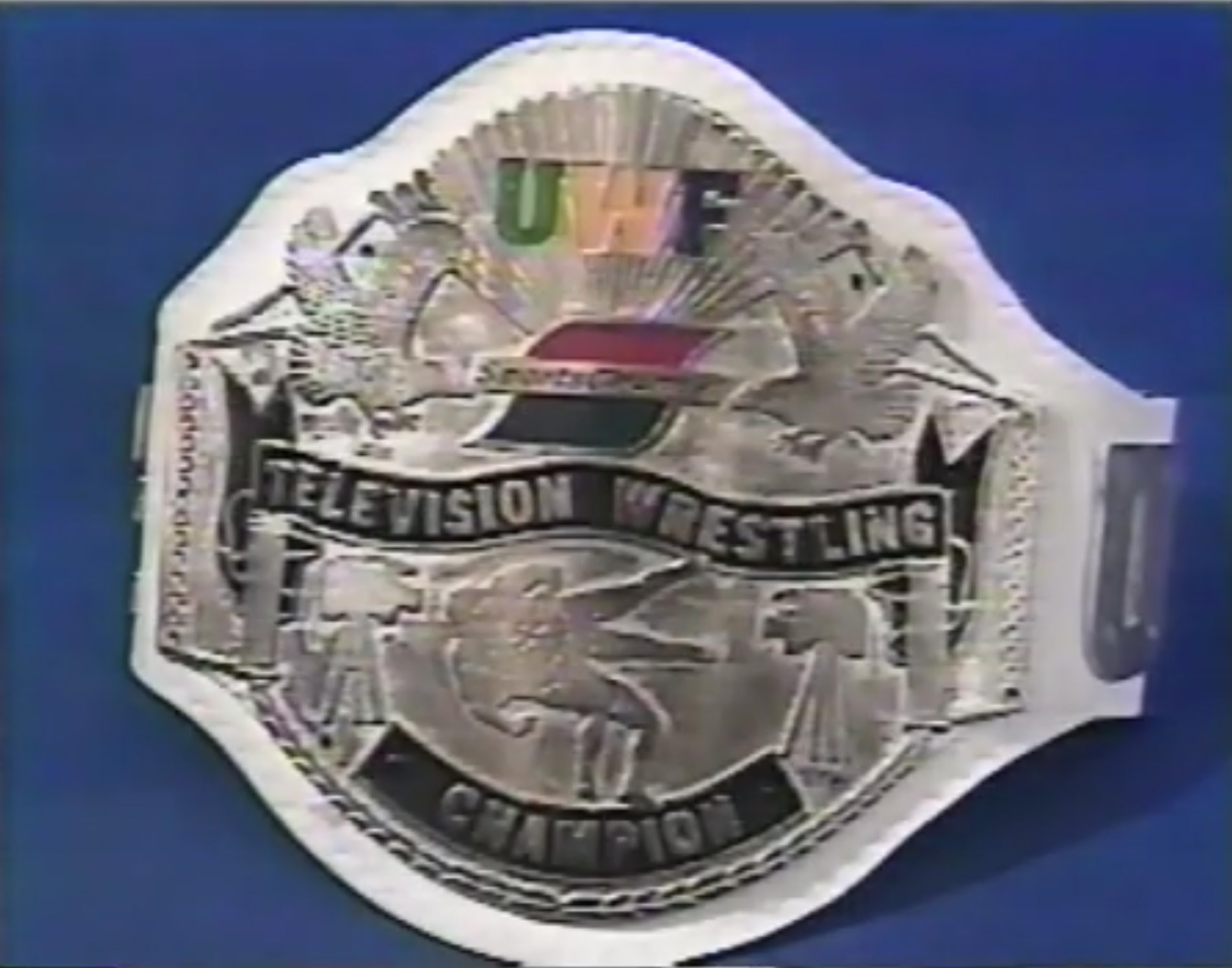 Plug #3 for the PPV airs.
Williams plugs the main event and cuts a promo on Orndorff.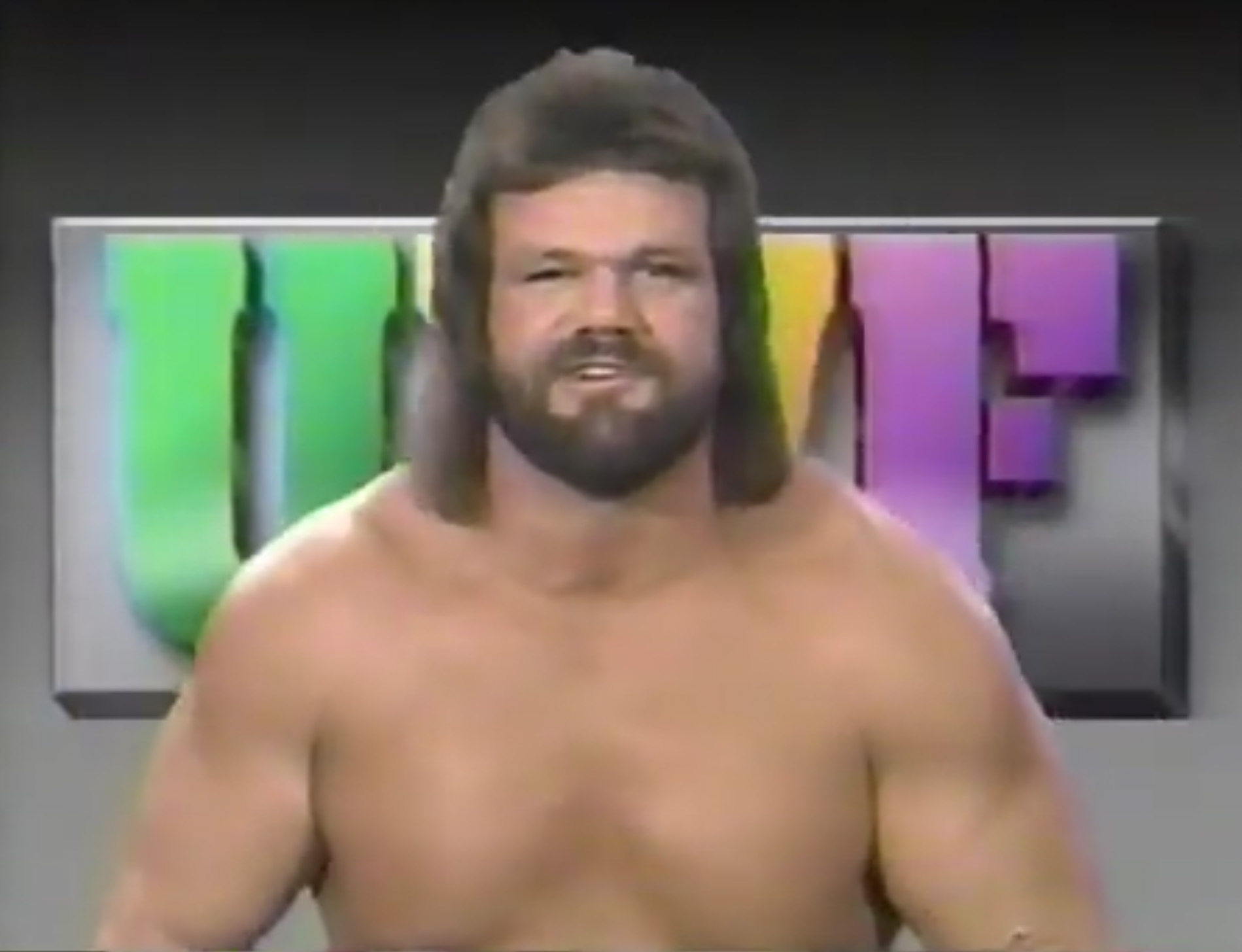 Match 3: S. D. ("Special Delivery") Jones (w/ Mr. Haiti) versus Captain Badd
Highlights:
Badd ambushed Jones at the onset but ate a clothesline.
With Badd on the apron, Jones suplexed him back into the ring for 2.
Jones then countered a back drop with a head butt.
1-2-3.
Jones won in 1:20.
Rating: DUD
Summary: Showcase match for Jones.
From the "studio," Jones cuts a promo.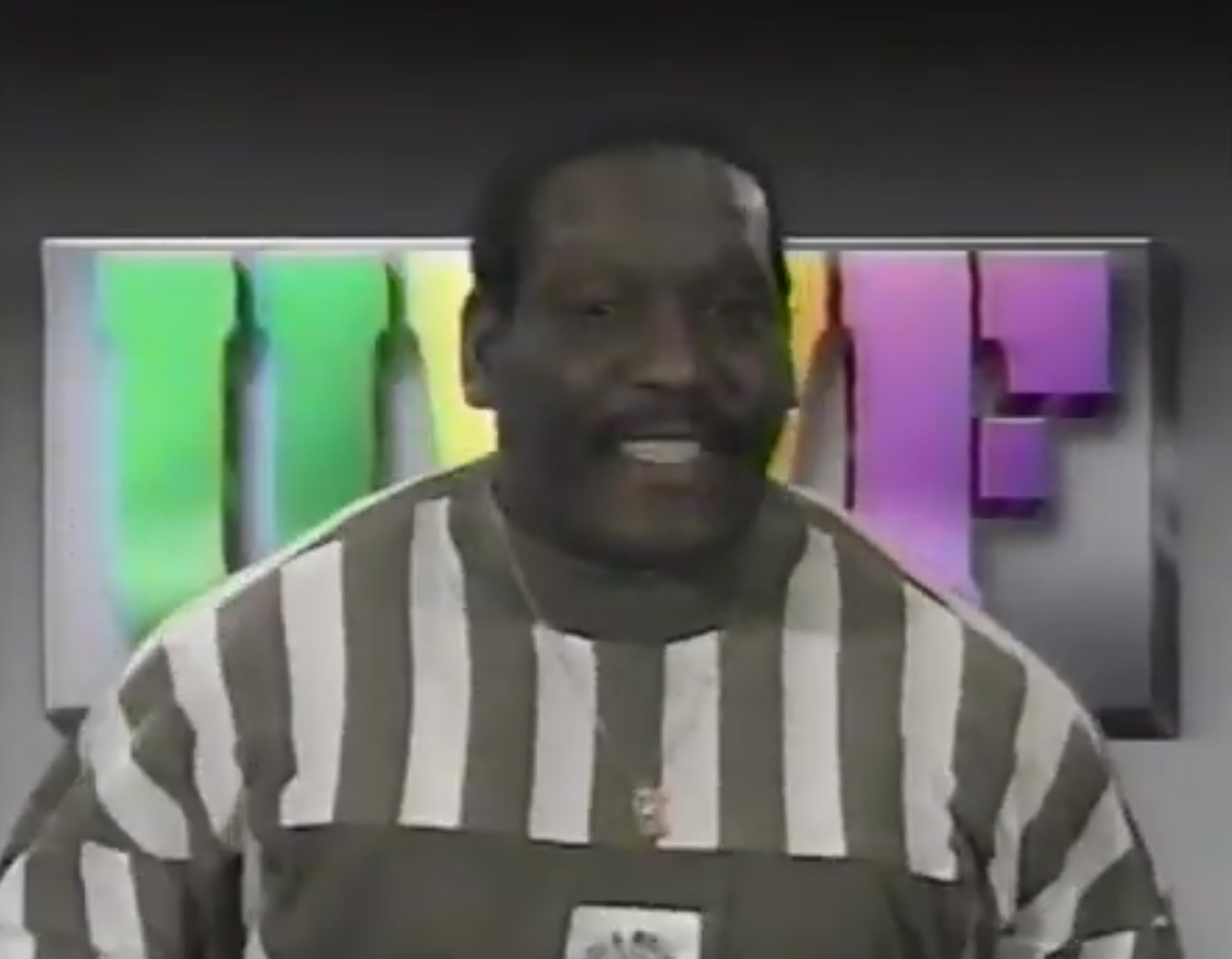 Get your Support Our Troops t-shirt today!
Obtain your copy of Bruno's book NOW!
At Pizza Hut, grab a quick lunch for a low price TODAY!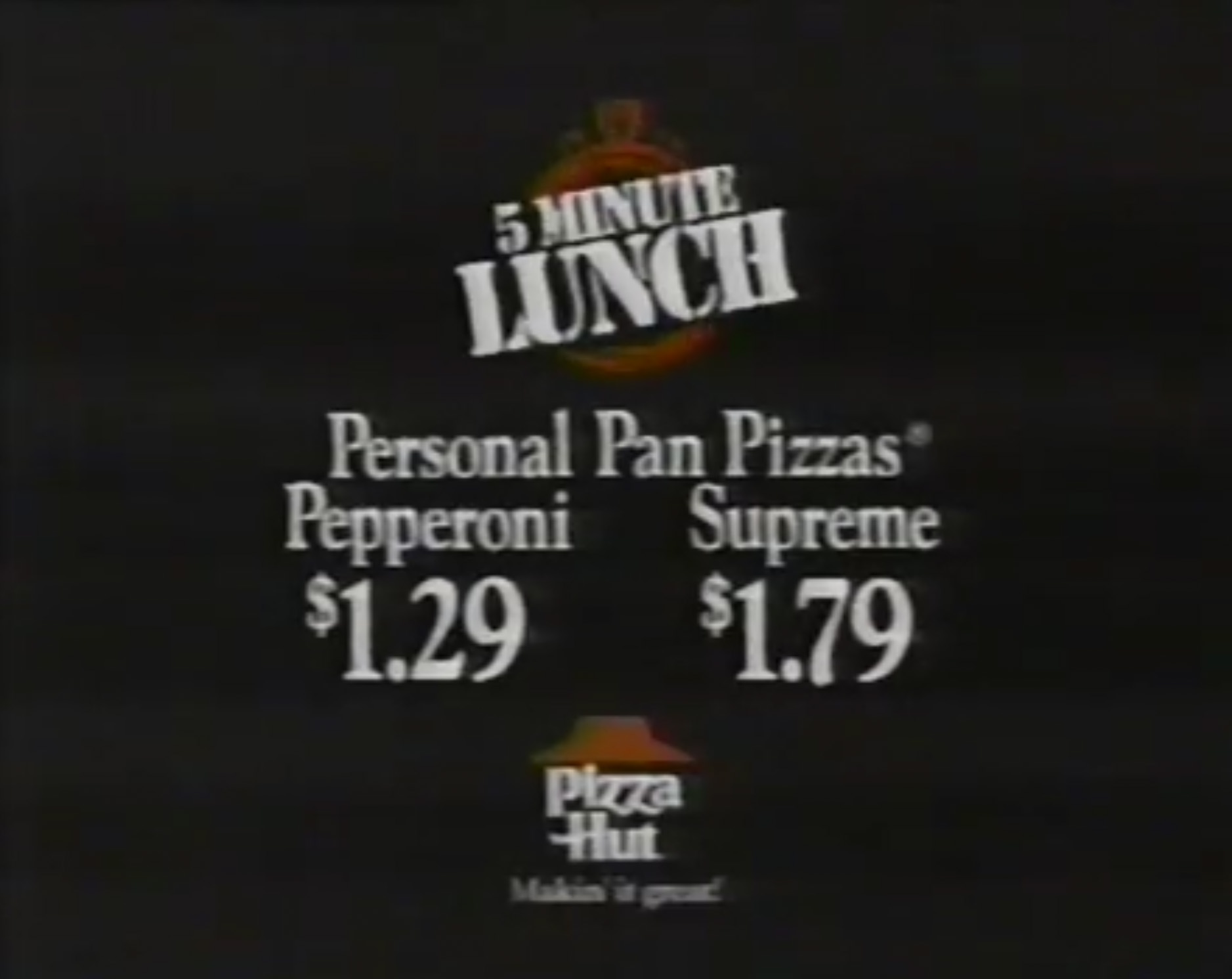 Catch the Mets as they face the Pirates on Wednesday only on SportsChannel. Unfortunately, they lost because John Smiley tossed a 1-hitter at 'em.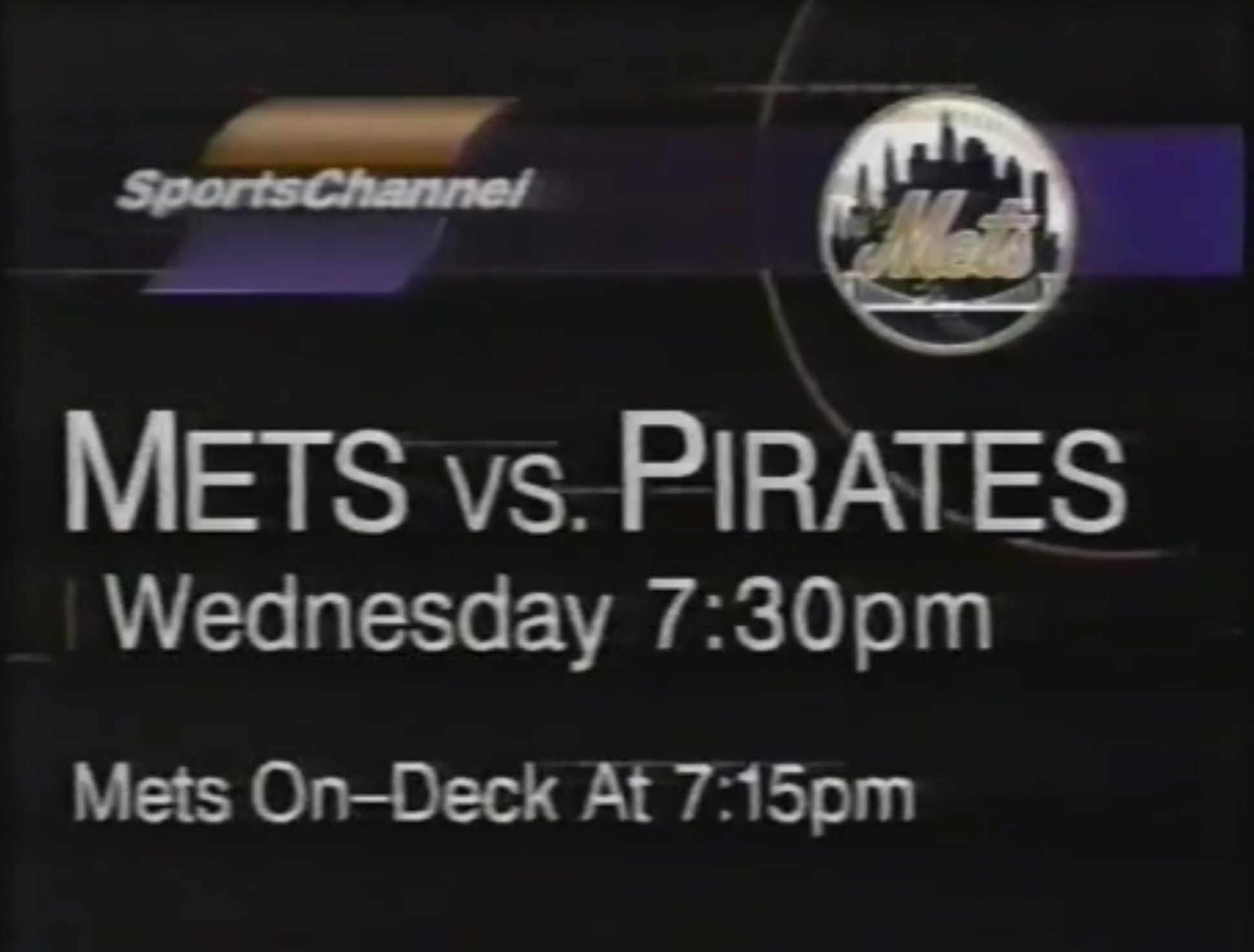 Watch Inside Racing on Tuesday nights.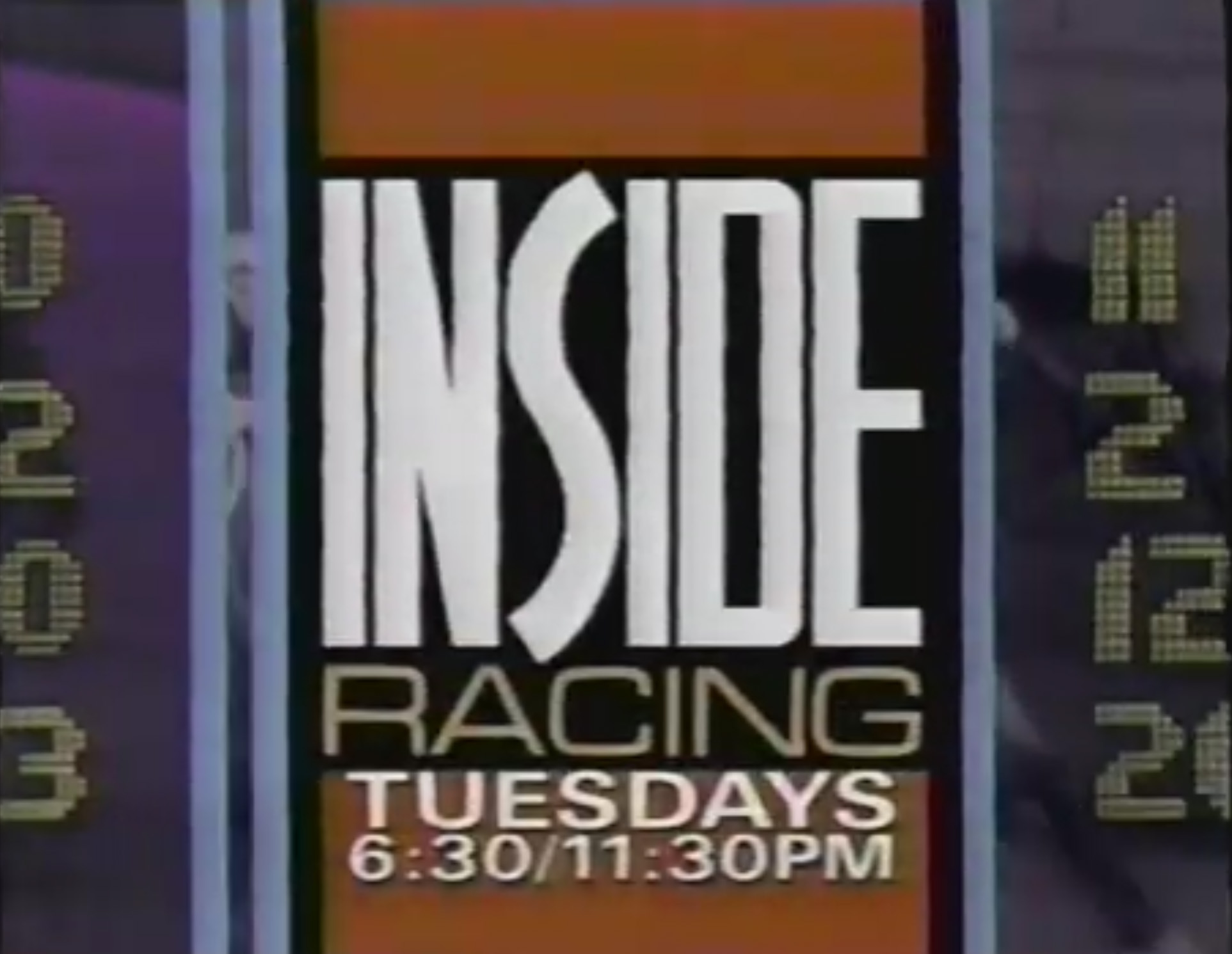 Plug #4 for the PPV airs.
ASK THE WRESTLERS: A letter to Albano:
Albano responds in a truly silly manner.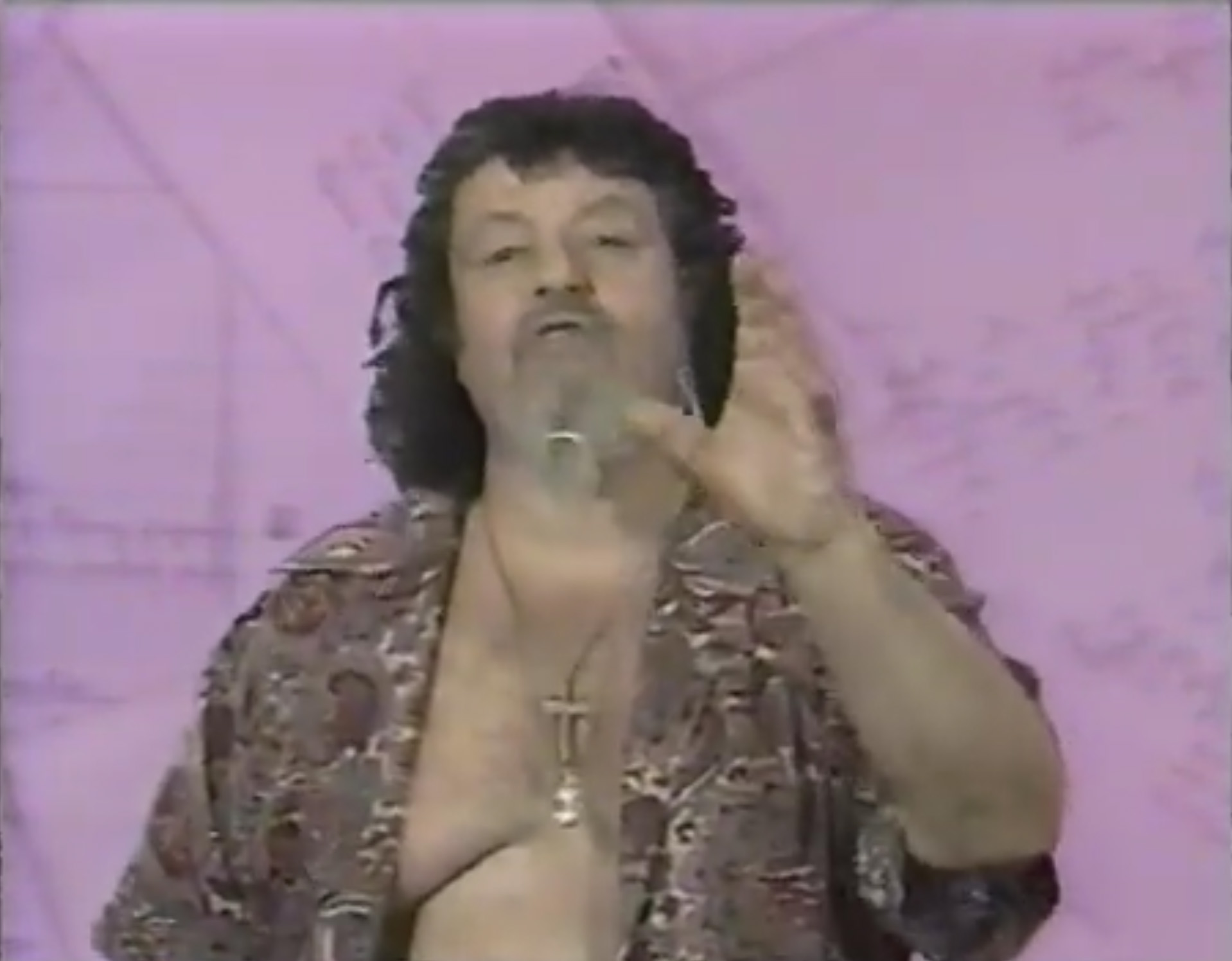 Get your tickets NOW for the PPV!
Orndorff disses quiche while shilling Dynamic Muscle Builder.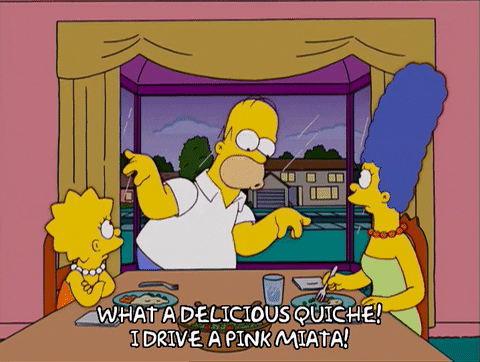 Subscribe to Smithsonian Air & Space TODAY!
Call the UWF PowerLine NOW!
Match 4 (steel cage): "Dr. Death" Steve Williams versus "Mr. Wonderful" Paul Orndorff
Highlights:
For those curious, this was escape rules rather than pin/submission.
Interestingly, to get the best shots, Abrams placed a cameraman IN THE CAGE.
As the NYC faithful chanted "Won-der-ful," Williams gave their hero a cross corner whip but ate boot on his follow-through.
Orndorff then clotheslined Williams and attempted his first escape.
When Williams stopped him, Orndorff tried to ram him into the cage unsuccessfully.
Williams then clotheslined him and took his first adventure up the cage wall.
After Orndorff halted his efforts, he hooked a belly-to-back suplex.
The smarks among the NYC faithful chanted "Paul-a" at Orndorff, and their nemesis secured a sleeper on Williams.
While Williams used momentum to send him into the cage, Orndorff was

BUSTED OPEN

!
In case you didn't get enough Orndorff in your life, he shilled Super Arm Blaster.
Get your Power Shack Gym gear today!
Purchase Tripledge wipers for only $19.95 NOW!
Following a commercial break, Williams sent Orndorff face-first into the cage.
Bruno disparaged the WWF's blue-bar cage style, and Williams made his second attempt to escape.
As Orndorff needed to climb to the top turnbuckle to alter Williams' path, Williams rammed him face-first into the steel pole at the top of the cage. Vicious!
Williams returned to the ring and slammed Orndorff.
When he tried a four-point stance tackle, Williams charged but ate cage due to Orndorff's swiftness.
Williams was

BUSTED OPEN

!
After Orndorff made his second effort to escape, Williams thwarted him by grabbing Orndorff's boot.
Orndorff responded with an enziguri, but Williams retaliated by sending him back into the cage.
While Williams landed an elbow drop, he tried to escape through the door.
Orndorff caught and sent Williams face-first into the cage.
As Orndorff made another attempt to bludgeon him, Williams blocked and rammed him into the cage instead.
Williams then climbed the cage to escape, but Orndorff crotched him on the top rope. OUCH!
When Orndorff tried to leave, Gordy came to ringside and SLAMMED the door on him.
He then entered the cage and double-teamed Orndorff with Williams.
After referee Dick Kroll called for the bell, Orndorff won by DQ at 12:26.
BOOOOOOOOOOOOOOOOOOOOOOOOOOO!
Rating: **
Summary: While the finishing sequence with Gordy was a great callback to WCCW in 1982, he should have assisted Williams with his escape before entering the cage. C'mon, Abrams, a DQ in a cage match?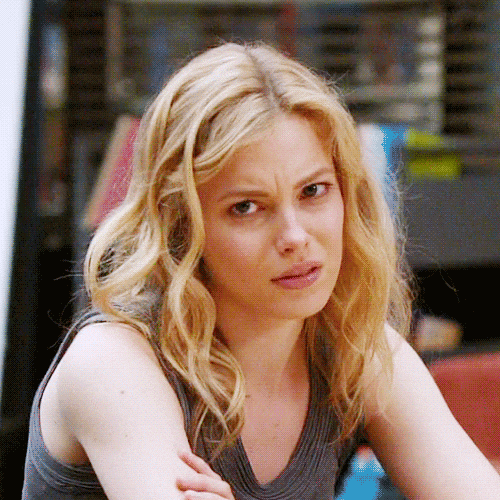 Afterward, Cactus Jack prevents other wrestlers from getting into the cage to stop the carnage. Muraco arrives and rams Cactus into the cage. When Muraco enters the cage, Gordy meets him with a flurry of punches. Muraco rebounds by ramming Gordy face-first into the cage and does the same to Williams. As the numbers catch up to him, Gordy and Williams double-ram Muraco into the cage leaving the babyfaces down on the mat.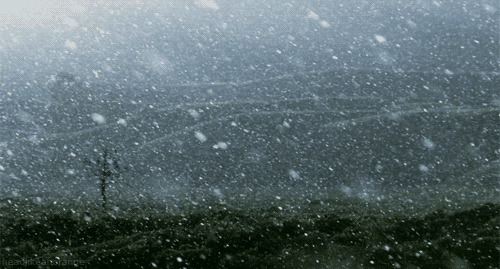 Get your Sportsmate watch NOW!
Plug #2 for the UWF PowerLine airs.
Order your UWF merchandise TODAY!
Conclusion: You have got to be fucking kidding me. This feud began in October and has contained not one but two gimmick matches to blow it off. Yet, as it stands, neither match ended the feud but convoluted it with a horrible finish.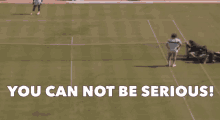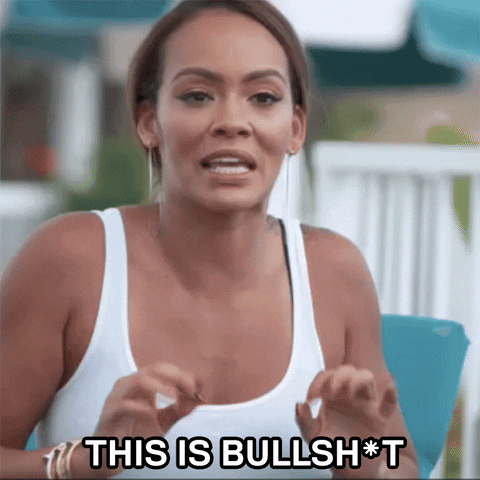 How can Abrams gain an audience for his PPV when he keeps screwing up the finishes? This promotion is starting to irritate me.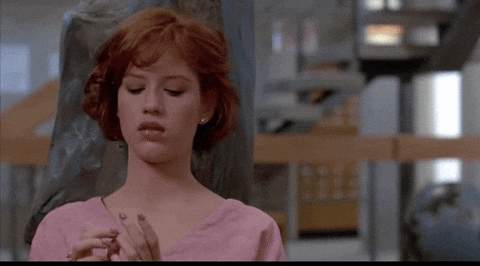 Next week, Terry Gordy squares off against Don Muraco! I bet there isn't a clean finish.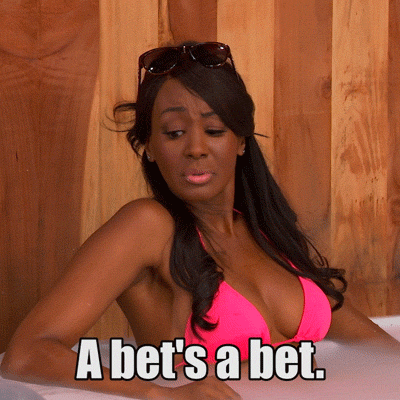 TV Rating: NONE
Stay tuned for UWF 04-22-91!
Comments? Suggestions? Send them to me at rsg@rockstargary.com and follow me on Twitter (@rockstargary202).
Custom Search