WELCOME TO ROCK STAR GARY REFLECTIONS!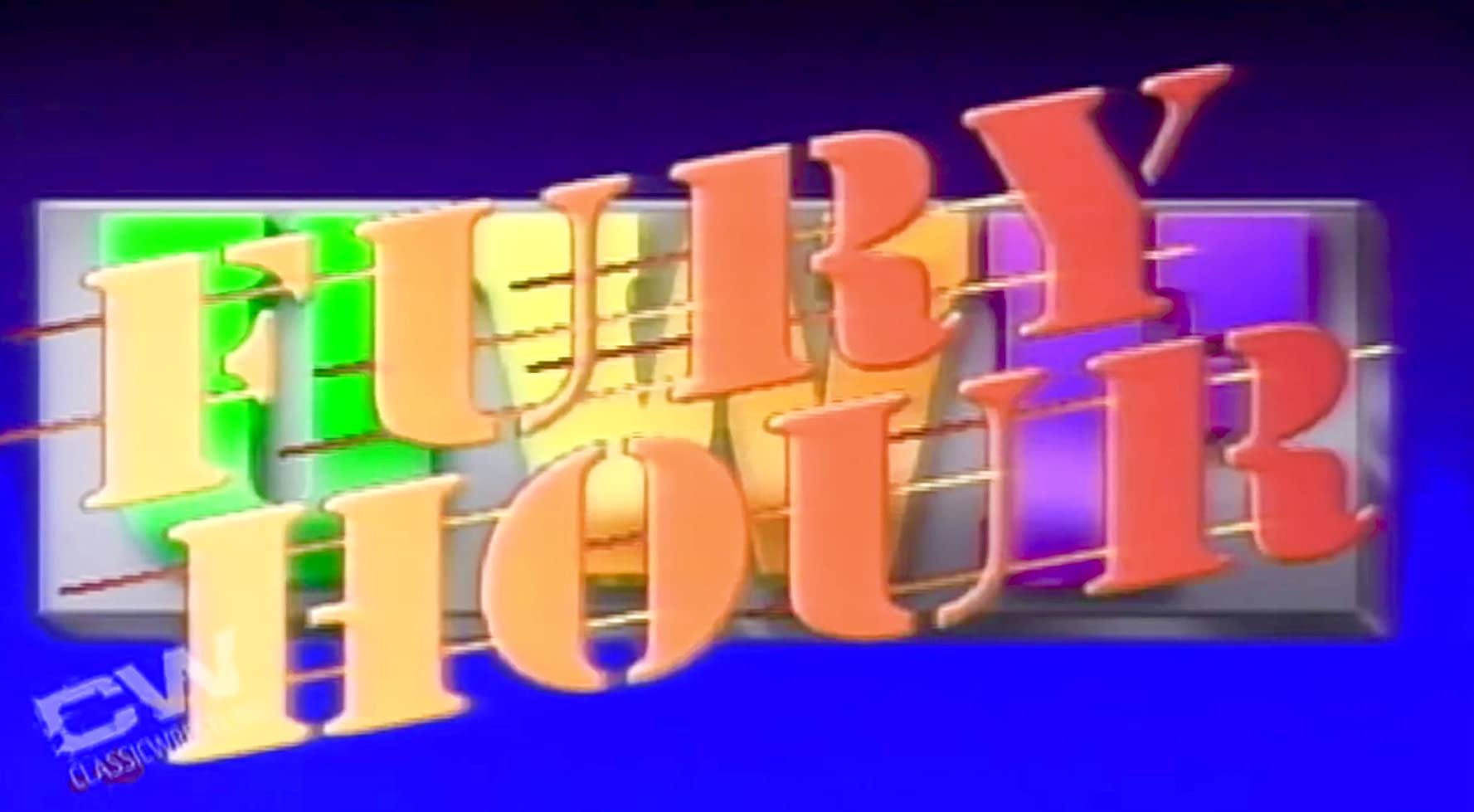 UWF Fury Hour 04-08-91
Taped from New York, NY
Airdate: April 8, 1991 (taped 03/10)
Attendance: 400
Hosted by Craig DeGeorge and Bruno Sammartino
Can Wet'n'Wild get a victory over Orton and Cactus in a return match? Who's the newcomer to UWF? And how will Muraco handle some Samoan gangster violence? Let's find out!
Opening montage.
After Herb Abrams runs down tonight's card, Albano plugs his hotline.
UWF Beach Brawl will be LIVE on PPV on 6/9. The first UWF SportsChannel TV champion will be crowned. Order NOW!
Match 1: Terry "Bam Bam" Gordy versus Captain Badd
Highlights:
For those curious, Gordy came to the ring to Motley Crue's "Looks That Kill."
Gordy slammed Badd and got 2.
When Badd attempted a cross body block, Gordy caught and slammed him again.
He then gave Badd a cross corner whip followed by a corner clothesline.
As he powerbombed Badd, Gordy pinned him at 3:07.
Rating: DUD
Summary: Showcase match for Gordy. Hopefully, he and Williiams can team together and face Orndorff and Blair.
Afterward, Gordy cuts a promo in the "studio."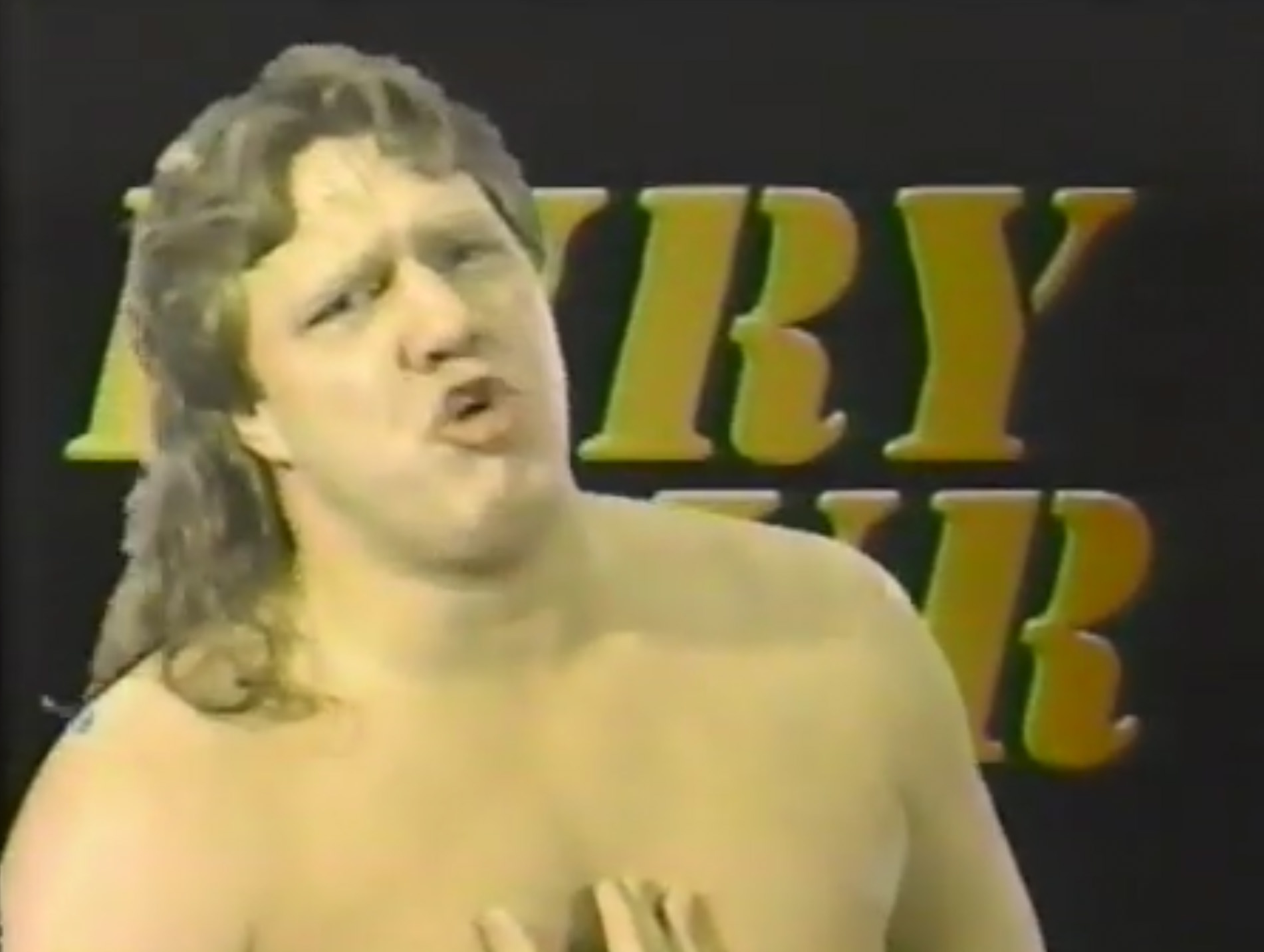 Rumble in the Big Apple IV will transpire on 5/10 at the Hotel Pennsylvania. Obviously, the folks who had owned the hotel temporarily changed the name, and new owners reverted the name back to its origin.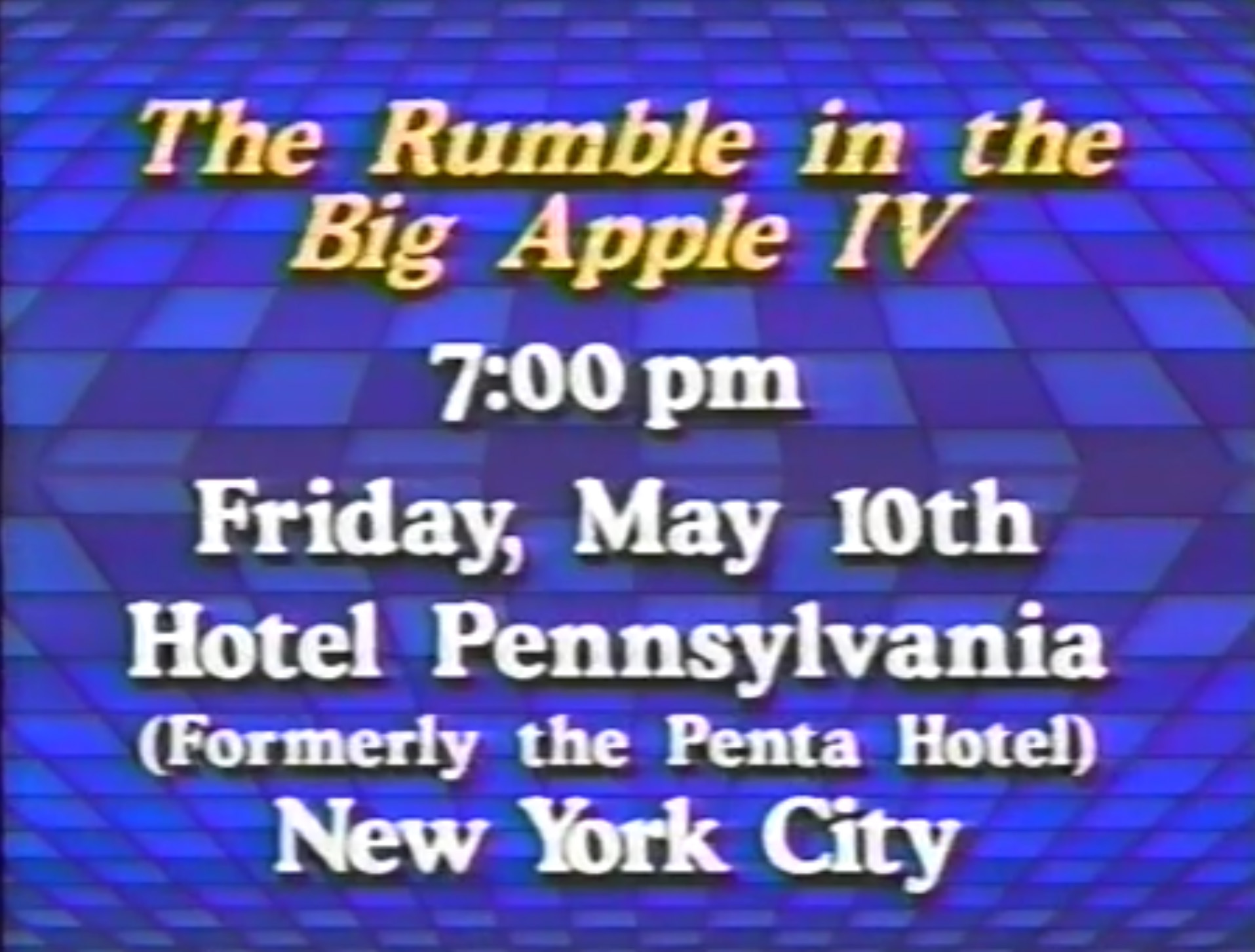 Also, on 5/11, the UWF invades SUNY-Delhi. Get your tickets NOW and pile on the pastrami!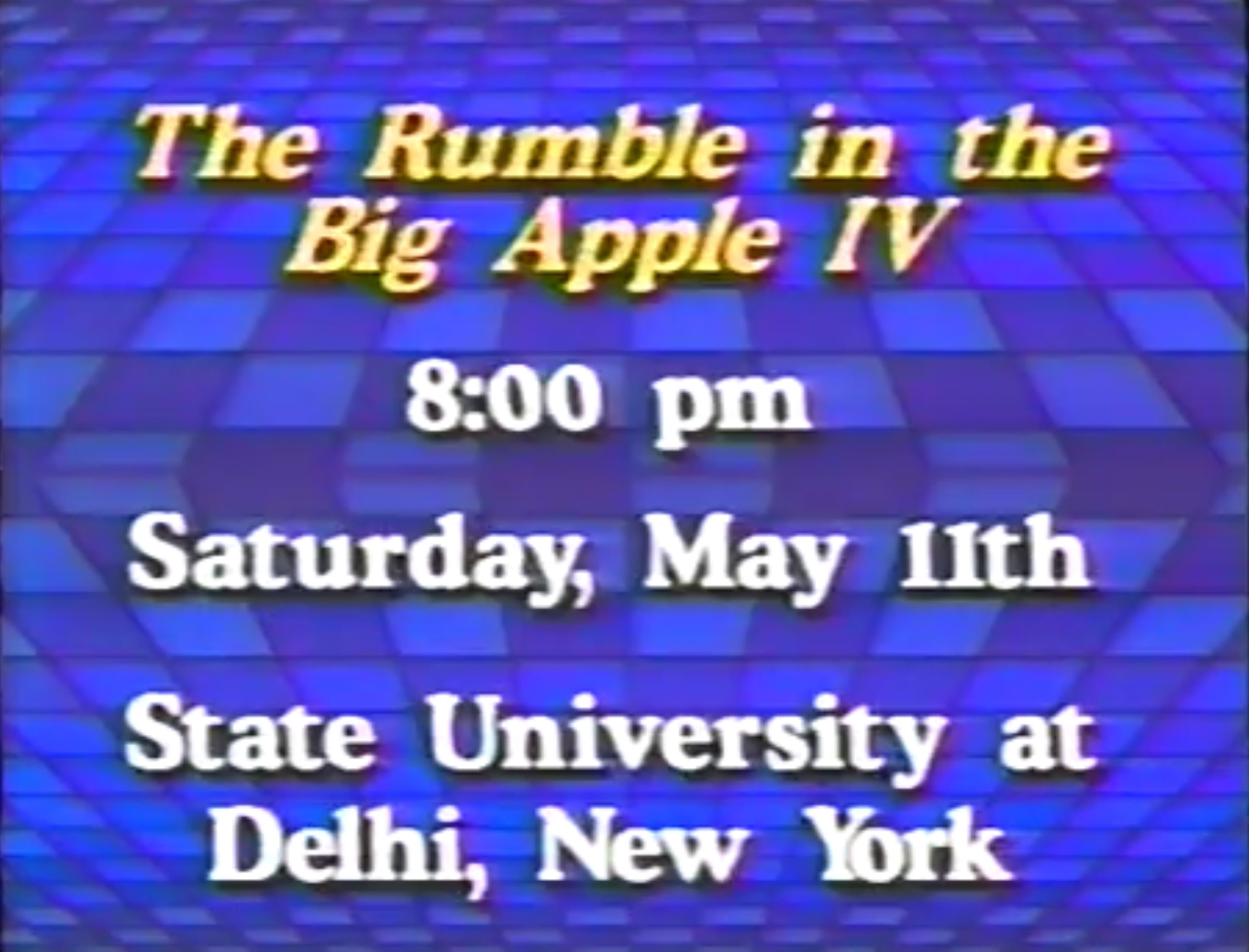 Check out Toy Soldiers coming to a theater near you on 4/26.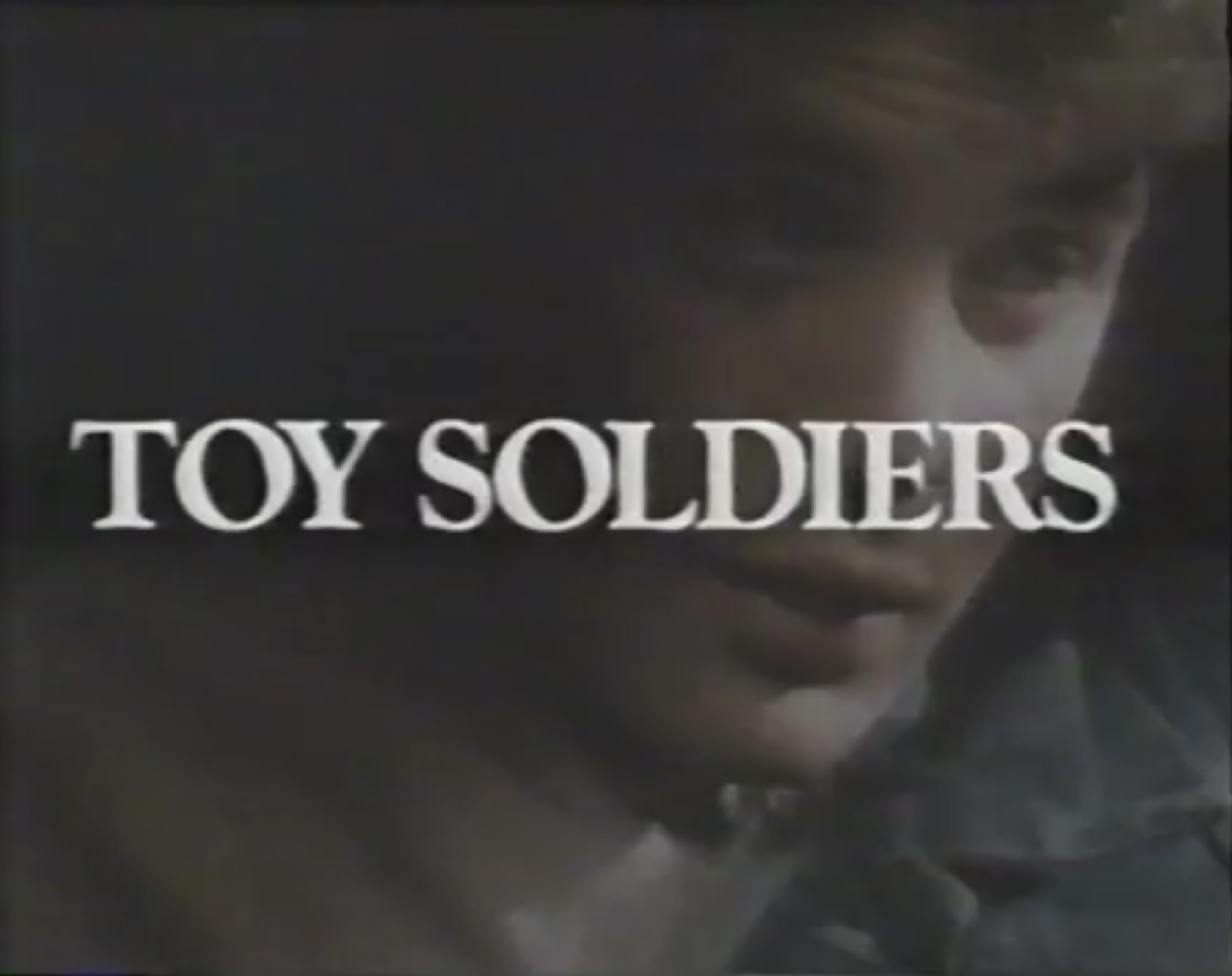 Subscribe to Golf Digest TODAY!
Believe it or not, SportsChannel offers the UWF a spot promo and televise it at 6:30pm on Mondays.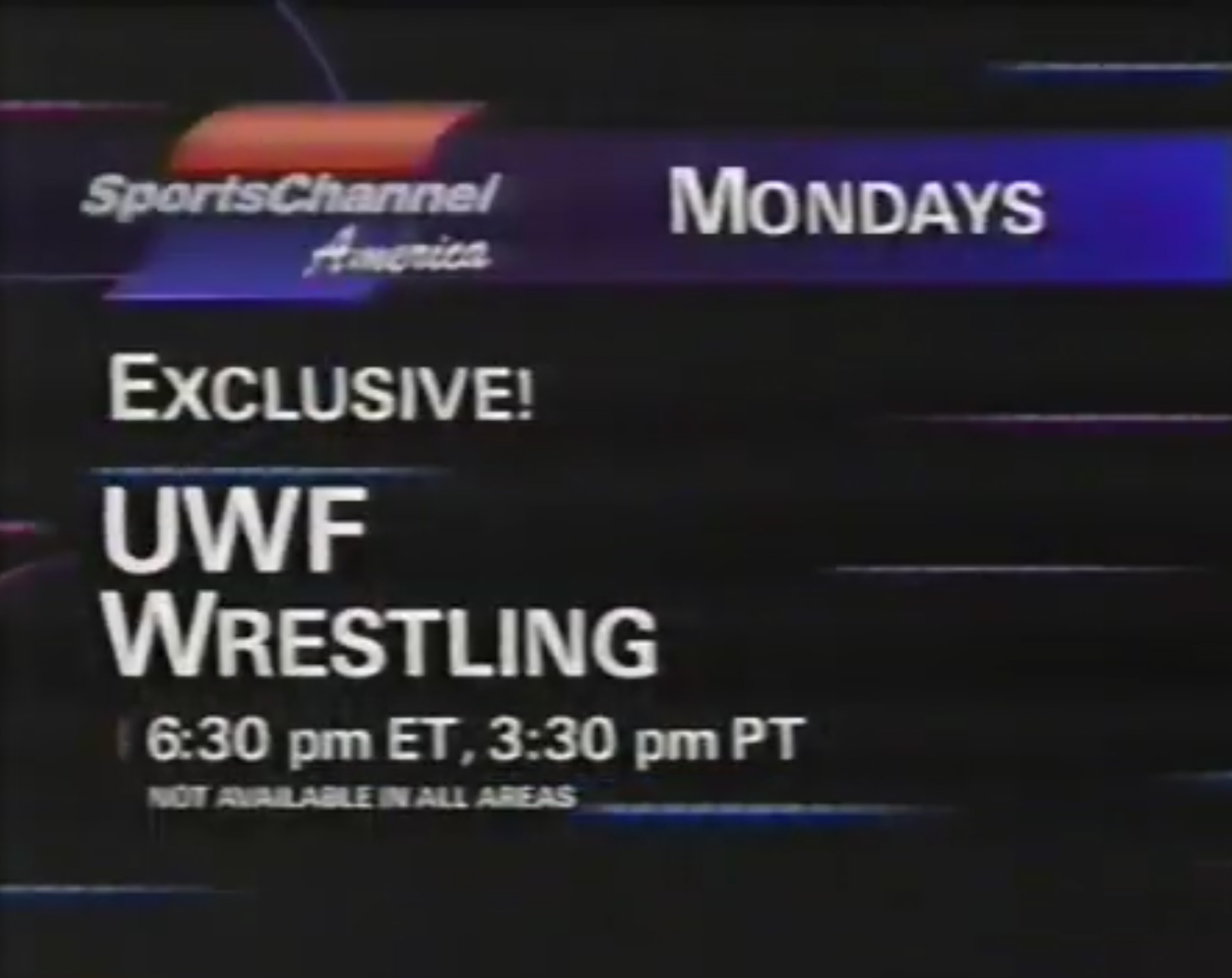 Catch the Campbell Conference division semifinals later tonight on SportsChannel.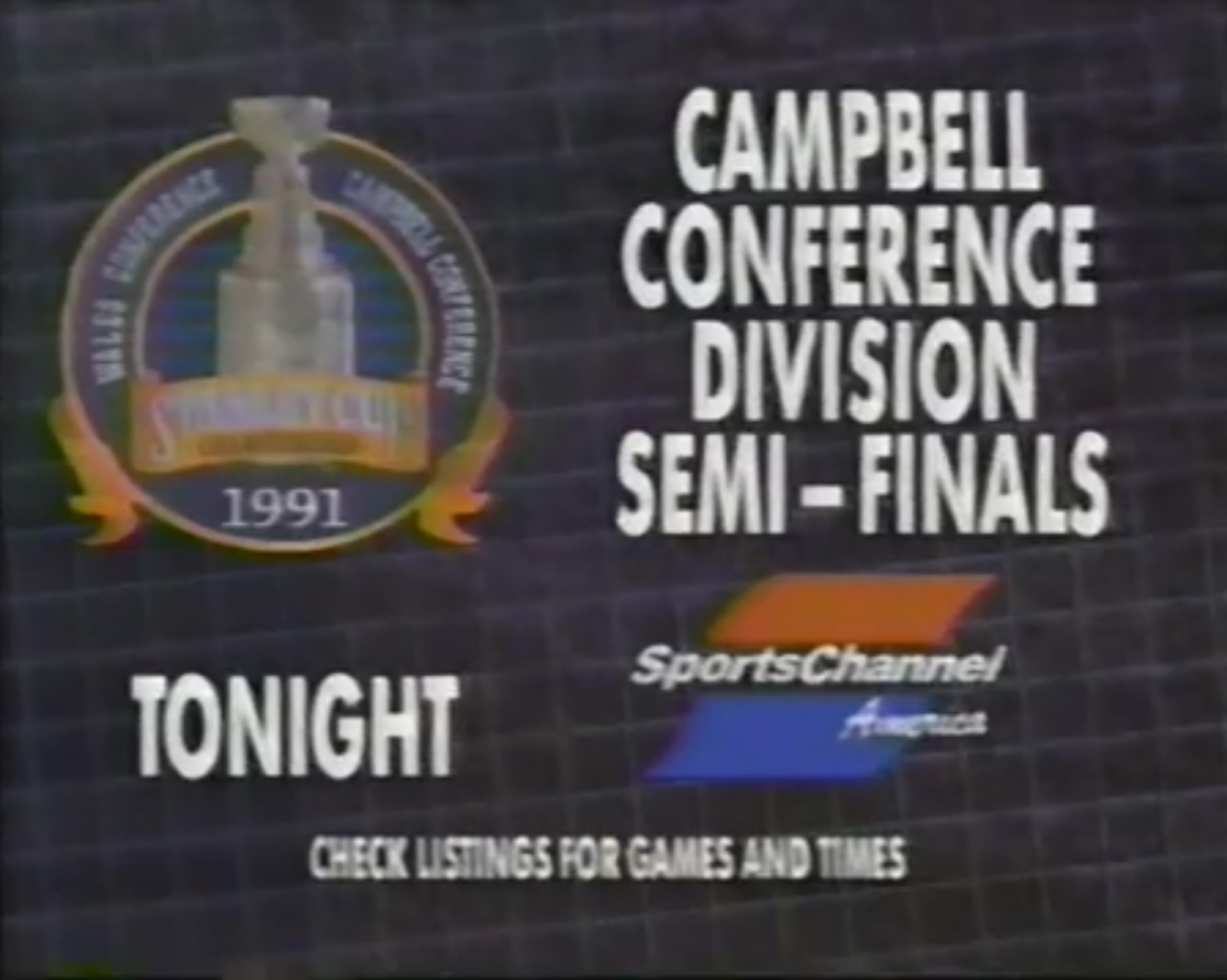 Call the BrunoLine NOW!
Plug #2 airs for UWF Beach Brawl.
Match 2: B. Brian Blair (w/o Honey) versus Brian Donahue
Highlights:
According to DeGeorge, the supershow will emanate "in Florida," and persuades the viewers NOT to go to the show but rather watch it on PPV. HA! Methinks that's a bit backwards.
Donahue countered a front face lock with a modified spinebuster.
As he followed with an elbow drop, Donahue got 2.
Donahue then clotheslined Blair who rebounded with a slam.
When Blair missed an elbow drop, Donahue missed one too.
Blair landed a clothesline and a knee drop.
After he powerslammed Donahue, Blair hooked a Sharpshooter.
Donahue submitted; therefore, Blair won at 4:13.
Rating: DUD
Summary: Showcase match for Blair who gave Donahue way too much offense.
Tolos plugs the supershow on 6/9 LIVE on PPV.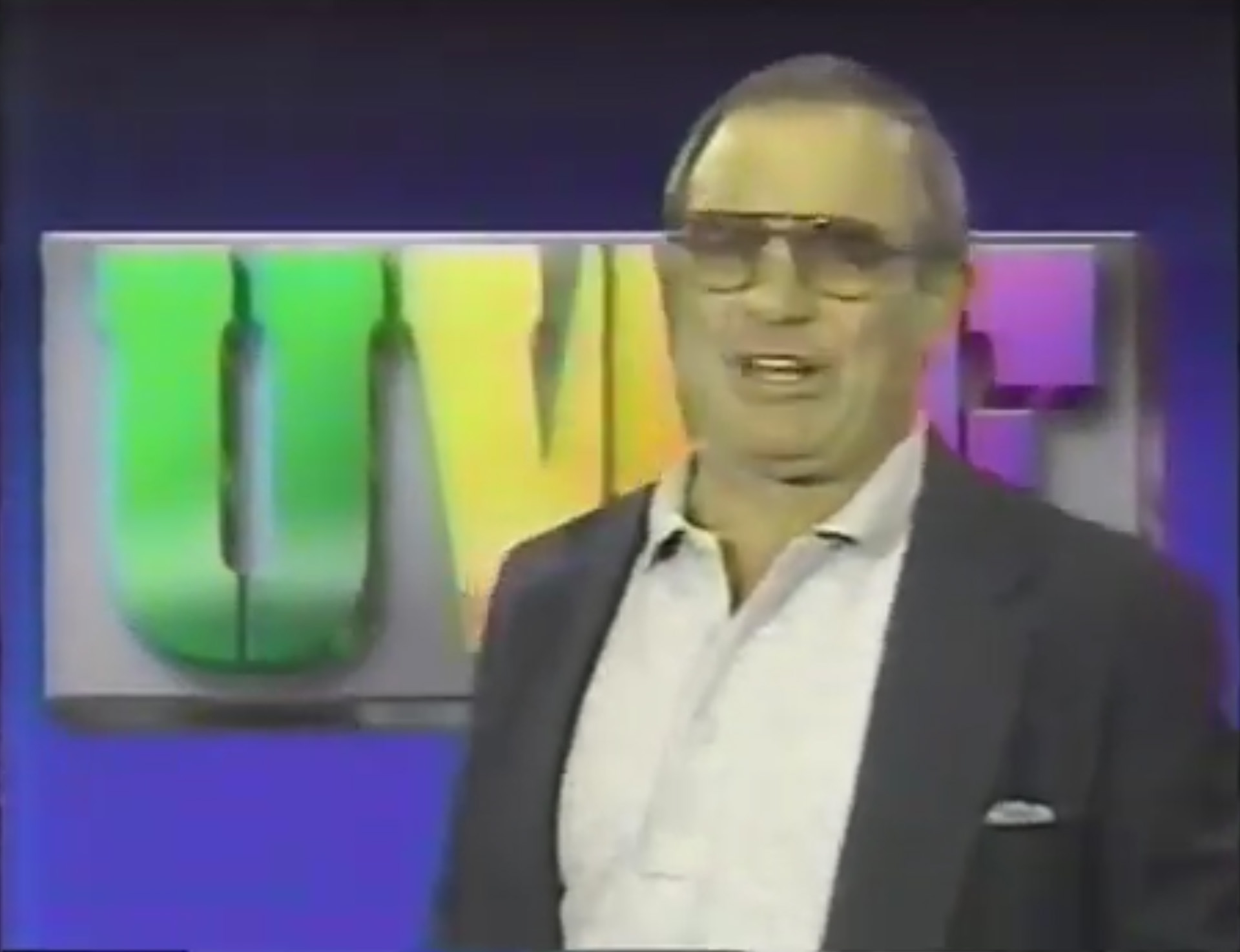 Abrams plugs the newly-renamed Hotel Pennsylvania.
Before WWF shilled body builder formulas ICOPRO, the UWF also had its "power products." Get yours today! So Vince McMahon actually copied this idea from Abrams.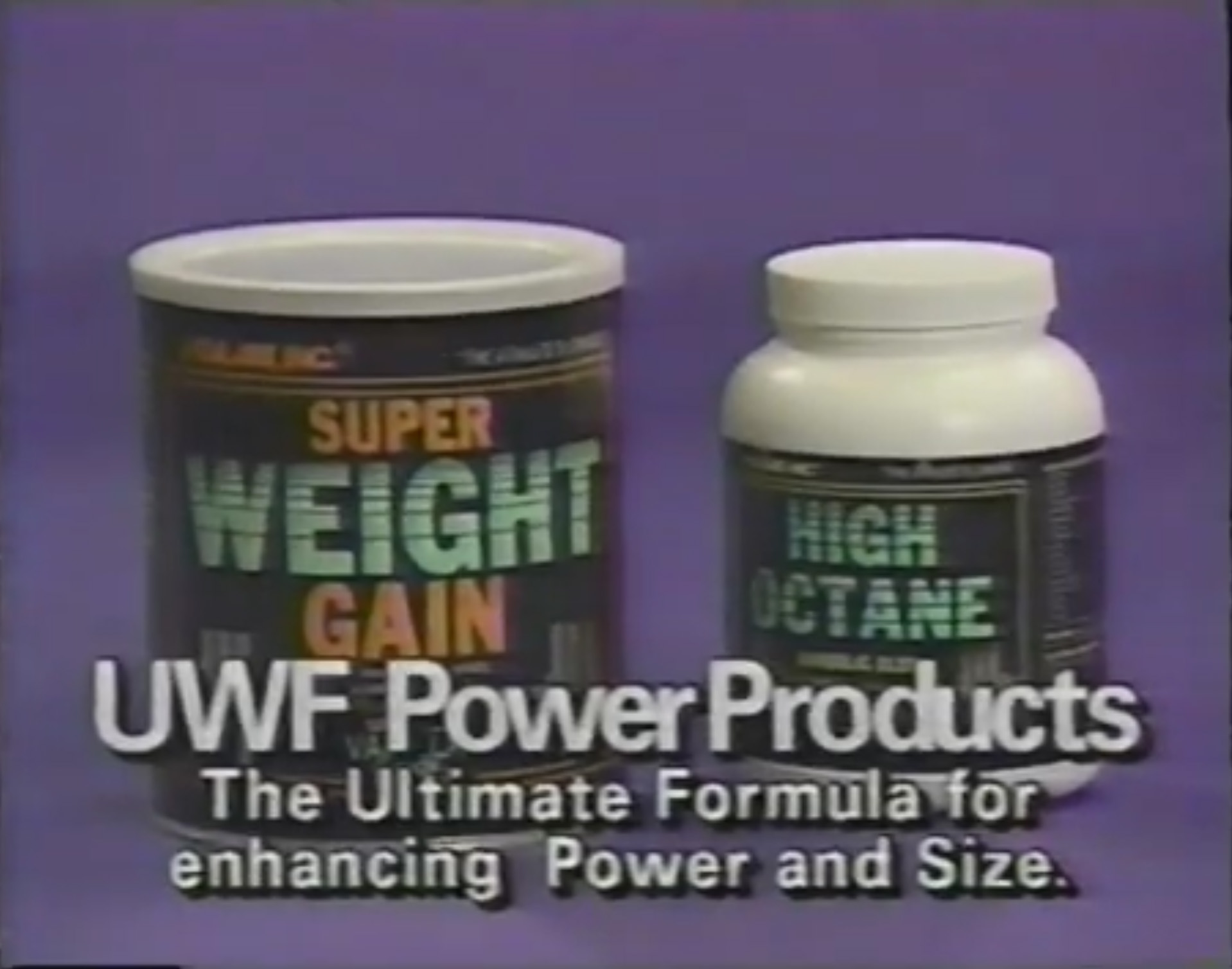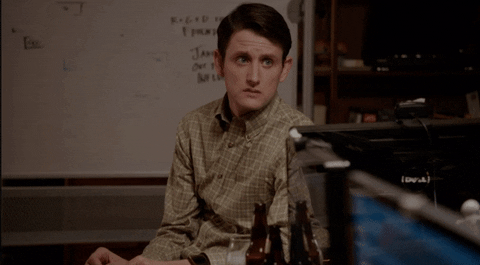 Ad for Midnight Express Limousine airs.
Plug #3 for UWF Beach Brawl airs.
Plug #2 for Captain Lou's hotline.
CAPTAIN LOU'S CORNER: Albano interviews Gordy who touts his ability to "wrap a chair" around a wrestler's neck. That's quite the skill.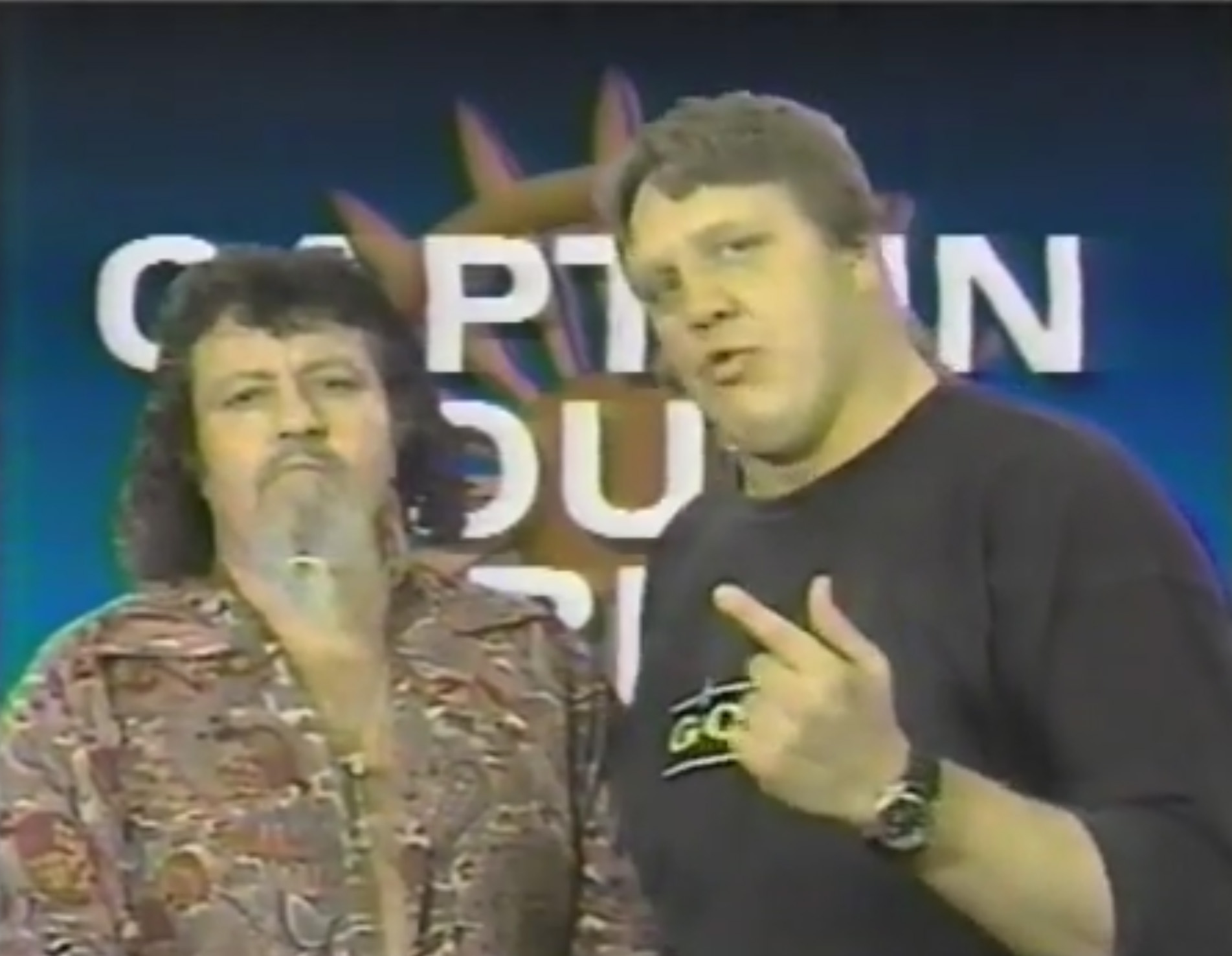 Plug #2 for the Rumble in the Big Apple IV airs.
Get your Support Our Troops t-shirt today.
Obtain Bruno's book NOW!
An actual commercial for Joe Weiders Mass Workout airs.
Catch the NHL playoffs on SportsChannel as the North Stars challenge the Blackhawks and the Kings face the Canucks TONIGHT. Both the Blackhawks and Canucks won to lead their respective series 2-1.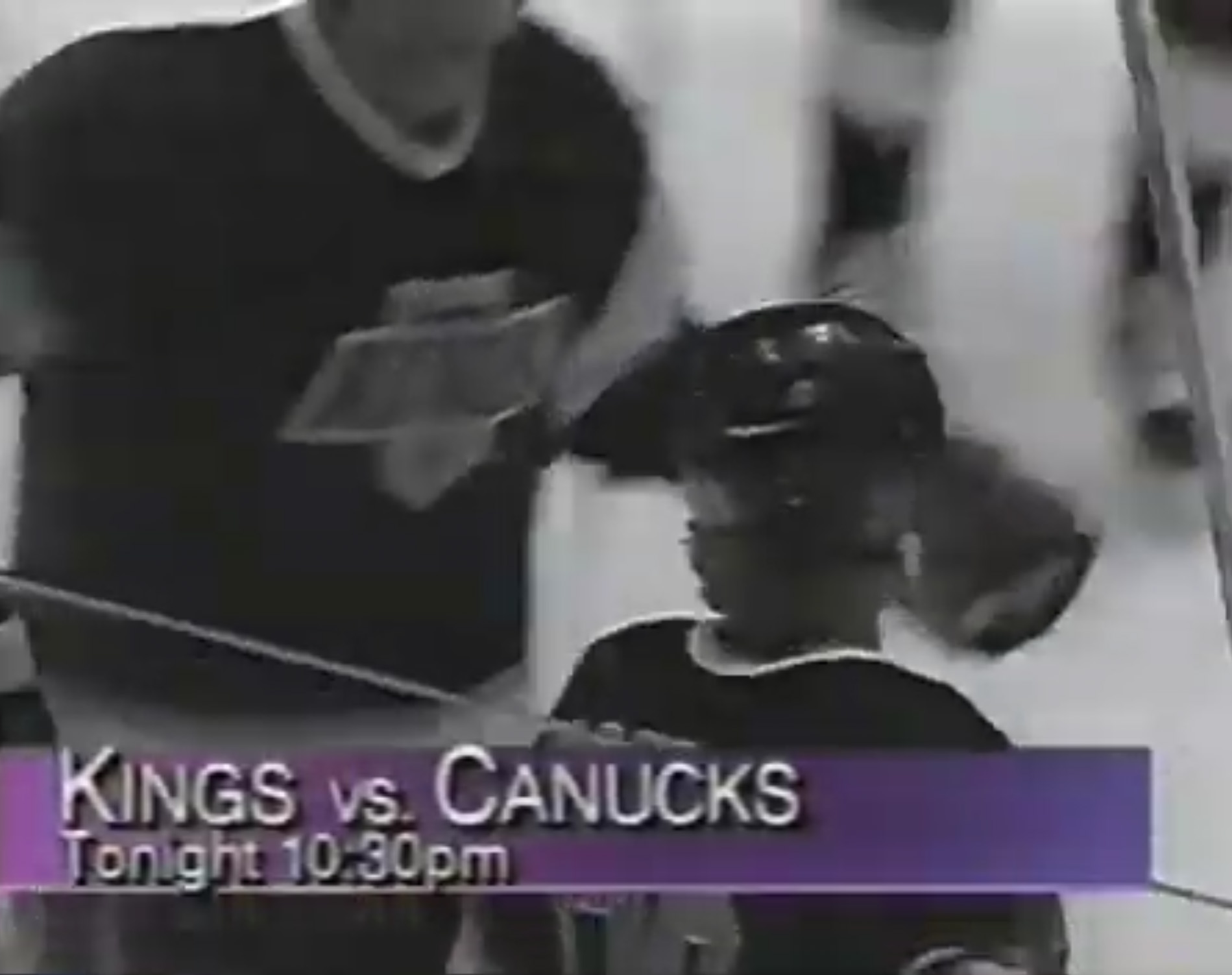 Watch the Mets take on the Philadelphia Phillies LIVE on Sportschannel. The Mets lost to make their record 2-1.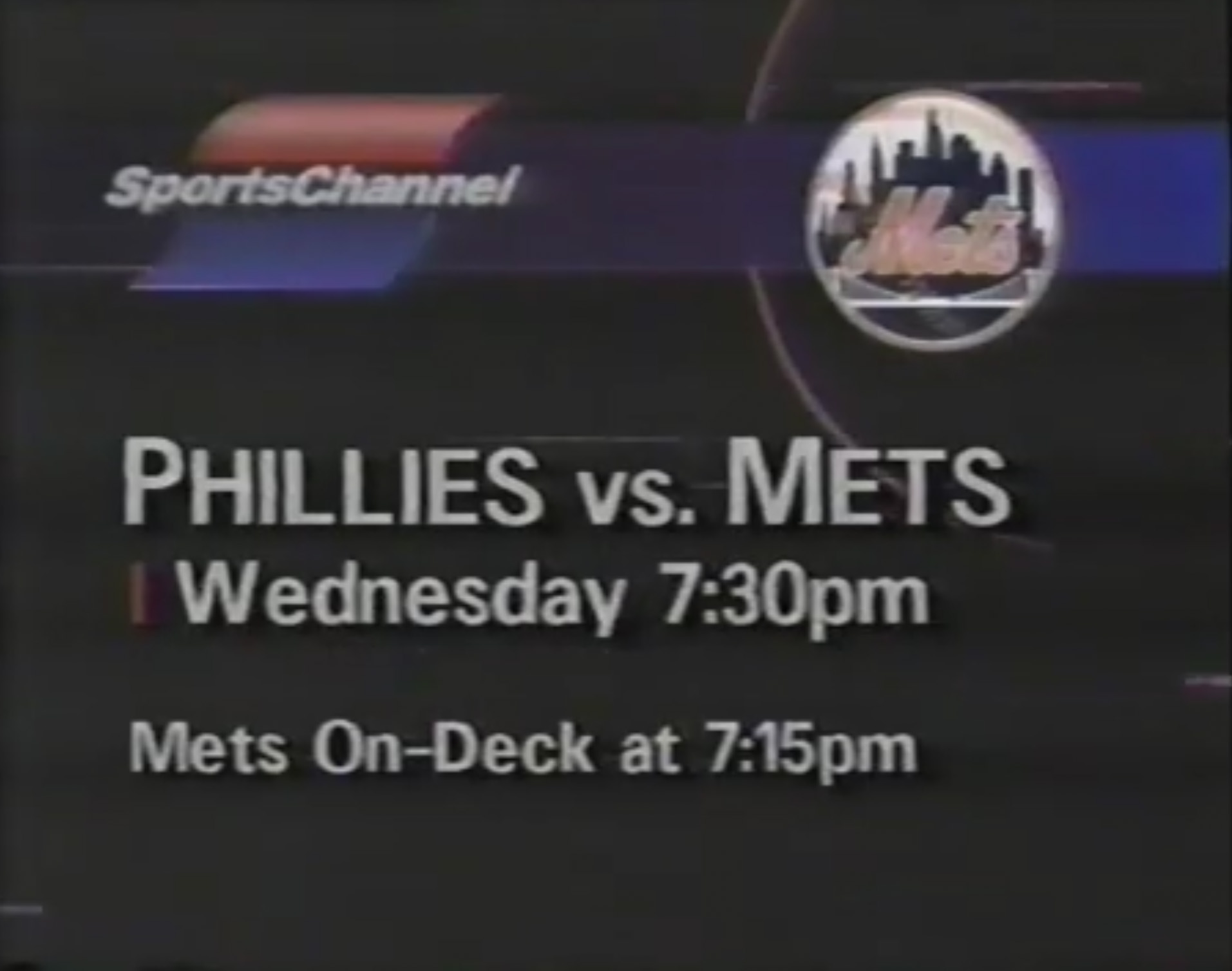 Albano plugs the PPV.
Match 3: Don Muraco versus Afa the Wild Samoan (w/ Samu)
Highlights:
Both Afa and Samu double-clotheslined Muraco prior to the bell.
When Afa distracted referee Dick Kroll, Samu gave Muraco the business. How dastardly!
Afa then gave Muraco a cross corner whip but came up empty on his follow-through.
As the match segued to the floor, Muraco choked Afa with his t-shirt and nailed an incoming Samu.
He then supplied both Samu and Afa with a double noggin knocker that actually worked.
Next, the bell rang, and Kroll awarded the match to Muraco by DQ at 2:12.
Rating: DUD
Summary: Not much to rate, but I smell a new feud brewing.
Afterward, Afa and Samu make Muraco HIT THE POLE.
ASK THE WRESTLERS: A letter to Orton: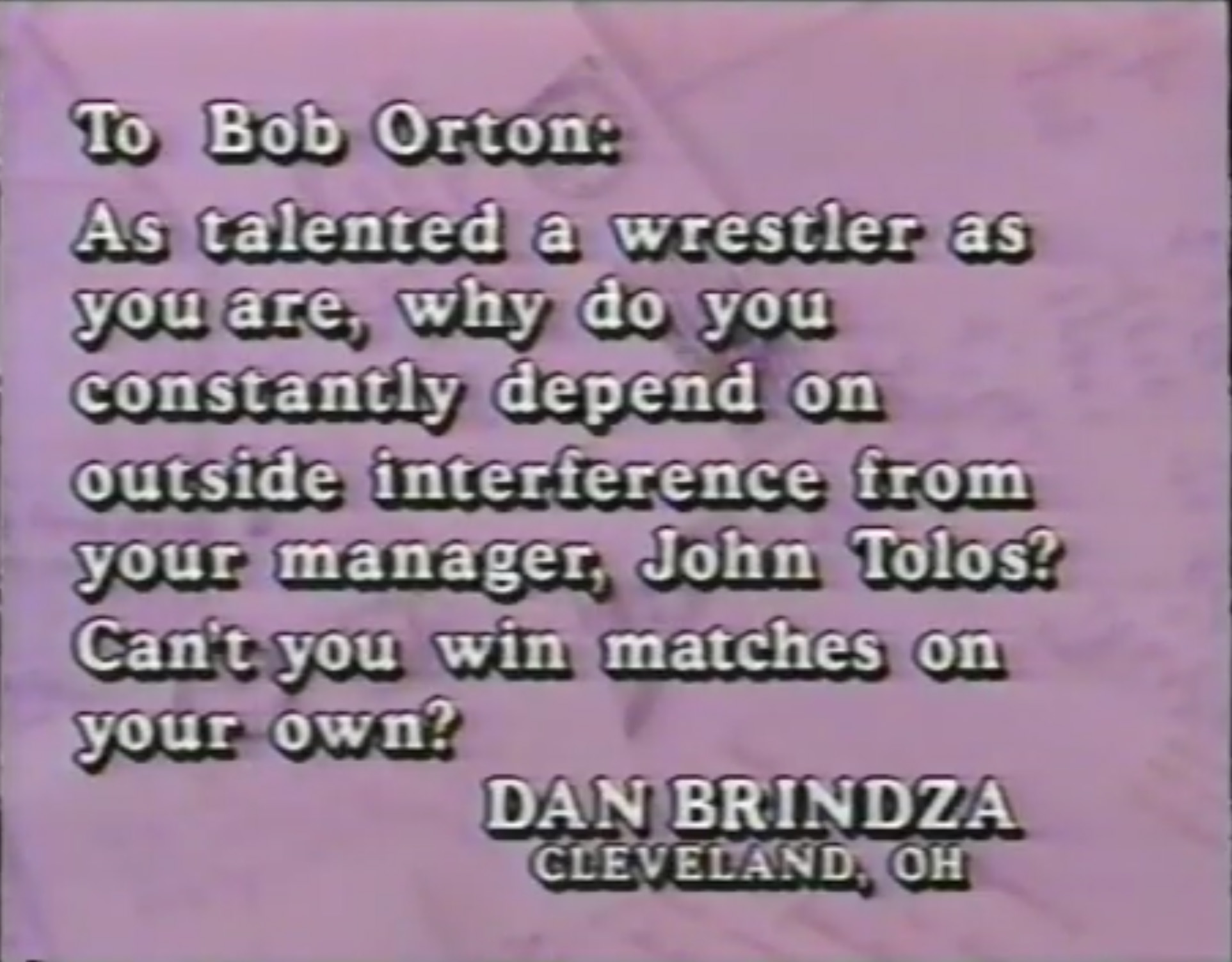 Orton responds as only he can.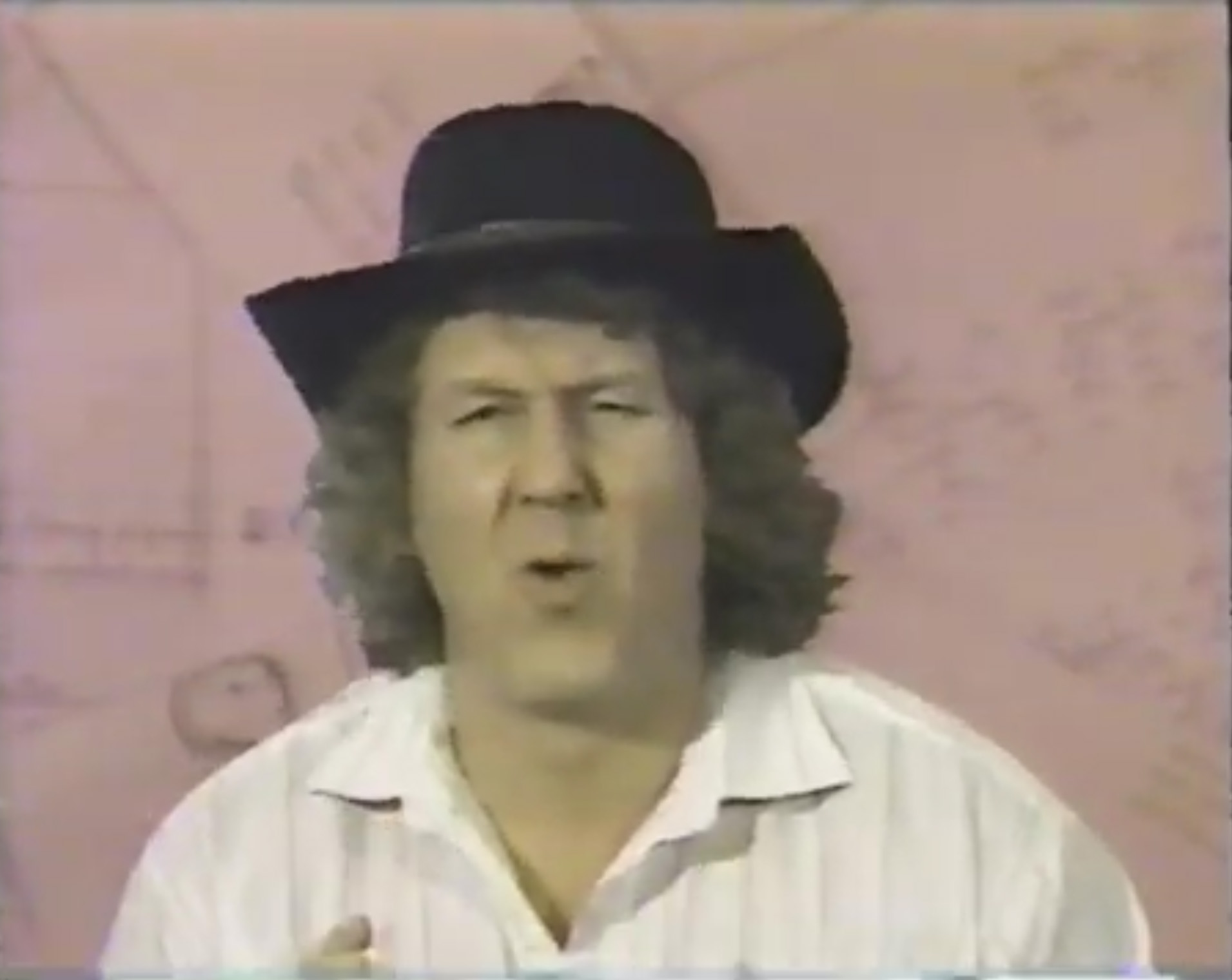 Orndorff shills Dynamic Muscle Builder. It's available through either mail order to Abrams or GNC. Frankly, I'd pick GNC.
Get Nordic Row TBX TODAY!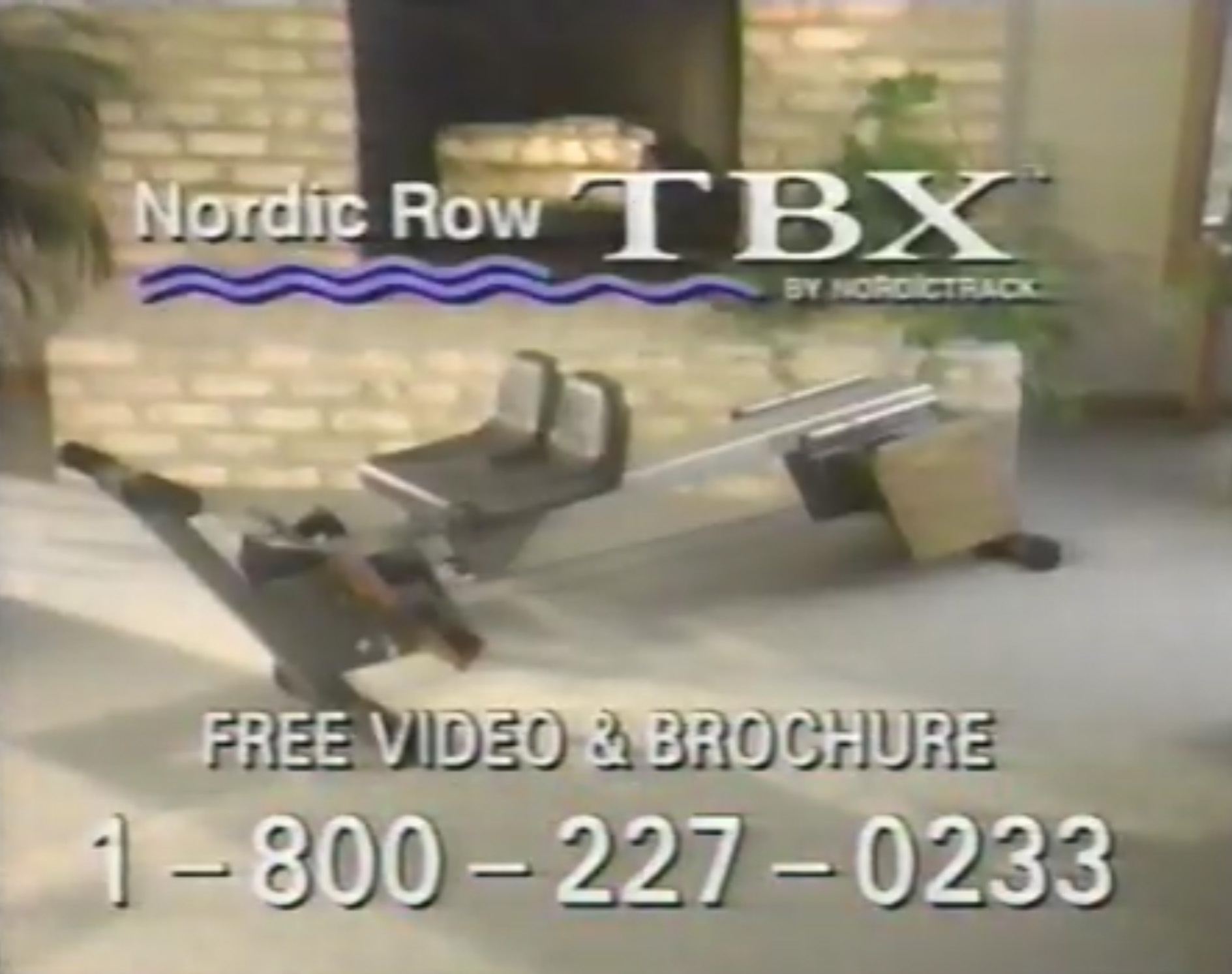 Plug #3 for the NY shows in May airs.
Call the UWF PowerLine NOW!
Match 4: "Mr. Wonderful" Paul Orndorff versus Carmine Albano
Highlights:
Tolos joined the broadcast table for this match and insulted Bruno immediately.
As Orndorff ducked a clothesline, he supplied Albano with one of his own.
He then delivered a piledriver and pinned Albano at 1:52.
Rating: DUD
Summary: Showcase match for Orndorff who's primed for next week's cage match.
We then revisit the saga between Orndorff and Williams as Abrams finally understands episode-pacing.
Williams cuts a promo on both NYC and Orndorff.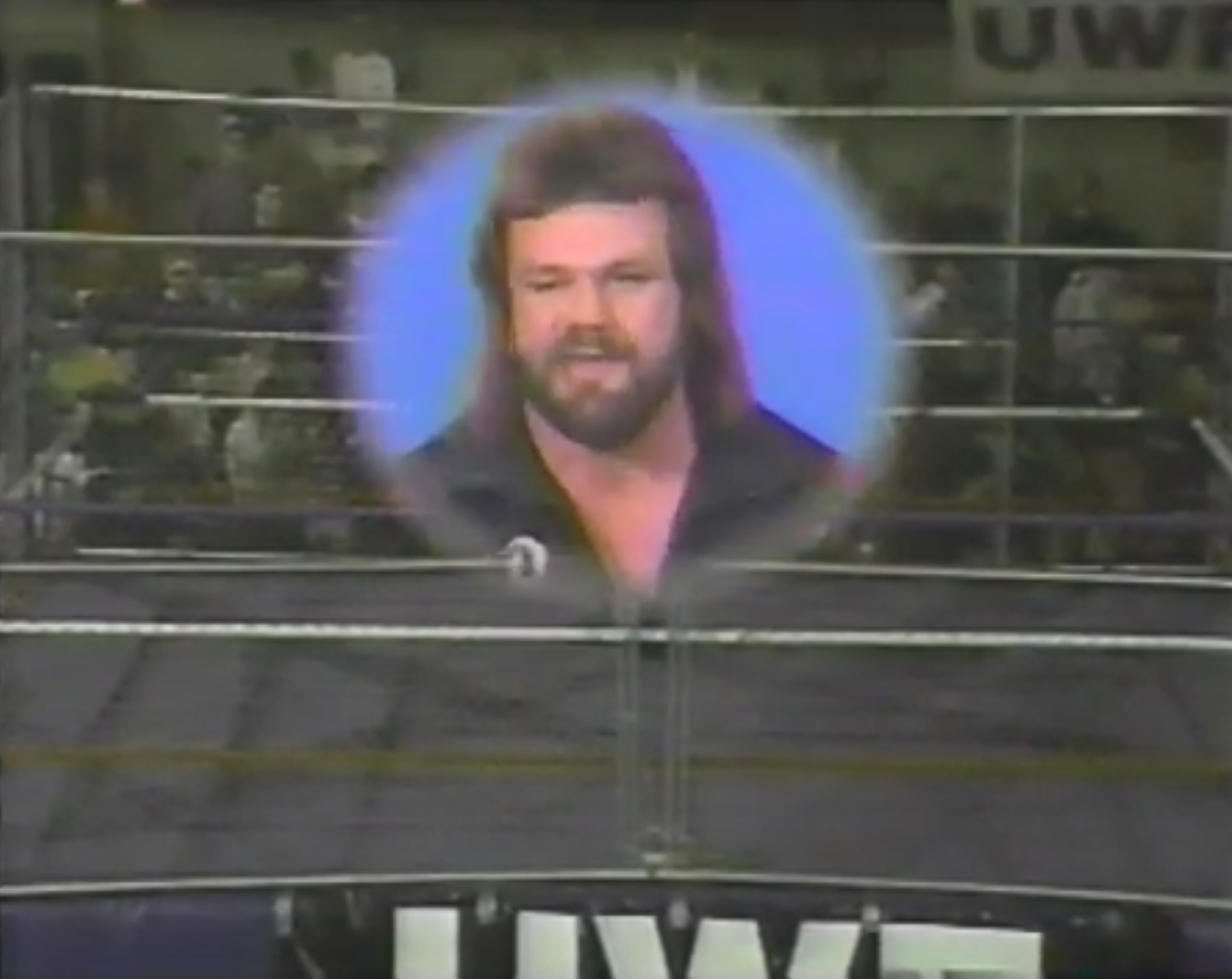 Orndorff shills Super Arm Blaster.
Get your UWF Power Shack Gym t-shirt TODAY!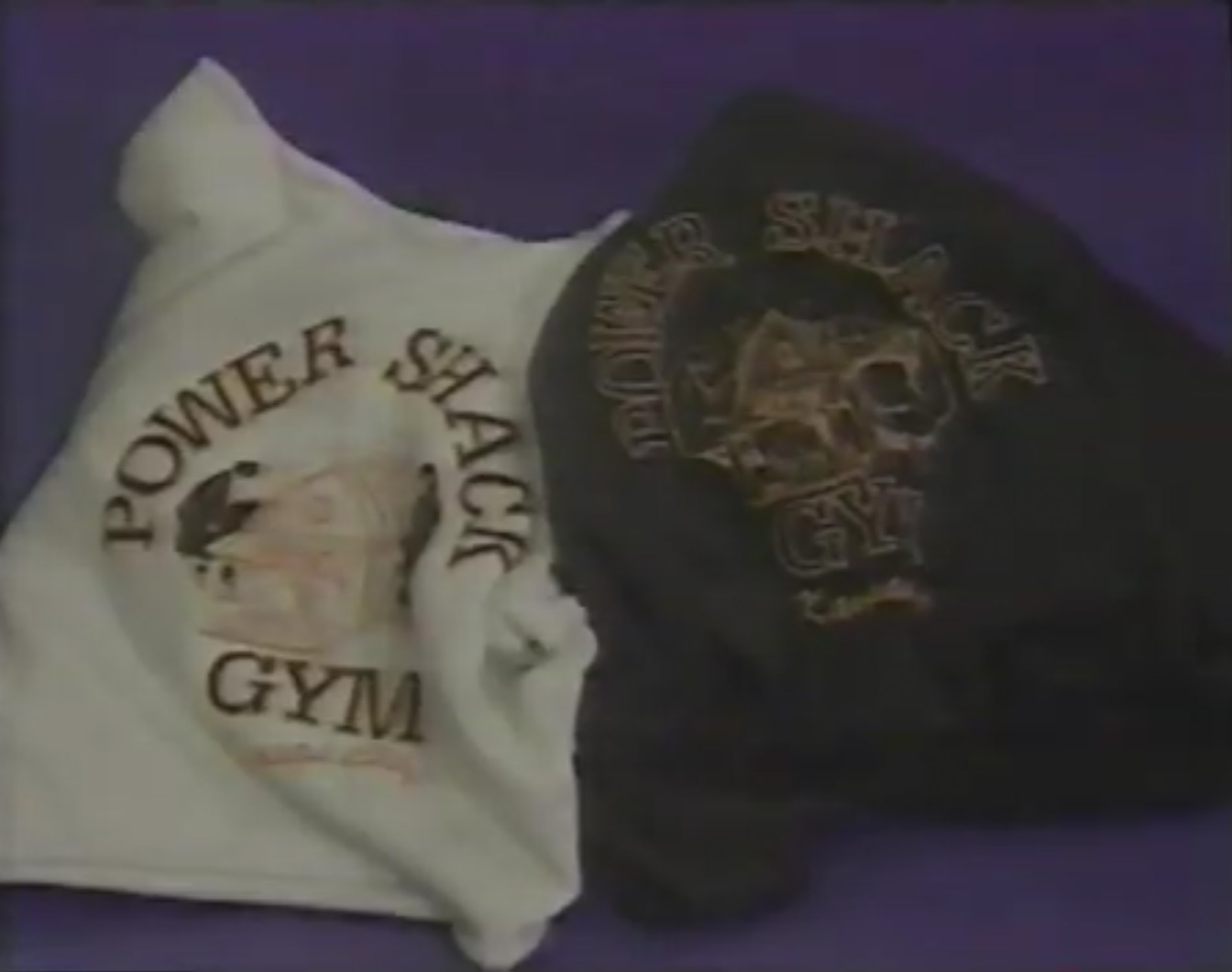 Call the SportsChannel hotline NOW!
Plug #4 airs for the PPV.
Match 5: Wet'n'Wild versus "Cowboy" Bob Orton & Cactus Jack (w/ John Tolos)
Highlights:
Cactus gave Beach a cross corner whip but ate a hip toss.
When Beach dropkicked him, he followed with a fallaway slam for 2. Impressive!
Orton tagged in, but Beach gave him a cross corner whip.
Since Orton wouldn't succumb to a fallaway slam, he clotheslined Beach.
Wild Thing tagged in, and the female contingent of the NYC faithful rejoiced.
As he delivered a big boot, Wild Thing got 2.
Cactus tagged in, but Wild Thing hit a cross body block for 2.
After Cactus reversed a cross corner whip, Wild Thing leaped to the second turnbuckle.
He then launched a second cross body block for another 2.
While Wild Thing mounted the top turnbuckle, he scored with a third cross body block.
On the other hand, Orton prevented the pin by saving Cactus' bacon.
Cactus missed a knee drop, so Beach tagged in and hooked a figure-four leg lock.
When Cactus raked the eyes to escape, he followed with a discus clothesline.
Tags were exchanged on both sides, and Wild Thing mounted the second turnbuckle.
As Wild Thing lowered the boom on him, Orton purposefully whipped him into referee Dick Kroll.
All four wrestlers were in the ring, and a second referee arrived to throw the match out at 6:38.
Rating: **½
Summary: Another inconclusive finish yet both teams looked remarkably better than last week.
After the match, the heels ram Wet'n'Wild together, and Orton retrieves Beach's surfboard. The referee rapidly takes it from Orton. Next, a Cactus clothesline sends both Cactus and Beach down to the floor. Tolos mangles Beach on the floor while his charges double-team Wild Thing. To make matters worse, Orton CREAMS Wild Thing with Beach's surfboard to end the show. Evil!
Watch Out for Justice only in theaters starting 4/12.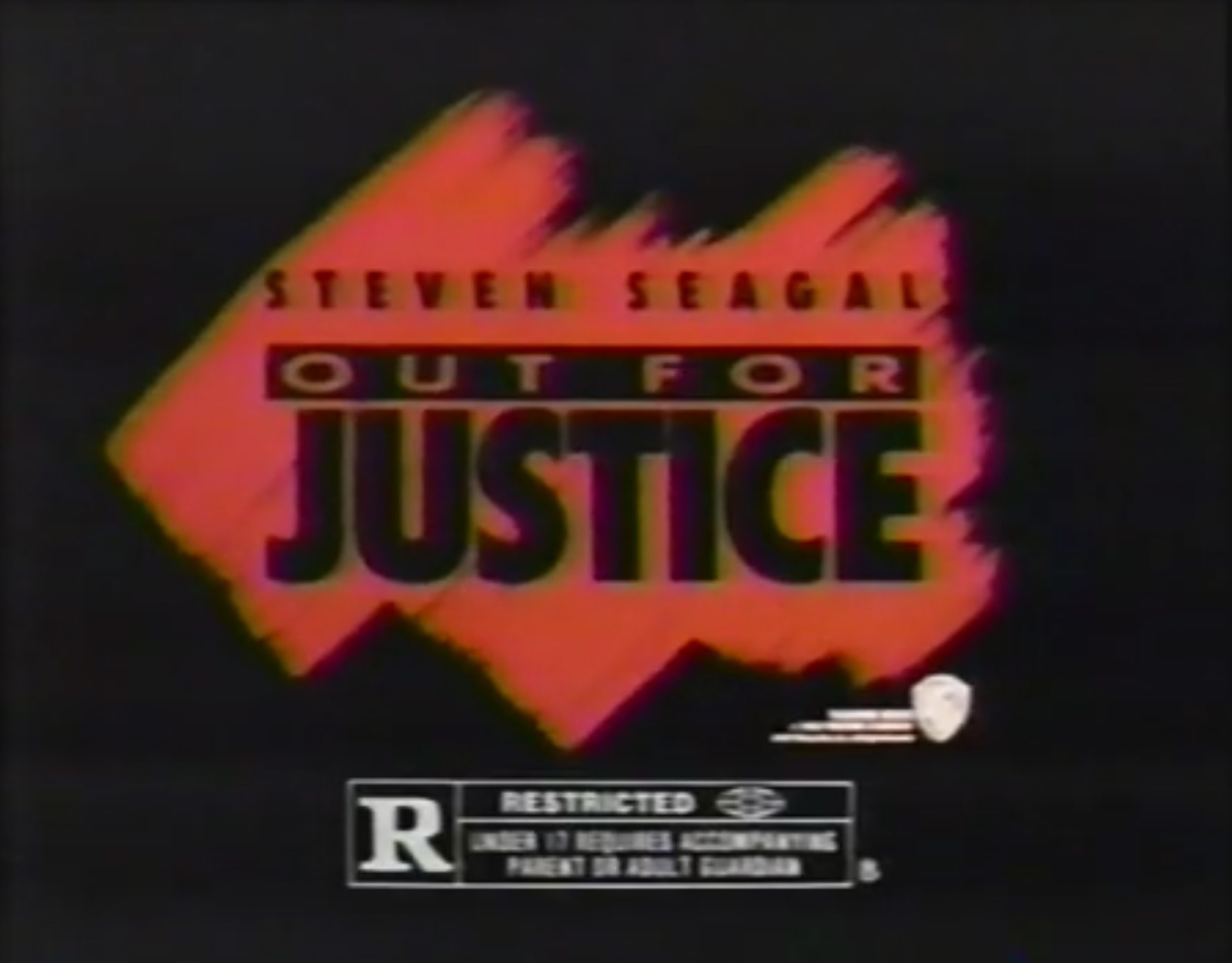 Drive a 1991 Subaru TODAY!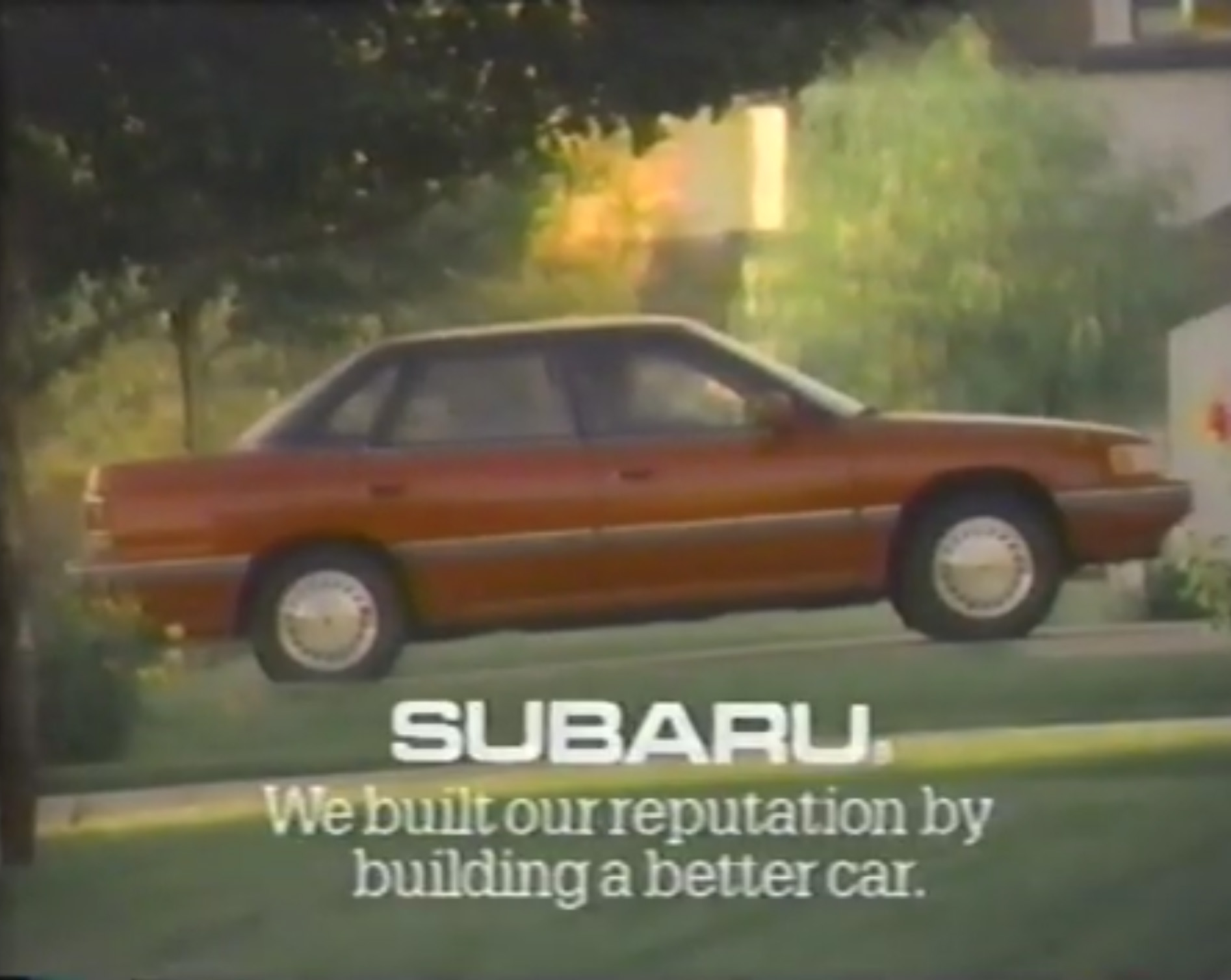 Call the UWF PowerLine NOW!
Purchase your UWF merchandise TODAY!
Plug #4 for the NY shows airs.
Conclusion: Much better pacing with this episode as Abrams puts on an entertaining show despite the constant main event non-finishes. Did I hear something about next week?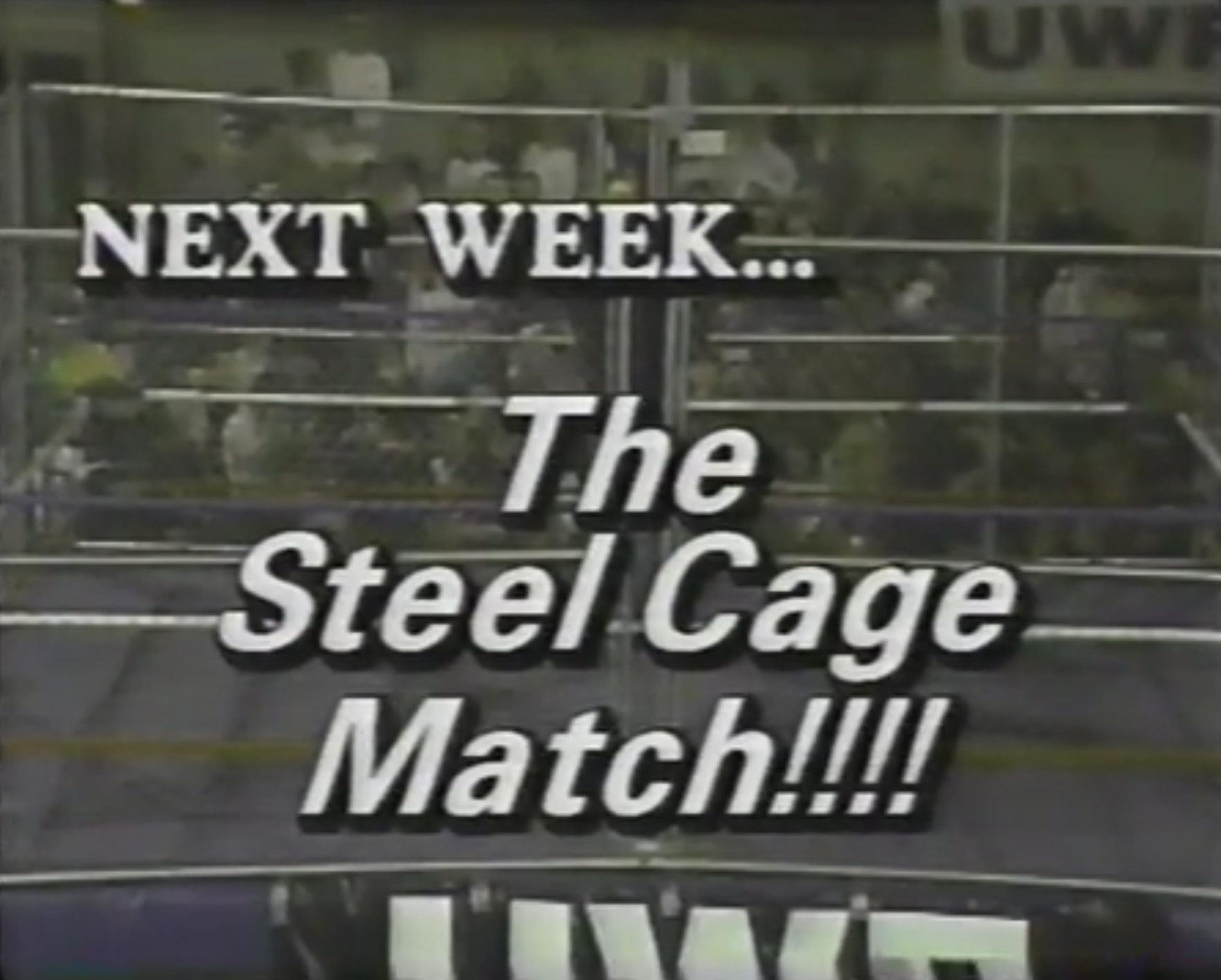 TV Rating: NONE
Stay tuned for UWF 04-15-91!
Comments? Suggestions? Send them to me at rsg@rockstargary.com and follow me on Twitter (@rockstargary202).
Custom Search