WELCOME TO ROCK STAR GARY REFLECTIONS!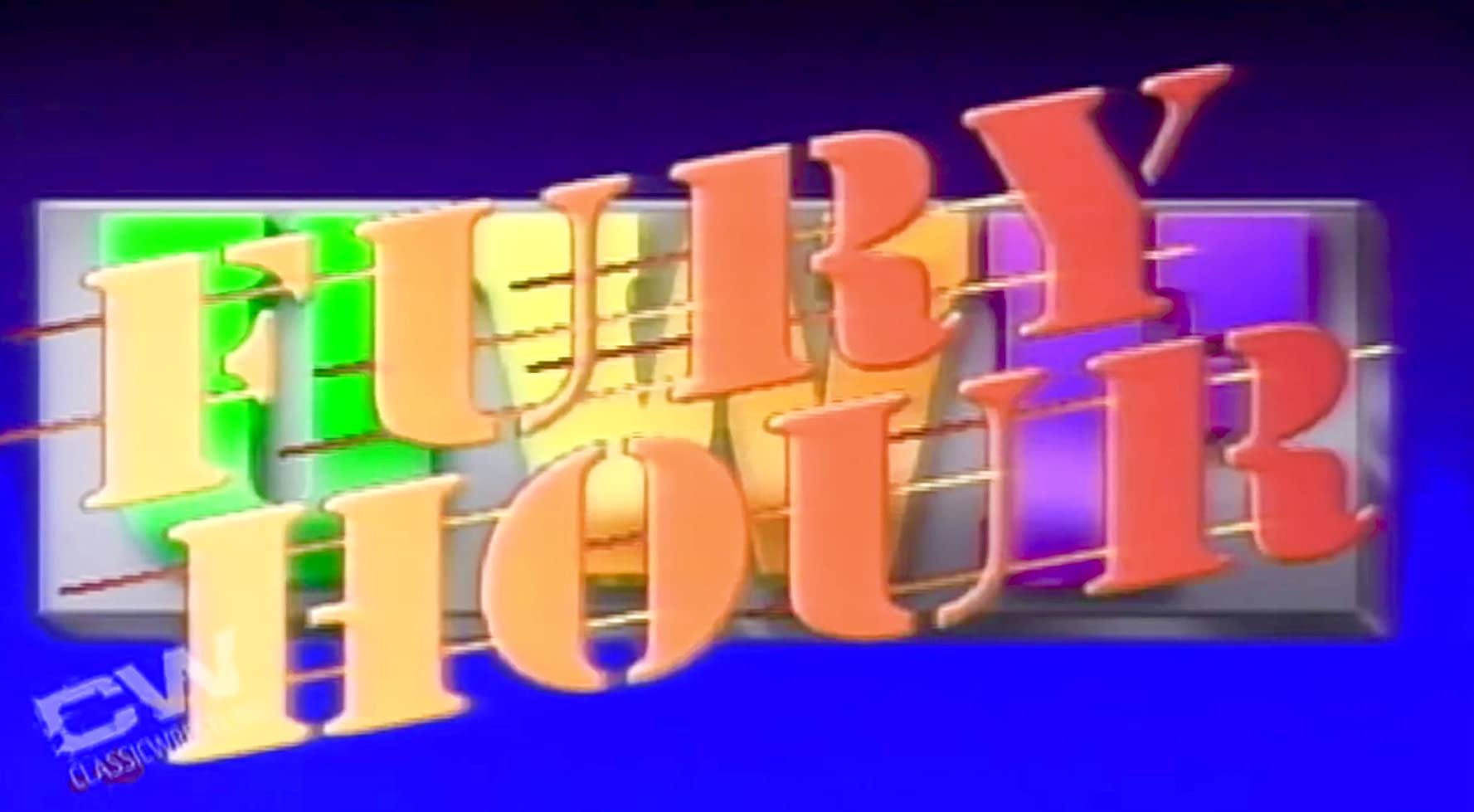 UWF Fury Hour 03-04-91
Taped from New York, NY
Airdate: March 4, 1991 (taped 02/15)
Attendance: 500
Hosted by Craig DeGeorge and Bruno Sammartino
DOUBLE MAIN EVENT TIME! Yes, folks, Herb is pulling out all the stops with both a tag team and singles main event. Orton versus Blair! Power Twins take on the newest tag team in the UWF! Get all this!
Opening montage.
Call the UWF PowerLine!
Match 1: "Dr. Death" Steve Williams versus Carmine Albano
Highlights:
Aha! The Captain's beloved "nephew" jerked the curtain again this week.
When Williams supplied him with a short-arm clothesline, he dropkicked Carmine.
He then hooked an abdominal stretch, released it, and unloaded a three-point stance tackle for 2.
As he unleashed a belly-to-back suplex, Williams tossed Carmine down to the floor.
He then joined and doused Carmine with a cup of

ICE COLD

water.
After he rammed Carmine face-first into the apron, Williams made him HIT THE POLE.
The NYC faithful chanted "Doc-tor Death," and their hero hip-tossed Carmine.
While he clotheslined Carmine, Williams gave him a cross corner whip.
He then scored with an Oklahoma Stampede and pinned Carmine at 7:45.
Rating: *
Summary: Showcase match for Williams.
The Power Twins cut a promo.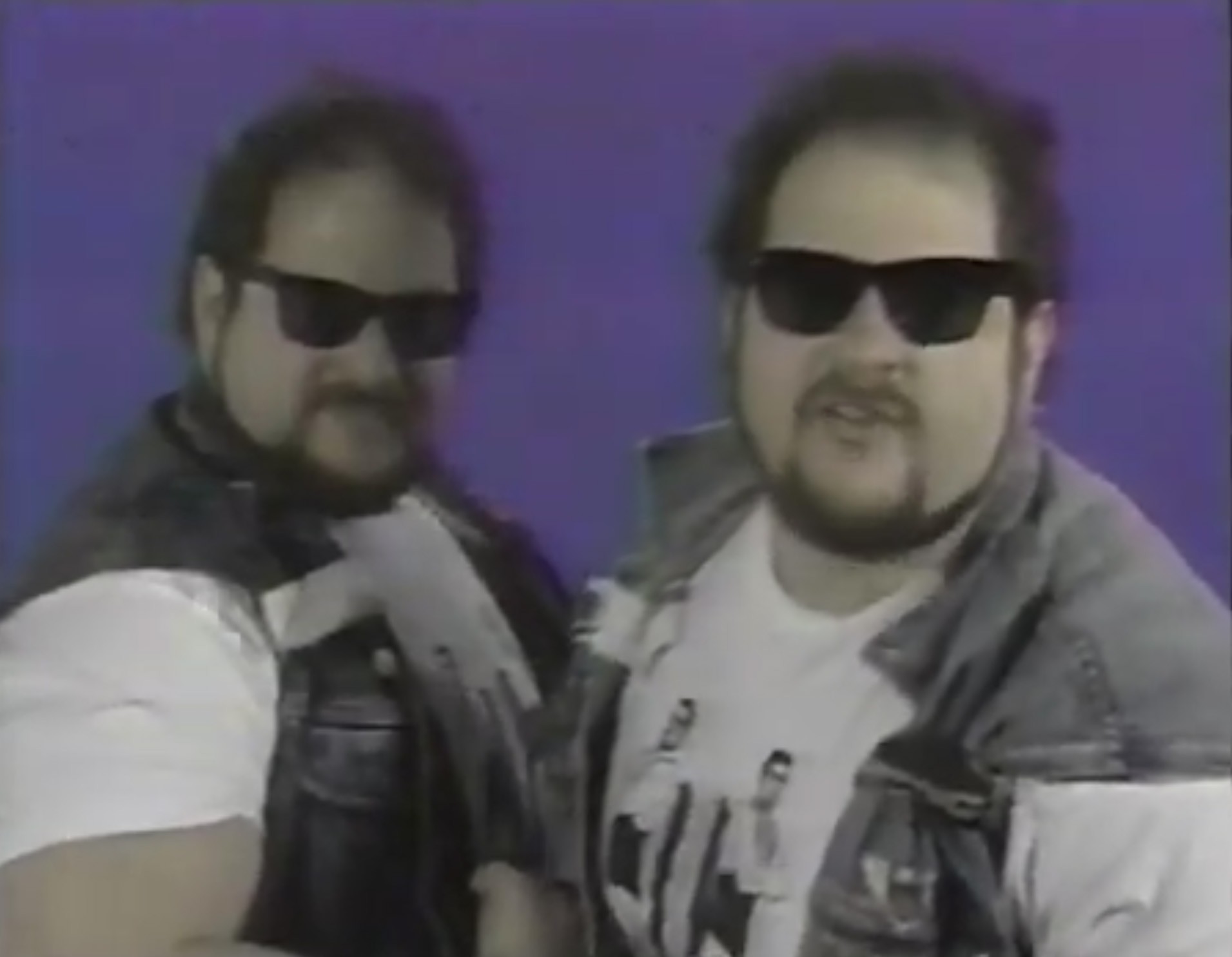 Subscribe to Field and Stream NOW!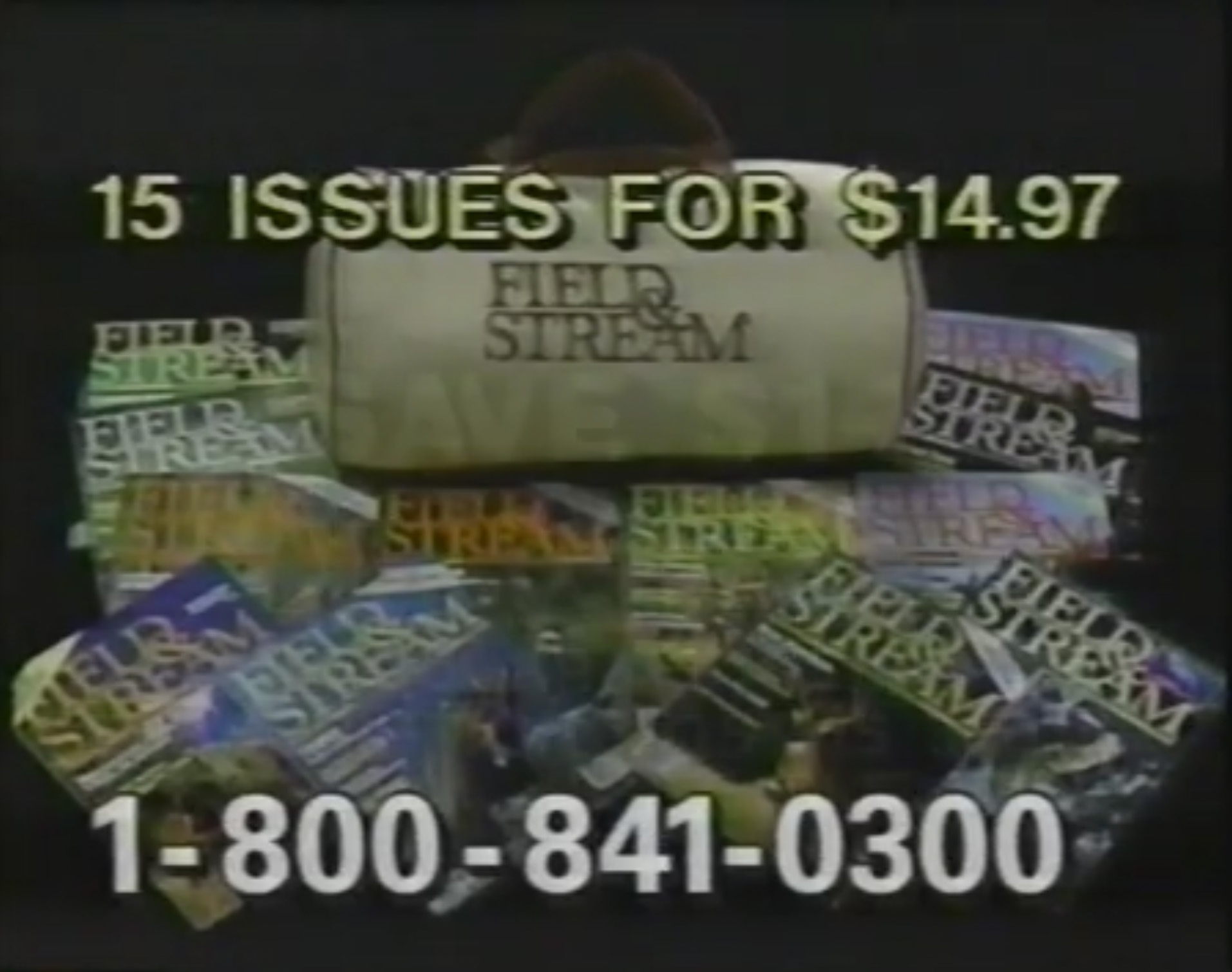 Watch Outdoors America on Tuesdays only on SportsChannel!
Call Champion Sports Trivia to win $100!
Live soccer happens on SportsChannel as Team USA battles Mexico. Watch it here!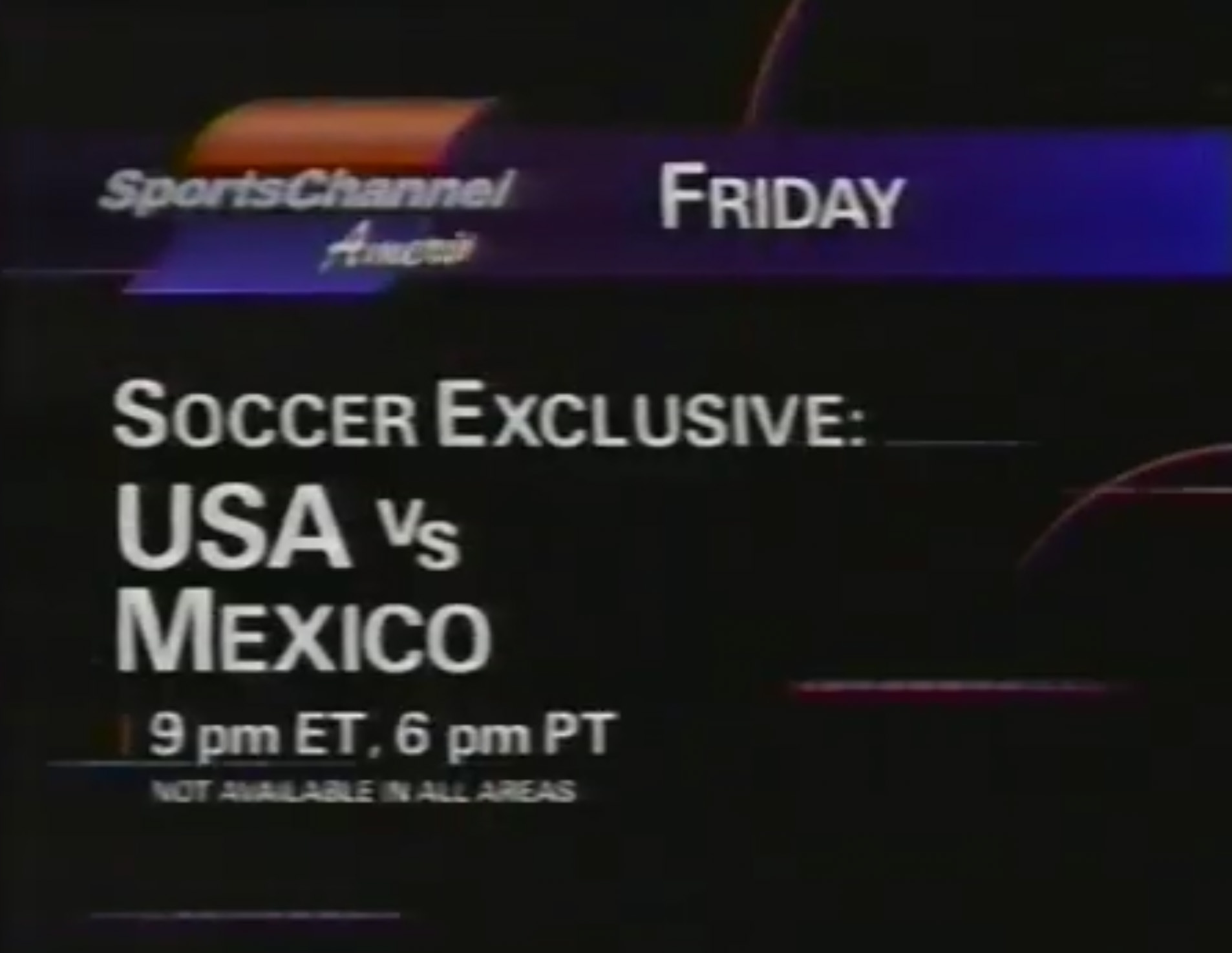 Call the BrunoLine NOW!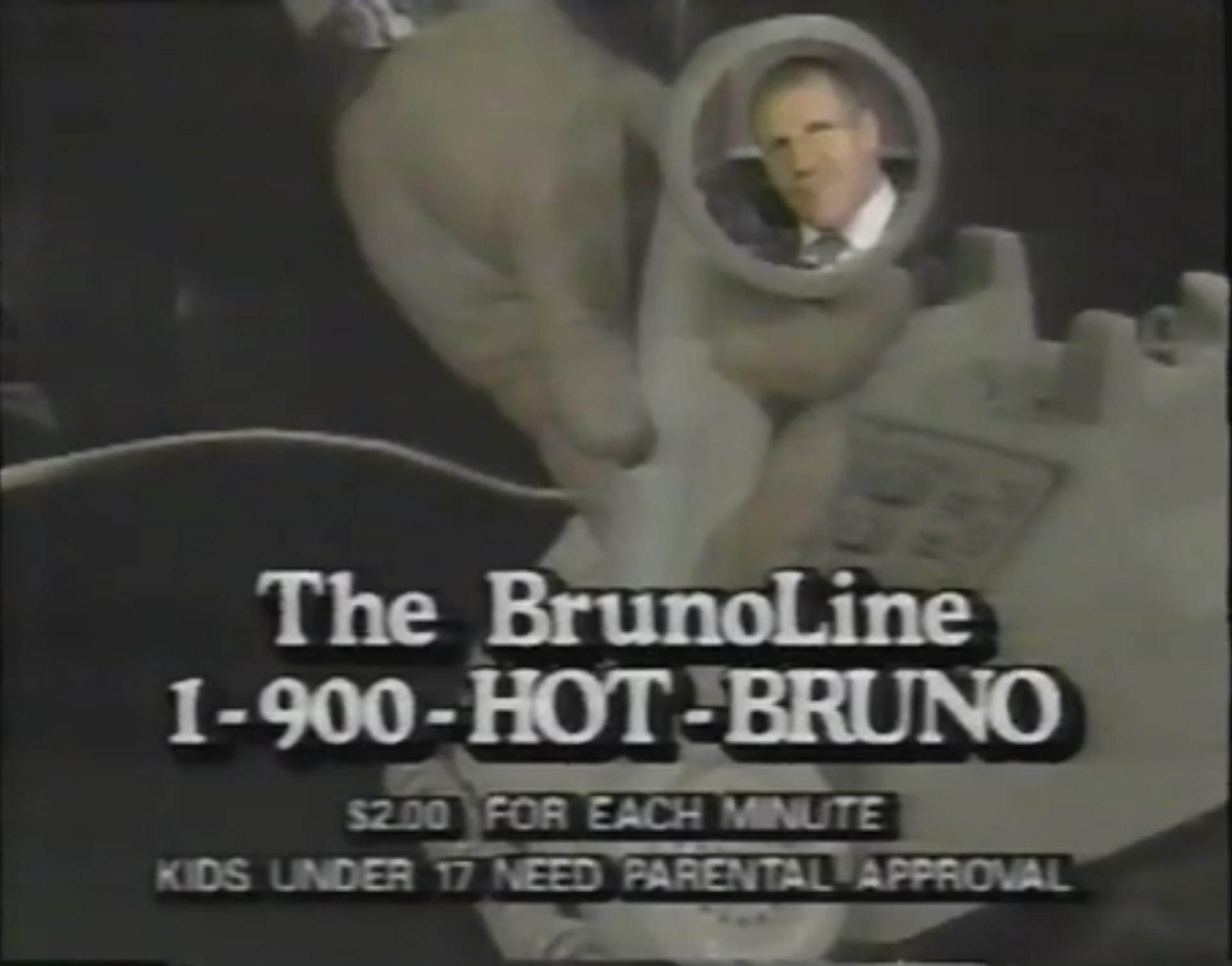 ASK THE WRESTLERS: A letter to the Wild Thing: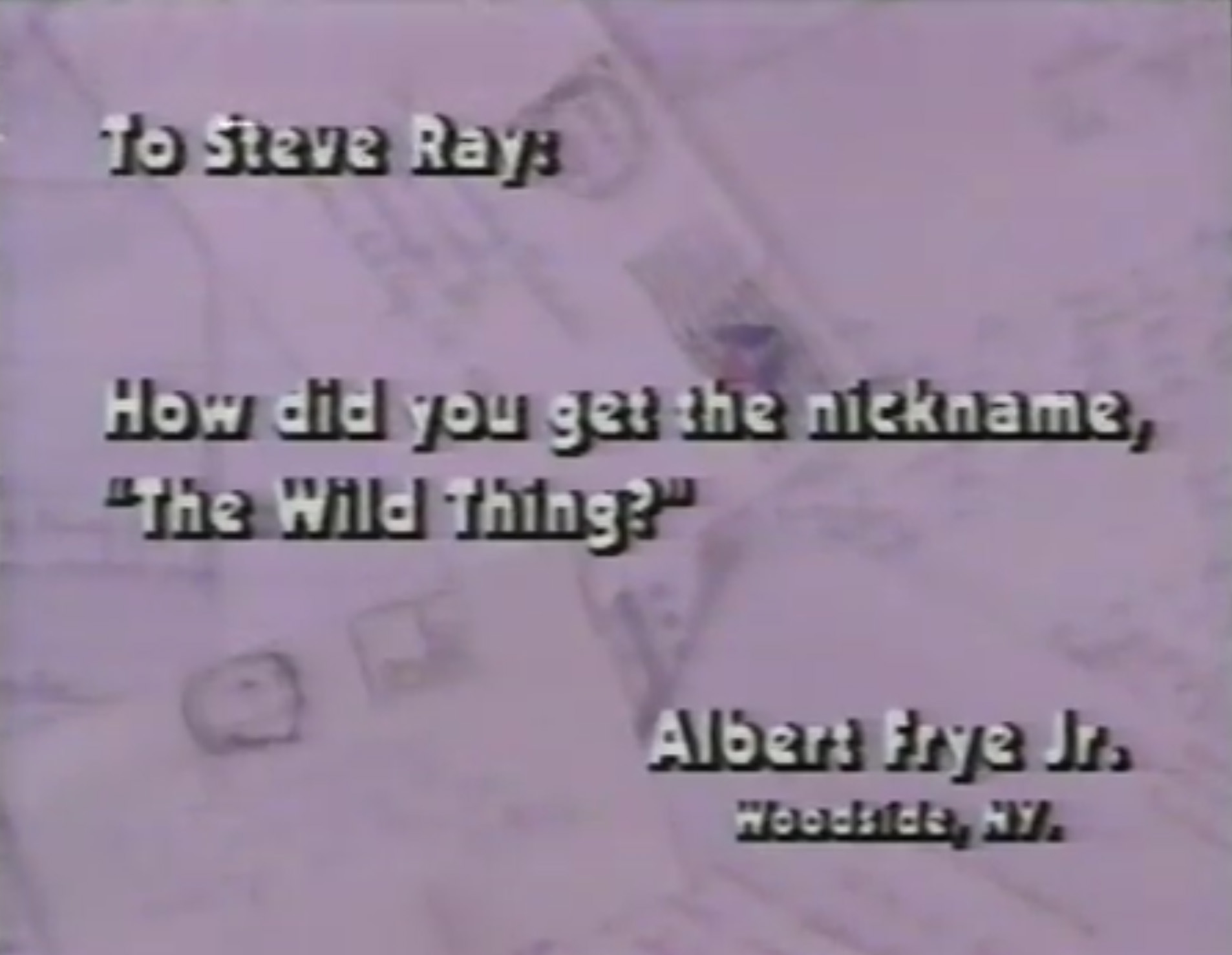 The Wild Thing prattles on about his nickname. Methinks you can figure it out without any guidance.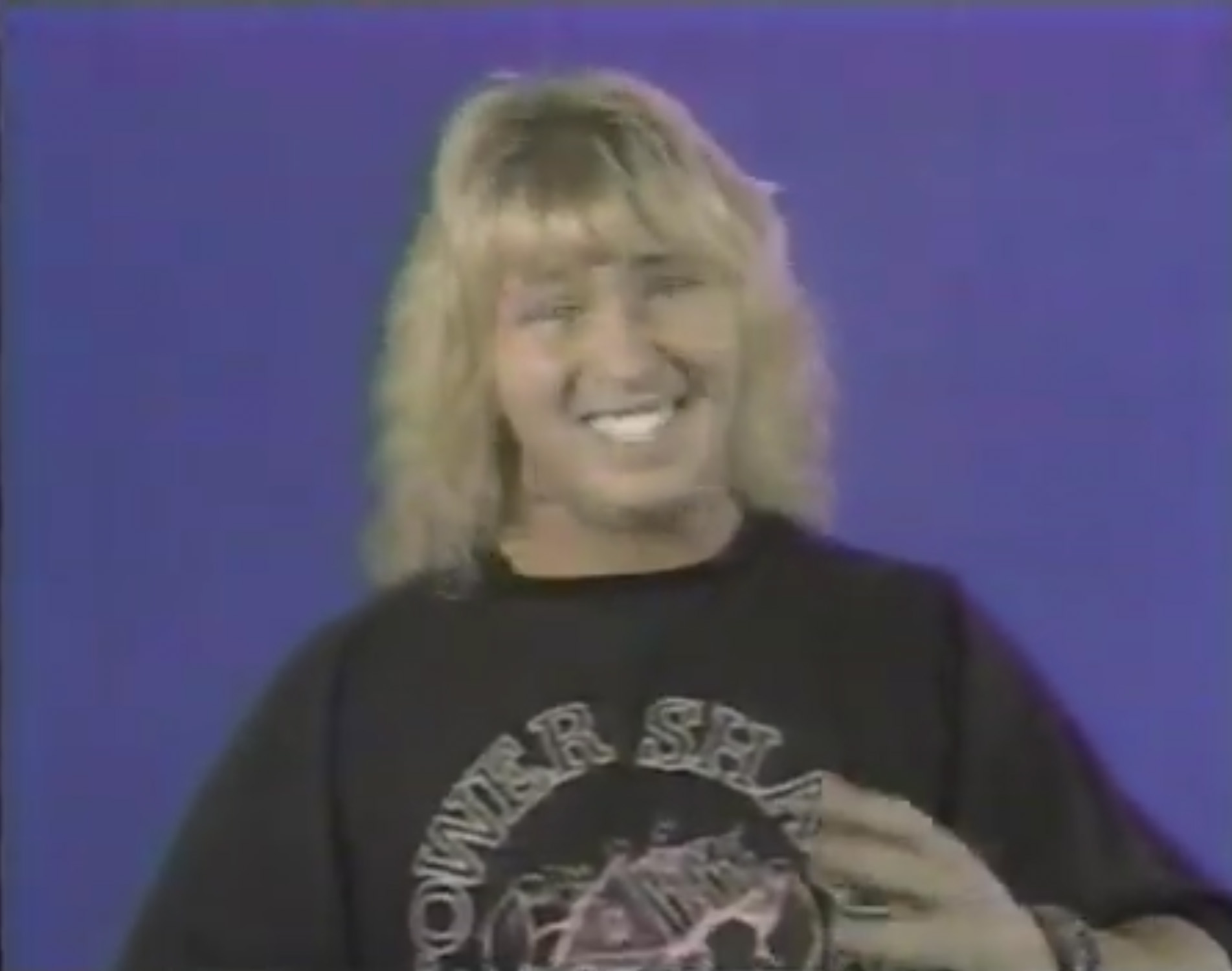 Florida residents: Get your tickets NOW as the UWF arrives on 4/6 in Fort Lauderdale.
But wait! There's more! On 4/7, the UWF pulls into Orlando too!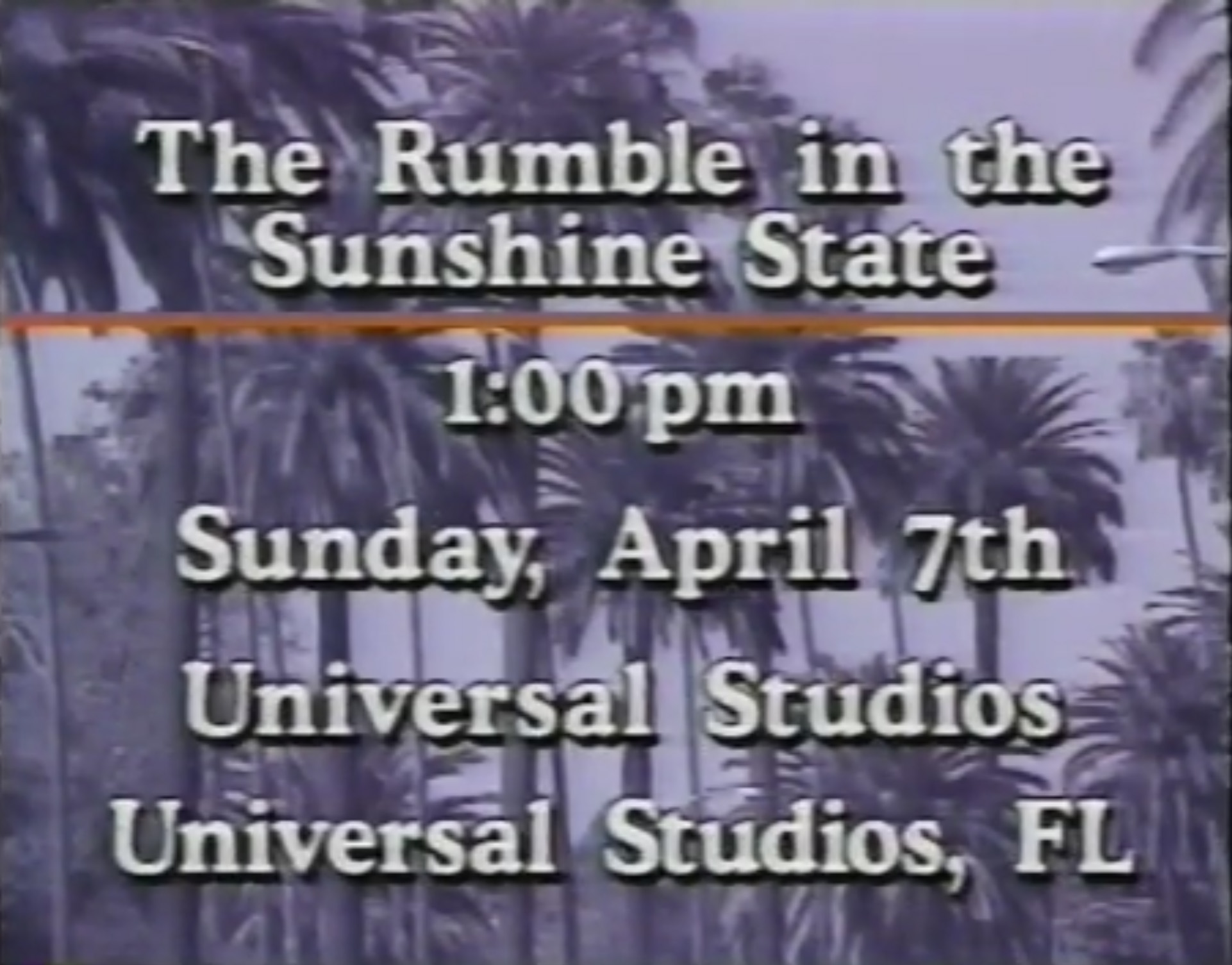 Ad for the Penta Hotel airs.
Get your UWF merchandise ASAP!
Join the Prime Benefits Club sponsored by National Westminster Banks.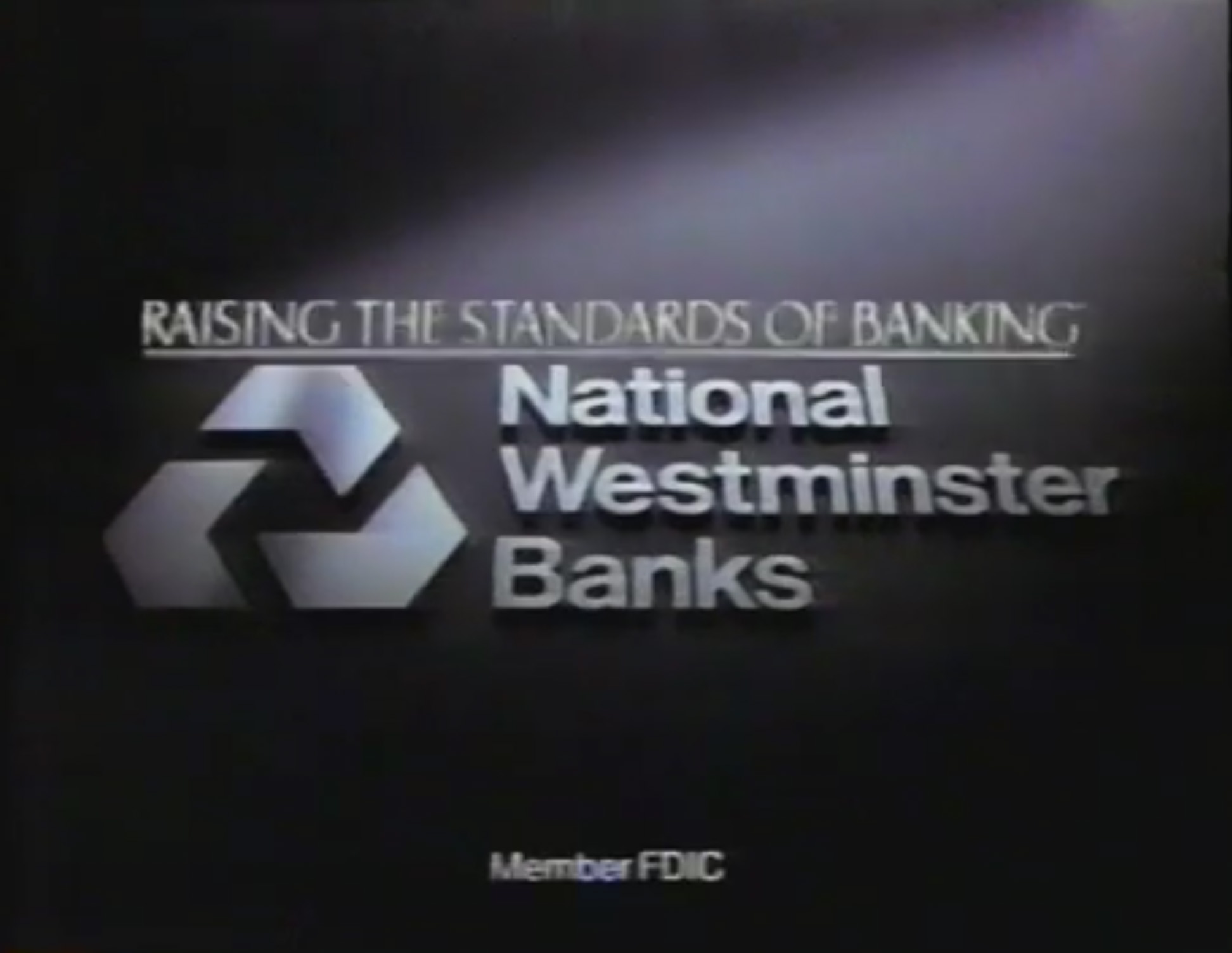 Catch the NY Islanders as they face the Edmonton Oilers on Wednesday. This must have been a rebroadcast because the Isles played the Oilers on 3/13 and lost 2-1.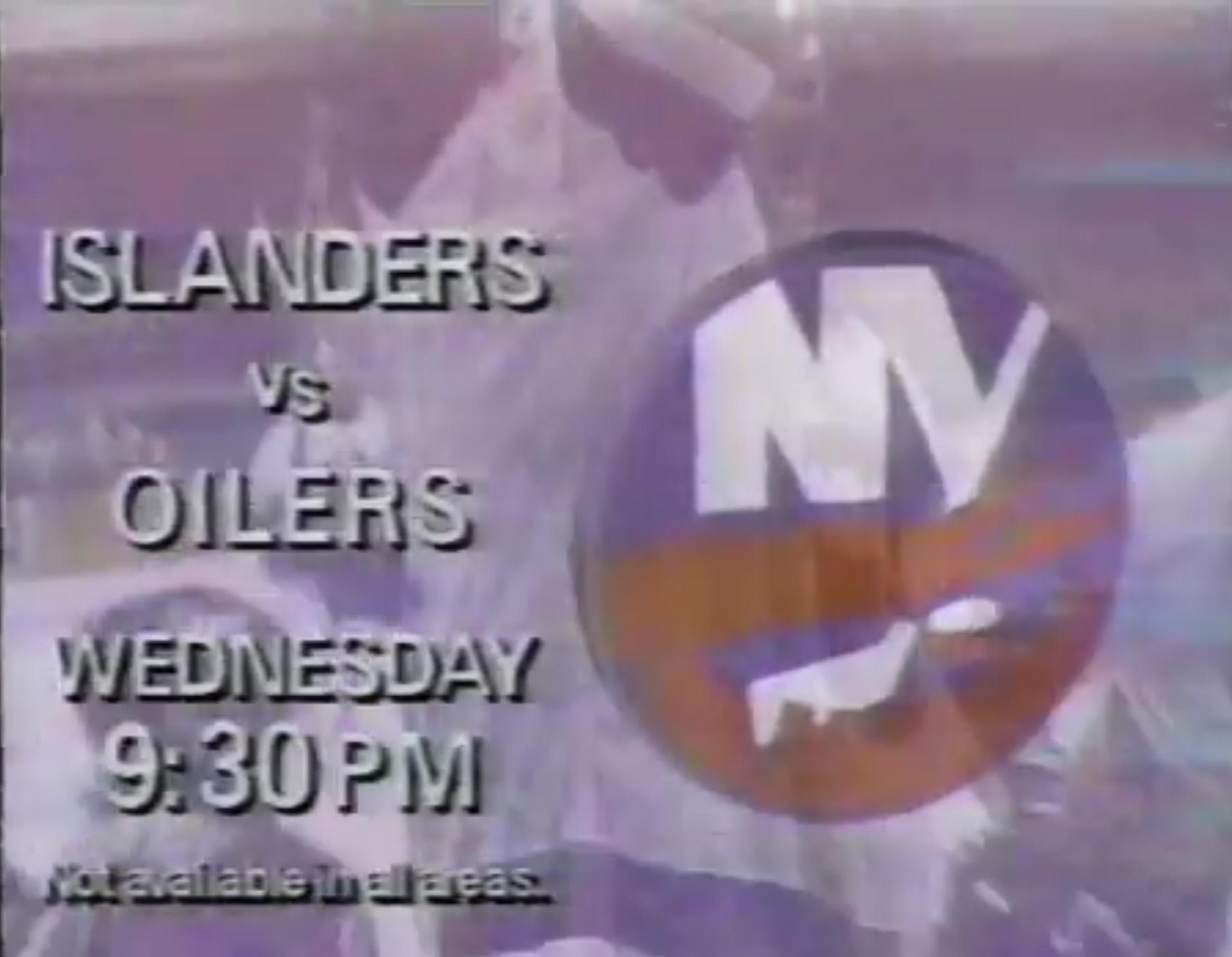 Match 2: Wet'n'Wild versus the Power Twins (w/ Rick Golden)
Highlights:
Oh, Lord. Abrams made his new babyface team sound like a water amusement park, and DeGeorge echoed my sentiment. Somewhere Shane Douglas is smiling.
In case you're curious, the Power Twins (Larry & David Sontag) made their entrance to the Scorpions' "Rock You Like A Hurricane."
Wild Thing tagged in, mounted the top turnbuckle, and lowered the boom on, let's say, Larry.
As Beach tagged in, the babyfaces double-clotheslined Larry.
Beach hooked an abdominal stretch, and Wild Thing distracted referee Dick Kroll.
Meanwhile, David crept into the ring to ambush Beach. SNEAKY!
Larry then leapfrogged Beach but ate a dropkick.
With Kroll was distracted in the babyface corner again, the Power Twins illegally switched.
Regardless, Beach hip-tossed David and illegally switched with Wild Thing while Golden distracted Kroll.
The babyfaces reverted to Beach, and Kroll should forfeit his pay for this match due to incompetence.
When Wild Thing tagged in, he mounted the second turnbuckle and lowered the boom upon David.
Larry tagged in, and the Power Twins double-clotheslined Wild Thing.
After Larry delivered a sidewalk slam, he got 2.
The Power Twins illegally switched again, and they double-backdropped Wild Thing.
While the Power Twins double-clotheslined Wild Thing again, Larry distracted Kroll.
That led to a false tag, and the Power Twins double-suplexed Wild Thing for 2.
As Larry tagged in, the Power Twins unleashed a double flapjack to Wild Thing.
David came in illegally, and Larry distracted Kroll again.
When another false tag occurred, the Power Twins provided Wild Thing with a double boot to the midsection.
David missed a clothesline, but Wild Thing didn't.
Hot tag Beach.
After he dropkicked David, Beach gave Larry a cross corner whip followed by a back drop for 2.
He then hooked a backslide for another 2.
While he secured an O'Connor roll, Beach only got 2 thanks to a save by David.
Wild Thing distracted Kroll yet again, and Golden got up on the apron.
With all four wrestlers in the ring, the bell rang.
Surprisingly, Wet'n'Wild won by DQ at 9:05.
Rating: ***
Summary: Shockingly, the Power Twins were a formidable tag team with decent synchronicity as they carried Wet'n'Wild to a strong match. Without question, the amount of distraction to Kroll got out of hand quickly.
After the match, Herb Abrams interviews Wet'n'Wild.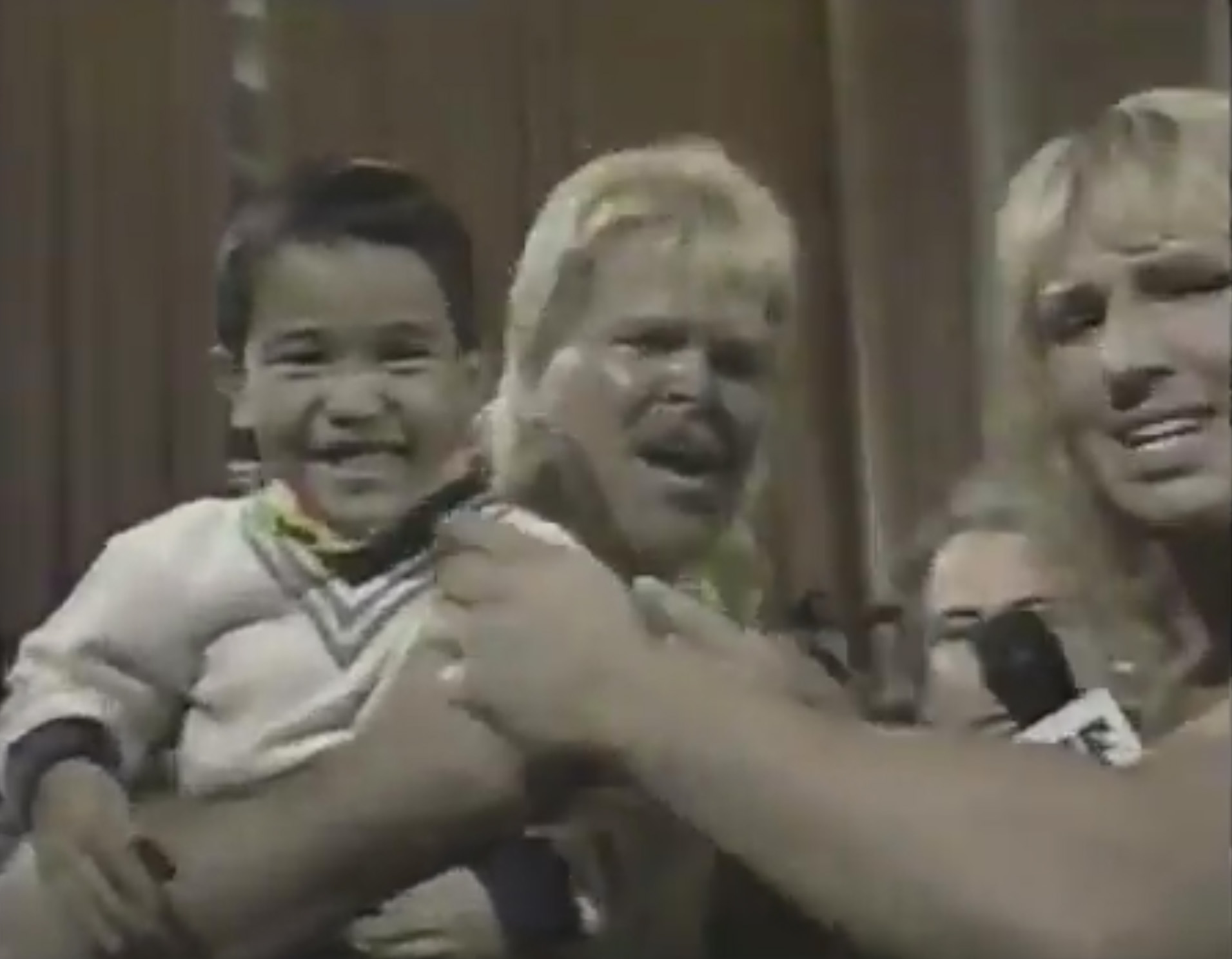 Get Bruno's book!
Orndorff shills Super Arm Blaster.
Subscribe to Golf Digest today!
Call Captain Lou NOW!
CAPTAIN LOU'S CORNER: Albano interviews Cactus Jack who wants to amaze folks every night. As such, it becomes his forte as his career progresses.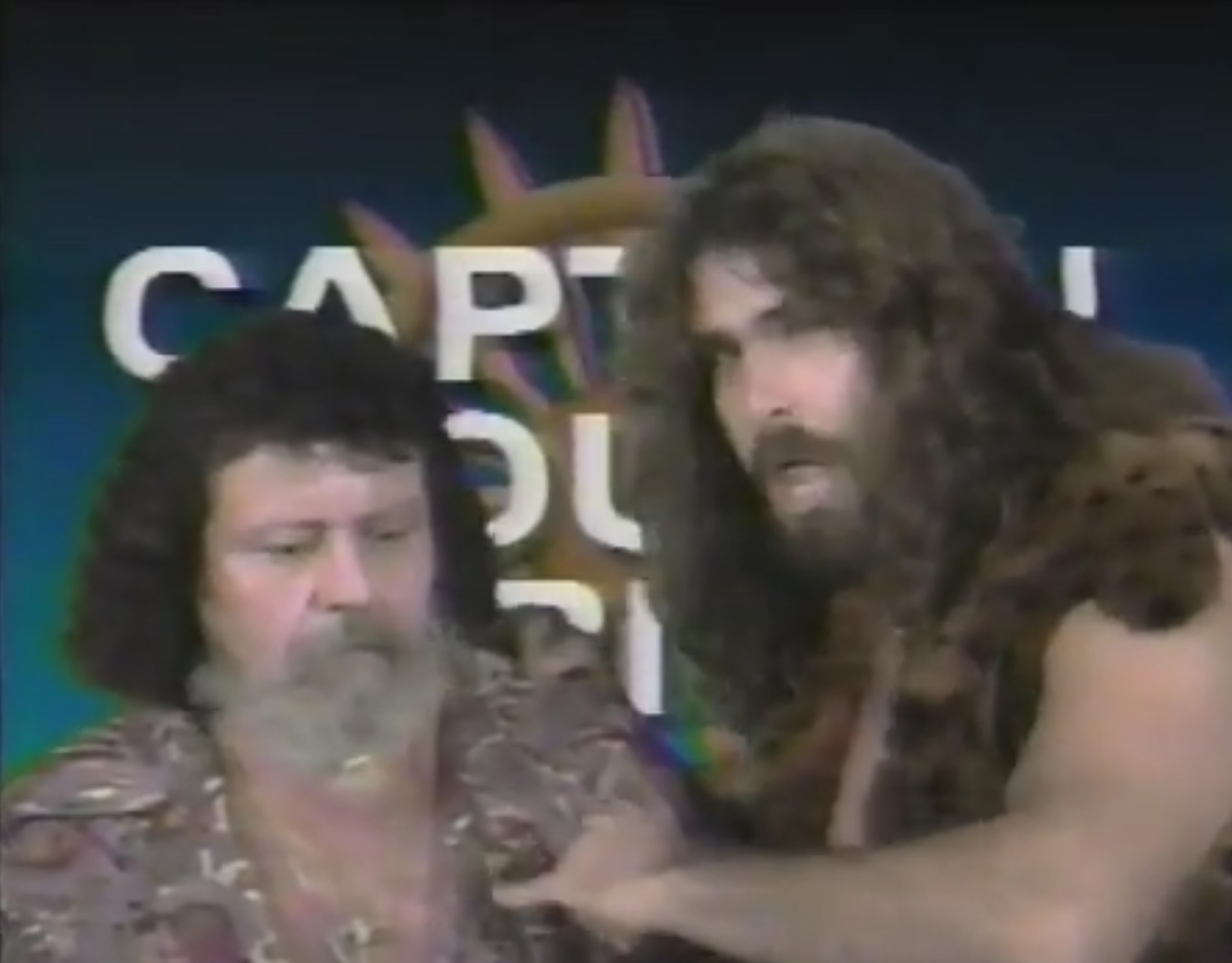 Plug #2 airs for the UWF PowerLine!
Get your "Support Our Troops" t-shirt NOW!
Your FREE Muhammed Ali video is waiting for you when you subscribe to Sports Illustrated.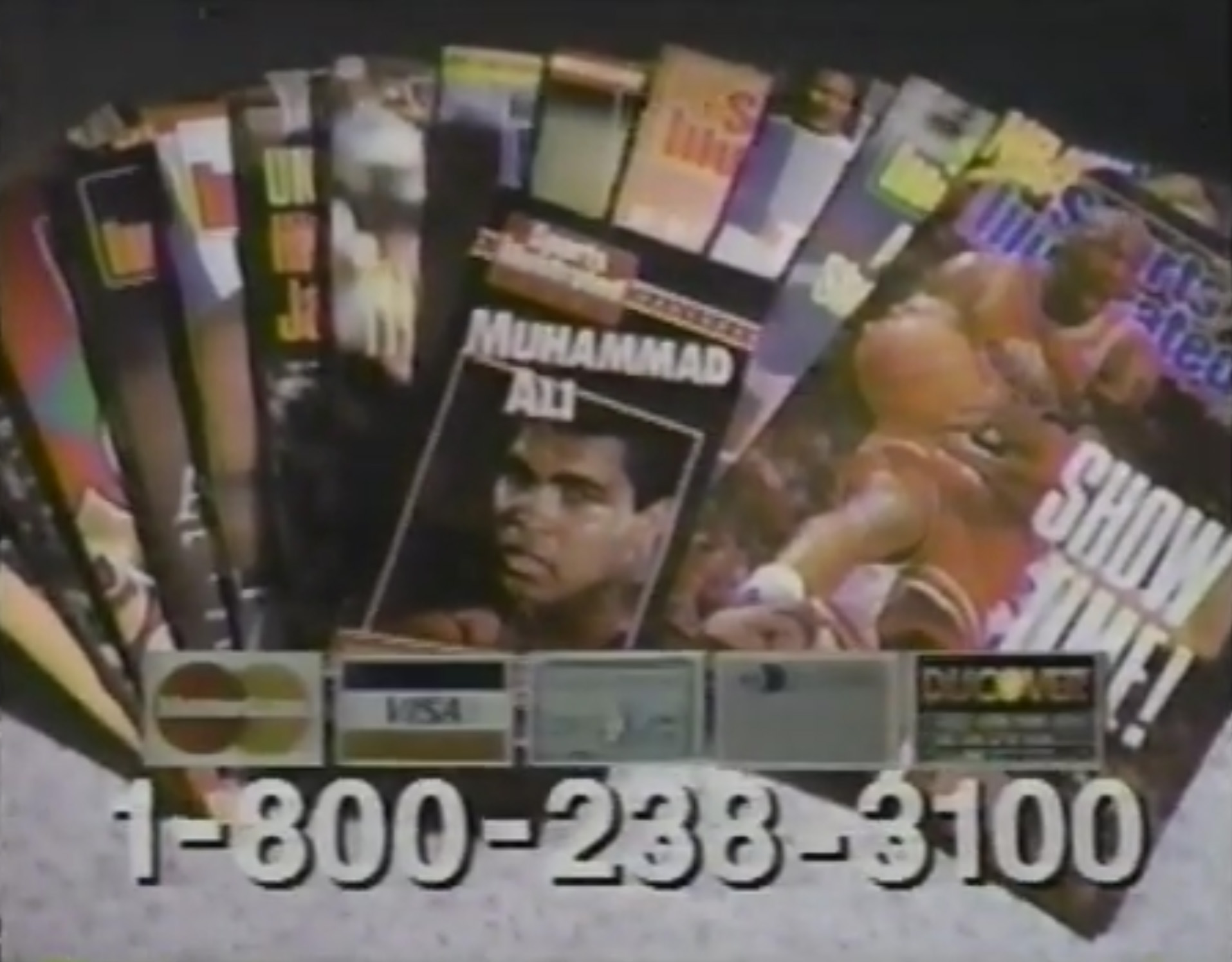 Plug #2 airs for the UWF LIVE in Florida.
Match 3: B. Brian Blair (w/ Capt. Lou Albano) versus "Cowboy" Bob Orton (w/ John Tolos)
Highlights:
DeGeorge explained Honey's absence as continued effects from Orton's head butt two months ago. That's quite the concussion!
When Orton delivered a Samoan drop, he got 2.
In the meantime, Albano kept Tolos in check.
Sorry, Chester, but go ahead and ask Herb for your check.
During a commercial break, a plug for the UWF catalog aired.
Also, plug #2 for the "Support Our Troops" t-shirt returned to bite us.
Not to be outdone, your Craftmatic II adjustable bed is waiting. Call NOW!
Following said commercial break, Orton landed a back elbow.
Blair then gave Orton a cross corner whip resulting in an Orton flip.
As he slammed Orton, Blair hooked a Sharpshooter.
Tolos jumped in the ring and tried to remove his loafer.
After Albano also jumped into the ring, he pursued Tolos down to the floor.
A mid-ring collision led to a ref bump, and Blair hooked an O'Connor roll for a false pin.
While referee Tom Fornini was OUT COLD, Albano chased Tolos back to the locker room.
In the interim, Orton used momentum to send Blair down to the floor.
He then mounted the second turnbuckle, leaped, but ate a shot to the midsection.
When Blair tried to ram him into the ring post, Orton countered by making him HIT THE POLE.
He then piledrove Blair on the floor.
GET OUT THE SPATULA!
As Orton revived Fornini, Wild Thing interrupted the count.
He then brought Blair to his feet, and Fornini awarded him the match by DQ at 13:55.
Rating: **
Summary: Not the blowoff main event that I was expecting. Yet again, the heel did not lose via pinfall. I believe the only heel to lay down in UWF history has been Colonel DeBeers.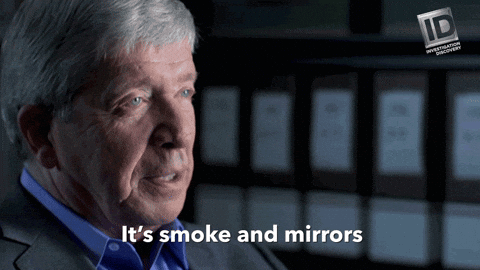 Get your copy of Champions Forever on VHS today!
Orndorff shills Dynamic Muscle Builder.
Conclusion: OK, so the double main event resulted in a couple of schmozzes. While I realize that Herb's organization is considered independent, he should have instructed Blair to book clean finishes. If the UWF faithful catches on, they'll stop spending their hard-earned dough on Herb's baby.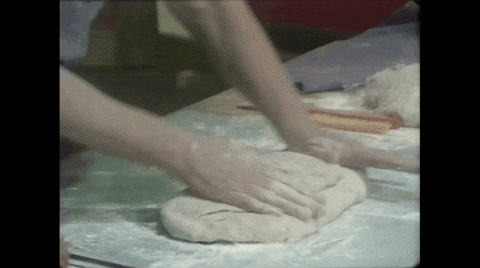 Next week, the lumberjack match! Let's hope they don't screw up a gimmick match.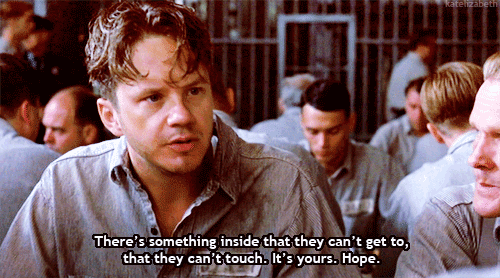 TV Rating: NONE
Stay tuned for UWF 03-11-91!
Comments? Suggestions? Send them to me at rsg@rockstargary.com and follow me on Twitter (@rockstargary202).
Custom Search