WELCOME TO ROCK STAR GARY REFLECTIONS!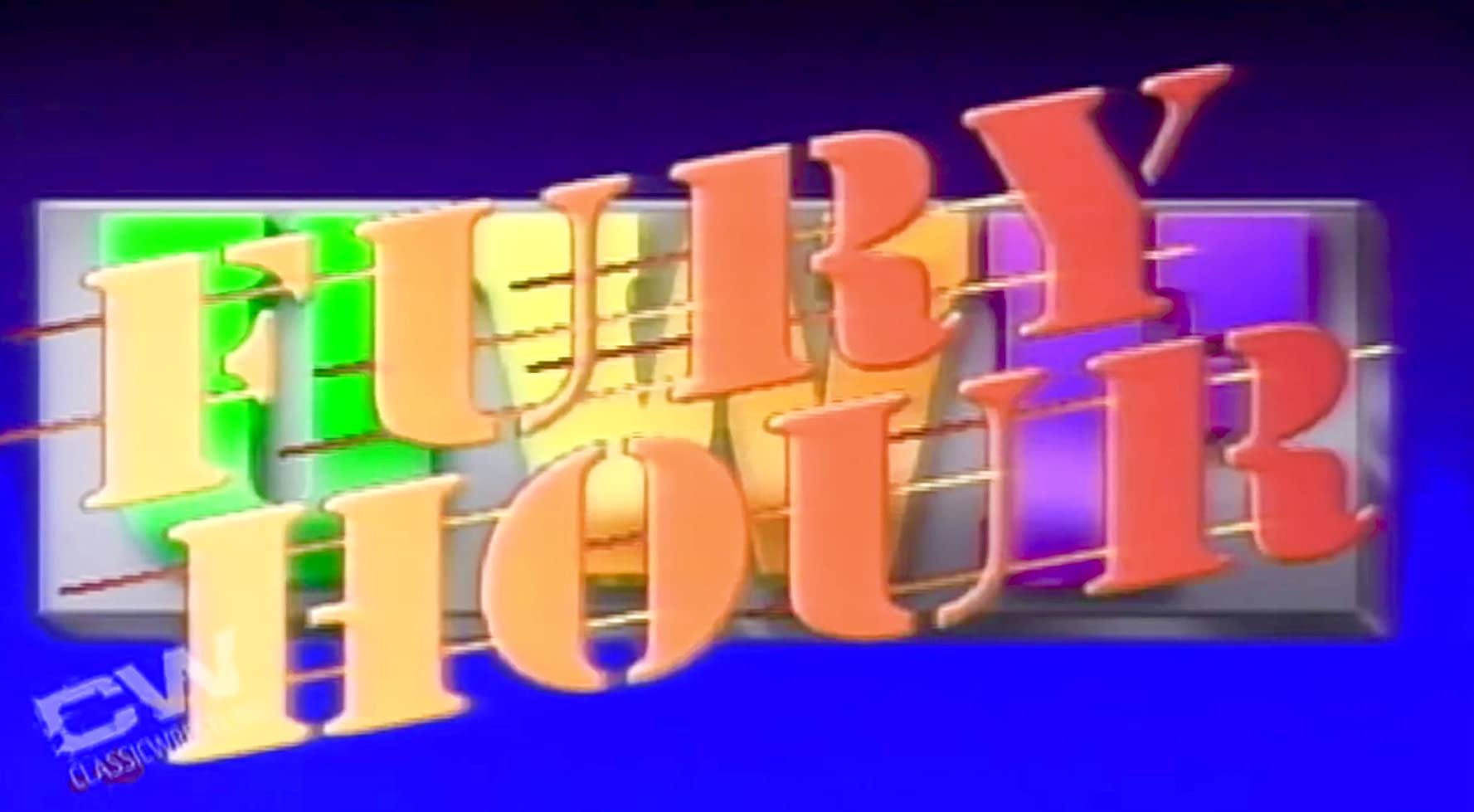 UWF Fury Hour 01-21-91
Taped from New York, NY
Airdate: January 21, 1990 (taped 01/09)
Attendance: 900
Hosted by Craig DeGeorge and Bruno Sammartino
Will Parsons get revenge for Sampson's sake against DeBeers? How can Cactus light up Manhattan and the Penta Hotel? And who's that guy wrestling against Williams? He's quite extreme. Let's find out!
After Herb Abrams narrates the ongoing racial saga between Parsons and DeBeers, Parsons cuts a promo on DeBeers.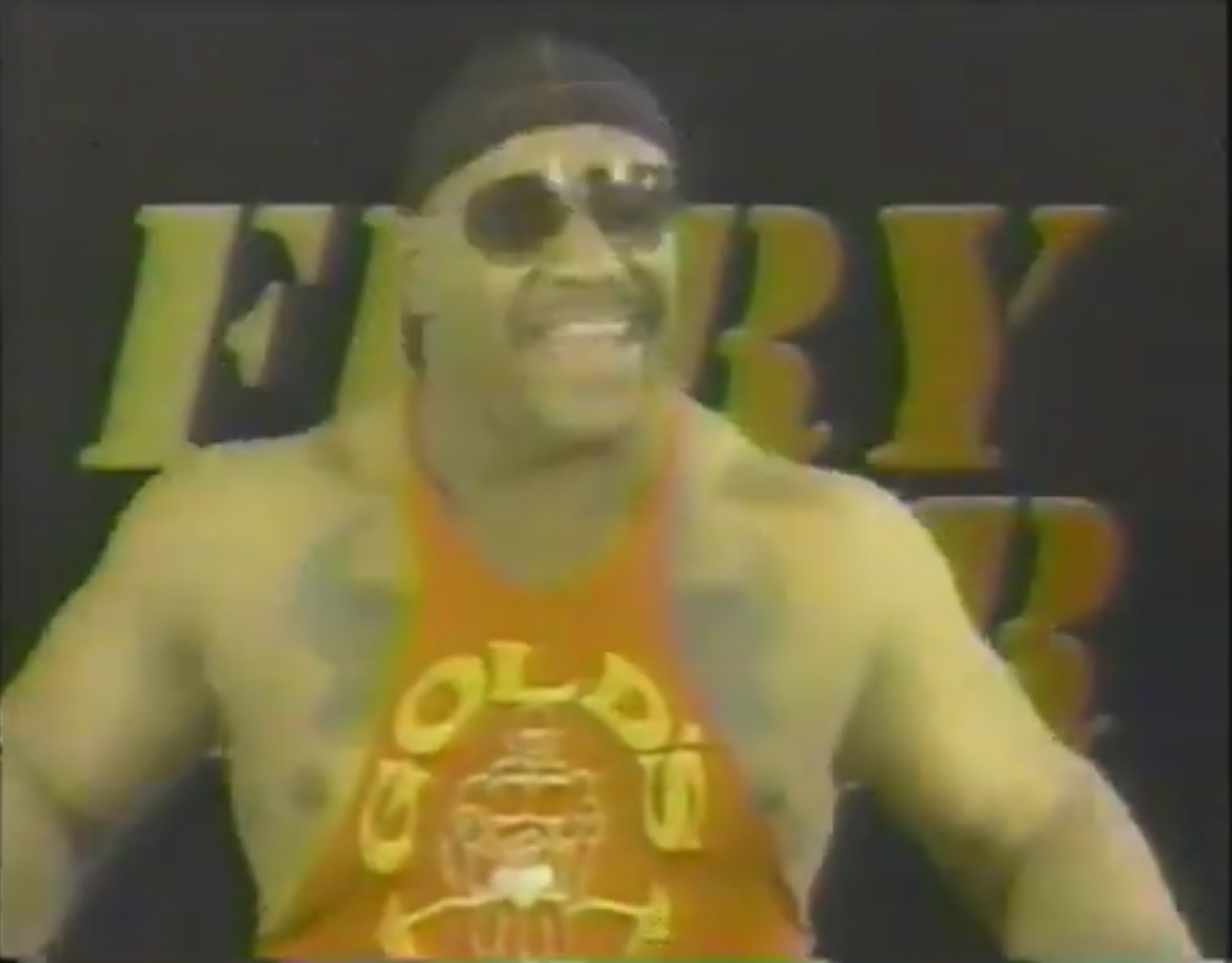 Opening montage.
Bruno shills the UWF PowerLine.
Match 1: "Cowboy" Bob Orton (w/ John Tolos) versus Sonny Blaze
Highlights:
Blaze reversed a cross corner whip and followed with a series of kicks to the midsection.
When Orton rebounded by ramming Blaze face-first into the mat, he tossed Blaze down to the floor.
Orton then distracted the anonymous referee so that Tolos could ram Blaze face-first into the apron repeatedly. How dastardly!
As Blaze returned to the apron, Orton implemented a double underhook suplex to return him to the ring.
To incite the crowd, Tolos blew his whistle. And we wonder how he became a Coach.
Orton then mounted the second turnbuckle and jammed his knee into Blaze's face down to the mat. OUCH!
After he powerslammed Blaze, Orton intentionally put Blaze's leg on the bottom rope to continue the punishment.
He then pummeled Blaze, hoisted him atop the top turnbuckle, and launched a superplex.
1-2-3.
Orton won at 4:03.
Rating: ½*
Summary: Showcase match for Orton.
After the match, Orton demolishes Blaze and almost sends him onto Bruno's lap at ringside.
Get Champions Forever now on VHS!
Watch Notre Dame basketball as they face Rutgers on Tuesday. Unfortunately, they lost 62-52.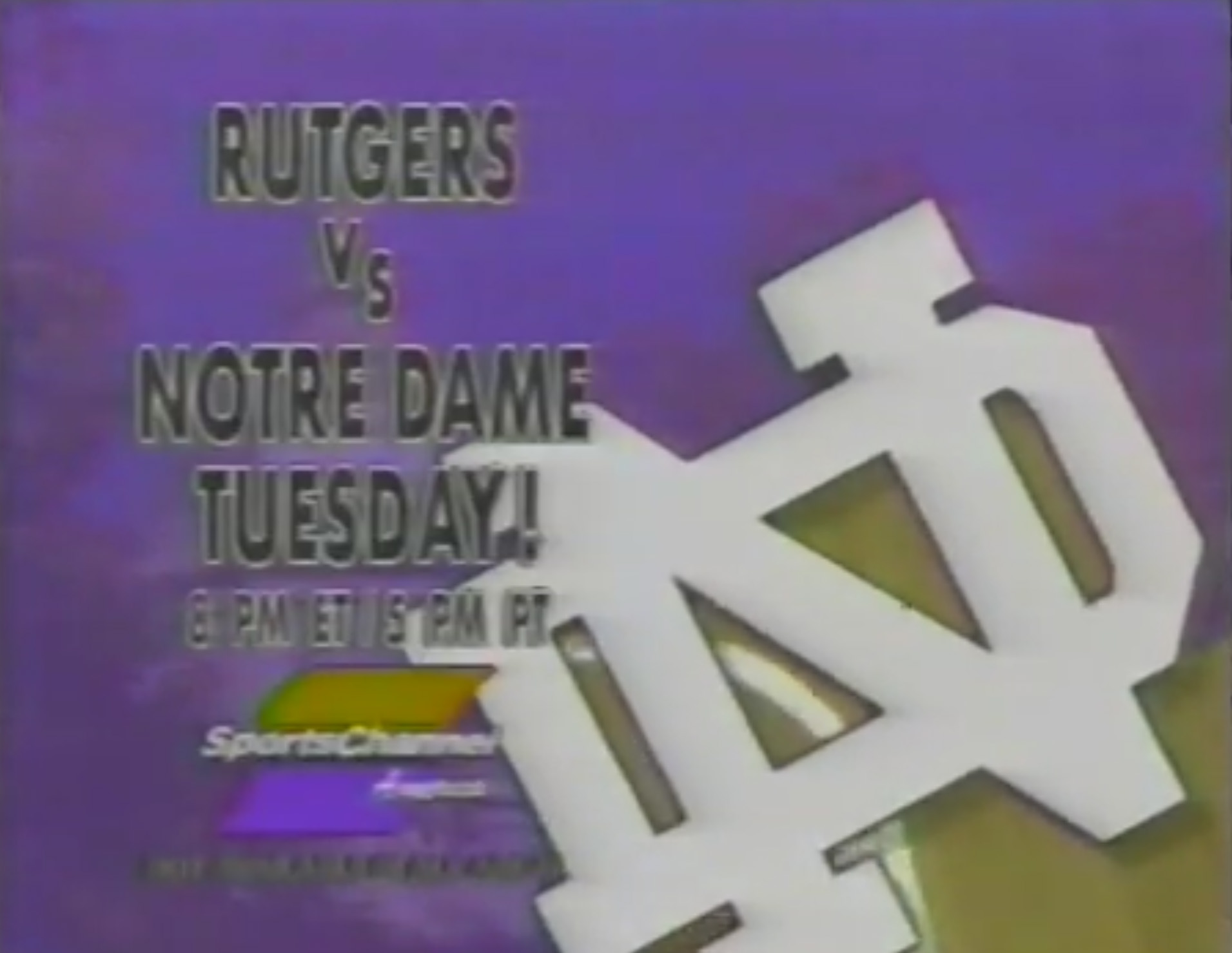 Join Players Club International NOW! Don't make Kojak hunt you down!
Don't miss Olympic Showcase on SportsChannel!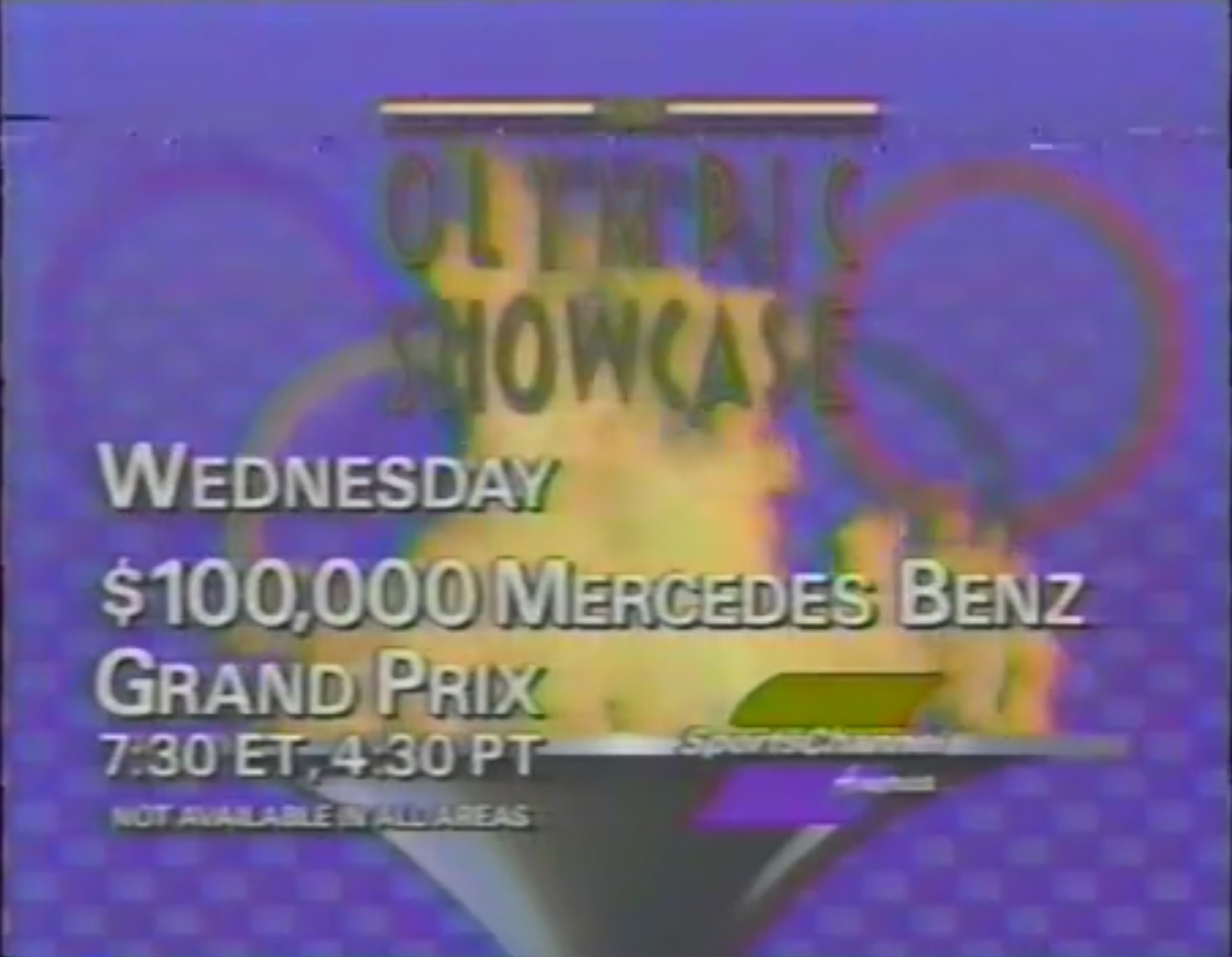 Join the UWF at the Penta Hotel for Rumble in the Big Apple II on 2/9.
Match 2: "Mr. Wonderful" Paul Orndorff versus Chris Michaels
Highlights:
Orndorff tossed Michaels over the top rope to the apron before suplexing back into the ring.
As he clotheslined Michaels, Orndorff rammed him face-first into the mat.
Michaels then reversed a cross corner whip but ate knee on his follow-through.
When Orndorff delivered an elbow smash, he dropkicked Michaels.
He then nailed Michaels in the midsection and piledrove him.
After he pinned Michaels, Orndorff won at 2:22.
Rating: ½*
Summary: Showcase match for Orndorff whom the NYC faithful still adore.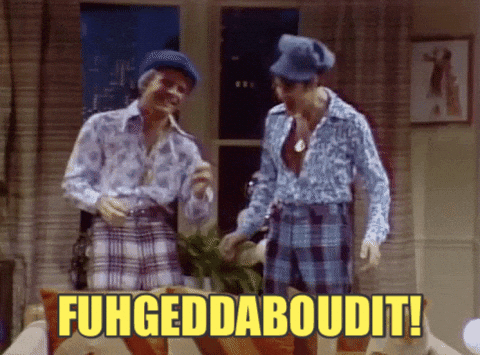 Orndorff shills the Super Arm Blaster.
Visit the Royce Hotel in Queens. If their bill doesn't empty your wallet, you'll get pickpocketed for it.
Ad for Midnight Express Limo airs.
Abrams and Bruno shill Bruno's book. Get yours today!
Match 3: "Dr. Death" Steve Williams versus Mike Durham
Highlights:
Before he became Johnny Grunge, Durham spent time as enhancement talent in the WWF circa 1990.
Williams delivered a short-arm clothesline and followed with a running guillotine.
When he military-press-slammed Durham, Williams hooked an abdominal stretch.
Durham escaped by grabbing the top rope and gave Williams a cross corner whip.
Unfortunately for Durham, Williams exploded from the corner and clotheslined him.
Williams then finished him with the Oklahoma Stampede at 3:26.
Rating: DUD
Summary: Showcase match for Williams.
Speaking of Williams, he cuts a promo on Orndorff.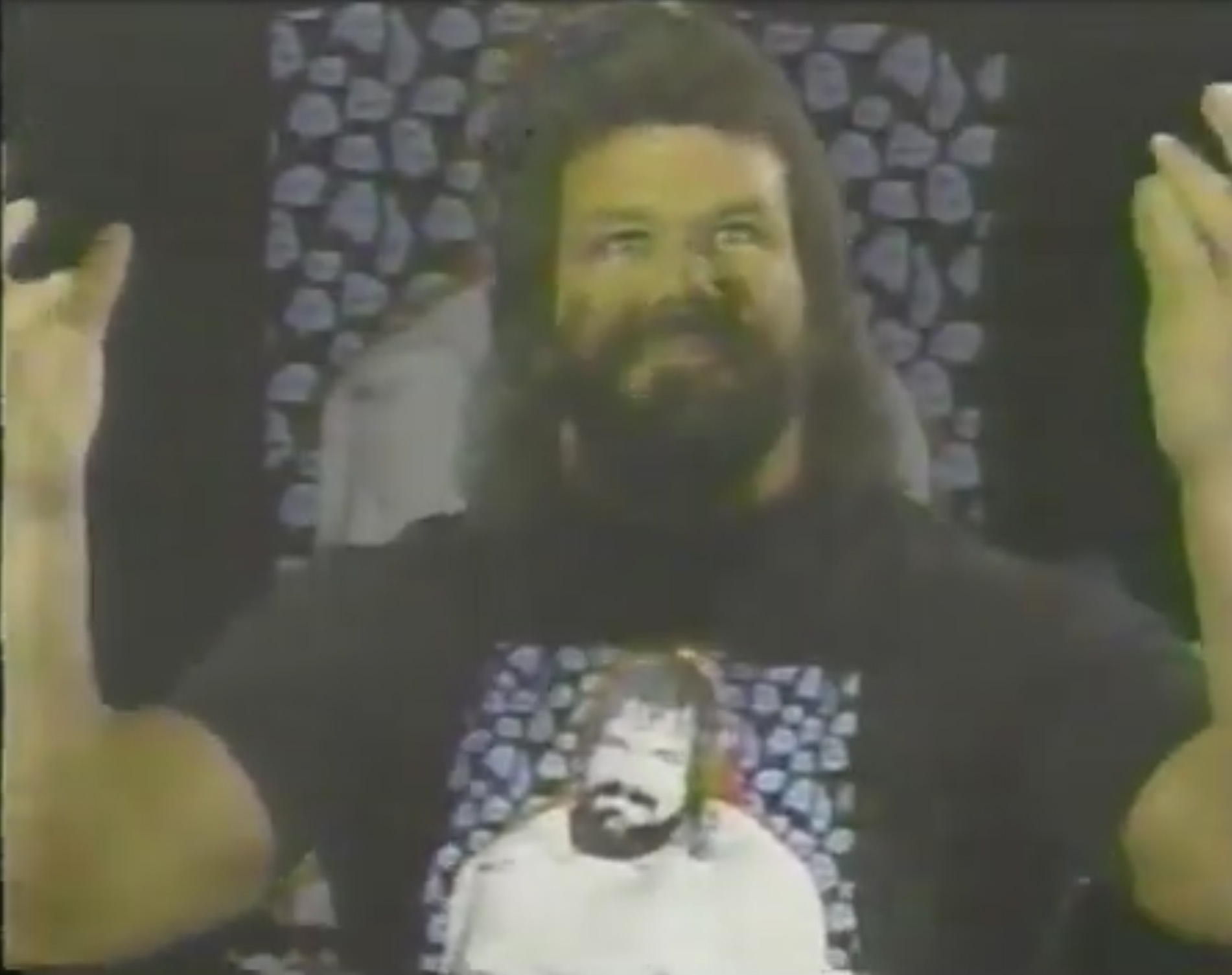 Orndorff responds.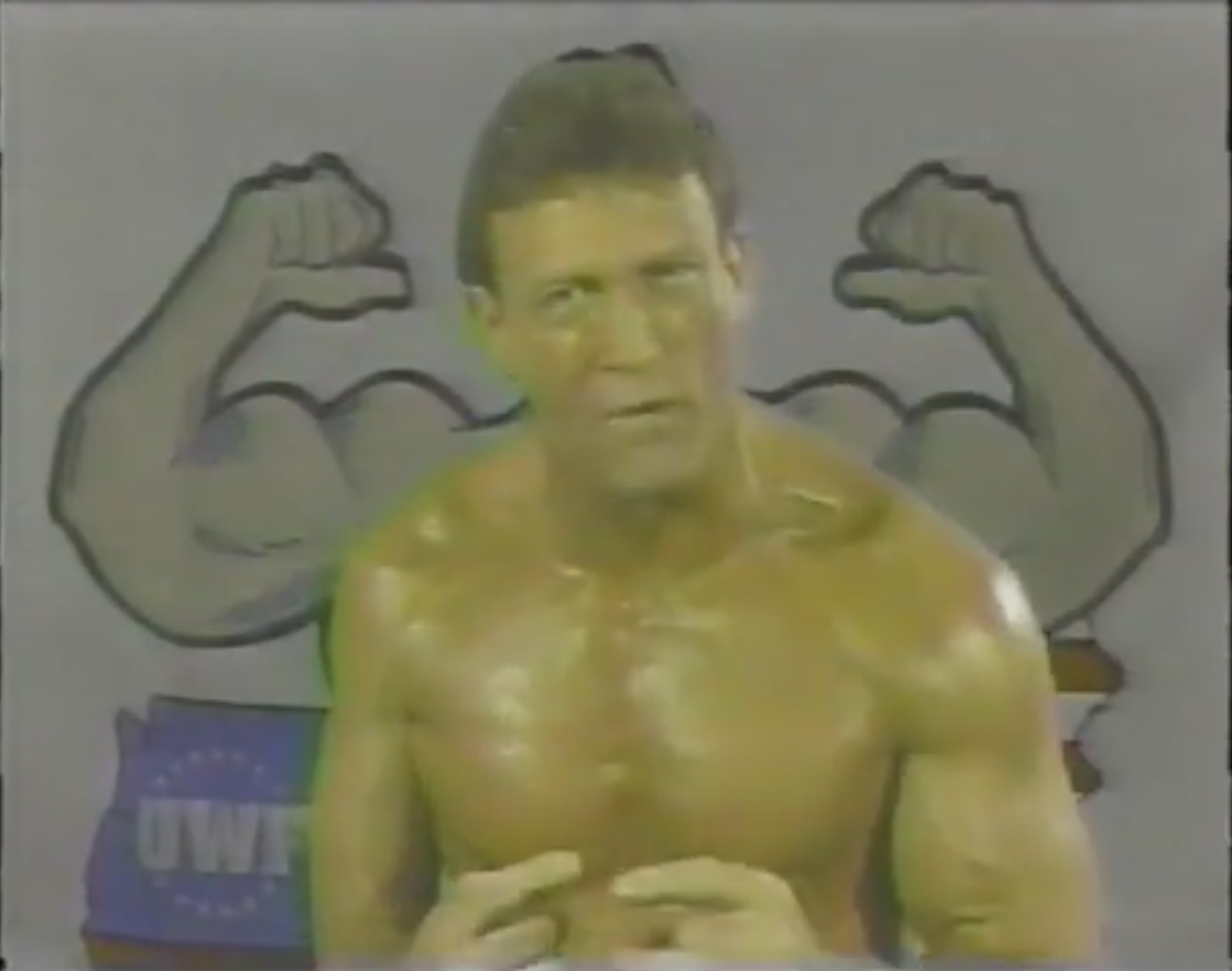 Ad for the Penta Hotel airs.
An entirely NEW ad for UWF merchandise airs. Get some today!
Buy RCA at a local retailer near you!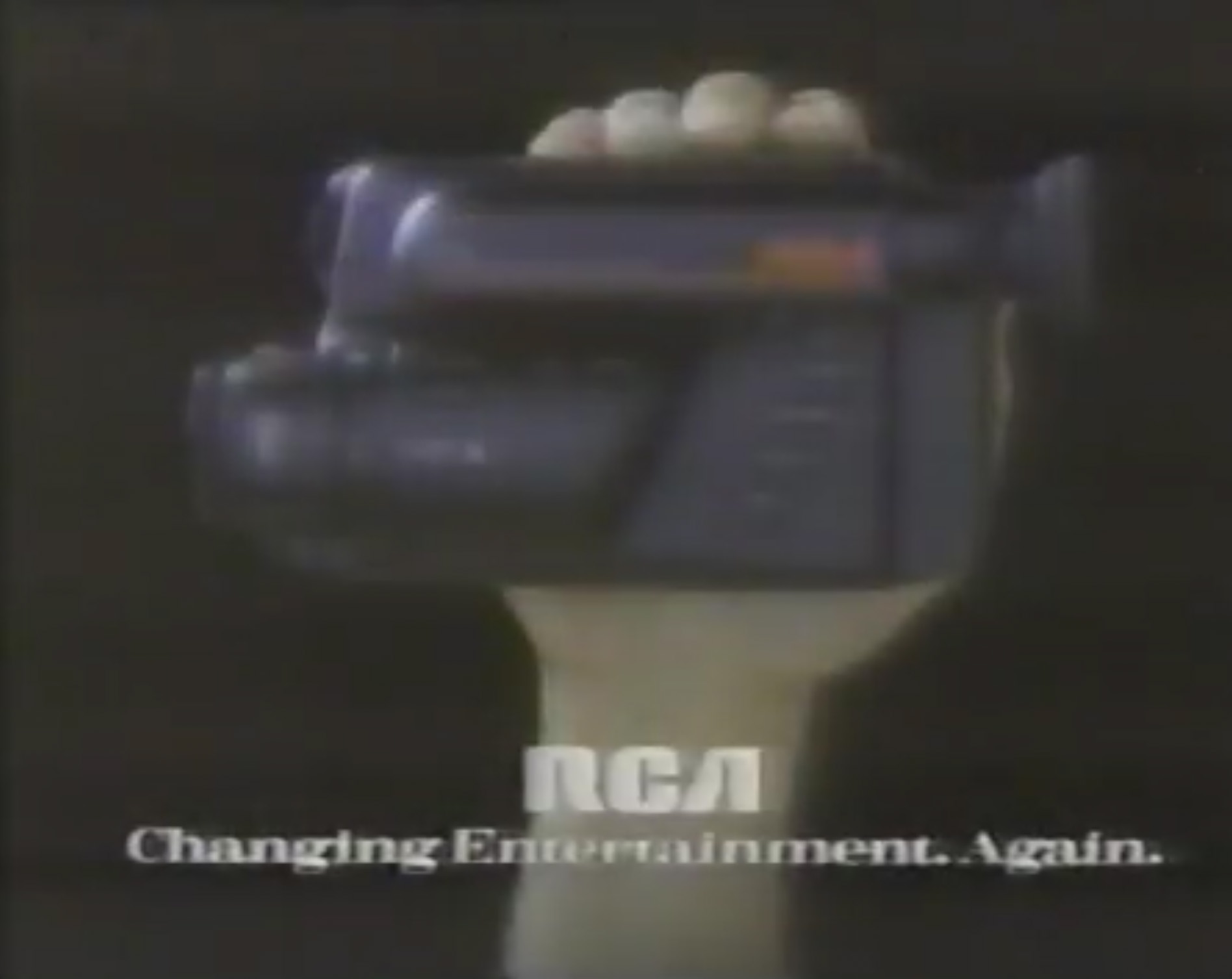 Watch the battle of New York hockey as the Rangers and Islanders face off on Tuesday. For those on the Island, you should celebrate as the Islanders took down the Rangers 3-2.
Ad #2 for the UWF Powerline airs.
CAPTAIN LOU'S CORNER: Albano interviews Parsons who cuts another promo on DeBeers.
UWF BOX OFFICE: Catch the UWF on 2/9 LIVE at the Penta Hotel!
Orndorff shills Dynamic Muscle Builder.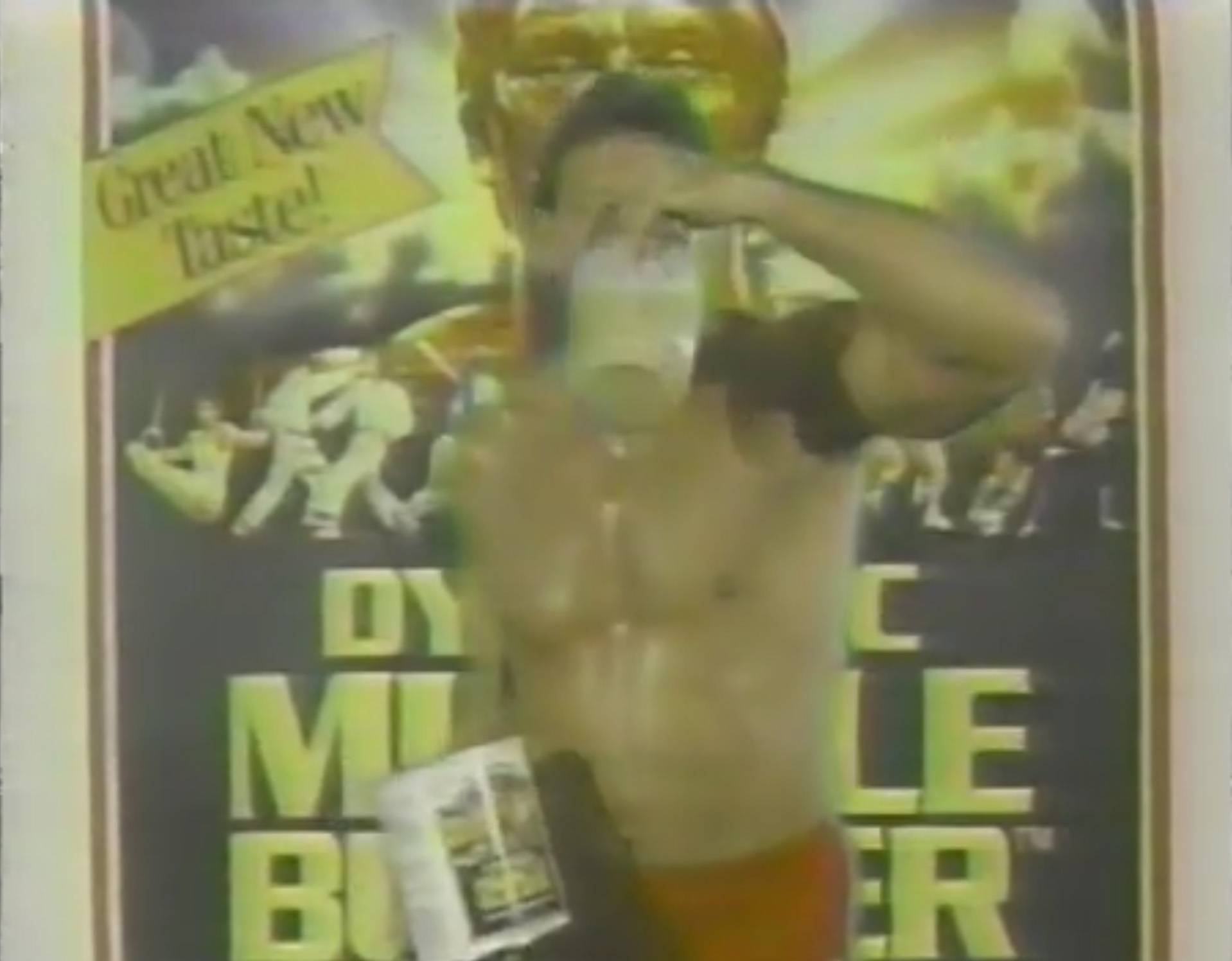 Get your Miracle Eraser NOW!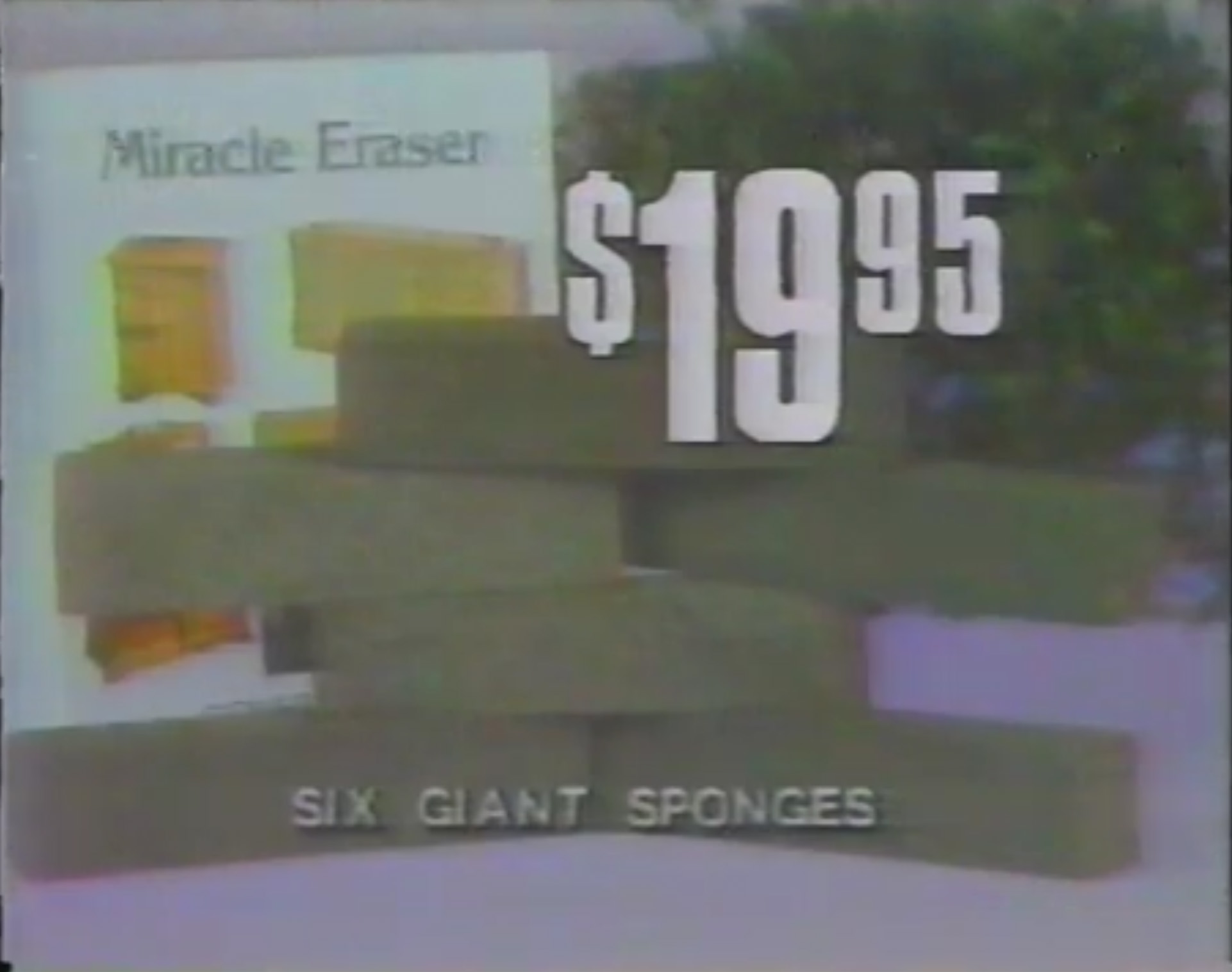 Kowalski shills the UWF again this week.
ASK THE WRESTLERS: An absurd letter regarding Orndorff: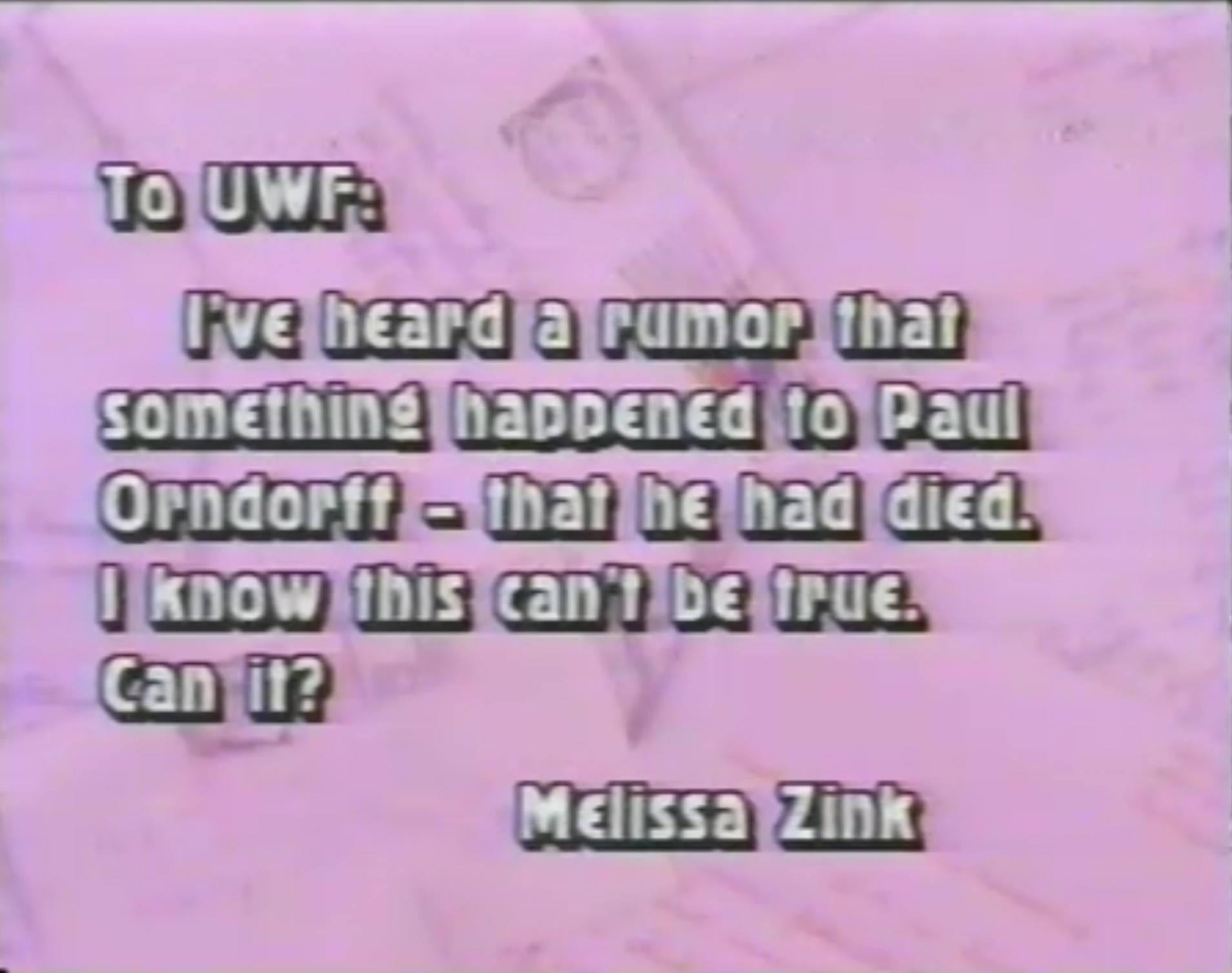 A very much alive Orndorff kindly responds.
Match 4: Cactus Jack versus Mike Williams
Highlights:
Williams attacked Cactus before the bell, gave him a cross corner whip, but ate a back elbow on his follow-through.
As Cactus clotheslined him, he hammered Williams down to the floor.
Cactus then joined and nailed him with an elbow smash.
When the NYC faithful chanted "Cac-tus," their hero delivered a side-Russian leg sweep for 2.
He then rammed Williams face-first into the mat and followed with a running guillotine.
After Cactus suplexed him, Williams rebounded with a back elbow of his own.
Cactus rebounded with an inverted atomic drop and hit a Cactus clothesline.
While he powerslammed Williams in the VIP section, Cactus mounted the apron and launched a Cactus elbow.
Williams couldn't answer the bell, so Cactus won by countout at 4:40.
Rating: *
Summary: Showcase match for Cactus who absorbed all the love from the NYC faithful.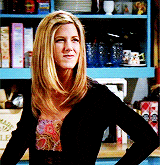 If you served in the military, get Veterans Life Insurance NOW!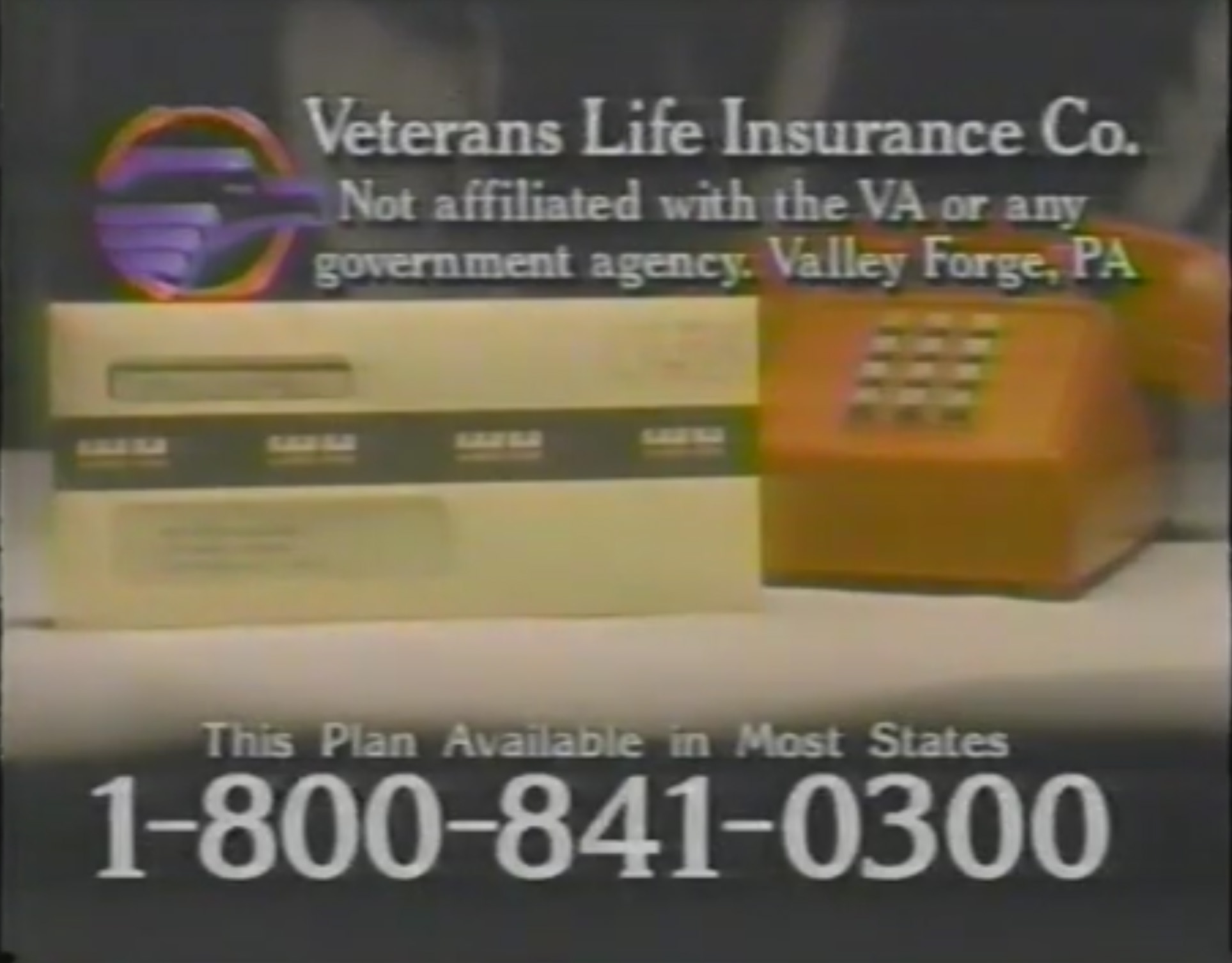 Invest with Charles Schwab today.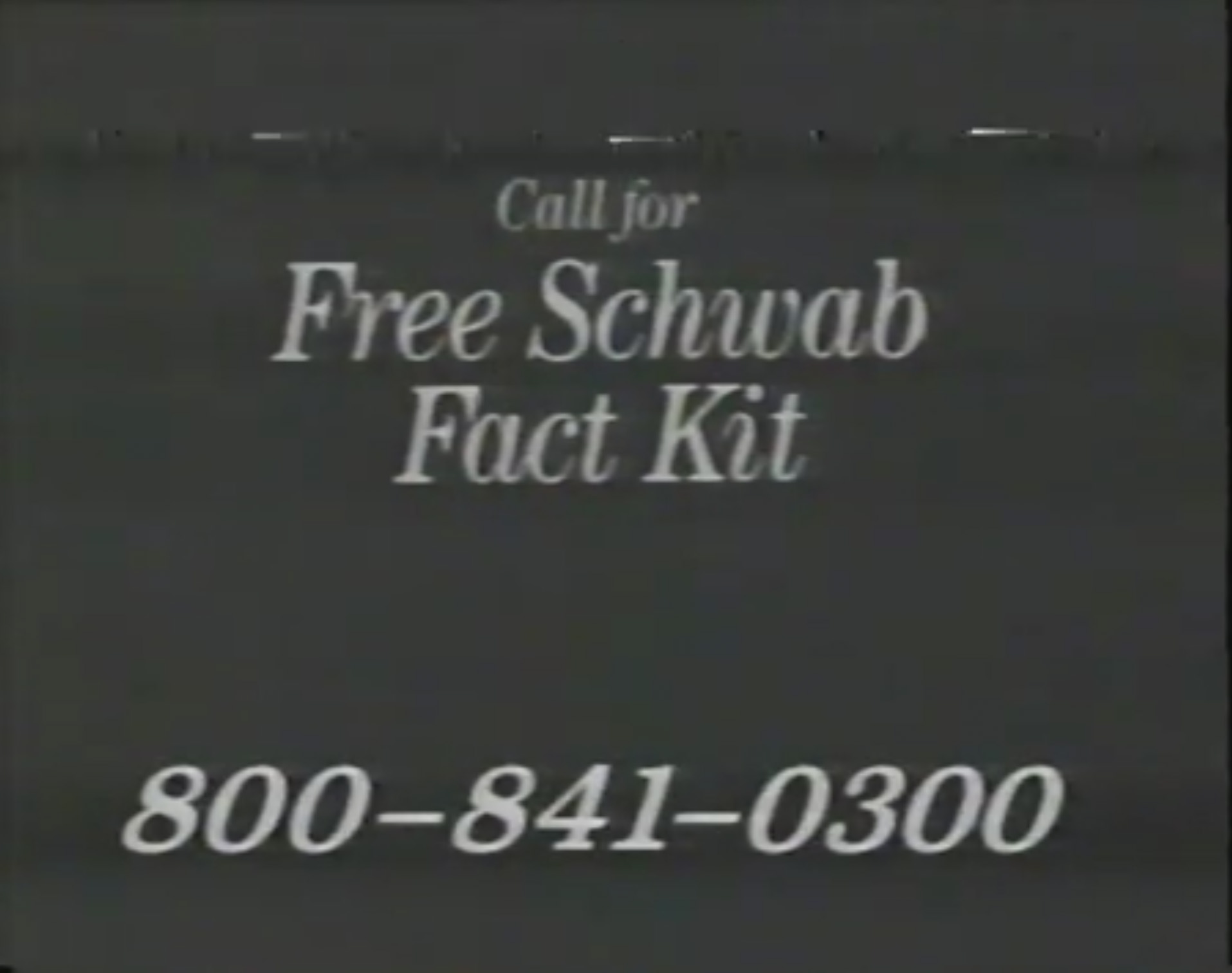 Ad #3 for the UWF PowerLine airs.
Match 5: Colonel DeBeers versus "Iceman" King Parsons
Highlights:
In case you're curious, DeBeers didn't wear his customary eye patch.
DeBeers gave Parsons a cross corner whip and followed with a kick to the midsection.
When Parsons reversed another cross corner whip, he clotheslined DeBeers.
He then leapfrogged DeBeers and followed with another clothesline for 2.
As DeBeers guillotined him with the top rope, he bulldogged Parsons for 2.
DeBeers then placed a knee into Parsons' midsection, but Parsons implemented a series of headbutts to daze him.
After Parsons connected with the butt butt, DeBeers was tied up in the ropes.
Parsons then took liberties with DeBeers and shoved referee Jesse Hernandez away.
While Hernandez freed him, DeBeers vaulted a charging Parsons over the top rope to the floor.
With Parsons on the apron, DeBeers guillotined him with the top rope again.
Parsons made a comeback, attempted to sunset flip back into the ring, but DeBeers evaded him.
When DeBeers attempted a vertical suplex, Parsons countered with an inside cradle.
1-2-3.
Parsons won at 8:16.
Rating: *½
Summary: Although DeBeers sold extremely well, his offense was outdated even for 1991. Parsons did everything he could and came out on top.
After the match, DeBeers ambushes Parsons, grabs his belt, and whips Parsons with it. He then hangs Parsons with the belt and creams Hernandez into 1995. Fortunately for Parsons, Hernandez loosens the belt, so no asphyxiation occurs. Whew! The DeBeers destruction continues until he makes Parsons HIT THE POLE.
Subscribe to Golf Digest today!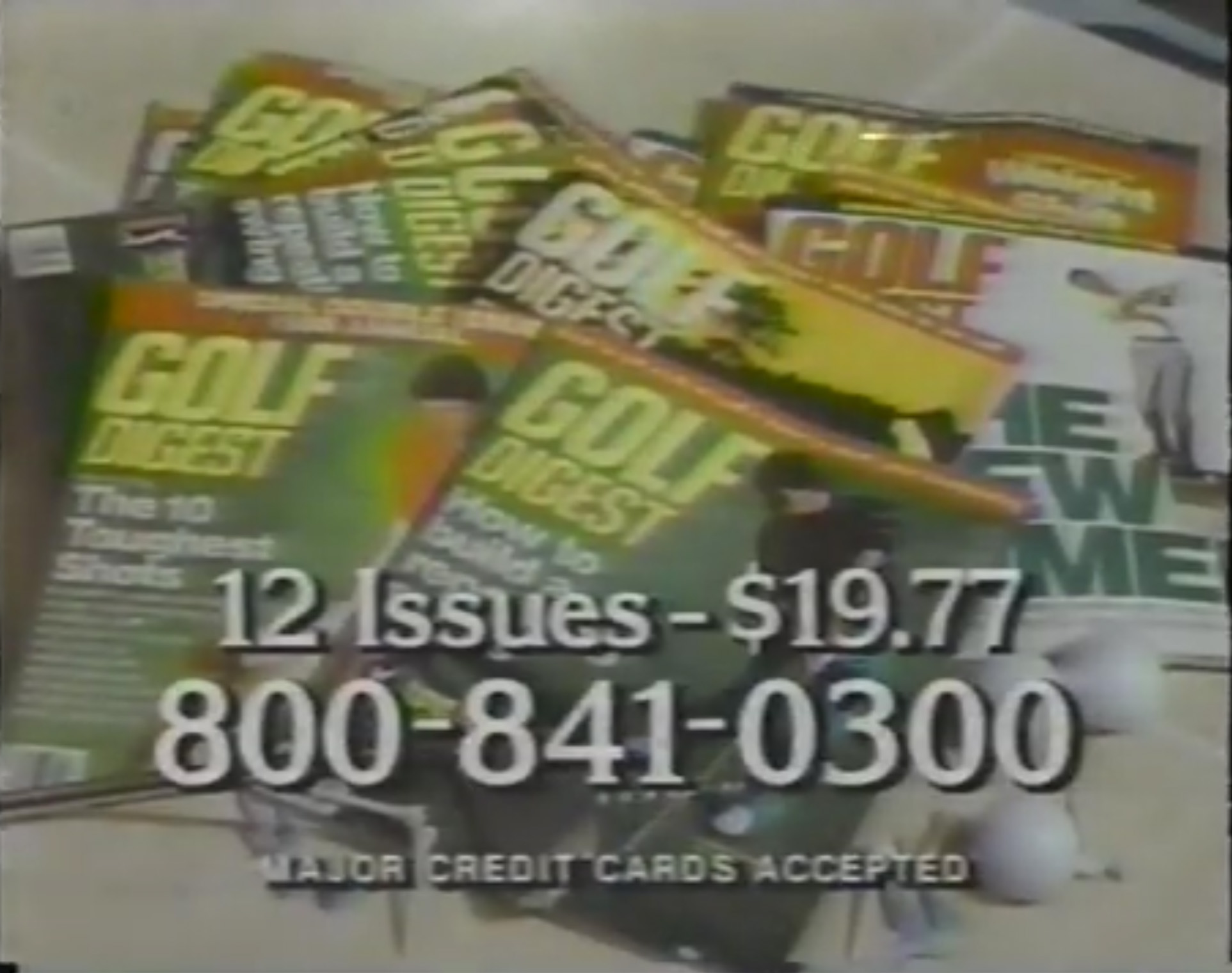 Ad #2 for the Penta Hotel airs.
Promo #2 for UWF merchandise. Get yours TODAY!
Conclusion: Wow! A clean finish in the main event. Will wonders ever cease? This was another solid show for the UWF, and they set the table nicely for next week…
Next week, Orton squares off against Blair. Can you feel the buzz? If not, Orndorff finally gets his chance against Williams.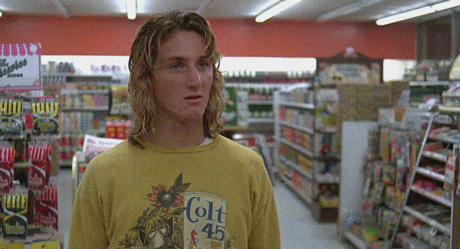 TV Rating: NONE
Stay tuned for UWF 01-28-91!
Comments? Suggestions? Send them to me at rsg@rockstargary.com and follow me on Twitter (@rockstargary202).
Custom Search