WELCOME TO ROCK STAR GARY REFLECTIONS!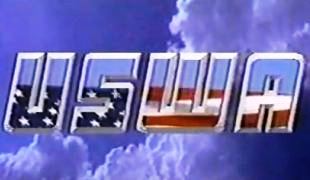 RSG Random Reflection #1: USWA Challenge 5-15-90
Taped from Dallas, TX
Airdate: May 15, 1990
Attendance: unknown
Hosted by Craig Johnson & Percy Pringle III
Who is this Steve Austin guy? Why is he battling Chris Adams? Let's find out!
This reflection is sponsored by Hulu. Thanks, WWE Network!
We open the show with highlights from last week as USWA champion Jerry "The King" Lawler faced Jeff Jarrett. Thanks to "Wide Load" Ronnie Gossett, Jarrett only got a false pin on Lawler. He then stole the chain from Lawler, nailed him with it, and pinned him. However, referee Tony Falk saw the chain and reversed the decision. Leave it to Jarrett to forget to stick the foreign object back into Lawler's tights.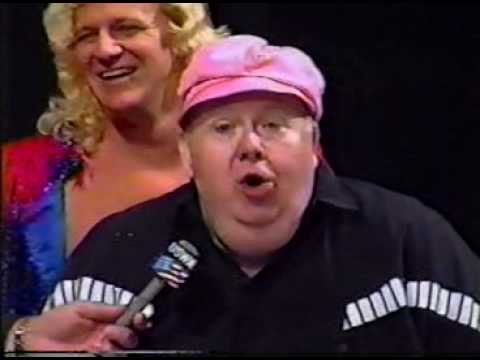 Match 1 for the USWA World tag team titles: The Uptown Posse (champions w/ Reggie B. Fine) versus the Southern Rockers
Highlights:
For those unaware (like myself), the Southern Rockers were portrayed by Rex King (Timothy Well) and Steve Doll. Also, the Uptown Posse featured Brickhouse Brown and Sweet Daddy Falcone. Yes, that's the Steve Doll who wrestled on Nitro when Scott Hall returned to WCW.
As all four wrestlers brawled in the ring, the Southern Rockers delivered stereo DDTs.
Falcone then reversed an Irish whip but ate a clothesline from King.
When Brown entered the ring, KIng clotheslined him too.
Shortly after, King tagged in, and the Southern Rockers gave Falcone a double back elbow.
Doll tagged in, came off the ropes, and lowered the boom on Falcone.
King tagged in, mounted the second turnbuckle, and lowered his own boom on Falcone.
Brown tagged in, mounted the second turnbuckle, and made King taste some of his boom. If I knew there was a plethora of boom in the USWA, I'd have watched it sooner.
Brown then attempted a cross body block, but King evaded him.
King then delivered a DDT to Brown for 2 thanks to a save by Falcone.
then countered a side headlock with a belly-to-back suplex.
King then reversed a cross-corner whip and gave Brown a back drop.
Upon receiving a couple of arm drags, Brown sought refuge outside the ring.
After a commercial break, Doll slammed Brown and gave him a knee drop for 2.
While King tagged in, Doll slammed Brown, and King followed with an elbow drop for another 2.
Falcone tagged in, and the Uptown Posse gave King a double back elbow.
King came back and gave Falcone a vertical suplex followed by an elbow drop for 2.
Doll tagged in as the Southern Rockers double-teamed Falcone before the five-count.
Brown tagged in and gave Doll a pair of swinging neckbreakers. Beware the hangman!
While King distracted referee Tony Falk, the Uptown Posse delivered a double boot to Doll's midsection.
After a slam, Falcone mounted the second turnbuckle but missed a leg drop.
Hot tag King.
All four men were in the ring.
Doll then hooked an inside cradle on Falcone for 2.
Fine then got up on the apron and distracted King.
While Doll hooked a backslide on Falcone, Brown retrieved Fine's cane and HAMMERED King with it. SNEAKY!
1-2-3.
The Uptown Posse retained.
Rating: ***
Summary: Tag formula worked well with these guys, yet I smell an upcoming rematch. In actuality, a rematch occurred on 5/21 in Memphis, TN, and the Southern Rockers regained the World tag team titles.
Match 2: "Stunning" Steve Austin (w/ Jeannie) versus "Gentleman" Chris Adams
Highlights:
To give you some perspective, Austin was a mere 25 years old when this match occurred.
Trying to teach his pupil a thing or two, Adams hit the ring and hit Austin from behind with a bottle of hairspray.
Before Adams could spray it in Austin's eyes, Jeannie pulled Adams off.
Austin then gave Adams a back elbow followed by an elbow drop.
After a slam, Austin tossed Adams down to the concrete floor.
He then joined and rammed Adams face-first into the apron.
Next, he leaped from the apron to deliver a double axe handle to Adams' back.
Afterward, he rammed Adams face-first into the apron again.
Back in the ring, Austin slammed him, mounted the top turnbuckle, but missed a splash.
Adams came back with a superkick to Austin's midsection.
After a back drop, Adams tossed him outside the ring.
He then joined and rammed Austin face-first into a chair.
Adams then grabbed the chair and WALLOPED Austin with it.
He then rammed Austin face-first into the apron. That'll learn 'im!
With Austin on the apron, Adams attempted to suplex him back in, but Jeannie tripped Adams.
1-2-3.
Austin won.
Rating: *
Summary: Good brawl that should have incorporated more wrestling maneuvers.
After the match, Adams delivers a superkick to Austin. As he ties Austin in the ropes, Jeannie blinds Adams with hairspray. Austin then summoned her into the ring so that she can slap the taste out of Adams' mouth. Adams escapes so Austin and Jeannie head for the locker room.
After a commercial break, Marc Lowrance interviews Tatum who runs down Dundee and informs him he'll never get another shot at the Southern title. Also, he'll never get to kiss Tessa again.
Match 3: "Hollywood" John Tatum versus "Frogman" LeBlanc
Highlights:
After a clothesline, Tatum slammed LeBlanc.
As Tatum held LeBlanc in a reverse chinlock, Dundee entered the ring and nailed Tatum with a set of handcuffs.
He then locked Tatum to the top rope with the handcuffs.
Rating: NONE
Afterward, Dundee summons Tessa into the ring and asks Tatum for a title shot. When Tatum declines, Dundee kisses Tessa. When Tatum declines a second time, Dundee gives Tessa a passionate kiss this time. A frustrated Tatum then grants Dundee a title shot so that Dundee won't kiss her anymore.
Match 4 for the USWA Southern title: "Hollywood" John Tatum (champion w/ Tessa) versus "Superstar" Bill Dundee
Highlights:
After a commercial break, Tatum intimidated Tessa. The scoundrel!
Back in the ring, Dundee hooked a rollup for 2.
Shortly after, Tatum delivered a superkick, but Dundee came back with a pair of rights for 2.
They then steamrolled referee Tony Falk.
After Tatum requested Tessa's purse, Dundee tried to grab Tatum but got nailed with the purse.
1-2-3.
Tatum retained.
Rating: DUD
Summary: I don't recall Tatum being this awful of a wrestler, but he stunk up the Sportatorium in this match.
Before the show concludes, Matt Borne makes fun of Chris Von Erich, slaps him, and runs him head-first into the apron twice. OUCH! Immediately, Kerry Von Erich comes out to rescue his little brother. RIP Chris.
Conclusion: Unless you're a die-hard USWA/World Class fan, the only match on this show that holds water is the Austin-Adams match. It's certainly worth a look.
See you next time!
Rating: unknown
Comments? Suggestions? Send them to me at rsg@rockstargary.com and follow me on Twitter (@rockstargary202).
Custom Search