WELCOME TO ROCK STAR GARY REFLECTIONS!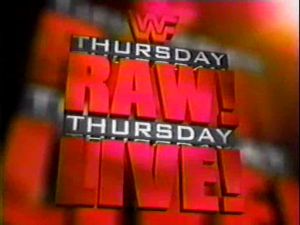 WWF Thursday RAW Thursday
Live from Lowell, MA
Airdate: February 13, 1997
Attendance: 2,347 (sold out)
Hosted by Vince McMahon, Jim Ross, & Jerry "The King" Lawler
Feeling like you lost something? Are you sensing the need to surrender? What is Shawn Michaels talking about? Read on!
Damn, this place is almost as small as the Lost Batallion Hall in Queens, NY. Will any ECW talent appear?
To begin the program, Vince informs us that the WWF title will be declared VACANT. WTF? So, the winner of the Final Four match at the upcoming PPV` will become the new WWF champion.
Opening montage.
Match 1 for the WWF Intercontinental title: Hunter Hearst Helmsley (champion w/o Curtis Hughes) versus Rocky Maivia
Highlights:
Should Helmsley retain the title, he will face Ahmed Johnson at the PPV.
After a hip toss, Helmsley gave Maivia a formal bow.
As some of the Lowell faithful chanted "Rocky sucks," Ross referred to Helmsley as "cerebral."
Upon hip-tossing Helmsley, Maivia delivered a dropkick.
Helmsley then sought refuge outside the ring.
Upon his return, Maivia gave him another dropkick that sent Helmsley over the top rope to the floor.
Maivia then joined and rammed Helmsley face-first into the apron.
As he leaned Helmsley against the ring post, Maivia charged but HIT THE POLE!
Back in the ring, Helmsley delivered a single-arm DDT followed by a knee drop.
After a second single-arm DDT, Helmsley got 2.
During a commercial break, Helmsley gave Maivia a swinging neckbreaker.
Suddenly, Honkytonk Man came to the ring to join the broadcast table.
That didn't distract Helmsley as he gave Maivia a vertical suplex followed by another knee drop for 2.
Next, he delivered a high knee for another 2.
As he applied a sleeper, some of the Lowell faithful chanted "Rock-y."
Upon his escape, Maivia hooked his own sleeper, but Helmsley countered by sending him face-first into the top turnbuckle.
Maivia came back and gave Helmsley a back drop.
As he mounted the top turnbuckle, he hit a flying body press, but Helmsley used momentum to land on top for 2.
After a knee smash, Helmsley hooked a hangman's neckbreaker for another 2.
He then delivered a piledriver but couldn't get a 3-count.
When he placed Maivia atop the top turnbuckle, Helmsley joined and gave him a superplex for yet another 2.
He then attempted the Pedigree, but Maivia slumped down to the mat.
After another formal bow, Helmsley attempted a second vertical suplex, but Maivia was playing possum and hooked an inside cradle.
1-2-3.
UPSET CITY!
WE HAVE A NEW CHAMPION!
Rating: ***
Summary: Surprisingly good and tremendously historic match as Maivia won his first title in the WWF.
After the match, Dok Hendrix interviews Maivia at ringside.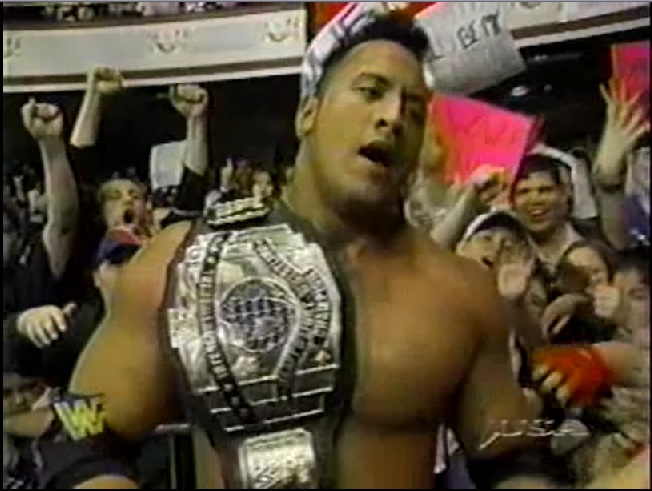 Promo for IYH XIII: Final Four this Sunday on PPV.
The M&Ms slam of the week was the tombstone of Helmsley on the escalator at Penn Station by Undertaker.
Match 2: The Headbangers versus "Sparkplug" Bob Holly & Aldo Montoya
Highlights:
Sunny was the guest ring announcer for this match. Yowza!
After reversing an Irish whip, Holly leap-frogged Mosh and gave him a huracanrana.
Upon clotheslining Mosh, Holly gave the same medicine to the incoming Thrasher.
He then gave Mosh a dropkick and tagged in Montoya.
As Montoya mounted the top turnbuckle, he lowered the boom on Mosh.
Next, he gave Mosh an enziguri and tagged in Holly.
When Mosh reversed an Irish whip, Thrasher put a knee into Holly's back. SNEAKY!
According to Vince, Shawn Michaels' career could be in jeopardy. Uh huh.
As Thrasher tagged in, he mounted the second turnbuckle and clotheslined Holly for 2.
He then guillotined Holly using the top rope.
When Mosh tagged in, the Headbangers gave Holly a double gourdbuster.
As Montoya distracted referee Mike Chioda, the Headbangers double-teamed Holly in the heel corner.
After a knee drop, Thrasher tagged in Mosh.
As Mosh gave Holly a sidewalk slam, he got 2.
Following that, Thrasher gave him a gourdbuster onto Holly.
Shortly after, Thrasher tagged in, mounted the top turnbuckle, but missed a moonsault.
Hot tag Montoya.
After a clothesline, Montoya mounted the top turnbuckle, hit a cross body block, but only got 2.
The Headbangers then gave Montoya the Stage Dive and pinned him.
Rating: *
Summary: Showcase match for the Headbangers.
In the ring with WWF President Gorilla Monsoon, Vince interviews WWF Champion the "Heartbreak Kid" Shawn Michaels. Dressed in street clothes, Michaels speaks humbly as the Lowell faithful chants "We Want Sid." He then states that he can't do this job "half-ass." Instead, he needs to wrestle full throttle. Along with the great ride he's had (TV shows, limousines, and autograph sessions), he's lost his toughness and subsequently hands the WWF title belt to Monsoon. Lastly, he notes that he "lost his smile." While he appreciates the great year he had on top, Michaels is "going to go home now."
RSG's take: While it looked genuine, with twenty years of hindsight, we know that Michaels was FULL OF SHIT. According to WWE: Greatest Rivalries: Shawn Michaels vs. Bret Hart, Michaels went to an orthopedist but not one who normally handled sports medicine. Cautiously, said orthopedist recommended that Shawn curtail wrestling for the sake of his knee. Shortly after this show, Michaels sought a second opinion from Dr. James Andrews who felt that Michaels' knee didn't require surgery.
The rule of thumb in pro wrestling was that if you could step into the ring, you could do the honors and lay down. Although the Sid/Michaels match for this show wasn't supposed to result in a title change, Michaels' running away felt like a breach of trust with the locker room and the fans. After all, he should have faced Bret in a rematch at WrestleMania XIII and lost. The fact remained that he didn't want to do business and conjured an excuse to get out of it. To me, it's insulting, immature, and unnecessary.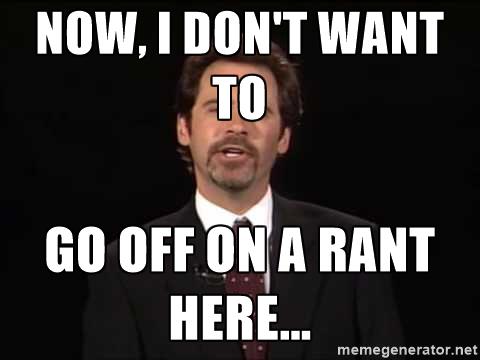 But I digress..
Upon giving both Vince and Monsoon hugs, Michaels leaves the ring and gives the Lowell faithful a victory lap. As Michaels goes backstage, Ross says "Goodbye, Shawn." Will this be the last we see of Michaels in the ring? I'm not even betting a nickel on it.
Match 3: Undertaker versus Savio Vega (w/ the Nation of Domination)
Highlights:
We're joined in progress as Undertaker manhandled Vega.
Upon giving Vega a cross-corner whip, Undertaker ate a back elbow on his follow-through.
When Undertaker reversed an Irish whip, he gave the big boot to Vega.
Next, he gave Vega a leg drop for 2.
After a ropewalk shoulder smash, Undertaker delivered a back drop.
He then tried to prevent Vega from seeking refuge outside the ring, but Vega's trick knee acted up. Where's Michaels' orthopedist when you need him?
Nonetheless, after a clothesline by Undertaker, Vega delivered a pair of leg lariats followed by a spinning heel kick for 2.
Shortly after, Undertaker gave Vega another cross-corner whip but ate a second spinning heel kick for another 2.
While the Lowell faithful chanted "Rest in Peace," Vega gave Undertaker a swinging neckbreaker but couldn't get 3.
We then get an AWKWARD miscommunication spot: Undertaker came off the ropes to deliver a leg drop or a Rocker Dropper but hit Vega in the back rather than the head. Oops.
Regardless, after a clothesline, Undertaker delivered the chokeslam.
1-2-3.
Undertaker won.
Rating: *
Summary: Showcase match for Undertaker, but why job Vega this soon after his heel turn?
After the match, the NoD hits the ring until Ahmed Johnson saves Undertaker. Unfortunately, the numbers catch up to Johnson until Undertaker revives and chokeslams PG-13 simultaneously. Johnson and Undertaker then clear the ring to end the segment.
Vince shills IYH XIII: Final Four sponsored by Western Union.
Prior to the next match, Hendrix interviews Monsoon who implies BULLSHIT by Michaels but is excited to announce that Sid will face the WWF champion on RAW this Monday.
Match 4: Stone Cold Steve Austin versus Sycho Sid
Highlights:
After Austin attacked Sid at the bell, Sid attempted a chokeslam, but Austin nailed him down near New Bedford.
As the Lowell faithful chanted "Austin," Sid HIT THE POLE!
Back in the ring, Austin delivered a back elbow for 2.
He then applied a rope-assisted abdominal stretch as Ross plugged tickets for Sid's title shot on RAW. Get your tickets now! They're hot!
When Sid reversed an Irish whip, he hooked a sleeper as I pine for the reappearance of Austin's trick knee.
However, Austin countered with a jawbreaker instead for 2.
After a face plant, Sid missed a leg drop.
Austin then attempted a Sharpshooter, but Sid escaped and gave him a pair of clotheslines.
Next, he delivered the big boot as Bret ran in.
Referee Mike Chioda called for the bell disqualifying Sid.
Rating: *
Summary: Too short to be worth much, but it was intended to be more angle-driven.
After the match, Sid nails Bret for costing him the match. A brawl breaks out until officials separate them.
Back in the locker room, Vader with Paul Bearer stumbles over his words.
After a commercial break, Lawler shills for Western Union as the Lowell faithful chants "Burger King."
We then revisit the **cough**BOGUS**cough** knee injury speech by Michaels as he surrendered the WWF title.
Match 5 for the WWF tag team titles: The "British Bulldog" Davey Boy Smith & Owen Hart (champions w/ Clarence Mason) versus Faarooq & Crush (w/ the Nation of Domination)
Highlights:
After Crush reversed a cross-corner whip, he ate Owen's boot on his follow-through.
Owen then followed with a clothesline, mounted the top turnbuckle, hit a cross body block, but only got 2.
Crush then gave Owen a face plant followed by a military-press slam.
After a commercial break, Crush gave Smith a piledriver for 2.
As Owen distracted the anonymous referee, Faarooq rammed Smith face-first into the apron.
Upon Smith's return, Crush got 2.
Faarooq tagged in, but Smith face-planted him.
Backstage, Bret watched the match on a monitor and spoke about Michaels.
After a backbreaker, Crush got another 2 on Smith.
Crush then gave Smith a big boot but couldn't get 3.
Meanwhile, Bret equated Vader to a cement truck.
After a slam, Faarooq ate knees on a splash attempt.
Crush tagged in as the Lowell faithful chanted "Bull-dog."
Shortly after, he gave Smith a backbreaker and tagged in Faarooq.
When Faarooq applied a bear hug, Smith countered with a belly-to-belly suplex.
After Crush tagged in, Faarooq baited the referee resulting in a false tag.
Next, a double clothesline put both Crush and Smith down on the mat.
After a dropkick, Smith made the hot tag to Owen.
Upon giving both members of the NoD consecutive spinning heel kicks, Owen mounted the top turnbuckle and delivered a missile dropkick to Crush for only 2 thanks to a save by Faarooq.
All four wrestlers were in the ring.
After Smith disposed Faarooq over the top rope, Crush did the same to Owen.
Notwithstanding, Owen hurt his knee when he landed.
While Smith and Faarooq brawled outside the ring, Owen was counted out.
Rating: **
Summary: More angle development as Owen lost by countout for the second week in a row.
After the match, Faarooq gives Smith a Dominator as Owen fluctuates between helping Smith and limping.
Promo for IYH XIII: Final Four airs.
Match 6: Bret "Hitman" Hart versus Vader (w/ Paul Bearer)
Highlights:
After the introductions, Undertaker cut a promo on the participants.
Upon tossing Bret outside the ring, Austin came to the ring and put the boots to him.
During the commercial break, the Western Union Rewind is the incredible upset victory by Maivia.
Afterward, Vader gave Bret a cross-corner whip followed by a clothesline.
Vader then mounted the second turnbuckle, leaped, but ate a powerslam.
As Bret gave Vader a shot to the midsection, he followed with a Russian leg sweep.
He then slammed Vader, attempted the Sharpshooter, but Vader kicked him away.
Next, he gave Vader a belly-to-back suplex, mounted the second turnbuckle, and hit a forearm smash.
After a cross-corner whip, Vader came up empty on his follow-through.
Bret then schoolboyed him and hooked the Sharpshooter; however, Vader made the ropes.
Up in the balcony, Austin distracted Bret.
After a clothesline, Vader mounted the top turnbuckle but missed the moonsault.
As Bret made the cover, he pinned Vader.
Rating: **
Summary: More appetizer for the main event on Sunday.
After the match, Austin threatens to jump from the balcony to get to Bret as RAW leaves the air.
Conclusion: Unlike Nitro, this was an extremely historical episode with both the WWF title surrender and Maivia's incredible upset. Pardon me, while I get a Pepcid though as Michaels' speech made me nauseous.
TV Rating: 2.70
Stay tuned for WWF In Your House XIII: Final Four!
Comments? Suggestions? Send them to me at rsg@rockstargary.com and follow me on Twitter (@rockstargary202).
Custom Search