WELCOME TO ROCK STAR GARY REFLECTIONS!
Become a Patron!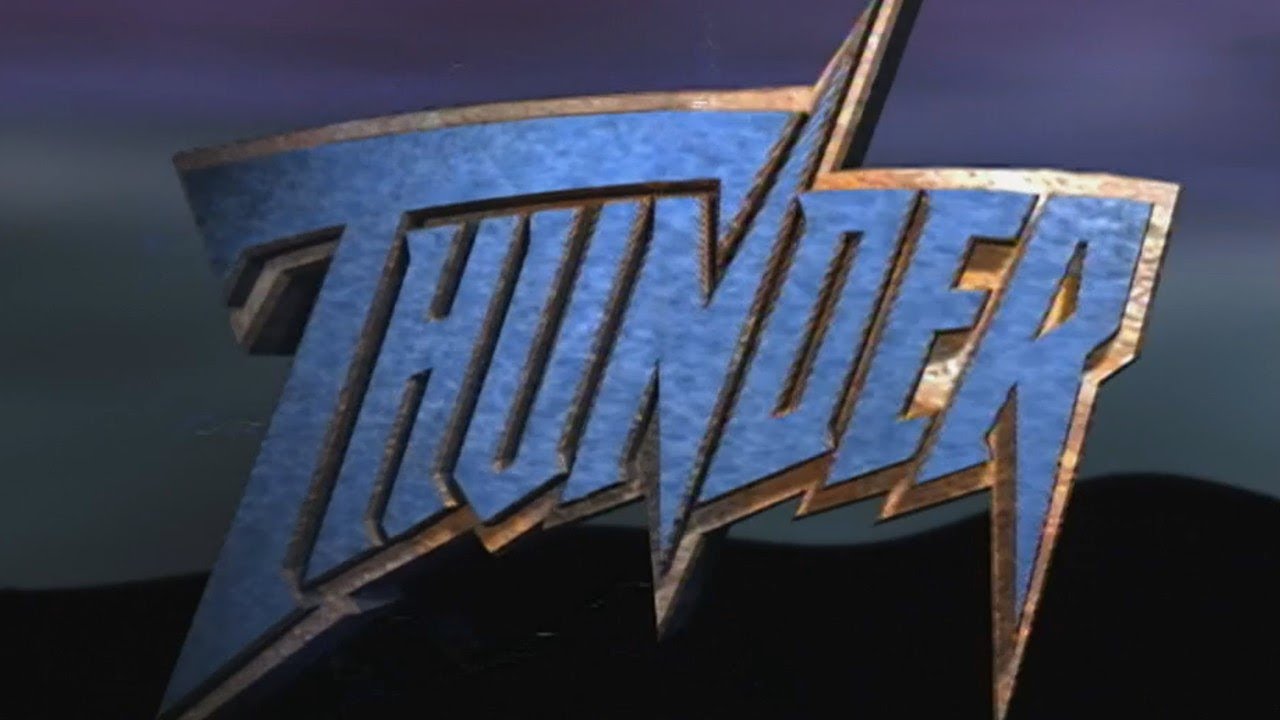 WCW Thunder 03-26-98
Live from Fairfax, VA
Airdate: March 26, 1998
Attendance: 7,196 (5,784 paid, sold out)
Hosted by Tony Schiavone, Bobby "The Brain" Heenan, & Lee Marshall
With a packed house minutes away from our nation's capital, who will be in the main event? What does Eddie have up his sleeve for us? Can Goldberg maintain his winning streak? Let's find out!
In the cold open, Eric Bischoff is in the production truck instructing the crew to NOT show a videotape. As WCW Security Director Doug Dillinger escorts him from the truck, footage from Nitro follows.
Opening montage.
Prior to the opening match, Eddie tells Chavo that he's taking the TV title shot, and Chavo must face Benoit. YIKES!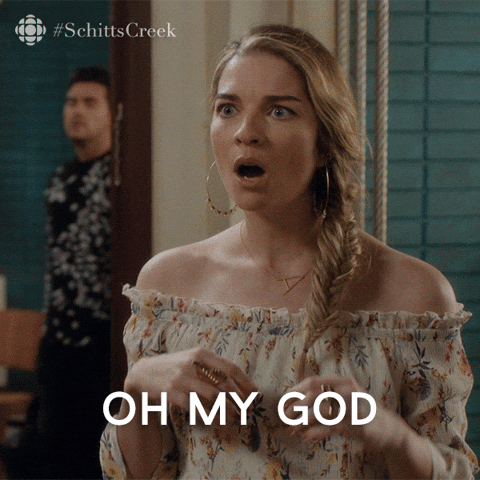 Match 1: The "Crippler" Chris Benoit versus Chavo Guerrero, Jr. (w/ Eddie Guerrero)
Highlights:
Bischoff and Rude took over announcing duties for this match.
When Benoit gave him a cross corner whip, Chavo took a sternum-first bump and suffered a backbreaker.
Benoit only got 2, so he supplied Chavo with another pair of backbreakers.
As Chavo rebounded with a dropkick, Benoit reversed an Irish whip and placed a knee into his midsection.
Benoit then hung him out to dry on the top rope, but Chavo hooked a sunset flip for 2.
After Benoit trapped him in a Crippler Crossface, Chavo tapped out.
Benoit won in 3:30.
Rating: **
Summary: Showcase match for Benoit, and the Fairfax faithful are LIVELY!
Bischoff leads Hogan to the ring, and Hogan spews his nonsense. Suddenly, Nash approaches the ring, grabs a microphone, and calls the "heart and soul" of the nWo—the Wolfpack. NC State? Woohoo!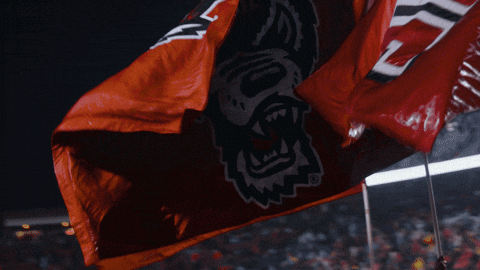 Seriously, Nash then asks Hogan why "Syxx doesn't have a job…anymore." Wow! He then fires another shot about Hall being "too dangerous for live TV." As Hogan offers "(Syxx) can't cut the mustard" as one explanation, he asks Nash "where da brother (Hall) at?" Nash dangles trust as a main issue within the nWo, so Hogan offers to be his partner tonight against anyone in WCW. Nash accepts. Worked shoot, perhaps?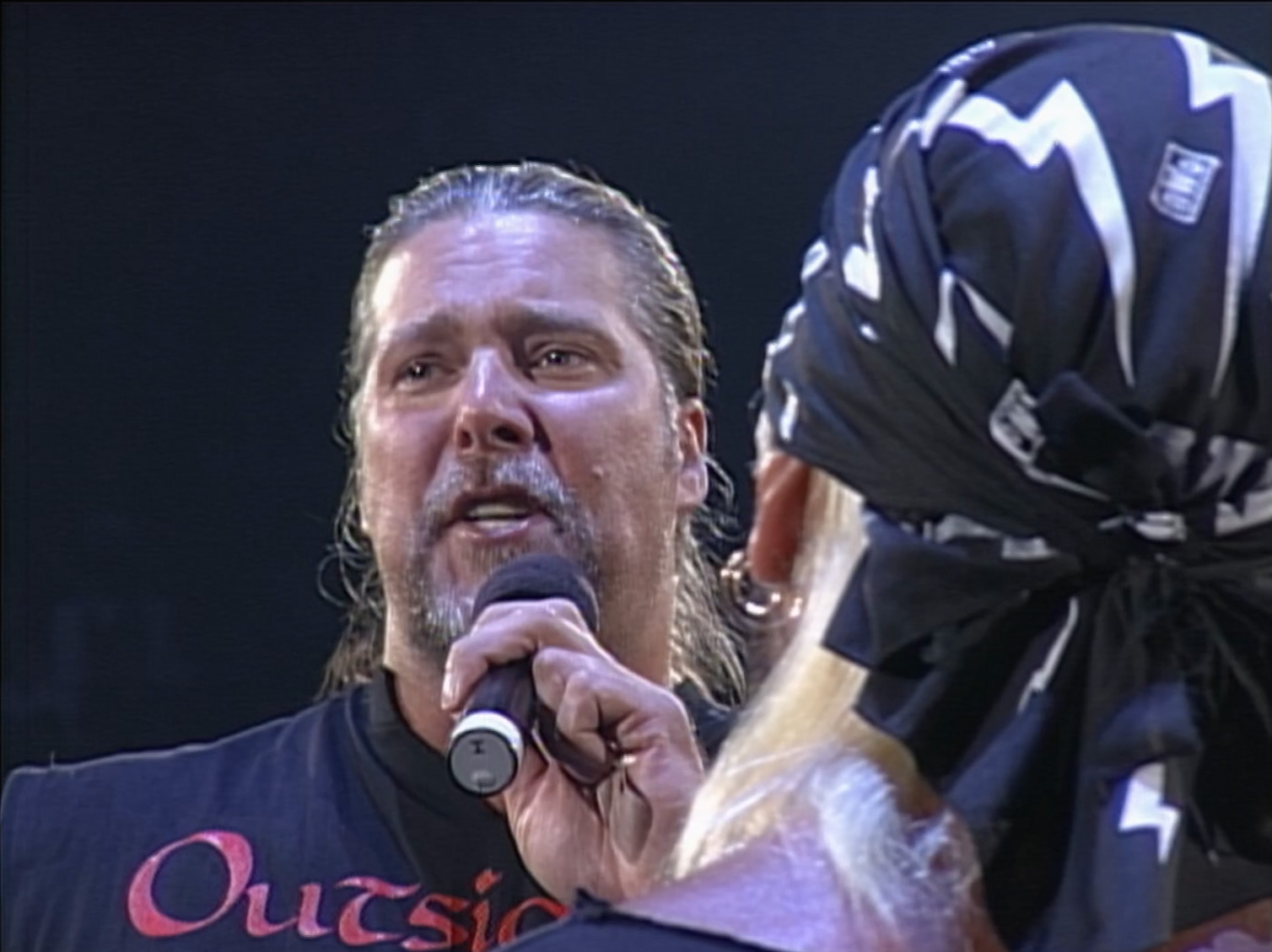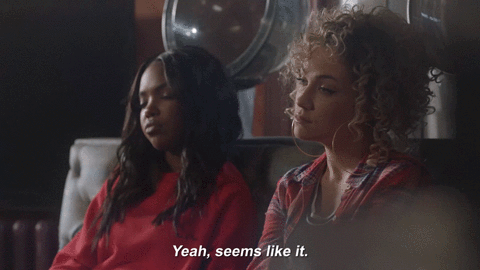 Match 2: Prince Iaukea versus La Parka
Highlights:
"Iron" Mike Tenay joined the broadcast table for this match.
As La Parka gave Iaukea a cross corner whip, he ate feet on his follow-through.
Iaukea charged, but La Parka slammed him for 2.
When La Parka unleashed a spinning heel kick, he gave Iaukea another cross corner whip.
He then caught Iaukea mid-float-over but ate an abisegeri. Yowza!
After La Parka sought refuge on the floor, Iaukea uncorked a somersault plancha from the apron. Woohoo!
Back in the ring, Iaukea delivered a dragon screw leg whip and hooked a Northern Lights suplex.
1-2-3.
Iaukea won in 2:04.
Rating: *½
Summary: Showcase match for Iaukea who was a completely different wrestler compared to Monday.
At the entrance, Schiavone interviews Luger who accepts Hogan's challenge.
Promotional consideration paid for by Slim Jim.
Match 3 for the WCW Cruiserweight title: "Lionheart" Chris Jericho (champion) versus Disco Inferno
Highlights:
When Disco hip-tossed Jericho, he followed with a clothesline.
He then mounted the second turnbuckle and unloaded a fist drop for 2.
As Jericho rebounded with a delayed vertical suplex, he supplied us with an arrogant cover for 2.
Disco reversed a cross corner whip but ate boot on his follow-through.
After Disco delivered a spinebuster, he followed with an atomic drop.
He then scored with a flying elbow smash for 2.
While he connected with a swinging neckbreaker, Disco got another 2.
Jericho rebounded with a tilt-a-whirl backbreaker and trapped Disco in a LionTamer.
When Disco submitted, Jericho retained at 3:27.
Rating: *
Summary: Good work by Disco, but Jericho keeps rolling on.
After the match, Jericho claims Disco's headband as another trophy.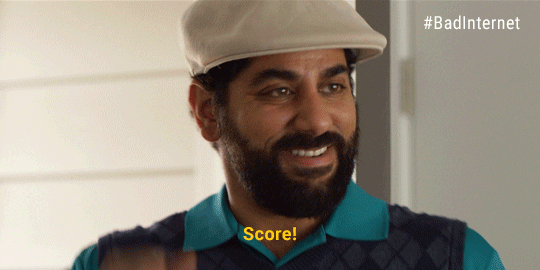 On WCW Saturday Night, Nash faces Rick Steiner. Don't miss it!
Match 4: Goldberg versus Jerry Flynn
Highlights:
According to Tenay, Goldberg is 61-0, and Heenan states that he tied Roger Maris. HA!
Goldberg supplied Flynn with an overhead belly-to-belly suplex and followed with a powerslam.
Someone has been improving his game at the Power Plant.
Nonetheless, Flynn attempted an arm bar, but Goldberg slammed him out of it.
As Flynn landed a spin kick, the Fairfax faithful chanted "Gold-berg."
Flynn hooked a sleeper, but Goldberg tossed him overhead to escape.
When Goldberg gave Flynn a cross corner whip, he came up empty on his follow-through.
Flynn then gave Goldberg a cross corner whip and followed with a spinning heel kick.
After Goldberg speared Flynn, he hooked a Jackhammer.
1-2-3.
Goldberg won at 2:45.
Rating: **½
Summary: Much improved effort for Goldberg who is 62-0.
Castrol sponsors the replay.
Prior to the next match, Kidman vows to get revenge against Psicosis for Lodi.
Match 5: Kidman (w/ the Flock) versus Psicosis
Highlights:
Kidman attacked Psicosis before the bell but ate a spinning heel kick.
With Kidman on the floor, Psicosis mounted the top turnbuckle.
Kidman hustled to the apron and shoved Psicosis making him taste the steel railing. It must have tasted like the lumberjack at Caboose Commons.
From the apron, Kidman launched a Shooting Star Press onto Psicosis on the floor. Impressive!
Kidman gave Psicosis a cross corner whip but ate boot on his follow-through.
When Psicosis charged, Kidman provided him with a sit-out spinebuster for 2.
He then landed an elbow drop and attempted a powerbomb.
As Psicosis escaped, he avoided a tilt-a-whirl maneuver and clotheslined Kidman for 2.
Psicosis then gave Kidman a cross corner whip but ate a back elbow on his follow-through.
With Kidman straddling the ropes, Psicosis mounted the top turnbuckle and uncorked a guillotine leg drop for 2.
He then scored with a tilt-a-whirl backbreaker and mounted the top turnbuckle.
After Kidman caught him, he joined and superplexed Psicosis.
Sick Boy got up on the apron and connected with a springboard dropkick.
Unfortunately for the Flock, he got Kidman instead of Psicosis.
Speaking of Psicosis, he dropkicked Sick Boy out of the ring.
He then mounted the top turnbuckle, hit another guillotine leg drop, and pinned Kidman at 4:34.
Rating: **
Summary: Evenly matched affair, but heel miscommunication led to Kidman's demise.
In the ring, Schiavone interviews DDP who states he'll get the US belt back himself rather than go through JJ Dillon. Next, he touts Sting for their match on Nitro. On the other hand, he believes that Raven = SCUM. That's not a university acronym. As DDP credits Jake Roberts for his mentoring, he discredits Raven for a lot more.
Match 6: Curt Hennig & Brian Adams (w/ "Ravishing" Rick Rude) versus the "British Bulldog" Davey Boy Smith & Jim "The Anvil" Neidhart
Highlights:
Rude rejoined the broadcast table for this match.
As Smith struggled to clothesline Adams, he got 2.
Neidhart tagged in and slammed Adams.
When Smith distracted referee Charles Robinson, Adams piledrove Neidhart for 2.
Hennig tagged in, and the nWo double-clotheslined Neidhart.
After Smith tagged in, he clotheslined Hennig and followed with a back elbow.
The match became disjointed, and Robinson called for the bell.
What did he rule?
Methinks he threw the match out at 4:00.
Rating: -*
Summary: Did ANYONE coach them or tell them what the point of the match was? Nobody did anything worthwhile, and nobody got over. Absolute DRECK.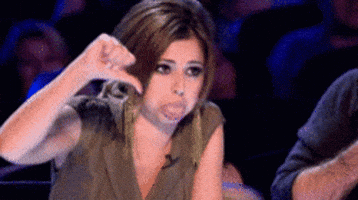 Match 7 for the WCW US title: Diamond Dallas Page (champion) versus Saturn
Highlights:
Saturn attacked DDP upon his entrance but fell victim to a sunset flip for 2.
When Saturn scored with a superkick, he got 2.
Saturn argued with referee Mickey Jay, so DDP rolled him up for 2.
As Saturn hooked a T-bone suplex, he got 2.
He then hooked a rope-assisted abdominal stretch until Jay stopped his chicanery.
After DDP applied his own abdominal stretch, Saturn escaped and secured a Northern Lights suplex for 2.
Each wrestler attempted a hip toss, and DDP powered Saturn into a belly-to-belly suplex for 2.
While DDP delivered a discus clothesline, Saturn rebounded with a jawbreaker.
He then mounted the top turnbuckle, but DDP crotched him.
When Raven called out DDP on the microphone, he emerged through the entrance with the US belt.
Saturn leaped from the top turnbuckle, but DDP caught him with a Diamond Cutter.
Although Saturn was

OUT COLD

, DDP chased after Raven and was counted out at 5:16.
Rating: **
Summary: Solid match until the terrible storyline finish.
Prior to the next match, Booker T grabs the microphone, silences Eddie, and wants to know what's on Chavo's mind. Eddie steals the microphone, but Booker T pie-faces him.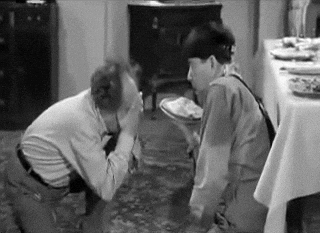 Match 8 for the WCW World TV title: Booker T (champion) versus Eddie Guerrero (w/ Chavo Guerrero, Jr.)
Highlights:
Booker T continued to coach up Chavo, yet Eddie had a foreign object in his right hand.
As referee Mark Curtis sent Chavo to the floor, Eddie HAMMERED Booker T with it. How dastardly!
Do we have a new champion?
1-2-NO!
Chavo tossed the foreign object back to Eddie; however, Curtis saw it and disqualified Eddie at 0:40.
Rating: DUD
Summary: More storyline than match as Chavo one-ups Eddie for the first time.
After the match, Eddie puts the foreign object on Chavo's hand and instructs him to whack Booker T. Begrudgingly, Chavo puts Booker T's lights out and tosses it back to Eddie. He then reluctantly stomps Booker T at Eddie's beckoning until Benoit saves Booker T's bacon.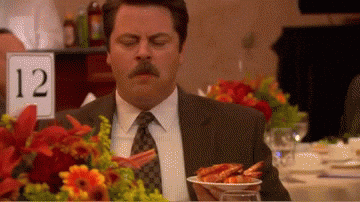 Match 9: Scott "Flash" Norton (w/ Buff Bagwell) versus the "Dog-Faced Gremlin" Rick Steiner (w/ Ted DiBiase)
Highlights:
On his way to the ring, Norton sprays it rather than saying it.
Bagwell caused a distraction, so Norton nailed Rick from behind.
When he gave Rick a cross corner whip, Norton came up empty on his follow-through.
Rick then hooked a belly-to-belly suplex, landed an elbow drop, and hooked a single-leg crab.
As he released the hold, Rick attempted a back elbow but hit a brick wall named Norton.
Speaking of Norton, he distracted referee Nick Patrick, so Bagwell gave Rick the business. SNEAKY!
Rick powerslammed Norton and levelled him with a pair of Steinerlines.
After Rick mounted the second turnbuckle, Bagwell got up on the apron.
Rick creamed Bagwell, but the distraction of Patrick led to someone tossing Rick's dog collar being tossed to Norton.
While neither wrestler could immediately wallop the other with the dog collar, Norton attempted a belly-to-back suplex.
Rick OBLITERATED Norton with the dog collar twice despite being in full view of Patrick.
Since they didn't want the same style of ending to two consecutive matches, Rick pinned Norton at 3:20.
Rating: *
Summary: From a booking standpoint, having Patrick call for the DQ due to shenanigans would be poor. In lieu of making logic work, WCW booked it to enthrall the Fairfax faithful.
After the match, Rick nails Bagwell with the dog collar and chases his brother Scott away.
Match 10: WCW World champion Sting & the "Total Package" Lex Luger versus "Hollywood" Hogan & "Big Sexy" Kevin Nash
Highlights:
Hogan gave Sting a cross corner whip followed by a corner clothesline.
As Sting supplied him with a ten-punch count-along, he clotheslined Hogan.
Luger tagged in and slammed Hogan.
When Hogan dished out an Axe Bomber, he tagged in Nash.
In street clothes, Nash gave Luger a cross corner whip and steamrolled him with a corner clothesline.
The nWo tagged in and out, but Nash inadvertently provided Hogan with a big boot when Luger ducked.
After Luger decked Nash with a forearm smash, Sting tagged in and dropkicked Nash.
Sting then launched a Stinger splash, but "Macho Man" Randy Savage stormed the ring to nail him.
While referee Billy Silverman called for the bell, Sting and Luger won by DQ at 4:23.
Rating: *
Summary: Once again, more storyline than match as the Savage-Sting saga continues.
After the match, Savage tosses Silverman out of the ring like a rag doll and pummels Sting. Savage decks Luger, but Hogan re-enters the ring to pop him. Meanwhile, the Fairfax faithful litter the ring with concessions.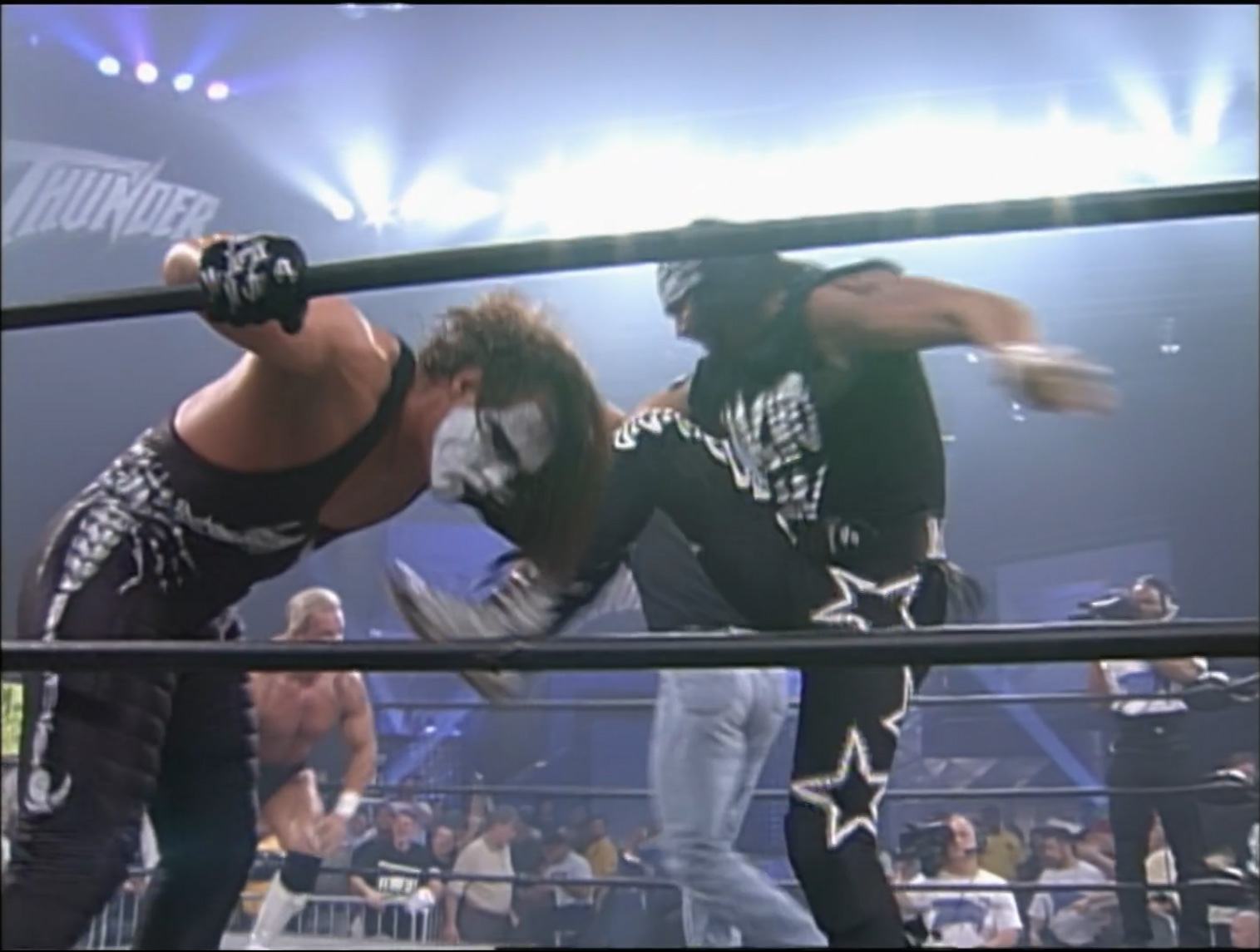 Nash saves Savage's bacon, gets in Hogan's face, and the rest of the nWo storms the ring to destroy Sting and Luger. One by one, Luger and Sting eliminate the nWo from the ring with Scott Steiner being the last one removed.
To end the episode, Nash and Hogan get separated by Bischoff, and they walk away "in disarray" according to Schiavone.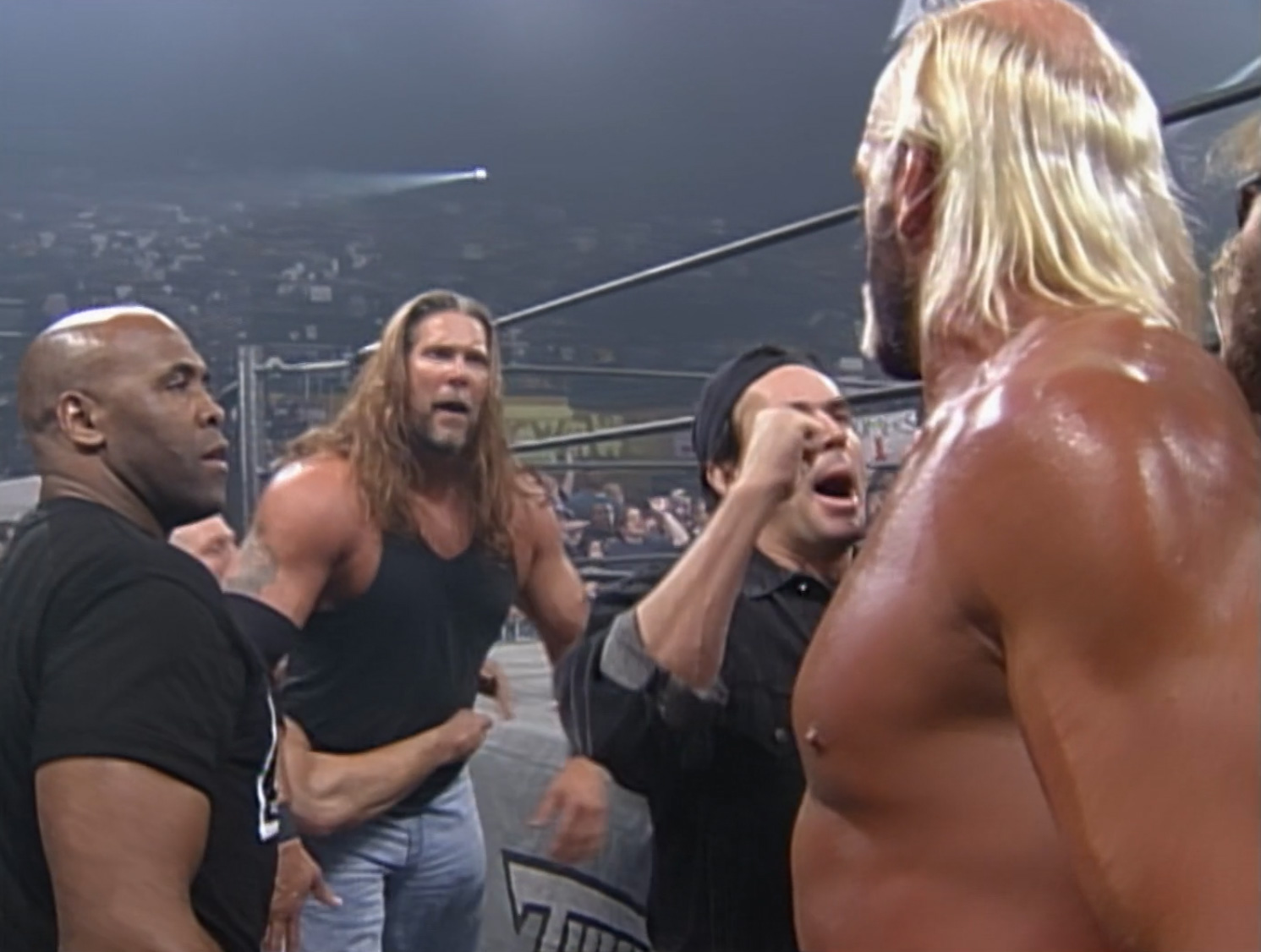 Conclusion: Unlike last week, WCW brings their A-Team to Fairfax for Thunder and gives us a solid show. Tensions run high within the nWo while Savage has problems with both Sting and Hogan. Eddie screws Chavo out of a TV title match, so Chavo screws him back. Jericho takes another trophy, and Goldberg shows more of his repertoire against Flynn than in previous matches. Get all this!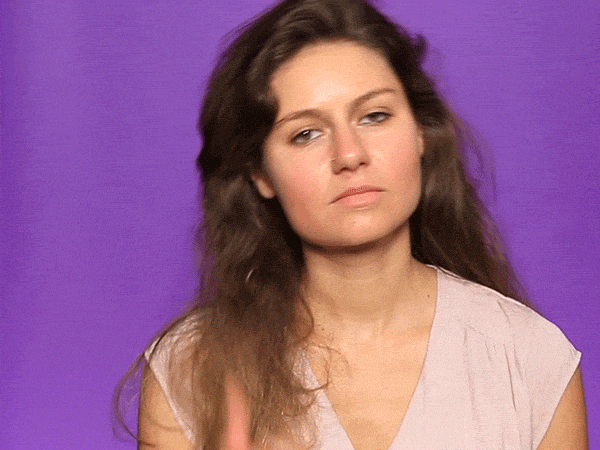 Rating: 4.4
Stay tuned for WWF WrestleMania XIV!
Comments? Suggestions? Send them to me at rsg@rockstargary.com and follow me on Twitter (@rockstargary202).
Custom Search