WELCOME TO ROCK STAR GARY REFLECTIONS!
Become a Patron!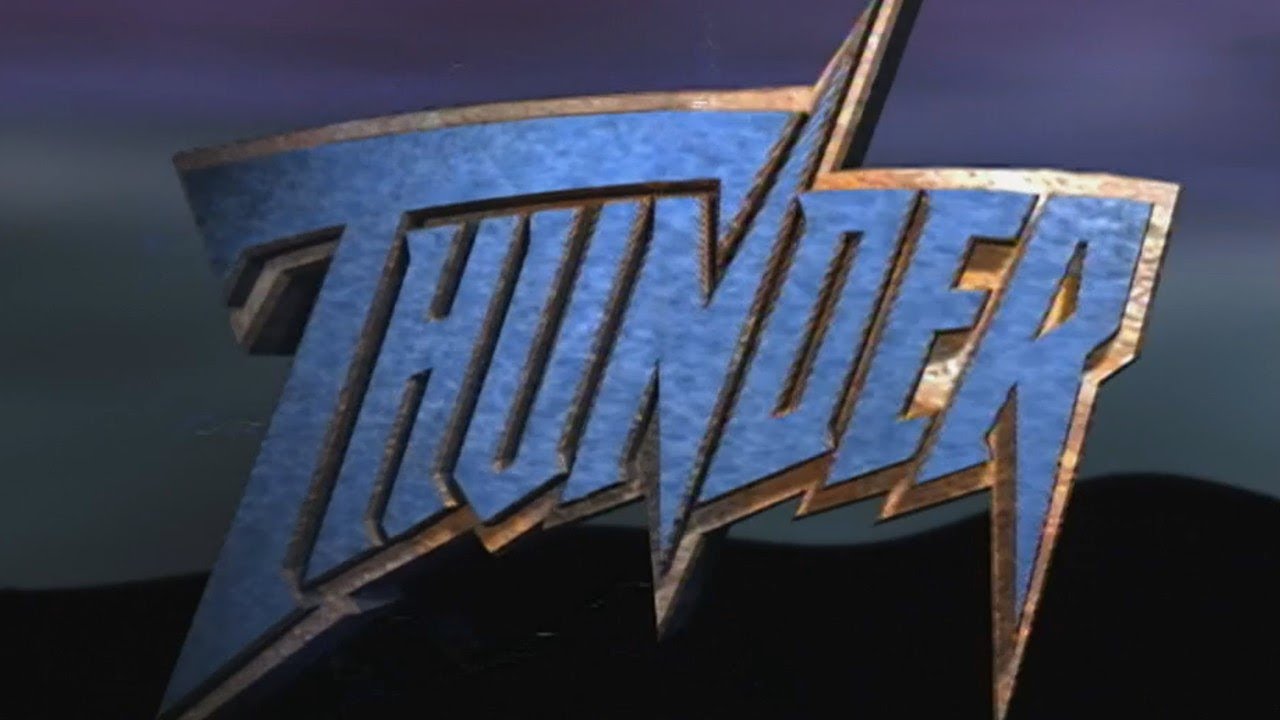 WCW Thunder 02-19-98
Live from Birmingham, AL
Airdate: February 19, 1998
Attendance: 14,272 (13,677 paid)
Hosted by Tony Schiavone, Bobby "The Brain" Heenan, & Lee Marshall
How will the saga between Hogan and Savage play out right before the PPV? Will DDP and Benoit succeed against the Flock or implode pending their match at the PPV? And who will challenge the Outsiders prior to their upcoming tag title match at the PPV? Let's find out!
Opening montage.
Earlier today, "Iron" Mike Tenay interviews Jericho backstage; however, the nWo rushes by them to pummel the "Total Package" Lex Luger and "Macho Man" Randy Savage. Hogan and Hennig then WHACK Savage's back with a chair and belt respectively. The nWo then carries the battered Savage into the arena while leaving Luger laying. With Savage in tonight's main event, methinks it will be cancelled.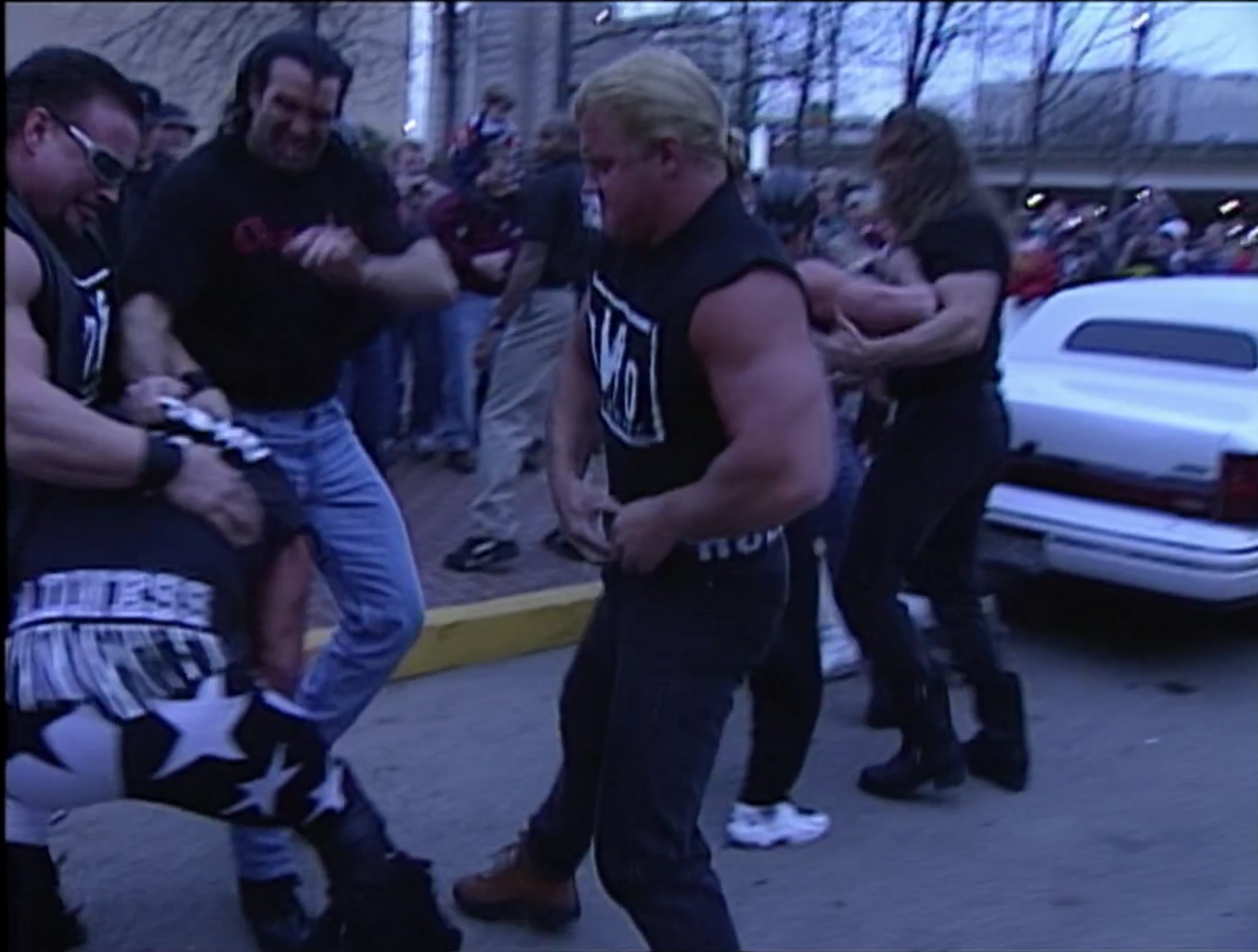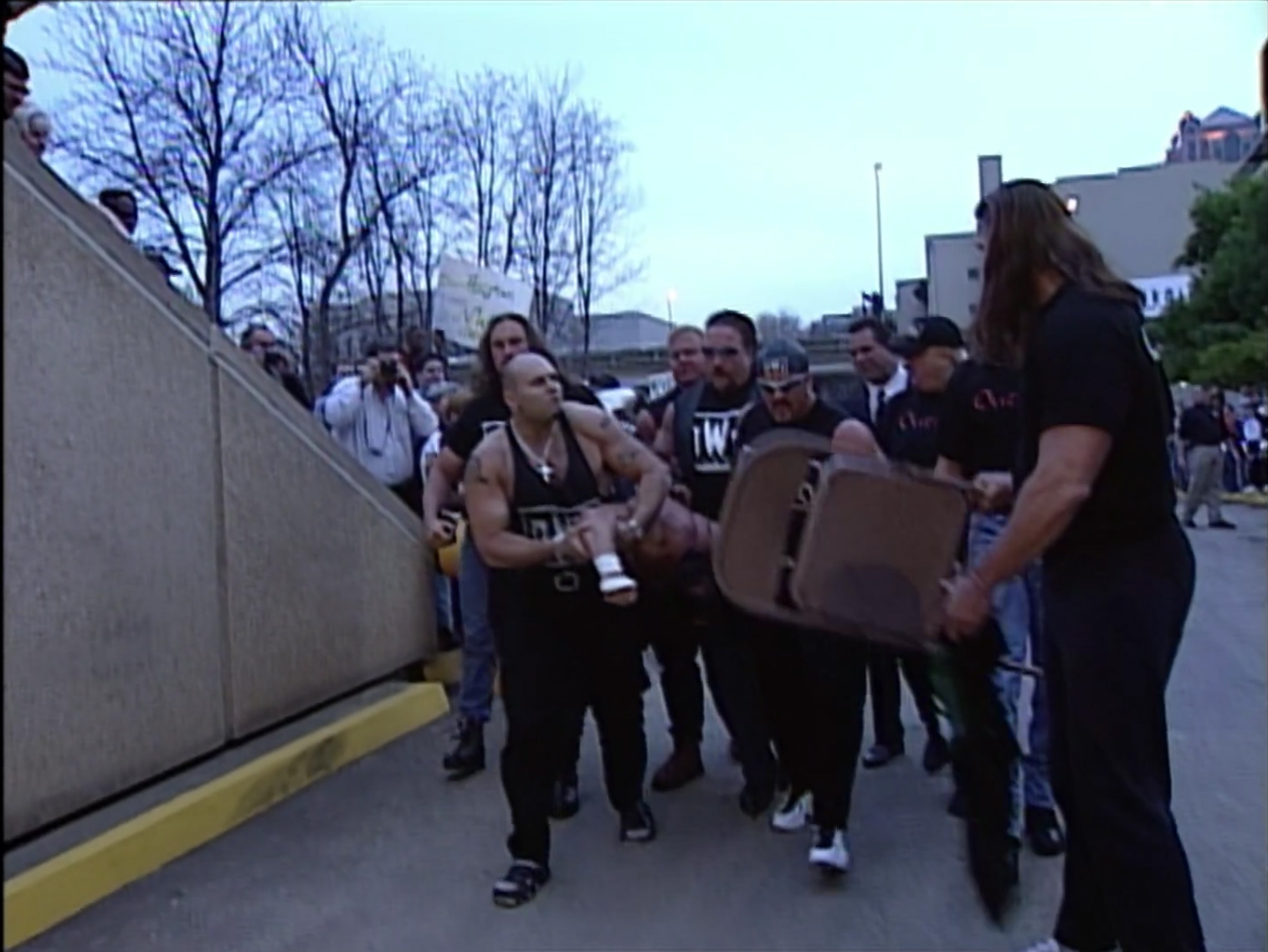 Match 1: Goldberg versus Fit Finlay
Highlights:
Finlay ambushed Goldberg at the onset but ate a boot to the midsection.
When he gave Finlay a cross corner whip, Goldberg followed with a gorilla press into a gutbuster.
Finlay tried some offense, but Goldberg no-sold it.
As Goldberg gave him another cross corner whip, he wrapped Finlay In a bear hug.
Finley escaped, applied a sleeper, but Goldberg tossed him over his shoulder to escape. Wow!
After Goldberg hooked a cross arm breaker, Finlay made the ropes.
Goldberg missed a clothesline but FLATTENED Finlay on the rebound with a spear.
While he secured Finlay in a Jackhammer, Goldberg pinned him at 2:35.
Rating: **
Summary: Showcase match for Goldberg. The Birmingham faithful ADORED this hoss. They came unglued for everything he did.
Match 2: Psicosis versus Chavo Guerrero, Jr.
Highlights:
Chavo nailed Psicosis with a flying forearm and followed with a dropkick.
As Psicosis reversed a cross corner whip, he ate a back elbow on his follow-through.
Chavo charged, but Psicosis powerslammed him.
When Psicosis gave Chavo a cross corner whip, he came up empty on his follow-through. In fact, he missed the pole and fell to the floor.
Chavo then met him with a somersault tope. Amazing!
Back in the ring, Chavo got 2.
Psicosis rebounded with a clothesline, tossed Chavo to the apron, and dropkicked him back-first into the steel railing.
After he slammed Chavo, Psicosis mounted the top turnbuckle and leaped.
However, Chavo caught him in mid-air with a dropkick.
He then delivered a springboard bulldog to Psicosis for 2.
While he mounted the top turnbuckle, Chavo launched a missile dropkick.
He then hoisted Psicosis atop the top turnbuckle, joined, but Psicosis returned him to the floor.
As Psicosis mounted the top turnbuckle, he unleashed a guillotine leg drop.
1-2-3.
Psicosis won at 4:43.
Rating: **
Summary: Solid cruiserweight match with adept high-flying that kept the hot Birmingham faithful simmering.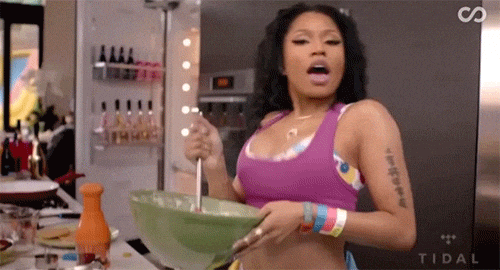 "Hollywood" Hogan and Eric Bischoff emerge and head to the ring. As they discuss Savage being taught a lesson about being "nWo 4 life," Hogan cuts a promo on Sting. The Birmingham faithful inform Hogan that he indeed sucks.
On WCW Saturday Night, "Nature Boy" Ric Flair and Curt Hennig go one-on-one. Don't miss it!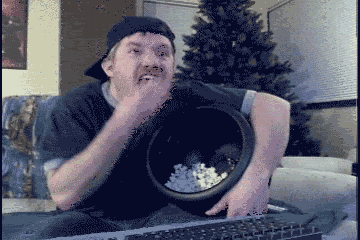 Match 3: Booker T versus Scotty Riggs (w/ Lodi)
Highlights:
Riggs dropkicked Booker T, delivered a pair of elbow drops, and got 2.
When Booker T rebounded with a forearm smash, he unloaded a leg lariat for 2.
He then hit a spinebuster, joined Riggs on the floor, and sent him reeling into the steel railing.
As Lodi shoved him, Booker T annihilated him with a clothesline.
Riggs then followed with a plancha and made Booker T taste the steel railing. It must have tasted like the You're My Boy Blue at the Paramount.
After he tossed Booker T back into the ring, Riggs got 2.
Booker T then blocked a suplex and provided Riggs with one of his own.
While Riggs rebounded with a high knee, he slammed Booker T.
He then mounted the second turnbuckle but missed a flying elbow.
When Booker T reversed an Irish whip, he launched a Harlem sidekick.
He then supplied Riggs with a belly-to-back suplex followed by a spinaroonie. Woohoo!
As he scored with another Harlem sidekick, Booker T followed with a scissors kick.
1-2-3.
Booker T won at 3:59.
Rating: **½
Summary: Good match for Booker T as Riggs posed a solid challenge. Not sure why he didn't unload a 110th Street slam since Marshall hyped it before the match.
Afterward, Saturn restrains Sick Boy and Hammer from attacking Booker T confident that he can beat him on Sunday without any help.
Back in the training room, Tenay tries to interview the injured Luger but gets rebuffed.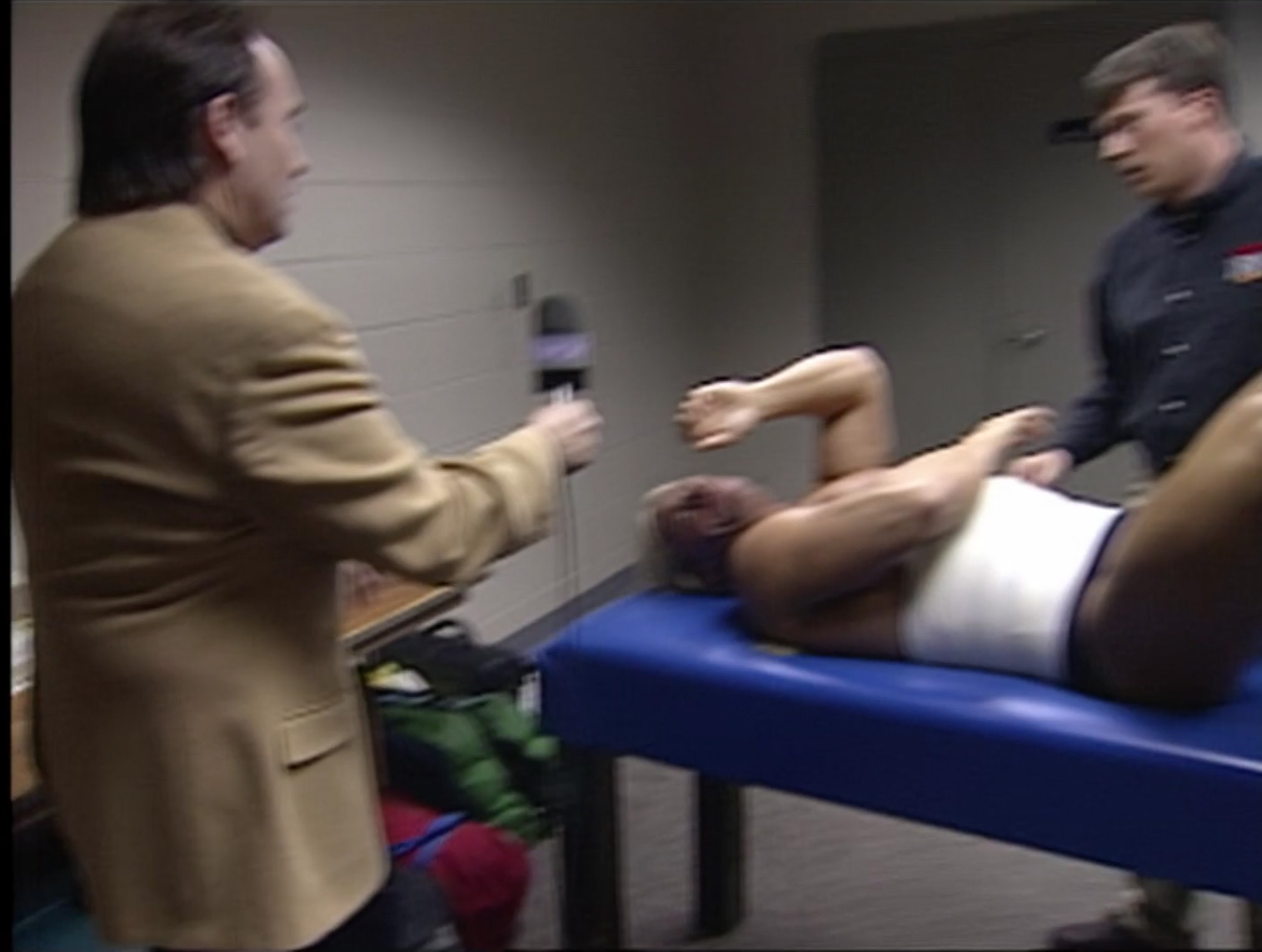 Match 4: Juventud Guerrera versus Kidman (w/ Lodi)
Highlights:
Kidman whipped Guerrera into the corner but ate boot on his follow-through.
As Guerrera unleashed a flying headscissors, Kidman vaulted him to the apron.
Kidman attempted to mount the top turnbuckle, but Guerrera slammed him down to the mat.
When Guerrera mounted the top turnbuckle, he scored with another flying headscissors for 2.
Kidman then reversed an Irish whip and delivered a wheelbarrow suplex.
After Guerrera took Kidman over the top rope to the floor with flying headscissors #3, he came off the ropes but got tripped by Lodi. SNEAKY!
Lodi hooked Guerrera in a full nelson, and Kidman attempted a plancha.
Instead of hitting Guerrera, Kidman FLATTENED Lodi.
Kidman attempted to suplex Guerrera back into the ring, but Guerrera landed on top for 2.
While Guerrera landed on his feet after receiving a release German suplex, he delivered a spinning heel kick.
Kidman then used momentum to send Guerrera face-first into the top turnbuckle, gave him a cross corner whip, but came up empty on his follow-through.
As Guerrera hit a Juvi Driver, he mounted the top turnbuckle and launched a 450°. Incredible!
1-2-3.
Guerrera won at 3:19.
Rating: **
Summary: Fair tune-up match for Guerrera going into his title match on Sunday.
Speaking of which, Jericho storms the ring and attacks Guerrera. He places Guerrera atop the top turnbuckle and removes the mask! Wisely, Guerrera is wearing a second mask to fool Jericho. He then launches a missile dropkick before booting Jericho from the ring.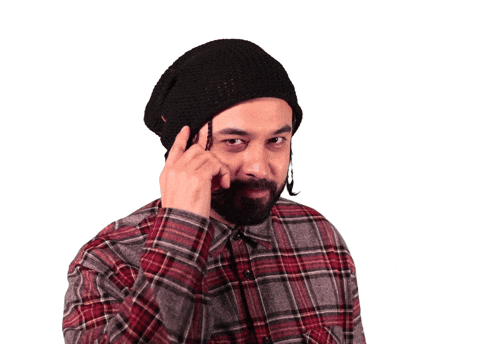 Prior to the next match, each Outsider comes to the ring wearing Syxx t-shirts. Hall performs his survey, yet Birmingham is WCW country, although the sheep still mimic "n-W-o." Nash questions the whereabouts of Giant, invites him to the party on Sunday, and gives a shout-out to Syxx.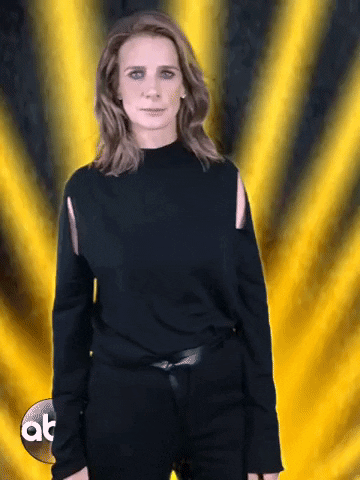 Match 5: The Outsiders (w/ the "American Nightmare" Dusty Rhodes) versus the Destruction Crew
Highlights:
Holy AWA World tag team champions, Batman!
When Hall blocked a hip toss, he chokeslammed Enos.
Speaking of Enos, he reversed an Irish whip and powerslammed Hall for2.
Bloom tagged in, but Hall reversed an Irish whip sending him into a Nash clobbering.
As Bloom turned his attention to Nash, Hall clotheslined him.
Nash tagged in, baited Enos, and distracted referee Mickey Jay.
Meanwhile, Hall clotheslined Bloom in the corner. Nefarious!
Nash scored with a big boot and threatened a jackknife powerbomb to Bloom.
After Jay warned him, Nash sent Jay into the stratosphere.
He then jackknife-powerbombed Bloom to run his tab to $250,000.
Nevertheless, Jay called for the bell disqualifying the Outsiders.
The Destruction Crew won by DQ at 2:17.
Rating: DUD
Summary: More shenanigans by the Outsiders than a match.
Afterward, WCW Security, once again, handcuffs and escorts Nash backstage.
NITRO RECAP: Brian Adams makes his WCW debut and swindles Bret while joining the nWo.
As Adams, Hennig, and Rude approach the ring, Rude cuts a promo on Bret on behalf of Hennig. During Hennig's promo, Davey Boy Smith and Jim "The Anvil" Neidhart enter the ring to debate philosophies. When Hennig refers to Neidhart as "billy goat boy," the fight is on. The bell rings to signify a match, and Smith supplies Hennig with an inverted atomic drop. He then catapults Hennig noggin-first into the post.
Adams dispatches Smith over the top rope to the floor at Rude's feet. As Rude rams Smith into the steps, Smith provides Hennig with a ten-punch count-along. Rude strangles Neidhart on the floor with his tie, and Neidhart makes Adams HIT THE POLE. During the commercial break, WCW Security tries to break it up but fails miserably. This wasn't so much of a match as a continuation of the nWo versus Bret.
At the entrance, Tenay interviews the Steiners without Ted DiBiase. Rick cuts the promo while Scott remains silent. Hmmm…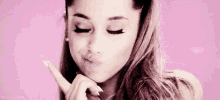 Next, we revisit the brawl that began the show.
Match 6: Super Calo versus La Parka
Highlights:
Tenay joined the broadcast table for this match.
As Calo delivered a tilt-a-whirl backbreaker, he shoulder-blocked La Parka for 2.
La Parka rebounded with a clothesline that almost turned Calo inside-out.
When La Parka tied Calo to the Tree of Woe, he hit a spinning heel kick for 2.
He then gave Calo a cross corner whip but ate boot on his follow-through.
After Calo scared the bejeezus out of the Birmingham faithful (and me) with a reverse powerbomb into the top turnbuckle, he placed La Parka atop the top turnbuckle.
He joined La Parka but got kicked down to the floor.
While La Parka danced on the second turnbuckle, Calo crotched him with the top rope. OUCH!
He then joined La Parka on the top turnbuckle, bounced to the adjacent top rope, and snapped off a super huracanrana for 2. Ay, chihuahua!
As Calo got vaulted to the apron, he booted La Parka down to the floor.
He then baseball-slid La Parka and followed with a somersault plancha. Yowza!
When he placed La Parka back atop the top turnbuckle, Disco Inferno slid a chair into the ring.
Thanks to both La Parka and Disco, Calo went flying down to the mat.
Referee Mickey Jay tossed the chair from the ring and chastised Disco for being involved.
In the meantime, La Parka obliterated Calo with a flying senton.
1-2-3.
La Parka won at 4:04.
Rating: **
Summary: Just your average La Parka-Calo match, but how will Disco get involved?
After the match, La Parka grabs his chair and WALLOPS Disco in the back with it. He then stands atop his chair celebrating.
Video airs featuring Benoit and DDP.
Prior to the next match, Jericho quotes some Cheap Trick lyrics and cuts a promo on Guerrera.
Match 7 for the WCW Cruiserweight title: "Lionheart" Chris Jericho (champion) versus Dean Malenko
Highlights:
Although Jericho still wore the belt, Malenko catapulted him head-first into the top turnbuckle.
Jericho then reversed an Irish whip, leapfrogged Malenko, but ate a spinning heel kick.
When Malenko gave Jericho a cross corner whip, he followed with a corner clothesline.
Malenko then attempted a vertical suplex, but Jericho escaped and delivered a reverse suplex.
As he suplexed Malenko, Jericho got 2.
He then clotheslined Malenko, applied an arrogant cover, and got another 2.
After the Birmingham faithful LOUDLY chanted "Jericho sucks," their nemesis gave Malenko a cross corner whip but came up empty on his follow-through.
He then dropkicked Malenko and followed with a backbreaker.
While he slammed Malenko, Jericho missed a Lionsault.
Jericho attempted an O'Connor roll, but Malenko side-stepped him sending Jericho to the floor.
With Jericho on the apron, Malenko slid through his legs and made him taste the apron. Let me tell you, it does NOT taste like the steel railing.
Malenko gave Jericho a cross corner whip but ate boot on his follow-through.
When they countered a few moves with one another, Malenko attempted a Texas Cloverleaf.
On the other hand, Jericho made the ropes to escape.
Malenko then whipped Jericho into the corner but ate a back elbow.
As Malenko cradled Jericho, he got 2.
They countered more moves with one another, and Jericho hooked a LionTamer.
After Malenko submitted, Jericho retained at 6:02.
Rating: ***
Summary: Strong match between these two who knew each other's repertoire very well. The ending sequence was quite spectacular.
Snickers sponsors the replay.
NITRO RECAP #2: DDP promotes the upcoming match with Benoit's assistance much to the chagrin of the Flock.
Match 8: The "Crippler" Chris Benoit & Diamond Dallas Page versus Raven & Saturn
Highlights:
DDP supplied Saturn with a belly-to-belly suplex, and all four wrestlers were in the ring.
As DDP delivered a swinging neckbreaker to an incoming Raven, Benoit connected with a back elbow to Saturn.
Raven reversed a cross corner whip but ate a clothesline from Benoit.
When Saturn followed with a superkick to Benoit, he hit a flying leg drop for 2.
Following a commercial break, Saturn provided Benoit with a double-arm suplex for 2.
Benoit then countered a vertical suplex with a Crippler Crossface, but Raven intervened.
Hot tag DDP.
After he mounted the top turnbuckle, DDP launched a flying clothesline.
Saturn attempted a slam, but DDP escaped and attempted a Diamond Cutter.
While Riggs interfered with a chair to DDP's ribs to "counter," Saturn silenced DDP with a gourdbuster for 2.
Raven tagged in, and the heels handed DDP a schoolboy/clothesline combo for another 2.
As the Birmingham faithful chanted "D-D-P," Saturn tagged in and slammed their hero.
He then scored with a springboard leg drop but couldn't get 3.
When Kidman got up on the apron to distract referee Mickey Jay, a false tag occurred.
Raven illegally switched with Saturn, but DDP locked him in an inside cradle for 2.
With a chair propped in the center of the ring, DDP tried to fight out of the heel corner but ate some chair instead.
Saturn tagged in, mounted the top turnbuckle, but missed a moonsault.
Hot tag Benoit.
After Benoit traded the chair with him, he knocked the chair into Saturn's mush.
He then snap-suplexed Raven onto the chair twice for 2.
While Benoit delivered a pair of German suplexes to Saturn, Raven stopped the madness.
With all four wrestlers in the ring again, Benoit and Raven got whipped into one another.
DDP then clotheslined Saturn and signaled for the Diamond Cutter.
Not ready to be sacrificed, Saturn's trick knee acted upon DDP.
Saturn then hooked a Rings of Saturn, but Benoit mounted the top turnbuckle and hit a diving head butt to break the hold. S-W-E-E-T!
As Raven attempted a DDT, DDP countered by backing him into the corner.
DDP then scored with a Diamond Cutter, and Benoit secured Saturn in a Crippler Crossface.
When Saturn submitted, Benoit and DDP won at 10:45.
Rating: ****
Summary: Action from bell to bell as these guys proved they are some of the hardest workers in the industry.
Main event angle disguised as a match: Hogan leads the nWo to the ring with the "carcass" of Savage in their arms. To make matters even more peculiar, Savage is wearing a Sting mask. According to Hogan, the match "is not going to go down." He then proclaims to beat Sting at the PPV and calls him out.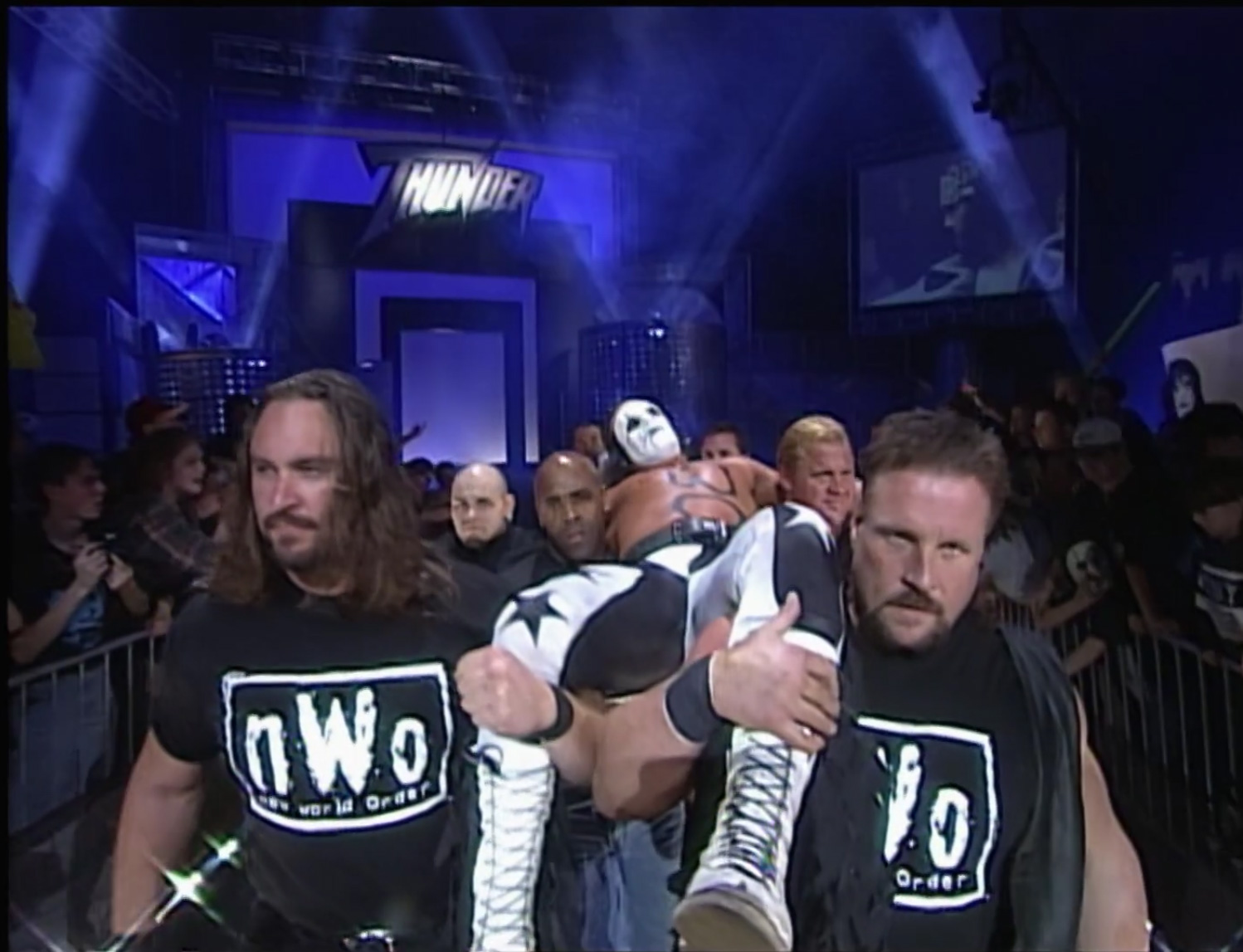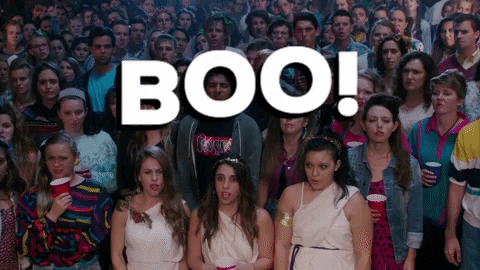 Sting sprints to the ring and beats up the nWo. When Sting turns his attention to him, Hogan flees the ring. As the numbers catch up to Sting, Hogan pummels him in the corner. Suddenly, the injured Luger hurries to the ring to save his friend. He and Sting clear the ring to end the show.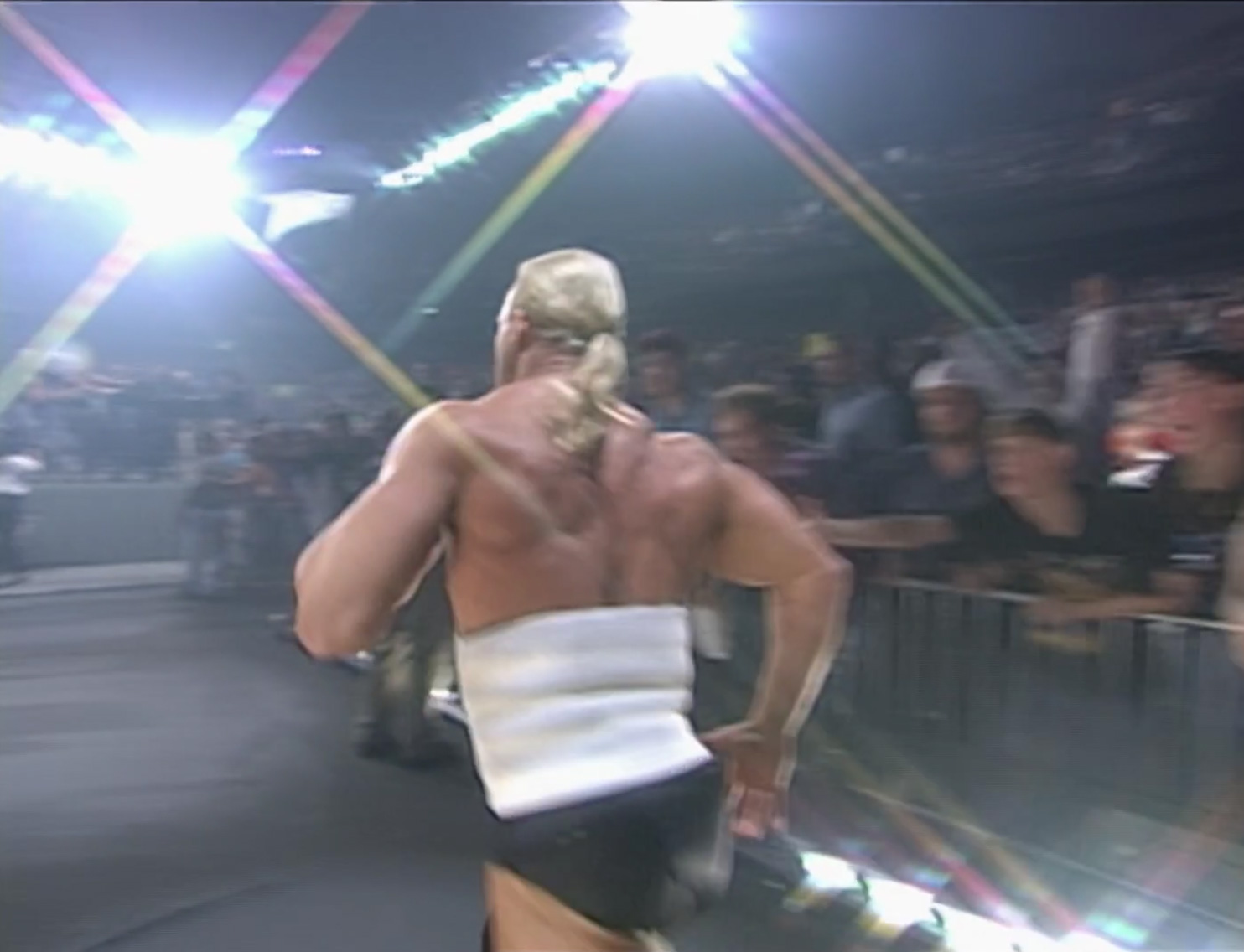 Conclusion: Well, the bait-and-switch was telegraphed at the beginning of the show. In fact, I'd bet that Savage didn't even attend this show, and they costumed a similar wrestler to resemble him. Nonetheless, DDP/Benoit versus Raven/Saturn delivers in spades and is worth your time seeking out. Jericho also uses his heel persona to take underdog Guerrera and make him relevant. With Bret not available (wasn't he hired to be on Thunder?), his brothers-in-law stand up for him against the nWo. Lastly, unlike Lord Steven Regal, Finley made Goldberg look awesome, and the Birmingham faithful were enthralled by their newest hero. Check this episode out as it's a neat go-home show for the PPV.
Stay tuned for WWF RAW is WAR 02-21-98!
Comments? Suggestions? Send them to me at rsg@rockstargary.com and follow me on Twitter (@rockstargary202).
Custom Search