WELCOME TO ROCK STAR GARY REFLECTIONS!
Become a Patron!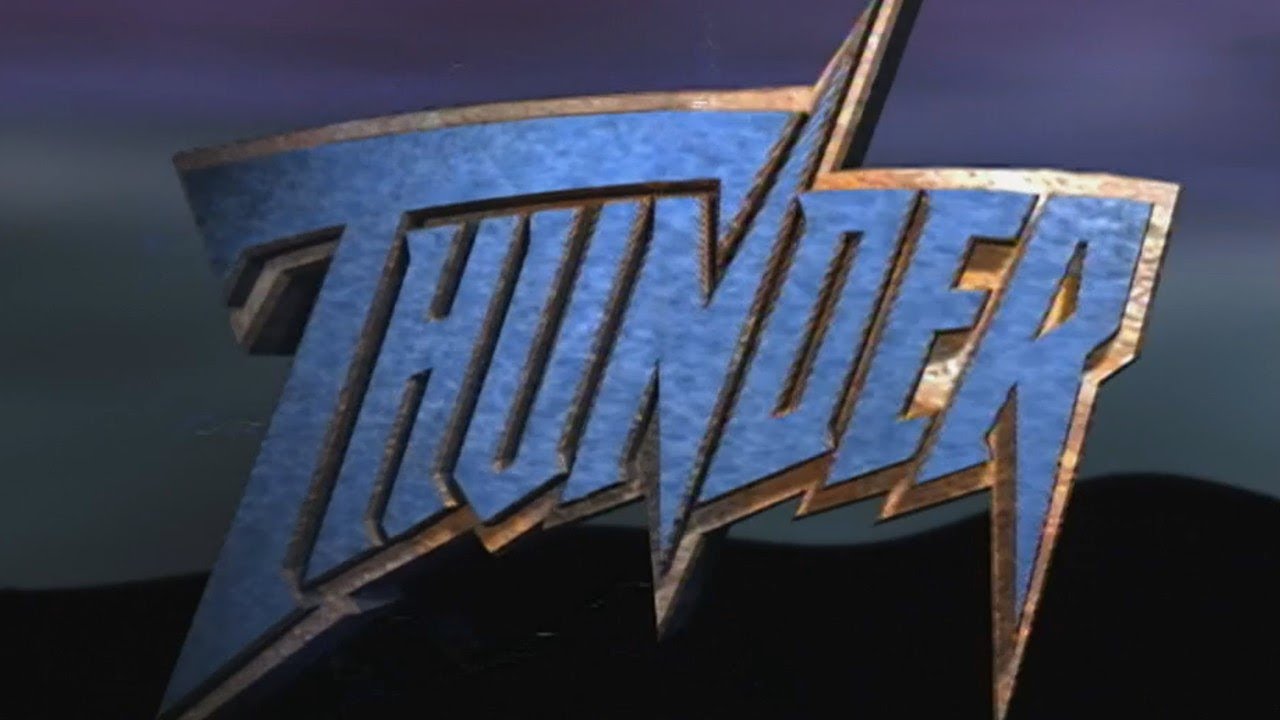 WCW Thunder 01-29-98
Live from Memphis, TN
Airdate: January 29, 1998
Attendance: 7,064 (6,911 paid) (sold out)
Hosted by Tony Schiavone, Bobby "The Brain" Heenan, & Lee Marshall
Can the Steiners regain the World tag team titles from the nWo? How will Benoit and Malenko fare against Jericho and Eddie? What's up with DDP? Does Booker T retain the TV title? Let's find out!
NEW Opening montage. After all, Giant destroyed everything last week.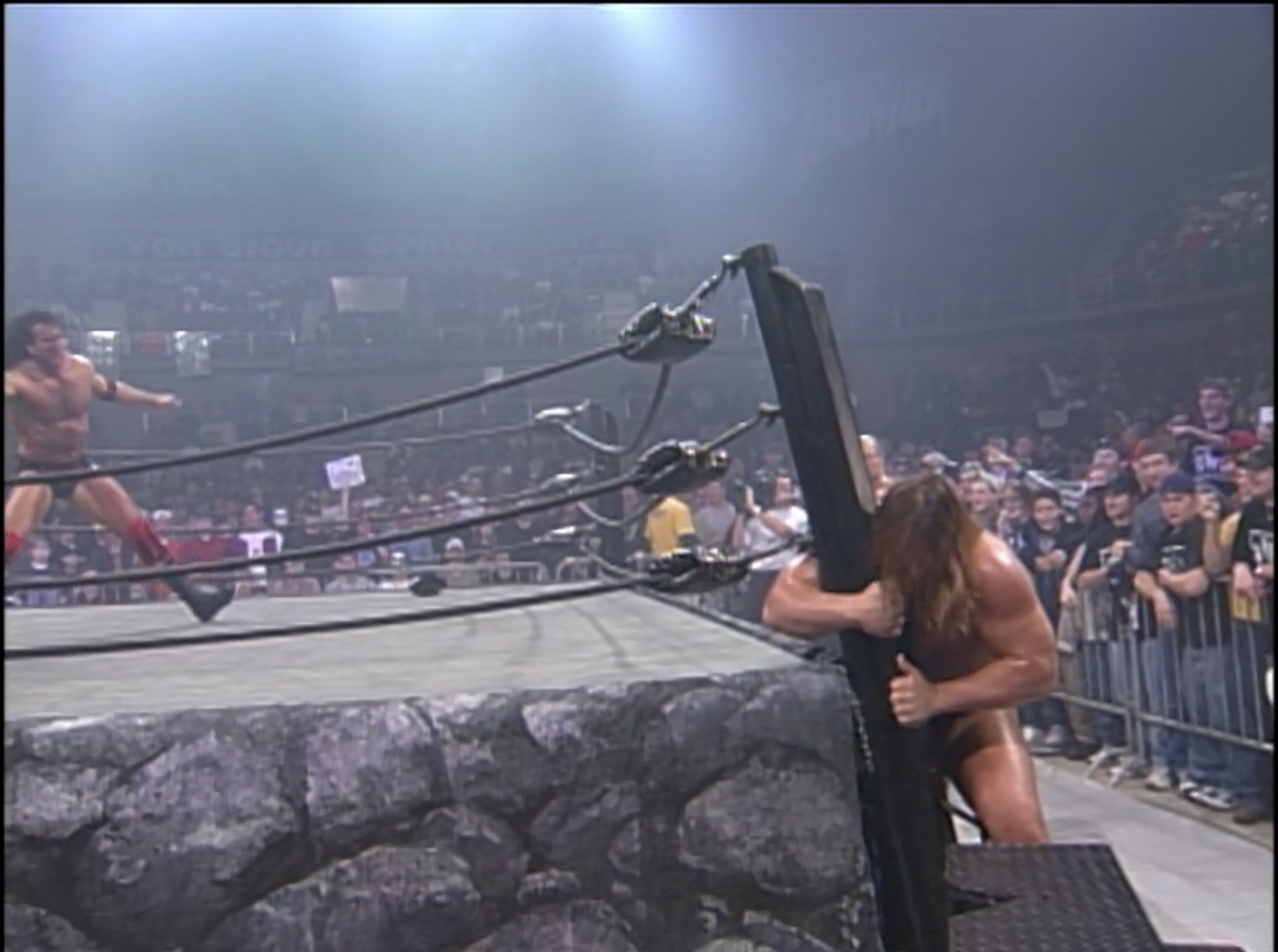 Match 1 for the WCW US title: Diamond Dallas Page (champion) versus Sick Boy
Highlights:
DDP missed a discus clothesline but didn't miss a tilt-a-whirl sidewalk slam.
When Sick Boy rebounded with a springboard dropkick, the Mid-South Coliseum rang with "D-D-P" chants.
DDP then gave Sick Boy a cross corner whip but ate boot on his follow-through.
As Sick Boy hooked a gargoyle suplex, he got 2.
Sick Boy argued with referee Charles Robinson, so DDP rolled him up for 2.
After DDP reversed an Irish whip, he vaulted Sick Boy in the air and finished with a Diamond Cutter.
1-2-3.
DDP retained at 4:44.
Rating: **
Summary: Showcase match for DDP.
At the entrance, "Iron" Mike Tenay interviews the Chairman of the Executive Committee JJ Dillon. While Dillon was "appalled" at Nash's behavior on Nitro, he fined Nash $50,000.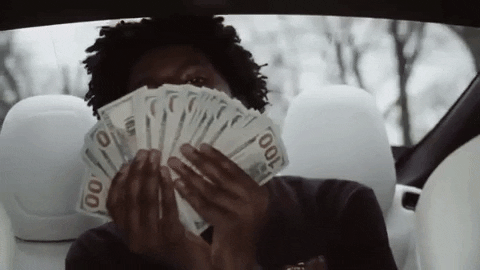 Match 2: Meng (w/ Jimmy Hart) versus "Hacksaw" Jim Duggan
Highlights:
Duggan landed a double axe handle, but Meng pulled him to the floor.
As Meng grabbed him, Duggan made him HIT THE POLE.
Hart attempted to sneak-attack Duggan but got his jacket removed.
When he turned around, Duggan put the jacket over Meng's face to wallop him. Astute!
He then gave Meng a cross corner whip but came up empty on his follow-through.
After a double clothesline put both wrestlers down on the mat, Hart got up on the apron to distract referee Billy Silverman.
He then tossed a 2x4 in the ring, but Duggan caught it instead of Meng.
While Duggan split the 2x4 in half over Meng's back, he CREAMED Hart.
Meng then applied a Tongan death grp.
1-2-3.
Meng won at 4:14.
Rating: *
Summary: Duggan was there to rile up the crowd, and Meng was there to decimate him.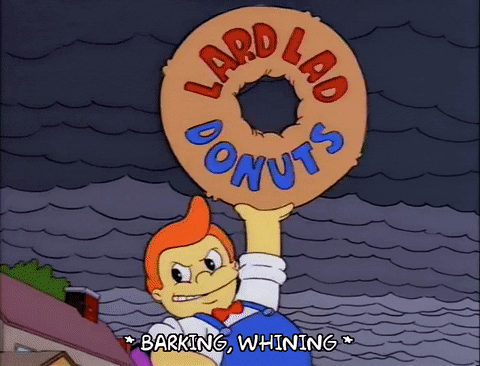 Castrol sponsored the replay.
On WCW Saturday Night, it's enhancement matches galore! Get out the bubbly and watch your favorite stars shine! Oh, you prefer the cheap booze? Lest I forget, Goldberg faces Meng.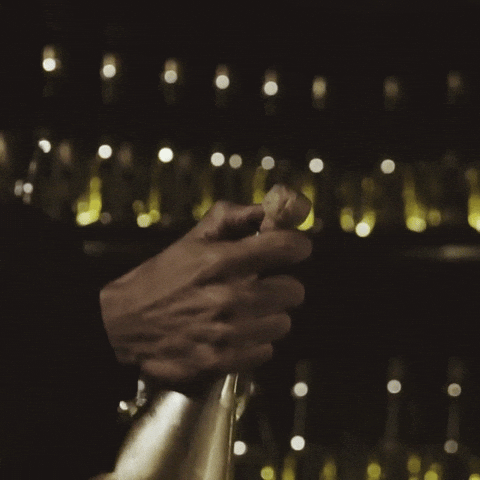 Prior to the next match, Raven declares "anything goes." I wonder what Tommy Dreamer thought of that.
Match 3: Raven versus Marty Jannetty
Highlights:
Jannetty gave Raven a pair of cross corner whips followed by corner clotheslines.
When he dropkicked Raven to the floor, Jannetty delivered a baseball slide.
Jannetty then rammed him face-first into the apron, but Raven made him HIT THE POLE.
As he brought a chair into the ring, Raven executed a drop toe hold sending Jannetty face-first into the chair.
He then gave Jannetty a cross corner whip but ate a back elbow on his follow-through.
After Jannetty bulldogged him, he supplied Raven with a ten-punch count-along.
In the meantime, Schiavone noted Raven's orthopedic boot, and Jannetty gave Raven another cross corner whip.
Jannetty ate boot on his follow-through yet leap-frogged Raven before rolling him up for 2.
While he scored with a superkick, Jannetty mounted the top turnbuckle and landed a flying fist drop for another 2.
Raven sent him into the chair in the corner and dropkicked it into Jannetty's face. OUCH!
When he hit a DDT, Raven pinned Jannetty at 3:58.
Rating: *
Summary: Showcase match for Raven.
Promotional consideration paid for by the following: Slim Jim.
Seated among the Memphis faithful is Jerry Lee Lewis. If only Harlem Heat was around…
Match 4: Goldberg versus Yuji Nagata (w/ Sonny Onoo)
Highlights:
Nagata launched an enziguri and hooked a Fujiwara arm bar.
As Goldberg escaped, he secured a heel hook.
Quickly, Nagata grabbed the bottom rope and unleashed a series of kicks.
He then attempted a suplex, but Goldberg countered with a swinging neckbreaker. Wow!
When he scored with a spear, Goldberg hooked a Jackhammer.
1-2-3.
Goldberg won at 1:34.
Rating: ½*
Summary: Showcase match for Goldberg.
After the match, Onoo tried to help Nagata, saw Goldberg coming toward him, and scampered back to the dressing room.
NITRO RECAP #1: Savage called out the nWo while Hogan tried to straighten him out.
Prior to the next match, Hall, wearing a Syxx t-shirt, takes his survey, and, unbelievably, nWo won. He then bitches about not getting his title shot after having won World War III and introduces the "American Dream" Dusty Rhodes. While Rhodes talks about his days at CNN Towers, he got "so tired" of "carrying" Schiavone.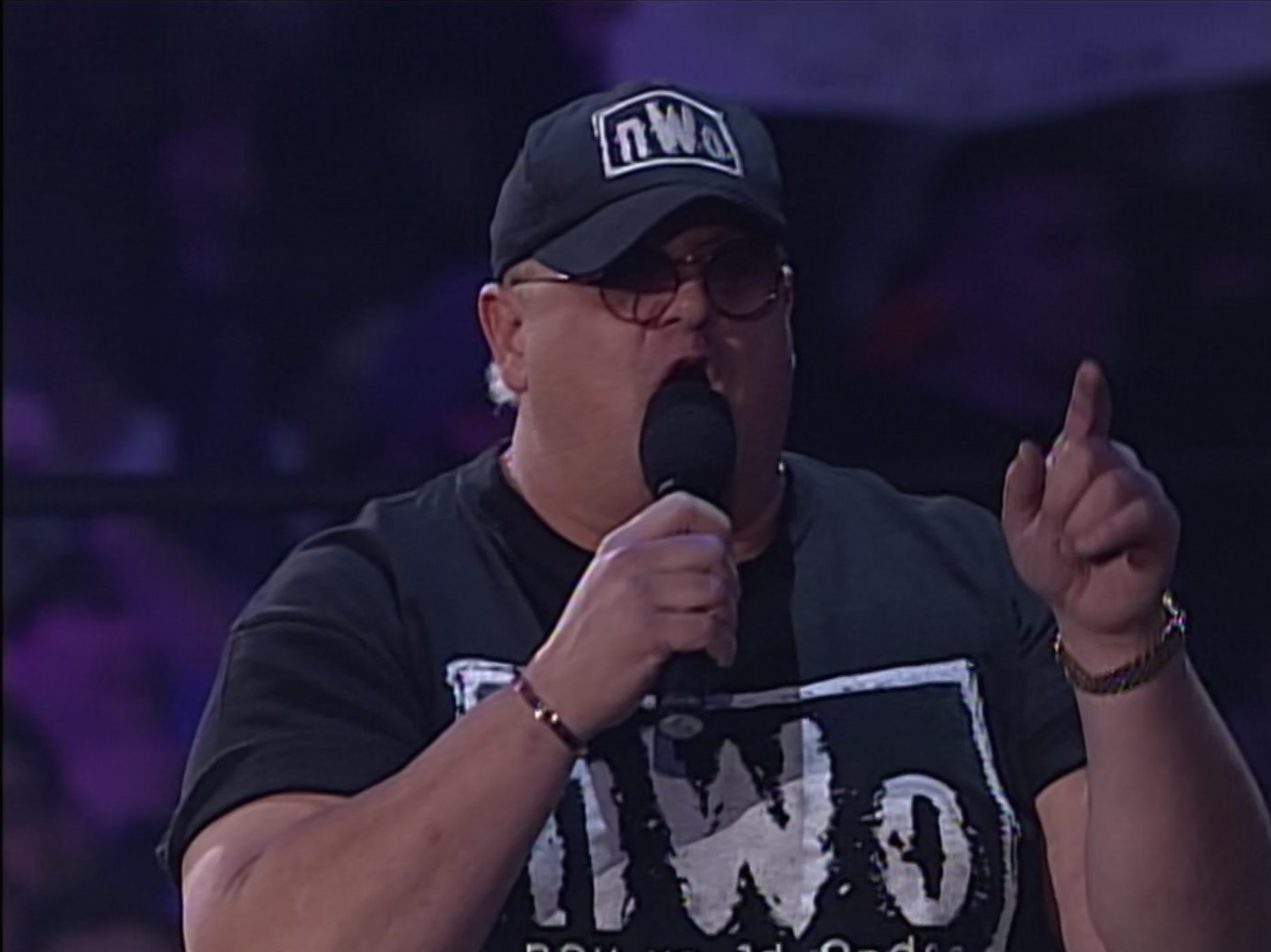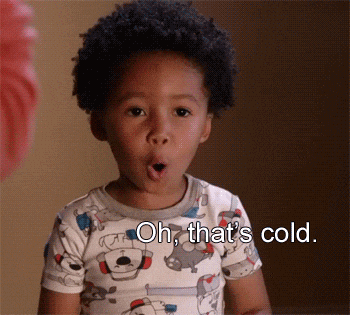 According to Schiavone, Savage will face Luger at SuperBrawl VIII in a no-DQ match.
Match 5: Scott Hall (w/ Dusty Rhodes) versus Disco Inferno
Highlights:
Hall chokeslammed Disco and mocked the Giant.
When Disco escaped an Outsider Edge, he delivered a Chartbuster.
Do we have an upset?
1-2-NO!
Rhodes pulled Hall out of the ring. How dastardly!
As Hall returned to the ring, he gave Disco a cross corner whip and a corner clothesline.
Disco then attempted a cross body block but fell victim to a fallaway slam.
After he succeeded with an Outsider Edge, Hall pinned Disco at 2:58.
Rating: *
Summary: Showcase match for Hall with a good twist.
At the entrance, Tenay interviews referee Nick Patrick who defends his "cadence" during Hogan's "pin" at Starrcade '97. He even mentions how the reversed decision by Bret "desecrat(ed) the belt" (not wrong) and wants to be the referee for Sting-Hogan III at the PPV. Lastly, he's "for real" instead of "for life" these days.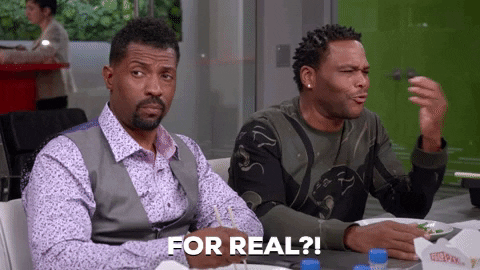 Match 6 for the WCW World TV title: Booker T (champion) versus Saturn (w/ Lodi)
Highlights:
Saturn gave Booker T a cross corner whip but came up empty on his follow-through.
As Booker T sent Saturn into the corner, he ate boot on his follow-through.
Saturn then charged, but Booker T powerslammed him for 2.
When Saturn countered a Harlem side kick with a gargoyle suplex, he scored with a plancha onto Booker T on the floor. Woohoo!
He then whipped Booker T back-first into the steel railing but got "backdropped" into the front row occupied by the Flock.
Promotional consideration paid for by the following: Slim Jim.
Following a commercial break, Saturn countered a hip toss with a T-bone suplex for 2.
Saturn then missed a running guillotine, so Booker T reversed an Irish whip and landed a leg lariat.
After a scissors kick, Booker T followed with a belly-to-back suplex.
He then delivered a Harlem side kick to Saturn and nailed Lodi, Sick Boy, and Riggs on the apron.
While Kidman got up on the apron, Rick Martel, wearing street clothes, hammered him.
Booker T then hooked an O'Connor roll and bumped into Martel on the apron.
1-2-3.
Booker T retained at 3:12.
Rating: ***
Summary: Much better storytelling and crowd reaction in this match, but what happens with Martel?
After the match, Booker T and Martel have an argument, but nothing comes from it.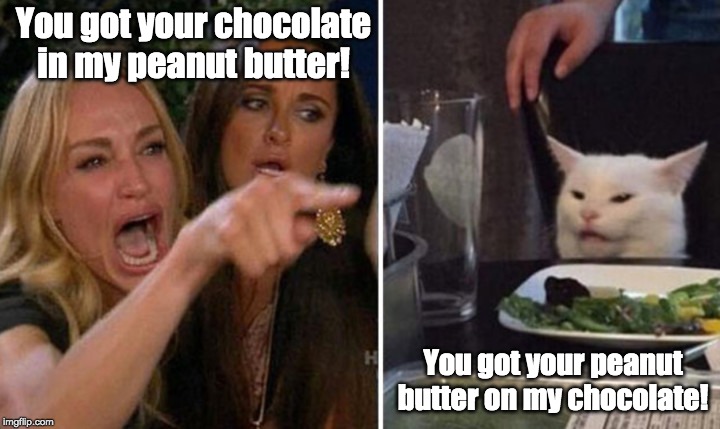 NITRO RECAP #2: Hall and Hogan meandered around the ring while Savage suffered at the hands of Sting.
Match 7: "Lionheart" Chris Jericho & Eddie Guerrero versus the "Crippler" Chris Benoit & Dean Malenko
Highlights:
Eddie tagged in, but Malenko gave him a cross corner whip and a corner clothesline.
When Malenko attempted a vertical suplex, Eddie escaped and rolled him up for 2.
Malenko then reversed a cross corner whip but ate a back elbow on his follow-through.
As Eddie charged, Malenko snapped off a quick powerslam for 2.
Tags were exchanged on both sides, and Jericho delivered a delayed vertical suplex to Benoit but only earned a false pin. Why? Because Eddie distracted referee Randy Anderson.
After Benoit gave him a cross corner whip, Jericho attempted a floatover, but Benoit wasn't buying it.
Jericho rebounded with a German suplex with a bridge for 2.
While he slammed Benoit, Jericho scored with a Lionsault for another 2.
Eddie tagged in, and the heels' timing was totally off.
Not surprisingly, it cost Eddie who ended up in a Crippler Crossface, but Jericho saved.
With all four wrestlers in the ring, Eddie escaped a suplex and countered with a brainbuster to Benoit for 2.
Malenko tagged in, and the babyfaces hit a back drop/Northern Lights suplex combo for 2. S-W-E-E-T!
When Malenko secured a Texas Cloverleaf on Eddie, Jericho intervened again.
He then tagged in, mounted the top turnbuckle, and launched a missile dropkick.
As he attempted a LionTamer, Malenko countered with a rollup for 2.
He then landed a spinning heel kick to Jericho and tagged in Benoit.
After Malenko placed Jericho atop the top turnbuckle, he joined and superplexed Jericho. Wow!
Benoit then mounted the top turnbuckle and launched a diving head butt.
Meanwhile, Eddie attempted a frog splash to Malenko but ate boot.
Benoit then trapped Jericho in a Crippler Crossface, and Jericho submitted.
Whew! That was amazing!
Benoit and Malenko won in 6:38.
Rating: ****½
Summary: Incredible tag match that didn't need the formula to be extremely quick and action-packed. Fantastic workrate with almost perfect timing on everything. Bravo, gentlemen!
After the match, Tenay interviews Benoit in the ring. Upon mentioning his lack of connections within WCW, Benoit gets interrupted by DDP. While equating each other's backgrounds, DDP polls the Memphis faithful about a one-on-one match between them. As you'd expect, he receives a favorable response. Benoit accepts the challenge, and DDP makes it NEXT WEEK on Thunder. Woohoo!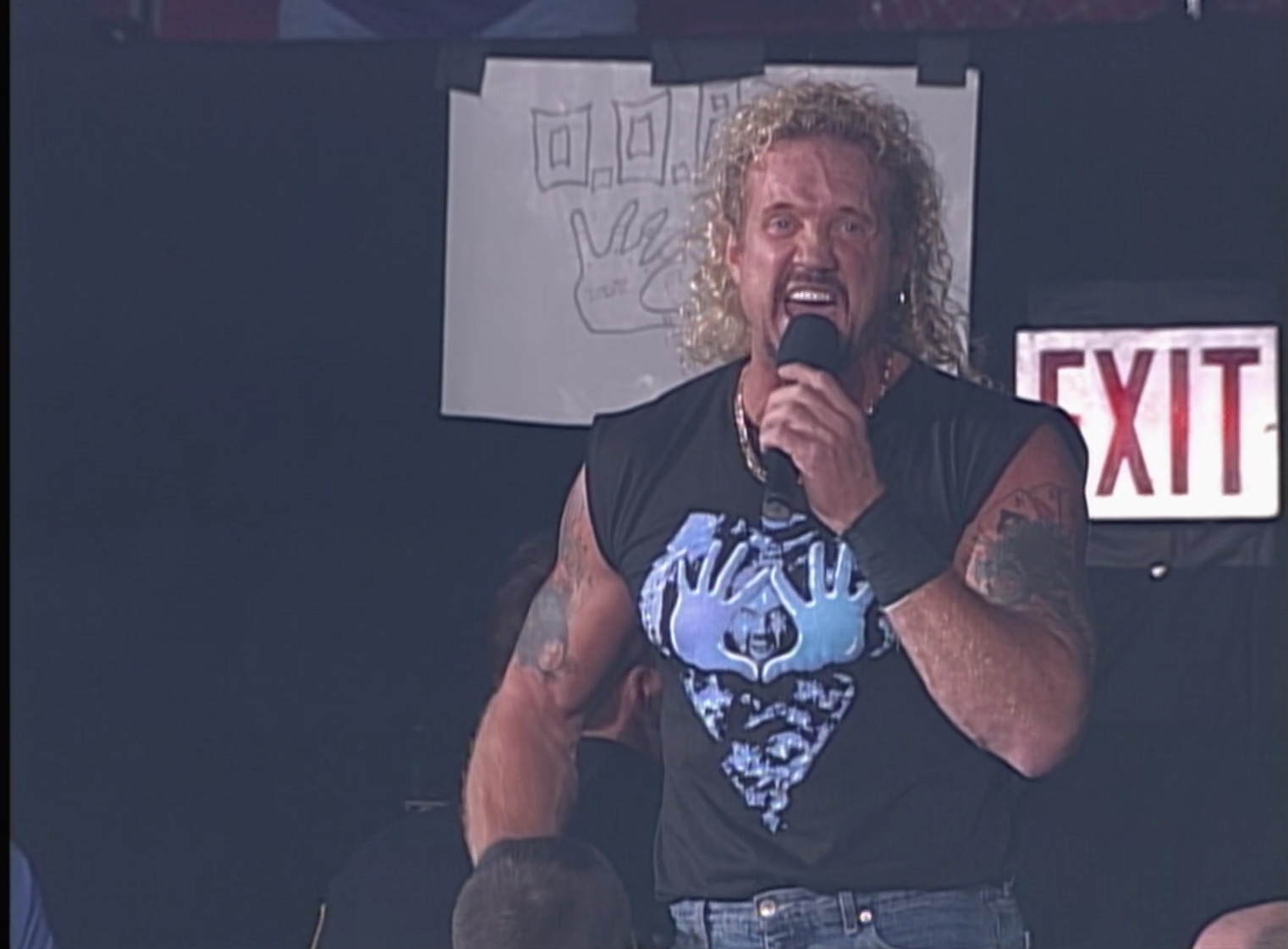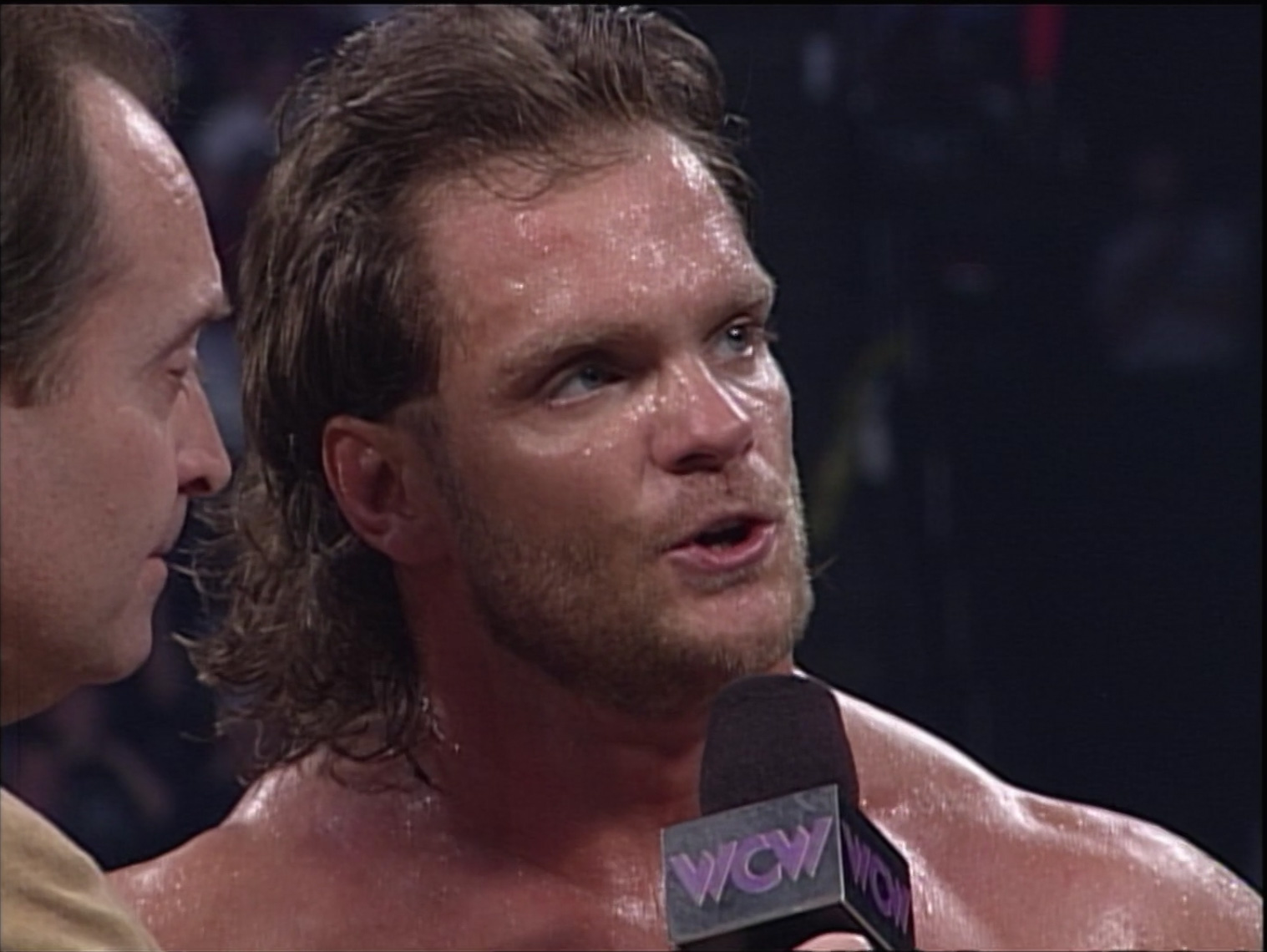 Match 8 for the WCW World tag team titles: Kevin Nash & Konnan (champions) versus the Steiners
Highlights:
According to Schiavone, this match fell under "Wolfpack rules" which equates to the infamous Freebird rule of "any 2 partners at any time."
Rick trapped Konnan in an STF and mimicked Mike Tyson by gnawing on his ear. Ha!
As Rick delivered his version of a German suplex to Konnan, Nash came in but ate a double Steinerline.
Nash then nailed Rick from behind, and Konnan clotheslined him.
When Nash tagged in, he scored with a short-arm clothesline to Rick.
Konnan tagged in and hooked a Stump Puller until Scott saved his brother.
After Nash tagged in, he gave Rick a cross corner whip but ate boot on his follow-through.
Rick then launched a Steinerline to Nash but couldn't make the hot tag. Why?
Well, while Bagwell came to the ring, he sent Scott to the floor so they could pose against one another.
Rick then powerslammed Konnan, and DiBiase distracted referee Charles Robinson.
As Rick tried to pin Konnan, Nash crawled in and CROWNED Rick with a tag belt.
Robinson then called for the bell disqualifying Nash and Konnan at 4:52.
Rating: *
Summary: More Scott Steiner character build-up than a match.
After the match, Nash grabs Robinson and jackknife powerbombs him. WCW Security and Memphis' finest approach the ring and handcuff Nash. In true nitwit fashion, Nash requests that Jack Ruby not be backstage. HA!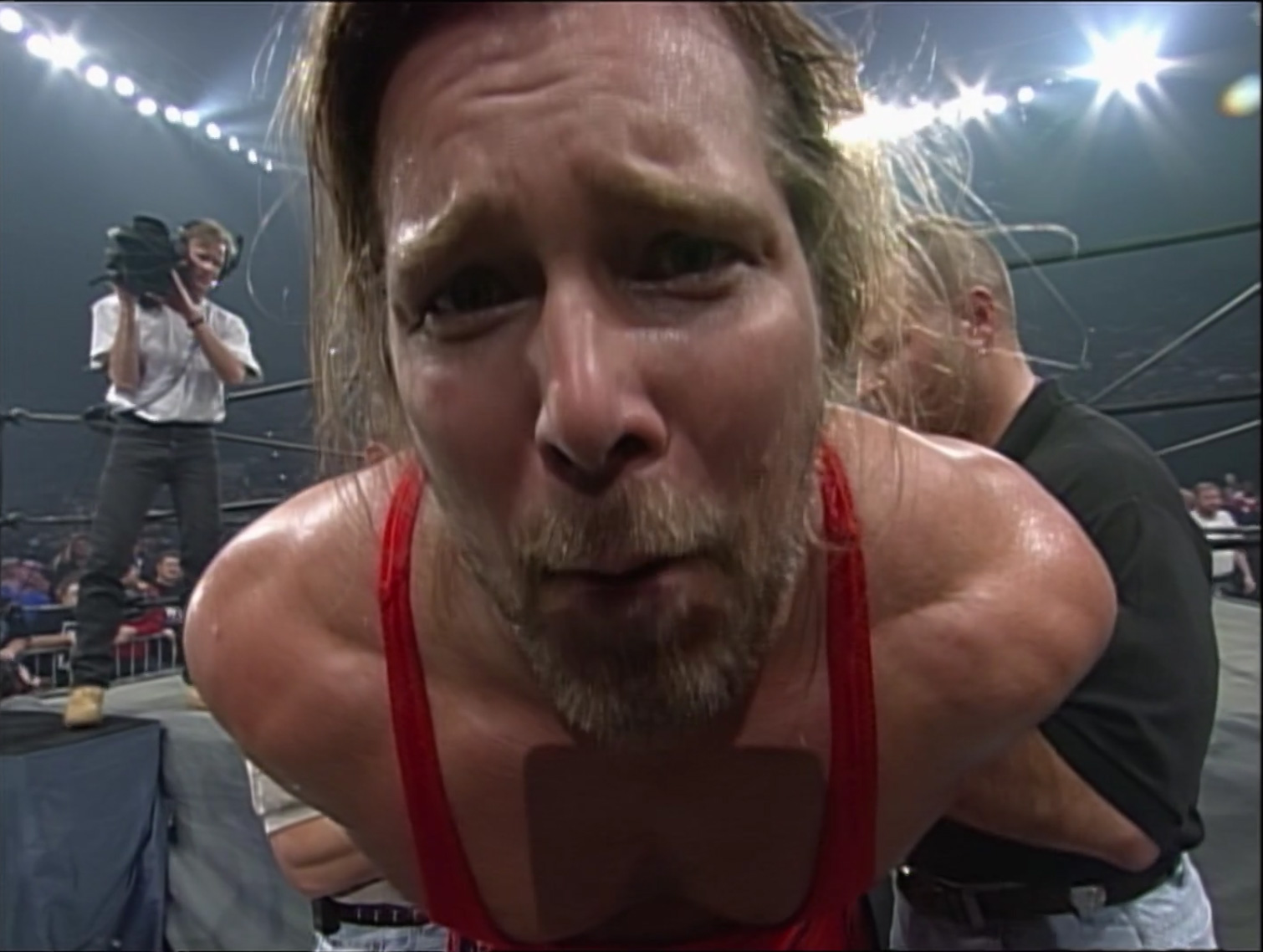 Conclusion: While the main event isn't memorable whatsoever, the semi-main with Benoit/Malenko/Jericho/Eddie leans toward the contrary. Other than beefing up SuperBrawl VIII, the rest of the show is harmless fun.
Stay tuned for WCW Monday Nitro 02-02-98!
Comments? Suggestions? Send them to me at rsg@rockstargary.com and follow me on Twitter (@rockstargary202).
Custom Search