WELCOME TO ROCK STAR GARY REFLECTIONS!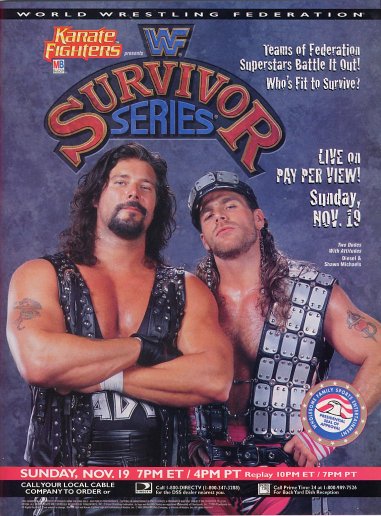 Live from Washington, DC Landover, MD
Airdate: November 19, 1995
Attendance: 14,500 (12,500 paid)
Hosted by Vince McMahon and Jim Ross
In surreal and surprising fashion, our guest color commentator this evening will be…
MR. PERFECT!
Match 1: The Underdogs versus the Bodydonnas (w/ Sunny and "the Million Dollar Man" Ted DiBiase)
Highlights:
Members of the Underdogs included: Marty Jannetty, Barry Horowitz, Hakushi, and Bob Holly?
Members of the Bodydonnas included: Bodydonna Skip, Dr. Tom Pritchard, Rad Radford, and the freshly heel-turned 1-2-3 Kid.
All hail curtain-jerkers! Look at this cast of characters! Amazingly Bob Holly threw a major fit about a lack of dates/payoffs so McMahon withdrew newcomer Avatar (Al Snow) from this match and inserted Holly instead.
Supposedly DiBiase paid off Jean-Pierre LaFitte in order for the Kid to compete here. In actuality LaFitte had hernia surgery and was unavailable.
Before the match Razor Ramon came out to exact revenge upon the Kid, but the referees restrained him.
Huracanrana by Holly to Radford.
Radford tried the same trick but received a powerbomb instead.
Spinebuster by Radford to Hakushi.
The Kid mounted the top turnbuckle and delivered a splash to Hakushi.
Series of kicks in the corner by the Kid.
Belly-to-back superplex attempted by Skip, but Hakushi used momentum to land on top of Skip.
Pair of clotheslines from Holly to Skip.
Doctorbomb by you guessed it…Pritchard.
He then mounted the top turnbuckle but missed the moonsault.
Holly mounted the top turnbuckle, hit the high cross body, and pinned Pritchard.
Immediately Skip pinned Holly.
Leg sweep and reverse enziguri by Hakushi.
Second rope splash by Hakushi hit knees.
Top rope huracanrana by Skip followed by a Skip flop.
Handspring elbow by Hakushi to the Kid.
He then mounted the top turnbuckle and hit a flying shoulder block.
However he missed a springboard head butt.
With Hakushi distracted by Radford the Kid nailed a kick to the back of Hakushi's head.
Radford pinned Hakushi while grabbing the tights.
Vertical suplex by the Kid to Horowitz.
Another series of kicks by the Kid.
Gutwrench suplex by Radford.
Somersault snap mare perhaps in honor of Mr. Perfect.
Northern lights suplex.
As Radford performed jumping jacks and push-ups to prove he could be a Bodydonna Horowitz hooked an inside cradle and pinned him. D'oh!
Flying back elbow and high knee by Horowitz to Skip.
Leg drop by the Kid pinned Horowitz.
That only left Jannetty for the Underdogs.
Sunset flip by Jannetty got 2.
Rocker Dropper.
Jannetty mounted the top turnbuckle, but Sunny made him lose his balance.
Holy flying fitness experts, Batman! Top rope powerbomb by Jannetty to Skip.
Nonetheless he pinned Skip immediately thereafter.
That left Jannetty against the Kid.
Flying clothesline by the Kid.
Spinning heel kick.
Top rope leg drop.
Dropkick in the corner.
The Kid mounted the top turnbuckle but missed a somersault leg drop.
Dropkick by Jannetty.
Sycho Sid made his way to the ring.
Flying back elbow by Jannetty.
Rocker Dropper #2.
As DiBiase distracted referee Earl Hebner Sid draped Jannetty on the top rope.
The Kid then pinned Jannetty.
Rating: ****
Summary: Wow! That was a high-impact, fast-paced excellent opener. Check this one out!
After the match the Kid jumps in Sid's arms like he just won the World Series. Meanwhile in the locker room Ramon destroys a monitor.
In the heel locker room Todd Pettengill interviews Jim Cornette with Mr. Fuji, Yokozuna, Owen, and Dean Douglas.
Match 2: Alundra Blayze, Chaparita Asari, Kyoko Inoue, and Sakie Hasegawa versus Bertha Faye, Aja Kong, Tomoko Watanabe, and Lioness Asuka (w/ Harvey Wippleman)
Highlights:
Even with my vast wrestling knowledge I only am aware of two of the participants.
Heel kick by Asuka to Asari.
Giant swing.
Asari bridged out of a pinning attempt.
Sky twister press by Asari. Wow!
German suplex with a bridge by Blayze pinned Asuka.
Watanabe missed a moonsault badly.
Blayze mounted the top turnbuckle and hit Watanable with a cross body block on the floor.
Hasegawa with FIVE double underhook suplexes.
While Hennig became jingoistic along with being somewhat misogynistic, Watanabe hit a senton from the top rope to Hasegawa.
Superkick and Taz-plex by Hasegawa to Kong.
German suplex.
Hasegawa mounted the top turnbuckle but ate a boot to the mid-section on the way down.
Backdrop suplex by Kong that could have crippled Hasegawa got the pin.
Asari attempted a body press against Kong but failed miserably. To put this in perspective Kong outweighed her by at least 125 pounds.
Second rope splash by Kong pinned Asari.
Enziguri by Blayze.
Sunset flip attempt by Inoue, but Kong SQUISHED and pinned her.
That left Blayze against 3 women.
Vertical suplex by Blayze to Watanabe.
What appeared to be a powerbomb attempt was smartly converted into a piledriver by Blayze as not to kill Watanabe. That had dangerous written all over it.
Blayze then pinned Watanabe.
Avalanche by Faye.
After Faye and Kong ran into one another Blayze hooked a German suplex with a bridge on Faye and pinned her.
That left Kong against Blayze.
Blayze flip over the top rope on a cross-corner whip.
Superplex by Kong.
Huracanrana by Blayze.
She then mounted the second turnbuckle and delivered a missile dropkick.
Standing moonsault.
Kong with a spinning back hand and the pin.
Rating: ***
Summary: Pure spotfest but still exciting. This was Faye's last match in the WWF.
In the stands Pettengill interviews the Clinton impersonator. Fireworks explode in the ring and the "Secret Service" protects the "President." Silly gag.
Match 3: Goldust versus Bam Bam Bigelow
Highlights:
Interestingly Vince referred to Goldust as androgynous which is NOT family-friendly terminology. I would rather refer to him as provocative and crafty.
Dropkick by Bigelow sent Goldust reeling outside the ring.
Goldust tried to nail Bigelow against the ring post but only hit the ring post. OUCH!
Back in the ring Goldust delivered a clothesline that sent Bigelow over the top rope to the floor.
Knee lift by Goldust.
He then tossed Bigelow over the top rope to the floor.
Next he rammed Bigelow into the steel steps.
Belly-to-back suplex by Bigelow.
Diving head butt by Bigelow missed.
Bigelow countered a reverse chinlock into an electric chair.
Lariat by Goldust.
Belly-to-back suplex #2 by Bigelow.
Clothesline.
Make that 2.
Make that 3.
Avalanche missed by Bigelow.
Bulldog by Goldust.
1-2-3.
Rating: *
Summary: Bye-bye, Bigelow! See you in ECW! This would be his last WWF match. RIP Bigelow.
Bob Backlund joins "Clinton" and Pettengill, but he isn't impressed. Methinks Backlund received a kickback from Rush Limbaugh for this.
We revisit the King of the Ring where Kama assisted Mabel to beat the Undertaker. Next we revisit the RAW where Undertaker was demolished by King Mabel. Tonight marks Undertaker's first televised match since that incident.
Match 4: The Dark Side (w/ Paul Bearer) versus the Royals (w/ Sir Mo)
Highlights:
Members of the Dark Side included: The Undertaker, Savio Vega, Fatu, and Henry Godwinn. All four were members of the BSK.
Members of the Royals included: George Brett King Mabel, Jerry "The King" Lawler, Hunter Hearst Helmsley, and Isaac Yankem
In order to protect a broken orbital bone Undertaker wore a protective mask.
As a symbol of unity the other three members of the Dark Side wore Undertaker t-shirts.
Formal bow by Helmsley.
Back drop and clothesline by Fatu to Helmsley.
Helmsley made the awful mistake of ramming Fatu's head into the turnbuckle. It didn't work.
Helmsley tagged out to Lawler after Godwinn was tagged in.
Lawler immediately tagged out to Yankem.
Flying elbow drop by Godwinn to Yankem.
Belly-to-back suplex by Yankem to Godwinn.
Once again Vince blatantly lied about Helmsley's win-loss record in the WWF.
High knee from Helmsley to Godwinn.
Gorilla press slam by Godwinn to Helmsley.
Dropkick by Vega sent Lawler into the Dark Side's corner.
Standing leg drop from Yankem to Fatu.
Mabel missed an avalanche.
Bossman slam by Mabel to Vega.
Modified vertical suplex.
Dropkick by Yankem. Wow!
Knee drop by Helmsley to Vega.
Piledriver by Lawler to Vega.
Chokeslam by Vega to Helmsley.
Hennig referred to Helmsley as "HHH." Hmmm…he may have been on to something there.
Piledriver #2 by Lawler…no-sold by Vega.
Tag to Undertaker, and the roof blew off the US Air Arena.
Lawler attempted to tag out, but NONE of his teammates wanted to tag in.
Standing choke by Undertaker.
Tombstone.
1-2-3. Bye Lawler.
Flying clothesline by Undertaker to Yankem.
Tombstone #2.
1-2-3. Bye Yankem.
Helmsley tried to hit the high road, but Godwinn stopped him by teasing a bucket of slop.
Chokeslam from the apron to the center of the ring by Undertaker to Helmsley. Impressive!
1-2-3. Bye Helmsley.
Mabel came in and gave Undertaker a belly-to-belly suplex.
Leg drop by Mabel.
Undertaker sat up causing Mabel to hit the bricks.
As Mabel was counted out Sir Mo ate a chokeslam from the Undertaker.
All four members of the Dark Side survived.
Rating: **1/2
Summary: The point of this match was the return of the Undertaker.
Locker room promo by Bret followed by one by Diesel.
Backstage Pettengill interviews Jim Cornette with Davey Boy Smith, Sid, and DiBiase. Michaels and Johnson interrupt.
In Your House V will take place on December 17 only on PPV!
Match 5 (Wild card): Yokozuna, "the King of Harts" Owen Hart, Dean Douglas, and Razor Ramon (w/ Mr. Fuji) versus "The Heartbreak Kid" Shawn Michaels, Ahmed Johnson, "The British Bulldog" Davey Boy Smith, and Sycho Sid (w/ Jim Cornette and "the Million Dollar Man" Ted DiBiase)
Highlights:
This was Michaels' first televised match since the incident in Syracuse, NY.
Owen tossed Michaels over the top rope only for Michaels to apply a headscissors to remove Owen from the ring over the top rope.
Michaels caused shenanigans with Cornette and spanked him with his own racket.
Back in the ring Owen delivered a belly-to-belly suplex to Michaels.
Delayed vertical suplex by Douglas to Michaels.
Flying forearm by Michaels to Douglas.
Michaels mounted the top turnbuckle and delivered a double axe handle to Douglas.
Vader bomb by Douglas missed.
Moonsault by Michaels.
Scissors kick by Johnson to Douglas.
Double clothesline by Owen and Douglas to Johnson.
Powerslam by Johnson to Douglas.
Johnson press slammed Michaels onto Douglas.
Douglas avoided a superkick by Michaels.
Ramon nailed Douglas, and Michaels pinned him.
Monkey flip by Smith to Owen.
Leg lariat by Owen to Smith.
Next we got the epic confrontation of Michaels and Ramon.
Michaels used Ramon's momentum to send him over the top rope to the floor.
Ramon retaliated with a clothesline.
Back elbow by Michaels.
Mid-air collision and Michaels kipped up.
Razor's Edge to Michaels.
Knee lift by Ramon.
With Sid's back turned, Michaels tagged out to him.
Double clothesline put both Sid and Ramon down.
Sid attempted to mount the top turnbuckle but got caught and slammed down.
Chokeslam by Sid.
Sid tagged in Michaels then held Ramon in preparation for a superkick.
Accidentally Sid ate the superkick.
Ramon pinned Sid.
Sid then got up and brought Michaels in the hard way.
He then delivered a powerbomb to Michaels.
Backbreaker by Owen to Michaels.
Michaels flip in the corner after an Irish whip from Yokozuna.
Vertical suplex by Owen.
He then mounted the top turnbuckle but missed the diving head butt.
Pearl River plunge by Johnson pinned Owen.
Bulldog by Ramon to Johnson.
Spinebuster by Johnson to Ramon.
Johnson showboated while standing on the bottom rope.
For his indiscretion he received a Razor's Edge.
DiBiase, Sid, and the Kid made their way to the ring.
Fallaway slam by Ramon to Smith.
Distraction by the Kid led to Ramon getting powerslammed by Smith and pinned.
That left Yokozuna 1 on 3.
Leg drop by Yokozuna to Michaels.
He set Michaels up for the Banzai drop, but Michaels escaped.
Hot tag Johnson.
THE SLAM HEARD 'ROUND THE WORLD part 2!
Smith broke up the pin?
Michaels and Johnson took exception, nailed Smith, and then clotheslined him over the top rope to the floor.
Superkick by Michaels.
Splash by Johnson pinned Yokozuna.
Rating: ****
Summary: Top to bottom that was an excellent Survivor Series-style match and a good showcasing of Johnson as well.
After the match Smith and Cornette celebrate as if they won the gold.
Back in the stands with "Clinton" and Pettengill Sunny joins them by sitting on "Mr. President's" lap. Innuendo and puns that make Pettengill quite uncomfortable ensue.
Replay of some of Bret's comments from RAW is shown along with highlights of the two previous matches between Diesel and Bret.
Match 6 for the WWF title (No DQ, no countout, no time-limit): Diesel (champion) versus Bret "Hitman" Hart
Highlights:
Bret was clad in all pink. It must be a special occasion.
Diesel removed the turnbuckle pad from a corner. Bret did the same thing in the opposite corner.
Knees to the mid-section and right hands by Diesel in the corner.
Bret escaped the ring but paid for it with a double axe handle to the back.
Diesel then draped him on the steel railing. If Bret had tasted the steel railing it would have tasted like Ben's Chili Bowl. Mmmm.
Right hand by Diesel sent Bret through the ropes to the floor.
Diesel then whipped him into the steel steps.
Next he rammed Bret back-first into the ring post.
Afterwards he grabbed a chair and walloped Bret in the back.
Short-arm clothesline by Diesel.
The crowd began to boo him.
Bret blocked two Jackknife attempts.
Figure four leg lock by Bret.
Sharpshooter attempt blocked by Diesel.
Attempt #2 was met with a mule kick that sent Bret into the unprotected turnbuckle.
Bret rammed Diesel's leg into the ring post.
Make that twice.
He then tied a microphone cable around the ring post and then around Diesel's ankle. Clever!
Bret mounted the second turnbuckle and nailed Diesel with a forearm.
He then grabbed a chair, but the cornered Diesel blocked two attempts.
He couldn't block any subsequent attempts though.
Backbreaker by Bret.
With chair in hand Bret mounted the top turnbuckle but got caught.
Next Diesel launched him from the top rope down to the canvas then untied himself.
Sidewalk slam by Diesel.
Bret took his customary sternum-first bump in the corner; however, it was in the corner without a turnbuckle pad. OUCH!
Running Walking (due to the injured leg) guillotine by Diesel.
Snake Eyes.
He made a second attempt aiming for the exposed turnbuckle, but Bret escaped and rammed him into it instead.
Running clothesline by Bret.
Bulldog from the second turnbuckle.
Side Russian leg sweep.
He then clotheslined Diesel over the top rope to the floor.
Plancha by Bret missed. SPLAT!
Bret climbed onto the apron, but Diesel vaulted him directly into the Spanish announce table. Wow! That marked the first time in WWF history that this occurred. Mark your calendars!
Diesel signaled for the Jackknife.
He put Bret in position, but Bret collapsed.
Again he tried, but Bret was playing possum and caught Diesel with an inside cradle.
1-2-3.
WE HAVE A NEW CHAMPION!
Rating: ****
Summary: Once again Bret outsmarted his opponent and is now the top dog in the WWF.
Immediately after the match Diesel mouths some obscenities helping the WWF lean more towards an adult- rather than kid-oriented program. He then tosses referee Earl Hebner aside and delivers a jackknife to Bret. Folks, I smell a heel turn. After some more referees try to intervene Diesel dispatches with them and gives Bret another jackknife. Upon receiving a mixed reaction he dropped the World title belt onto Bret.
Conclusion: Coming off the proverbial turd that was IYH 4 the WWF needed to right its wrong-doings. With this show they accomplished the mission. Bret's victory ended the year-long failed experiment that was Diesel as WWF champion. I look forward to RAW to see more character development from Diesel. As far as the rest of the show is concerned there was only one bad match while the rest were either excellent to really good. Seek this show out, grab a good meal and some friends, and enjoy it with one of my biggest recommendations.
One more tidbit on the announcing during the PPV: While Vince was his normal self, Jim Ross brought the goods in style and delivery. Unfortunately Hennig's commentary was neither noteworthy nor good. Let's hope he improves.
See you for week 11 of the Monday Night War!
Buyrate: 0.57
Comments? Suggestions? Send them to me at rsg@rockstargary.com and follow me on Twitter (@rockstargary202).
Custom Search