WELCOME TO ROCK STAR GARY REFLECTIONS!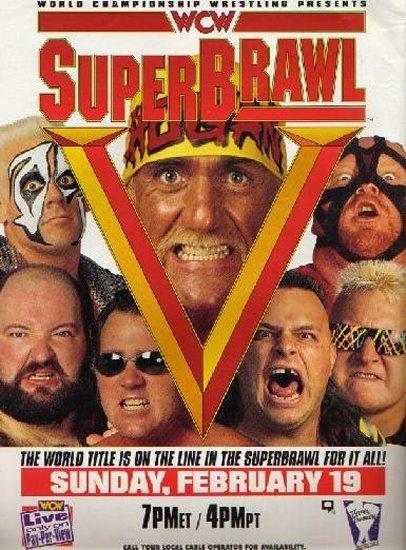 Live from Baltimore, MD
Airdate: February 19, 1995
Attendance: 13,390 (10,000 paid)
Hosted by Tony Schiavone and Bobby "The Brain" Heenan
We begin the show with a wonderful message from the WWE Network: "Presented in the most complete form possible, due to original production technical difficulties." So I wander over to Dailymotion and find the first ten minutes of the show. Whew!
Dueling promos from Hulk Hogan and Vader begin the show.
Tony, Bobby, and "Mean" Gene Okerlund make prognostications regarding the main event. They state that "Nature Boy" Ric Flair is here tonight.
Earlier in the night two men were having a conversation in the back of a long white limousine. Tony speculates that one of them is Flair. Vader emerges and harasses the cameraman. A second limousine pulls up, and Vader harasses the driver. He believes Hogan is in the limousine then busts out the passenger window.
Following that Vader storms the podium where Eric Bischoff and "The American Dream" Dusty Rhodes are located. He then runs to the ring, pulls Marcus Bagwell from the apron, and rams him into the ring apron.
After the Patriot pins his opponent (either Romeo Valentino or Dino Casanova) Vader drops an elbow into the center of Patriot's back. He delivers a powerbomb to either Valentino or Casanova then gives one to the Patriot.
Match 1: "Pretty" Paul Roma versus "Das Wunderkind" Alex Wright
Highlights:
So this match became famous for all the wrong reasons. More on that later.
Roma attacked Wright before the bell and Wright could remove his leather jacket.
Gorilla press slam from Roma who then mocks the young German.
Sunset flip from Wright got 2.
After getting countered Wright cartwheeled to escape.
Next he attempted to kip up three times, but Roma kept yanking him down by the hair. Hmmm.
Wright climbed the ropes and gave Roma an arm drag.
Meanwhile "Mr. Wonderful" Paul Orndorff made his way to ringside.
A pair of elbow drops from Roma.
He followed up with a trifecta of back breakers. Mm hmm.
Wright tried a springboard to get back in the ring, and Roma walloped him.
Backslide by Wright only got a one count.
Inside cradle by Wright.
While Roma held a reverse chinlock he put his feet on the ropes.
Wright attempted to deliver a dropkick to Roma off the ropes, but Roma held on.
Awesome top rope elbow drop from Roma and he received praise from his tag team partner.
When he finally tried to pin Wright he pulled him up at 2.
After whipping Roma off the ropes Wright missed something. Oops.
Leg lariat from Wright. Roma kicked out at 1.
Upon receiving a cross-corner whip Wright flipped and hit a cross body block.
Orndorff broke the count unbeknownst to referee Randy Anderson.
After slamming Wright Roma had a long discussion with Orndorff on the apron.
Wright gave him a dropkick sending Roma into Orndorff. Mr. Wonderful fell to the floor.
Wright then rolled up Roma for the pin, but Roma kicked out immediately after 3. Ah ha!
Rating: *1/2
Summary: My assertions were correct. Roma was being such an incredible prick here. According to his shoot interview he was told to make Wright look good. Well, genius, you did the polar opposite here. Instead you made the rookie look like a jobber, <insult redacted>!
Meanwhile Wright remains undefeated.
So what did WCW do about this situation? Possibly they'd kill Wright's push in order to give a former tag team champion the rub? Although I'm speculating I'm fairly certain that's what Roma thought, but we'd both be wrong. WCW wanted to push Wright as an up-and-coming young star. Due to his lack of professionalism here Roma was turfed from WCW. His last WCW match took place on 3/8 where he lost to "Flyin'" Brian Pillman. Good riddance!
Gene interviews Harlem Heat and Sister Sherri. After Sherri has a conniption during her promo Gene calls Stevie Ray by his brother's name and rightly gets chastised for it. Booker T promises the Nasty Boys a Harlem Hangover tonight. Personally I hope that doesn't involve peach schnapps. Yuck!
Backstage "Macho Man" Randy Savage is on the hotline praising Jay Lethal for his excellent impersonation skills Sting as his tag partner tonight against Big Bubba and Avalanche.
Match 2: "Hacksaw" Jim Duggan versus Bunkhouse Buck (w/ Colonel Parker and Meng)
Highlights:
Both men brawl on the floor until Buck rammed him into the ring post.
Atomic drop by Duggan.
After a big right hand sent Buck to the canvas Duggan held the top rope and did his customary stomp.
Elbow drop from Duggan.
After a slam Duggan delivered a knee drop.
Shoulder blocks in the corner by Duggan.
Colonel Parker got on the apron. When Duggan was thrown into the ropes he ran over Parker like a MACK truck.
Three-point stance clothesline by Duggan got the pin.
Rating: DUD
Summary: I thought the jobber matches were supposed to happen on the pre-show. Buck barely got any offense in here.
After the match Meng gets into the ring and destroys Duggan with a savate kick. He then applies a nerve hold. Now I know why the above match occurred.
Back in the dressing room Gene interviews the Nasty Boys. At least Gene didn't call one by the other one's name. Before Gene would visit Pity City I'm sure he'd have his lawyer on speed-dial.
Match 3: Kevin Sullivan (w/ the Butcher) versus Evad Sullivan
Highlights:
Evad came to the ring without his Hulk Hogan robe or long blond locks. According to historyofwwe.com Evad's robe, hair, and boots were cut by the Butcher. How dastardly! Unfortunately it made Evad look extremely generic.
Considering what we've seen thus far this match will not improve the quality of the show.
After sending Kevin outside the ring with a back elbow off the ropes Evad nailed Butcher in the back before tossing Kevin back inside.
Butcher tripped Evad as he was coming off the ropes.
Kevin threw Evad outside the ring where Butcher put the boots to him.
After some brawling in the ring Kevin tossed Evad outside again where Butcher ran him into the steel steps. End this match already!
Interestingly Tony and Bobby briefly discussed Butcher's parasailing accident.
Diving guillotine by Kevin. A second attempt missed though.
Butcher got on the apron to distract Evad so Kevin rammed Evad into him sending Butcher flying to the floor.
Kevin then rolled up Evad and pinned him while grabbing the tights.
Rating: DUD
Summary: In case you didn't already know Kevin Sullivan was one of the bookers for WCW. Similar to Starrcade he booked himself a meaningless PPV match that was worthless to the viewer. Pass on this crap immediately please!
After the match Butcher is seen writhing in pain on the floor while holding his face. Kevin assists him from the ring down the aisle then leaves him there. Why not? Heels like Sullivan are supposed to lack compassion.
Tony gives a shout-out to the Spanish announcing team of Miguel Alonzo and Pedro Morales.
Back in the dressing room Gene interviews Avalanche and Big Bubba Rogers. Bubba once again is wearing a derby and a suit. Bubba's education (or lack thereof) comes into play for a moment.
Sting is backstage talking with Mike Tenay on the WCW hotline about saving TNA's skin at Victory Road after Jeff Hardy participated in no condition to perform bashing Bubba's brains in to help with his math skills.
Match 4 for the WCW World Tag Team titles: Harlem Heat (champions w/ Sister Sherri) versus the Nasty Boys
Highlights:
Hold on a second. Was Bobby drunk during this show? He's slurring badly. Someone pass me a Fireball!
Booker T whipped Knobbs off the ropes but missed an axe kick.
Unfortunately he landed on the top rope allowing the Nasty Boys to shake it and give Booker a high-pitched voice. Try to imagine Tweety Bird saying "Sucka!"
After a head butt and an elbow Sags gave Booker an inverted atomic drop.
Leg drop from Knobbs to Stevie Ray's left leg.
Splash from Knobbs to Stevie Ray's leg.
Sags came off the apron to nail Booker T in the head with an elbow.
Dropkick from Booker T sent Sags over the top rope, down the steps, and to the floor.
With some assistance from Stevie Ray Sister Sherri made Sags eat the steel railing. I bet it tasted like the Raven sandwich at Chaps Pit Beef. Delicious!
Sags delivered a clothesline to Stevie Ray.
Immediately after kicking out at one Stevie Ray gave Sags a reverse savate kick sending him to the floor.
Standing side kick from Booker to Sags on the floor.
While Stevie Ray held Sags, Sherri walloped him with a right hand. Wow, tough lady!
After missing an elbow drop Booker provided us with a spinarooni. Woohoo!
Stevie Ray delivered a clothesline from the apron to the floor to Sags.
Leg lariat from Booker to Sags.
Booker either had a cough or was whispering instructions to Stevie. You make the call.
Scissor kick from Booker T.
From the second rope Booker missed a right hand.
Powerslam by Sags.
Hot tag Knobbs.
Clothesline in the corner from Knobbs to Stevie Ray.
Double DDT by Knobbs.
Splash by Knobbs saved by Stevie Ray.
Unbeknownst to referee Nick Patrick Sags tossed Booker over the top rope.
While Stevie Ray held Knobbs Sherri came off the top rope and hit Stevie instead with a double axehandle.
Knobbs then rolled up Stevie Ray for the pin.
WE HAVE NEW CHAMPIONS!
Referee Randy Anderson ran into the ring to consult Patrick. I don't like the smell of this.
Yep. He told Patrick that Booker was thrown over the top. Can you smell it yet?
Patrick ruled that the Nasty Boys were disqualified.
Rating: **

Summary: What you just witnessed/smelled was a Dusty finish…in 1995! As a booker Dusty Rhodes made this type of finish popular over 10 years prior to this match. It is a terrible finish and insults the intelligence of the wrestling fan. They should be abolished immediately.

Back in the dressing room Gene disgusts me by calling this show one of the best shows he's attended. He then interviews Sting and Savage. The "Macho Man" isn't talking. Sting shows us a scar that Savage gave him during a heated discussion. Lover's quarrel, I bet.

Tony shills Uncensored on March 19…in the same month as WM XI…fascinating.

We then see highlights of the Blacktop Bully being arrested and Colonel Parker bailing him out to the tune of $75,000. Next we get highlights from WCW Saturday Night shown on 2/4 (taped 1/11/95) of Rhodes, Sting, and Savage against the Blacktop Bully, Bunkhouse Buck, and new Stud Stable member "Dirty" Dick Slater.

Match 5: "The Natural" Dustin Rhodes versus the Blacktop Bully (w/ Colonel Parker and Meng)

<>Highlights:
WCW Commissioner Nick Bockwinkel bounced Meng from ringside immediately.
In case you aren't aware the Blacktop Bully was the gimmick du jour of Barry Darsow. He was famous for his portrayals of Krusher Kruschev, Smash of Demolition, and the Repo Man.
Lariat from Rhodes.
Rhodes completed his ten bonks to the head in the corner with a bionic elbow.
Immediately thereafter Bully clips him. Personal foul. Defense. #0. 15 yards. Automatic first down.
After receiving two cross-corner whips the Bully was hung out to dry on the top rope…until Dustin punted him to the floor.
When Bully came off the ropes Dustin delivered a high knee.
A smark in the crowd held up a "Repo" sign as the fans chanted KFC at Parker.
Upon receiving a cross-corner whip Dustin delivered a flying reverse back elbow from the second rope.
After a right hand by the Bully sent Dustin to the floor Parker tried to hit him but was blocked.
The distraction allowed Bully to try a double axe handle from the apron, but Dustin caught him with a right hand to the bread basket.
He then made Bully eat the steel steps.
After thwarting a monkey flip by Dustin Bully clotheslined Dustin who did a 360° sell. Impressive!
Upon getting thrown outside the ring Dustin received a series of kicks from Parker.
Belly to back suplex from Bully.
Dustin attempted but missed a cross body block sending him off the apron, down the steps, and down the aisle.
Dustin grabbed Bully's leg and rammed it into the ring post.
Vertical suplex by Bully.
Bully attempted a double axe handle from the second rope but ate a clothesline.
Bulldog from Dustin but Parker placed Bully's leg on the bottom rope.
Dustin pulled Parker onto the apron then suplexed him in the hard way.
With Bully on the apron Dustin attempted to suplex him in; however, Parker tripped Dustin putting Bully on top for the pin.
Rating: **1/2
Summary: This match had its moments. With a little more seasoning I bet these guys could pull off a much better match at the next PPV.
Back in the dressing room Gene interviews Vader who is raving like a lunatic.
In the entranceway Gene interviews "Nature Boy" Ric Flair. He questions Flair about being in Vader's limousine. Flair states he will be sitting in the front row, and the party will be at the Marriott all night long. Afterwards Doug Dellinger escorts him to his seat.
Match 6: Avalanche and Big Bubba Rogers versus Sting and "Macho Man" Randy Savage
Highlights:
The Great Muta (sans makeup) and Sonny Onoo were shown at ringside.
Two clotheslines and a dropkick from Sting couldn't knock Avalanche off his feet.
Back breaker from Bubba to Sting.
Bubba tried to mount the top turnbuckle, but Savage made him lose his balance and then some as he crotched himself.
Superplex from Sting.
After Sting sent Bubba to the floor Savage delivered a double axe handle from the top rope.
Running knee to the back by Savage sent Bubba face-first into the top turnbuckle. Savage then rolled him up for 2.
Savage slapped the taste out of Avalanche's mouth. I hope his breath doesn't smell like mountain oysters.
Savage tried to slam Avalanche, but the big man fell on top of him.
After giving Savage a cross-corner whip Avalanche missed uh…an avalanche. Perhaps he should stop performing that maneuver. It never works.
A clip from Sting took the big man down. Personal foul #1 15 yards. Automatic first down.
Sting attempted to hook him in the Scorpion Deathlock, but all hell broke loose as Savage and Bubba entered the fray.
As Savage held Bubba Sting delivered the Stinger splash.
He then gave it to Avalanche in the opposite corner.
A second one for Bubba came with mustard.
A second attempt at Avalanche was met with a clothesline though.
Flair taunted Savage so the Macho Man got in his face.
Meanwhile Avalanche delivered an elbow drop to Sting.
Again Avalanche missed Sting in the corner. Sting countered with a slam. Wow!
Sting made the mistake of being in the wrong corner. Bubba nailed him.
Sting then fell face-first downstairs on Avalanche. YEE-OUCH!
Hot tag Savage.
Double axe handle from the top rope to Avalanche.
After all four men were in the ring Savage slammed Bubba.
He then gave Bubba his patented elbow off the top rope.
As referee Nick Patrick told Savage that Bubba wasn't the legal man Sting delivered a clothesline sending Avalanche backwards over Bubba.
He then pinned Avalanche.
Rating: ***1/2

Summary: Great match as Sting and Savage brought the goods against the big men.

Call the hotline to speak with Harlem Heat. If you don't then you'll wake up tomorrow with a Harlem hangover.

Highlights of Vader are shown including his face-to-face confrontation with Hogan at Starrcade. Also included is the powerbomb from Vader at the Clash. What wasn't shown was Hogan's no-selling of said powerbomb.

Gene interviews Hogan and Hart back in the dressing room.

Match 7 for the WCW World title: Hulk Hogan (champion w/ Jimmy Hart) versus Vader

<>Highlights:
Conspicuous by his absence was Harley Race.
Buffer rumbled.
Mixed reaction for Hogan.
Right hands by Hogan didn't faze Vader. In fact he removed his head gear to show he meant business.
Clothesline in the corner by Hogan also didn't faze Vader.
Short arm scissors from Hogan.
After pummeling Hogan in the corner Vader delivers a short arm clothesline.
Avalanche by Vader. Tenta could have learned a thing or two from him.
Hogan reversed an Irish whip and sent Vader into and over the steel railing.
Coming out of the corner Hogan clotheslined Vader.
Big boot followed by a clothesline over the top rope sent Vader to the floor.
Hogan attempted to slam him but Vader fell on top of him.
Running body block by Vader.
After a slam Vader delivered the Vader bomb.
Vader mounted the top turnbuckle but missed the moonsault.
Outside the ring Hogan made Vader taste the steel railing. Tasted like the crab cake at G&M in Linthicum. Yummy!
Hogan scrambled, found a steel chair, and waffled Vader with it outside the ring.
Another chair shot to the head by Hogan.
Hogan missed the Axe Bomber.
Immediately Vader delivered a chokeslam.
Vertical suplex by Vader.
Hulk-up time!
Big boot.
Leg drop, but Vader kicked out!
He then ran over both Hogan and referee Randy Anderson.
Next he gave Hogan a powerbomb.
With the referee down Flair got in the ring and kicked Hogan. He also put Anderson in position.
After a splash Hogan kicked out at 2.
He then clotheslined Vader over the top rope to the floor again.
Flair entered the ring and chopped Hogan causing the DQ.
Rating: ***
Summary: Surprisingly not a bad match between these two big men. Vader worked in his spots while Hogan got his. Flair's interference at the end leaves a bad taste in my mouth, but I want to see a rematch.
After the match Hogan gives Flair the big boot and chokes him. Vader re-enters the ring and double-teams Hogan with Flair. The currently retired twelve-time former champion slaps on the figure-four leg lock while Vader mounts the top turnbuckle. Before any chicanery can occur Savage and Sting hit the ring with chairs. Tony smells collusion between Vader and Flair.
Conclusion: Well, this show ended a lot better than it started. There is definitely more to the story between Hogan and Vader. Hopefully there is a rematch at Uncensored. The semi-main event tag team match was really good. Seek that out not only for the good versus evil component but also the big man versus smaller man component.
Since the Blacktop Bully stole a victory from Dustin Rhodes I smell a rematch between those two. Whether you're a fan of Harlem Heat or of a Dusty finish you got your wish with the tag title match. Neither Kevin nor Evad Sullivan belongs anywhere near a wrestling ring. Please make them stop! On top of that a Duggan squash of Bunkhouse Bunk belongs on WCW Saturday Night rather than a PPV.
As an addendum to my comments regarding the first match Roma did not work another televised match for a major wrestling company after his match here. Hence his unprofessional attitude blackballed him from the industry. I hope he saved his money and found a niche befitting such an egomaniac.
As far as my recommendation is concerned I would stay far away from this show. Besides the Roma debacle nothing truly historic happened.
See you at Uncensored!
Buyrate: 0.95
Comments? Suggestions? Send them to me at rsg@rockstargary.com and follow me on Twitter (@rockstargary202).
Custom Search