WELCOME TO ROCK STAR GARY REFLECTIONS!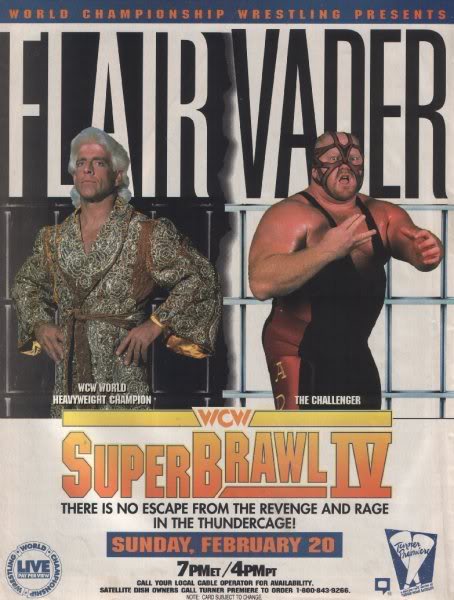 Live from Albany, GA
Airdate: February 20, 1994
Attendance: 7,600 (4,217 paid)
Hosted by Tony Schiavone and Bobby "The Brain" Heenan
The opening of the show lists three title matches along with two cage matches. "Nature Boy" Ric Flair is shown working out and jogging through the steps of the arena. In spite of living the "Naitch" lifestyle you can't fault Flair for lack of endurance during his career.
Schiavone and Heenan preview the main event noting that the Boss will be the special guest referee. They then show highlights of Michael P.S. Hayes turning on Johnny B. Badd.
Match 1: Johnny B. Badd versus Michael P.S. Hayes (w/ Jimmy "Jam" Garvin)
Highlights:
Garvin wheeled Hayes out in a wheelchair. Hayes' ribs were taped. I always wondered where DDP borrowed that gimmick.
"Mean" Gene Okerlund and WCW Commissioner Nick Bockwinkel stopped the Fabulous Freebirds on the ramp to find out what the scoop on Hayes was.
Hayes and Garvin stammered over the cause of Hayes' injury.
While Bockwinkel examined the doctor's note Garvin badmouthed Badd to the point where Bockwinkel inserted him into the match! Methinks Jimmy bit off more than he could chew.
Garvin claimed he's retired and was working as a commercial pilot.
Bockwinkel threatened fines and suspensions if Garvin doesn't wrestle.
Rating: NONE
REAL match 1: Harlem Heat versus Thunder and Lightning
Highlights:
Thunder and Lightning? Who in the blue blazes are these ham'n'eggers? And what are they doing on my PPV? Evidently Thunder is Dave Nelson and Lightning is Jeff Farmer who became Cobra and eventually nWo Sting later in his WCW tenure.
Throughout the match Heenan referred to Thunder and Lightning as Batman and Robin.
To my shock and amazement Lightning threw a great dropkick.
Thunder gave a well-executed flying shoulder block.
Kane (Stevie Ray) made Thunder eat the steel railing. Needs salt.
Flying forearm by Kole (Booker T).
Split-screen shot of Flair in his dressing room with Arn Anderson and Ricky "The Dragon" Steamboat.
Kole missed a top rope elbow.
Incredible belly-to-belly suplex by Lightning.
Lightning had Kole in a rollup, but Kane booted him in the head.
Shortly thereafter Kole pinned Lightning.
Rating: **
Summary: I must say that Jeff Farmer impressed me here; however, the match was a standard tag team affair with a predictable outcome.
Okerlund is outside Flair's dressing room. Plenty of security is shown in the hallway.
Match 2: The Equalizer versus "Jungle" Jim Steele
Highlights:
Jim who? Why are they trotting out guys like these? Showcasing the WCW Power Plant perhaps? Could Paul Wight or Goldberg be far behind?
Having watched a lot of WCW recently I recognize this match as the popcorn match. Make yourself a batch and prepare for the next encounter.
Good combination of a monkey flip and a dropkick by Steele.
Crucifix pin by Steele got a 2 count.
Heenan name dropped Hulk Hogan in reference to the main event. The seeds have been planted.
Terrible dropkick by Steele.
An absolutely pathetic excuse for a Lou Thesz press pinned the Equalizer. Wow, that was awful.
Prior to the replay Tony referred to the move as the Steele trap. If I were Steele I'd lock that move away and never use it again.
Rating: DUD
You know when you introduce someone who is oblivious to pro wrestling a great match like Flair/Steamboat from 1989 in order to pique their interest? Well, this match would be the polar opposite of that. Please don't show this match to any aspiring wrestling fan EVER. You have been notified. Moving along…
Call the hotline to listen to Gordon Solie and Larry Zbyszko. Meanwhile Bockwinkel and Steamboat join Okerlund on stage to discuss the #1 contender for the WCW World title.
Match 3: Diamond Dallas Page (w/ a Diamond doll) versus Terry Taylor
Highlights:
Standing leg lariat by Taylor.
Unfortunately Page hadn't invented DDP Yoga yet because he didn't look too slim here.
Taylor applied a cross armbreaker.
Nice pinfall reversal sequence off a sunset flip by Page.
Wicked back elbow by Page.
Cobra clutch by Page.
Great dropkick by Taylor.
Knockout punch by DDP.
After hitting a shoulder block in the corner DDP tried again. Taylor sidestepped him then rolled him up for the pin.
Rating: *1/2
Summary: At this stage in his career Page was still learning to be a pro wrestler. His moves were not crisp, but Taylor was a great veteran to assist in Page's ring education.
Okerlund interviews the German broadcaster for WCW International Olivier Muffler. Pass the Weihenstephaner please!
WCW Spring Stampede is on April 17 from Chicago.
Match 4: Jimmy "Jam" Garvin (w/ Michael P.S. Hayes) versus Johnny B. Badd
Highlights:
Jimmy has a tattoo of Precious on his left shoulder. Unfortunately for Jimmy he's got the physique of a commercial pilot instead of a pro wrestler.
B-O-R-I-N-G arm work by Johnny B. Badd as he had to turn the clock back to the 80s to hang with Garvin.
In fact the match is so boring (and quiet) that Hayes and Heenan chatted from one side of the ring to the other. Yikes!
Garvin signaled for the Freebird DDT, but Badd responded with a back drop.
Flying headscissors by Badd woke up the crowd.
Uppercut by Badd knocked Garvin silly.
From the top rope Badd delivered a sunset flip for the pin.
Rating: *
Summary:If you want to try a cure for insomnia, watch this match. It didn't get exciting whatsoever until the finish which was basic wrestling 101. I understand Garvin was not a regular wrestler at this point in time; however, perhaps a young buck from the Power Plant may have wrestled a better match than he did here.
After the match Badd sees Hayes in the wheelchair and goes after him. Garvin catches him with a knee to the back and throws him back into the ring. Hayes throws his boot, and Garvin nails Badd with it. He then gave Badd a jawbreaker (early variation of the Stone Cold Stunner possibly?) Tony calls the move "the 911." The aftermath was more exciting than the match.
Okerlund is backstage and tries to enter Vader's dressing room. Inside Vader is tossing around a steel chair before denying Gene an interview.
Match 5 for the WCW World TV title: Lord Steven Regal (champion w/ Sir William) versus "The Enforcer" Arn Anderson
Highlights:
Regal's left leg was taped.
A 30 minute time limit? I surely hope this doesn't develop into a time-limit draw.
Regal executed a great bridge followed by a kip-up while in a test-of-strength.
Patented spinning wrist hold by Arn.
Hammerlock slam by Arn.
Anderson rammed Regal's arm into the post.
Cravate by Regal.
European uppercut by Regal sent Anderson to the apron. From there Sir William jabbed his umbrella into Anderson's throat.
Single leg crab by Regal with some assistance from the ropes.
Regal stretch with Sir William's assistance.
22 minutes in Anderson finally works on the taped leg. Regal escaped a figure-four leg lock attempt.
With Anderson on the floor Sir William jabbed the umbrella into the back of the neck. Considering Arn's future neck problems that really had to hurt.
Excellent counter of an abdominal stretch into an inside cradle by Anderson.
Spinebuster!
Anderson attempted a sunset flip, but Regal grabbed Sir William's umbrella, knelt down on Anderson's shoulders, and got the pin with only six seconds remaining.
Rating: ***
Summary: Great technical match between these two wrestlers. Despite the methodical pace the psychology worked very well. Anderson made Regal look excellent here. The push continues.
They show the ending to the match at the Clash between the two teams. In an attempt to pick a winner "The Brain" makes a good point. None of them "knows how to wrestle. They know how to fight." Tony is beside himself after that comment.
Match 6 for the WCW World Tag Team titles: The Nasty Boys (champions w/o Missy Hyatt) versus Cactus Jack and Maxx Payne
Highlights:
Instead of bringing Missy Hyatt, Knobbs brought an acoustic guitar to the ring. I can see a similarity in that Knobbs probably could make each whine.
As if to completely debunk Heenan's theory about these guys as wrestlers Payne gives Knobbs a well-executed German release suplex.
Belly-to-belly suplex by Payne to Sags.
Again the tag titles are sitting in the champions' corner rather than on the timekeeper's table. C'mon WCW! Stop giving away the outcome prior to the ending.
Chokeslam by Payne on Knobbs.
Sags tried a body press against Payne but received a powerslam for his troubles.
As Cactus Jack delivered a Cactus clothesline to Knobbs, Heenan exclaimed "Bowling for Dollars!"
After Knobbs pulled the mats up exposing the concrete Sags gave a shoulder block to Cactus Jack prompting the Nestea Plunge. OUCH! Mick was crazy to continually take that bump.
Afterwards Knobbs rammed Cactus Jack's head into the steel railing. Since his mouth was bloody Mick couldn't taste the secret sauce on that one.
Knobbs applied a Boston crab to Cactus Jack.
Behind referee Nick Patrick's back Payne dragged Cactus Jack closer to their corner.
False tag.
The Nasty Boys missed a double clothesline on Cactus Jack. Immediately Cactus Jack delivered a double DDT.
Hot tag Payne.
SICK overhead belly-to-belly suplex from Payne to Knobbs.
Payne applied the Payne-killer, but Sags nailed Payne with the acoustic guitar destroying it.
Cactus Jack and Maxx Payne won by disqualification.
Rating: ***

Summary: The wrestling maneuvers by Payne shocked me until he hurt Knobbs with that last suplex. These teams have good chemistry. I hope to see more matches in the future between them.

Okerlund is back in the dressing room shilling the hotline. He then interviews Flair and Steamboat. Okerlund name drops Hogan's name. Flair states that a match between him and Hogan would be legendary. Hmmm…I wonder what Bischoff has cooking here. Arn Anderson joins the group and offers words of encouragement to Flair.

The lights go out. The fireworks explode. The cage is lowered. Let's get brutal!

Match 7 Thundercage: "Stunning" Steve Austin, "Ravishing" Rick Rude, and "Mr. Wonderful" Paul Orndorff (w/ Colonel Parker) versus Sting, "The Natural" Dustin Rhodes, and "Flyin'" Brian Pillman

<>Highlights:
Sting exploded all over Rude at the beginning of the match.
He then countered Austin's patented Hollywood Blond trick knee with a Scorpion death lock.
Outside the ring Sting countered an Irish whip sending Austin into the cage.
Pillman chased Austin outside the ring and got sent into the cage face-first.
As Orndorff raked Pillman's head against the cage we see that Brian was busted open.
Vicious belly-to-back suplex from Orndorff to Pillman.
From the top rope Rude hits a flying knee drop on Pillman.
From the middle rope Austin hits Pillman with a forearm.
Austin jumped from the second rope but got caught by a Pillman dropkick.
Hot tag Sting.
"Clothesline-o-mania" by Sting according to Tony.
Sting rammed Orndorff's head into the cage twice busting him open.
Flip, flop, and fly by Rhodes followed by a bionic elbow to Orndorff.
Rhodes attempted a bulldog on Rude, but Rick tossed him onto the top turnbuckle.
Super belly-to-back suplex from Rude to Rhodes.
While clutching Rhodes in a bear hug Rude delivered a sweet belly-to-belly suplex. There's the Rude I know and enjoy!
Rhodes dropkicked Austin from the apron to the cage.
After Pillman dropkicked Orndorff and Rude in the corner all six men entered the ring.
After giving Austin a double back drop Sting military-pressed Pillman onto Austin for the pin!
<>Rating: ****

Summary: What a great cage match! The fans were into it. The blood was flowing. A fine wrap-up of the Hollywood Blonds feud occurred. What else can happen here?

After the match head of security Doug Dillinger unlocked the cage. Immediately thereafter, Rude rammed the cage door right into Sting's face. He then gave Sting a Rude Awakening. Wow! Give that match an extra ½ star for building a high-profile feud as well.

Highlights from the previous Clash are shown. A clip from WCW Saturday Night(1/29/94) is shown where Bockwinkel postpones the World title match at SuperBrawl and Vader interrupts.

WCW Saturday Night (2/5/94) Harley Race disturbs a Steamboat squash while Vader (in street clothes) manhandles him. In the next video Bockwinkel on-screen talks with Flair over the phone. Flair begs to fight Vader at SuperBrawl. Later in the show Bockwinkel announces that if Flair can provide a doctor's release by 2/7 the title match at SuperBrawl will be reinstated. Flair decries that he will fax the medical release ASAP. Regardless he states that he will be at SuperBrawl.

On WCW Saturday Night (2/12/94) Bockwinkel announces that the match is reinstated. He also decries that a special guest referee will be appointed. That referee will be the Boss!

Match 8 for the WCW World title: "Nature Boy" Ric Flair versus Vader (w/ Harley Race)

Highlights:
Michael Buffer rumbled.
Race argued with the Boss about the cage being locked.
Flair stomped a mud hole in Vader to begin the match.
A Flair back elbow sent Vader to the floor.
Flair bopped Vader on the head with a steel chair twice.
After a cross-corner whip Vader does a Flair flip. Impressive!
Flair charged but ate a body block then an elbow.
After a slam Vader hit the Vader bomb.
Tony plugged Ric Flair's Gold's Gym in Charlotte, NC.
Vader missed the moonsault.
After Vader tossed Flair outside the ring Race hung Flair's head in the cage.
Running body block by Vader sent Flair to the floor again.
While on the floor Race head-butted Flair.
Heenan made fun of the Boss, but when he tried to make fun of Marietta, GA Tony took exception. Since I used to live there I'd take exception too.
Top rope superplex by Vader.
Race tries to interfere again, but the Boss put a stop to it.
The Boss tried to handcuff Race to the cage, but Vader interrupted.
Heenan let a "Bossman" slip. Oops. Trademark infringement.
Vader handcuffed the Boss to the cage then walloped him.
Race swiped the key to the cage and entered. He then locked it behind him.
Vader splash.
Arn Anderson came to the ring but couldn't enter the cage.
With Race holding Flair Vader came off the top rope but missed Flair giving Race a flying body block.
Steamboat hit the ring and tried to break the lock with a chair.
Flair hit both Race and Vader with a chair shot to the head.
The Boss broke the handcuffs and clipped Vader in the knee.
As Flair hooked the figure-four leg lock the Boss called for the bell.
By means of face chicanery Flair retained the gold.
Rating: ***1/2
Summary:Great brawl marred by a weak finish. Since Vader and the Boss will begin feuding the ending made sense albeit being a very sports-entertainment finish rather than another job by Vader.
After the match Vader screams at Tony and Bobby for justice. I don't blame him.
Conclusion:The first hour is extremely forgettable. The only interesting part is Heenan's commentary. Take a pass on that part of the show as well as the guacamole.
If you skip the first hour of the show then it's an enjoyable show. The mat wrestling between Anderson and Regal was really good. The finish of the tag title match ensured there would be more fights between the Nasty Boys/Payne-Jack. The first Thundercage match is excellent.
But as far as the main event is concerned I understand that a change in World title contenders had to happen. But they didn't have to make Vader look terrible with that finish. If you've never seen this show, please heed my advice and watch the last 90 minutes.
See you at Spring Stampede!
Buyrate: 0.50
Comments? Suggestions? Send them to me at rsg@rockstargary.com and follow me on Twitter (@rockstargary202).
Custom Search