WELCOME TO ROCK STAR GARY REFLECTIONS!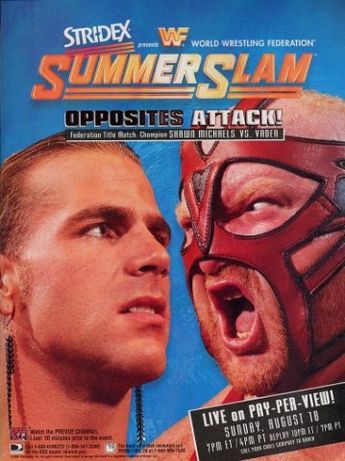 Live from Cleveland, OH
Airdate: August 18, 1996
Attendance: 17,000 (14,926 paid)
Hosted by Vince McMahon, Jim Ross, and Mr. Perfect
For those who are interested, here is the Free for All containing the Bikini Beach Blast-Off along with Stone Cold Steve Austin versus Yokozuna.
Match 1: Owen Hart (w/o Jim Cornette) versus Savio Vega
Highlights:
In case you were wondering, yes, Owen was STILL wearing the cast on his "broken" wrist.
After a leap frog by Vega, he rammed Owen's broken wrist into three top turnbuckles. I'm surprised Owen didn't submit right there.
Vega then slammed Owen but missed an elbow drop.
Seeing that Cornette wasn't at ringside, a split-screen showed his discussing strategy with Vader for the title match later.
Meanwhile, another leap frog by Vega was followed by a monkey flip and hip toss.
After giving Owen a sternum-first bump in the corner, Vega rolled him up for 2.
Owen's kick-out sent Vega shoulder-first into the ring post.
In case you were wondering, Vince continued to namedrop Owen's brother, Bret.
Nonetheless, a single-arm DDT by Owen got 2.
Next, Clarence Mason stood in the aisle as Owen missed a dropkick.
After both wrestlers missed spinning heel kicks, Vega hit a cross body block for 2.
Owen then gave him an enziguri for 2.
Vega then hooked an inside cradle for 2.
He then reversed a cross-corner whip but ate knees on his follow-through.
Owen then tried to pin Vega with his feet on the ropes but only got 2.
Since Owen was arguing with referee Tim White, Vega rolled Owen for 2.
Owen then came back with a spinning heel kick for 2.
A subsequent cross-corner whip by Owen resulted in his receiving a leg lariat upon his follow-through.
After giving Owen an inverted atomic drop, Vega followed with a pair of clotheslines.
Ten-punch count-along by Vega was followed by a slam and leg drop for 2.
Upon giving Owen another cross-corner whip, Vega delivered a sidewalk slam for another 2.
After a swinging neckbreaker by Owen, he mounted the top turnbuckle and gave Vega a missile dropkick for only 2.
Again, he mounted the top turnbuckle but got kicked and crotched. OUCH!
Vega then delivered a belly-to-back superplex.
Without White's knowledge, Owen removed the cast and WALLOPED Vega with it.
Owen then applied the Sharpshooter and won.
Rating: **1/2
Summary: Alas, the crafty and wily veteran finds a way to win. I thought this would be more fast-paced however.
After the match, Mason enters the ring to congratulate Owen. Justin "Hawk" Bradshaw then comes out with Uncle Zebekiah, yells at the broadcast team without a microphone, and then levels Vega who was being helped by White back to the dressing room. Supposedly, he's pissed about losing this match "yesterday" on Superstars (aired 8/17, taped 7/23).
In the boiler room, Todd Pettengill describes the upcoming brawl between the Undertaker and Mankind. Suddenly, Mankind appears claiming "there is no place like home." That might work if he was wearing ruby slippers.
Match 2 for the WWF tag team titles (four team elimination): The Smoking Gunns (champions w/ Sunny) versus the New Rockers versus the Bodydonnas versus the Godwinns (w/ Hillbilly Jim)
Highlights:
Must I watch this? Nothing good can come from it.
As the Bodydonnas made their entrance, Skip was wearing a neck brace due to a Sidewinder gone awry by the Smoking Gunns at Madison Square Garden two nights ago.
To show how interested the crowd was for this match, they chanted "Sunny."
Henry reversed an Irish whip then gave Billy a hip toss.
After receiving a face plant from Henry, Billy tagged out to Zip.
When Billy lipped off to the crowd, both Zip and Phineas tagged in both Gunns.
Bart then tagged in Zip.
After a leap frog, Zip delivered a pair of arm drags followed by a clothesline.
However, as he came off the ropes, Jannetty tripped him knocking him silly.
Billy then pinned Zip. The Bodydonnas were eliminated.
Cassidy tagged in and gave Henry a clothesline.
After a cross-corner whip, Henry ate boot on his follow-through.
Jannetty tagged in and gave Henry both a clothesline and a fist drop.
Upon the choking of Henry on the top rope by Billy, Jannetty tried to clothesline him but nailed Billy instead.
A subsequent sidewalk slam by Henry to Billy resulted in a 2 count as well as both Rockers mistakenly elbow-dropping Billy instead of Henry.
As the Gunns and Rockers argued mid-ring, the Godwinns came in and gave them double noggin knockers.
When action resumed, Henry gave Cassidy a back elbow.
Cassidy came back by rolling up Henry off his own corner with some help by Jannetty.
That only got 2 as Henry's kick-out sent Cassidy directly into Jannetty. While Jannetty landed in the ring, Cassidy landed on the floor.
Henry then gave Jannetty the Slop Drop and eliminated the Rockers.
Bart came in and slammed Henry.
Cross-corner whip by Bart, but he ate boot on his follow-through.
Henry then gave Bart a clothesline resulting in a 360° sell. Woohoo!
Upon receiving some left hands by Bart, Henry came back with an inverted atomic drop.
After giving Henry a cross-corner whip, Billy dove at him and got caught.
Henry then gave him a powerslam.
Hot tag Phineas.
A clothesline by Henry sent both he and Bart over the top rope to the floor.
Phineas then gave Billy the Slop Drop, but referee Mike Chioda was occupied with Hillbilly Jim chasing Sunny with a baby goat. I knew Sunny didn't like kids.
Regardless, Bart mounted the top turnbuckle, gave Phineas a double axe handle, and placed Billy atop him.
1-2-3.
The Gunns retained.
Rating: *1/2
Summary: C-R-A-P that the Cleveland faithful could have used as a bathroom break.
After the match, Sunny comes into the ring and bestows a gift to all of us: a HUGE seductive picture of herself. Her ego is reaching Hogan-level proportions.
Ad for the Rapid Transit Authority in Cleveland featuring the Godwinns and Smoking Gunns. More PPV time wasted. Thanks!
Next, Jerry Lawler scouts the Cleveland Indians and speaks to catcher Sandy Alomar who threatens to piledrive Lawler. He then questions pitcher Charles Nagy about using the spitball. Afterward, he threw out the first pitch and sat in the nosebleeds making Uecker jokes.
In the next segment of time-wasting, the WWF Superstars are painting away some graffiti while the Undertaker gives away a funeral. What a prize! Can I get a cremation to go?
After Smith makes his entrance, Dok Hendrix interviews Sid. According to him, he's "here to stay."
Match 3: Sycho Sid versus the "British Bulldog" Davey Boy Smith (w/o Jim Cornette)
Highlights:
After missing one clothesline, Sid successfully delivered a second one.
He then slammed Smith who sought refuge outside the ring.
Meanwhile, a very healthy "Sycho Sid" chant emanated from the Cleveland faithful.
Another slam by Sid got 2.
Smith then came back with a delayed vertical suplex as Mason joined him at ringside.
Afterward, Smith clotheslined Sid over the top rope to the floor as Cornette continued to prep Vader for his upcoming match in split-screen.
As Sid got up on the apron, Smith clotheslined him back down to the floor.
A second trip to the apron by Sid earned him a gutbuster on the top rope. OUCH!
Sid then came back with a cross-corner whip and shoulder block.
After a second cross-corner whip, Sid came up empty on his follow-through.
Smith then delivered the running powerslam, but Cornette came out to accuse Mason of contract tampering causing a distraction.
After said distraction, Smith attempted another running powerslam, but Sid escaped.
He then gave Smith a chokeslam followed by a powerbomb.
1-2-3.
Rating: **
Summary: The crowd ate up Sid with a spoon.
Ad for the In Your House: Mind Games next month only on PPV.
Backstage, Pettengill interviews Mero with Sable. We then revisit Superstars when Mankind stalked Sable and called her "mommy." Mero then calls Goldust a "falling star."
Match 4: "Wildman" Marc Mero (w/ Sable) versus Goldust (w/ Marlena)
Highlights:
It should be noted that across the ring from the hard camera, a Goldust impersonator sat in the front row.
After a leap frog, Mero delivered a pair of arm drags.
As the crowd chanted a homophobic slur, Mero hit a cross body block for 2.
While Mero hooked a hammerlock, Vince and Ross discussed Johnson's health issues and hoped that the doctors didn't have to remove Johnson's kidney.
In the meantime, Mero charged at Goldust but was backdropped over the top rope to the floor.
With Mero on the apron, Goldust nailed him in the back with a forearm causing Mero to eat the steel railing. It must have tasted like the Commodore at the Blue Point Grille.
Goldust subsequently joined him outside the ring and guillotined him on the steel railing. OUCH!
He then tossed Mero back in the ring and got 2.
After a clothesline by Goldust got another 2, Mankind made his way to the ring.
Again, Mankind stalked a terrified Sable, but officials chased him backstage.
Back in the ring, Goldust caught Mero with a knee to the midsection for 2.
After receiving a cross-corner whip, Mero leaped to the second turnbuckle and hit a flying back elbow.
Goldust responded with a haymaker that Mero ducked.
Mero then delivered an inverted atomic drop.
After a lariat by Mero, he gave Goldust a back drop.
Upon giving Goldust a boot to the midsection, Mero delivered a knee lift.
He followed with a ten-punch count-along, but Goldust tried to dump Mero over the top rope again.
Instead, both men spilled over the top rope to the floor.
Immediately, Mero returned to the ring and hit a somersault plancha.
Upon tossing Goldust back in, Mero gave him a slingshot leg drop.
After a slam, he mounted the top turnbuckle and hit the Wild Thing (shooting star press).
Marlena distracted referee Tim White causing him to only count to 2. Can you blame him though?
Anyway, Mero gave Goldust a cross-corner whip but ate a back elbow on his follow-through.
Goldust then charged only to fall victim to a powerslam for only 2.
After giving Mero a sternum-first bump in the corner, Goldust hit the Curtain Call.
1-2-3.
Rating: **1/2
Summary: Goldust's heel work is improving, and that shooting star press by Mero is incredible.
After the match, Goldust stalks a terrified Sable right in front of Mero who gets up and nails Goldust. After crotching Goldust on the top rope, Mero dropkicks him to the floor. He then charges at Goldust and clotheslines him in the aisle.
We then revisit the interview of Johnson after his injury followed by the video of Faarooq's attack and the subsequent battle royal victory. Next, Monsoon holds up the Intercontinental title. According to Pettengill, an eight-man tournament for the title begins tomorrow night on RAW. Following that, Johnson's nurse states that, if the bleeding stops, then Johnson can return in 3-4 months. If not, then his kidney will be removed and his career will be over. Also, on RAW tomorrow night, Goldust, Sycho Sid, Savio Vega, and Stone Cold Steve Austin will participate in a four-man over the top rope battle royal with the winner receiving a WWF title shot on RAW Championship Friday on 9/6. Thanks, US Open!
In the ring, Pettengill interviews Faarooq (with Sunny) who questions why Monsoon isn't out here to hand him the Intercontinental title right now.
After that, we revisit the banter between Roberts and Lawler.
Afterward, ring announcer Howard Finkel announces the newest addition to the WWF—Olympian Mark Henry. He was actually signed to a ten-year contract!
Match 5: Jake "The Snake" Roberts versus Jerry "The King" Lawler
Highlights:
Lawler came to the ring with a green bag and wearing a Vinny Testaverde Baltimore Ravens jersey. For those unaware, the Browns, with assistance from owner Art Modell, relocated from Cleveland to Baltimore in 1996. Lawler then brought out two bottles of Jim Beam for Roberts and then ran down Robert's wife.
After Roberts came to the ring, Lawler opened his green bag to reveal a magnum of wine. Roberts responded by wrapping Revelations (his python) around Lawler who scampered out of the ring down the aisle.
Finally, after Roberts had enough of Lawler's stalling, he joined Lawler outside the ring and hammered him.
He then rammed Lawler head-first into the steel steps.
After distracting referee Harvey Wippleman, Roberts gave Lawler a low blow.
Upon taking Lawler outside the ring, Roberts slammed him on the floor.
He then rammed Lawler face-first into the ring post. After taunting Lawler with the bottles of Jim Beam, he rammed Lawler a second time.
Lawler then tossed a cup of soda into Roberts' face blinding him.
Upon Lawler's picking up the Jim Beam at ringside, Roberts attempted a DDT, but Lawler countered with a back drop.
Roberts then responded with a short-arm clothesline.
He then tried DDT attempt #2, but Lawler grabbed Wippleman to block it.
Lawler then grabbed the bottle of Jim Beam and nailed Roberts with it.
1-2-3.
Rating: DUD
Summary: Not as much of a match as it was a humiliation of Roberts. Hopefully soon, he will get his comeuppance.
After the match, Lawler opens the bottle of Jim Beam and pours it down Roberts' throat. Shots, anyone? As he grabs the second bottle, Henry leaves the broadcast table, stops Lawler, and then assists Roberts backstage.
We then revisit the feud between Mankind and the Undertaker.
Match 6 (boiler room brawl): Undertaker (w/ Paul Bearer) versus Mankind
Highlights:
While Undertaker and Mankind were in the boiler room, Bearer was in the ring with the urn.
Speaking of the boiler room segment, it was pre-recorded the previous day with limited commentary and zero crowd response. Oh joy.
As Undertaker entered the boiler room, he hunted for Mankind.
Suddenly, Mankind snuck up from behind and nailed him with some piping.
To regain the advantage, Undertaker hit Mankind with a tin shield.
He then rammed Mankind into a steel cabinet.
Using a sawhorse, Mankind guillotined Undertaker.
He then rammed Undertaker into a black boiler twice.
To explain editing, "technical difficulties" transpired.
Mankind then walloped Undertaker with a metal trash can.
He then used steam to scald Undertaker.
Shortly after, Undertaker blocked another trash can shot and clotheslined him.
Undertaker then picked up a pallet and hit Mankind.
Mankind then used some PVC piping and hit Undertaker twice in SOUTHERN Ohio.
He then rammed Undertaker face-first into a steel door.
Afterward, he charged and hit Undertaker with a knee to the head.
He then yelled "Mommy, I'm coming home." Who is he, Ozzy Osborne?
After ramming Undertaker into the sawhorse, Mankind climbed a steel ladder and hit a flying elbow drop.
More "technical difficulties" occurred to explain some obvious editing/fast-forwarding.
When we return, Mankind slammed Undertaker on the concrete floor, grabbed a wooden ladder, but Undertaker sat up and pulled the ladder sending Mankind into a tarp-covered cardboard box.
Mankind came back and nailed him with a chain to the knee.
Undertaker's elbow was

BUSTED OPEN

.
Before they exited the boiler room, Undertaker sprayed him with the fire extinguisher.
Mankind then tried to keep Undertaker from leaving the boiler room but failed.
As he made his way through the corridor, Mankind barricaded the door.
Undertaker exploded through it regardless.
In the hallway, wrestlers including Aldo Montoya rooted them on.
Mankind then nailed Undertaker with a metal cart.
He then took a vat of hot coffee and splashed it all over Undertaker.
Mankind was the first wrestler to make it through the entrance.
As Undertaker came through the entrance, he clotheslined Mankind.
He then hit Mankind with a 2x4.
After Mankind knocked over a 27" monitor, he rammed Undertaker face-first into the apron then the steel steps.
He then ripped up the mats to expose the concrete.
Afterward, he gave Undertaker a piledriver on the concrete floor.
That's it! It's curtains for the Undertaker!
Before Mankind could enter the ring, Undertaker miraculously grabbed his ankle.
Undertaker then slingshot Mankind down so that Mankind could take the Nestea Plunge.
Next, Undertaker entered the ring to get the urn.
Before the urn was retrieved, Mankind came into the ring and gave Undertaker the Mandible claw.
In the meantime, Bearer chuckled to himself. Hmmm…
After Bearer polished the urn, Mankind sat Undertaker up so that Bearer could hit him.
Bearer then nailed Undertaker with the urn and gave it to Mankind.
WE HAVE A HEEL TURN!
Rating: *
Summary: I waited THAT long for a Bearer heel turn, seriously? Nevertheless, the five year relationship between Bearer and Undertaker has been fractured as Bearer will now represent Mankind. Obviously, this match was more angle than substance.
Afterward, as Bearer and Mankind celebrate in the aisle, Undertaker is still in the ring OUT COLD. All of a sudden, the lights go out and chanting begins. Druids then come to the ring and carry the lifeless Undertaker backstage.
Also backstage, Hendrix interviews Vader with Cornette. While Vader looks menacing, Cornette threatens Michaels with treatment that will make him sound like Peter Frampton with his talk box.
Match 7 for the WWF title: The "Heartbreak Kid" Shawn Michaels (w/ Jose Lothario) versus Vader (w/ Jim Cornette)
Highlights:
To psyche himself up before the match, Vader picked up the top steel step and threw it down HARD.
After beating on Michaels, Vader gave him a short-arm clothesline.
Vader then attempted a big boot, but Michaels countered with a double leg sweep followed by a seated dropkick.
Afterward, Vader attempted to toss Michaels over the top rope, but Michaels used momentum to send Vader instead.
Upon using a baseball slide, Michaels delivered a tope suicida over the top rope. Wow!
After tossing Vader back in, Michaels leaped to the top rope and gave Vader a double axe handle.
He then followed with a huracanrana.
Next, he leaped onto Vader's shoulders and used a headscissors takeover to send Vader back to the floor. He then skinned the cat to re-enter the ring. What a ham!
Upon attempting another huracanrana by leaping over the top rope, but Vader caught him and powerbombed him on the floor!
Back in the ring, Vader delivered a vertical suplex then gave Michaels a cross-corner whip resulting in a Michaels flip.
A second cross-corner whip sent Michaels over the top rope to the floor.
Upon Michaels' return, Vader gave him a back drop.
Cross-corner whip by Vader but he missed the avalanche.
On the other hand, he didn't miss a vicious clothesline.
He then attempted vertical suplex #2, but Michaels escaped.
Upon Michaels' trying to skin the cat again, Vader caught, lifted, and tossed him across the ring like a rag doll for 2.
A subsequent bear hug by Vader, but Michaels broke the hold and delivered a knee to the midsection.
Next, he gave Vader a clothesline, but Vader no-sold it.
After blocking a SQUISH, Michaels successfully clotheslined Vader down to the mat.
He then mounted the top turnbuckle and leaped. Vader was supposed to move but didn't. Michaels then retorted with an unnecessary stomp to the head and yelled "Move!" How unprofessional!
Upon Vader's reversal of an Irish whip, a cross body block by Michaels sent both men over the top rope to the floor. A frustrated Michaels then unnecessarily swiped at the camera. What a hothead!
After Vader rammed Michaels back-first into the apron, he pressed him overhead and guillotined him using the steel railing. OUCH! Payback's a bitch, Michaels.
As Vader climbed back in the ring, the bell rang.
Vader won by count-out. That's funny. I don't recall that being the final decision.
However, Cornette got on the microphone and begged the referee to restart the match so that Vader could win the title.
Before Pat Patterson could bring Michaels backstage, Michaels reconsidered and returned to the ring.
As Finkel announced that "this match MUST CONTINUE," Vader nailed Michaels in the aisle.
Vader then attempted to mess with Lothario, but referee Earl Hebner pushed Lothario away before any damage was done.
Speaking of damage, Cornette used the opportunity to WHACK Michaels in the back with his tennis racquet.
Back in the ring, Vader gave Michaels a cross-corner whip followed by an avalanche.
He then gave Michaels a belly-to-belly suplex for 2.
Next, Vader attempted a second powerbomb, but Michaels fought his way out of it.
Michaels then hit the flying forearm and nipped up.
Afterward, he mounted the top turnbuckle and hit the big elbow.
As Michaels set up for Sweet Chin Music, Cornette grabbed Michaels' leg.
Of course, Michaels took exception and grabbed Cornette.
As Cornette tossed the racquet into the ring, Michaels grabbed it and hammered Vader with it.
Vader won by disqualification. Hmmm…I don't recall that being the finish either.
When Vader brandished a chair, a herd of officials jumped into the ring before any further shenanigans transpired.
Again, Cornette got on the microphone, accused Michaels of getting disqualified on purpose, and challenged him to finish the match like a man.
WWF President Gorilla Monsoon came to the ring and ordered that the match MUST CONTINUE (™ Howard Finkel).
Michaels subsequently attempted a sunset flip, but Vader tried to SQUISH him. Fortunately, Michaels escaped before becoming Vader's dinner.
After giving Vader another flying forearm, Michaels mounted the top turnbuckle and gave him another big elbow.
He then hit Sweet Chin Music but somehow only got 2.
Vader then shoved Michaels directly into Hebner.
With Hebner down on the floor, Vader delivered a powerbomb and got 2 as Mike Chioda took over officiating duties.
Vader then positioned Michaels for the Vader bomb.
Instead of giving him the Vader bomb, Cornette convinced Vader to hit the moonsault.
Vader tried it but missed.
Michaels then climbed the turnbuckles, hit his own moonsault, and got the pin.
Michaels retained.
Rating: ****
Summary: This finish was constructed in order to keep Vader strong even in defeat so that Vader could put over the next contender in line. Great match, but Michaels' unprofessionalism stood out like a sore thumb.
Strange finish aside, this match was supposed to be the stepping stone to Survivor Series where Vader would win the rematch followed by Michael's hometown victory at Royal Rumble. Well, in case you aren't aware, Vader worked STIFF. Michaels, being the champion and in Vince's ear quite often during this period, told Vince either Vader needed to work looser or he (Vince) needed to find someone else. Guess which one Vince chose? That's a story for later, so stay tuned!
Conclusion: Once again, Michaels saves a show that needed saving. The title match is the only match I'd recommend unless you've never seen the boiler room brawl. Speaking of which, while it serves as a template for future hardcore matches, it was only notable for the angle at the end.
See you for week 50 of the Monday Night War!
Buyrate: 0.58
Comments? Suggestions? Send them to me at rsg@rockstargary.com and follow me on Twitter (@rockstargary202).
Custom Search