WELCOME TO ROCK STAR GARY REFLECTIONS!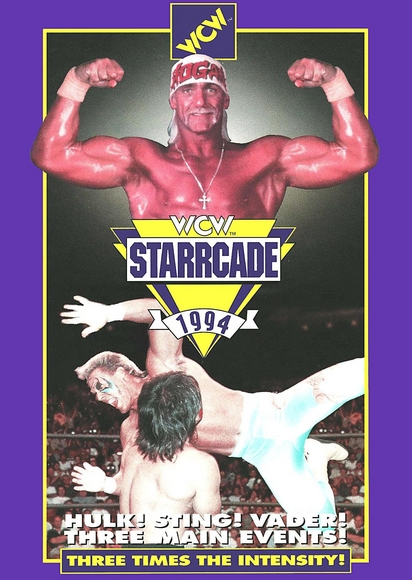 Live from Nashville, TN
Airdate: December 27, 1994
Attendance: 8,200 (6,400 paid)
Hosted by Tony Schiavone and Bobby "The Brain" Heenan
Santa Claus (psst..it's Evad Sullivan) makes his way through the crowd.
Aaron Tippin, wearing a Tampa Bay Lightning jersey, sings the national anthem.
Tony, Bobby, and "Mean" Gene Okerlund debate whether "Macho Man" Randy Savage will shake Hulk Hogan's hand or slap his face. Quick guess as to who wants the slap. They then show footage from WCW Saturday Night (shown 12/3/94) where Savage finds out that Hogan will be at Starrcade, so that's where he'll make his decision.
Yet another major grab for WCW occurred at this point in wrestling history as Savage was added to the WCW roster. He made his last televised appearance on WWF Monday Night RAW on 10/17 (aired 10/31.) As you may or may not know, Savage was not happy just being a color commentator and felt he still had mileage being a wrestler. Coming to WCW enabled him to do just that, and it gave WCW more mainstream attention as well as the Slim Jim endorsement.
Tony shills PWI while Bobby rips up the magazine. Next, a press conference is shown where Bill Apter honors Hulk Hogan as the Wrestler of the Year in 1994 (*cough* Bret Hart *cough*). Methinks some money between PWI and WCW took place for this to truly happen. Hogan accepts his award.
Match 1 for the WCW US title: "Hacksaw" Jim Duggan (champion) versus Vader (w/ Harley Race)
Highlights:
Never in my wildest dreams did I ever think that a year after dropping the World title to Flair that Vader would be curtain-jerking Starrcade '94. I wonder if it pays off.
Vader met Duggan in the entranceway.
Duggan then beat up Race in the ring.
Tony and Bobby discussed why Vader wasn't in the main event. Simple answer was Hogan.
Duggan made Vader eat the steel railing. Tasted like Hattie B's Hot Chicken.
A Duggan clothesline knocked Vader off his feet.
Another one knocked him over the top rope to the floor.
Cross body block by Duggan got 2.
By the way, where's "Stunning" Steve Austin? Out with a knee injury at this point. Dammit!
Meanwhile Duggan slammed Vader.
Another Duggan clothesline put Vader down on the mat.
A third clothesline caught Vader coming off the ropes.
Duggan missed a back elbow from the second turnbuckle.
A Vader clothesline to the back of Duggan's head sent him over the top rope to the floor and into the steel railing. I'll take the red meat & three from Arnold's Country Kitchen please.
Vader bomb.
Vader attempted the same move, but Duggan kicked him right in the jimmy. OUCH!
Body attack by Vader knocked Duggan senseless.
Race then choked him on the bottom rope.
Vader attempted the moonsault and hit nothing but mat.
Avalanche by Vader.
A second attempt is met by a Duggan clothesline.
Double axehandle by Duggan.
Three-point stance clothesline by Duggan.
Upon making the cover, Duggan gets his eyes raked by Race.
Vader mounted the second turnbuckle but received a powerslam instead.
Race distracted referee Nick Patrick while Duggan had Vader pinned.
Duggan attempted another three-point stance clothesline but ran into his own board which Race held while standing on the apron.
Vader then hit the inverted powerbomb and pinned Duggan.
WE HAVE A NEW CHAMPION!
Rating: ***1/2
Summary: Duggan and Vader had great chemistry here. Vader was definitely wrestling like he had something to prove. I wonder who his next rival will be.
Back in the dressing room, Gene interviews the Three Faces of Fear. Butcher has a tombstone reserved for Hulkamania. Avalanche promises Sting a visit to the ER. Sullivan vows to end Hulkamania.
Match 2: "Das Wunderkind" Alex Wright versus Jean-Paul Levesque
Highlights:
Who's this guy? Doesn't he have three initials and live in Greenwich? Oh, wait, it's Terra…no, that's not it…it's Jean Paul Levesque. WCW's own blue blood Frenchman.
Techno music brought out Das Wunderkind.
Can you see all the people heading to the popcorn and souvenir stands? I wish I could join them.
Wright was only 18 years old by this point in his career.
Sting is backstage with Mike Tenay discussing his run as the Insane Icon in TNA upcoming match against Avalanche.
Both wrestlers were undefeated coming into this match. Uh oh, something's gotta give.
Referee Jimmy Jett made his WCW PPV debut here.
After an arm drag Levesque took a bow.
After a cartwheel Wright gave him a dropkick and a flying headscissors.
Wright shot the half and got a 2 count.
Spinning heel kick from Levesque followed by a bow.
Snap suplex by Levesque.
Wright missed a cross body and landed on the floor.
Dropkick by Levesque kept Wright on the floor.
Sunset flip over the top rope by Wright thwarted by Levesque.
Powerslam by Levesque.
Heenan referred to Levesque as a future superstar. More on this later.
Tilt-a-whirl backbreaker by Levesque.
Elbow drop from the top rope missed by Levesque.
Reverse elbow off the ropes by Wright.
After a cross-corner whip Wright avoided a charge by Levesque by flipping over him.
He then rolled up Levesque, and Jett counted the pinfall for Wright.
Rating: **
Summary: Not a terrible wrestling match considering how green both competitors were, but this had WCW Worldwide main event written all over it.
With regards to Heenan's "superstar" remark, Levesque was paired with future friend Lord Steven Regal (BTW, where is he tonight?), but saw the (Hogan) writing on the wall and sought greener pastures in the WWF as Hunter Hearst Helmsley. Although Eric Bischoff did not fire Levesque, he lost another future prospect that ended up making a huge impact in wrestling history.
Clash of the Champions XXX will take place on January 25 at 8:05pm on TBS!
Match 3 for the WCW World TV title: Johnny B. Badd (champion) versus the Honkytonk Man "The Enforcer" Arn Anderson (w/ Colonel Parker and Meng)
Highlights:
At first, the Honkytonk Man's music played but was cut off.
The newest member of the booking committee, Arn Anderson, will challenge Badd instead of the Honkytonk Man. Don't forget to read the fine print, folks. Card subject to change.
Even Tony and Bobby were perplexed as to the absence of the Honkytonk Man. More on this later.
Tony mentioned the newest member of Parker's Stud Stable—the Blacktop Bully.
Top wristlock struggle won by Badd.
Arn hoisted Badd onto the top turnbuckle and slapped the taste out of his mouth.
Badd leaped over him then gave him a hip toss.
Dropkick by Badd sent Anderson to the floor to regroup.
Spinebuster!
Rope-assisted abdominal stretch by Arn.
Sleeper by Arn reversed into a sleeper by Badd reversed into a jawbreaker by Arn.
Flying headscissors by Badd.
Knee lift by Badd.
Top rope sunset flip got 2 for Badd.
Arn blocked a monkey-flip attempt out of the corner then tried to pin Badd with his feet on the ropes, but referee Randy Anderson saw him and stopped the count.
Arn believed that he won the match as he jawed with Anderson.
Out of nowhere Badd rolled him up and scored the pin.
Badd retained the WCW TV title.
Rating: **1/2
Summary: When Badd was on offense, the match was really good. Arn's old school tactics worked for neither Badd nor me as a viewer; however, considering Arn was replacing Honky with his use of old school tactics I will take Arn over Honky any day of the week. The true blemish on this match was that finish. Hopefully given more time for preparation these guys can work a better match.
So where was the Honkytonk Man? Out the door with a NO RE-ENTRY sign on the back of it. The bottom line was Honky basically did not want to lay down for Badd. Considering their draw at Halloween Havoc and their DQ finish at the Clash, Honky's politicking could only last so long. His matches with Badd were boring, bad, or both. Despite being a friend of Hogan Honky should have done the right thing and lost to Badd. After all, Badd was an up-and-comer that was getting a good mid-card push and reaction from WCW.
According to Tony, not only did Hogan win Wrestler of the Year but also the Nasty Boys won Tag Team of the year. Blech! Their acceptance of said award is shown.
Match 4: Harlem Heat (w/ Sister Sherri) versus the Nasty Boys
Highlights:
Sherri shed the "Sensuous" label and added Sister to her name.
Heenan credited global warming to Harlem Heat. Now THAT'S hyperbole!
Do you hear that whispering?
Sags gave Booker T a pump-handle slam.
Powerslam by Sags to Booker T.
Clothesline in the corner from Sags to Booker T.
Slingshot corner splash sent Knobbs into Stevie Ray.
Knobbs rammed Stevie Ray into the ring post.
He then made Stevie Ray eat the steel railing. Some fried okra with the chicken tastes delicious.
After some distraction from Sherri, Stevie Ray nailed Knobbs in the back sending him to the floor.
After receiving a cross-corner whip, Knobbs stormed out and clotheslined Stevie Ray. He then bulldozed Booker T off the apron.
DDT on the left arm of Stevie Ray by Knobbs.
Stevie Ray and Booker T switched out, and Knobbs gave Booker T a DDT on his left arm.
Psychology? From the Nasty Boys? Say it ain't so!
Booker nailed something (camera missed it) to Sags sending him between the ropes, down the stairs, and into the aisle.
Bicycle kick from Stevie Ray to Sags on the floor.
Stevie Ray basically dropped Sags shin-first on the steel railing. Obviously Sags had had too much peach cobbler so Stevie let him off easy.
Leg lariat from Booker T.
Scissor kick from Booker T.
Jawbreaker from Sags to Booker T.
Leg drop from Stevie Ray.
Bear hug from Stevie Ray.
Bear hug from Booker T.
Clothesline with a 360° sell from Booker T. Atta boy, Booker!
Double DDT from Sags.
Hot tag Knobbs.
Sherri got up on the apron, tried to spray Knobbs with hair spray, but got Stevie instead.
Meanwhile Booker T climbed to the top turnbuckle, but Knobbs tossed him down to the mat.
On the opposite corner Sags mounted the top turnbuckle and hit an elbow drop.
Sherri tried a splash from the top turnbuckle but splashed Booker instead of Sags.
Referee Nick Patrick called for the bell disqualifying Harlem Heat.
Rating: ***
Summary: If not for some of the rest holds, this would have been a great match. As it is, this match is actually pretty good. I look forward to more matches with these teams.
That whispering you hear is the unmentioned tag title change at the WCW Saturday Night tapings on 12/8 (shown 1/14). Yes, WCW actually had the tag titles change prior to in lieu of during Starrcade.
After the match, the Nasty Boys send Sherri to Pity City. YUCK! Poor Sherri.
Backstage Hulk Hogan and Jimmy Hart talk on the hotline to Chris Cruise about the failed takeover of TNA in 2010 Hulkamania running wild in WCW.
Tony notifies us that Sting is the winner of the PWI Most Popular Wrestler of the Year award. We then see "The Rock of Gibraltar" accepting the award.
Back in the locker room, Gene interviews Sting.
Match 5: Kevin Sullivan versus Mr. T
Highlights:
Ready for a celebrity match? Me neither.
Mr. T emerged through the curtain wearing the same referee pajamas that he wore at the Clash.
Hip toss by T.
Santa Claus came through the curtain giving away WCW merchandise.
Meanwhile Clubber Lang knocked Rocky Balboa into the middle of next week. Oh, wait. Wrong show.
Like any good hockey brawl Kevin tried to pull the shirt over T's head.
After getting pummeled outside the ring Mr. T landed on the cameraman.
Jimmy Hart ran in to meet Santa Claus who is "revealed" to be Evad. Hart then put his megaphone into Evad's bag.
While Hart distracted referee Randy Anderson, Evad nailed Kevin in the back of the head knocking him out.
In spite of being unable to free his hands due to wearing gloves and a long sleeve pajama top, Mr. T got the pin and the victory.
Rating: DUD
Summary: Utter tripe. Let's hope Mr. T never gets another opportunity to wrestle because he can't.
After the match, Kevin nails Evad then runs him into the ring post. He then gave Evad a piledriver and whips him with the big black belt.
SuperBrawl V will take place on February 19 only on PPV!
Gene interviews Hulk Hogan with Jimmy Hart. Hogan addresses the Butcher as well as Savage. Hart claims to stand by his man no matter what. Hogan wants to throw the rule book completely out.
Match 6: Avalanche (w/ Kevin Sullivan) versus Sting
Highlights:
Great pop for Sting.
Referee Jimmy Jett motioned to Sullivan that he had his eyes on him.
Avalanche missed…uh…an avalanche.
Sting attempted a body slam to no avail.
Body slam and elbow drop by Avalanche.
Leg drop by Avalanche.
Sting came off the ropes but ate a clothesline.
Powerslam by Avalanche.
Bear hug by Avalanche.
Sleeper by Sting but Avalanche sandwiched him in the corner.
Another sleeper by Sting took Avalanche down to one knee.
Another slam attempt by Sting almost got him pinned.
Another powerslam by Avalanche.
Running clothesline by Sting took Avalanche down to the mat.
Sting then mounted the top rope and nailed Avalanche on top of the head.
Dropkick by Sting, but the big man didn't go down.
Another dropkick pushed Avalanche into the corner with Jett as a buffer.
A Stinger splash squished Jett. Welcome to WCW, Jimmy!
Sting then slammed Avalanche.
Sting applied the Scorpion Deathlock, but Sullivan entered the ring.
He press-slammed Sullivan into Avalanche, but the big man caught Sullivan and used him as a battering ram into the corner.
Avalanche drop.
Hogan ran in with a chair. Sullivan and Avalanche fled to the outside.
Second referee Randy Anderson ran out and disqualified Avalanche.
Rating: *1/2
Summary: S-L-O-W plodding crap. This show is headed in the wrong direction.
More PWI awards! Jimmy Hart wins the PWI Manager of the Year award. Not Sister Sherri? She guided "Nature Boy" Ric Flair to unify the WCW World titles and made Harlem Heat relevant. I smell shenanigans. Hart accepts the award but shares the credit with Hogan.
We get a video montage of the relationship between the Hulkster and Brother Bruti including Gene, in a suit, interviewing the Hulkster on the beach with Bruti by his side, some confrontations from WCW Saturday Night, the revealing of the masked man at Halloween Havoc, and finally the aftermath of the Clash.
Match 7 for the WCW World title: Hulk Hogan (champion w/ Jimmy Hart) versus the Butcher (w/ Kevin Sullivan and Avalanche)
Highlights:
The dastardly Butcher tore up a T-shirt to generate heat. Oh the humanity!
Buffer rumbled.
WCW Commissioner Nick Bockwinkel sent Sullivan and Avalanche to the back.
Butcher made Hogan eat the steel railing. Perhaps an extra hushpuppy will finish off a great meal from Music City.
Butcher tried to waffle Hogan with a chair, but Hart stole it from him.
Before Butcher could annihilate Hart, Hogan grabbed him and gave him an atomic drop.
Hogan then made Butcher eat the steel railing. Make that two hushpuppies.
He then hit Butcher in the back with a steel chair. The proverbial rule book that Hogan mentioned earlier appeared to have been tossed.
Yep, 'cuz he then rammed the chair right into the Butcher's face.
Back in the ring Butcher caught Hogan with a high knee.
Powerslam by Butcher.
Butcher attempted to nail Hogan from the second turnbuckle but missed.
Axe bomber from Hogan.
Nerve hold by Butcher.
Are we about to see WCW World Champion Brutus Beefcake Butcher?
Sleeper by Butcher.
Before Hogan's arm went down three times Butcher released the hold.
The kick-out with authority signaled Hulk-up time.
We must assume Hogan hit the big boot because we only see Sullivan and Avalanche hit the ring again.
Hogan fought off all of the Three Faces of Fear.
The leg drop got the pin for Hogan.
Rating: *
Summary: Ed Leslie in the main event? Are you kidding me? Instead of giving him a PPV payoff, Hogan should have just used Western Union to give his best friend the cash.
After the match, Hogan fought them off until Savage ran in. What will the "Macho Man" do?
Initially Savage appears to orchestrate the 4-on-1 beating, but nails Sullivan instead! Both Hogan and Savage chase the Three Faces of Fear out of the ring. Afterwards, Savage and Hogan have a stare down… and they shake hands. Tony refers to them as the MegaPowers. But where's Elizabeth?
Back in the face dressing room, Gene interviews both Hogan and Savage. Brad and Scott Armstrong make a cameo appearance as Hogan and Savage run down the Three Faces of Fear.
Suddenly Vader and Race invade the dressing room. As the #1 contender Vader challenges Hogan for the World title. Hogan shoves Vader, and they have to be separated.
Gene then interviews Bockwinkel. The commissioner states that what just happened was out of line.
Conclusion: This show marks the first chink in the armor of Hulk Hogan's success in WCW. As the buyrate reflects, the WCW audience wasn't interested in an Ed Leslie main event. After all, it merely served as a backdrop to the Savage angle and the forthcoming match between Hogan and Vader.
As far as the matches are concerned, nothing but the Vader-Duggan match is worth seeking out. Skip the rest and hope for the best come Clash time in January.
See you at the Clash!
Comments? Suggestions? Send them to me atrsg@rockstargary.com and follow me on Twitter (@rockstargary202).
Custom Search