WELCOME TO ROCK STAR GARY REFLECTIONS!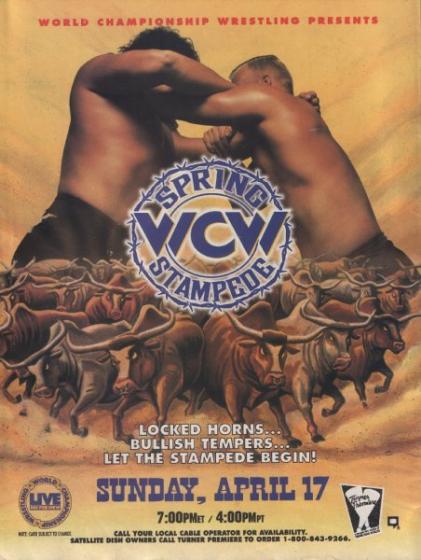 Live from Chicago, IL
Airdate: April 17, 1994
Attendance: 12,200
Hosted by Tony Schiavone and Bobby "The Brain" Heenan
During the introduction four title matches are advertised as well as the piledriver on the concrete floor from Lord Steven Regal to Brian Pillman on WCW Worldwide being shown.
"Mean" Gene Okerlund welcomes us to the show. Immediately thereafter Aaron Neville sings the National Anthem quite beautifully.
Match 1: Diamond Dallas Page (w/ the Diamond Doll) versus Johnny B. Badd
Highlights:
Kimberly Page made her PPV debut here.
Belly-to-back suplex by Page.
Gutbuster by Page.
Fan on the hard camera side kept holding up a sign asking "Who booked that?"
Another sign by the same fan: "We want Chris and Tammy!" He'd finally get his wish for them in WCW six years in the future.
Badd turned a side headlock into a belly-to-back suplex.
Inverted atomic drop by Badd.
Flying headscissors by Badd.
Big right hand by Badd knocked Page to the floor.
Plancha by Badd.
Top rope sunset flip from Badd pinned Page.
Rating: ***1/2
Summary: Great opener as DDP's wrestling skills have improved dramatically. The chemistry between these two is very strong. I look forward to future battles between these two.
Tony kicks it over to Gene and Jesse "The Body" Ventura. Gene shills the hotline. They discuss the World title match and have a "steak dinner" wager over it.
Match 2 for the WCW TV title: Lord Steven Regal (champion w/ Sir William) versus "Flyin'" Brian Pillman
Highlights:
On the March 12 episode of WCW Worldwide (taped 1/94) Regal lost by disqualification to Pillman but gave him a piledriver on the concrete floor. OUCH!
Pillman slapped the taste out of Regal's mouth much like Robin Hood did here.
Regal attempted to ram Pillman's head into the steel railing; however, since Brian knew the Italian beef wasn't ready yet he blocked it and rammed Regal's arm into it. In fact he did it twice.
Over the shoulder back breaker by Regal countered by Pillman into an inside cradle for 2.
STF switched to a Regal stretch. Since Regal wasn't using it as a finishing move yet no submission occurred.
Pillman countered a powerbomb into a huracanrana.
Regal roll.
Bow-and-arrow by Regal.
Heenan continued his time-limit running joke with Sir William.
Dropkick by Pillman.
Pillman countered a Boston crab attempt.
Enziguri by Pillman.
Regal leaped from the second rope but ate a Pillman dropkick.
Both men spilled over the top rope.
Pillman suplexed Regal back into the ring as time expired.
Rating: ***
Summary: Excellent ground game by Regal enabled him to snag another draw here. Unfortunately it looks like Pillman is on cruise control since his feud with Austin has ended. Like Austin Pillman should be receiving a push but to no avail. The Regal championship reign continues.
Okerlund interviews Colonel Robert Parker with his latest protégé Bunkhouse Buck.
Match 3 (Chicago Street Fight): The Nasty Boys versus Cactus Jack and Maxx Payne
Highlights:
Tony informed us that the tag titles are not on the line.
Cactus Jack wore a "SuperDad" t-shirt.
A fan held up a sign saying "Ears to ya, Cactus Jack!" Back on March 16 in Munich, Germany Mick Foley lost the upper portion of his right ear in a match with Vader.
Payne made Sags eat the steel railing early in the match. More celery salt please.
Cactus clothesline on Knobbs.
Chair shot to the shoulder from Sags to Payne.
Cactus Jack made Knobbs eat the steel railing. Please pass the giardiniera.
Chair shot to the back from Cactus Jack to Sags.
With the assistance of a pool cue Sags clotheslined Cactus Jack over the top rope to the floor.
Watch out for that souvenir stand! Too late.
Table suplex from Knobbs to Payne.
Chair shot to the head from Sags to Cactus Jack in the crowd.
Payne slammed Knobbs through the table at the souvenir stand.
Cactus Jack took his patented leap over the steel railing thanks to a reversed Irish whip.
Both Nasty Boys sent Payne through the "wall" of the souvenir stand.
Sags nailed Cactus Jack with the end of a table using it like a see-saw.
Several minutes into the match Tony FINALLY informed us not to try this at home. Thanks, Tony!
Table suplex from Cactus Jack to Sags on the ramp.
Echoing shot to the head by Knobbs with a shovel. A snow shovel in April? Well, Chicagoans say if you don't like the weather, wait 5 minutes.
Payne stole the shovel from Knobbs and walloped him with it.
Sags attempted to piledrive Cactus Jack through the table, but the table collapsed.
Sags pushed Cactus Jack off the ramp enabling Mick to take the Nestea Plunge. YEE-OUCH!
A shovel shot to the head gave Sags the pin. Seriously he could have pinned him after the plunge. Mick wasn't getting up immediately after that one.
Rating: ****
Summary: As a wrestling match this was nothing. On the other hand, as a brawl, it was everything you could ask for plus mustard. What a chaotic street fight! I'm certain Paul Heyman and his ECW performers were glued to their sets watching this live while drooling simultaneously. Can these guys actually top this match?
After the match Sags runs toward Payne and nails him with a piece of table. Even a few minutes after the match ended Cactus Jack is unable to get to his feet.
Back in the dressing room Ventura interviews Johnny B. Badd. Ventura plugs Slamboree from Philadelphia next month. Meanwhile Badd wants a shot at the victor of the US title match.
Match 4 for the WCW US title: "Stunning" Steve Austin (champion w/ Col. Parker) versus The Great Muta
Highlights:
Tony highlighted Muta's wrestling accolades such as Battlebowl '92 winner and former "World champion."
Crowd chanted for Muta.
Great dropkick from Muta finishing a rope sequence.
Aaron Neville joined Tony and Bobby at ringside.
Parker grabbed Muta's leg coming off the ropes. Seeing his opponent distracted, Austin gave Muta a knee to the back to send him to the floor.
After working Muta over on the floor Austin made him eat the steel railing. Deep dish, anyone?
Rope-assisted abdominal stretch from Austin.
After Muta missed a dropkick off the ropes Austin climbed the middle rope and gave him a forearm shot.
Spinning back kick from Muta.
After a standing dropkick Muta mounted the top rope and missed a missile dropkick.
Austin tried to apply the Hollywood-and-Vine (inside toehold), but Muta escaped.
Stungun by Muta.
Handspring elbow by Muta.
Top rope huracanrana by Muta.
After Parker got up on the apron Muta gave him a spinning back kick.
Austin charged at Muta and got backdropped over the top rope.
Austin won by DQ. BOOOOOOOOOOOOOOOO!
Rating: ***1/2

Summary: Dammit! What a lame finish. While most of the match was slow and plodding mat wrestling by both Muta and Austin the last few minutes were really hot until that finish. Who booked that crappy finish? The last five minutes plus the aftermath boosted this match a full point.

<>Speaking of aftermath, after the match Muta delivered a plancha onto both Austin and Parker to a huge ovation.

Back in the dressing room Ventura interviews Dustin Rhodes. Highlights are shown of Bunkhouse Buck striking Rhodes in the back with a trophy.

Match 5 for the WCW International World title: "Ravishing" Rick Rude (champion) versus Sting

Highlights:
Before Rude can finish insulting the fans Harley Race interrupted him. He stated that Vader requested a match against the winner of this match. Subsequently he tried to attack Sting, but Sting nailed him instead.
After Sting clotheslined Rude to the floor he gave Rude a vertical suplex.
WCW Commissioner Nick Bockwinkel joined Tony and Bobby at ringside.
Belly-to-back suplex by Sting.
In order to break an extended front face lock Rude crotched Sting on the top rope then clotheslined him to the floor.
Sting stood up while in a rear chinlock from Rude. While it appeared that Sting would give him the electric chair Rude turned it into a victory roll for 2. Impressive!
Sleeper hold by Rude. This match isn't long enough to justify this move.
When Sting repeated a move Heenan covered nicely for him.
When Sting gave Rude a backdrop Rude flipped onto his legs rather than his back. OUCH!
Upon the reversal of a cross-corner whip Rude was rammed into referee Randy Anderson.
Sting then gave both the Stinger splash.
With the referee out, Sting applied the Scorpion death lock. During its application Sting attempted to wake up Anderson.
Race ran in followed by Vader. Both men tried to attack Sting but Sting was too strong for them.
When Bockwinkel stood up to admonish Vader for interfering, Race stole his chair.
Rude attempted the Rude Awakening while Race tried to hit Sting with the chair. Instead he hit Rude knocking him senseless.
After kicking Race out of the ring Sting made the cover and won the title!
WE HAVE A NEW CHAMPION!
Rating: ***
Summary: Did this match necessitate all this interference? I understand trying to keep Rude strong, but he didn't need the National Guard protecting him here. Unfortunately this would be Rude's last PPV match as he sustained a career-ending neck injury in Japan on 5/4/94.
According to Tony, Flair offered tickets to Hogan to attend Spring Stampede. In a funny bit Heenan can't seem to locate him.
Bunkhouse Match 6: "The Natural" Dustin Rhodes versus Bunkhouse Buck (w/ Col. Parker)
Highlights:
Rhodes ran down the ramp and flew over the top rope while clotheslining Buck.
While on the floor Rhodes gave Buck a bionic elbow.
Attempted body press by Rhodes missed sending him flying to the floor in a heap.
Buck broke a 1x2 over Rhodes' back then rammed it into Rhodes' forehead

busting him wide open

.
After receiving a clothesline on the ramp Rhodes did a 360° sell.
Rhodes tossed powder in Buck's eyes.
Buck removed his belt and whipped Rhodes hard. YOWCH!
Fifty+ yard field goal by Buck in the corner. Rhodes can sing with the Chipmunks now.
After Buck hung himself on the top rope Rhodes punted him. If you ask me I get a kick out of this match.
A bionic elbow

busted Buck open.

From the second rope Rhodes nailed Buck with a boot shot to the head.
Rhodes draped Buck over the tope rope, ripped his T-shirt off, and whipped him.
Bulldog by Rhodes.
Parker got up on the apron so Rhodes suplexed him into the ring.
Parker handed brass knuckles to Buck who promptly nailed Rhodes then pinned him.
Rating: **1/2
Summary: If you wanted a bloody brawl you got it here. I sense that this feud isn't over, and Rhodes will be coming back for more from Buck and Parker.
Back in the dressing room Ventura interviews an irate Rude. Vader interrupts and the heel locker room separates them.
Highlights of the main event of SuperBrawl are shown.
Match 7: Vader (w/ Harley Race) versus the Boss
Highlights:
The Boss met Vader on the ramp. Race grabbed the Boss, but Vader hit Race with a flying body block.
After Vader slammed the Boss from the ramp into the ring he attempted to deliver a running splash over the top rope. Wow! However, the Boss raised his knees.
The Boss whipped Vader into the steel railing. Perhaps after the match Vader removed the taste of it with an ice cold Old Style.
Avalanche by the Boss.
Body slam by the Boss. He must've eaten his Wheaties that morning.
Tremendous back body drop by Vader sent the Boss to the floor rather than the mat.
Vader's eye

was busted open

.
Vader splash.
Belly-to-back suplex by the Boss.
When Vader attempted the Vader bomb the Boss slammed him off the second rope.
Second rope DDT by the Boss.
The Boss delivered a top rope shoulder block.
When the Boss attempted to come off the top rope again Vader delivered a powerslam.
Vader dragged the Boss to the corner and hit a Vader bomb.
TIMBER! Vader hit the moonsault and pinned him.
<>Rating: ***

Summary: Great big man-match. Hopefully these two will lock up again in the near future.

After the match Race gets in the ring with the handcuffs and nightstick. The Boss nails him and takes the nightstick to Vader. As the Boss repeatedly wallops Race with the baton Bockwinkel puts a stop to it.

Gene shills the hotline with the new International World Champion Sting.

In the dressing room Ventura interviews Bockwinkel with the Boss. He removes the baton and handcuffs from him. He then strips the name "The Boss" from him as well. Unfortunately for WCW it had to be done. Trademark infringement is no laughing matter. Let's see what's next on the horizon for Ray Traylor.

Match 8 for the WCW World title: "Nature Boy" Ric Flair versus Ricky "The Dragon" Steamboat

Highlights:
Tony mentioned the match at Chi-Town Heat in 1989 between these two.
This is a face versus face matchup. Rarified air for this time period in wrestling.
Buffer rumbled.
A "We Want Hogan" sign made its appearance. Be careful what you wish for, WCW.
Flair's then wife Beth was in attendance. I guess Ric didn't hit Rush Street after the show.
Steamboat gave Flair a wake-up call with a huge SLAP.
Military press slam by Steamboat.
A pair of flying headscissors followed by a pair of dropkicks by Steamboat.
From the top rope Steamboat delivered a chop to the head.
Then both men unloaded chops worthy of being served at the Chicago Chop House. YUM!
Flair tossed Steamboat over the top rope, but Steamboat skinned the cat back in.
Flying body press by Flair sent both men flying over the top rope to the floor.
Steamboat countered a piledriver on the floor with a back drop.
He then dove at Flair against the steel railing but ate it instead. Needs a pickle!
Flair got caught on the top rope then received a superplex.
Flair flip followed by a Steamboat chop.
Flying chop from the top rope to the floor by Steamboat.
Numerous chops by Steamboat culminated with a Flair flop.
Sunset flip by Steamboat backfired.
Steamboat blocked a knee drop then countered with a figure four leg lock.
Flair submitted! WE HAVE A NEW CHAMPION! Oh, wait, this wasn't 1989.
Flair tried to maneuver towards the ropes, but Steamboat dragged him back to the center of the ring.
Seriously will we see a new champion here? The drama's so thick the Chicago steakhouses don't have knives sharp enough to cut it.
Finally an eye poke by Flair broke the hold.
Flair attempted to suplex Steamboat from the ramp into the ring, but his leg gave out.
Flair flip to the floor.
He then played possum on the floor and caught Steamboat with his foot. Genius!
Flying body press by Steamboat! Does he win the title? 1..2..NO!
Flair got caught while on the top rope and was slammed.
Steamboat attempted a splash from the top rope but ate nothing but mat. With all the blood from the previous two matches I bet it tasted like steak.
Steamboat blocked the figure four leg lock momentarily until Flair kicked him in the head cinching the submission hold.
Thirty minutes in and Steamboat countered a second figure four attempt with an inside cradle.
Top rope superplex by Steamboat. Wow!
Double chicken-wing by Steamboat. Will Flair submit to it just like in 1989?
Steamboat took Flair to the mat while maintaining the hold.
Referee Nick Patrick counted three! Steamboat won the title!
Referee Randy Anderson entered the ring to confer with Patrick.
Next they consulted with Bockwinkel. Patrick can be overheard stating that he counted both men down.
Patrick raised Flair's arm. Steamboat was incensed!
Rating: ****1/2
Summary: Whew! What a match! Definitely WCW's best match in a very long time. I believe if Shawn Michaels and Razor Ramon hadn't had their ladder match a month prior to this then this match could have won match of the year.
After the match Bockwinkel states that Steamboat didn't beat Flair. A draw due to the double pin enables Flair to retain the World title.
Conclusion: What an incredible show! It had everything from blood to hardcore to wrestling to title changes to a hot crowd all wrapped into one. There wasn't even a single bad match on it. Gather your friends, crank up the WWE Network, and watch this show! You won't regret it. See you at Slamboree!
Buyrate: 0.53
Comments? Suggestions? Send them to me at rsg@rockstargary.com and follow me on Twitter (@rockstargary202).
Custom Search