WELCOME TO ROCK STAR GARY REFLECTIONS!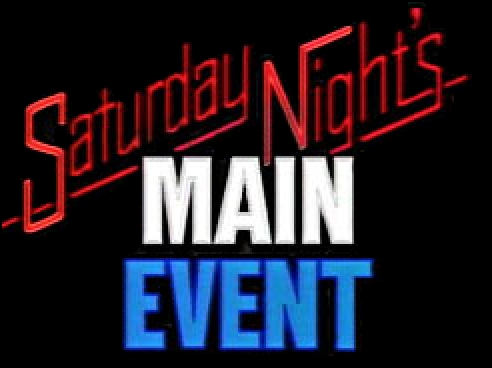 Taped from East Rutherford, NJ
Airdate: October 5, 1985 (taped 10/3)
Attendance: 8,000
Hosted by Vince McMahon and Jesse "The Body" Ventura
At the onset of the program, "Mean" Gene Okerlund interviews Nikolai Volkoff who swears he will take the WWF title back to Russia upon victory.
In an American Made t-shirt, Hogan rebuts with xenophobia patriotism.
Gene then interviews Uncle Elmer and Hillbilly Jim. Uncle Elmer will get married during tonight's broadcast. Yee-haw! Hillbilly wedding! Pass the moonshine! All of a sudden, Piper interrupts the interview but gets cut off for the opening montage which used to include Animotion's "Obsession."
Prior to the first match, Jesse takes serious exception to the wedding later tonight.
Again Okerlund interviews Hogan who carries the American flag.
Match 1 for the WWF title: Hulk Hogan (champion) versus Nikolai Volkoff (w/ "Classy" Freddie Blassie)
Highlights:
In an effort to create nuclear heat, Volkoff sang the Soviet national anthem.
Instead of coming to the ring with either Springsteen or a song that hadn't been recorded yet, Hogan's theme was John Philip Sousa's "Stars and Stripes Forever."
Volkoff attacked Hogan to begin the match including choking Hogan with his own t-shirt.
Hogan came back with a cross-corner whip and clothesline.
Axe bomber put the big Soviet down on the mat.
Big boot sent Volkoff over the top rope and practically on top of the timekeeper.
Hogan joined Volkoff outside the ring and rammed him head-first into the apron.
Volkoff reversed a battering ram by sending Hogan shoulder-first into the ring post.
Back in the ring, Volkoff hit a double axe handle from the second rope. I didn't know the big guy ever left his feet.
How do I say this without sounding perverted? Volkoff used a clean-and-jerk on the 300-pound champion then delivered a backbreaker. Don't forget that Volkoff used to be a power lifter.
Hogan reversed a piledriver attempt with a back drop.
Slam by Volkoff only got 2.
Hulk-up time!
Upon reversing a cross-corner whip, Volkoff rammed his shoulder into the top turnbuckle and went down to the mat.
Hogan hit the leg drop.
1-2-3.
Hogan retained the title.
Rating: **
Summary: U-S-A! U-S-A! U-S-A! The All-American champion beat the evil Soviet. Woohoo! Smell the jingoism!
After the match, Hogan takes xenophobia to a new level by spitting on the Soviet flag and shining his boots with it. He then holds Old Glory up high while "Stars and Stripes Forever" plays us out to commercial.
At the entrance, Okerlund interviews Hogan again. Hogan is excited about Okerlund playing the organ. Insert your own joke here.
After we check out the bride in her dressing room, Okerlund interviews Uncle Elmer who is a man of few words. Hillbilly Jim and Cousin Junior offer a few comments as well.
Match 2: Uncle Elmer (w/ Hillbilly Jim and Cousin Junior) versus "Gentleman" Jerry Valiant
Highlights:
Cousin Junior did some square-dancing before the match began.
Valiant charged Elmer and got slammed.
Immediately Elmer pinned him.
Rating: DUD
Summary: Thank goodness it was short. How short? SIX SECONDS!
As a comparison, we see the "nine second" fall by King Kong Bundy which was actually 23 seconds.
At the entrance, Okerlund interviews the winner, and soon-to-be husband.
In the crowd, Arnold Schwarzenegger is shown.
The Body Shop featuring Jesse "The Body" Ventura: Jesse interviews Bobby "The Brain" Heenan. The latter has a $50,000 bounty on the head of "Mr. Wonderful" Paul Orndorff and endorses Piper for victory tonight.
At the entrance, Okerlund interviews Orndorff who is furious over the bounty. This has to be a rib as Okerlund gets Orndorff to pop his Ps when saying Piper and plumbing. Say it, don't spray it, Paul.
After Orndorff makes his entrance, Okerlund interviews Piper who is worried that Uncle Elmer may have offspring.
Match 3: "Rowdy" Roddy Piper versus "Mr. Wonderful" Paul Orndorff
Highlights:
A cowerson brought Piper to the ring.
After receiving a cross–corner whip, Piper clotheslined Orndorff.
From the can-you-believe-it department, Piper hit a DDT.
Piper kicked Orndorff out of the ring then followed him.
At ringside, Piper rammed Orndorff head-first into a table then missed a chair shot.
Orndorff rammed Piper's head into the same table twice before Piper retreated to the ring.
Orndorff tossed a chair in, but the referee removed it.
Orndorff then mounted the top turnbuckle and dropped an elbow on Piper's skull.
Belly-to-back suplex by Orndorff, but Piper put a stop to his momentum with an eye poke.
Knee lift by Piper preceded a double shoulder block.
Piper tried a splash but only hit knees.
Cross body block by Orndorff took both men over the top rope to the floor.
Piper missed a chair shot that would have sent Orndorff all the way to 1987.
Orndorff rammed Piper head-first to the concrete floor.
They fought underneath the broadcast position to the backstage area.
Piper blocked his dressing room door from Orndorff.
Both men were counted out.
Rating: **1/2
Summary: As a match it was nothing, but as a brawl it was warfare at its finest. Put 'em in a cage and let's have a winner!
Okerlund plays the wedding march as Uncle Elmer's bride Joyce makes her way to the ring. Andre the Giant and Hogan hold the ropes open for her. As Elmer states his vows, Ventura BURIES him with laughter and snide humor. When the officiant asks if there are any objections, Uncle Elmer points toward the aisle. Piper gets on the microphone and objects to the marriage. It goes nowhere as the officiant declares them "husband and wife." Jesse comments on the kiss: "it's like 2 carp in the Mississippi River going after the same piece of corn." HA!
The reception area has a pair of pigs and some chickens.
At the entrance, Okerlund interviews Bundy and Studd with Heenan. Studd reminds Andre that he cut his hair.
Prior to the next match, we see highlights from Toronto's Maple Leaf Gardens where Studd held Andre's legs and Bundy splashed him three times.
Match 4: Andre the Giant and Tony Atlas (w/ Captain Lou Albano) versus King Kong Bundy and Big John Studd (w/ Bobby "The Brain" Heenan
Highlights:
Andre choked Bundy with his own singlet strap.
While Bundy himself was a very large man, Andre DWARFED him here.
Back elbow by Bundy but he missed an elbow drop.
Tremendous leapfrog by Atlas over Studd, but he missed a dropkick.
Splash by Bundy on Atlas gave the heels the advantage.
Big boot by Andre sent Studd all the way outside the ring.
Atlas joined Studd but got his back rammed into the ring post.
Double avalanche by Studd and Bundy on Andre.
The referee called for the bell.
Rating: *1/2
Summary: I added the ½* simply for that leapfrog.
After the match, Hogan wearing leather pants, a weight belt, and cowboy boots, runs in to help Andre.
In the ring, Okerlund interviews Hogan.
Vignette of Okerlund on the hunt for George "The Animal" Steele. In a cute bit, they show a Bengal tiger. Okerlund asks Steele what type of tiger it is. He replies "Detroit." HA!
Prior to the final match, Okerlund interviews the champions while their manager lights a cigar.
Match 5 for the WWF tag team titles: Greg "The Hammer" Valentine and Brutus Beefcake (champions w/ "Luscious" Johnny V) versus "Leaping" Lanny Poffo and Tony Garea
Highlights:
Wait a minute! Didn't the Iron Sheik and Nikolai Volkoff have the belts when we last tuned in? What happened? This and that happened.
Now that you're all caught up, let's get to the action…
Where's the poem by Poffo?
Fascinating counter to a side headlock: a head stand by Poffo.
The former champions Windham and Rotundo sat at ringside. To maintain kayfabe, Windham wore an eye patch.
Hip toss and a dropkick by Poffo put Beefcake down.
After a slam, Poffo leaped to the top turnbuckle and hit a moonsault! Dear Lord, that was incredible in 1985! He only got a 2 count thanks to a save by Valentine.
Garea tagged in and gave Beefcake a cross-corner whip and a hip toss.
He followed that up with a dropkick.
There's one for Valentine.
Cross body block by Garea got 2.
A second cross-corner whip by Garea, but he ate a back elbow coming in.
Elbow drop and figure-four leg lock by Valentine got the submission.
Rating: *1/2
Summary: While this was a title defense for the champions, it resembled more of a showcase match.
After a commercial break, Vince and Ventura sit at a table with Hogan and Orndorff. Poffo sat at a table with Albano and Cousin Junior and delivers a poem to the newlyweds. Okerlund tries to tap his glass with a utensil and shatters it. Next, Hillbilly Jim makes a toast then chugs his beer. Okerlund brings out his surprise guest—Tiny Tim! Not surprisingly, he gives the newlyweds a gift of a ukulele. Lastly, Ventura reads his own poem, but it turns ugly. Hillbilly Jim trips Ventura who subsequently falls into the wedding cake. D'oh!
On the next SNME, Hogan and Andre will face Studd and Bundy.
Conclusion: Like the month of March, this show came in like a lion and out like a lamb. Unless you're dying to see Uncle Elmer get hitched, skip this show!
See you for WWF Saturday Night's Main Event III!
TV Rating: 8.30
Comments? Suggestions? Send them to me at rsg@rockstargary.com and follow me on Twitter (@rockstargary202).
Custom Search