WELCOME TO ROCK STAR GARY REFLECTIONS!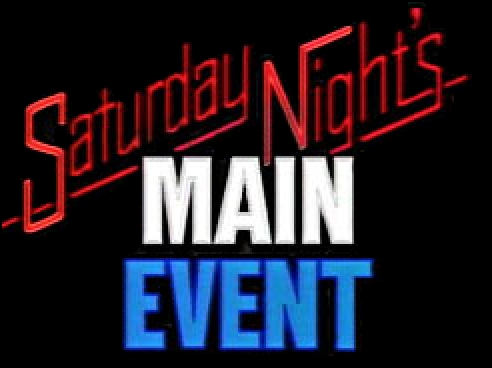 WWF Saturday Night's Main Event XVIII
Taped from Sacramento, CA
Airdate: November 26, 1988 (taped 11/16)
Attendance: 15,900
Hosted by Vince McMahon & Jesse "The Body" Ventura
Warrior scares the dickens out of everyone by opening the program. Hey! This isn't the Halloween episode! Regardless, he wants to spoil Super Ninja's Thanksgiving weekend. I believe salmonella enterocolitis would be less painful.
Next, Andre the Giant with Heenan vows to regain the WWF title tonight.
To appease those in charge at NBC, Savage and Elizabeth respond with the David versus Goliath analogy.
Not surprisingly, Dibiase and Virgil want a refund on their "purchase" of Hercules.
After Hogan wishes all of the Hulkamaniacs a Happy Thanksgiving, he calls out Brother Love for getting decimated during his interview when the Big Boss Man attacked him.
Prior to the first match, "Mean" Gene Okerlund interviews Mr. Fuji with Super Ninja.
After Super Ninja makes his entrance, Okerlund interviews Warrior.
Match 1 for the WWF Intercontinental title: Ultimate Warrior (champion) versus Super Ninja #1 (w/ Mr. Fuji)
Highlights:
Super Ninja was portrayed by Rip Oliver.
Ninja tried to ambush Warrior to no effect. Warrior probably thought Oliver was from Maine rather than Oregon.
Regardless, after a leap frog, Warrior booted Ninja between the ropes to the floor.
Warrior joined him, pressed him overhead, and tossed him back into the ring.
After a back elbow, Warrior delivered a clothesline.
He then gave Ninja a military press followed by a face plant and splashed him.
1-2-3.
Rating: DUD
Summary: Showcase match for Warrior.
We then revisit Superstars when DiBiase bought Hercules as his "slave," but Hercules fought back turning face in the process (aired 10/1, taped 9/13).
Backstage, Ventura interviews DiBiase with Virgil. Both DiBiase and Ventura blatantly disregard the 14th Amendment since DiBiase wants to recoup his investment.
After Virgil makes his entrance, Okerlund interviews Hercules.
Saturday Night's Main Event is sponsored by Burger King.
Match 2: Hercules versus Virgil (w/ the "Million Dollar Man" Ted DiBiase)
Highlights:
Ventura used the name Kunta Kinte from the movie Roots to describe Hercules. Now THAT'S controversial!
At the bell, DiBiase and Virgil attempted a double clothesline, but Hercules ducked and delivered one instead.
After knocking DiBiase between the ropes to the floor, Hercules reversed an Irish whip and gave Virgil a back drop.
He then clotheslined Virgil over the top rope to the floor.
Upon chasing DiBiase around the ring, Hercules gave Virgil another back drop.
After a back elbow, Hercules delivered an elbow drop.
DiBiase then got up on the apron, but Hercules immediately chased him back down.
a knee lift, Hercules gave Virgil a pair of clotheslines.
Yet another clothesline by Hercules preceded a powerslam.
1-2-3.
Hercules won.
Rating: DUD
Summary: Since the feud is between DiBiase and Hercules, the outcome here was never in doubt.
After the match, Hercules presses Virgil overhead and dumps him onto DiBiase on the floor. DiBiase then threatens to enter the ring, but Hercules swings his chain around to nullify that thought. Scathingly, DiBiase then chastises a beaten-up Virgil back to the dressing room.
We then revisit SNME XVII when Andre passed out due to his ophidiophobia.
Afterward, Okerlund interviews Andre with Heenan backstage. Their mission is to regain the title that Andre never lost.
After Andre makes his entrance, Okerlund interviews Savage with Elizabeth. Savage refers to Heenan as a "two-legged snake." Wouldn't that make him a duopede? Ahem…
Match 3 for the WWF title: "Macho Man" Randy Savage (champion w/ Elizabeth) versus Andre the Giant (w/ Bobby "The Brain" Heenan)
Highlights:
To begin the match, Savage gave Andre a pair of elbow smashes but received a chop sending him down to the mat.
After delivering a pair of knees and a shoulder to the midsection, Andre SQUISHED Savage in the corner.
Upon squishing him a second time, he tried yet again but received a knee to the back.
Andre then cuts off Savage's comeback by choking him using his singlet strap.
He continued as referee Earl Hebner got distracted by both Heenan and Elizabeth.
As Andre underhooked Savage's arms, Savage countered with a jawbreaker.
Savage then flurried and hit a double axe handle.
Next, he mounted the second turnbuckle, hit another double axe handle, and sent Andre to a knee.
Meanwhile, Roberts came to the ring with Damian.
As Roberts placed Damian under the ring, Hebner ejected him from ringside. I bet he took lessons from umpire Doug Harvey.
During the commercial break, we get a brief promo by Hogan about the Big Boss Man.
When we returned, Savage nailed Andre with another double axe handle. Considering the volume used by Savage here, they must have been on sale over Black Friday.
In the meantime, Heenan checked under the ring for Damian but came up empty.
After Savage chased Heenan around the ring, Andre clobbered him on the apron.
As Heenan finally discovered the bag containing Damian, he tried to remove it from ringside, but Roberts returned to thwart that idea.
When Heenan entered the ring, Hebner called for the bell.
According to ring announcer Howard Finkel, the match was ruled a double-disqualification.
Rating: -*
Summary: Andre's efforts in the ring are DEPLORABLE, and he made Savage look like a chump rather than a champ.
After the match, Savage whips Heenan into Andre tying him up in the ropes. He then sends Heenan flying over the top rope to the floor. Following that, Roberts comes into the ring with Damian. Before Roberts could unleash Damian, Andre bails to the floor.
Backstage, Okerlund interviews Duggan who doesn't praise Dino Bravo whatsoever. He's not alone with that opinion. Next, he refers to the Soviet flag as "a sign from a hardware store." Methinks he just implied that Zhukov was a tool!
Match 4 (flag): "Hacksaw" Jim Duggan versus Boris Zhukov
Highlights:
Just when you thought it couldn't get any worse, Zhukov thought he could actually sing the Soviet national anthem. Compared to him, Volkoff sounded like Pavarotti.
As the match began, Duggan started a "USA" chant with the Sacramento faithful.
He then ducked a haymaker and gave Zhukov an atomic drop.
After receiving a clothesline, Zhukov sought refuge outside the ring.
Upon countering a back drop with a knee, Zhukov delivered an elbow drop.
Again, Duggan baited Zhukov with a back drop then pulled away. I swear I could hear Zhukov mutter this under his breath.
On the other hand, Duggan missed an elbow drop.
Zhukov then gave him a cross-corner whip but ate another clothesline.
After a slam, Duggan delivered the three-point clothesline.
1-2-3.
Duggan won.
Rating: ½*
Summary: After a dog of a "main event," a good old-fashioned xenophobic match can wake up any crowd back then.
After the match, the Star-Spangled Banner plays as the American flag waves above the ring.
We then revisit the previously-mentioned Brother Love show featuring Hogan getting annihilated by the Big Boss Man.
Afterward, we get the SNME debut of the Brother Love show. Oh joy. Anyway, he interviews Slick. Hogan, who is supposed to be the guest, is prepared to tear a new hole in Brother Love. Love then introduces Hogan and asks him about the beating by the Big Boss Man. He then cuts Hogan off at every turn until Hogan grabs the microphone and threatens Brother Love.
Hogan then questions Slick and cuts him off. Upon calling Slick "boy," (Yikes!) Hogan cuts off Brother Love until the latter retrieves the microphone. An irritated Hogan grabs Slick and sends him flying over the top rope to the floor. Brother Love love-taps Hogan with the microphone, so Hogan grabs and slams him down to the mat. He then hooks some handcuffs to Brother Love and the top rope. Afterward, he clotheslines Brother Love over the top rope to the floor and poses to close the segment. So Hogan's a bully, and Duggan's an American hero. I get it.
Backstage, Ventura interviews the Rougeaus with Hart. As the Rougeaus wave tiny American flags, Hart reveals that the Rougeaus have become residents of Memphis, Tennessee and are "All-American boys." If Montreal can get rid of the Expos, I'm sure they didn't mind losing the Rougeaus.
Match 5: The Rougeaus (w/ Jimmy Hart) versus the Young Stallions
Highlights:
After a leap frog by Powers, Jacques delivered a dropkick.
Powers then reversed a cross-corner whip and gave him the ten-punch count-along.
While Raymond distracted referee Joey Marella, Hart nailed Powers in the leg with the megaphone.
Raymond tagged in, gave Powers a thrust kick to the midsection, and followed with a backbreaker onto Jacques' knee.
Speaking of Jacques, he tagged in and delivered a flying elbow to Powers for 2.
Powers then reversed another cross-corner whip, watched Jacques mount the second turnbuckle, and then ducked a cross body block from him.
Hot tag Roma.
After clotheslining Jacques, Roma gave Raymond a powerslam.
He then mounted the second turnbuckle and gave Raymond a fist drop.
Upon clotheslining Jacques again, Roma mounted the top turnbuckle and hit a missile dropkick for 2. Wow!
Do we have an upset in the making?
1-2-NO!
Raymond made the save.
All four men were in the ring.
The Rougeaus then hit Roma with Le Bombe de Rougeau for the pin.
Rating: **
Summary: With that rating, this gets best match of the night.
After a commercial break, Ventura interviews Andre with Heenan backstage. Andre's ready to destroy Roberts due to his costing him the WWF title. When Ventura asks him about his ophidiophobia, Andre overreacts by grabbing him and yelling "I'm not afraid of snakes!"
Elsewhere backstage, Okerlund interviews Roberts who cuts a promo on Andre.
After another commercial break, Okerlund interviews Hogan who is quite proud of bullying Brother Love and Slick. He then cuts a promo on the Big Boss Man.
Conclusion: Wrestling-wise, this show stunk worse than a limburger cheese convention in Wisconsin. On a positive note, it sold the Hogan-Boss Man, Andre-Roberts, and Hercules-DiBiase feuds really well for the house show circuit. Yet I'd still take a pass on this since neither anything historical nor worthwhile occurred.
See you for NWA Clash IV!
Rating: 9.40
Comments? Suggestions? Send them to me at rsg@rockstargary.com and follow me on Twitter (@rockstargary202).
Custom Search