WELCOME TO ROCK STAR GARY REFLECTIONS!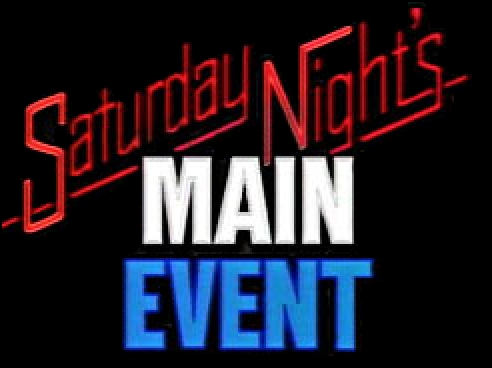 WWF Saturday Night's Main Event XVI
Taped from Springfield, MA
Airdate: April 30, 1988 (taped 4/22)
Attendance: 9,000
Hosted by Vince McMahon & Jesse "The Body" Ventura
This reflection is sponsored by DeVry University. One would think a college with a basketball team would sponsor a show from the birthplace of basketball, but sadly one would be wrong.
To begin the show, Duggan's ready to do some spring cleaning! Does his 2x4 have a hose attachment?
Dumbfounded, Heenan, Andre, and Hercules respond with their own mess.
Connivingly, Slick and the One Man Gang are ready to get BAD against Savage.
Meanwhile, the WWF champion's ready to FREAK OUT against One Man Gang. He did a lot of that in the '80's, didn't he?
Opening montage.
As Vince and Ventura preview tonight's card, we revisit Superstars when Duggan nailed Andre with the 2x4 knocking him OUT COLD (aired 4/2, taped 3/9). The following week, Heenan reacquired Andre to become his manager again.
Backstage, "Mean" Gene Okerlund interviews Hercules with Heenan and Andre.
After the heels make their entrance, Okerlund interviews Duggan.
Match 1: "Hacksaw" Jim Duggan versus Hercules (w/ Bobby "The Brain" Heenan & Andre the Giant)
Highlights:
Early in the match, Hercules reversed a cross-corner whip, but Duggan exploded out of the corner with a clothesline.
After Hercules missed a haymaker, Duggan delivered an atomic drop followed by a back elbow.
When Hercules sought refuge and advice outside the ring, Duggan brought him back in the hard way.
He then gave Hercules a back drop but missed a knee drop.
Shortly after, Duggan gave Hercules a cross-corner whip but came up empty on his follow-through.
Hercules then nailed Duggan with a back elbow.
While Hercules occupied the anonymous referee's attention, Heenan gave Duggan the business on the apron.
Having had enough of the shenanigans, Duggan grabbed his 2x4 from the timekeeper's table and chased everyone from the ring.
After a commercial break, Hercules applied a bear hug.
Upon Duggan's escape, Hercules delivered a high knee.
Duggan came back and gave Hercules the ten-punch count-along.
After a cross-corner whip, Duggan delivered a hip toss.
He then nailed Hercules with the three-point stance clothesline.
Heenan then entered the ring robbing us of a clean finish.
BOOOOOOO!
Rating: *1/2
Summary: Even Duggan's ability to work the crowd couldn't rescue this dog.
After the match, as Duggan saunters after Heenan, Andre enters the ring and nails him. While Hercules holds Duggan, Andre paintbrushes him until the Ultimate Warrior comes to Duggan's aid.
We then revisit WrestleMania IV when Beefcake put the Honkytonk Man to sleep, and Hart knocked out the referee. Beefcake got ahold of Hart and gave him a mulletectomy.
Backstage, Okerlund interviews Davis and Hart who's wearing a beret. In the meantime, Davis carries a bag with his own trimming supplies. Surprisingly, Hart even removes his sunglasses to show how serious he is about returning the favor to Beefcake.
After Davis makes his entrance, Beefcake calls Okerlund "Cochise." HA!
Match 2: Brutus "The Barber" Beefcake versus "Dangerous" Danny Davis (w/ Jimmy Hart)
Highlights:
After a hip toss, Beefcake got distracted by Hart with the hedge clippers.
Upon receiving a slam, Davis exited the ring to regroup.
Back in the ring, Beefcake hooked the sleeper and put Davis to sleep.
Rating: *
Summary: Springfield loves the Barber.
After the match, Beefcake brings his tools into the ring and cuts Davis' hair. He then sprays some grey paint before waking him up. Afterward, he shows Davis his reflection, and Davis is rightfully appalled.
Prior to the next match, we revisit WrestleMania IV again when Savage faced One Man Gang.
Okerlund then interviews Slick with Gang who calls Elizabeth "bony-legged." Dem's fightin' words!
After the challenger makes his entrance, Okerlund interviews Savage with Elizabeth whom Okerlund calls "the first lady of wrestling." Fortunately for Elizabeth, email wasn't widely available back then.
Match 3 for the WWF title: "Macho Man" Randy Savage (champion w/ Elizabeth) versus One Man Gang (w/ Slick)
Highlights:
Before the match began, Savage chased Slick back to the locker room.
After Gang reversed an Irish whip, Savage struggled yet succeeded with a cross body block for 2.
Gang's kick-out sent Savage between the ropes to the floor.
Immediately, Savage mounted the top turnbuckle, hit a flying body press, and got another 2.
He then guillotined Gang using the top rope for 2 as Slick returned to ringside.
Gang came back with a standing choke.
Next, Gang occupied the anonymous referee's attention so that Slick could choke Savage with his cane. How dastardly!
Savage then chased Slick but got caught by Gang.
Gang then delivered an elbow drop and got 2.
He then whipped Savage into the corner but missed an avalanche.
After a series of elbow smashes, Savage clotheslined Gang over the top rope to the floor.
He then mounted the top turnbuckle and leveled Gang with a double axe handle.
When Gang returned to the ring, Savage mounted the top turnbuckle again only to receive a shot to the midsection on the way down.
After a slam, Gang mounted the second turnbuckle but missed the 747.
As Slick got into Elizabeth's face, Savage tried to protect her only to fall prey to Gang.
While Elizabeth distracted the referee, Gang gave Savage another standing choke.
As Gang held Savage, Slick accidentally hit Gang with his cane instead.
Savage then mounted the top turnbuckle, hit the big elbow, and got the pin.
Rating: **1/2
Summary: Much better than their WrestleMania outing.
Backstage, Okerlund interviews the British Bulldogs with Mathilda. The Kid's scars from blading were front and center during this interview. Ick.
After the Bulldogs make their entrance, Ventura interviews the tag champs. Should they dip Mathilda in chrome, they'll mount her on Mr. Fuji's Winnebago. HA!
Match 4: WWF tag team champions Demolition (w/ Mr. Fuji) versus the British Bulldogs
Highlights:
After Smith tagged out, the Kid took Smash down with a clothesline.
Shortly after, Smith tagged in, mounted the top turnbuckle, and lowered the boom on Ax.
The Kid tagged in, attempted a snap suplex, but Smash nailed him in the back.
Smash tagged in, gave Kid a backbreaker, and got 2.
He then applied a bear hug, but Kid escaped due to a head butt.
After a cross-corner whip, Smash ate boot on his follow-through.
Hot tag Smith.
Upon slamming both members of Demolition, Smith dropkicked Ax out of the ring.
Smash then tossed Kid outside the ring. In the meantime, as he maintained referee Joey Marella's attention, Fuji put the shoes to Kid.
To thwart the attack, Smith used Mathilda to shoo Fuji away. He must be wearing Milk Bone underwear.
Regardless, after a commercial break, the Bulldogs returned to the ring with pieces of Fuji's cane.
Smith then nailed Ax in the midsection with it.
Off-camera, Marella got knocked down but called for the bell.
Demolition won by DQ.
Rating: *
Summary: Terrible match that could have been much better.
Backstage, Okerlund interviews Muraco with Graham.
After Muraco makes his entrance, Okerlund interviews DiBiase with Virgil.
Match 5: The "Rock" Don Muraco (w/ Superstar Billy Graham) versus the "Million Dollar Man" Ted DiBiase (w/ Virgil)
Highlights:
Another rematch from WrestleMania IV.
Muraco reversed an Irish whip then delivered a back drop.
DiBiase came back with a hip toss but missed an elbow drop.
After a clothesline, Muraco gave him a powerslam for 2 thanks to Virgil's putting DiBiase's foot on the bottom rope.
A subsequent clothesline by DiBiase got 2.
He then gave Muraco a vertical suplex for another 2.
Next, he delivered a gutwrench suplex for yet another 2.
Conversely, when DiBiase attempted a back drop, Muraco countered with a side Russian leg sweep. Has the Graham diet convinced Muraco that he's now Brad Armstrong?
After a back elbow, Muraco gave DiBiase another powerslam for 2.
DiBiase came back with a slam. Although Muraco put his foot on the bottom rope, the anonymous referee counted the pin.
Rating: **
Summary: Time appeared to be a factor here as these two had more in the tank for this match before the abrupt finish.
After the match, Okerlund interviews Savage again.
Match 6: "Ravishing" Rick Rude (w/ Bobby "The Brain" Heenan) versus Koko B. Ware
Highlights:
Before the match, Rude addressed the Springfield faithful as only Rude could.
After a leap frog, Ware delivered a dropkick.
Shortly after, Rude gave Ware a snap suplex, mounted the top turnbuckle, and then delivered a fist drop.
Following that, Rude dropkicked Ware then posed for the ladies.
A second dropkick missed however.
After a back drop, Ware attempted a cross body block, but Rude evaded him causing Ware to clothesline himself on the top rope.
An opportunistic Rude then gave Ware the Rude Awakening and got the pin.
Rating: *1/2
Summary: Showcase match for Rude.
Conclusion: While entertaining, this episode lacked two things: a big angle and a good technical match. Since Summerslam didn't appear to be on the radar yet, the WWF was trying to jump-start their house show programs with Savage on top.
See you for NWA Clash of the Champions II!
Rating: unknown
Comments? Suggestions? Send them to me at rsg@rockstargary.com and follow me on Twitter (@rockstargary202).
Custom Search