WELCOME TO ROCK STAR GARY REFLECTIONS!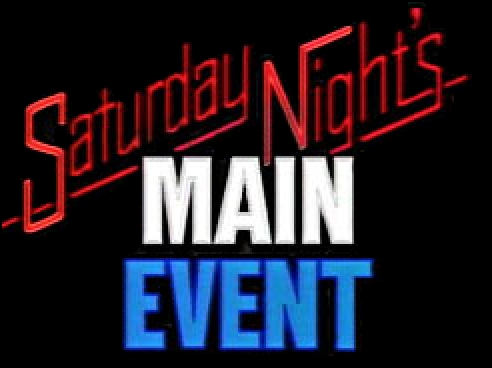 Taped from Detroit, MI
Airdate: March 14, 1987 (taped 2/21)
Attendance: 21,000
Hosted by Vince McMahon and Jesse "The Body" Ventura
Opening the show, Hogan spews his need for vengeance against Andre the Giant in tonight's battle royal. Wait a minute! Andre's a heel? How'd that happen? Oh.
After that, Heenan (with Andre) claims that Andre is the "greatest athlete in the history of sports." O-kay.
Unbelievably, Elizabeth speaks! She informs us that if George wins, he not only becomes IC champion but also gains Elizabeth as his manager. She feels that it's the "scariest night of (her) life." **cough**Lex Luger**cough**
Never at a loss for words, Hart (with the NEW WWF tag team champions Hart Foundation) laughs about his team's challengers for the belts tonight. Where's Rotunda?
Nevertheless, a babyface Roberts (with Damian) is ready to feed Damian with over 400 pounds of King Kong Bundy. I bet Damian could do it!
Opening montage.
Vince and Jesse welcome us to the show and discuss tonight's battle royal involving Hogan and Andre.
Backstage, "Mean" Gene Okerlund interviews Hogan who's in the mood for love revenge.
Prior to our first match, we revisit the previous encounter between Steele and Savage at SNME IX.
Afterward, Okerlund interviews Savage (with Elizabeth). Yet again, Savage cuts off Elizabeth and threatens bodily harm to Okerlund out of sheer jealousy. According to Okerlund, due to the rules of the match, Elizabeth will enter last instead of alongside Savage. To say Savage is less than enthused would be an understatement.
As Savage makes his entrance alone, Okerlund puts the moves on interviews Elizabeth. Suddenly, Steele interrupts by saying two things: "Elizabeth" and "manager." Could his dream possibly come true? Additionally, Steele puts the cart before the horse by adding "George's…manager" to this highly intellectual discussion.
Now that both combatants are in the ring, Okerlund wishes Elizabeth luck as Jesse refers to Okerlund as a "pervert."
Match 1 for the WWF Intercontinental title & Elizabeth's managerial services: "Macho Man" Randy Savage versus George "The Animal" Steele
Highlights:
Elizabeth took her place in what resembled a lifeguard's chair.
As Steele attempted to hold the chair for her, Savage thwarted the chivalrous act by mounting the top turnbuckle and delivering a double axe handle to Steele's back.
He then made Steele taste the steel railing. It must have tasted like the 1920 Red Hot at Bucharest Grill.
Next, Savage tried to escort Elizabeth backstage but Steamboat cut him off.
Upon re-entering the ring, a distracted Savage got clobbered by Steele.
Just like their last match, Steele used Savage's head as a battering ram for the top turnbuckle.
After a blinded Savage almost demolished referee Dave Hebner, Steele did it again.
He then made the top turnbuckle a mid-match snack.
With his opponent distracted, Savage put a well-placed knee into Steele's back.
After a slam, Savage mounted the top turnbuckle and hit another double axe handle.
Again, just like last time, Savage attempted a clothesline, but Steele bit his arm.
Standing choke by Steele who took another snack break with the opposite top turnbuckle.
He then made both Savage and Hebner eat some. After all, sharing is caring.
Steele then left the ring and dismounted Elizabeth from her chair.
Immediately, Savage hit a double axe handle to Steele's back.
Savage then made Steele eat the steel railing again. Waiter, can you please give the furry bald wrestler a Berliner as well?
Raising the chair overhead, Savage nailed Steele with it.
Savage won by countout and retained his title as well as his manager.
Rating: *
Summary: Without Savage's top-rope work, this match would get nothing and like it.
After the match, Steele tosses the chair into the ring. Following that, Savage tries to hit him with the belt but gets nailed and sent over the top rope to the floor. Mistakenly, Savage leaves without his belt, so Steele lays it across his shoulder to the crowd's delight. After ejecting Hebner from the ring, Steele unravels a poster of Elizabeth then hugs it. Aw.
While other members of the battle royal are introduced, Okerlund interviews Andre (with Heenan) who imitates Uncle Sam both verbally and non-verbally.
Match 2 (20-man over-the-top-rope battle royal)
Participants: Andre the Giant, Ax, B. Brian Blair, Billy Jack Haynes, Blackjack Mulligan, Butch Reed, Haku, Hercules, Hillbilly Jim, Honkytonk Man, Hulk Hogan, Jim Brunzell, Koko B. Ware, Lanny Poffo, Nikolai Volkoff, Paul Orndorff, Ron Bass, Sika, Smash, and Tama.
Highlights:
The Heenan Family and the Honkytonk Man attacked Hogan at the onset.
Moments later, Hogan tossed Honkytonk Man out.
Andre then tossed Sika out.
Afterward, Andre gave Mulligan and Hillbilly Jim a double noggin-knocker.
He then tossed future tag team partner Haku out.
A head butt by Andre caused Poffo to be

BUSTED OPEN

.
Andre then tossed him out.
Poffo was actually stretchered to the back as he bled for YOUR pleasure.
Hogan then used a back drop to toss Bass out.
A hip toss by Andre caused Mulligan to make an early exit.
Next, Hogan eliminated Volkoff as Andre sailed Blair over the top rope.
Following that, Orndorff and Hercules gave Hogan a cross-corner whip straight into Andre. Neither man went down.
After Hogan briefly tangled with Andre, he gave Orndorff and Ax a double noggin-knocker then eliminated Orndorff.
All of a sudden, Andre delivered a head butt to the back of Hogan's skull and tossed the WWF champion out. The audio sweetening was NOT thrilled.
Officials had to restrain Hogan from re-entering the ring.
Brunzell charged at Andre and was eliminated.
In an act of unity, eight wrestlers ganged up and eliminated Andre. Wow!
Hercules then made Tama fly like a bird soaring over the top rope.
Immediately afterward, Hillbilly Jim eliminated Ax.
Much to Mudlick, Kentucky's chagrin, Smash eliminated Hillbilly Jim. For those unaware, Smash was the former Mid-Atlantic and US tag team champion Krusher Khruschev a.k.a. Barry Darsow.
Holy High Energy, Batman! What was Koko B. Ware still doing in there?
Speaking of whom, a dropkick by Ware sent Reed over the top rope.
The final four consisted of: Ware, Hercules, Haynes, and Smash.
Hercules then eliminated Ware.
Next, Hercules and Smash double-clotheslined Haynes.
After that, a running clothesline by Haynes eliminated Smash.
As Haynes and Hercules brawled with one another, Heenan jumped up on the apron.
Heenan's plan worked as he distracted Haynes enough so that Hercules could eliminate him.
Hercules won.
Rating: NONE
Summary: This battle royal spawned matches at WrestleMania III such as: Reed versus Ware and Haynes versus Hercules besides the obvious Andre versus Hogan.
Backstage, Okerlund interviews Andre as an excited Heenan joins the party.
After a replay of Hogan's elimination, Okerlund interviews Roberts (with Damian).
Match 3: King Kong Bundy (w/ Bobby "The Brain" Heenan) versus Jake "The Snake" Roberts
Highlights:
Bundy won a test of strength and got a series of pin attempts.
Shortly after, a front face lock by Bundy bored the Detroit faithful.
Roberts came back with a knee lift and a big right hand that put Bundy down on the mat.
Since Roberts was distracted by his love for Damian, Bundy took advantage. In the process, Heenan took the bag containing Damian and scurried backstage.
After poking Bundy in the eye, Roberts noticed Heenan's scurrying and chased after him.
Upon the completion of a commercial break, Roberts returned to the ring with Damian.
Once inside, a clothesline by Bundy followed by a pair of shoulder blocks put Jake down on the mat.
Roberts then used Bundy's momentum to send him into the top turnbuckle shoulder-first.
A subsequent clothesline by Roberts put Bundy down.
As Roberts went for Damian again, the anonymous referee interfered and received a knee lift from Roberts.
Bundy won by DQ.
Rating: DUD
Summary: Worthless match that served to show Roberts as a face.
After the match, Bundy slams Roberts but misses an elbow drop. Roberts then delivers the DDT to a tremendous response. While Roberts retrieves Damian, Heenan assists Bundy from the ring.
Next, we revisit the previously yet subtly mentioned tag title switch as Hart walloped the Dynamite Kid with the megaphone.
Backstage, Okerlund interviews the Hart Foundation with Hart and Davis. He then informs us that Davis has been suspended indefinitely as a referee; however, Davis will be at ringside with his "proven impartiality."
Match 4 for the WWF tag team titles: The Hart Foundation (champions w/ Jimmy Hart and Danny Davis) versus Tito Santana & Dan Spivey
Highlights:
Spivey had been tag team partners with Rotunda, but the latter left the WWF to work for Jim Crockett Promotions.
Cross body block by Spivey got 2 on Neidhart.
After a clothesline by Neidhart to Spivey, some heel miscommunication led to a Spivey atomic drop.
Next, a double back elbow by Spivey and Santana put Bret down on the mat.
After a leap frog by Bret, Santana slammed him.
Spivey tagged back in and delivered a shoulder block for only 2 thanks to a save by Neidhart.
After Neidhart guillotined Spivey on the top rope, Bret delivered a backbreaker.
Bret-assisted slingshot splash by Neidhart to Spivey got another 2.
Upon mounting the second turnbuckle, Bret gave Spivey an elbow smash for yet another 2.
Neidhart's distraction of referee Joey Marella caused a false tag.
Nonetheless, more heel miscommunication led to the hot tag.
Cross corner whip by a fired-up Santana resulted in a sternum-first bump by Bret.
He then gave Neidhart a dropkick and a forearm to Davis who had jumped up on the apron.
Santana followed up with a flying forearm, but he didn't make the cover.
Instead, he applied the figure-four leg lock to Bret.
DO WE HAVE NEW CHAMPIONS?
While Marella was occupied with brawling between Spivey and Neidhart, Davis entered the ring and hammered Santana with the megaphone.
1-2-3.
Hart Foundation retained.
Rating: **1/2
Summary: The Davis effect not only assisted the tag champions with this match but also catapulted them into a six-man match at WrestleMania III.
Backstage, Okerlund interviews Steamboat.
Prior to the beginning of the next match, Savage gets up on the apron to confront Steamboat. Since the anonymous referee won't permit him in the ring, a perturbed Savage then leaves through the crowd.
Match 5: The Iron Sheik (w/ Slick) versus Ricky "The Dragon" Steamboat
Highlights:
As the Iron Sheik nailed Steamboat, Savage joined the broadcast team.
Irish whip by the Iron Sheik sent Steamboat over the top rope; however, Steamboat skinned the cat back in.
He then gave the Iron Sheik a belly-to-back suplex.
After a leap frog by the Iron Sheik, he ate a hip toss.
Outside the ring, the Iron Sheik rammed Steamboat face-first into the wooden steps.
Next, a vertical suplex by the Iron Sheik brought Steamboat back into the ring and got a 2 count.
Afterward, an abdominal stretch was applied by the Iron Sheik, but Steamboat delivered a hip toss to escape.
Upon slamming the Iron Sheik, Steamboat mounted the top turnbuckle, hit the flying chop to Iron Sheik's head, and got the pin.
Rating: **1/2
Summary: Good short match between these two that was aided by Savage on commentary.
After the match, an irate Savage and an eager Steamboat motion toward one another, but the anonymous referee restrains Steamboat.
Back in the locker room, Okerlund interviews Hogan who is ready to face Andre.
After a commercial break, Okerlund notifies us of Piper's imminent retirement after WrestleMania III. Speaking of whom, Piper appreciates his WWF tenure and is ready for Hollywood. Of course, Piper's retirement didn't last very long.
A tribute video to Piper is then shown.
Conclusion: Are you as ready for WrestleMania III as I am? If this show accomplished anything, it set the foundation for the upcoming PPV really well. While the match quality wasn't great, the entertainment factor was amped up to compensate for it. As a table-setter, this was fine; however, it could be skipped without harming your enjoyment of the upcoming spectacular.
See you for WWF WrestleMania III!
Rating: 11.60 (Oh, my!)
Comments? Suggestions? Send them to me at rsg@rockstargary.com and follow me on Twitter (@rockstargary202).
Custom Search