WELCOME TO ROCK STAR GARY REFLECTIONS!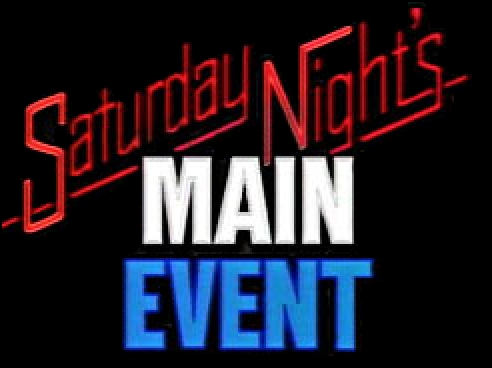 Taped from Uniondale, NY
Airdate: May 11, 1985 (taped 5/10)
Attendance: 8,300
Hosted by Vince McMahon and Jesse "The Body" Ventura
I would like to apologize to my anal-retentive readership that may have an issue about my skipping this show to reflect upon GAB '85 first. You can always blame the no longer existent buffering issues.
Please allow me to interject something else before we get started, Saturday Night Live was awesome during this period. Dick Ebersol's substitution of the WWF in their time slot was a bold move. Let's see if it pays off.
At the very beginning, Cyndi Lauper and Wendi Richter talk strategy. Next, Hogan and Mr. T, wearing promotional t-shirts for the new show, let us know that Mr. T will be in Hogan's corner during the title match. Why couldn't he get the whole A-Team?
Prior to the first match, "Mean" Gene Okerlund interviews the US Express, Steamboat, and Albano. Check out that perm on Rotundo.
Match 1 (six-man): WWF Tag Team champions the Iron Sheik & Nikolai Volkoff and George "The Animal" Steele (w/ "Classy" Freddie Blassie) versus the US Express and Ricky Steamboat (w/ Capt. Lou Albano)
Highlights:
For the sake of garnering nuclear heat, Volkoff sang the Soviet national anthem.
Once again, "Born in the USA" by Bruce Springsteen was substituted on the WWE Network.
According to Vince, Albano used to manage Steele.
Windham gave Sheik both a hip toss and a slam.
Double back elbow from Steamboat and Rotundo to Sheik kept the Americans in control.
Slam and an elbow drop got 2 for Rotundo.
Abdominal stretch by Sheik to Steamboat was countered by a hip toss.
Steele intervened and received one as well as Volkoff.
After a commercial break, Steamboat delivered a powerslam to Sheik.
Steamboat then mounted the top turnbuckle and hit a missile dropkick.
Upon another trip to the top turnbuckle, Steamboat hit the flying body press.
He only got 2 thanks to a save by Volkoff.
As Windham tagged in, the US Express gave Volkoff a double dropkick. But where's Ricky and Robert?
As Rotundo tagged in, the US Express delivered a back elbow followed by a pair of Rotundo leg drops.
Rollup off the ropes got 2 for Rotundo.
A backslide also got 2.
Steele tagged in and tussled with Windham.
As he tried to tag out, his partners evacuated the ring.
Subsequently, Windham rolled Steele up off the ropes.
1-2-3.
Rating: ***
Summary: Fast-paced tag match that warmed up the crowd very well. I wonder what became of Steele though.
After the match, as the crowd jumps to their feet, Steele cries the blues by eating a turnbuckle. Smelling blood, the tag champs re-enter the ring and attack Steele. Despite the odds, the unorthodox Steele fights them off. Albano comes in and tries to calm him down.
In the aisle, Gene tries to interview the tag champs, but Steele nails Sheik from behind. I guess we have a face turn. Turnbuckle stuffing, anyone?
Piper's Pit featuring "Rowdy Roddy Piper: In the ring, Piper and Orton await "Mr. Wonderful" Paul Orndorff. As you recall from WrestleMania, Orndorff was their partner and friend during their main event match. Since he has every right to be cautious, Orndorff stands up and tells Orton to go to the corner. When Orton complies, Piper asks him to sit down. Orndorff retorts with "ladies first." HA!
Piper calls Orndorff a loser prompting Orndorff to stand up again. Orton comes closer, and Orndorff yells "Stay!" Piper stands up, and Orndorff yells "Sit!" Well, Piper did wear a collar back in November 1983. Piper is beside himself. Orndorff and Piper argue over the aftermath of WrestleMania then Piper threatens to leave. Upon doing so, he tries to sucker-punch Orndorff but gets hit instead. Orton receives the same treatment. As Orndoff sets Piper up for the piledriver, Orton wallops Orndorff with the cast. As Orndorff falls out of the ring onto the concrete floor, Mr. T comes to his aid. While the crowd chants "T", he pulls Orndorff away from the ring. We have our second face turn of the night!
In the aisle, Gene interviews Hulk Hogan. The champ wants to celebrate Mother's Day by beating up Orton. Isn't that the hip thing to do these days?
Match 2 for the WWF title: Hulk Hogan (champion w/ Mr. T) versus Cowboy Bob Orton (w/ "Rowdy" Roddy Piper)
Highlights:
Once again, the WWE Network insults my intelligence by playing "Real American" rather than "Eye of the Tiger" by Survivor. It hadn't been recorded yet.
Before Orton could remove his chaps, he received a back drop and a trio of slams.
As Orton charged Hogan in the corner, the champ moved sending Orton into the ring post shoulder-first.
While working on Orton's bad arm, Hogan rammed it into the ring post.
Back in the ring, Orton delivered a high knee.
Atomic drop by Orton got 2 due to a powerful kick-out.
Orton kept the advantage with a knee drop and an elbow to the back.
Hulk-up time!
Axe bomber by Hogan followed by an elbow drop.
After giving Orton a cross-corner whip, Hogan gave him the ten-punch count-along.
However, Orton countered with an inverted atomic drop.
Orton placed Hogan on the top turnbuckle to set up the superplex.
Hogan shoved Orton down then hit a second rope elbow.
Leg drop, but as Hogan went for the pin, Piper nailed him.
Referee Jack Lutz called for the bell disqualifying Orton.
Hogan retained the WWF title.
Rating: **1/2
Summary: This match contains portions of what Hogan would use as his formula for future success. While I would have liked to witness Orton superplex Hogan, it would have killed his finisher had Hogan kicked out.
After the match, Piper enters the ring and puts the boots to Hogan. Mr. T comes in to keep Piper away from Hogan. He then hammers Piper's midsection with fisticuffs before Orton gives T a double axe handle to the back. Piper and Orton then corner Hogan…until Orndorff comes to Hogan's aid.
Prior to the next match, Gene interviews the Fabulous Moolah. The former champion states that she has paperwork stating that Lauper is banned from ringside. After Moolah makes her way to the ring, Lauper, standing next to David Wolff, runs down Moolah. To my knowledge, no mentions of cement shoes at the bottom of the Long Island Sound are made.
Match 3 for the WWF Women's title: Wendi Richter (champion w/ Cyndi Lauper) versus the Fabulous Moolah
Highlights:
The bassline from "Girls Just Wanna Have Fun" replaced "She Bop." Considering the subject matter of Lauper's song, that might be wise.
Ring announcer Howard Finkel read from a scroll detailing Lauper's ban from ringside.
As Moolah tossed Richter outside the ring, Richter almost landed in Finkel's lap. I bet the Lauper song danced in Finkel's head afterward.
While Moolah instructs the Long Island crowd where grits originated, Richter delivered a dropkick to Moolah's back.
Subsequently, Moolah went over the top rope to the floor.
Back drop by Moolah got 1.
Richter countered a slam with an inside cradle and got the pin.
Rating: ½*
Summary: Token ½* added completely for the finish.
After the match, Lauper stormed to the ring to congratulate her woman.
After a commercial break, Gene interviews the Junkyard Dog and Bertha Ritter, JYD's mom.
Match 4: The Junkyard Dog (w/ Bertha Ritter) versus the "Duke of Dorchester" Pete Doherty
Highlights:
"Grab Them Cakes" replaced "Another One Bites the Dust" by Queen as the entrance music for JYD. Again, it hadn't been produced yet!
Like a good son, JYD gave his mother a seat prior to entering the ring.
Huge clothesline by JYD excited the crowd.
A pair of head butts sent Doherty back to the floor for refuge.
Doherty, thinking he's Ric Flair, mounted the top turnbuckle, but, much like Flair, came down the hard way.
A trio of head butts put Doherty down on the mat.
Atomic drop followed by a powerslam got the pin for JYD.
Rating: DUD
Summary: Showcase match for JYD on Mother's Day. Interestingly, Finkel's announcement was muted.
After the match, Bertha enters the ring and dances with her son.
"Gene Mean" (© Iron Sheik 1985) is backstage for a Mother's Day celebration with JYD, Bertha, the Iron Sheik, Volkoff, Blassie (w/ "his mother", Laura, who looked 32), Albano, Hogan (w/ his mom), Richter, and Lauper (w/ her mom). All of a sudden, Moolah interrupts and runs down Lauper's mom and her rearing of Cyndi. Moolah calls Lauper's mom "latrine" but gets pushed (along with Gene) into the cake. Poor Gene gets the worst of it. Lauper then nails Moolah with the top of the cake for insulting her mom.
Conclusion: Due to the heavy influence by Dick Ebersol, a long-time NBC director/vice-president and future president of NBC Sports, the WWF got a huge shot in the arm with this show. In fact, with Ebersol's influence, the production values of WWF's programming were enhanced greatly. The result of this show became a long-running series that occasionally pre-empted the highly popular Saturday Night Live starring Billy Crystal and Eddie Murphy.
Despite all of the hoopla, the wrestling on the show was pretty good, but the match quality decreased as the show progressed. Considering the time slot was from 11:30pm to 1am ET, the decrease makes sense. If you've never seen this show before, check it out. If you want to relive it, most of it is worthy of your time.
See you for AWA SuperClash!
TV rating: 8.8 (Wow!)
Comments? Suggestions? Send them to me at rsg@rockstargary.com and follow me on Twitter (@rockstargary202).
Custom Search