WELCOME TO ROCK STAR GARY REFLECTIONS!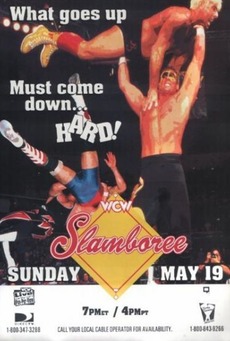 Live from Baton Rouge, LA
Airdate: May 19, 1996
Attendance: 7,791 (6,308 paid)
Hosted by Tony Schiavone, the "American Dream" Dusty Rhodes, and Bobby "The Brain" Heenan
This review is sponsored by DRAFTKINGS.COM. Thanks, WWE Network!
This year's event marks the return of Battlebowl! Yeah, I'm as excited as you are. I didn't order this show back in '96, so this will be my first viewing.
Match 1 (first round): Road Warrior Hawk & the "Total Package" Lex Luger versus Road Warrior Animal and Booker T (of Harlem Heat)
Highlights:
Since Hawk had a broken foot, his participation shouldn't be strong here.
The theme to the WWF Superstar line brought Luger to the ring.
Powerslam by Luger to Animal, but he didn't make the cover.
Clothesline from Animal put Luger down.
Powerslam by Animal was followed by a flying shoulder block.
Vertical suplex by Luger…no-sold by Animal.
Animal then delivered a dropkick.
After giving Luger a cross-corner whip, Booker T ate a boot on his follow-through.
After a slam, Luger missed an elbow drop.
Booker T missed an elbow drop but gave us the spinaroonie.
Harlem Sidekick put Luger back down for 2.
Scissor kick by Booker T but Hawk made the save.
Luger and Hawk shoved one another until all hell broke loose.
All four men were on the floor so both teams were counted out.
Rating: *
Summary: Backed into a corner, that was a fascinating way for the Road Warriors not to advance. This match marks the end of the WCW career of the Road Warriors.
Match 2 (first round): The Taskmaster & the "Crippler" Chris Benoit (w/ Jimmy Hart) versus Public Enemy
Highlights:
Interestingly, all four men have competed in ECW.
After being reversed on a cross-corner whip, Rocco gave Benoit a flying headscissors.
Tony brought up Benoit's bad temper. I refuse to go any further down that road.
Huracanrana by Rocco.
He tried a second one but received a powerbomb from Benoit instead.
After tossing Rocco outside the ring, the Taskmaster followed him and made him taste the steel railing. It must have tasted like the Delacroix at Parrain's.
Taskmaster then hit Rocco with a plastic chair twice.
On their side of the ring, a table was set up. Uh oh.
They took turns ramming one another into the ring post until Rocco put the Taskmaster on the table.
Grunge held the Taskmaster down as Rocco set up for the drive-by.
In the meantime, Benoit re-entered the ring and clotheslined Rocco thus putting a halt to this mess.
The Taskmaster then made Grunge taste the steel railing. Waiter, give #69 the Pontchartrain s'il vous plait.
With Rocco on the apron, Benoit tried to suplex him back into the ring; however, Rocco blocked it and suplexed Benoit down to the floor.
Rocco then placed both the Taskmaster and Benoit on the table, and Grunge held them down.
The Taskmaster moved as Rocco hit a somersault plancha onto Grunge who put Benoit through the table. E-C-W! E-C-W! E-C-W! Did the Taskmaster hold Benoit down too?
Grunge rolled Benoit into the ring so that Rocco could pin him.
Rating: ***
Summary: The fact that the ending to this story leads to further developments gives it an extra ½*.
After the match, Hart helped the Taskmaster backstage.
Match 3 (first round): Rick Steiner & the Booty Man (w/ the Booty Babe) versus Scott Steiner & Sgt. Craig "Pitbull" Pittman (w/ Teddy Long)
Highlights:
Gee…don't you find it peculiar that the Booty Babe hadn't been around since DDP lost at Uncensored?
Pittman used his head as a battering ram to the midsection of the Booty Man.
Hip toss and knee lift by the Booty Man to Scott.
Butterfly powerbomb by Scott puts his team in control.
Belly-to-belly suplex by Rick to Pittman, but he missed an elbow drop.
German suplex that looked SICK by Pittman.
Vicious Steinerline put Pittman down on the mat quickly.
Pittman tagged in Scott and now we have a battle of the Steiners.
Mat wrestling sequence that led to a stalemate…
…until Scott delivered a T-bone suplex to his brother.
Clothesline by Rick put Scott down.
Scott played possum when Rick checked on him and got a 1 count.
Full nelson by Scott countered into one by Rick.
Rick followed that with a dragon suplex.
He then mounted the second turnbuckle but got caught.
Scott then hit an overhead throw and tagged in the Booty Man.
It may be smart tag team wrestling, but Rick vs. Scott is money.
After giving Scott a cross-corner whip, the Booty Man rammed his shoulder on the ring post on his follow-through.
Scott tagged in, slammed the Booty Man, and tagged out.
Pittman then applied Code Red (fujiwara arm bar).
Somehow, the Booty Man scooted toward his corner and tagged in Rick. Heenan took exception and made a great point that the tag has to be made over the top rope not under it.
Rick then delivered a German suplex with a bridge and pinned Pittman.
Rating: **1/2
Summary: Unfortunately, Pittman's involvement telegraphed who was losing the match. Teddy Long would have better days ahead of him, player.
Match 4 (first round): "Hacksaw" Jim Duggan & VK Wallstreet versus Lord Steven Regal & Squire Dave Taylor (w/ Jeeves)
Highlights:
Hip toss by Duggan, but Wallstreet wouldn't tag in.
After a trio of clotheslines, Duggan forcibly tagged in Wallstreet.
If you can believe it, Regal actually lost a battle of European uppercuts with Wallstreet.
Wallstreet forcibly tagged in Duggan.
Double shoulder block knocked both men down.
Wallstreet walked away from the tag and got clobbered.
Duggan taped up his fist and nailed Taylor.
1-2-3.
Rating: *
Summary: If you've witnessed Mid-South/UWF wrestling from the 80s, you know that Duggan is OVER in Louisiana.
Match 5 (first round): Alex Wright & Disco Inferno versus "Dirty" Dick Slater & Earl Robert Eaton (w/ Col. Parker and Jeeves)
Highlights:
To put a stop to Disco's dancing, Slater gave him an elbow to the hair.
After giving Eaton a hip toss, Wright followed with a dropkick and flying headscissors.
Next, he nailed Eaton with a spinning heel kick and got 2.
Slater tagged in and gave Wright a swinging neckbreaker.
Wright countered a piledriver with a back drop and tagged in Disco.
Back elbow by Disco to Eaton followed by a cross-corner whip to Slater.
He then hit a back elbow on his follow-through.
Cross body block by Wright sent both he and Eaton over the top rope to the floor.
While Parker occupied referee Randy Eller's attention, Slater removed his boot and nailed Disco.
1-2-3.
Rating: *
Summary: A+ for effort by Wright. Disco…not so much. I enjoyed Rhodes' referring to Jeeves as "Chives."
Match 6 (first round): Diamond Dallas Page & Barbarian versus Meng & Hugh Morrus
Highlights:
He's back! And he's in neon! But who's his benefactor?
Thanks to Luger's injuring "Hardwork" Bobby Walker, DDP received a slot in Battlebowl.
Um…there were four heels in this match. Who was Baton Rouge supposed to root for?
Shoulder block by Morrus sent DDP through the ropes to the floor.
Morrus followed with a plancha but hit nothing but floor. OUCH!
Back in the ring, Morrus caught DDP by the boot.
DDP retaliated with a discus clothesline for 2.
Barbarian tagged in, and Morrus put a forearm in his back.
He then tagged Meng, and we have the battle of the Faces of Fear.
Chop by Meng could be heard all the way in Shreveport.
Double clothesline but neither man went down.
Meng escaped a slam attempt but then ate a kick to the head.
DDP then bounced off the ropes. Barbarian caught him and splashed Meng with DDP. Teamwork!
Barbarian then missed an elbow drop.
Diving head butt by Meng as he tagged in Morrus.
After a slam, Morrus mounted the top turnbuckle and hit the big elbow.
Another trip to the top turnbuckle, but DDP shook the top rope crotching Morrus.
Barbarian then gave him an overhead belly-to-belly superplex. Awesome!
He only got a 2 count thanks to a save by Meng.
Meng slammed Barbarian then Morrus mounted the top turnbuckle. He hit the moonsault, but only got 2 thanks to a save by DDP.
All four men were in the ring.
Double Mafia kicks by Barbarian and Meng.
Double pin, but DDP's leg was under the bottom rope.
Rating: **1/2
Summary: Good match-up, probably due to DDP planning.
Match 7 (first round): Fire & Ice versus Big Bubba Rogers & Stevie Ray (of Harlem Heat)
Highlights:
According to Tony, Rogers recently joined the Dungeon of Doom. Is he competing with Ed Leslie for number of gimmick adjustments?
Yet again, four heels = dead crowd.
Slam by Stevie Ray of Norton, but the latter hit an excellent flying shoulder block.
Heenan mentioned Norton's nickname "Flapjack" "Flash" from his arm-wrestling success. 1990 AWA episodes never ceased to entertain me.
Anyways, he gave Stevie Ray a cross-corner whip then ate boot on his follow-through.
After a second big boot, Stevie Ray took Norton off his feet with a clothesline.
Rogers gave Norton a cross-corner whip and hit an avalanche. I guess he DID learn something from John Tenta after all. In case you're wondering, Shark competed on the pre-game show.
Spinebuster got 2 for Rogers.
Terrible face plant by Norton, but he tried to make up for it with a clothesline.
Ice Train tagged in and slammed Rogers.
He then gave him a HUGE butt splash. Methinks Rogers tasted his Waffle House dinner a second time.
Double clothesline put both Ice Train and Rogers down.
Face plant #2 by Norton was an improvement, but Stevie Ray came in and nailed Norton in the back.
Norton whipped Rogers into Stevie Ray on the apron knocking Stevie to the floor.
Fire & Ice then delivered a double shoulder block for the pin.
Rating: ½*
Summary: **yawn** Is it over? Good. Let's move on. **stretches arms**
Match 8 (first round): "Nature Boy" Ric Flair & "Macho Man" Randy Savage (w/ Woman & Elizabeth) versus the "Enforcer" Arn Anderson & Eddie Guerrero
Highlights:
This ought to be interesting.
Flair's music played, but Flair didn't come through the curtain.
Before Flair could hit the ring, Arn gave Savage a guillotine on the bottom rope.
Nice dropkick by Guerrero, but Flair responded with a chop in the corner.
Finally, the ladies come to the ring albeit cautiously.
Back drop was followed by a pair of dropkicks by Guerrero to Flair.
The latter broke Guerrero's momentum with an eye poke.
Flair tagged in Savage then gave him an elbow to the back.
Flair then forced Eddie to tag Arn.
After Arn put some fisticuffs on Savage, the latter came back with a double axe handle.
Arn gave Savage a cross-corner whip but ate boot on his follow-through.
After making Arn eat a high knee, Savage charged at him.
Arn hit the SPINEBUSTER but only got 2.
Flair tagged in and beat up his partner.
Guerrero tagged in and chopped Flair. That resulted in a Flair flop.
Dropkick #4 put Flair down again.
Tornado DDT by Guerrero then Savage came in and attacked Flair.
While referee Randy Eller was occupied with Savage and Flair, Arn delivered the DDT to Guerrero.
Arn then went around the ring to pull Savage out. He then made Savage taste the steel railing. It must have tasted like the chicken Acadiana at Louisiana Lagniappe.
He then rammed Savage face-first into the ring post.
Flair crawled over and pinned Guerrero.
Rating: ***
Summary: It was etched in stone that Guerrero had to eat the pin. Sorry Eddie.
After the match, Flair attacks Savage. Arn picks Savage up as Flair puts Elizabeth in front of her ex-husband. She then slaps Savage while Arn gives him a DDT on the floor. Now that was a Horseman beat down. Flair then gives flowers to Woman.
Great American Bash will be on PPV on June 16. Did something incredibly historical occur at this show? I forget.
"Mean" Gene Okerlund along with three Hooters girls (Angela, Melissa, and Kim) announce the team that will receive a bye. The team drawn is Fire & Ice. Whew! I'm glad we don't get to see them until the battle royal. Now they announce the participants in the second round—Slater and Eaton. They will face Duggan and Wallstreet. At least we know who Baton Rouge will be cheering.
Match 9 for the WCW Cruiserweight title: Shinjiro Ohtani "Man of 1000 Holds" Dean Malenko (champion) versus Brad Armstrong
Highlights:
Wait a minute! I thought Ohtani was the champion. Oh.
After a leapfrog, Armstrong gave Malenko an enziguri.
Arm drag and dropkick by Armstrong sent Malenko to the floor to regroup.
Back in the ring, Malenko gave Armstrong a dropkick to the knee.
He then rammed Armstrong's leg into the ring post.
After a slam, Malenko used the ropes to further injure Armstrong's leg.
Knee crusher by Malenko followed by a step-over toe hold.
He tied Armstrong to the Tree of Woe then dropkicked the injured leg. Nice psychology!
Armstrong countered a fireman's carry into a sunset flip for 2.
Stump puller by Malenko. But where's Doink the Clown?
According to Tony, Nitro will be from 7-8:30pm ET. A 90-minute show a week before they shift to 2 hours. Amazing!
Malenko delivered a head butt to the knee followed by a leg bar.
According to Tony, this is the first WCW PPV telecast in Mexico. Arriba!
After a slam, Malenko attempted a Vader bomb on the leg but ate boot.
Armstrong gave Malenko a cross-corner whip but ate boot on his follow-through.
He then surprised a charging Malenko with a powerslam.
Next, he mounted the top turnbuckle and hit a missile dropkick.
Armstrong then applied Malenko's finisher, the Texas Cloverleaf, but Malenko made the ropes.
Malenko then tossed Armstrong outside the ring.
After ramming Malenko head-first into the top turnbuckle, Armstrong mounted the top turnbuckle.
Malenko caught him then gave him the super gutbuster.
1-2-3.
Malenko retained his title.
Rating: ***
Summary: The Armstrong curse acts up again. Seriously? Brad Armstrong as a challenger on PPV? Sorry, Brad.
Blood runs cold promo again. It doesn't run cold in Baton Rouge in May though. No, siree (uses a handkerchief to fan himself).
Okerlund plays mind games with the Hooters girls then announces the next four teams: Public Enemy will face Savage and Flair. In addition, DDP and Barbarian will face the Booty Man and Rick Steiner in the final tag match prior to the battle royal.
Match 10 (second round): "Hacksaw" Jim Duggan & VK Wallstreet versus "Dirty" Dick Slater & Earl Robert Eaton
Highlights:
As the bell rang, Duggan attacked Wallstreet then Slater and Eaton ambushed both of them.
Duggan and Wallstreet rammed their opponents together then came to blows again.
Just as Duggan made peace with Wallstreet, the latter kicked the former out of the ring.
Side Russian leg sweep by Slater got 2 on Wallstreet.
Back elbow by Slater who tagged in Eaton.
Duggan almost tossed referee Randy Eller over the top rope to the floor. Fortunately, he came to his senses.
Back drop by Wallstreet sent Eaton outside the ring to regroup. However, Duggan met him out there and nailed him.
After Duggan tossed him back in, Wallstreet applied the abdominal stretch.
Wallstreet sought assistance from Duggan on the move, but Duggan refused.
Slater then came in and nailed Wallstreet in the back.
Duggan stomped, nailed Eaton in the corner, and then rammed Slater face-first into the top turnbuckle.
Clothesline by Duggan got 2 on Slater.
Double shoulder block put both men down.
Eaton slammed Wallstreet then mounted the top turnbuckle.
Nevertheless, Wallstreet caught him and brought him down the hard way.
Eaton backed into the wrong corner. Wallstreet tried to punch him but hit Duggan instead.
Duggan retaliated with a right hand.
Immediately, Eaton rolled up Wallstreet and got the pin.
Rating: *1/2
Summary: That would be Duggan science 101. Cause your team to lose when you're the only face in the match.
After the match, Duggan and Wallstreet fight, and Duggan hits a clothesline. Next he chases Wallstreet away from the ring with the 2x4 until Eller stops him.
Match 11 (second round): "Nature Boy" Ric Flair & "Macho Man" Randy Savage (w/ Woman & Elizabeth) versus Public Enemy
Highlights:
A pair of fans wore customized Public Enemy shirts as the Philadelphians hit the ring.
Savage's music played, but he didn't show.
Flair's music played, and the former 13-time champion came to the ring with the ladies. Elizabeth tossed Savage's money into the crowd.
Suddenly, Savage stormed down the aisle and attacked Flair.
Security had tremendous difficulty trying to restrain Savage so the American Males and Craig Pittman helped them.
Flair kept trying to attack Savage in the process.
In the meantime, they were counted out.
Public Enemy advanced to Battlebowl.
Rating: NONE
Summary: WCW had to write them out somehow since their feud would overtake the PPV if they advanced further.
REAL Match 11 (second round): Rick Steiner & the Booty Man (w/ the Booty Babe) versus Diamond Dallas Page & the Barbarian
Highlights:
Right hand by the Booty Man sent DDP through the ropes to the floor. In the process, he got tangled up in the camera cables.
Sloppy powerslam by Rick got 2 on DDP.
Ten-punch count-along by Rick, but DDP delivered snake-eyes to counter.
Shoulder block by Barbarian followed by a kick.
A second attempt at a kick was countered into a belly-to-back suplex by Rick.
Rick then placed Barbarian on the top turnbuckle and gave him a belly-to-belly superplex.
According to Tony, "Iron" Mike Tenay will replace Rhodes on commentary for the upcoming US title match. Whew! For a minute, I thought it'd be Lee Marshall.
Steinerline got 2 on Barbarian.
Powerbomb by Barbarian got 2.
False tag, and referee Nick Patrick put the Booty Man back in his corner.
Meanwhile Barbarian tossed Rick over the top rope to the floor.
DDP joined him and put the boots to him.
Cross-corner whip by Barbarian followed by an avalanche.
Clothesline by Barbarian, but Rick then guillotined him on the top rope.
Booty Man tagged in and hit the high knee.
It only got 2 thanks to a save by DDP.
Rollup by the Booty Man, but DDP nailed him again behind Patrick's back.
Barbarian then got the pin.
He and DDP advanced.
Rating: *1/2
Summary: The show must be running long for that crappy finish to occur.
Match 12 for the WCW US title: Konnan (champion) versus Jushin "Thunder" Liger (w/ Sonny Onoo)
Highlights:
Both Liger and Onoo bowed to Heenan during their entrance.
Reverse bow-and-arrow by Konnan, but Liger bridged out.
As Heenan besmirches Konnan's choice of hairstyle, Liger delivered a senton splash.
Konnan exited the ring but ate a couple of thrust kicks from Onoo.
As an infuriated Konnan chased Onoo around the ring, Liger hit him with a baseball slide.
Next, Liger delivered a plancha.
Back in the ring, Liger hit a brainbuster for 2.
Seated abdominal stretch turned into a fujiwara arm bar.
Konnan countered with a modified STF.
Surfboard by Liger transitioned into a camel clutch.
Exchange of palm thrusts was followed by an abisegeri in the corner by Liger.
After placing Konnan on the top turnbuckle, Liger hit a top rope superplex. Nice!
He remounted the top turnbuckle and hit the splash.
1-2-NO!
Dropkick by Liger sent Konnan outside the ring.
Liger again mounted the top turnbuckle, dove at Konnan, but ate a mule kick on the way down.
Konnan tried to bring Liger back in with a vertical suplex, but Liger escaped.
Liger then hit a belly-to-back suplex then followed with a fisherman's buster.
1-2-NO!
Konnan reversed a cross-corner whip then gave Liger a whiplash slam.
Somersault rollup only got 2 for Konnan.
Splash Mountain countered by Liger into a sunset flip for 2.
Inside cradle by Liger almost got 3.
Liger bomb only got 2.
After a slam, Liger mounted the top turnbuckle, leaped, but ate a double boot.
Splash Mountain got 3.
Konnan retained.
Rating: ***1/2
Summary: The only thing these guys couldn't do was work the crowd. Konnan continues to impress me.
After the match, Tenay plugs the hotline then leaves.
Okerlund, by himself, interviews Flair. Woman, Elizabeth, and Arn join him. The former champion runs down Savage and discusses the party at the Radisson tonight. Next, Flair runs down Steve "Mongo" McMichael. Speak of the devil, McMichael shows up to rebut Flair. A challenge between Flair/Arn and McMichael and "anybody you want" is made. Astonishingly, McMichael chooses Kevin Greene who is ready for battle. In fact, the Carolina Panther linebacker is prepared to take Flair's head off. Why isn't this on Nitro?
Match 13 (Battlebowl battle royal): Fire & Ice, "Dirty" Dick Slater, Earl Robert Eaton, Diamond Dallas Page, the Barbarian, Rocco Rock, and Johnny Grunge
Highlights:
Rhodes rejoined the broadcast team.
Where's the headliner in this match?
Norton hit a clothesline to Grunge.
Rocco mounted the top turnbuckle, tried a flying body press on Barbarian, but got caught in a bear hug.
DDP almost got eliminated.
He delivered a forearm to his partner for the evening but was forced to apologize when Barbarian stalked him.
Mafia kick by Barbarian sent DDP over the top rope, and his feet touched the floor. Was he eliminated?
No. Why, you ask? Because referee Nick Patrick was distracted with the other combatants.
We went split-screen for no reason whatsoever. At least Rhodes enjoyed it.
Barbarian gave a back drop to Rocco eliminating him.
Slater tried to nail Norton with his boot but hit Eaton instead.
Eaton went over the top rope to the floor and was eliminated.
As Heenan referred to Slater as "the real Booty Man," Eaton walloped Col. Parker outside the ring.
Slater went after him after being eliminated.
DDP then eliminated Norton.
He then went after Ice Train but received a powerslam.
Ice Train then gave powerslams to both Barbarian and Grunge.
Double boot from Ice Train and Barbarian put Grunge down.
DDP then hit the Diamond Cutter to Barbarian, Ice Train, and then Grunge consecutively.
He then pinned Grunge, Ice Train, and then…NO!
Barbarian kicked out.
DDP argued with Patrick and shoved him. Patrick shoved him back knocking DDP down. Don't mess with those Hamiltons, DDP!
In a clever move, Barbarian held DDP's boot. Knowing that DDP would try the discus clothesline like he did earlier, Barbarian ducked then gave DDP his own clothesline.
1-2-NO!
After giving DDP a cross-corner whip, Barbarian ate a back elbow on his follow-through.
DDP tried to pin him with his feet on the ropes, but Patrick wasn't buying it.
Cross-corner whip by DDP, but he came up empty on his follow-through.
Rollup by Barbarian only got 2.
Barbarian reversed an Irish whip and delivered a tombstone piledriver.
Get out the spatula. DDP's done!
1-2-NO!
No way!
Sleeper by Barbarian, but DDP escaped using his trick knee.
W-I-C-K-E-D powerbomb by Barbarian got 1-2-NO! Unbelievable!
After a slam, Barbarian mounted the top turnbuckle but missed the diving head butt.
Diamond Cutter out of nowhere.
1-2-3.
DDP became the Lord of the Ring.
Rating: NONE
Summary: The drama at the end made this worthwhile. The cast of hooligans, unfortunately, kept this from being both historical and memorable. By winning Battlebowl, DDP earned a World title match at the Great American Bash. Really?
After the match, DDP receives his Battlebowl ring.
In the locker room, Okerlund interviews WCW World champion Giant with Hart. According to Okerlund, Hart will be handcuffed to Luger at ringside. While the Giant whispers his promo, Heenan can be overheard in feedback.
Match 14 for the WCW World title: The Giant (champion w/ Jimmy Hart) versus Sting (w/ the "Total Package" Lex Luger)
Highlights:
Buffer rumbled.
After ducking a couple of clotheslines, Sting came off the ropes with a cross body block and just BOUNCED off the Giant like he hit a brick wall.
After the Giant shoved Sting, the latter hit the Giant with a double axe handle.
He then jumped on the Giant's back and applied a sleeper. The Riverside Centroplex was anxious in hopes of a Sting victory.
Giant backed Sting into the corner to break the hold, but Sting absorbed it.
Sting then hit a pair of dropkicks then delivered a clothesline.
Nonetheless, the Giant stood his ground.
Sting left the ring to confer with Luger.
Upon his return, Sting attempted a kick. Giant caught Sting's foot, but Sting gave him an enziguri to the jaw.
A boot from the Giant sent Sting to the corner, but the Giant whiffed on his follow-through.
Sting tried to slam him, but the Giant fell on top for a 2 count.
Elbow drop by the Giant was followed by a back elbow.
To thwart any possible Sting comeback, the Giant split the uprights with a head butt. YEE-OUCH!
Elbow drop #2 preceded a body scissors by the Giant. He must have been paying attention to Flair's matches as he grabbed the bottom rope for leverage. Of course, this was behind referee Randy Anderson's back. SNEAKY!
With ease, the Giant tossed Sting between the ropes to the floor.
Again with ease, he tossed him down the aisle.
The Giant tried to chokeslam Sting through a table similar to last Monday night, but Monday night's recipient had Hart pinned down on the table to halt Giant's destruction.
With Sting on the apron, the Giant tried to dropkick him, but Luger pulled him to safety.
Sting stood up on the apron with his back to the ring and hit a back elbow unknowingly to Anderson rather than the Giant.
With Anderson out on the floor, the Giant missed an avalanche and was laid out across the top turnbuckle.
After a series of kicks, Sting hit the Stinger splash.
Luger and Hart got up on the apron. The Giant choked Luger as Sting hit Stinger splashes #2, 3, and 4.
Finally, a mule kick by Sting removed the Giant's choke of Luger.
Sting shoved the Giant down to the mat then noticed Hart laid out atop the top turnbuckle.
He tried to give him a Stinger splash but came up empty.
As he fell face-first to the mat, he returned the favor to the Giant on a trip down South. OUCH!
Sting then mounted the top turnbuckle, hit the splash, and got 2.
The kick-out sent Sting atop Anderson.
Sting mounted the top turnbuckle again and hit another splash, but Anderson was unconscious and unable to count.
Sting applied the Scorpion death lock while Luger and Hart fought with the megaphone on the apron.
As you would expect, the megaphone hit Sting in the head.
Chokeslam.
1-2-3.
The Giant retained.
Rating: ***
Summary: Considering the Giant was involved, this match was solid. Having the Giant pin Sting albeit not cleanly helped to solidify him as a viable champion.
Conclusion: The short answer to my recommendation is this: Skip this show. While the matches outside of Battlebowl were pretty good, nothing historical took place. On the other hand, tomorrow night's Nitro should be interesting.
See you for the Monday Night War week 37!
Buyrate: 0.44 (Stick the fork in Battlebowl. It's DONE.)
Comments? Suggestions? Send them to me at rsg@rockstargary.com and follow me on Twitter (@rockstargary202).
Custom Search