WELCOME TO ROCK STAR GARY REFLECTIONS!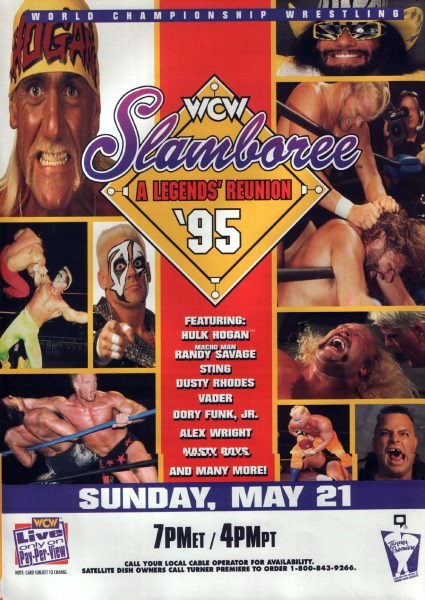 Live from St. Petersburg, FL
Airdate: May 21, 1995
Attendance: 7,000
Hosted by Tony Schiavone Eric Bischoff and Bobby "The Brain" Heenan
Eric is subbing for Tony as neck surgery claimed the latter for this show. "Mean" Gene Okerlund joins Eric and Bobby, and they discuss Road Warrior Hawk and Meng mixing it up on Main Event prior to the telecast.
Back on 4/15 (taped 4/4) Ric Flair was reinstated to WCW by a 3-2 vote. Therefore, instead of being either a member of the crowd or a manager he will participate as a wrestler in the main event. About time.
A video package on Harlem Heat is shown.
Match 1 for the WCW World Tag Team titles: Harlem Heat (champions w/ Sister Sherri) versus the Nasty Boys
Highlights:
Ring announcer Gary Michael Cappetta introduced the Nasty Boys, but only Jerry Sags made his way to the ring. Brian Knobbs's location had yet to be determined. Supposedly he was jumped by the Blue Bloods (Lord Steven Regal and Earl Robert Eaton) on the Main Event.
According to Eric this was the last shot for the tag team titles for the Nasty Boys. Hmmm.
A Sags clothesline caused a 360° sell by Booker. Wow!
Double DDT by Sags.
Sherri got up on the apron, and Sags nailed her right in the mush. Hey! That's not family-friendly!
Pump-handle slam by Sags.
Sags mounted the top turnbuckle and delivered a double elbow to Stevie Ray.
While Sags was outside the ring Sherri got her revenge with a slap to the face.
Make that 2.
Flying forearm by Booker T.
Elbow drop by Booker T missed; however, a spinaroonie into a standing leg lariat put Sags down.
Running dropkick by Stevie Ray! Holy flying fruit booties, Batman!
Sidewalk slam by Stevie Ray followed by…
THE HARLEM HANGOVER!
Stick a fork in him. He's done.
Delay and a lackadaisical cover by Booker T only led to a 2 count.
Booker prepared for a back body drop but Sags caught him then gave him a piledriver.
Hobbling to the ring Brian Knobbs made his way to the apron. His ribs were taped.
Hot tag Knobbs.
Bulldog from Knobbs to Booker T.
Oh no! Knobbs gave Stevie Ray a back drop over the top rope. Will we see a repeat of the finish to their match at Uncensored?
Nope, referee Jimmy Jett was preoccupied with the other participants. Where's Nick Patrick when you need him?
Sherri mounted the top rope and gave Knobbs a cross body attempt, but he caught her and gave her a powerslam. Bye-bye Sherri!
Knobbs then picked her up and tossed her to the floor at Stevie Ray like a rag doll.
Powerslam by Knobbs followed by an elbow drop by Sags from the top rope.
Sags then pinned Booker T.
WE HAVE NEW CHAMPIONS! A-ha!
Rating: ***
Summary: Great little tag team match here. Both teams brought the goods and the finish blew the roof off the Bayfront Center.
After the match Regal and Eaton clad in suits come out to observe the new title holders. I believe Eaton was replacing Jean-Paul Levesque as a member of the Blue Bloods due to Levesque's departure to the WWF. I wonder whatever happened to him.
The Nasty Boys then join Bischoff at the announcer's desk and cut a promo on the Blue Bloods.
Backstage Gene interviews Kevin Sullivan. He cuts a promo on the man formerly known as Butcher.
Match 2: Kevin Sullivan versus the Man with No Name
Highlights:
I get the sneaking suspicion that this match will not rate anywhere near the opener.
The parade of gimmicks continued for Ed Leslie. I guess it paid to be close friends with Hulk Hogan.
Right off the bat TMWNN delivered a high knee.
He then made Sullivan eat the steel railing. Tasted like the Niman Ranch rib eye at Parkshore Grill.
Sleeper by TMWNN turned into a jawbreaker.
Sullivan then made TMWNN eat the steel railing. Must've tasted like the carne asada at the Red Mesa.
Piledriver by TMWNN.
Sullivan rammed TMWNN into the ring post.
On a blind charge TMWNN hit his head on the ring post.
Sullivan then tied him to the Tree of Woe, gave him the double stomp, and pinned him.
Rating: *
Summary: One mistake by TMWNN and it was over. Bookerman wins again. Nothing to see here. Move along.
After the match King Curtis (not named as of yet) appears on the video wall calling for Sullivan to come forth. Sullivan then makes his way through the crowd.
Backstage Gene interviews "Mouth of the South" Jimmy Hart. Shortly thereafter Hulk Hogan and Randy Savage make their presence felt. Randy is excited that his father, Angelo Poffo, will be inducted into the WCW Hall of Fame. A Slim Jim reference occurs in this extended promo.
A short clip of Angelo Poffo is then shown.
Match 3 (Legends): "Chief" Wahoo McDaniel versus "Dirty" Dick Murdoch(/p>
Highlights:
This match was shown in black and white. Is Andy Griffith in attendance?
Gordon Solie replaced Eric Bischoff as the play-by-play man. This would be the last match he would call for WCW as he retired on 6/6.
A fan actually had a Dick Murdoch #1 sign.
"Indian chop" by Wahoo sent Murdoch down to the mat.
Murdoch mounted the top turnbuckle and drove his knee into the back of Wahoo's head. OUCH!
After delivering a back elbow off the ropes Murdoch planted Wahoo with an elbow drop.
After reversing an Irish whip Wahoo caught Murdoch with a chop to the chest.
He then pinned Murdoch.
Rating: *
Summary: Although I offer no disrespect to the dead a throwback to the 70s match was not something this show needed.
Backstage Gene interviews Big Bubba Rogers. He touts his victory against Sting at Uncensored.
Match 4 for the IWGP World title: The Great Muta (champion) versus "Mr. Wonderful" Paul Orndorff
Highlights:
In case you are not aware the IWGP World title is the main title for New Japan Pro Wrestling.
Bischoff mentioned his participation at the Collision in Korea show held by NJPW and WCW in North Korea.
He then mentioned the last time Muta wrestled here in WCW against "Stunning" Steve Austin. For those who are curious the future Rattlesnake beat Eddie Jackie on the pre-show. Austin's WCW tenure wouldn't last much longer as he traveled to Japan and tore his tricep. His last televised WCW appearance was on 5/27 (taped 5/11).
Leaping savate kick by Muta sent Orndorff outside the ring.
Knee lift and short clothesline by Orndorff.
After Orndorff missed an elbow drop Muta delivered a spectacular dropkick.
By the way Bischoff's inability to call moves correctly is pissing me off. This is pro wrestling, Eric, not karate or kung fu.
Corkscrew elbow drop by Muta.
Belly-to-back suplex by Orndorff.
After tossing Muta outside the ring Orndorff used a camera cable to choke him.
He then suplexed Muta back into the ring.
Shaky-shaky elbow drop by Orndorff.
Extended reverse chin lock by Orndorff.
Muta attempted another dropkick but missed.
Extended front face lock by Orndorff.
Muta countered with an inverted atomic drop.
Elbow drop from the second turnbuckle by Muta.
Muta countered an Orndorff piledriver attempt into a back body drop.
Another leaping savate kick by Muta.
Handspring elbow by Muta.
Bulldog by Muta.
Backbreaker by Muta.
Moonsault gave Muta the pin.
Rating: ***
Summary: In spite of Orndorff's mat work Muta's high-flying saves this match.
Video package highlighting Arn Anderson and the still undefeated Alex Wright.
Backstage Gene interviews Anderson, Ric Flair, and Vader.
A short clip of Terry Funk is then shown.
Match 5 for the WCW World TV title: "The Enforcer" Arn Anderson (champion) versus "Das Wunderkind" Alex Wright
Highlights:
Interesting note: 30 minute time limit for this match instead of the normal 10.
Dropkick by Wright.
Enziguri by Wright.
Backflip followed by another dropkick by Wright.
Arn attempted an enziguri but Wright ducked.
STF by Wright.
Plancha by Wright.
Spinebuster!
Guillotine catapult by Arn.
Anderson attempted a double axe handle from the middle turnbuckle but ate a right hand to the midsection for it.
Leg lariat by Wright.
Vertical suplex by Wright.
He mounted the top turnbuckle and hit the missile dropkick.
Arn cocked a left hand causing Wright to duck.
Arn took advantage and demolished Wright with a DDT.
1-2-3. Arn retained his title.
Rating: ***
Summary: While Wright got to show some great aerial maneuvers it was Arn's veteran knowledge that earned him the victory. Additionally you could hear a pin drop in the Bayfront Center so the end of the Alex Wright push made perfect sense. This marks the first blemish on Wright's record.
If I can add one more thing by 1995 the clean-cut babyface just didn't sell tickets anymore. WCW had to learn this the hard way. Since Arn Anderson was on the booking committee he got a first-hand look at how the crowd didn't support Wright.
As confirmation to what I was saying after the bell rung the crowd not only cheers the DDT but also the Anderson victory. I wonder who Arn's next challenger will be.
Match 6: Meng (w/ Colonel Parker) versus Road Warrior Hawk
Highlights:
***SURPRISE BONUS MATCH***
This was Hawk's first match in WCW since Starrcade '93. If I were him I'd quit after that match too.
Clothesline by Meng.
Piledriver by Meng…no-sold by Hawk.
Swinging neckbreaker by Hawk…no-sold by Meng.
A blind charge by Hawk sent him into the ring post and down to the floor.
Parker got some kicks in.
Meng rammed Hawk into the ring post.
Backbreaker by Meng.
Flying shoulderblock by Hawk.
Hawk mounted the top turnbuckle but Meng evaded him on the way down.
His momentum sent him outside the ring. Meng joined him.
Referee Jimmy Jett called for the double countout.
Rating: *
Summary: While this was a surprise, it was no bonus.
After the match a gaggle of wrestlers with Doug Dellinger separate Hawk from Meng.
Gordon Solie conducts the Hall of Fame induction.
"Chief" Wahoo McDaniel
Terry Funk
Angelo Poffo (much to Solie's chagrin.)
Antonio Inoki. (Gordon touts Inoki's victory a few weeks ago in North Korea. Inoki's interpreter reads Inoki's acceptance speech.)
The late Big John Studd (His son, Robert, accepts on his behalf.)
"The American Dream" Dusty Rhodes. (Cody and his sister accompany their father.)
Dusty then inducts Gordon Solie who is utterly surprised.
Backstage Gene interviews Sting. He paints a different picture than what transpired at Uncensored.
Match 7 (Lights Out): Sting versus Big Bubba Rogers
Highlights:
Sting brought a table to the ring during his entrance.
Dropkick by Sting.
Bubba tried to choke Sting with his tie but received another dropkick.
Bubba rammed Sting into the steps.
He tried to ram Sting into the table, but Sting rammed him instead.
Sting then gave Bubba a slam on the table.
Bubba tossed powder then rammed Sting into the table.
After mounting the table in the corner Bubba rammed Sting into it again.
He then tried a piledriver, but Sting countered with a back drop.
Cross-corner whip by Sting sent Bubba into the table; however, Sting attempted a Stinger Splash yet only ate table since Bubba evaded him.
Bubba removed his belt and whipped Sting.
Bubba slam.
Bubba mounted the top turnbuckle but was caught and tossed down to the mat.
After a slam Sting mounted the top turnbuckle and nailed him with a splash.
Double stomp from Sting onto the table atop Bubba.
Scorpion Deathlock.
Bubba submitted giving Sting the victory.
Rating: **
Summary: Very short and not very convincing blow-off match for this feud. I hope Sting finds a better opponent for the Bash.
A video package on the Monster Maniacs main event is shown.
Match 8: WCW World Champion Hulk Hogan and Randy Savage (w/ Jimmy Hart and the Renegade) versus Vader and "Nature Boy" Ric Flair (w/ Arn Anderson)
Highlights:
Buffer rumbled.
A very large individual tried to emerge through the curtain as Hogan and Savage made their way to the ring. Methinks someone missed his cue.
Angelo Poffo was shown in the front row.
After getting reversed on a cross-corner whip Hogan steamrolled Vader with a clothesline.
He then clotheslined Vader over the top rope to the floor.
Savage then mounted the top turnbuckle and gave Vader a double axe handle.
Double clothesline on the Monster Maniacs by Vader.
After Vader tossed Savage outside the ring Flair made Savage eat the steel railing. Tasted like the Gulf shrimp at Phillippi Creek Oyster Bar down in Sarasota.
After receiving a cross-corner whip Flair did his patented Flair Flip but then ate a Hogan boot to the face on the apron. A subsequent Flair Flop occurred in the aisle.
After Flair returned to the ring Savage clotheslined him back out over the top rope.
Hogan no-sold a chop in the corner.
Flair attempted to climb the top turnbuckle but was tossed down to the mat.
Hogan then applied the figure-four leg lock. He must have learned it from Dusty Rhodes.
Arn Anderson tried to interfere, but Hogan cradled him.
Back at the curtain a mammoth of a man lurked. He would later be named the Giant.
Vertical suplex by Vader on Hogan but it was no-sold.
Hogan set up for a back body drop off the ropes, but Vader bulldozed him over.
While trying to restrain Vader referee Randy Anderson was decked by him.
Avalanche by Vader onto Hogan's back.
Vader bomb.
Top rope Vader bomb missed.
Hot tag Savage.
Savage received an elbow after a blind charge.
Again Flair mounted the top turnbuckle only to be tossed down to the mat.
Savage then hit the elbow off the top rope.
Arn pulled Savage out of the ring.
Arn and Vader double-teamed Savage on the floor then Renegade clobbered Arn.
Moonsault by Vader only got 2.
Double clothesline put both Flair and Savage down.
Hot tag Hogan.
Hogan slammed Vader!
He then nailed Arn on the apron.
Big boot.
Arn clipped Hogan's leg when he came off the ropes.
Vader splash on Hogan.
Hulk up time!
Arn distracted him then came off the top rope. Unfortunately he nailed Flair on the way down instead of Hogan.
Leg drop.
The Monster Maniacs win. Poor Flair.
Rating: **1/2
Summary: Vader was the catalyst in this match as the other three men had a punch and kick fest.
After the match Flair, Vader, and Arn attack the Monster Maniacs and the Renegade. Arn sends Jimmy Hart flying over the top rope. Angelo Poffo hops the steel railing and enters the ring as Flair and Arn put the boots to Savage. After acquiescing to Poffo, Arn grabs his arms as they double-team him. Flair then applies the figure-four leg lock to him. Hogan and Renegade then come to his rescue.
Savage pleads for an ambulance for his father as the show goes off the air.
Conclusion: As you can now see the Angelo Poffo involvement in the Hall of Fame was merely a setup for his involvement in the main event. There will be more to this story at the Great American Bash. Interestingly neither did they hype the next PPV show nor the hotline.
Three undercard matches reached the *** plateau making this show watchable. However, I am clamoring for a great wrestling match in WCW soon. The opening tag title, IWGP title, and the TV title matches are those that I would seek out. Skip the rest and save it for the Great American Bash.
See you there!
Buyrate: 0.57
Comments? Suggestions? Send them to me at rsg@rockstargary.com and follow me on Twitter (@rockstargary202).
Custom Search