WELCOME TO ROCK STAR GARY REFLECTIONS!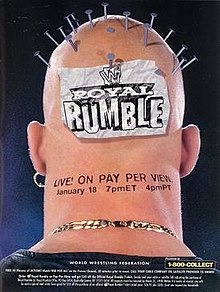 WWF Royal Rumble 1998
Live from San Jose, CA
Airdate: January 18, 1998
Attendance: 18,542 (16,661 paid)
Hosted by Jim Ross & Jerry "The King" Lawler
Can Undertaker bury Michaels to become WWF champion? Who will win the Rumble match to face the WWF champion at WrestleMania XIV? How will Shamrock fare against the Rock? Let's find out!
For those curious, "Iron" Mike Tyson is in attendance in a skybox. Unfortunately, he wasn't at the broadcast table to provide biting commentary.
Prior to the opening match, we revisit RAW is WAR from two months ago when Dustin Runnels publicly humiliated his wife Terri. Next, we revisit the 11/24 episode when Luna became his valet at Vader's expense. We then revisit RAW is WAR from three weeks ago when Goldust impersonated Baby New Year, and flash forward to last week when he impersonated Sable to offer Vader his nuts.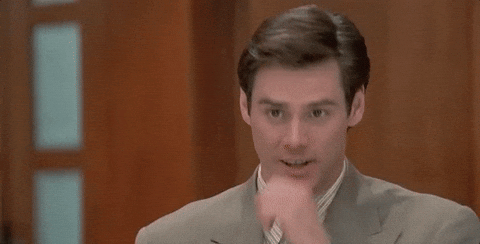 Match 1: Vader versus TAFKA Goldust (w/ Luna)
Highlights:
Goldust wore tights bearing the colors of the Romanian flag along with a green wig. At least we knew what one guy thought of his outfit.
When Vader reversed an Irish whip, he bowled Goldust over with a running body block.
He then gave Goldust a cross corner whip followed by an avalanche.
As Goldust sought refuge outside the ring, Vader joined and caused him to collide with Luna.
While the San Jose faithful chanted "Va-der," their hero rammed Goldust shoulder-first into the steps.
Back in the ring, Vader backdropped Goldust, but Luna grabbed him coming off the ropes.
Thanks to Luna's distraction, Goldust successfully clotheslined Vader.
He then attempted a sunset flip and narrowly avoided getting SQUISHED.
After Goldust delivered another clothesline, he mounted the second turnbuckle and landed a flying elbow into Vader's midsection.
Outside the ring, Goldust returned the favor by sending Vader shoulder-first into the steps.
While Goldust distracted referee Jack Doan, Luna attacked Vader with her shoe. How dastardly!
Goldust then supplied Vader with a ten-punch count-along followed by a kiss.
Since Vader was a happily married man, he took exception and clotheslined Goldust again.
Goldust sold it with a 360°. Woohoo!
When Vader suplexed him, he splashed Goldust for 2.
He then delivered a short-arm clothesline and mounted the second turnbuckle.
While Luna distracted Doan, Goldust hammered Vader somewhere down US-101 SOUTH.
Goldust attempted another sunset flip but couldn't avoid getting SQUISHED.
As Vader returned to the second turnbuckle, Luna jumped on Vader's back.
With Luna riding him, Vader successfully hit a Vader bomb. Wow!
1-2-3.
Vader won.
The San Jose faithful ate it up with a spoon!
Rating: **
Summary: That finish has to be seen to be believed. Kudos to Doan for not calling for the DQ on this one.
Backstage, Michael Cole interviews the late-arriving Austin, but Austin treats him like a parking valet. HA! Suddenly, the Godwinns manhandle Cole seeking Austin's whereabouts.
Match 2 (dwarf): Max Mini, Nova, & Mosaic versus Tarantula, Battalion, & El Torito
Highlights:
Sunny was the guest referee for this match.
Popcorn, anyone?
As Nova delivered a flying headscissors, he dropkicked Tarantula between the ropes to the floor.
Max Mini tagged in while Battalion substituted for Tarantula.
When Max sent Battalion flying from the ring, El Torito came in.
Mosaic tagged in, but El Torito gorilla-press-slammed him.
After he flapjacked Mosaic, El Torito got arm-dragged out of the ring.
Meanwhile, you could hear a pin drop in the arena.
Tarantula clotheslined Mosaic and tagged in Battalion.
As Nova came in, he dropkicked Battalion out of the ring.
He then leapfrogged and hip-tossed El Torito.
When he arm-dragged El Torito to the floor, Mosaic tagged in, reversed a cross corner whip, got vaulted to the apron, and hit a springboard huracanrana to Battalion.
He then provided Battalion with a flying headscissors to send him to the floor.
After Max tagged in, Tarantula clotheslined him.
He then gave Max a cross corner whip but came up empty on his follow=through.
As Max got vaulted to the apron, he mounted the top turnbuckle and supplied Tarantula with a flying headscissors.
He then backdropped Tarantula, arm-dragged Tarantula to the floor, followed, and nailed him.
When Max returned to the ring, El Torito CREAMED him.
Sunny then attempted a leap frog over Max but botched it miserably. It should be noted that her hairstyle resembled bed head.
After she assisted Max with a pair of mule kicks followed by a flying headscissors, JR couldn't help himself with a subtle knock on Chris Candido.
Mosaic sent Battalion to the floor and scored with a somersault plancha. Woohoo!
As El Torito launched his own plancha, he took out both Battalion and Mosaic.
Max followed with a corkscrew plancha while Tarantula delivered a tope suicida.
When Nova hit an Asai moonsault, he bowled a strike by taking out the other wrestlers.
Back in the ring, El Torito slammed Max but missed a senton splash.
Max then mounted the top turnbuckle and landed another flying headscissors to El Torito.
Upon cradling El Torito, Max pinned him.
Rating: **
Summary: This match had concession-stand break written all over it. While I appreciate lucha libre, the movesets of these wrestlers was very limited. Their highspots were the only true highlight of the match.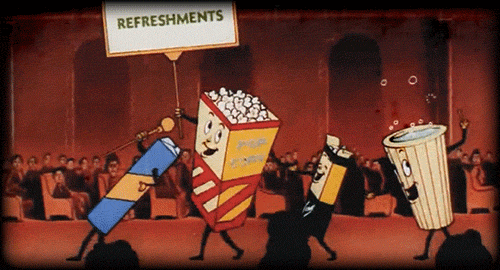 Backstage, the NoD stands outside Austin's dressing room. Faarooq instructs newest member Mark Henry to bust into the room to get Austin. While they don't find Austin, they do find an Austin foam finger. I'll let you guess which finger.
We then see Tyson in the skybox with Vince and Shane McMahon.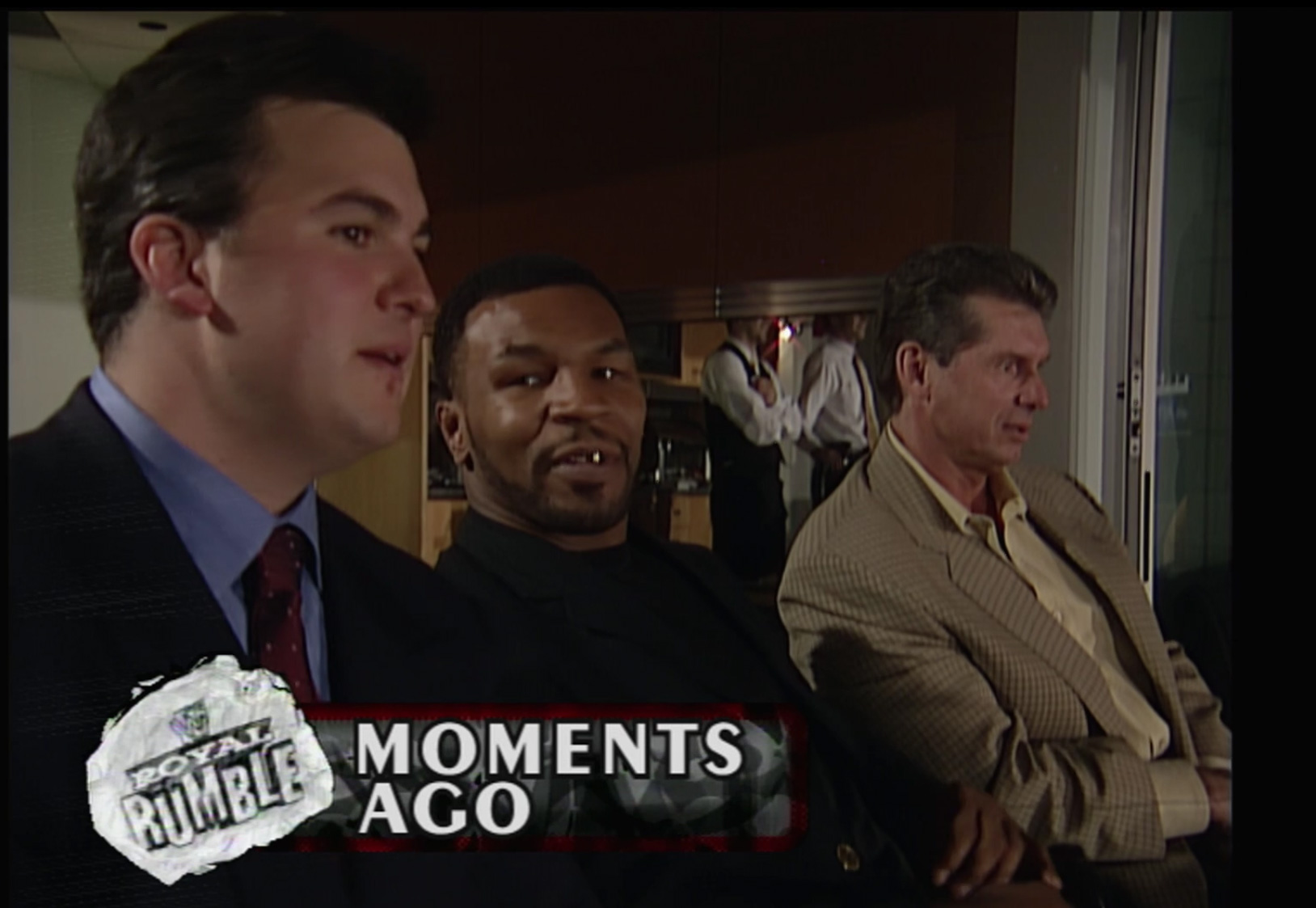 Prior to the next match, we revisit RAW is WAR from 12/22 when Shamrock dominated D'Lo Brown. The following week, he made Kama tap out. Thanks to NoD shenanigans, Shamrock got the better of Faarooq the week after that. Fast-forward to last Monday when Henry turned on Shamrock to join the NoD.
Backstage, Cole interviews Rock. We then revisit the Free-For-All when dissension arose within the NoD. Rock makes a Clinton joke then cuts a promo on Shamrock.
Match 3 for the WWF Intercontinental title: The Rock (champion w/o the Nation of Domination) versus Ken Shamrock
Highlights:
Shamrock reversed an Irish whip and placed a kick into Rock's midsection.
When Rock gave Shamrock a cross corner whip, he followed with a corner clothesline.
He then gave Shamrock another cross corner whip but ate a clothesline.
As Shamrock attempted a huracanrana, Rock countered with a stungun for 2.
Shamrock then delivered a cross body block for 2.
After he hooked a fisherman's suplex, Shamrock got another 2.
Rock rebounded with a clothesline, took Shamrock outside the ring, and rammed him face-first into the steps.
When Rock hit a floatover DDT, he got 2.
Shamrock then reversed an Irish whip and countered a second floatover DDT with a vertical suplex.
As Shamrock powerslammed Rock, he got 2.
He then reversed a cross corner whip and launched a huracanrana.
After Kama and Brown ran subterfuge for him, Rock armed himself with brass knux and WALLOPED Shamrock.
Intriguingly, he placed them in Shamrock's trunks while making a cover.
Will Rock retain?
1-2-NO!
With Brown's foot tied up in the ropes, Shamrock escaped a slam and scored with a belly-to-belly suplex.
1-2-3.
WE HAVE A NEW CHAMPION!
Wait a minute!
Cleverly, Rock pled with referee Mike Chioda that Shamrock used a foreign object.
When Chioda checked him, Shamrock removed the knux from his trunks.
Immediately, Chioda reversed the decision.
Rock retained.
Rating: **
Summary: If you like old school finishes, then this match is right up your alley. Did Lawler book this?
After the match, Shamrock loses his temper and supplies Chioda with a belly-to-belly suplex. That'll cost 'im! He then applies an ankle lock on Chioda much to the delight of the San Jose faithful. Officials sprint to the ring to save one of their own, but Shamrock intimidates them much like a grizzly bear in the woods.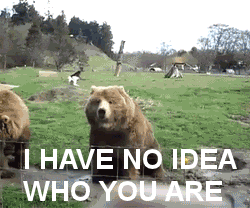 Backstage, Los Boricuas, seeking Austin, triple-assault a bald wrestler. Instead of Austin, it runs out to be Skull. Therefore, a pier-six brawl erupts between Los Boricuas and the DoA.
Video featuring the Road Warriors airs. Afterward, we witness their destruction at the hands of the NAO.
After the NAO makes its entrance, Cole interviews the Road Warriors. Animal yells while cutting a promo on the NAO while Hawk, with only one-half of his trademark haircut left, wants to turn the NAO from cool to frozen.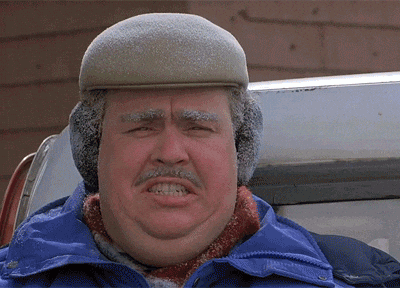 Match 4 for the WWF tag team titles: New Age Outlaws (champions) versus the Road Warriors
Highlights:
To truly get on the bad side of the San Jose faithful, the NAO wore Brett Favre jerseys. HA!
Road Dog leapfrogged Animal but ate a powerbomb.
As the NAO stalled in the aisle, the Road Warriors grabbed and returned them to the ring.
Animal then rammed Gunn face-first into the apron while Hawk launched a flying shoulder block at Road Dogg.
When Hawk gave Road Dog a cross corner whip, he followed with a corner clothesline.
JR then acknowledged that Road Dog is "Bob Armstrong's baby boy," and Hawk delivered a big boot.
After Animal tagged in, the Road Warriors landed a double back elbow.
Hawk tagged in and hit a hangman's neckbreaker to Road Dog.
As Gunn tagged in, Hawk executed a hip toss, landed a Thesz press, and face-planted Gunn.
Animal tagged in and scored with a belly-to-back suplex.
When Animal missed an elbow drop, he reversed an Irish whip and powerslammed Gunn.
Road Dog interjected himself and received one too.
After Hawk tagged in, he applied an STF to Gunn. I wonder if Hawk thinks he's in Japan.
Regardless, Animal tagged in, but Road Dog tripped him coming off the ropes. Wicked!
Gunn then tossed Animal over the top rope to the floor, and Road Dog reversed an Irish whip sending Animal shoulder-first into the steps.
With Animal out of commission, the NAO gave Hawk a double cross corner whip, but he exploded from the corner to demolish them with a double clothesline.
Hawk then gave Road Dog a cross corner whip but came up empty on his follow-through.
In fact, he fell out of the ring!
Road Dog then rammed him face-first into the steps, grabbed some handcuffs from ringside, and cuffed Hawk to the ring post.
As Animal escaped a double belly-to-back suplex, he double-clotheslined the NAO.
He then delivered a flying shoulder block to Gunn for 2.
When Gunn slammed him, he mounted the top turnbuckle.
He then leaped, but Animal caught and powerslammed him for 2.
To make the save, Road Dog SMASHED Animal with a steel chair to the back.
Referee Jim Korderas called for the bell to disqualify the NAO.
As a result, the NAO retained.
Rating: *
Summary: If the point of the match was for the Road Warriors to make the champs look good, they didn't accomplish their mission. If it was their point to bring them down to their level, then they succeeded.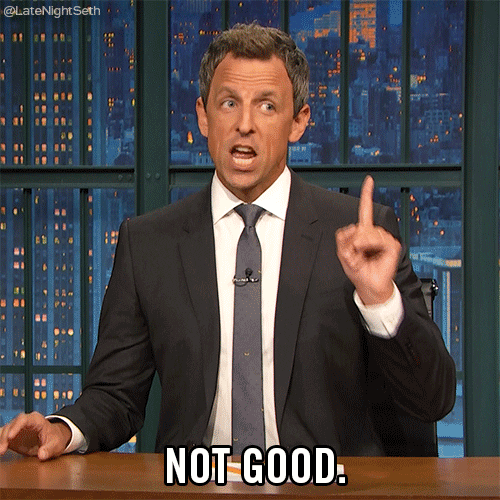 After the match, Road Dog continues his assault to Animal's back with a chair. He then positions Animal in the center of the ring, and Gunn hits a splash from the second turnbuckle. Next, an irate Hawk breaks the handcuffs and annihilates the NAO including a chair shot to Road Dog.
AUSTIN 3:16 TRUCK GIVEAWAY: From Nashville, TN, Mildred Bowers is the grand prize winner.
We then revisit the rampage of Austin upon the WWF.
Meanwhile, Tyson gets a mostly negative reaction from the San Jose faithful. Perhaps he bit off more than he could chew.
Match 5: (Royal Rumble)
Participants:
Stone Cold Steve Austin, Blackjack Bradshaw, Steve Blackman, Tom Brandi, D'Lo Brown, Chainsaw Charlie, Chainz, 8-Ball, Faarooq, Mick Foley, Henry Godwinn (HOG), Phineas Godwinn, TAFKA Goldust, Owen Hart, Mark Henry, The Honkytonk Man, Jeff Jarrett, Ahmed Johnson, Kama, Kurrgan, Marc Mero, Mosh, The Rock, Ken Shamrock, Thrasher, Savio Vega, Vader
Highlights:
Let's get ready to...oh, wait, this isn't WCW.
Cactus Jack drew #1 and brought aluminum trash cans with him to the ring. Methinks he likes his California women trashy.
When Chainsaw Charlie emerged as #2, he brought his chainsaw.
To combat the chainsaw, Cactus tossed chairs into the ring.
One chair shot later, and the chainsaw was no longer wielded.
As another chair shot made Charlie forget he's from Texas, he LAMBASTED Cactus in the back with a chair.
Charlie then lifted his mask and summoned Cactus to christen him with a chair.
To no one's surprise, Cactus obliged.
Since Cactus and Charlie were friends, Cactus handed the chair over and took a chair shot himself. OUCH!
Brandi was #3, but both Cactus and Charlie disposed of him quickly.
After Charlie attempted a piledriver on a chair, Cactus countered with a back drop.
Cactus set up a pair of chairs and suplexed Charlie onto them. That'll ruin his weekend!
While Rock was #4, Charlie headbutted him, and Cactus BRAINED him with a trash can.
Cactus then placed the can over Rock's head much to the delight of the San Jose faithful.
When Cactus and Charlie took turns punching the can, Cactus made Rock's ears ring until 2002 with a chair shot.
That sent Rock between the ropes to the floor.
As Cactus celebrated, Charlie ensured Dewey didn't have another sibling (at least for that night).
Mosh entered at #5 and delivered a DDT to Charlie.
Remarkably, Charlie mounted the top rope and launched a moonsault upon Mosh. Woohoo!
Phineas stomped his way to the ring as #6, but Rock clotheslined him.
After 8-Ball became #7, Cactus charged at Charlie and soared over the top rope to the floor.
Bradshaw appeared at *8, and JR promoted Tyson's appearance on RAW is WAR tomorrow night.
While Owen emerged at #9, Jarrett and Cornette attacked him in the aisle. Heinous!
Jarrett then made Owen taste the steel railing. It must have tasted like the Juicy Lucy at Rookies.
When officials stopped Jarrett's shenanigans, Phineas clotheslined Rock.
Blackman entered at #10 and almost eliminated Charlie.
As 8-Ball piledrove Charlie, Bradshaw administered a short-arm clothesline to Mosh.
8-Ball slammed Rock, and Brown strutted to the ring at #11.
After 8-Ball clotheslined him, Brown began brawling with Rock. After all, there's no patriotism in the NoD.
Kurrgan sauntered toward the ring at #12 and eliminated Mosh.
While Bradshaw unleashed another short-arm clothesline, he failed to suplex Rock over the top rope.
Mero emerged at #13 while the San Jose faithful chanted "Sa-ble."
When Kurrgan eliminated Blackman, Mero slammed Brown.
Shamrock entered at #14 and landed a series of kicks to Kurrgan.
As most of the field removed Kurrgan from the match, 8-Ball sidewalk-slammed Brown.
Bradshaw then fed Brown a big boot, and Rock supplied Charlie with a People's Elbow to ZERO reaction.
At #15, Thrasher ate a lariat from Bradshaw.
Astonishingly, Mankind emerged at #16 and eliminated Charlie.
With Bradshaw on the apron, Thrasher suplexed him back into the ring.
Brown then guillotined Mankind with the top rope, and Bradshaw provided Mankind with a short-arm clothesline.
After Goldust sprinted to the ring in a new outfit at #17, he eliminated Mankind.
Jarrett entered at #18, but Owen stormed the ring to enact revenge.
While Owen delivered a spinning heel kick to him, Jarrett attempted to toss him out.
However, Owen skinned the cat back into the ring and eliminated Jarrett to a big ovation.
Replacing the injured HHH, the Honkytonk Man thanked the entire San Jose faithful at #19.
Speaking of HHH, he hobbled to the ring on crutches, and Rock went nuts upon and eliminated Shamrock.
Owen then informed HHH that he's #1, but Chyna tried to hammer him with HHH's crutch.
Although Owen caught it, Helmsley got up on the apron and SMASHED the other crutch over Owen's back.
Given the circumstances, Owen was eliminated.
Johnson appeared at #20 while Owen chased HHH backstage.
When Henry entered at #21, JR inadvertently coined the phrase: "Henry's handling the big Johnson." HA!
Henry then tossed powder at Johnson, and Bradshaw clotheslined Mero.
As no one appeared at #22, JR and Lawler speculated it might be Austin.
If you recall, it was Skull.
Brown and Henry then eliminated Johnson, and Henry dumped Phineas out on the other side atop referee Jack Doan.
At #23, Kama side-stepped a departing Johnson.
Austin emerged at #24 but entered the ring from the opposite side of the ring from the entrance.
After Austin eliminated Mero, he tossed 8-Ball out.
Austin's trick knee made an enormous comeback which Brown would rather forget.
To the thrill of no one in particular, HOG appeared at #25.
Austin then guillotined HOG with the top rope, and Los Boricuas invaded the Rumble.
According to JR, Vega was #26, but Los Boricuas sought Austin out.
Both heel miscommunication and Austin scattered Los Boricuas from the ring.
When Vega escaped a Stone Cold Stunner, Austin clotheslined the bejeezus out of Goldust.
Austin then split Goldust's uprights much to the dismay of Luna.
As Bradshaw slammed Thrasher, he followed with an elbow drop.
Faarooq entered at #27 and barraged Rock with a flurry of punches.
While Rock and Austin battled each other on the floor, neither was eliminated.
In the meantime, Rock reversed an Irish whip sending Austin knees-first to the steps.
Rock then guillotined Austin with the steel railing, and Dude Love was #28.
After Dude removed Bradshaw from the ring, Goldust ate the steps thanks to Austin.
Speaking of Austin, he guillotined Vega with the top rope and clotheslined Goldust.
Rock then slammed Brown and launched People's Elbow #2.
Again, the move generated ZERO reaction from the San Jose faithful.
Austin then provided Rock with a running guillotine, and Chainz was #29.
When Vader entered at #30, he landed a running body block at Goldust.
He then dumped Honkytonk Man unceremoniously over the top rope to the floor.
As Vader clotheslined Rock, Austin eliminated Thrasher.
Austin then dumped Kama over the top rope and stomped a mud hole on HOG.
While Vega attempted to piledrive him, Austin countered with a back drop.
Austin then avoided a spinning heel kick from Vega and eliminated him.
After Goldust clotheslined Vader out of the ring, HOG tried to clothesline Dude and flew over the top rope to the floor.
Chainz then eliminated Goldust, charged at Austin in the corner, and ate boot.
When Austin eliminated Chainz, Faarooq rid the ring of Henry.
FINAL FOUR: Rock, Brown, Dude, and Austin.
Austin and Dude then rammed Rock and Faarooq together, and Austin clotheslined Faarooq.
As Dude supplied Rock with Sweet Shin Music and a double-arm DDT, he applied a Mandible claw on Austin.
To escape the hold, Austin kicked a FIELD GOAL. I wonder if Niners kicker Gary Anderson was on hand to appreciate it.
Faarooq then clotheslined Dude down to the floor and tried to eliminate Austin.
After Rock played possum so that Faarooq could strain himself in his efforts to dump Austin, he eliminated Faarooq. SNEAKY!
Only Austin and Rock remained, and the San Jose faithful felt the electricity.
Austin then reversed an Irish whip and sent Rock over the top rope, but Rock landed on the apron.
When Austin recognized the lack of elimination, he delivered a Stone Cold Stunner to Rock.
He then tossed Rock down to the floor.
As a result, Austin won and will face the WWF champion at WrestleMania XIV.
Rating: ***
Summary: A lot of rest spots and using Foley three times exposed how thin the roster was at this point. Nevertheless, the slow build to Austin being at the top of the promotion continues. The Rock also gets an honorable mention for his longevity and workmanship.
From the skybox, Cole interviews Tyson who refers to Austin as "Cold Stone." HA!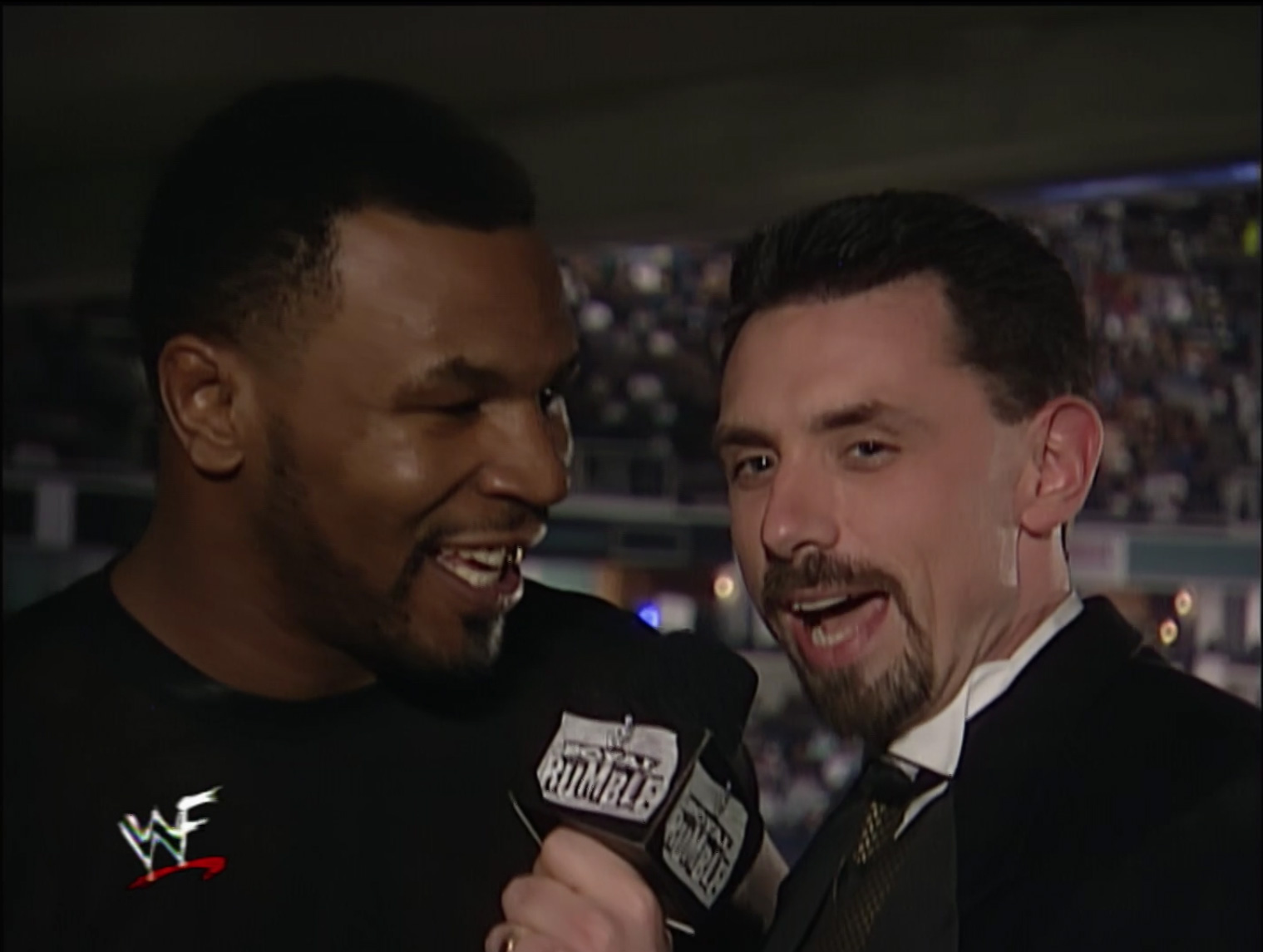 Video airs promoting the rivalry between Michaels and Undertaker.
Match 6 for the WWF title (casket): The "Heartbreak Kid" Shawn Michaels (w/ DX) versus Undertaker
Highlights:
Methinks this match might have some historical significance.
As Michaels gave Undertaker a ten-punch count-along, Undertaker treated him like a pesky gnat.
Undertaker then gave Michaels a cross corner whip, but Michaels leaped to the second turnbuckle.
When he flew at Undertaker, Michaels got caught and put in an overhead choke.
Undertaker then attempted a military press into the casket, but Michaels escaped.
After Michaels charged him, Undertaker vaulted Michaels over the top rope to the floor.
In the process, Michaels landed with the small of his back against the casket. More on this later.
Undertaker then joined Michaels on the floor and made him HIT THE POLE.
Next, he gorilla-press-slammed Michaels on the floor. That'll hurt an aching back.
Undertaker then booted him into the casket; however, Michaels jumped out immediately.
Back in the ring, Undertaker slammed Michaels but missed an elbow drop.
He then launched a rope-walk shoulder smash and pummeled Michaels in the corner.
As Undertaker gave him a cross corner whip, a Michaels flip sent him tumbling to the floor.
Undertaker tried to grab him, but Michaels countered with a guillotine on the top rope.
When Michaels mounted the top turnbuckle, he leaped, but Undertaker caught and powerslammed him.
He then rolled Michaels into the casket and tried to shut the lid.
In retaliation, Michaels sprung from the casket and tossed powder in Undertaker's eyes.
Moments later, Undertaker regained his eyesight and attempted to chokeslam Michaels.
After Michaels raked the eyes to escape, he scored with a moonsault from the top turnbuckle.
He then clotheslined Undertaker over the top rope to the floor and skinned the cat back into the ring.
Not impressed, Undertaker dragged him back outside and made him taste the steel railing. It must have tasted like the Meltdown at the Counter.
He then rammed Michaels face-first into the French broadcast table but got reversed on an Irish whip and sent knees-first to the steps.
As Michaels SMASHED Undertaker's back with the steps twice, he piledrove Undertaker ON THE STEPS. Call a neurosurgeon STAT!
HHH then used his crutch to WHACK and choke Undertaker. Nefarious!
When Michaels grabbed a chair, he SMACKED Undertaker's back with it.
Back in the ring, Michaels delivered a flying back elbow.
Michaels then rolled him into the casket, but Undertaker nailed Michaels with an uppercut sending him over the top rope back into the ring.
After Undertaker hammered HHH, Michaels hit a swinging neckbreaker.
He then applied a sleeper, and the San Jose faithful clamored for the dead man to rise again.
Upon reaching his feet, Undertaker countered the sleeper with a belly-to-back suplex.
He then reversed an Irish whip but ate a flying forearm.
As Michaels nipped up, he mounted the top turnbuckle and provided Undertaker with a big elbow.
He then scored with a superkick and rolled Undertaker into the casket.
When he stood atop the casket, Michaels gave Undertaker the DX crotch chop.
Undertaker didn't take it too well and grabbed Michaels by the scrotum.
Back in the ring, Undertaker backdropped Michaels and gave him a cross corner whip that resulted in a Michaels flip.
He then clotheslined Michaels and followed with a big boot.
After he missed a cross body block, Undertaker's momentum took him all the way into the casket.
Michaels then mounted the top turnbuckle and delivered another big elbow into the casket. Amazing!
With both wrestlers in the casket, Michaels escaped, but Undertaker dragged him back inside.
They returned to the ring, and Undertaker hit a chokeslam.
As he signaled for the end, Undertaker tombstoned Michaels into the casket. Unique!
Suddenly, Chyna sent referee Earl Hebner into the steps. Evil!
The NAO and Los Boricuas entered the ring and battered Undertaker. Is this 1994 or 1998?
Regardless, the lights went out, and Kane came to the ring.
Will he work in tandem with his brother to clear the ring?
Actually, he cleared it by himself.
When he turned his attention to Undertaker, Kane nailed him.
He then chokeslammed Undertaker into the casket, and Michaels shut the lid.
As a result, Michaels retained.
Rating: ****
Summary: Michaels did it again in the main event. He brought the goods, and he and Undertaker sold the show. Unfortunately, the shot to Michaels' back from the casket is partly to blame for a four-year hiatus from the ring. But what happens next?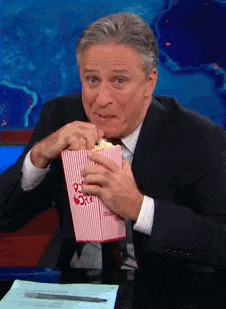 After Kane and Paul Bearer lock Undertaker in the casket, they wheel it to the entrance. Kane then retrieves an axe from backstage and destroys the casket. With Undertaker inside, Kane pours gasoline on the casket. Bearer then lights a match and ignites a matchbook. While receiving the matchbook from Bearer, Kane sets the casket ABLAZE!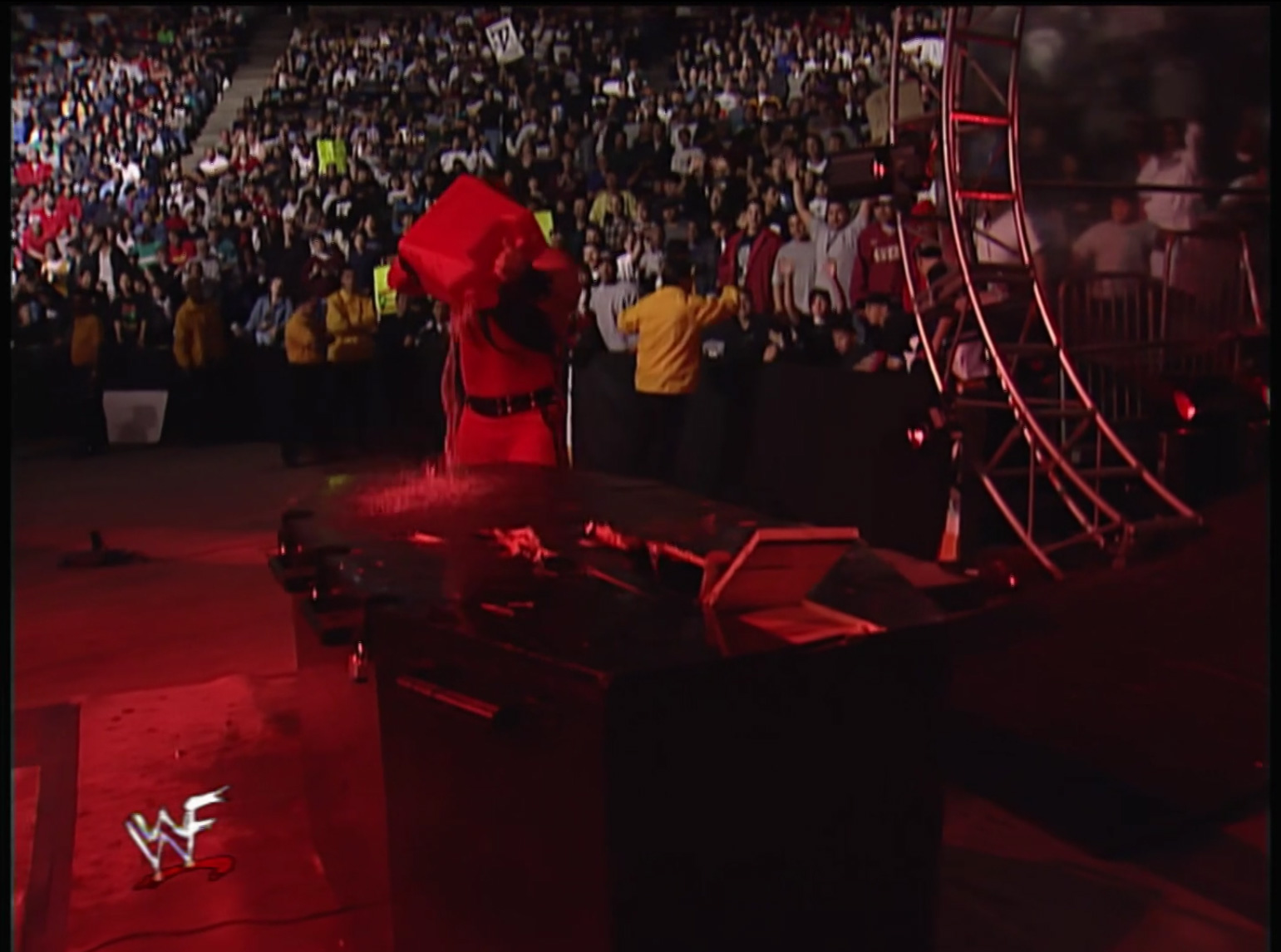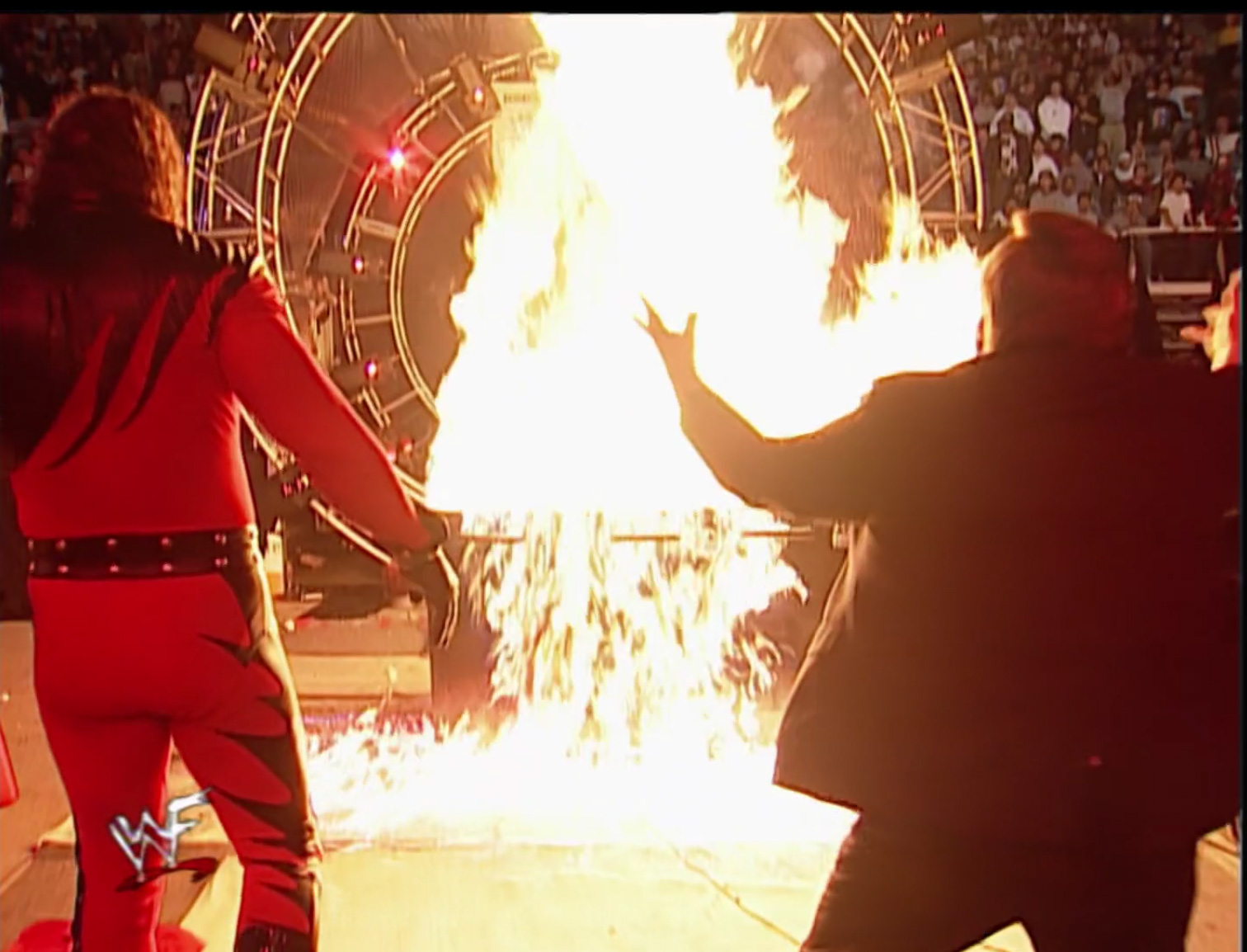 Conclusion: The Road to WrestleMania XIV begins here, and Austin is on his way to the main event. While Michaels uses every trick he had, he retains the WWF title. Speaking of retaining, Rock employs some chicanery to pull a fast one on the not-too-swift Shamrock. Lastly, the NAO retains despite the Road Warriors being in their path.
Definitely check it out if you've never seen it or hadn't seen it in years like me. Austin fans relive this moment quite often.
Buyrate: 0.97
Stay tuned for WCW Monday Nitro 01-19-98!
Comments? Suggestions? Send them to me at rsg@rockstargary.com and follow me on Twitter (@rockstargary202).
Custom Search