WELCOME TO ROCK STAR GARY REFLECTIONS!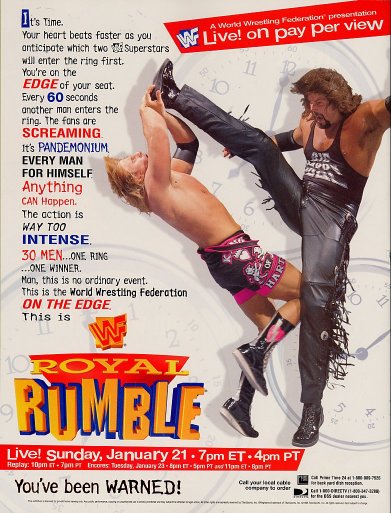 Live from Fresno, CA
Airdate: January 21, 1996
Attendance: 9,600
Hosted by Vince McMahon and Mr. Perfect
On the "Free for All" (not shown on the WWE Network) Duke "The Dumpster" Droese beat Hunter Hearst Helmsley to become the 30th entrant in the Royal Rumble match. By default Helmsley will be the 1st entrant.
Still in the tub from last Monday Sunny provides a viewer discretionary warning. I hope she didn't wrinkle up like a prune.
Prior to the match we see the THUD heard 'round the world yet again.
Match 1: Ahmed Johnson versus "Double J" Jeff Jarrett
Highlights:
Clothesline by Johnson.
Powerslam.
Flying clothesline.
As Johnson flew at Jarrett he got his hand stuck between the ropes.
Clothesline off the apron by Jarrett.
He then whipped Johnson into the steel steps.
Running guillotine.
Jarrett paid three trips to the second turnbuckle to deliver double axe handles; however, Johnson began to shrug them off.
A fourth trip earned him a bear hug.
Inverted atomic drop by Johnson.
Clothesline.
Spinebuster.
Holy flying linebackers, Batman! Johnson with a sweet no-hands tope over the top rope onto Jarrett.
Johnson then mounted the top turnbuckle but missed the somersault senton.
Figure-four leg lock by Jarrett.
Johnson reversed it.
Figure-four leg lock attempt #2 sent Jarrett through the ropes to the floor.
Jarrett grabbed his guitar, mounted the top turnbuckle, and WALLOPED Johnson in the head with it.
Johnson won by DQ.
Rating: **1/2
Summary: Crappy finish to a decent match. While I understand that Johnson required a ring general with him at this point in his career he should have had one that would actually lay down for him.
After the match Johnson echoes everyone's sentiment to the finish of the match and sprints backstage to locate Jarrett.
Backstage Todd Pettengill interviews Diesel.
Match 2 for the WWF tag team titles: The Smoking Gunns (champions) versus the Body Donnas (w/ Sunny)
Highlights:
For those unaware Zip was Dr. Tom Pritchard formerly of the Heavenly Bodies.
Finally Sunny's out of the tub. I'll add one thing about her here.
Head scissors by Skip to Billy.
Skip leaned against the ropes baiting Billy who dove, went over the top rope, and landed on the floor.
The Body Donnas brought Billy in the hard way.
They tried the same thing with Bart but were ejected from the ring the hard way.
Plancha by Billy with some assistance from Bart.
Bart no-sold Zip's chops.
Gorilla press slam by Bart to Zip.
After a blind tag Skip clotheslined Bart.
After a blind tag by the Gunns they execute the Hart Attack on Skip.
Sunny got up on the apron, but as Billy bounced off the ropes she fell to the floor on her butt.
Billy left the ring to check on her, and the Body Donnas attacked him from behind.
Plancha by Skip to Billy.
Double-team suplex/splash from the Body Donnas.
Double-team gutwrench suplex.
Skip mounted the second turnbuckle and delivered a fist drop.
I would be remiss if I didn't mention the numerous clips that occurred during this match.
Hot tag Bart.
Back elbow by Bart to Zip.
Dropkick by Bart sent Zip into the arms of Billy who slammed him.
Sidewinder to Zip, but referee Jack Doan was distracted by Sunny. Who wouldn't be?
Anyways, Skip mounted the top turnbuckle and nailed Bart with a double axe handle.
He then covered Bart himself as opposed to Zip.
Just as the Body Donnas were going to deliver a double suplex to Bart Billy speared Zip.
Bart hooked an inside cradle on Skip and got the pin.
The Gunns retained.
Rating: ***1/2
Summary: Great tag team encounter that followed the formula and got its intended crowd reaction. The double-team maneuvers in the match helped me to enjoy it as well.
Compilation of Billionaire Ted skits in case you either missed them or needed more pot-shots in your PPV enjoyment.
Recap of Goldust's temptations to Razor Ramon including parts that must have been shown on Superstars because they didn't transpire on RAW.
Match 3 for the WWF Intercontinental title: Razor Ramon (champion) versus Goldust (w/ his director and usher)
Highlights:
Letterbox introduction for Goldust. Escorting him was his wife Terri. Her identity was a mystery by this point. WCW fans would remember her as Alexandra York of the York Foundation.
An ignorant fan held up a tasteless sign prior to the match: "Gaydust" Yikes!
After Goldust countered a standing switch he fondled Ramon's chest.
Upon slapping Goldust Ramon subsequently spanked him. Goldust liked it!
If I may interject I have three words about Goldust's director.
Ramon, fed up by Goldust's mind games, clotheslined him over the top rope to the floor.
After Ramon removed the director from between himself and Goldust he was rammed into the apron twice.
Upon tossing Ramon back inside Goldust mounted the top turnbuckle and delivered a double axe handle.
Bulldog by Goldust.
Here's something you don't see every day: Slingshot belly-to-back suplex.
As Goldust distracted referee Tim White the director blew some gold dust in Ramon's face.
Face plant by Goldust.
Swinging neckbreaker.
Sleeper.
Very applicable counter as Ramon distracted White in the corner and used his trick knee on Goldust. OUCH!
Chokeslam by Ramon.
Fallaway slam.
After an eye poke Goldust mounted the top turnbuckle. Razor caught him crotching Goldust in the process. The subtlety is killing me here.
Top rope belly-to-back suplex by Ramon, but the director distracted White.
The 1-2-3 Kid ran in, mounted the top turnbuckle, and a hit a spinning heel kick on Ramon.
Goldust made the cover and got the pin.
WE HAVE A NEW CHAMPION!
Rating: **
Summary: As a wrestling match this wasn't much. Conversely, as a social experiment with respect to homosexuality and homophobia, this worked. Depending on your preference for either technique or entertainment your mileage may vary.
After the match Goldust and his director share a tongue kiss in celebration.
Dr. Jeffrey Unger gives Shawn Michaels a clean bill of health in a complete 180° turn from just a couple of months ago. Following that were quick promos by Owen, Jake Roberts, Jerry Lawler, Barry Horowitz, Vader (w/ Jim Cornette), and finally Shawn Michaels who coined the nickname "Kliq" for his fan base.
Match 4 (Royal Rumble):
Participants (in alphabetical order):
1-2-3 Kid
Aldo Montoya
Barry Horowitz
Bob Backlund
"Sparkplug" Bob Holly
"The British Bulldog" Davey Boy Smith
Diesel
Doug Gilbert
Dory Funk, Jr.
Duke "The Dumpster" Droese
Fatu
Hakushi
Henry Godwinn
Hunter Hearst Helmsley
Isaac Yankem
Jake "The Snake" Roberts
Jerry "The King" Lawler
Kama
King Mabel
Marty Jannetty
Owen Hart
Ringmaster
Savio Vega
Shawn Michaels
Squat Team #1 and #2
Takao Omori
Tatanka
Vader
Yokozuna
Highlights:
Helmsley was #1 courtesy of his disqualification loss in the Free for All to Droese.
Henry Godwinn was #2.
Clothesline by Godwinn.
Helmsley flip in the corner followed by a gorilla press slam by Godwinn.
Bob Backlund was #3.
Jerry Lawler was #4.
High knee from Helmsley to Godwinn.
Lawler brought the slop into the ring, but Godwinn got ahold of it scattering the other three participants.
He then slopped Lawler.
Bob Holly was #5.
Helmsley almost eliminated Godwinn.
King Mabel was #6.
Definitely midcard hell in there right now.
Jake Roberts was #7.
Roberts opened the bag revealing the snake scattering the rest of the field to the safety of ringside.
Unfortunately for Lawler he was unable to escape as Roberts grabbed him then laid the snake upon him.
Lawler disappeared.
Dory Funk, Jr. was #8.
Roberts attempted a DDT on Helmsley, but Helmsley grabbed the top rope to block it.
The camera caught Lawler hiding under the ring. SNEAKY!
As Mabel held Holly Godwinn mounted the second turnbuckle and clotheslined Mabel instead of Holly.
Yokozuna was #9.
Backlund applied the crossface chickenwing to Funk until Yokozuna nailed him to break it.
Yokozuna eliminated Backlund.
Inverted atomic drop by Roberts to Holly.
Avalanche by Mabel to Yokozuna. Oops, Godwinn was sandwiched between Yokozuna and the turnbuckle. He got SQUISHED!
Huracanrana by Holly to Godwinn.
Knee drop by Helmsley to Godwinn.
Splash by Mabel to Godwinn. He got SQUISHED again (and supposedly injured).
The 1-2-3 Kid was #10.
Ramon chased the Kid through the ring until officials escorted him backstage.
Avalanche by Yokozuna to Roberts.
The crowd chanted for Razor in spite of his not competing in this match. That should tell you how dreadful the current stock of wrestlers in the ring was.
Takao Omori was #11.
Series of kicks in the corner by the Kid to Helmsley. As payback Helmsley flopped.
Omori unsuccessfully tried to slam Mabel.
Belly-to-back suplex by Funk to the Kid.
Butterfly suplex by Funk to the Kid.
Savio Vega was #12.
Spinning heel kick by Vega to Mabel.
Yokozuna eliminated Mabel. That would be Mabel's final appearance in the WWF until 1998.
Omori tried to eliminate Roberts but was eliminated himself.
Vertical suplex by Funk to Vega. I believe Taz may have been watching this and immediately transformed himself into the "Human Suplex Machine."
Vader was #13. Finally some main event talent got involved.
Vega eliminated Funk.
Doug Gilbert from the USWA was #14. Thanks, Lawler. Perfect enlightened us stating that he is the brother of the late Eddie Gilbert.
Roberts delivered the DDT to Vega.
Vader eliminated Roberts.
Short-arm clothesline by Vader to Gilbert.
Running body block by Vader to Gilbert.
Superkick by Vega to Vader.
Squat #1 was #15. Actually he was a member of the Head Hunters who appeared in ECW shortly after this.
Chokeslam by Vader to Gilbert.
Knee crusher by the Kid to Helmsley.
Vader pressed Gilbert overhead then eliminated him.
He then eliminated Squat #1.
Inverted atomic drop by Helmsley to the Kid.
Squat #2 was #16.
Both Squats entered the ring, but Vader and Yokozuna dispatched them quickly.
Short-arm clothesline by Vader to Vega.
Owen was #17.
Dropkick by Vega had ZERO effect on Vader.
Cross-corner whip by Vader sent Yokozuna into Vega.
Vader followed with his own avalanche to SQUISH Vega.
Splash by Vader to Vega. He must owe him money.
Leg drop by Yokozuna to Vega. Methinks Vega must be in the rears to both of these guys.
Shawn Michaels was #18.
Vader eliminated Vega.
While Cornette was trying to make peace between Vader and Yokozuna Michaels eliminated both of them.
Michaels then vaulted the Kid over the top rope to the floor.
Hakushi was #19.
After Vader nailed Yokozuna from behind he re-entered the ring. He them pummeled Michaels, gave him a gorilla press slam and dropped him to the floor. Since Vader had already been eliminated Michaels was still in the match. What a technicality!
Vader continued his rampage by vaulting both Helmsley and Holly over the top rope.
WWF Interim President Gorilla Monsoon came to the ring and ejected Vader. Before he left the crowd gave Vader a good negative reaction.
Tatanka was #20.
Before Tatanka entered Michaels tossed Cornette over the top rope to the floor.
Hakushi gave Owen a handspring back elbow.
Helmsley mounted the top turnbuckle and delivered a forearm to Hakushi. Wow!
Jumping spin kick from Hakushi to Michaels.
Hakushi almost eliminated Michaels, but Helmsley saved him.
Helmsley almost eliminated Michaels, but Michaels only landed on the apron.
Owen eliminated Hakushi.
Aldo Montoya was #21.
Michaels was knocked outside the ring. He then went on the hunt for Lawler.
He pulled Lawler out from under the ring and sent him back into the ring.
Meanwhile Tatanka eliminated Montoya.
Immediately thereafter Michaels eliminated Lawler.
Diesel was #22. That's a pretty high number for the big guy. He must have some stroke.
He tossed Tatanka out immediately.
He and Michaels bumped into one another, and he nailed Michaels in response.
To put things in perspective three members of the Clique were in the ring at this point.
Kama was #23.
Ten-punch count-along by Michaels to Holly.
The Ringmaster was #24.
Catapult by Holly almost eliminated the Ringmaster.
A knee in the back from the Ringmaster eliminated Holly. Holly spent almost 40 minutes before being eliminated.
Barry Horowitz was #25. Perfect noted that if "(Horowitz) won…I'd get back in the ring."
HHH and Stone Cold Helmsley and the Ringmaster battled for a bit although the camera missed most of it.
Diesel manhandled Helmsley out of the ring. Helmsley spent over 48 minutes prior to elimination. Impressive!
Fatu was #26.
Crescent kick by Fatu to Kama.
Isaac Yankem was #27.
High knee from Horowitz to Owen.
He then charged at Owen and was eliminated.
Enziguri from Owen to Michaels. Uh oh. Concussion time again?
Nope. In an attempt to toss Michaels out Owen was eliminated.
The Ringmaster then mowed Michaels down with a running clothesline.
Marty Jannetty was #28.
Head butt from Jannetty to Fatu had the opposite effect.
Jannetty and Michaels went toe-to-toe and ended with a double knockout. It was a flashback to 1993 for both guys.
Sidewalk slam from Diesel to Jannetty.
"The British Bulldog" Davey Boy Smith was #29.
Immediately he went after Michaels in a great throwback to last year's Rumble when Michaels eliminated Smith to win.
Diana Smith was featured sitting at ringside wearing a skin-tight blouse that left nothing to the imagination.
Meanwhile Smith eliminated Jannetty.
Head butt by Fatu dazed the Ringmaster. Subsequently Fatu clotheslined the Ringmaster over the top rope eliminating him.
Clothesline by Kama to Fatu.
Yankem eliminated Fatu.
Duke Droese was #30.
Who's left? Droese, Diesel, Kama, Michaels, Smith, and Yankem.
Michaels and Smith went through the ropes to the floor. Shortly thereafter Michaels made Smith taste the steel railing. It must have tasted like the tri-tip steak sandwich at the Dog House Grill. Yum!
Owen returned to the ring and nailed Michaels from behind.
He then made Michaels taste the steel railing. Waiter, give Mr. Michaels the pork rib meal please.
Military press by Smith to Michaels. Diesel delivered a shot to Smith's mid-section so he dropped Michaels.
Dropkick by Michaels eliminated Yankem. Jacobs would have much better success in the Royal Rumble in later years.
Diesel and Kama eliminate Droese.
Four men left.
Michaels eliminated Smith.
Kama almost eliminated Michaels, but Michaels skinned the cat back into the ring.
Diesel eliminated Kama.
Superkick by Michaels eliminated Diesel.
Shawn Michaels was the winner of the 1996 Royal Rumble and will face the WWF champion at WrestleMania XII.
Rating:***
Summary: While entertaining, the crop of wrestlers involved wasn't on par with previous Rumbles. With that being said there were times when there were too many wrestlers in the ring to enjoy mini-feuds or create instant ones. Back in '96 it was a foregone conclusion that Michaels would win the Rumble in order to be in the main event at WrestleMania.
After the match Diesel drilled Smith from behind as Dok Hendrix attempted to interview him. As Shawn is basically stripping Diesel re-enters the ring, stares down Michaels, but then they give high-fives to one another.
As the Undertaker makes his entrance for the title match another stare down between Diesel and the Undertaker occurs. Diesel then shoves Paul Bearer down causing a pull-apart brawl. While Diesel notifies the Undertaker that he's "not afraid of the dark" Bearer has metamorphosed the urn back into the shape of an urn. As you can recall from RAW last Monday the "urn" was still in the shape of Kama's golden necklace.
Match 5 for the WWF World title: Bret "Hitman" Hart (champion) versus the Undertaker (w/ Paul Bearer)
Highlights:
Cross-corner whip by the Undertaker followed by a standing choke.
Iron claw by the Undertaker.
In case you aren't aware this was a face versus face match which split the crowd's reaction.
Ropewalk arm twist chop (aka old school) by the Undertaker.
Bret mounted the second turnbuckle and delivered a clothesline.
A second one sent the Undertaker over the top rope to the floor; however, he landed on his feet.
Plancha by Bret.
Bret leaped at the Undertaker from the apron only to get caught and then rammed back-first into the ring post.
Undertaker hoisted Bret on his shoulder in order to ram him into the ring post, but Bret slid down his back sending the Undertaker directly into the ring post.
Boot to the mush by the Undertaker.
He then made Bret taste the steel railing. It must have tasted like the carne asada tostada from Taqueria Don Pepe. Mm.
After reversing an Irish whip Bret sent the Undertaker knees-first into the steel steps.
He then rammed the left leg into the steps.
Figure-four leg lock by Bret.
Undertaker countered it.
B-O-R-I-N-G leg work by Bret.
Outside the ring the Undertaker rammed Bret face-first into the steel steps.
He then choked Bret with some cable while Bearer distracted referee Earl Hebner.
Next he rammed Bret into the timekeeper's table.
Afterwards he jammed a chair into Bret.
Back in the ring the Undertaker missed the big boot so Bret returned to working on the leg much to the crowd's dismay. Boos could be heard.
Bret then rammed the Undertaker's left leg into the ring post twice.
Standing leg drop by the Undertaker.
Clothesline.
Bret escaped a Tombstone attempt then hung him on the top rope.
DDT by Bret.
Side Russian leg sweep.
Bulldog.
Backbreaker.
Second-rope elbow.
Sharpshooter attempt thwarted by a choke.
Double clothesline.
Bret removed the turnbuckle pad to the top turnbuckle.
He then removed Undertaker's protective mask.
Next he rammed the Undertaker into the unprotected corner twice.
Bret attempted a cross body block but walked into a tombstone.
Do we have a new champion?
NO!
Diesel pulled Hebner from the ring to the floor disqualifying Bret.
Rating: ***
Summary: While slow at times this match was carried by Bret with a more violent tone. It would seem the WWF was trying to get a better, stronger attitude.
After the match Diesel flipped the Undertaker off. There will definitely be more to this story upcoming.
Back in the locker room Todd interviews Monsoon. At In Your House VI Bret will defend the WWF title against Diesel due to Monsoon's decree.
In another locker room Dok interviews Michaels.
We return to the locker room with Todd and Monsoon. The Undertaker interrupts and states that Diesel will never win the WWF title again. Truer words were never spoken. To protect the match (and potentially boost the buyrate) Monsoon places the steel cage stipulation upon the title match.
Dok interviews Diesel who borrows "the best thing going today" line from Ric Flair.
Todd then interviews Jim Cornette with Vader.
Conclusion: Flipping birds, sexual mind games, and more violent matches were tell-tale signs that the WWF was going in a more adult direction in response to WCW. Having said that unless you are a huge Shawn Michaels (or Goldust) fan, this show doesn't hold much value.
See you next time for the Monday Night War week 20!
Buyrate: 1.10 (Wow!)
Comments? Suggestions? Send them to me at rsg@rockstargary.com and follow me on Twitter (@rockstargary202).
Custom Search