WELCOME TO ROCK STAR GARY REFLECTIONS!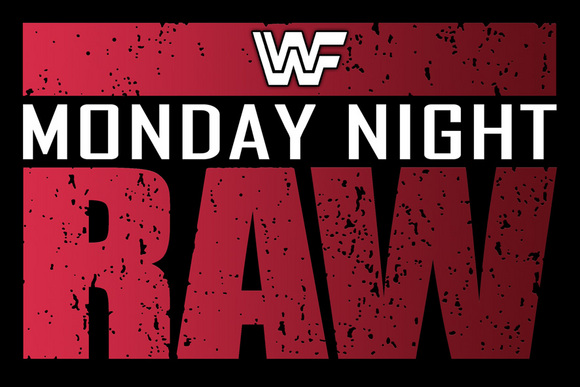 WWF Monday Night RAW 08-02-93
Taped from Alexandria Bay, NY
Airdate: August 2, 1993 (taped 7/25)
Attendance: 1,000
Hosted by Vince McMahon & Bobby "The Brain" Heenan
What will happen when the "Macho Man" faces Doink? What other surprises occur this week? Let's find out!
We open the show with last week's challenge by Doink to Savage.
Opening montage.
Back in the locker room, Savage cuts a promo on Doink.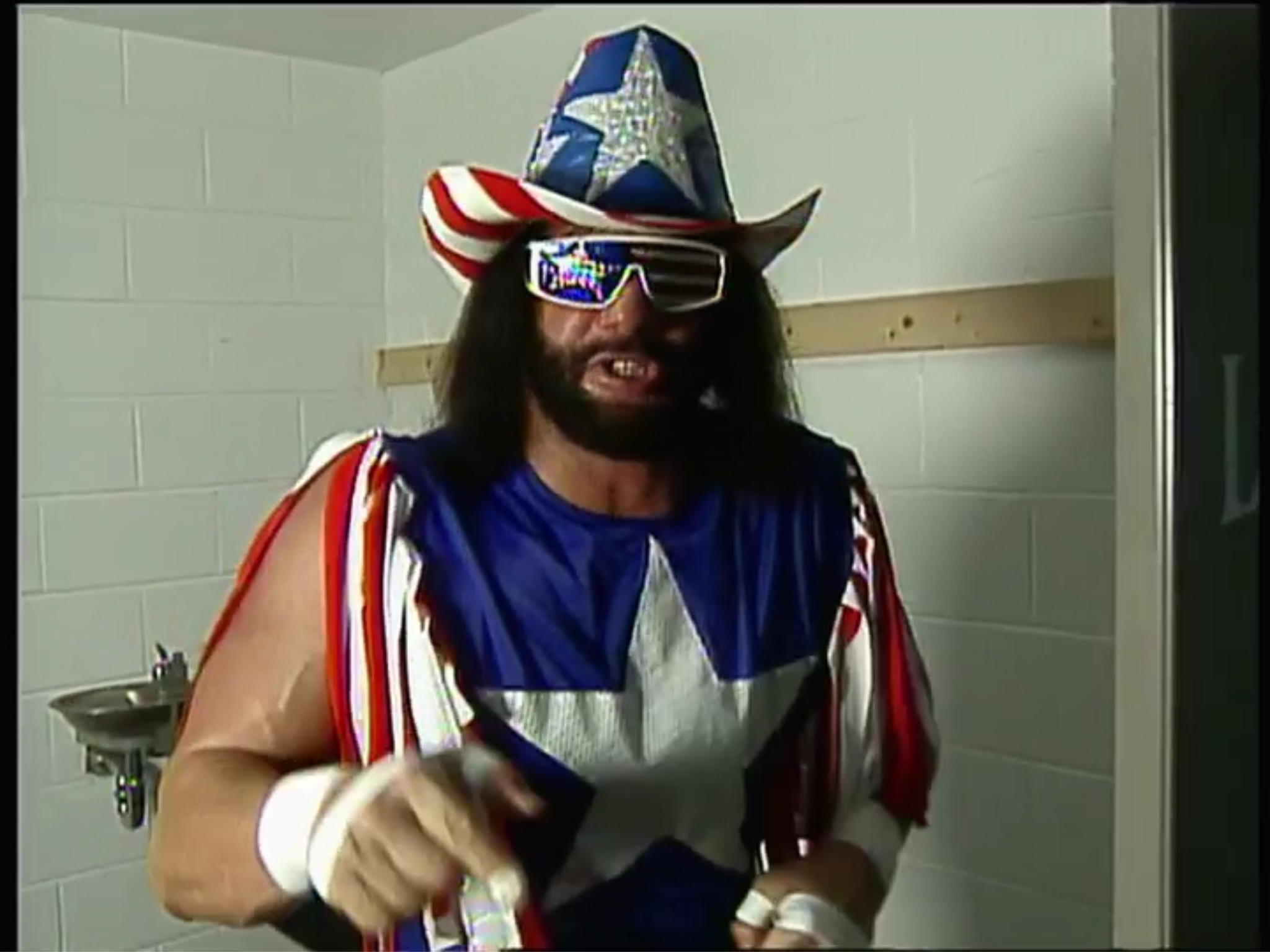 Match 1 (non-title): WWF tag team champions the Steiners versus Barry Horowitz & Duane Gill
Highlights:
According to Vince, the Steiners signed an open contract to defend their titles at the PPV near their hometown. I wonder who will face them.
Scott hip-tossed Horowitz and reversed a cross corner whip.
When he applied the brakes during his follow-through, Scott delivered an overhead belly-to-belly suplex to Horowitz.
He then hooked a Boston crab and tagged in Rick.
As Gill tagged in, Rick hit a Steinerline.
Scott tagged in and gave Gill a pumphandle slam.
After he delivered a Frankensteiner, Scott pinned Gill.
Rating: DUD
Summary: Showcase match for the tag champs.
WHO IS LEX LUGER? Luger discusses his father's occupation as a pianist. Following that, Luger states that he grew up as an introverted child, and his friends from that era are shocked to see him act otherwise on TV.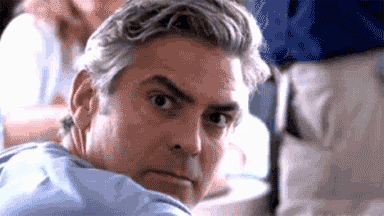 Match 2: Adam Bomb (w/ Johnny Polo) versus Tony Roy
Highlights:
Bomb hung Roy out to dry before delivering a belly-to-back suplex.
As he mounted the top turnbuckle, Bomb hit a flying clothesline.
He then delivered an Atom Smasher and pinned Roy.
Rating: DUD
Summary: Showcase match for Bomb.
Next week, Tatanka faces Mr. Hughes on RAW. Stay tuned!
Match 3: "Macho Man" Randy Savage versus Doink the Clown
Highlights:
Woohoo! Doink rode his unicycle to the ring.
According to Vince, Crush suffered a "crushed chest cavity" due to the assault by Yokozuna. Also, Savage dedicated this match to Crush.
Prior to the opening bell, Savage checked under the ring for multiple Doinks.
While the Alexandria Bay faithful chanted "Mach-o," their hero brought a chair into the ring, but referee Earl Hebner snatched it away.
Doink then clotheslined Savage and hooked a rope-assisted Boston crab.
When Hebner noticed the shenanigans, Doink reversed a cross corner whip yet came up empty on his follow-through.
Savage then put a knee into Doink's back sending him to the floor.
As he joined Doink, Savage tried to send him into the ring post but HIT THE POLE himself.
Following a commercial break, Doink delivered a standing dropkick.
He then hit a belly-to-belly suplex for 2.
After a forearm smash, Doink got another 2.
He then hooked an abdominal stretch until Savage escaped.
When Doink slammed him, he mounted the top turnbuckle but missed a Whoopie cushion.
Doink then tossed Savage over the top rope to the floor, but Savage climbed under the ring.
On the other side of the ring, a dwarf version of Savage emerged.
Doink then chased the "little surprise" until Savage re-emerged to attack him.
As he slammed Doink on the floor, Savage tossed him back into the ring and hooked an inside cradle. Meanwhile, the "little surprise" stood on the apron to distract Doink.
1-2-3.
Savage won.
Rating: ***
Summary: Great story told here as Savage outsmarted Doink at his own game.
After the match, the "little surprise" bites Doink, but when Doink tries to chase him, Savage nails Doink.
Promotional consideration paid for by the following: ICOPRO and Slim Jim.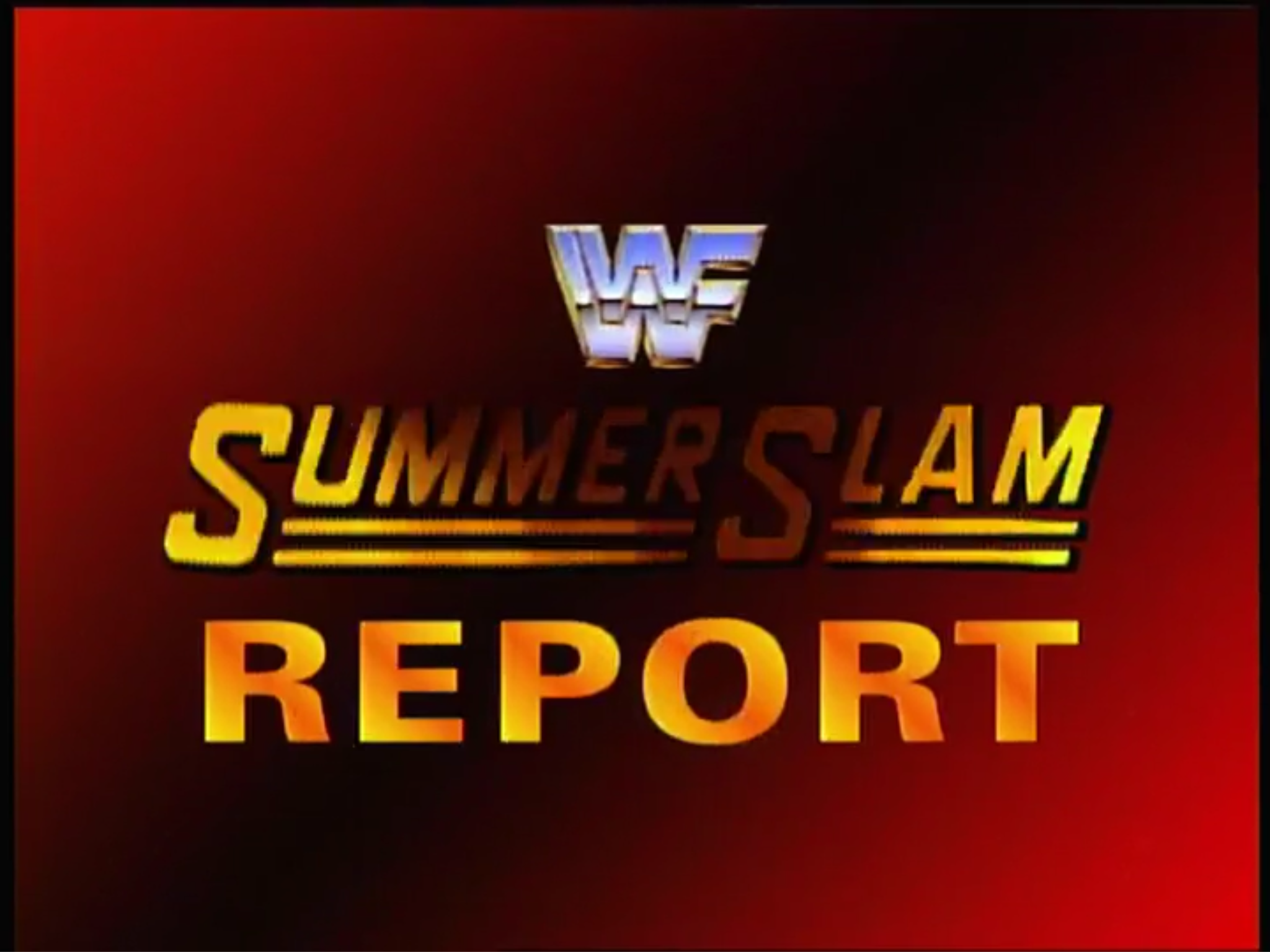 SUMMERSLAM REPORT: "Mean" Gene Okerlund shills the PPV LIVE on 8/30. Here's the card:
For the WWF title, Yokozuna defends against Luger.
In a king versus king match, Lawler faces Bret.
For the Intercontinental title, Michaels defends against Mr. Perfect.
In an RIP match, Undertaker challenges Giant Gonzalez.
With the "Million Dollar Man" Ted DiBiase on the phone, we revisit Wrestling Challenge when the 1-2-3 Kid defeated DiBiase (aired 8/1, taped 7/7). When DiBiase locked the Kid in the Million Dollar Dream, Razor Ramon then came to ringside to distract him. DiBiase then made a lackadaisical cover, and the Kid hooked a crucifix for the victory. Afterward, Ramon laughed at DiBiase.
Suddenly, Jim Cornette from Smoky Mountain Wrestling comes to the ring. Heenan leaves the broadcast table and enters the ring. To the delight of no one, they share a hug. Heenan then introduces him as the Alexandria Bay faithful boo him out of the building. While detailing some personal history, Cornette touts the Heavenly Bodies. He then runs down and challenges the Steiners. Without question, seeing Cornette in both WCW and WWF in 1993 is a highlight of the year.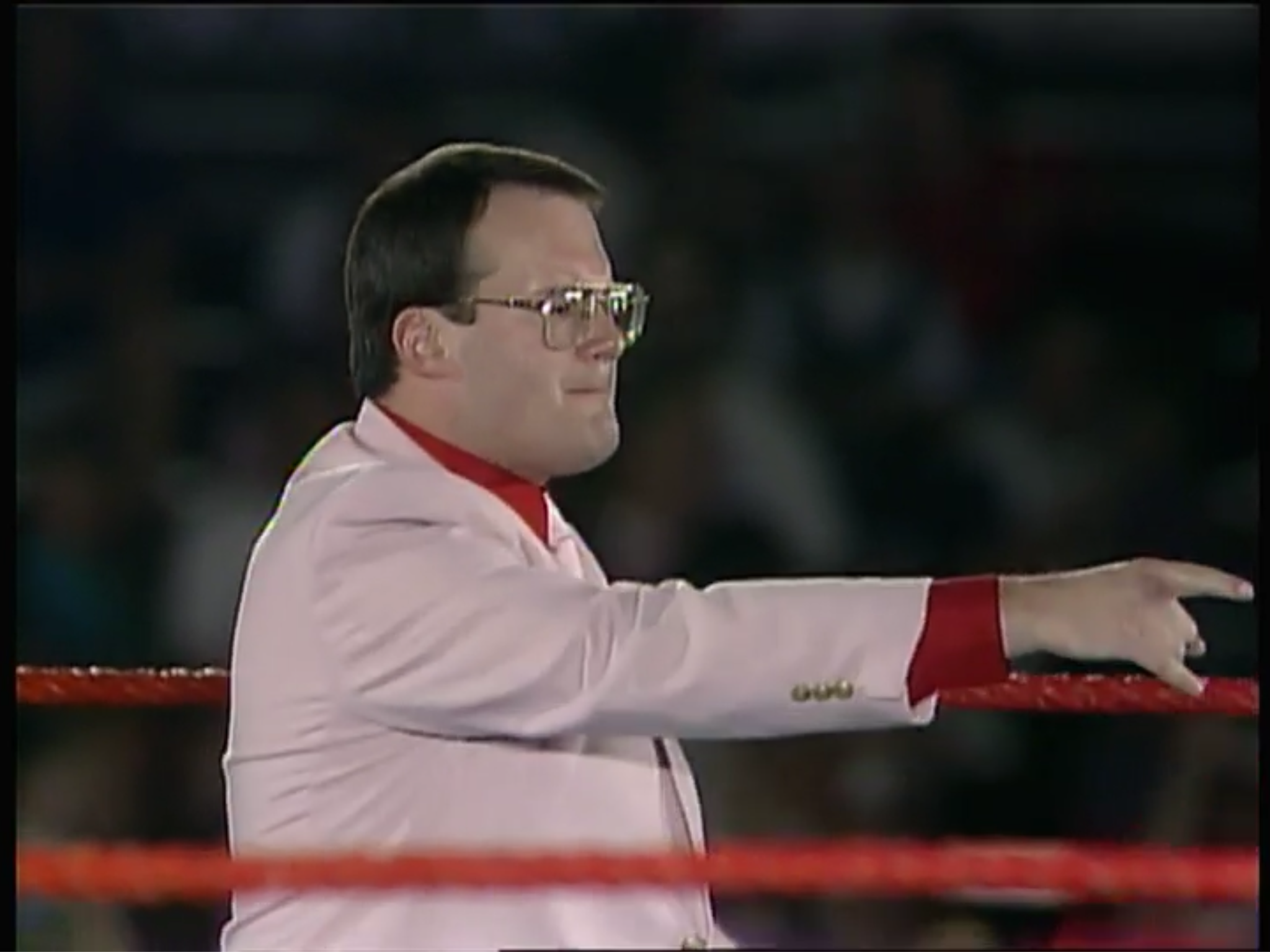 Match 4: Mr. Perfect versus Barry Hardy
Highlights:
Cornette joined the broadcast table for this match.
As Hardy gave him a cross corner whip, he hip-tossed Perfect.
Perfect then leap-frogged and dropkicked Hardy out of the ring.
With Hardy on the apron, Perfect returned him to the ring with a belly-to-back suplex.
He then delivered a neck snap followed by a knee lift.
When he hit a knee crusher, Perfect removed Hardy's singlet.
He then hooked a Perfectplex and pinned Hardy.
Rating: DUD
Summary: Showcase match for Perfect.
Promotional consideration paid for by the following: WWF action figures.
More "on the road" footage of the Lex Express airs as he's on his way to Erie, PA.
Conclusion: Between the Doink-Savage match and the Cornette surprise, this show is well worth your time.
TV Rating: 2.9
Stay tuned for WWF Monday Night RAW 08-09-93!
Comments? Suggestions? Send them to me at rsg@rockstargary.com and follow me on Twitter (@rockstargary202).
Custom Search