WELCOME TO ROCK STAR GARY REFLECTIONS!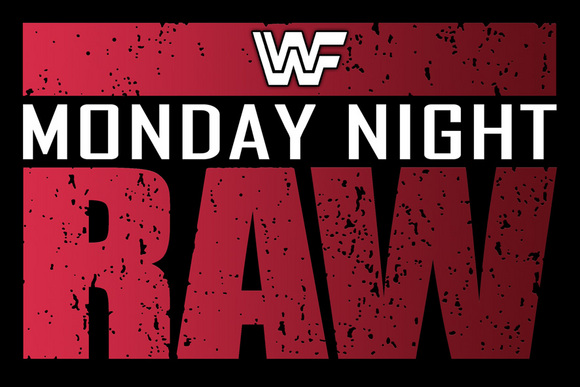 WWF Monday Night RAW 7-12-93
Taped from New York, NY
Airdate: July 12, 1993 (taped 7/5)
Attendance: unknown
Hosted by Vince McMahon, "Macho Man" Randy Savage, and Bobby "The Brain" Heenan
Will Crush capture the WWF title one week removed from the "body slam heard 'round the world"? Can the Brooklyn Brawler use his hometown advantage and beat the currently undefeated Tatanka? Let's find out!
Opening montage.
Match 1 for the WWF title: Yokozuna (champion w/ Mr. Fuji) versus Crush
Highlights:
To give the match that EXTRA SPECIAL jingoistic feel, the Manhattan faithful serenade Yokozuna with the "Star-Spangled Banner" at the onset.
Yokozuna slammed Crush but missed an elbow drop.
When Crush delivered a big boot, Yokozuna fell out of the ring. TIM-BER!
Upon Yokozuna's return, Crush gave him a cross corner whip followed by an avalanche.
He then gave Yokozuna another cross corner whip but came up empty on his follow-through.
As Yokozuna guillotined him with the top rope, he chopped Crush sending him reeling to the floor.
Upon Crush's return, Yokozuna applied a nerve hold.
Following a commercial break, Yokozuna delivered a superkick and reapplied the nerve hold.
While the Manhattan faithful chanted "U-S-A," Yokozuna gave Crush a cross corner whip but came up empty on his follow-through.
Crush then hit a standing dropkick but couldn't take Yokozuna off his feet.
After a clothesline accomplished that task, Crush mounted the top turnbuckle and delivered a flying shoulder block.
Do we have a new champion?
1-2-NO!
He then mounted the opposite top turnbuckle, but Fuji used his flag pole to knock Crush all the way down to the floor. How dastardly!
When Yokozuna joined hm, he slammed Crush on the floor.
Back in the ring, Yokozuna hit a belly-to-belly suplex followed by a leg drop.
He then brought Crush to the corner, mounted the second turnbuckle, and delivered a Banzai drop.
1-2-3.
Yokozuna retained.
Rating: **½
Summary: Although the match was slow at times, Yokozuna brought Crush up to his level before defeating him.
After the match, Yokozuna hits another pair of Banzai drops before Tatanka arrives to rescue the befallen Crush. Yokozuna dispatches Tatanka before delivering another Banzai drop to Crush. The locker room empties, but Yokozuna fights them off until Savage leaves the broadcast table. As he pulls Crush out of harm's way, Savage threatens Yokozuna with a chair.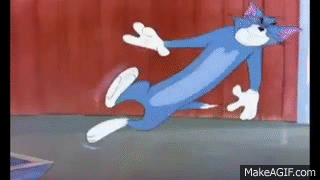 Following another commercial break, Crush lays motionless on a gurney, and medical personnel wheel him backstage. Certainly, an extended vacation at Bellevue will be required for Crush. Savage joins his favorite Hawaiian to provide support.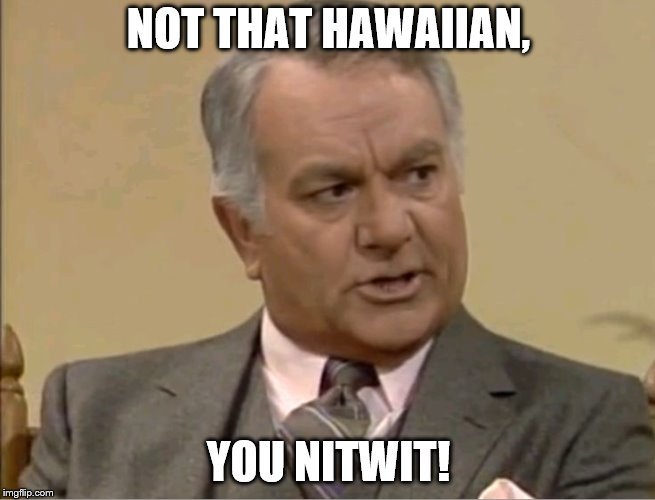 Sorry, Chester.
Heenan then blames and warns Lex Luger about the "dangerouz" Yokozuna.
Match 2: Headshrinkers (w/ Afa) versus P.J. Walker & Aaron Ferguson
Highlights:
As Fatu rids the ring of Ferguson, the Headshrinkers double-flapjack Walker. That's just incredible!
Samu then clotheslined Walker causing a 360° sell. Woohoo!
When Fatu tagged in, Samu brought Ferguson in the hard way.
Fatu then clotheslined Ferguson before delivering a diving head butt.
After Samu tagged in, the Headshrinkers hit a double Stroke to Ferguson.
Fatu then mounted the top turnbuckle and delivered a flying splash.
1-2-3.
The Headshrinkers won.
Rating: ½*
Summary: Showcase match for the Headshrinkers.
Promo airs for the IC title match next week on RAW between Michaels and Jannetty. Will they play "Can You Top This?" Stay tuned!
Promotional consideration paid for by the following: ICOPRO and Slim Jim.
Match 3: Tatanka versus Brooklyn Brawler
Highlights:
According to Savage, Crush was experiencing respiratory problems. Methinks he needed a little breather.
Tatanka hip-tossed and slammed Brawler who sought refuge outside the ring.
Upon his return, Brawler slapped Tatanka. That's what happens when you don't put enough chili on a Coney Island Dog!
Regardless, Tatanka leap-frogged and powerslammed Brawler.
He then gave Brawler an Anderson slam but ate a short-arm clothesline.
When he delivered a swinging neckbreaker, Brawler received a cross corner whip.
Fortunately for Brawler, Tatanka came up empty on his follow-through.
Brawler then clotheslined Tatanka and removed his t-shirt for some chicanery.
As Brawler earned a 2-count, Heenan vetoed a challenge from Savage due to his cat's birthday. HA!
Tatanka then mounted the top turnbuckle and delivered a flying chop.
After he hit the End of the Trail, Tatanka pinned Brawler.
BOOOOOOOOOOOOOOOOOOO!
Rating: ½*
Summary: No hometown win for the Brawler as Tatanka survived a good, old-fashioned Brooklyn mugging en route to victory.
Following a commercial break, members of the Manhattan faithful want Luger to get a title shot against Yokozuna.
Match 4: Mr. Hughes (w/ Harvey Wippleman) versus Tony DeVito
Highlights:
As the match began, an ominous black wreath was brought to the ring.
Hughes gave DeVito a HARD cross corner whip to injure the back.
When he delivered a diving head butt, Hughes got 2.
He then dropkicked DeVito before hitting a chokeslam.
1-2-3.
Hughes won.
Rating: DUD
Summary: Showcase match for Hughes.
After the match, Hughes reads the personalized card which states: "Rest in Peace from the Undertaker." He then rips up the card and destroys the wreath prior to leaving with the urn.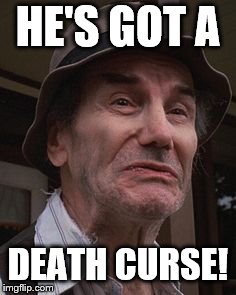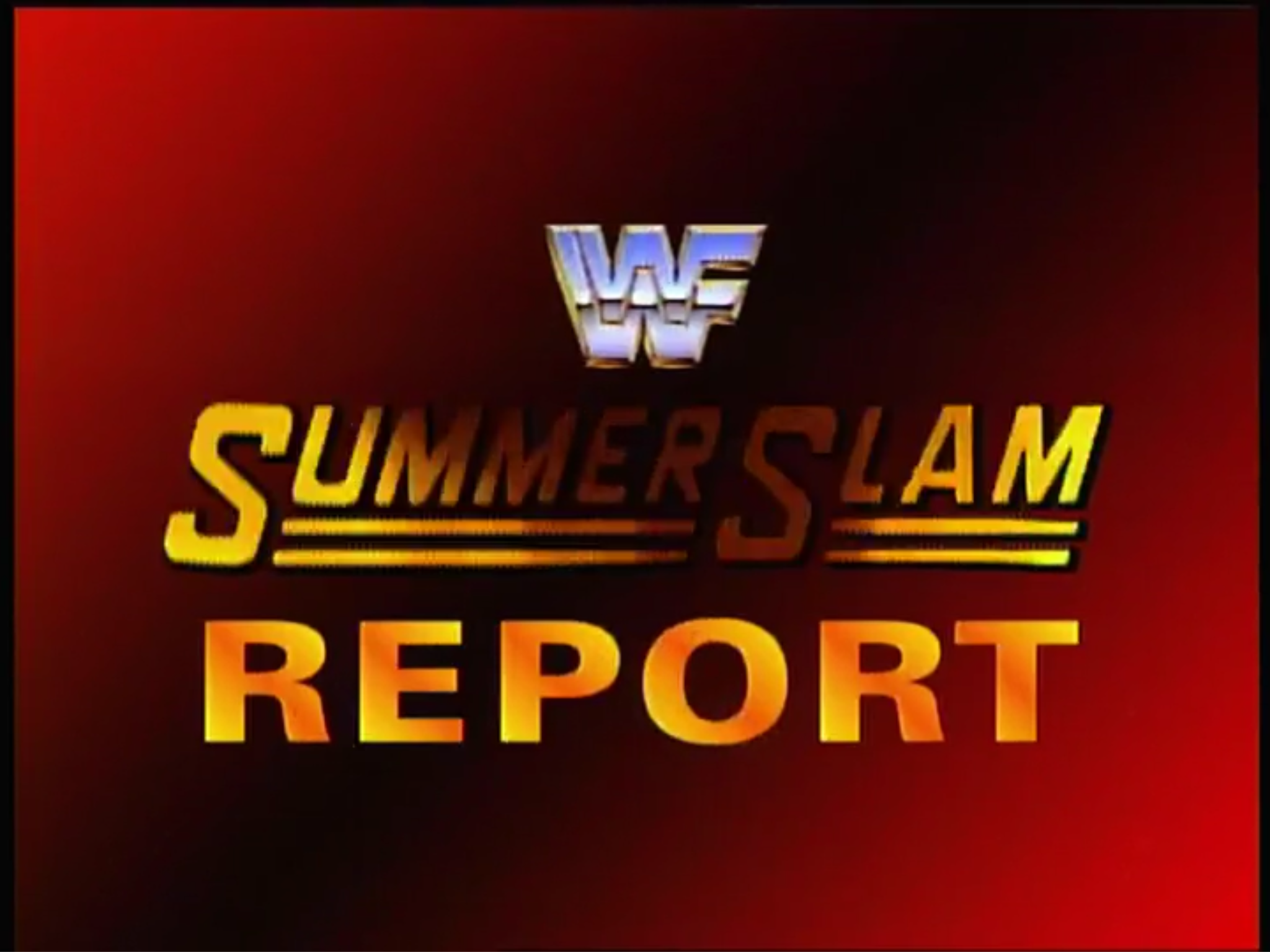 SUMMERSLAM REPORT: "Mean" Gene Okerlund shills the upcoming PPV which will be LIVE on 8/30. Next, he hypes the king versus king match featuring Bret "Hitman" Hart versus Jerry "The King" Lawler. Lastly, he mentions that Luger will be beginning some type of campaign. Check out Superstars to find out!
Vignette #2 for the incoming Men on a Mission. According to Vince, they'll wrestle next week on RAW.
Match 5: Adam Bomb (w/ Johnny Polo) versus Scott Amati
Highlights:
Savage returned from backstage and claimed that Crush "could have permanent damage."
When Bomb tossed him across the ring, he clotheslined Amati.
While Vince shilled WWF Mania, and Heenan shilled All-American Wrestling, Bomb gave Amati a backbreaker.
He then tossed Amati over the top rope to the floor, joined, and slammed him.
Back in the ring, Bomb mounted the top turnbuckle and hit a flying clothesline.
He then delivered an Atom Smasher and pinned Amati.
Rating: DUD
Summary: Showcase match for Bomb.
Vince then promotes next week's episode featuring The King's Court with Lawler and his guest Tiny Tim. It's going to be classic!
Promotional consideration paid for by the following: WWF action figures.
Conclusion: So Crush didn't win the title. Instead, he got CRUSHED. Also, the Brooklyn Brawler gave Tatanka a New York City hello but ended up providing a service. Next week, the rematch between Michaels and Jannetty occurs, so you want to get ready for it.
TV Rating: 2.7
Stay tuned for WWF Monday Night RAW 7-19-93!
Comments? Suggestions? Send them to me at rsg@rockstargary.com and follow me on Twitter (@rockstargary202).
Custom Search